Looking for the best places to visit in Newfoundland and Labrador? From exploring St. John's to seeing Bonavista, this is where to go in Atlantic Canada!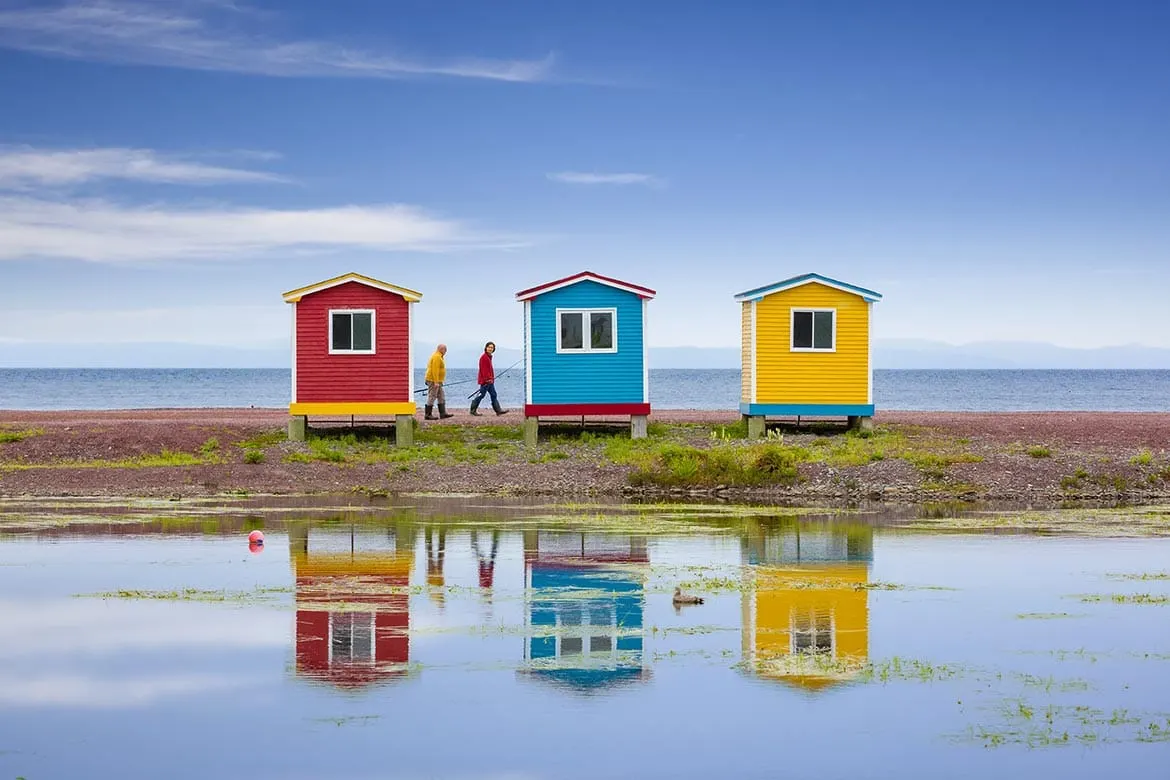 Now that 2020 is over, I can happily start planning my life again. To you and me, that means travelling again! One place that's really caught my eye is Newfoundland and Labrador in Canada. And you're about to see why in this post.
I can't believe I'm saying this, but the past 10 months has been the longest period of time that I've been home in the UK in decades. From family holidays to solo backpacking trips, travelling has always been one of the biggest parts of my life. It seems so strange having that taken away from me.
However, being all bright and positive, it's time to look forward and start planning a few trips this year. Thankfully, with the vaccination rollout well underway and consumer confidence rising, 2021 should be a year where we get to travel and see the world again. Yay to travel!
Every year for the past five years I've visited Canada. It's by far one of my favourite countries in the world and a place I just love exploring, so this year one of the first places I plan on visiting is Newfoundland and Labrador in Atlantic Canada. I've never been to the east coast of Canada before and I've heard so many amazing things about it, so it's about time I went there.
Newfoundland and Labrador is famous for its rocky coastline with colourful houses dotted all along it, for its wildlife of humpback whales swimming in the deep blue ocean, and for jaw-dropping views wherever you look.
Also, this is one of the best places in the world to see icebergs floating past. I've seen icebergs before in Greenland, and I promise you it's well worth visiting somewhere when these giants are around.
Like with most places in Atlantic Canada, there is so much space here. That means it's perfect for a post lockdown break where you can spend lots of time outdoors.
Even though I haven't been yet, I thought I'd come up with a Newfoundland and Labrador itinerary for a future trip. I always love planning a trip well in advanced (I came up with this one from newfoundlandandlabrador.com), and I wanted to share some of the best places to visit in Newfoundland and Labrador to give you a bit of wanderlust.
I've featured quite a few places here which are hundreds of miles apart, so even though you can't do them all on one trip, it should give you an idea of what you can do in Newfoundland and Labrador as an overview.
If you're like me and are starting to plan your holidays for 2021, this is a great place to start. Hopefully you'll be inspired to visit somewhere very different in Canada!
Where is Newfoundland and Labrador, Canada?
Newfoundland and Labrador is part of Atlantic Canada. This is a region comprising of four provinces located on the Atlantic coast: the three provinces of the Maritimes – New Brunswick, Nova Scotia, and Prince Edward Island – and the easternmost province of Newfoundland and Labrador.
The province is essentially split into two. Situated in the country's Atlantic region, it is composed of the island of Newfoundland and the continental region of Labrador to the northwest.
On the island of Newfoundland you'll find the popular places of St. John's and Bonavista, while in Labrador you'll find places like Battle Harbour and Torngat Mountains National Park.
As I've already mentioned, if you're looking for space, you'll find it here.
There are just over half a million people living in Newfoundland and Labrador in are area of 405,000 square kilometres. To give that some context, Germany with a population of 83 million people are living in an area around the same size. That's bonkers, isn't it!?
Newfoundland and Labrador is characterised as having this rocky coastline making it one of the top seaside destinations in Canada. With more than 18,000 miles of coastline, there's such a special connection to the ocean here. When you see pictures of the coast, it's easy to understand why.
When is the best time to visit Newfoundland and Labrador?
This really depends on the type of holiday you're looking for. Weather wise, the best time to visit Newfoundland and Labrador is from July to mid-September. Even though temperatures will rarely get above 30oC, the weather will be really bright and calm. Also, because Newfoundland and Labrador is so far north, you get really long daylight hours during the summer which is a mega bonus too.
Mid-June to mid-August are also the best time for wildlife. This is when you can go on a whale watching tour and see humpback whales migrating. There are a number of whale watching tour companies to book with during the summer months. Looking around, this is one of the best ones I've found which comes highly recommended.
Summer is also when you can see puffins too. I always think puffins are so adorable, so they're well worth seeing when you're here if you can.
Another season that might interest you is iceberg season. This is usually from the end of May until the end of June where icebergs float past the island of Newfoundland.
Yes, this is really a season here in Canada! It's hard describing how beautiful icebergs are, but they really are. For me, this would be such a good time to visit this region in Canada.
As I said before, I know it's hard choosing when to visit somewhere when there's so much to see and do. All the more reason to plan on coming back here again in the future!
– Where to go in Newfoundland and Labrador –
St. John's
Being the provincial capital, St. John's is the place where most people start their Newfoundland and Labrador itinerary.
One word that would describe St. John's is colourful. No matter where you look there are these brightly coloured houses dotted all over the place making the town a multicoloured rainbow. To me it symbolises how bright and happy this part of Canada is.
Here's a fun fact for your next travel quiz. St. John's is actually the oldest city/town in North America. The earliest record of St. John's dates back all the way to 1519 – that means there's a huge amount of history here for all you history buffs.
One of the top places to hang out is down by the harbour. Here you'll get a sense of what St. John's is all about with fishing schooners constantly coming and going with the catch of the day.
Also, if you're a foodie like me, then you'll absolutely love St. John's. Everyone I've spoken to who has visited St. John's has said it's an amazing foodie destination with some incredible restaurants to eat at. The main dish you'll see everywhere is lobster and cod. If you're looking for something a little more adventurous apparently cod tongue is a popular dish – that's a new one on me!
Gros Morne National Park
When you see pictures of Gros Morne National Park, it's hard not to compare it to the fjords of Norway or the mountains of New Zealand, yet it's a place hardly anyone knows about. Just imagine beautiful river valleys running between massive, striking cliffs either side. Well, that's what it's like here.
Located to the north of Newfoundland, Gros Morne National Park is a UNESCO World Heritage Site, largely for its unique geological phenomena. At Tablelands, a huge piece of the earth's mantle was exposed by colliding tectonic plates. This is the only place on earth were you can see the earth's mantle like this; it's like looking into the open wound of the world.
Gros Morne National Park is a place best explored by foot. The hiking and camping here is some of the best in Canada, especially when you're overlooking the water. There are lots of marked trails and campsites so it's quite easy exploring it independently.
Whether you're here for a short day hike or a multiday camping trip, Gros Morne National Park is one of the top places to visit in Newfoundland and Labrador.
Bonavista
As the name suggests, Bonavista has one of the most beautiful views in Atlantic Canada.
It's believed that this is the spot where Italian explorer Giovanni Caboto (John Cabot) first landed in the Americas in 1497. When he landed and saw the coastline, he apparently said "O buono vista!" (O happy sight) and the name has lived on ever since.
Today, Bonavista is a small coastal fishing town that's as pretty as a picture. As with everywhere in Newfoundland and Labrador, the seafood is on the next level here. With the views of the bay, it's not surprising. Everything tastes incredible when you're in a place as beautiful as this.
From the top of the town's 19th-century lighthouse painted like a candy cane, visitors can see ancient icebergs floating in the waters off the rocky coast. If you're lucky you might even see some whales migrating during the summer months too.
L'Anse aux Meadows National Historic Site
Welcome to Viking territory. Long before the Europeans first settled in Canada, Newfoundland and Labrador was visited by Vikings. At L'Anse aux Meadows National Historic Site, you can see the remains of one of their ancient settlements.
Dating all the way back to the 11th century, the excavated wood-framed huts and peat-turfed buildings are similar to the ones I saw in Greenland. It's hard imagining people living somewhere so remote and seemingly inhospitable, but this historical site really brings it to life.
One of the top things to do at L'Anse aux Meadows National Historic Site is to live like a Viking for a day. You can see 1,000-year-old artifacts, explore the stunning coastline, and learn all about the history of the Vikings.
This is thought to be one of the only settlements Vikings had in the New World, so historically it's very significant. Just another thing for your Newfoundland and Labrador itinerary!
Twillingate
The final place I would absolutely love to visit on my Newfoundland and Labrador itinerary is Twillingate. A bit like Bonavista, Twillingate is another coast fishing village that epitomises everything great about Atlantic Canada.
Nearby Fogo Island is a great place to visit too. This place has its own culture where locals speak an old Irish dialect that's unlike anything else spoken elsewhere in Atlantic Canada.
If you time your trip to the last week of July, you can stop by the Fish, Fun and Folk Festival for music, seafood, folk tales and so much more. There is such a sense of community in Newfoundland and Labrador, and you won't find it stronger than in Twillingate.
Battle Harbour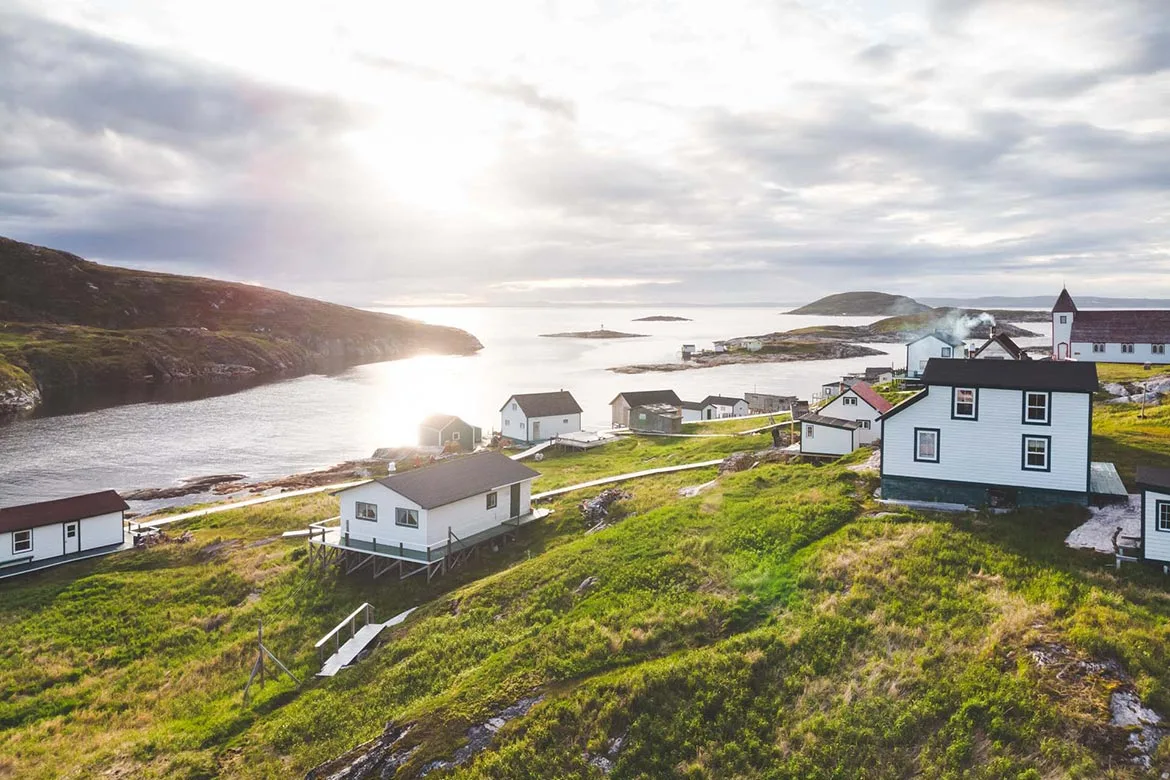 Another place I would absolutely love to visit is Battle Harbour. As they say on their website, there's off the map, then there's this place.
Just off the coast of Labrador, Battle Harbour is a summer fishing station where the pace of life is super slow (just the way I like it).
Battle Harbour is situated on Battle Island, which is a part of a larger group of islands that stretches across the nine mile journey from Mary's Harbour to the settlement.
The area delivers everything you'd expect from a centuries-old outport: rugged coastline, abandoned settlements, seasonal icebergs, and breathtaking views.
One of the best things to do here is talk to the local residents who still call the island home. They are part of the living history of the harbour and they love to share their stories to tourists who visit.
Torngat Mountains National Park
This is a place that's at the very top of my Newfoundland and Labrador itinerary.
Located at the north of Labrador, Torngat Mountains National Park is an epic landscape that's just made for hiking and exploring. In terms of extreme adventure, it's right up there.
There are no roads, no signs, no campgrounds, or anything hospitably human. Basically, civilisation isn't really a thing here. What you get instead is the raw rugged beauty that you can't find anywhere else. This is pure nature that hasn't changed for millions of years.
One of the best ways of experiencing Torngat Mountains National Park is on a multi-day hiking tour. With a tour guide you'll learn all about where the Inuit hunt, fish, and travel just as their predecessors did. You also get to camp in this pristine wilderness.
With some of Canada's highest peaks to be conquered, you can see why it's a place I would love. For me, this is nature at its finest.
---
So there you have it, that's where to go in Newfoundland and Labrador. As I said, Canada is one of my favourite countries in the world and I can't wait to go back there again.
As 2021 is going to be a year of travels for me, this place is definitely at the top of my list. Hopefully you can see why I want to go so much!
Let me know in the comments below if you're planning any trips to Canada this year. If there's anything I can help with then just let me know.
---
This blog post is in association with Newfoundland and Labrador promoting some of the best things to do in Atlantic Canada. As always, all view and opinions are my own.
Photo credits to Newfoundland & Labrador tourism.
Like this blog post? Then Pin it for the future!