Taking a street art tour in Camden Town, London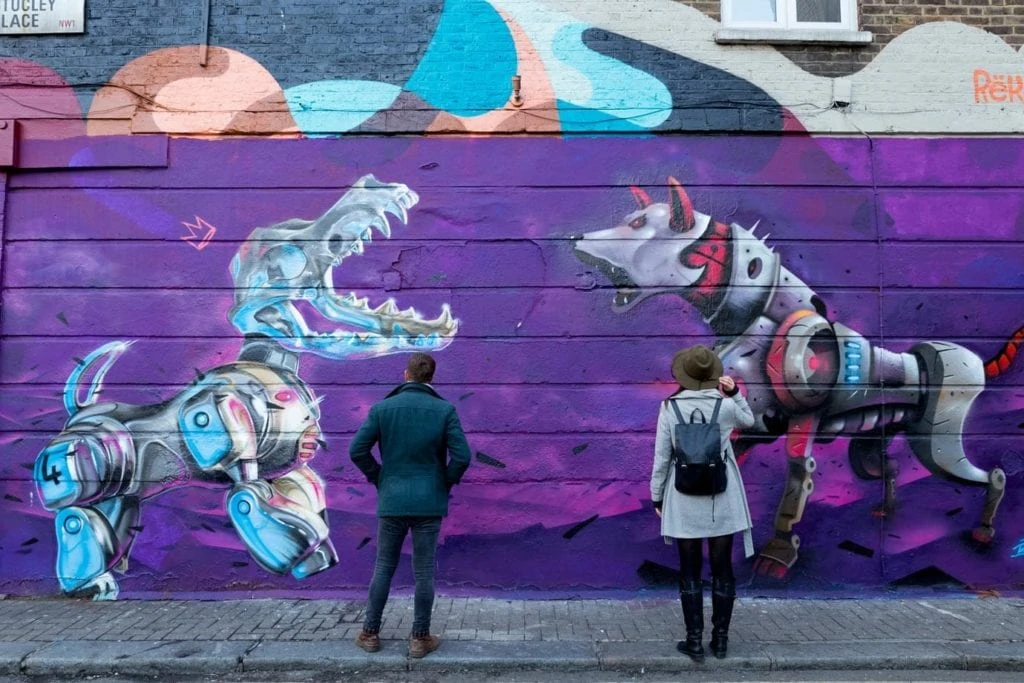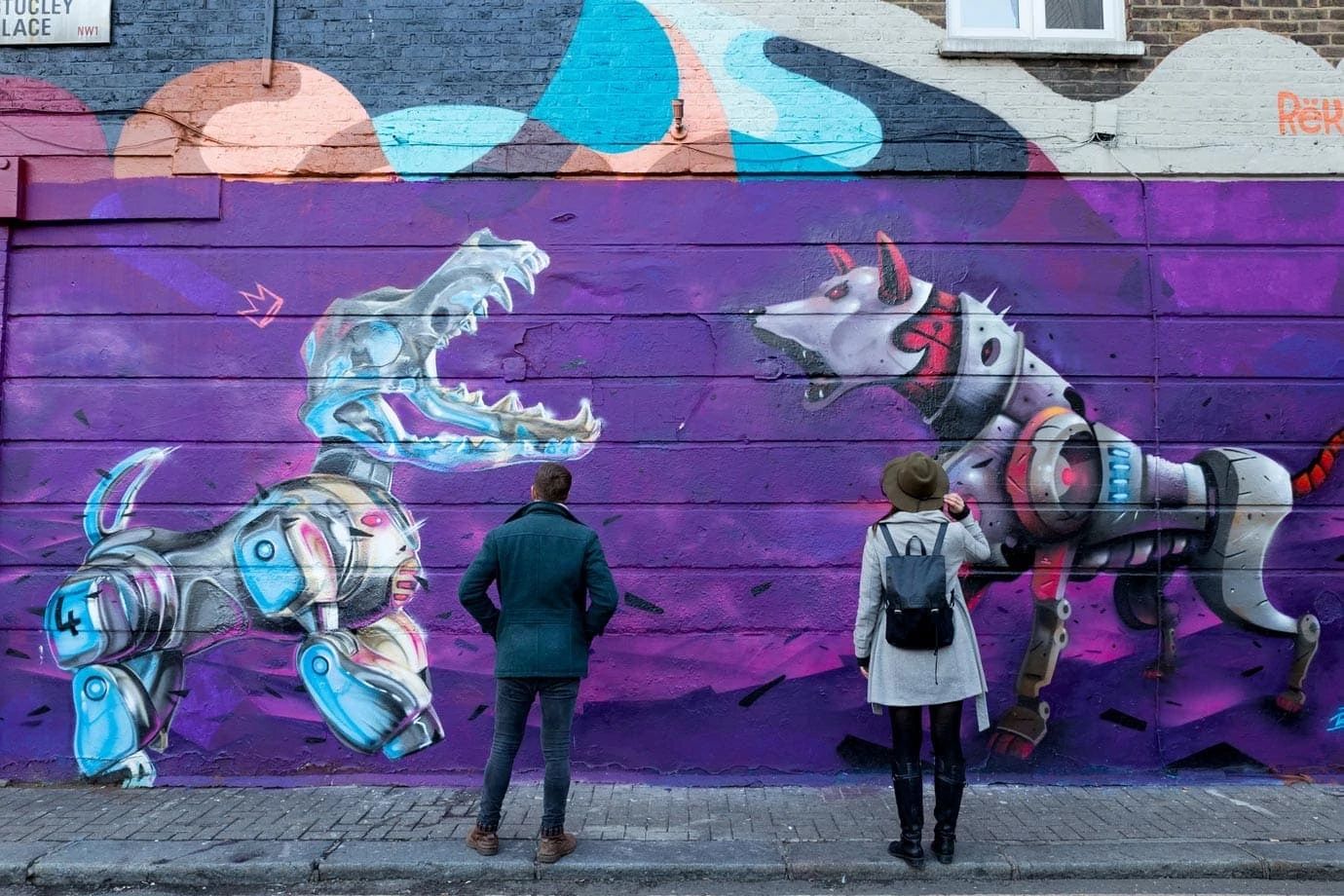 While I was visiting London for the World Travel Market, Macca had the inkling that Camden Town in North London would be my cup of tea.
With tons of odd little shops and the feeling of culture everywhere, we decided to head there one Saturday and do a street art tour.
As you might know, Camden is famous for Camden Market. This is easily one of the best markets in Europe and one I was dying to visit. It's also where you'll find the infamous 'Camden Market' street art in big block letters. If you've seen images on Camden, it's often of this sign.
Street art is the calling card of Camden, and with an ever-changing display of fantastic pieces everywhere, it's the kind of place you can go back to over and over and always find something new.
Luckily, the grey clouds withheld and we bundled up to meet up with our tour guide, Nelly, who not only knows everything there is to know about street art, she is an artist herself. She took us to some of her favourite places to find works of art, which quickly turned into our favourites, too.
People often associate street art with the notion of breaking the law – as graffiti, specifically tagging, is an illegal act. However, we learned on our tour that there are pieces throughout Camden that are born from businesses giving their blessing for artists to work on a wall or surface.
These pieces tend to stay up longer, like the beautiful work from Italian street artist Alice (pronounced Al-ee-chay) that lives on the back wall of a Greek restaurant.
One of my favourite pieces was by an Argentinian artist named Alaniz. The piece is called 'Inner Conflict' and depicts two men, mouths open and fists cocked, yelling are each other, their foreheads touching.
The piece, that lies on a brick wall and reaches almost 20 meters, was created from the ground up. The artist used a roller on a very long pole to achieve the brush stoke looks of the faces.
Apparently, it only about 45 minutes to complete and with good reason – the difficult work of using a pole at such long distance means a lot of arm strength and exertion.
The coolest part about this piece? When you look at it from street level, it's hard to make out and doesn't look like much. As soon as you take a photo or video, the image comes to life. It was designed specifically to be seen through a lens!
Just as much as Camden is associated with street art, a lot of people also know that it's is where Amy Winehouse lived until her death in 2011, and there seem to be pieces throughout the area dedicated to her memory.
It was well known that even when Amy had fame and fortune, she refused to leave Camden Town. Fans would often go to her favourite local pub The Hawley Arms, as she continued to go there even when her fame reached its very highest.
One dedication to her we came across was a stencil piece done by artist Bambi, whose work can be seen all over the world – including in the home of celebrities like Kanye West and Adele.
The evolution of pieces like this are fascinating. Nelly explained what is left from the original piece, what additions to the stencil have been seen over the years that it's been there and even that the owner of the flat that it's next to once covered it completely with a piece of thin wood in order to preserve it (thus preserving its value).
Once you're looking for it, the little pieces of art pop up everywhere. The thoughts, feelings and messages of hundreds of artists infuse this small part of East London and it really symbolizes the diversity of the area.
Want to see more? Watch our video of the tour up top or right here!
---
Intrepid Travel and Urban Adventures offer an immersive two hour street art crawl that runs Wednesday – Sundays and costs £35.
If you use our promo code BGAn Adventurous World and you'll get 20% off all Urban Adventure tours! Just use the promo code when you're booking your tour!
Like this blog post? Then make sure you Pin it!
Save