Buying into the beach boy lifestyle, even if only for a day or two
My alarm clock went off at 04:45, and the only thing I could hear were Brian and Brianna breathing heavily next to me, still asleep. A few minutes later – and with only a couple of shoves to wake Brian up – we were both standing on the beach, tripods and cameras out, filming the sunrise.
To the right of us, lightning could be seen, bolt after bolt silently striking the sea, while directly in front of us the sun slowly crept over the horizon, almost tentatively, its orange glow growing brighter and brighter with each passing second.
The only sounds that could be heard were the rhythmic crashes of wave on wave and the metronomic click of our shutters as we both shot timelapse on our cameras, watching the sun climb higher and higher in the sky.
By this point, we both knew each other's routines we didn't need to say a word to each other.
Slowly, one or two surfers waded into the white stuff, gliding effortlessly over the waves, tempting us in. Then Brian finally broke the silence as he turned to me: "Now it's our turn."
I have to admit, there's something incredibly satisfying about surfing at sunrise – for me, I think it has something to do with beating dawn, knowing you're doing something while everyone is asleep, or perhaps it has something to do with buying into the surf lifestyle for a day, a borrowed lifestyle and one you know you don't belong to.
Either way, Brian and I loved jumping on our boards, barely being able to stand up, attempting to ride wave after wave. With only a couple of other people to share the ocean with, we had as much room and as much time as we wanted.
After a couple of hours, and after being battered by the waves, we were knackered and took our queue to sit back and have breakfast just as everyone else was waking up.
We were staying at La Tortuga Verde (The Green Turtle) on Playa El Esteron in El Salvador, a country that's becoming more and more popular among surfers for its beautiful beaches, long right-handed barrels and the cheap lifestyle.
In the afternoon, we walked the three kilometres along the beach into El Cuco, the nearest town, and there was hardly a single soul around; the beach was virtually deserted apart from a few local fishermen.
If this was anywhere else in Central America, the beach would have been packed with backpackers, but as this was El Salvador it was near empty (more on that later).
In El Cuco, we grabbed some lunch. I must have been feeling frivolous because while Brian and Brianna ordered fish (the wise choice), I decided to try local black clams cooked in a black sauce (variety's the spice of life, right?). Well, it turned out to be without a doubt one of the most hideous things I've ever tasted, and that's saying something.
After grimacing through one mouthful, I gave the rest to a family sitting next to me; they devoured the whole bowl with gusto, and I was left sheepishly to order the fish.
Back at La Tortuga Verde and as the evening approached, we hired some stand-up paddle boards and took to the backwaters down one of the beach estuaries.
Now, when it comes to 'surfing', I much prefer stand-up paddle boarding; I love how peaceful it is while being a really good workout for your core, and floating around Playa El Esteron was a great way to see more of the spectacular scenery in El Salvador.
It was the first time Brianna had ever been stand-up paddle boarding, and she took to it like a duck to water; in fact, I think I fell off more times than her!
Once we were done with stand-up paddle boarding, we finished the day as we started it; with cameras in hand shooting the sun, this time for sunset.
Being on the Pacific side of Central America, El Salvador provides the perfect backdrop for some simply superb sunsets, probably among the best I've ever seen, and being caught up in the moment shooting something as stunning as that seemed like a fitting end to the day.
After the sun set, it was time for dinner, a few beers and an early night. Brian and I decided to wake up at the crack of dawn to ride the waves again; perhaps we were buying into the surfing lifestyle after all.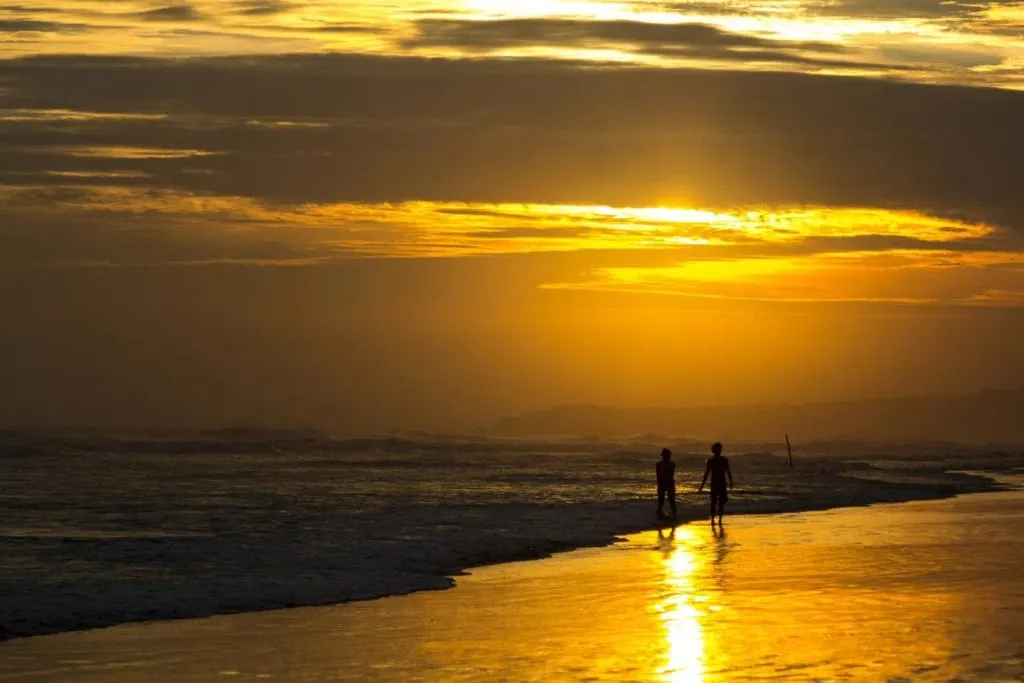 Save