Are you planning a trip to Switzerland? Then check out my amazing Switzerland train itinerary packed full of advice & the best routes to take!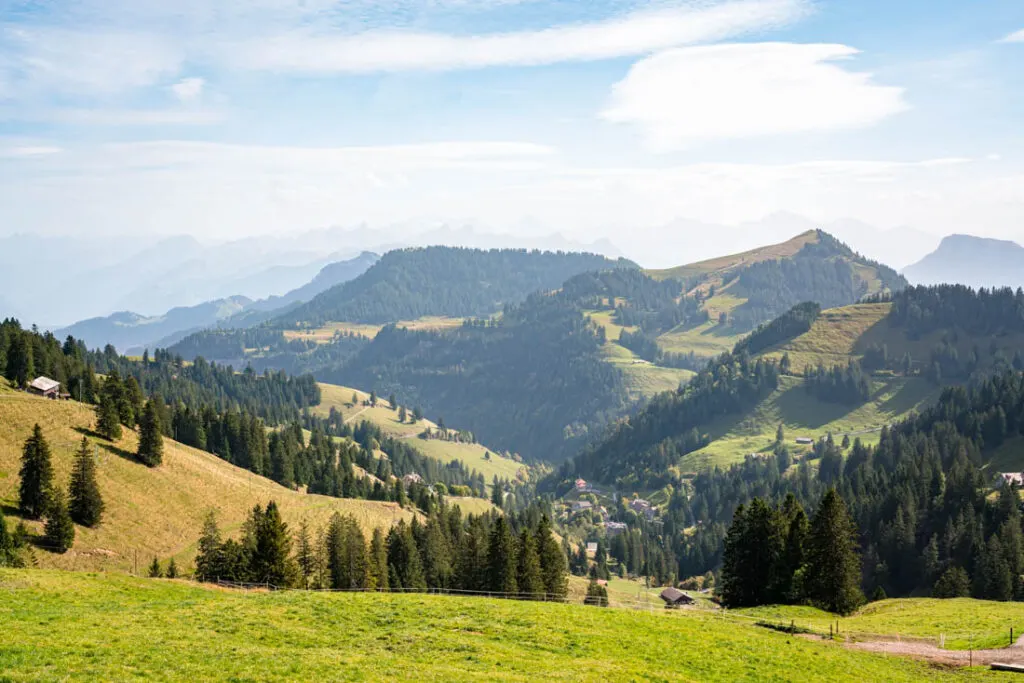 It's very easy to wax lyrical about a place, but I really do think Switzerland is one of the most beautiful countries in the world.
It just ticks all the boxes for me. The mountains are grand, majestic and powerful; there are emerald and sapphire lakes dotted all around the country; and the little towns and villages with cobblestone streets and ancient cathedrals are as picturesque as they come. It's one of those rare countries where just being there is an activity in itself. And when the seasons change it becomes a winter wonderland with some of the world's best skiing.
I've recently spent 5 days in Switzerland travelling around the country by train, bus and boat, and I now love the place that little bit more. I even said the classic line: "I could easily up sticks and move here…"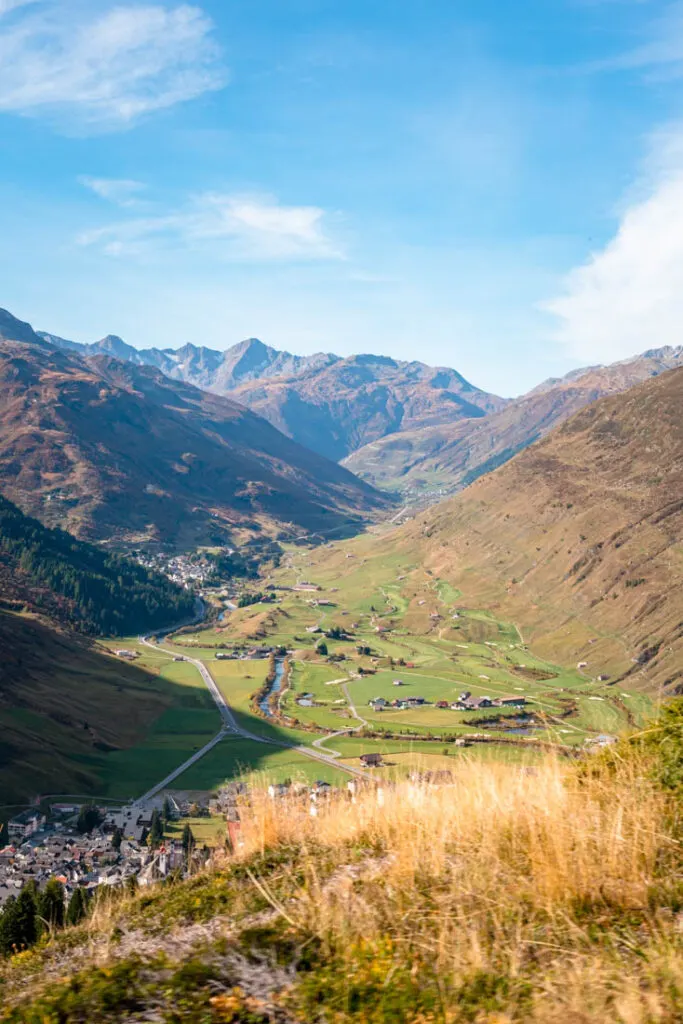 In this blog post I'm going to share my ultimate train itinerary for Switzerland. This is for all you guys who are planning a trip here and want to see the very best of the country.
From starting off in the stunning city of Zurich to seeing the beautiful mountain town of Zermatt, this itinerary is perfect for those of you who like to take things slow and enjoy your surroundings.
I'll also give you lots of practical tips like how to use your Swiss Travel Pass, what the trains are like, and some of the tops things to do in each place you visit.
I really hope you guys find this Switzerland train itinerary useful for planning your trip here. And as ever, if you have any questions at all you can ask me in the comments below!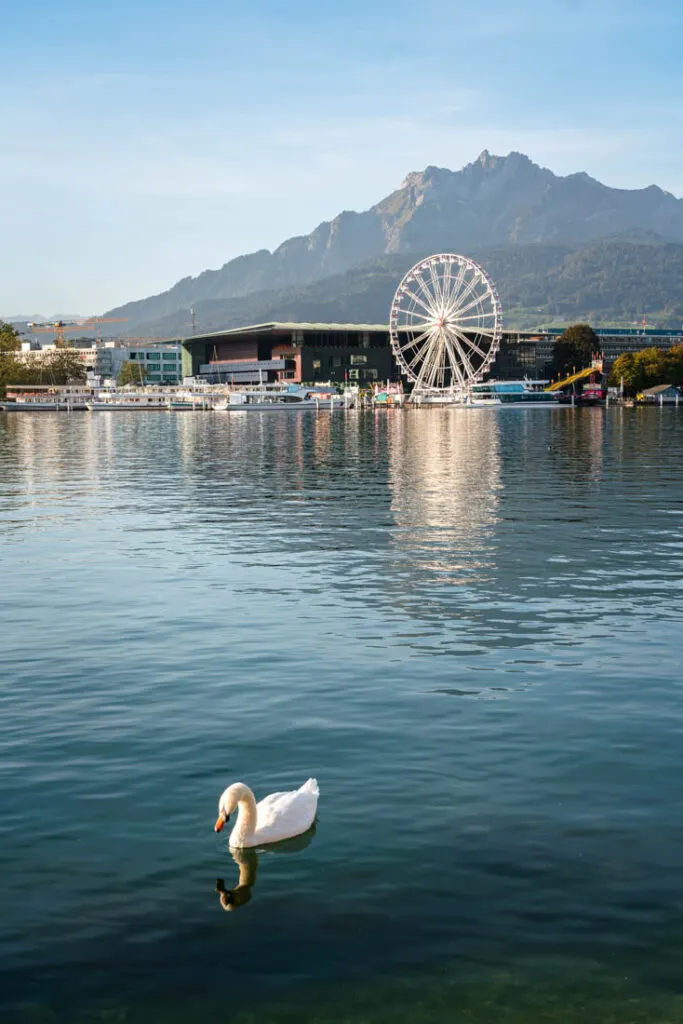 Why visit Switzerland by train, but and boat?
Beauty – You know the cliché "it's the journey, not the destination…" Well, this rings true for most of the trains in Switzerland. You don't need to travel far out of the main transport hubs before the views zooming past your window start to get spectacular.
Convenience – When it comes to infrastructure, Switzerland is a leading light in Europe. Everything works meticulously. If a train is one minute late, it is very late. There are rail connections between all major cities and towns. Also, everything is set up so connections between trains, buses and boats are organised so that you don't lose any time between transfers. Basically, the Swiss Travel System makes it simple and easy travelling throughout the country.
Comfort – Swiss trains are renowned for being super comfortable and clean. Some carriages even have round tables and sofa-like seating making journeys with friends and family very sociable. They also have big panoramic windows, food buffet cars, seat service, and charging points too.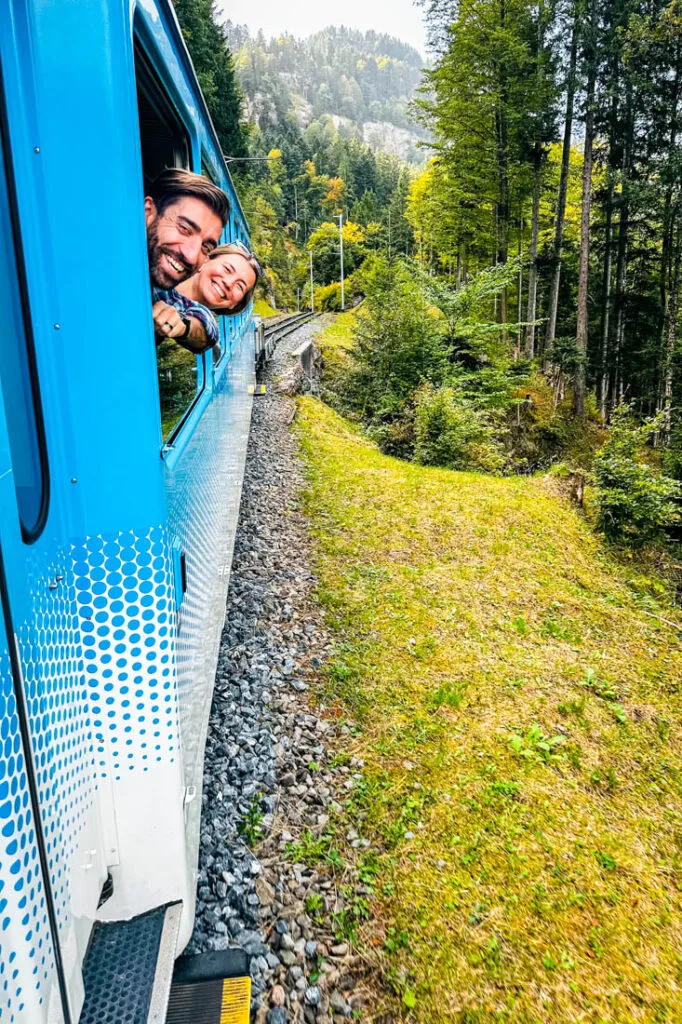 Budget – There's no getting around the fact that Switzerland is an expensive country. However, the Swiss Travel Pass is an amazing way of travelling around and keeping costs down. It's actually remarkable value for money.
Sustainability – One of the buzz words in Switzerland at the moment is Swisstainability. They are very proud of being one of the most sustainable countries in the world, and their rail network is a big part of that. Obviously travelling by train in Switzerland is a lot more environmentally friendly compared to other forms of transport.
Scenic travel trains – So there are normal trains that take you from A to B, and then there are scenic travel trains that take you from A to B but via the most beautiful route. These are the trains where you just kick back and watch the world go by.
What is the Swiss Travel Pass?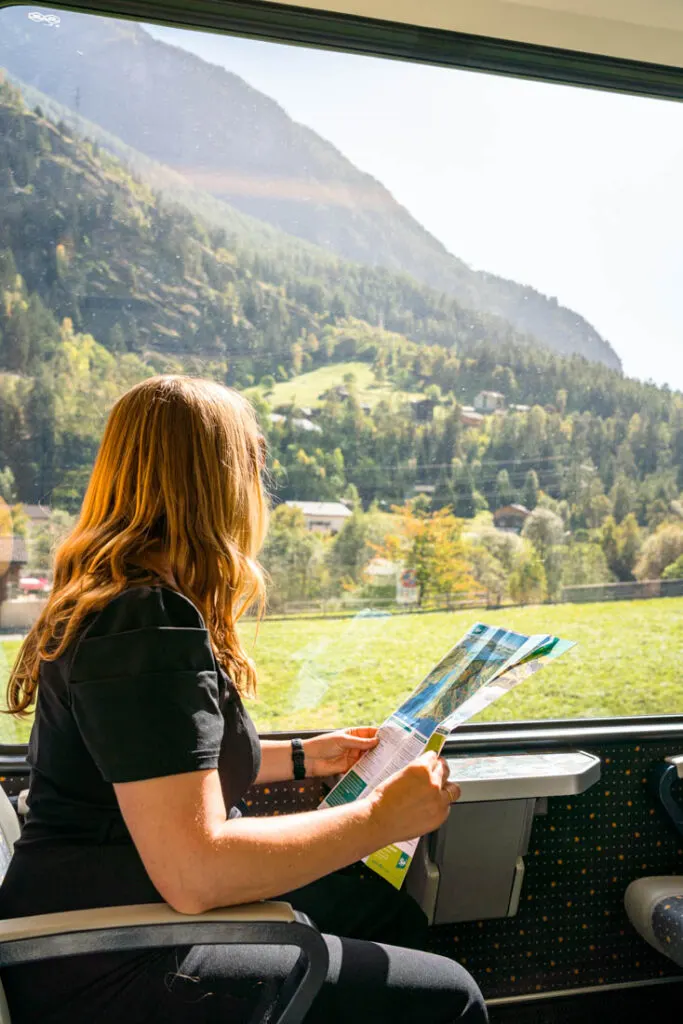 The Swiss Travel Pass is your all-in-one ticket for travelling Switzerland. It's a bit like your old fashioned InterRail/Eurail ticket. This is where you buy a multi-day ticket, and then you can travel as much as you want within that timeframe. And it really is unlimited travel.
The best thing about the Swiss Travel Pass is it's not just trains, but also for boats, busses and metros. You even get discounted prices off other modes of transport like mountain gondolas too, so it covers pretty much all transportation in Switzerland.
To highlight that, one day I caught the metro down to the port in Lausanne, then jumped on a boat to Montreux, then caught the train to Zermatt – all on the same ticket. Simples.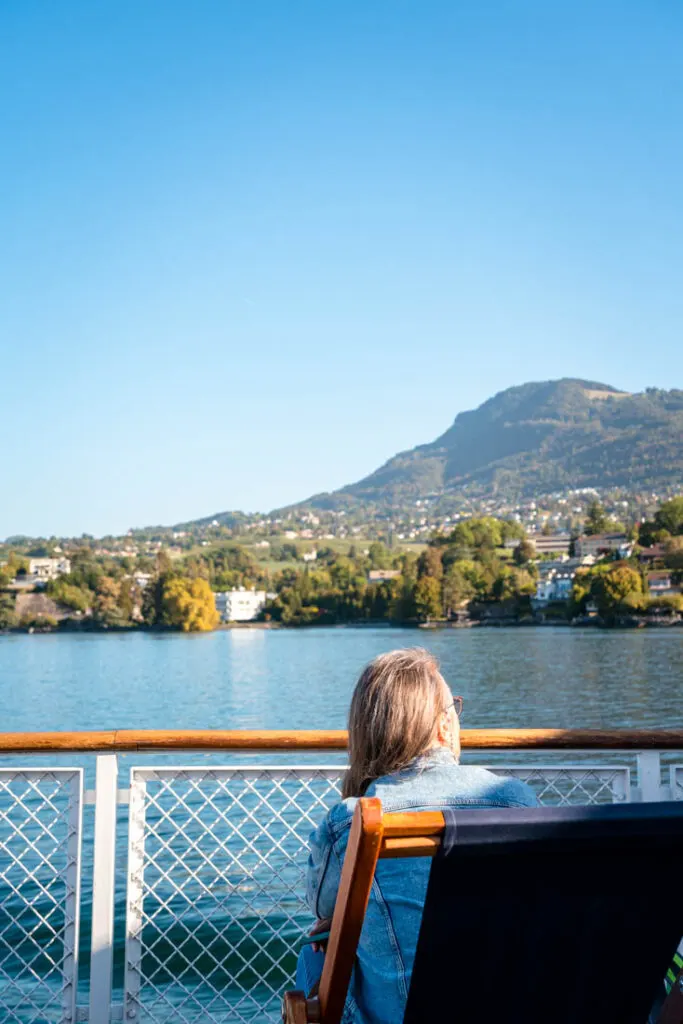 Another benefit of the Swiss Travel Pass is you get free entry into over 500 museums and attractions in the country saving you even more money on your holiday.
One of the things I really liked about the Swiss Travel Pass is it was just one ticket I had on my phone. I didn't need to queue up multiple times to buy tickets, I could just jump on the train I needed without any trouble. It made things that little bit easier when travelling around the country and save A LOT of time.
How much does the Swiss Travel Pass cost?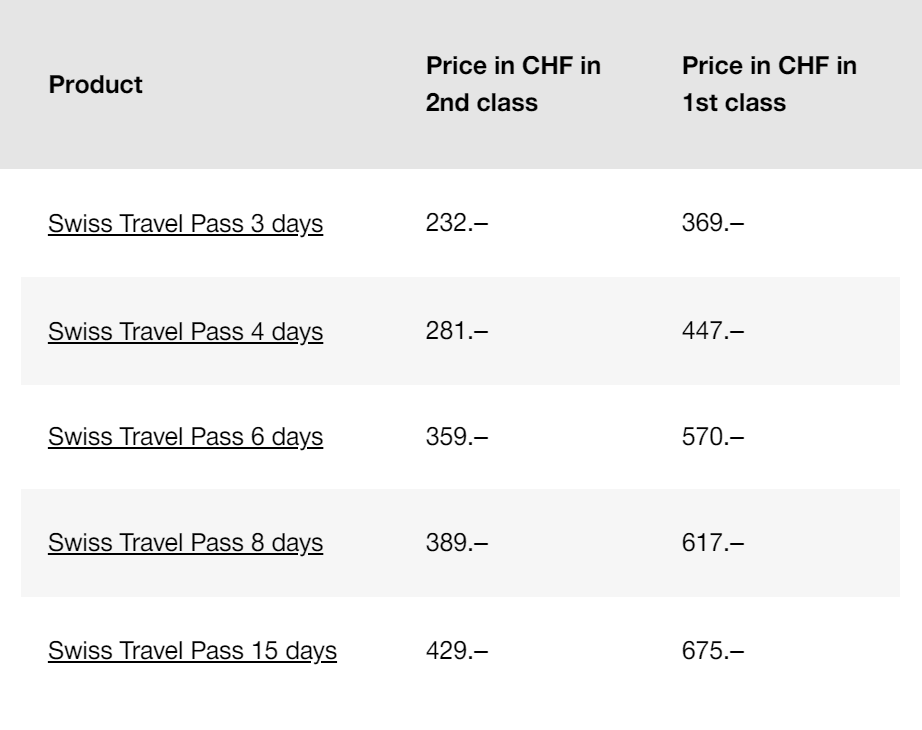 For the Swiss Travel Pass, you can buy a 3,4,6,8 or 15-day ticket. This can either be consecutive or non-consecutive days depending on which pass you buy.
For my Switzerland by train itinerary, I had a 4-day non-consecutive ticket. You could probably do it in 4 consecutive days, but I think it's well worth spending the day in somewhere like Zermatt (one of my favourite places in Switzerland). I explain all about this below.
With the Swiss Travel Pass Youth, young people up to their 25th birthday travelling through Switzerland benefit from a 30% discount off the regular Swiss Travel Pass ticket fare.
Children from their 6th up to their 16th birthday accompanied by at least one parent (holding a Swiss Travel System ticket) travel free of charge on train, bus, boat and mountain railway with the complimentary Swiss Family Card.
I've actually written a huge guide on how to use the Swiss Travel Pass. In this guide I go through the different ticket options, what additional perks of buying a Swiss Travel Pass are, and I go through loads of common questions too. So, if you have anything that's confusing you about the Swiss Travel Pass, make sure you read my guide
---
Train itinerary for Switzerland
For this itinerary, I've highlighted some of the most popular places to visit in Switzerland.
Some of these trains, like the Lausanne to Zermatt leg, then the scenic train from Zermatt to Chur, are absolutely stunning. As I said, travelling here is an activity in itself, so this itinerary really emphasises that.
I mention it later on in this post, but you could do this itinerary in 4 days and skip the day in Zermatt, but I think it's well worth spending the day there. It all depends on how much time you have though!
Day 1 – Zurich to Mount Rigi to Lucerne
Zurich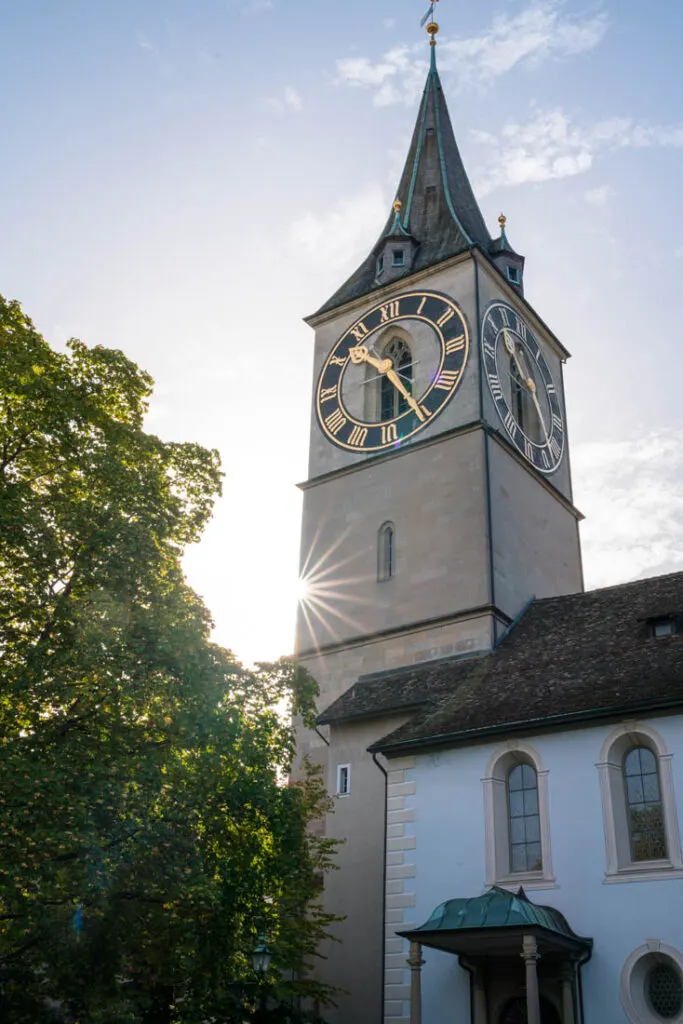 Welcome to Zurich! This place is so much more than just the financial capital of Switzerland. It is the perfect blend of old-world charm and modern sophistication.
Firstly, the city is stunningly beautiful. The picturesque Old Town (Altstadt) with its medieval architecture, cobblestone streets, and charming squares is like stepping back in time. You can wander through narrow alleys, explore historic churches, and discover hidden gems at every turn.
Now, add a touch of modernity. Zurich is a global financial hub and a city of innovation. The contrast between the medieval and contemporary is fascinating. The sleek and shiny financial district stands in juxtaposition to the historic landmarks.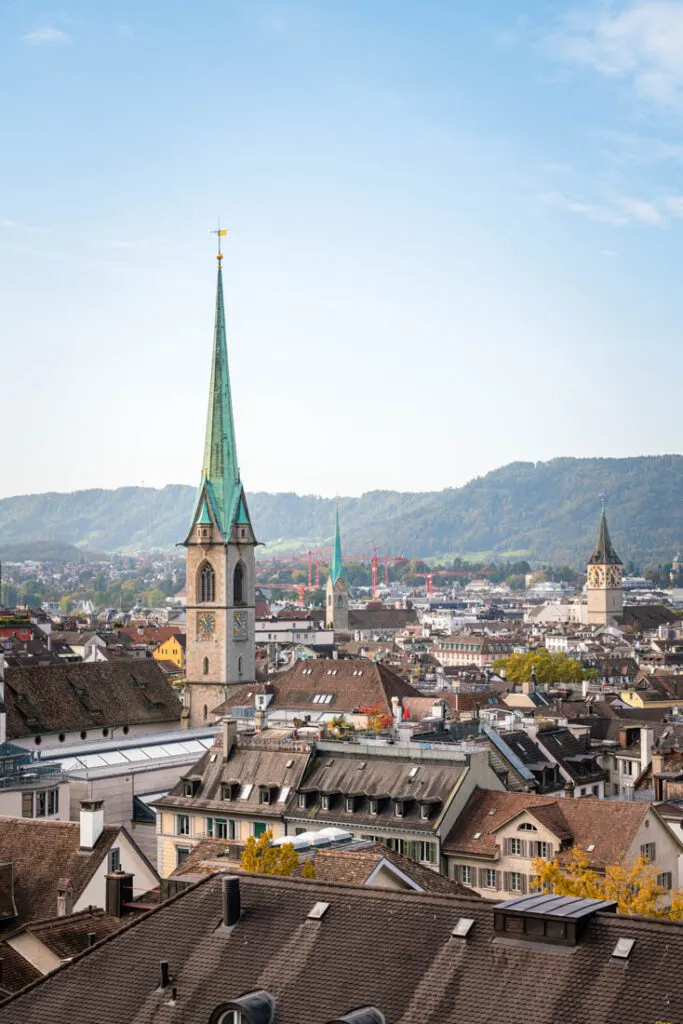 As you guys will know, I am a sucker for a viewpoint. Well, one of the best viewpoints in the city can be found on the university terrace.
Getting here is easy – all you need to do is hop on the UBS Polybahn funicular (which is free with your Swiss Travel Pass) and it's a short 5-minute ride to the top.
From here, you can see a number of church spires with the mountains in the background. It really is such a stunning view and very close to the Old Town.
Also, if you love your architecture, it's worth popping into the main university building itself and seeing the atrium. There are so many clean lines here.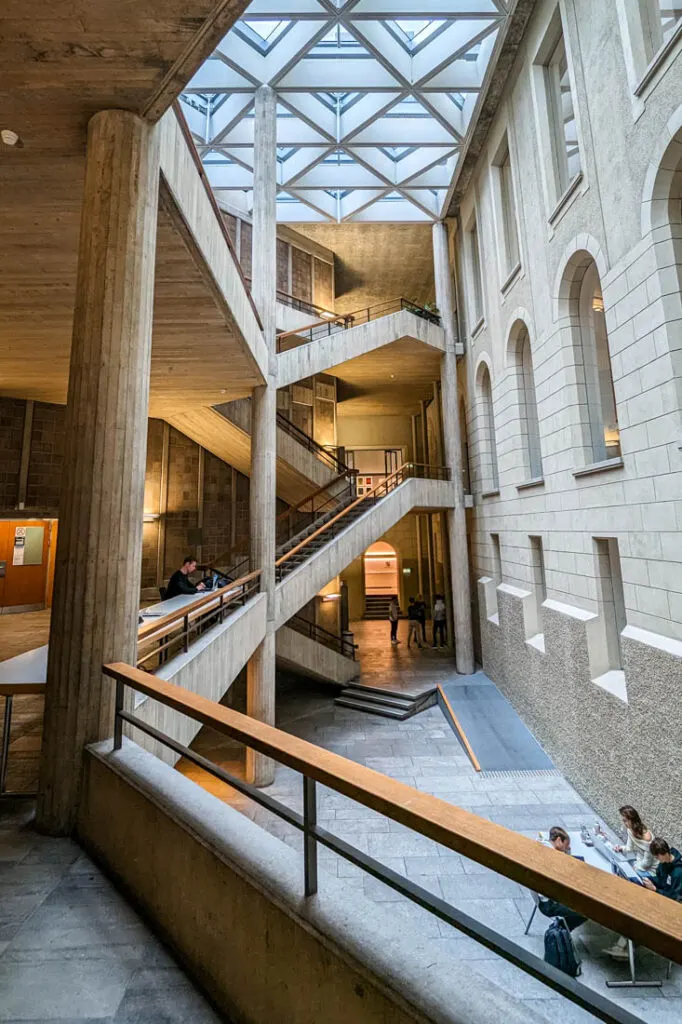 If you're looking for a good museum to explore then I'd recommend Kunsthaus. The museum has an extensive and impressive collection of artworks spanning from the Middle Ages to contemporary art.
You can find masterpieces by renowned artists such as Alberto Giacometti, Marc Chagall, Vincent van Gogh, Claude Monet, and many more. If you're an art lover then this place really is a must.
How long you spend in Zurich is completely up to you. You could easily spend the whole day here and head straight to Lucerne (skipping Mount Rigi along the way), or you could explore some of what the city has to offer in a couple of hours.
For me, I spent the morning in Zurich and then hopped on the train to Mount Rigi. You'll see why below!
Getting to Mount Rigi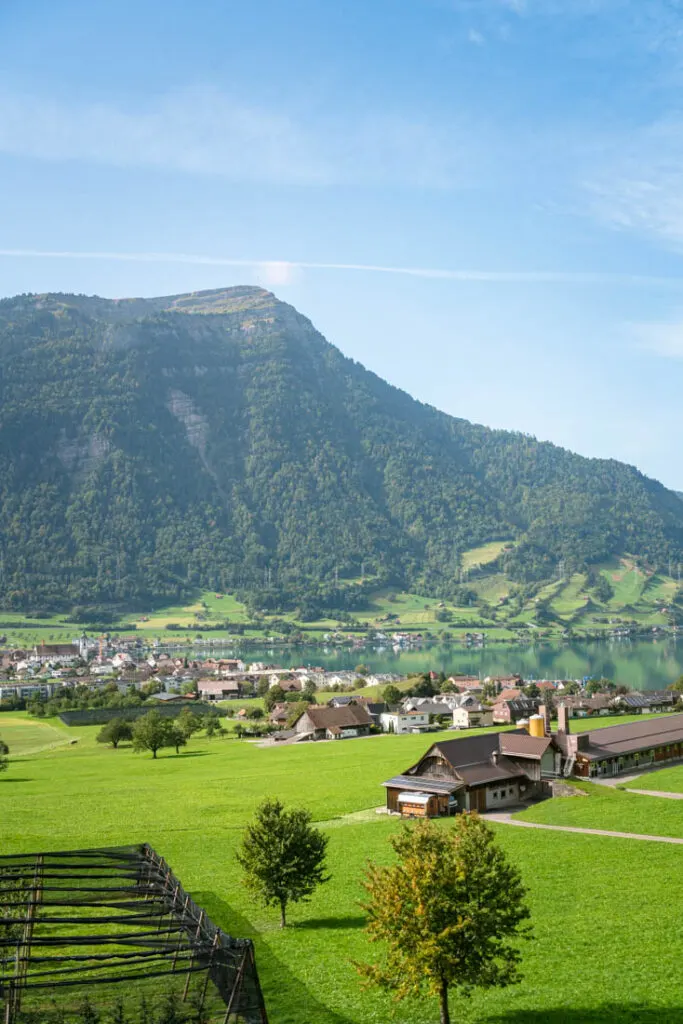 It might seem a bit out the way adding in a stop to Mount Rigi, but I promise you it's well worth it. Just wait until you see the views at the top of the mountain!
Mount Rigi is known as "Queen of the Mountains", and even among the Swiss it is considered beautiful.
Getting here is very easy. From Zurich, you need to catch the EC/IC2 train to Arth-Goldau. The train is only 45 minutes but it quickly gives you a taste of what it's like travelling around Switzerland.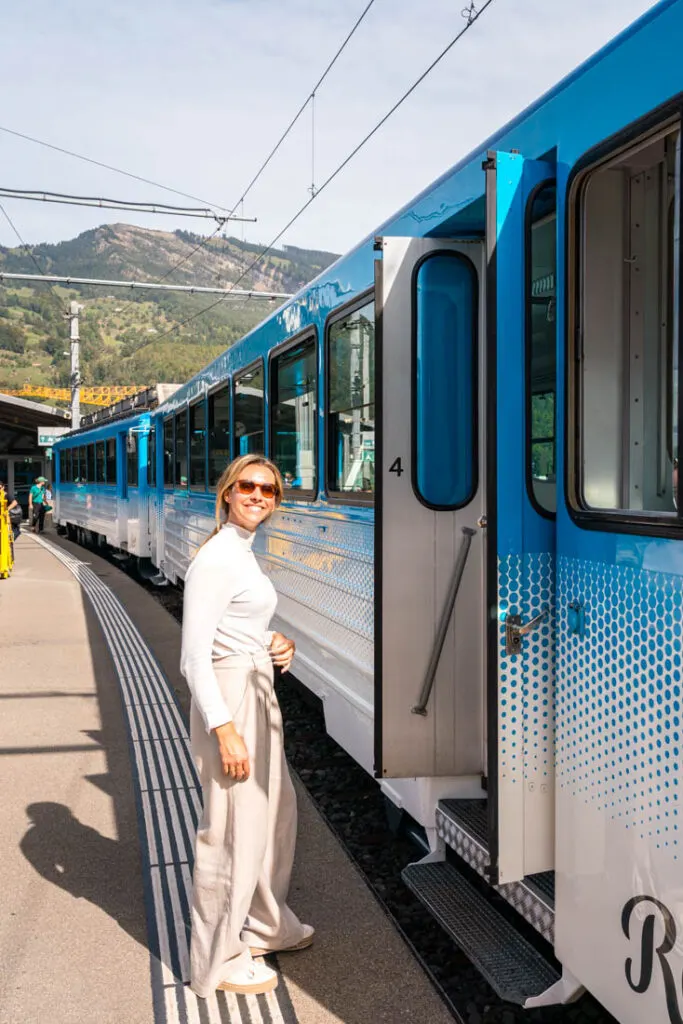 Once you get to Arth-Goldau, you can walk over to the Rigi Bahnen – this is the oldest mountain railway in the world.
Getting to the top is an adventure in itself. The journey is super scenic, and as you ascend, you'll be treated to increasingly spectacular views.
The summit of Mount Rigi offers breathtaking panoramic views of the surrounding Swiss Alps and Lake Lucerne. It's a picture-perfect spot that captures the essence of Switzerland's stunning landscapes.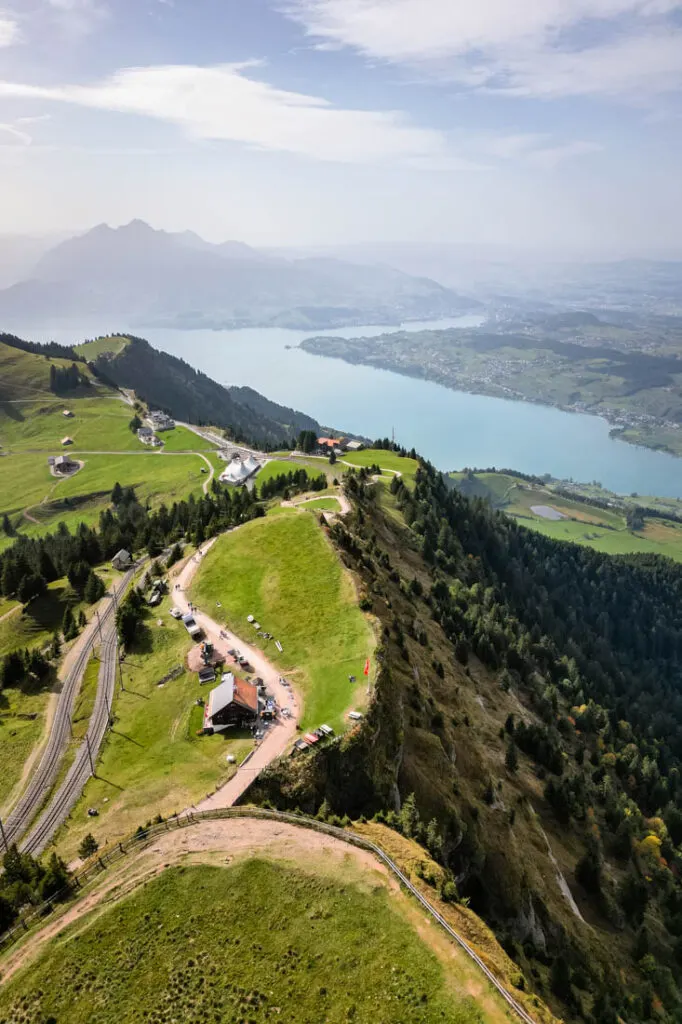 The journey to the top takes around 40 minutes, but I'd recommend getting off the cogwheel train at Rigi Staffel. This is the stop below the final stop (Rigi Kulm).
From here, you can take a leisurely 30-minute hike to the viewpoint itself. It's quite a steep hike, but it makes the views at the top all the more worthwhile.
Mount Rigi really is one of the top things to do in Switzerland, so I think it's well worth adding it to your Switzerland train itinerary.
Getting to Lucerne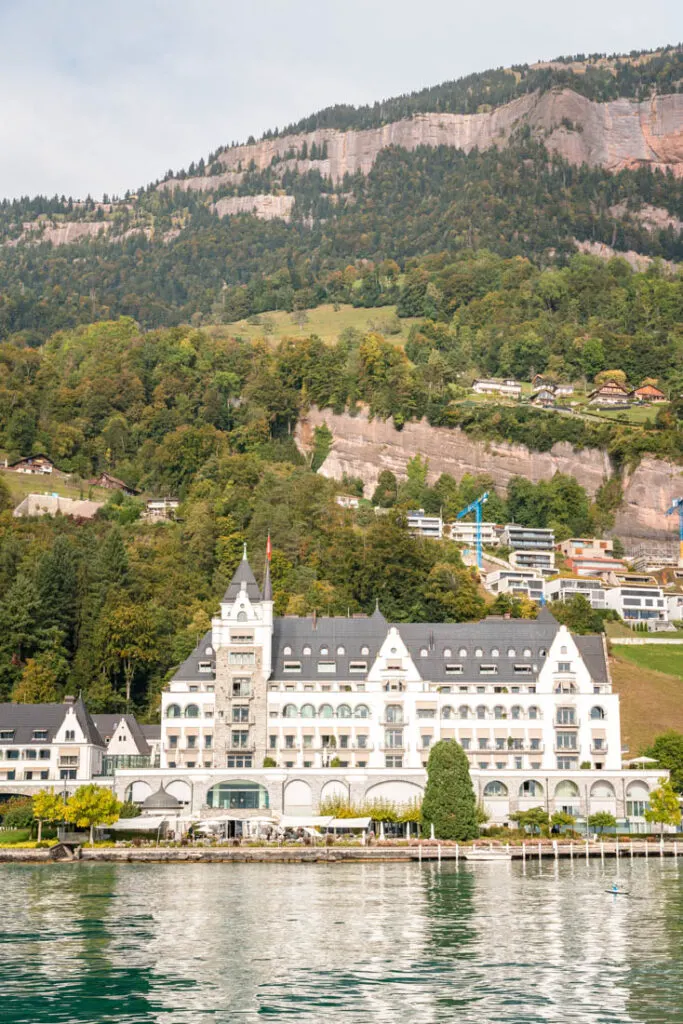 Once you've finished at the top of Mount Rigi, you can catch the train down the other side of the mountain down to Vitznau. This train takes 40 minutes.
Once you hop off the train, just walk 50 metres in front of the station and you'll find a boat waiting for you. This is the boat to Lucerne which takes 1 hour.
It's journeys like this which highlight how good the Swiss Travel System is. All the boats leave 10 minutes after the trains down from Rigi arrive, so you're never rushing to transfer from one to the other.
The boat ride itself is soooooo relaxing. I'd recommend grabbing glass of wine and just watching the world go by. This is what travelling in Switzerland is all about after all!
Day 2 – Lucerne to Fribourg to Lausanne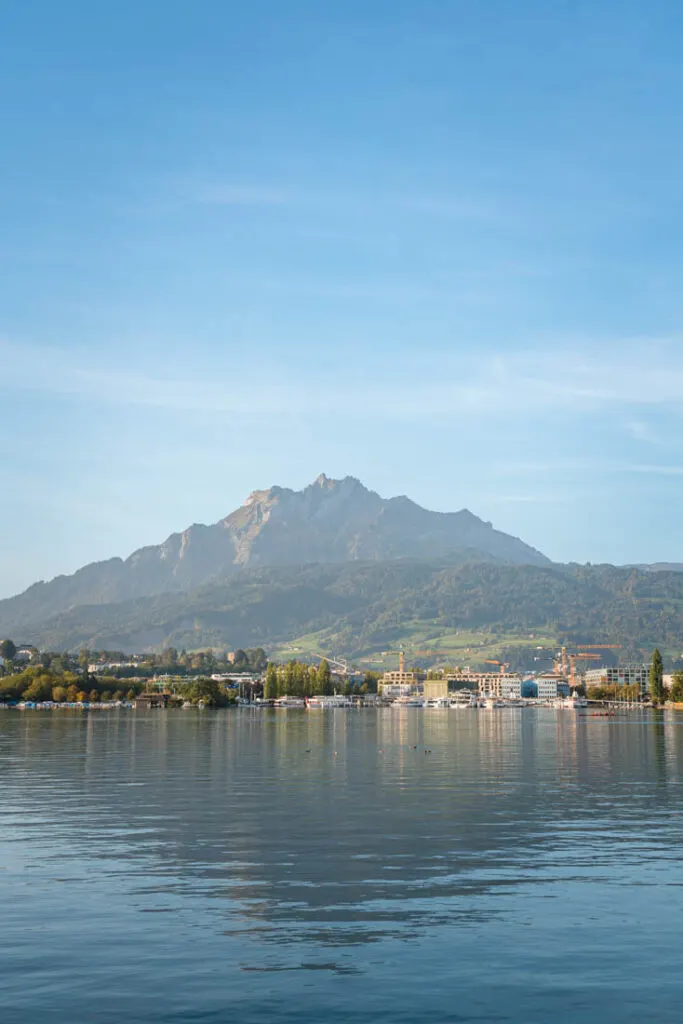 The journey from Lucerne to Lausanne takes around 2 hours and 20 minutes, so it's not a long journey.
Obviously you can head straight to Lausanne, but I'd recommend breaking up the journey and having lunch in the old medieval town of Fribourg along the way. This is a lovely little place to visit and it's the birthplace of the cheese fondue. It really is the perfect reason to visit!
Lucerne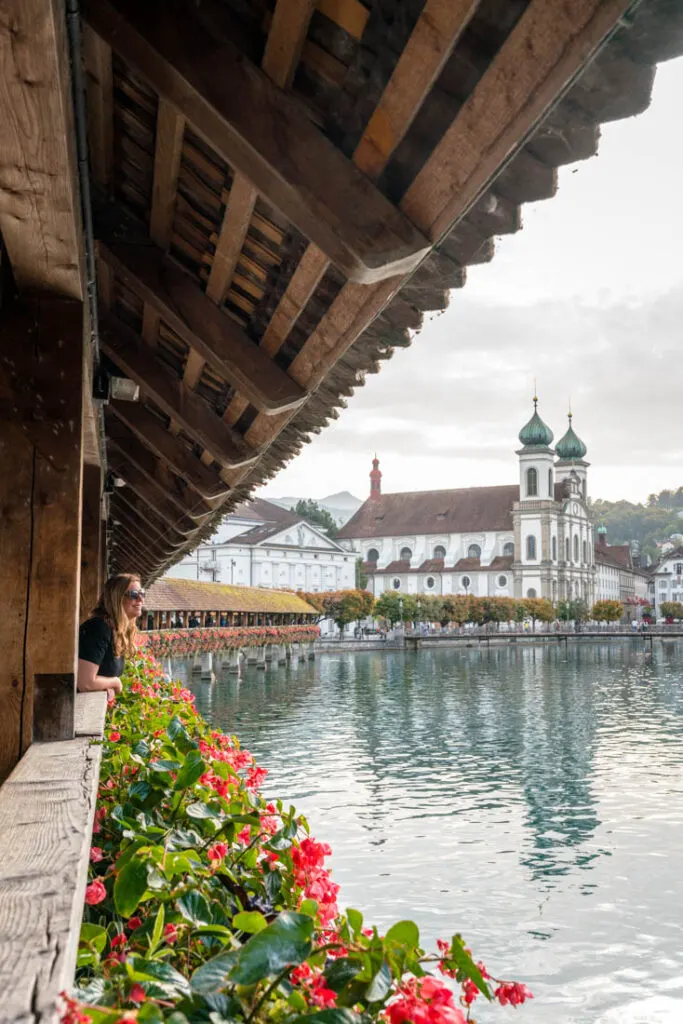 Lucerne is the type of place I could easily imagine myself living. It has such a good vibe when walking around.
To make the most of your time here, I'd recommend getting up early and going for a stroll around Lake Lucerne. From here, you'll get the best views of "Dragon of the Mountains" (the giant mountain overlooking the city). There is a really nice path that takes you around the lake and only takes about 20 minutes walking towards the train station.
Another site well worth seeing along the way is Chapel Bridge. This is an ornate wooden bridge that dates back to 1365 (it has been subsequentially rebuilt since then!) It is the oldest surviving truss bridge in the world though, and it is one of the top things to do in Lucerne.
Getting to Fribourg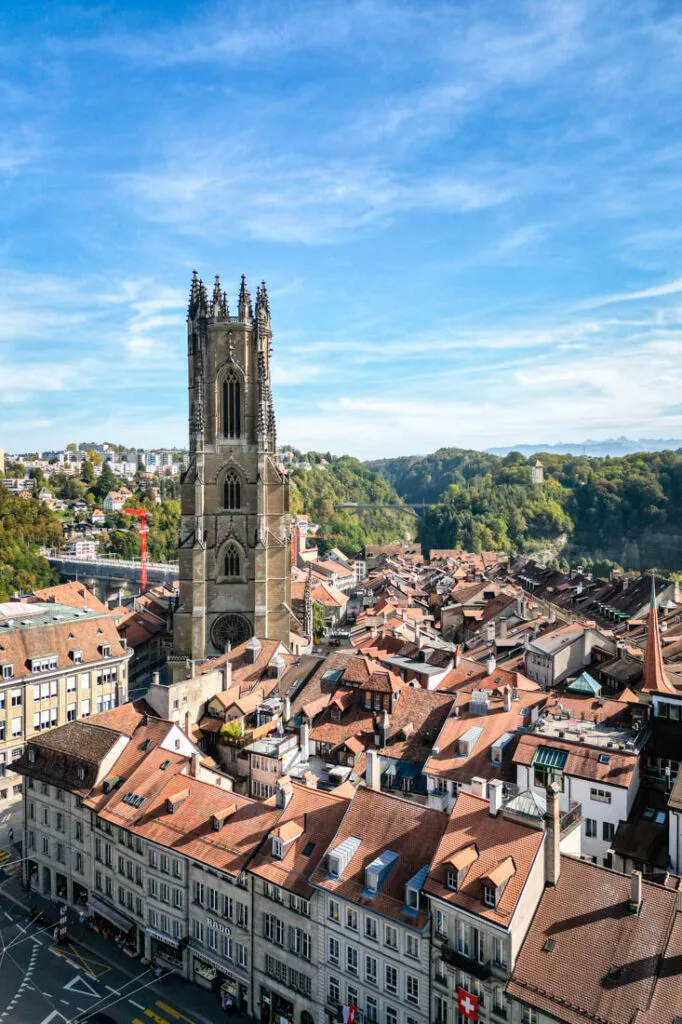 The IR15 train from Lucerne to Fribourg takes 1 hour and 25 minutes.
Fribourg is a very small city, so you can easily walk around here. A lot of people would skip places like Fribourg for their train itinerary for Switzerland, but they are so Swiss I think it's important to add them in.
A couple of places I'd recommend visiting are Chapelle de Lorette – from here you'll get the best view of the city. Another place that is a must is Middle Bridge – this is right over the River Sarine and again, the views are stunning.
Another place I'd recommend is St Nicolas Cathedral. This cathedral dates back to 1490 and it looms over the close packed buildings in the city. You can actually climb the 365 steps (one for every day of the year) to the top of the tower for another viewpoint.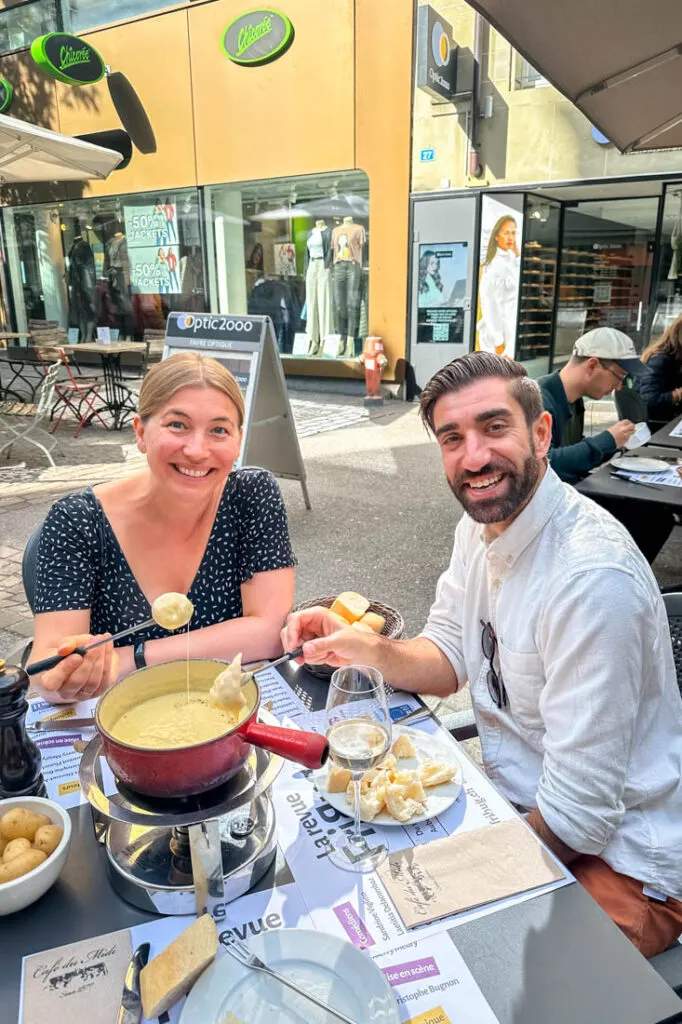 As I've already mentioned, Fribourg is the official home of the cheese fondue. I LOVE cheese (I have a proper addiction), so I was very excited to visit Fribourg just for this reason alone.
The local fondue is made from Gruyere and Vacherin giving it a slightly tangier taste. The two places to go for your fondue at Café du Midi (which is where I went), and Café du Gothard.
Don't you dare worry about the calories – just enjoy the cheesy goodness.
Getting to Lausanne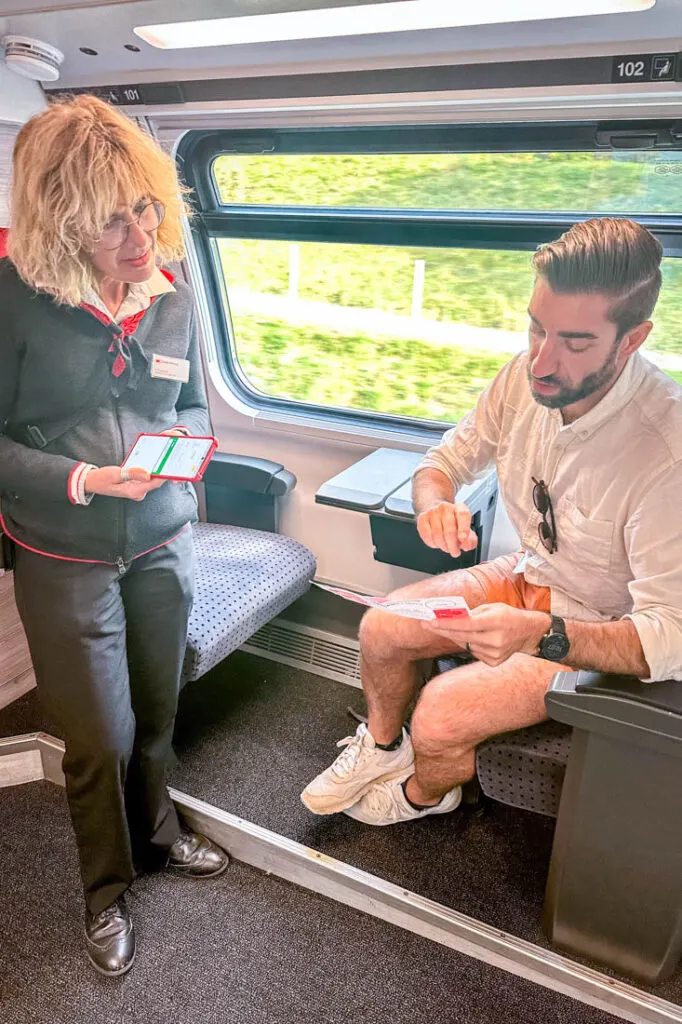 From Fribourg, the IR15/IC1 train takes 50 minutes, so this is a very quick and easy train. This whole train journey is gorgeous, but it goes up another level once you get views of Lake Geneva.
Day 3 – Lausanne to Zermatt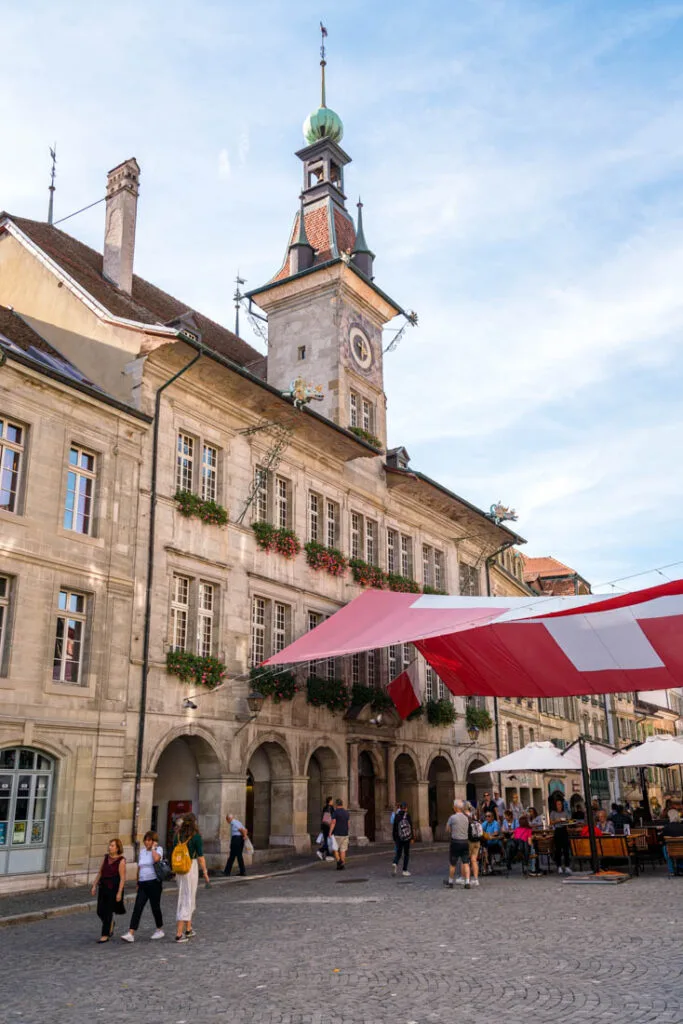 The journey from Lausanne to Zermatt takes around 3 hours and 10 minutes going direct. This journey involves catching the train to Visp, then catching another train to Tasch, before catching a final mountain train to Zermatt.
However, I am going to take you a very different route which involves a boat from Lausanne. Personally, this was one of my favourite activities I did in Switzerland, so I can't recommend it enough.
No matter which route you take, you have to change at Visp and Tasch anyway, but it's literally just getting off one train and getting on another.
Lausanne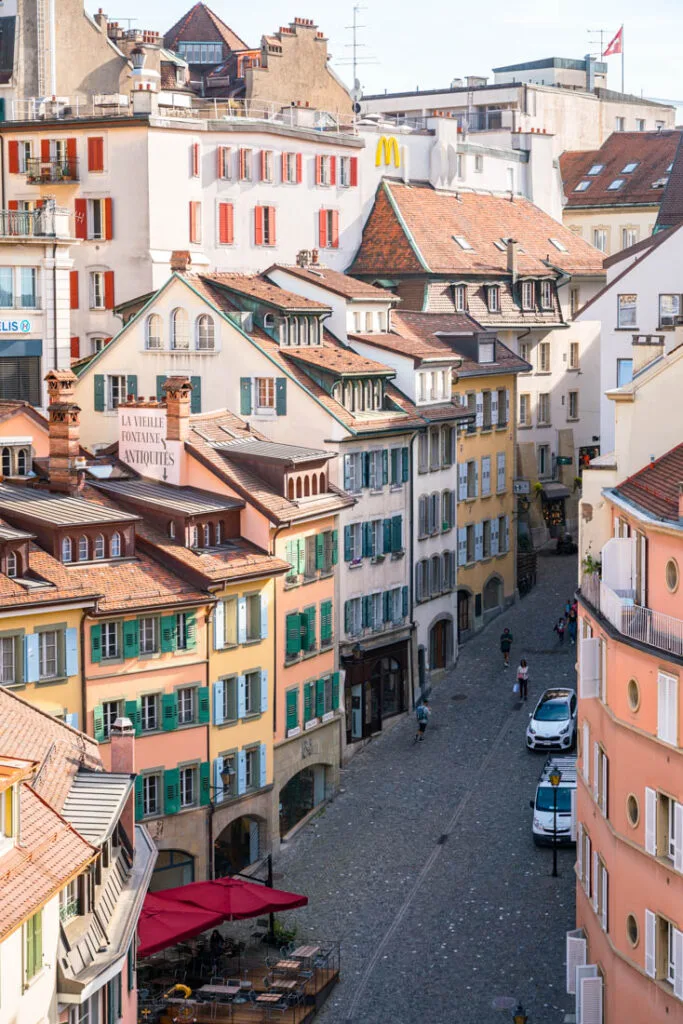 Lausanne is a wonderful place to spend a few hours wandering around the cobblestone streets. Almost on every other corner is an independent chocolatier or a fromagerie selling Swiss cheese.
One of the top things to do in Lausanne is visit Lausanne Cathedral. This is a beautiful church at the top of a hill overlooking the city. The main hall has these ornate high-vaulted ceilings – it actually reminded me a lot of the famous Notre-Dame Cathedral in Montreal.
If you want some of the best views of Lausanne then head to the top of the cathedral. Here you get 360-degree views of the city with Lake Geneva and the mountains in the background.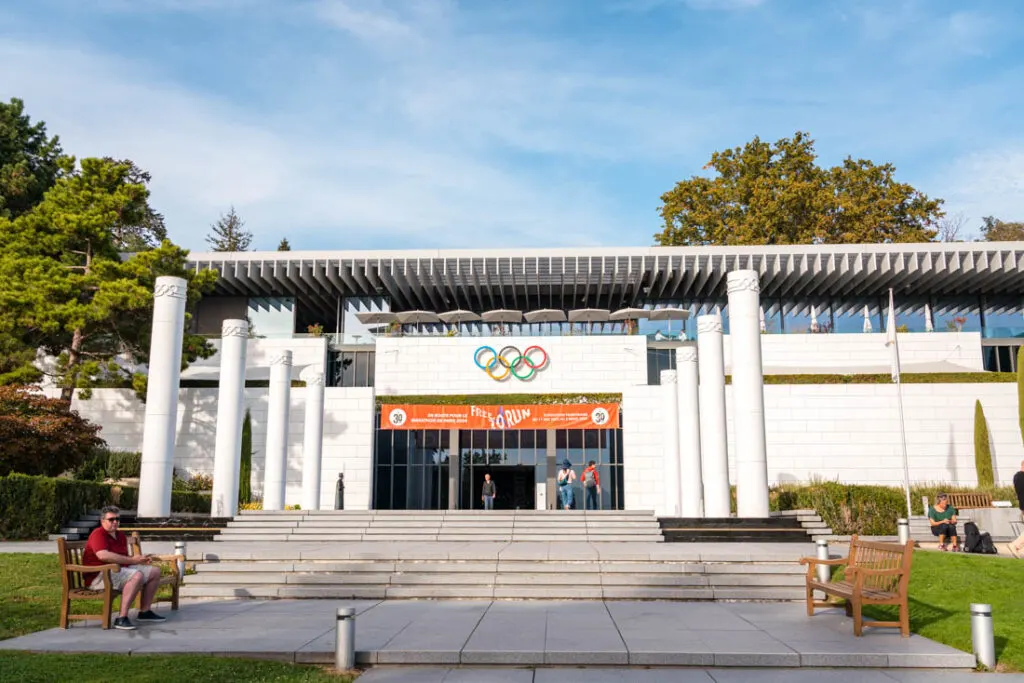 Another place that's well worth visiting is the Olympic Museum. Pierre de Coubertin, the founder of the Olympic Games, brought the International Olympic Committee to Lausanne in 1915, and it's still here today.
This is a very interactive museum which highlights the triumphs of the Olympic Games and its storied history. The café-restaurant also offers fantastic views of the lake.
Getting to Montreux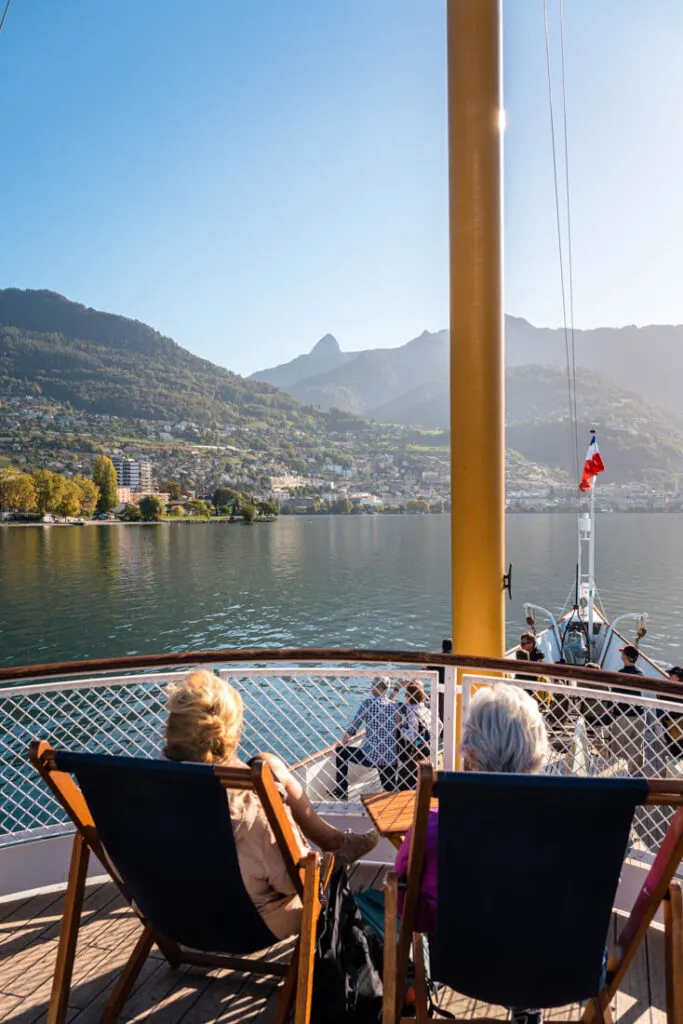 Okay, so now I'm going to take you on a different part of the Swiss Travel System.
Opposite the metro stop Lausanne-Ouchy you'll find the boat terminal for Lausanne. From here you can catch a boat from Lausanne to Montreux which takes 1 hour and 20 mins.
This boat leaves at 11:00 in the morning during summer, and then there is a later boat too. Make sure you check the timings on the SBB website though to be sure.
The best thing about this boat trip is it's included in your Swiss Travel Pass so you can just stroll onto the boat. And what a boat it is!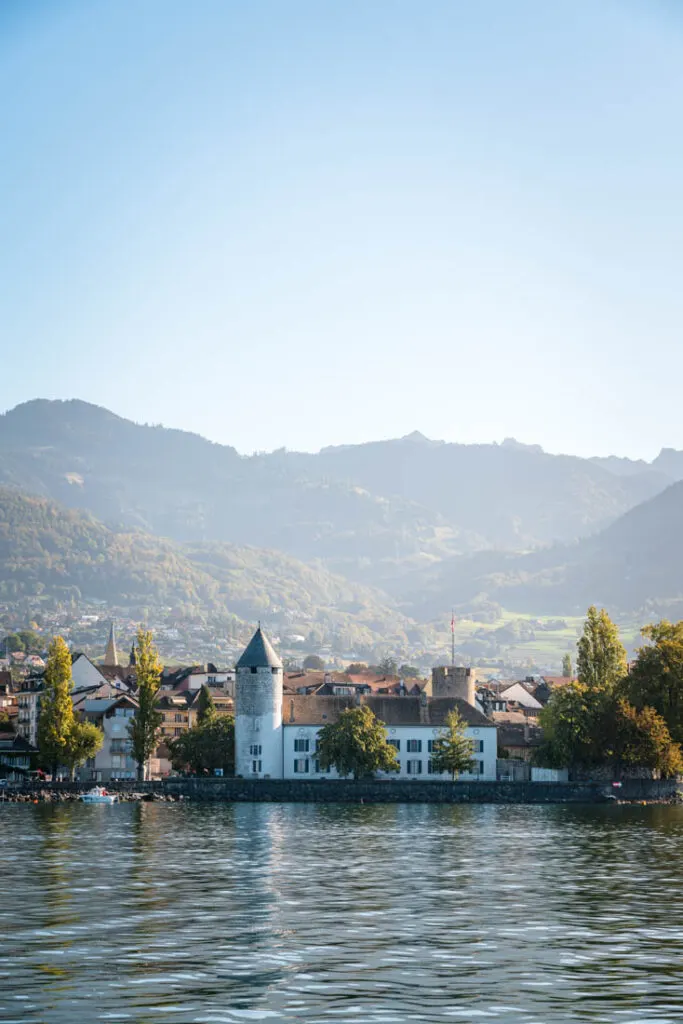 It's an old-fashioned steam paddleboat like harks back to the days of the Titanic. You can even see the open engine and waterwheels chugging along.
Honestly, I can't tell you how beautiful this journey is along Lake Geneva. Just seeing tiny towns and the mountains roll by is something else. Also, there are a number of deck chairs on the boat – just perfect for watching the world go by!
Getting to Zermatt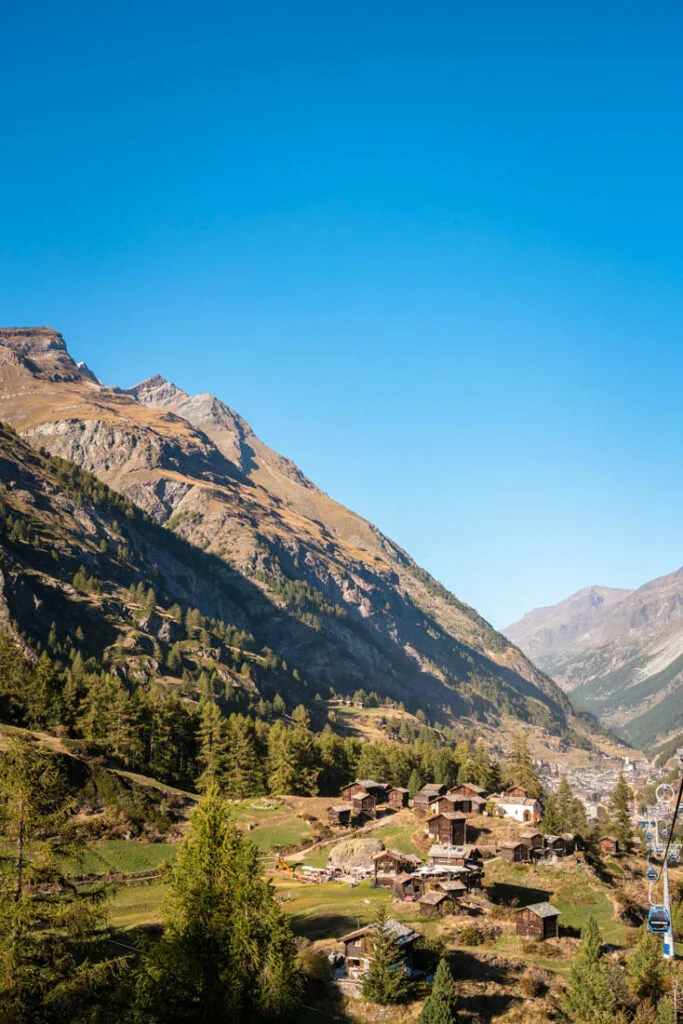 From Montreux, you can catch the IR90 to Visp which takes 1 hour and 10 mins. From here, you need to change trains to Zermatt which takes another hour.
I know I keep banging on about all these gorgeous views, but the train from Visp to Zermatt is another stunning journey. This train trip takes you past mountain villages, and as you get closer and closer to the Alps the landscapes become more and more dramatic. Eventually you're treated to a view of the Matterhorn itself. Wow.
Day 4 – Zermatt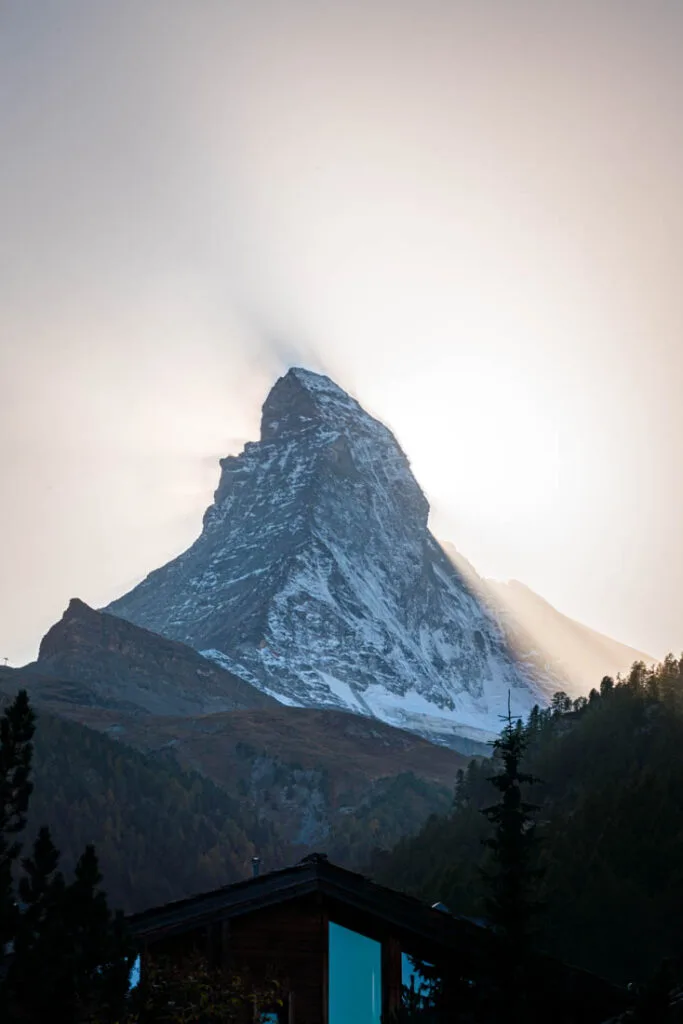 If you wanted a shorter train itinerary for Switzerland, you could skip this day and catch the Glacier Express directly to Chur. This would mean you'd only need a 4-day Swiss Travel Pass and you can shorten the itinerary by a day. However, I really think it's worth spending the whole day in Zermatt.
To get around the fact that you'd be wasting a day of your Swiss Travel Pass not travelling, you can actually buy a flexible ticket where you can travel for 4 nominated days as opposed to consecutive days. This way it means you can spend a day in Zermatt without losing a day on your ticket. It's a little confusing but I explain it all in my guide on how to use the Swiss Travel Pass.
The reason why I think you should spend the whole day in Zermatt is because I think it's one of the most beautiful places to visit in Switzerland. Walking around here feels like you're on a film set or in a fairy-tale; it's just so magical.
It also means you get to go on the Gornergrat railway too, something that shouldn't be missed.
Even though this train isn't included in your Swiss Travel Pass, you do get 50% off. And once again, I promise you it's well worth it!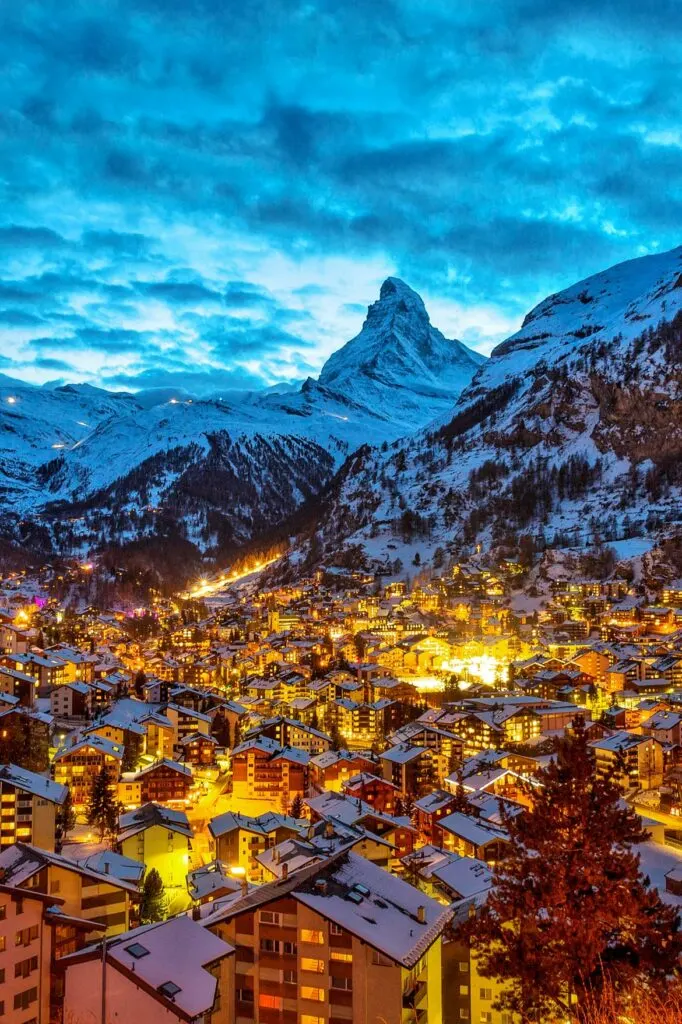 I would say the Gornergrat is one of the most beautiful train rides in the world with these spectacular views of the Matterhorn as you go up.
The Gornergrat train leaves Zermatt at 1,600m and takes you all the way up to the Gornergrat peak at 3,100m. The journey takes around 33 minutes so the best thing to do is bag yourself a window seat and enjoy the views.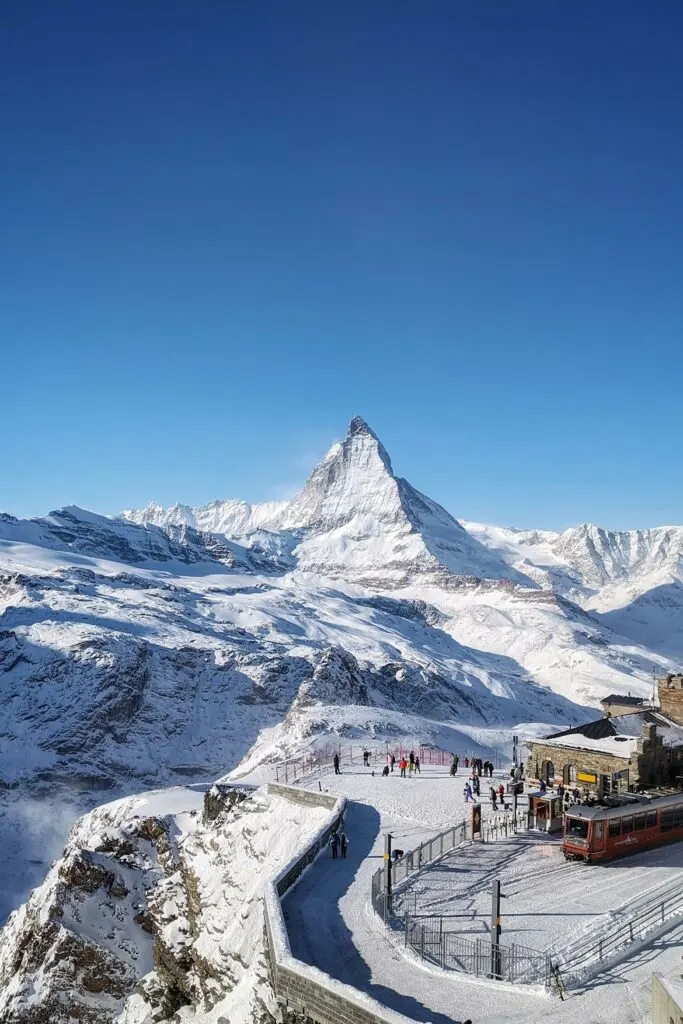 At the top you have some amazing panoramas of the mountains including the Matterhorn. There's also a hotel which you can stay in (which is Europe's highest hotel) and a restaurant up here too.
My top tip is if you want to beat the crowds then head up on one of the first trains around 8am. Then you'll have the top of the mountain pretty much to yourself. There's a reason why this is one of the best things to do in Zermatt!
You can book your tickets for the Gornergrat train here.
Day 5 – Zermatt to Chur on the Glacier Express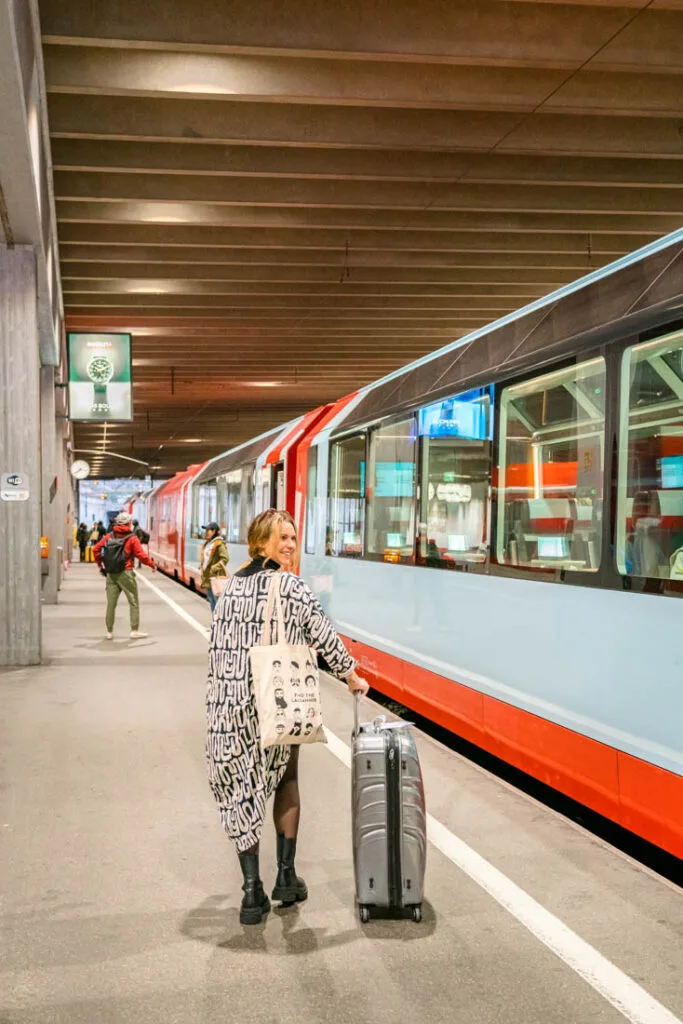 I don't want to say I've left the best till last, but if you love train journeys then the Glacier Express has to be on your bucket list.
This is one of the panoramic scenic trains where you just kick back and enjoy the ride. The whole point of this train trip is to look out the window and enjoy the views – nothing more.
The train leaves at 07:52 during summer and 08:52 during winter, and takes around 7 hours 30 minutes. It's often referred to as "the slowest express train in the world". It only travels 290 kilometres in that time but the views gradually get better and better with each passing hour.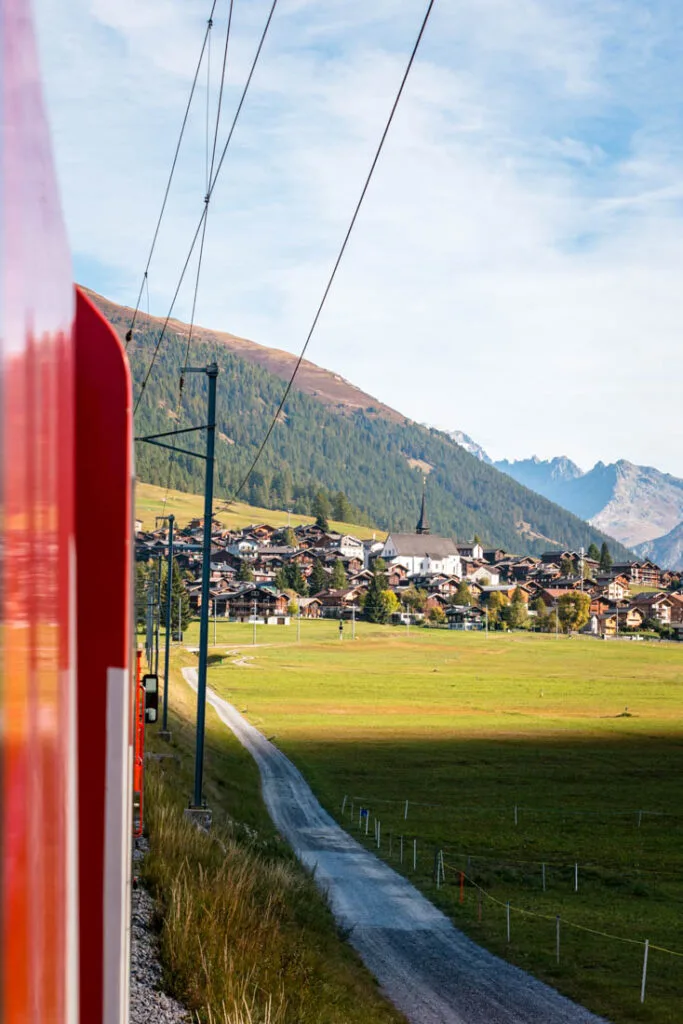 No train trip like this would be complete without a good meal. Well, the Glacier Express provides a culinary experience like no other. Tables are elegantly set, and the panoramic windows provide stunning views while you eat.
The menu often includes a selection of Swiss dishes local to the region. For our lunch we had beef stroganoff and it was absolutely delicious. You can also pair this with a Swiss wine or a little digestif while you're rolling along too.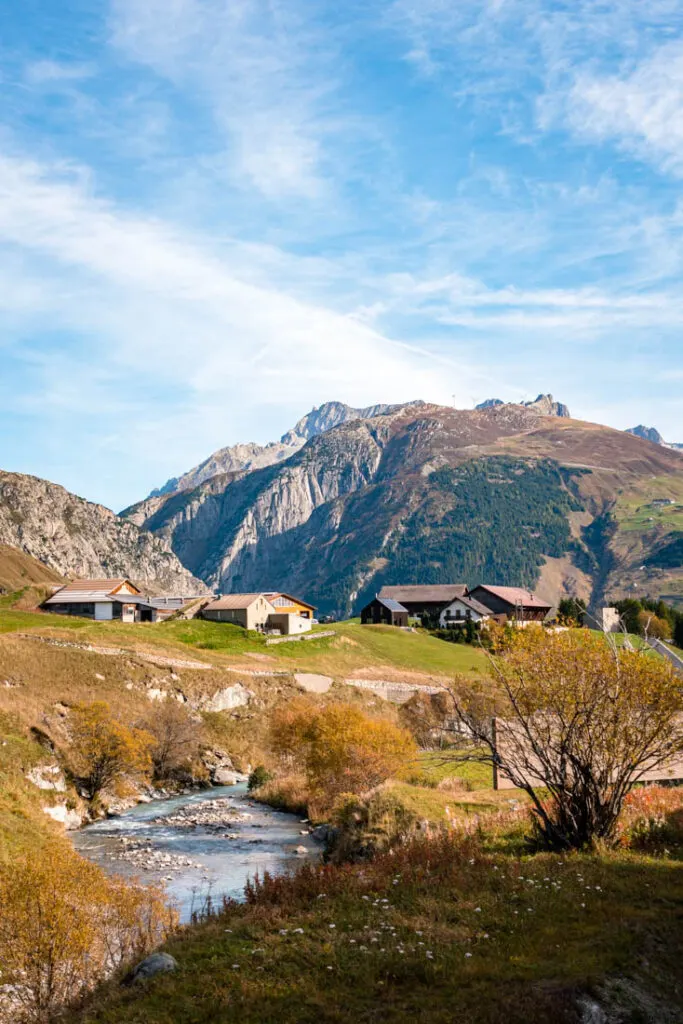 One thing not everyone knows about the Glacier Express is you can freely move through the carriages. Why would you want to? Well, in the food coach where you can grab a coffee, they have panoramic windows which you can open.
I can't tell you how amazing this is for photography. No glares from the lights, no weird colours – just uninterrupted views. I love taking photos so it really made a difference to my journey having this.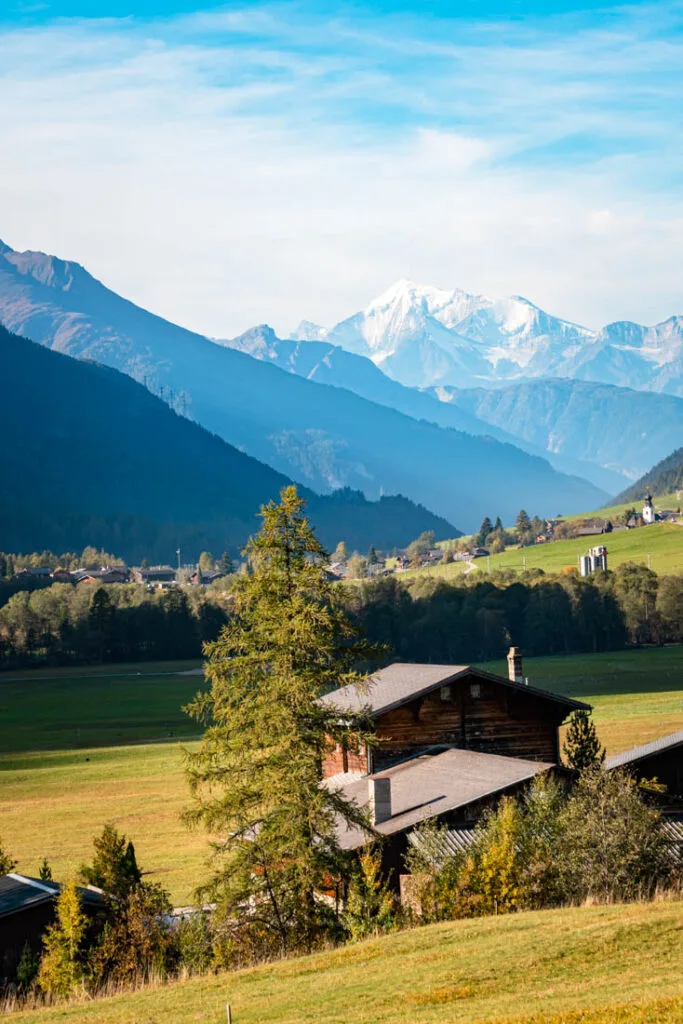 This train gets into Chur at around 13:52 in summer or 14:52 in winter. From here, you can either stay in Chur and carry on your Swiss adventure, or head back to Zurich.
Unfortunately this was the final stop on our rail itinerary for Switzerland, but 5 days was the perfect amount of time for travelling around the country.
---
I really hope you found my Swiss train itinerary useful for planning a trip here. As you can tell from my photos, this is such a stunning country to travel around. And doing it by train, bus and boat is just the perfect way of seeing the country.
If you have any questions about my itinerary, just let me know in the comments below. Otherwise, happy travelling!
---
This post was in association with My Switzerland and the Swiss Travel System showcasing some of the best things to do in Switzerland. As always, all views and opinions are my own.
Like this blog post? then Pin it for the future!