Łódź is fast becoming one of the best budget destinations in Europe. If you're planning a cheap weekend getaway, these are the best things to do in Lodz!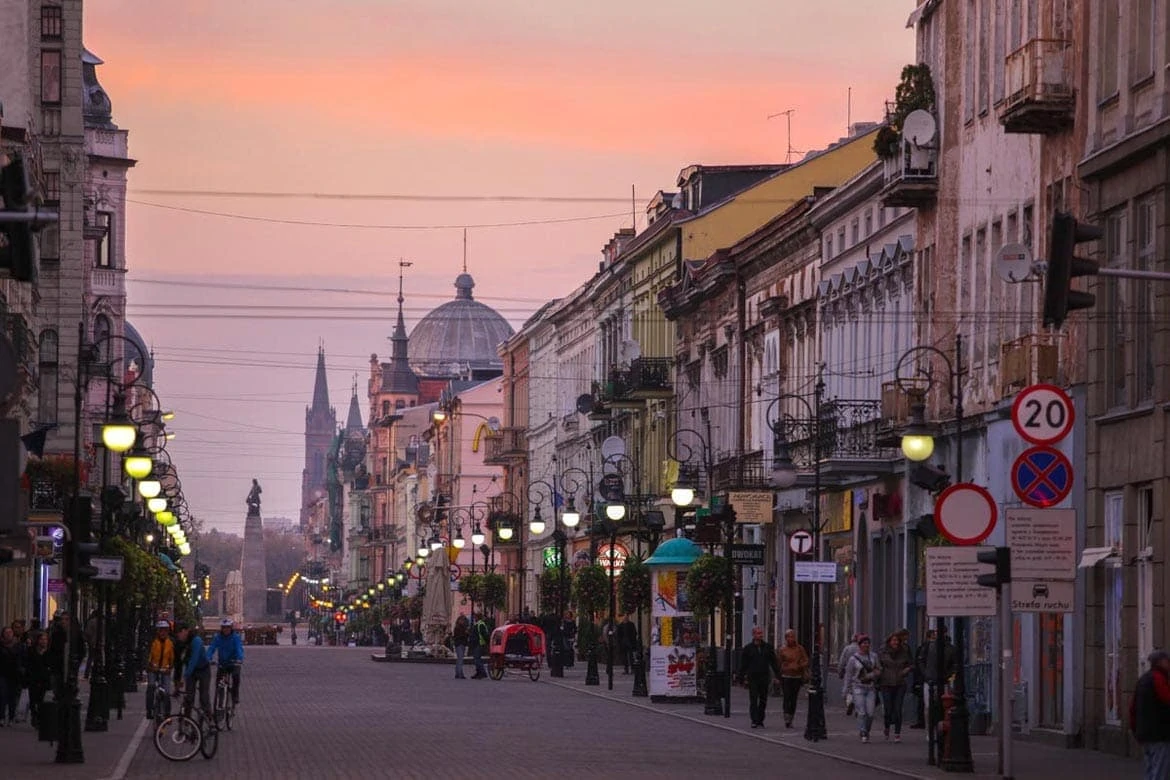 I went to Łódź in Poland on a mission. I wanted to find all the best things to do in Lodz on a budget. And when I say a budget, I really mean a budget.
I love cheap travel (I mean, who doesn't, right?), so I knew Lodz would be my kinda destination. The only thing I didn't appreciate was how cheap this place would be.
I had 3 days exploring Lodz, so when I got to the airport I took out £100 thinking that would cover me for the 3 days. I guess I didn't really appreciate what 'budget' meant because by the time I had to fly home I still had £30 left over! I think that says it all really.
There's a reason why this is one of the top budget destinations in Europe right now. Make sure you watch my video below to discover what to do in Lodz.
Before I went to Lodz, I didn't know much about the place at all.
I knew it had been voted as one of Lonely Planet's best budget destinations to visit in 2019. Apart from the fact it was cheap I didn't know a single thing about the city – that's why I wanted to explore all the city had to offer for a weekend city break to really get to know the place.
So, if you're looking for a cheap getaway, these are all the top things to do in Lodz. I really hope you enjoy the city as much as I did!
– What to do in Lodz, Poland –
Street art in Lodz
Łódź was once known as 'grey Lodz' as the city went into decline after World War 2. However, the city has gone through a colourful transformation in recent years with world-class street art popping up all over the place.
I really love how street art has an instant effect on a place. If you took away all the street art in Lodz, a lot of the buildings would be uninviting and uninspiring. Add a few colourful characters and it really brings the place to life.
There are over 40 different murals all around the city now with more being commissioned for the future.
My favourite piece was of one of Lodz's most famous residents Arthur Rubenstein. I can't look at this piece without smiling – I mean, just look at it! Definitely add this place to your Lodz itinerary.
Price – free!
Rosa's Passage
Another place that reflects the transformation Lodz has gone through in recent years is Rosa's Passage. This used to be a dreary part of the city until Polish artist Joanna Rajkowska covered all the walls with tiny pieces of mirrors to create this giant mirror mosaic.
As Joanna Rajkowska says: "The reflected fragments of the surrounding and of the sky, and the abundance of light that will appear in this rather dark courtyard, are intended to turn it into something very light, flickering, and surreal."
Even though this is a quick stop just off Piotrkowska Street, I found Rosa's Passage really immersive and one of my favourite things to do in Lodz.
Price – free!
EC1 Planetarium
One of the newest buildings to open in Lodz is EC1. This is a futuristic complex housing the Centre for Science & Technology and the EC1 Planetarium. I think the buildings of the Planetarium look like a spaceship (do you see it too or is it just me?) I guess that's the point as it's to do with space!
Inside the Planetarium is a giant spherical 8K resolution screen where you can watch films about space and our solar system. Now I have to admit I have never seen a film at a planetarium but I absolutely loved it. I could go into space and travel and man's insignificance in reflection with our universe but instead I'll say I just really enjoyed it.
If you're visiting with little ones then this is one of the best family activities to do in Lodz. This place will keep them entertained for at least a couple of hours.
Price – tickets cost 18 zloty which is just £3.60 for a 45 minute screening so a fantastic price for what you're getting. Oh, and they have English headsets too so you can understand what's going on.
Piotrkowska Street
Piotrkowska Street is the street in Lodz. At 4.2km, Piotrkowska is the longest commercial street in the country. Whether you're looking for cafes, cute lunch spots, restaurants for the evening, boutique shops, and anything else in-between, you'll find it on Piotrkowska Street.
If you want to explore the whole length of Piotrkowska Street you can hire a cycle rickshaw and take in the ever-changing architectural styles along the street. Best thing to do here is keep looking up. A lot of the buildings are faded pastel colours and are so pretty to look at.
I found Piotrkowska Street to be the cultural heartbeat running through the city and I loved how the place came to life in the evenings.
For cycle rickshaws, I really recommend you barter before you get in but the going price was 10 zloty for 10 minutes.
If you're looking for the best shopping in Lodz then you'll find it here.
Price – free!
HollyLodz
So there's something I haven't mentioned yet (and I probably should have by now). Lodz is pronounced Woodge (if you've watched my video you'll know that!)
The Ł, ó, and ź are all Polish letters, so Lodz becomes Woodge. That means, HollyLodz becomes HollyWooge – get it?
HollyLodz is the city's version of the Hollywood Walk of Fame with all of Poland's most famous stars. And there are a lot more than you think!
It's really cool coming down here and seeing names such as Roman Polanski and Jerzy Hoffman while walking around.
It's a bit cheesy but definitely add this in your list of things to do in Lodz.
Price – free!
OFF Piotrkowska
I feel like they love a good name pun in Lodz. As the name suggests, OFF Piotrkowska is just off Piotrkowska street. This is a little hipster haven that is Lodz's version of Shoreditch in London or East Village in New York.
If you're looking for a few cracking restaurants and speakeasy bars then this is where you'll find them in the city.
I ate at Ato Ramen for a delicious bowl of spicy miso ramen, and I also ate at Tas, a really nice Spanish restaurant.
There are a few boutique shops inside OFF Piotrkowska selling things like jewellery and retro Converse, and there's a damn trendy barber shop too.
Basically, anything hipster related and you'll find it in OFF Piotrkowska!
Price – dinner for a main cost between 20 and 40 zloty, so between £4 to £8 for a main (so so so cheap). A beer will set you back around 12 zloty so £2.50.
Manufaktura
Manufaktura is an arts centre, a leisure complex and a shopping mall all in one. It is also home to the largest public square in Lodz which they use for cultural and sports events in the city.
Manufaktura opened in 2006 and it is now one of the top things to do in Lodz. The place used to be a old, dilapidated redbrick textile factory and walking around here really gives you an insight into what the city must've been like in the 19th and 20th centuries.
Since then it has been converted into a huge shopping complex with a number of designer stores, so if you're a shopaholic then this is the place for you.
If not, there's a bowling alley, lazer tag, the Factory Museum and a load of cool restaurants and bars to choose from too. Basically, you don't be bored visiting Manufaktura.
Also, the architecture is on point from a photography perspective!
Price – free!
MS2
If you're wondering what to do in Lodz, look no further than MS2.
Next door to Manufaktura is MS2, the modern art gallery in Lodz. This place is packed full of amazing modern art from all around the world and showcases Lodz's trendier side.
This museum is home to more than 400 words of contemporary art and includes artists like Pablo Picasso, Paul Klee and Tamás Kaszás.
One thing I would say about MS2 is it puts you on edge. Walking around the 3 floors of the permanent exhibition, there's this really eerie music playing in the background that sounds like it's straight from a horror film. I think it's part of the exhibition to keep you out your comfort zone but it really gets the pulse racing.
Saying that, there's a lovely little café on the first floor that's a great place for a little down time.
Price – tickets were 12 zloty (£2.50) for the main permanent exhibition.
Izrael Poznanski's Palace
Izrael Poznanski was once the richest man in Lodz. He built is fame and fortune as a textile magnate in the 19th century and used to own the industrial factory Manufaktura (as well as a number of other factories in the city).
What did he do with so much money? He built himself a palace. A magnificent palace with high vaulted-ceiling rooms and ornate dining halls.
Today, Izrael Poznanski's Palace is home to the City of Lodz with exhibits on famous residents, including Arthur Rubinstein and resistance fighter Jan Karski.
If you want to learn more about the city, then this is the place to do it. I would say Izrael Poznanski's Palace is one of the top things to see in Lodz and it's well worth visiting here.
Price – tickets were 12 zloty (£2.50) for the main permanent exhibition.
Where to stay in Lodz
You can also check out some of the best hotels in Lodz here!
My trip to Lodz was in association with Lonely Planet showcasing one of their 'Best in Travel' destinations. As always, views are entirely my own and without bias.
I really hope this post helps with what to see in Lodz! If there's anything I can help with at all let me know in the comments below.

Like this blog post? Then make sure you Pin it for the future!