From exploring the Betty Ford Alpine Gardens to riding the Forest Flyer Mountain Coaster, these are the best things to do in Vail in summer!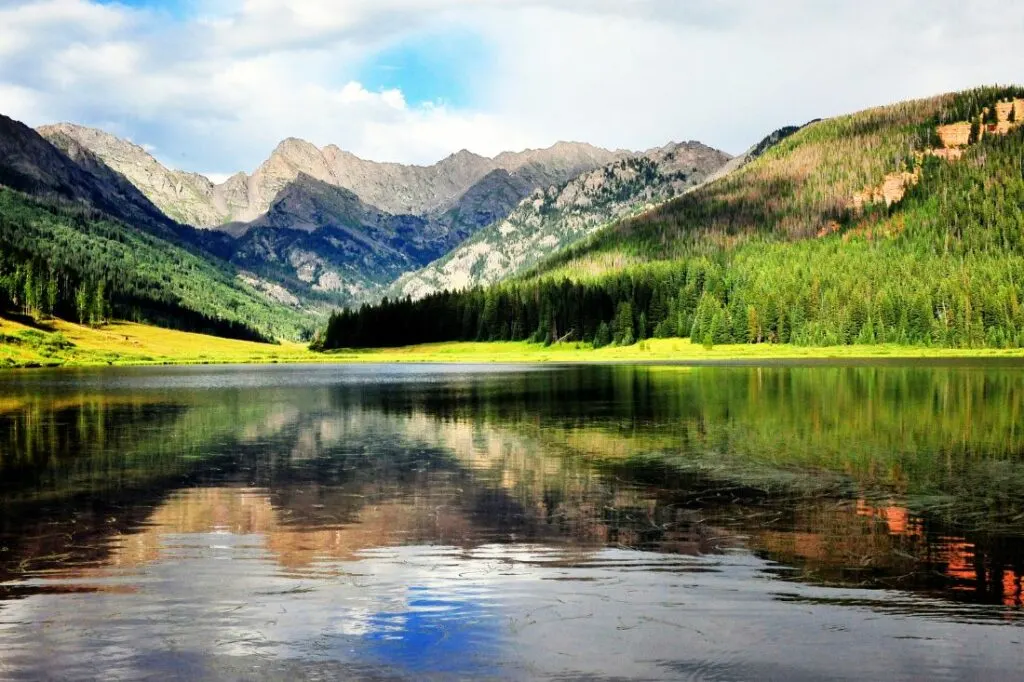 Purpose built as a snow sports resort in the the 1960's, Vail has all the charm and appeal you want from a ski-holiday, even in the warmer months. And trust me, Vail in summer is still absolutely gorgeous!
Sitting at over 2,400m (8,120 feet) above sea level, the air is fresh and the living is easy. But that's not to say there's nothing to do here. There are a plethora of exciting Vail summer activities to get you out in nature or your blood pumping (or both!).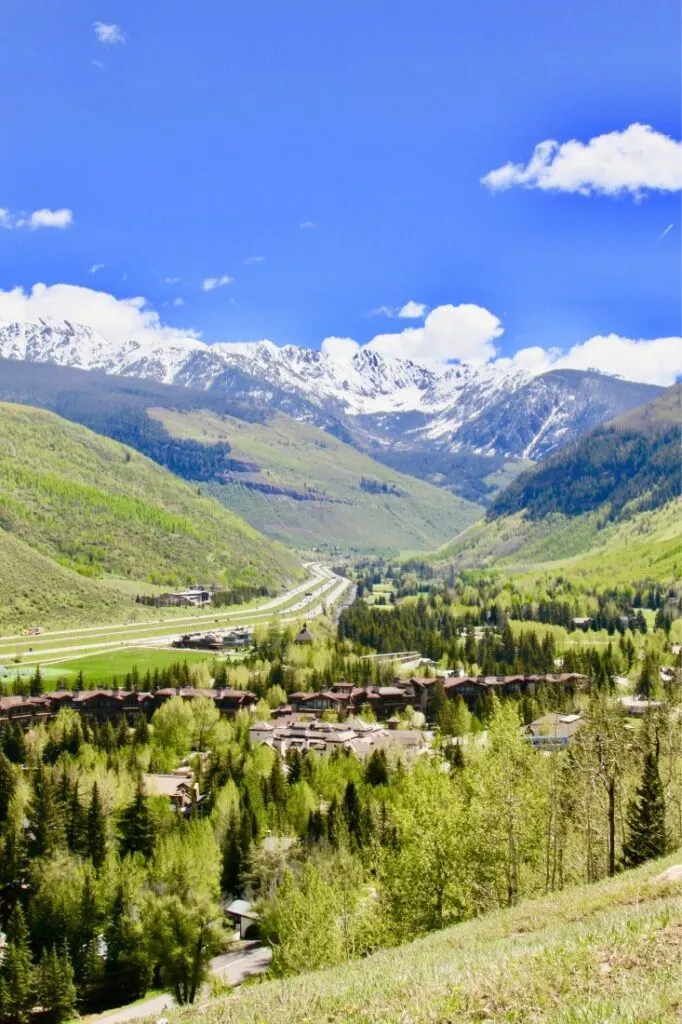 Over the summer months Vail is a hot spot for both nature lovers and adventurers. Take a llama for a hike and picnic through the mountains or splash through the valley on a white water rafting tour. For a more chilled out experience, enjoy a decadent brunch at Vintage French Brasserie, before checking out the local art scene.
The weather has warmed, the snow has melted, and the sun has come out to play, so get yourself to Vail for a gorgeous summer's vacation in the mountains. Keep on reading to hear all my favourite things to do in Vail in summer!
Looking for Colorado accommodation ideas? Then check out my post on the best boutique hotels in Colorado.
Vail summer weather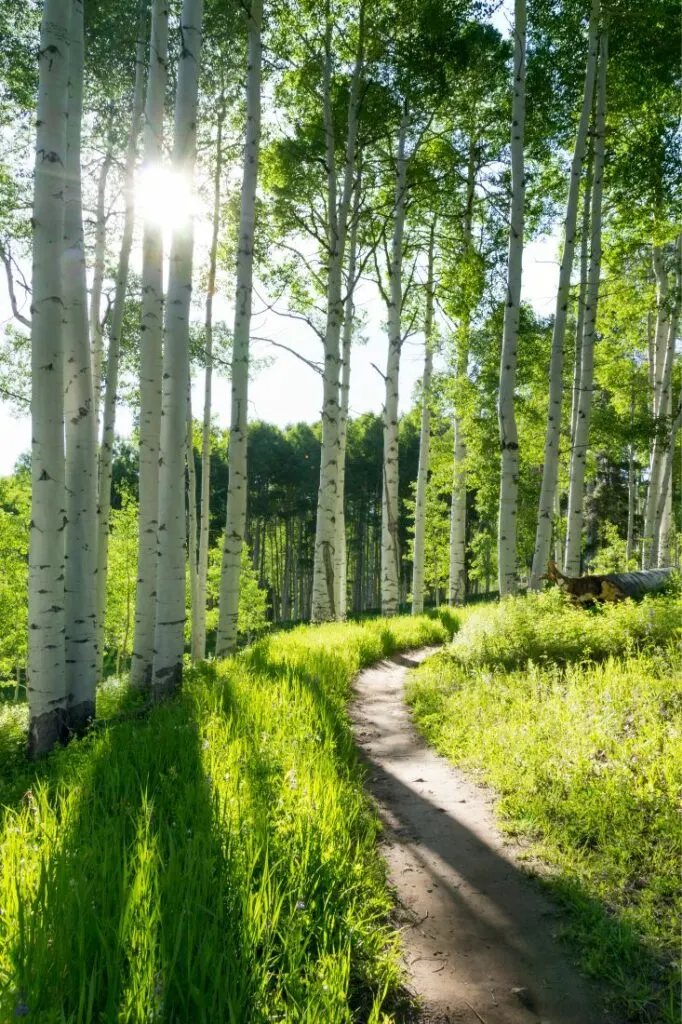 After the cool months of winter, the sun kisses the mountains around Vail and brings the temperature up to an average high of 21.3°C (70.3°F). With lower average temperatures than the lowlands, this is a great place to beat the heat in the middle of summer.
Over the summer months you can expect days averaging at 18.4-21.3°C (65.1°F-70.3°F). Overnight, however, the average temperature can still drop to as low 2.5°C (36.5°F). This makes it perfect weather for hiking and outdoors fun, followed by evenings spent drinking hot chocolate and toasting marshmallows.
---
Best things to do in Vail in summer
Wander around Vail Village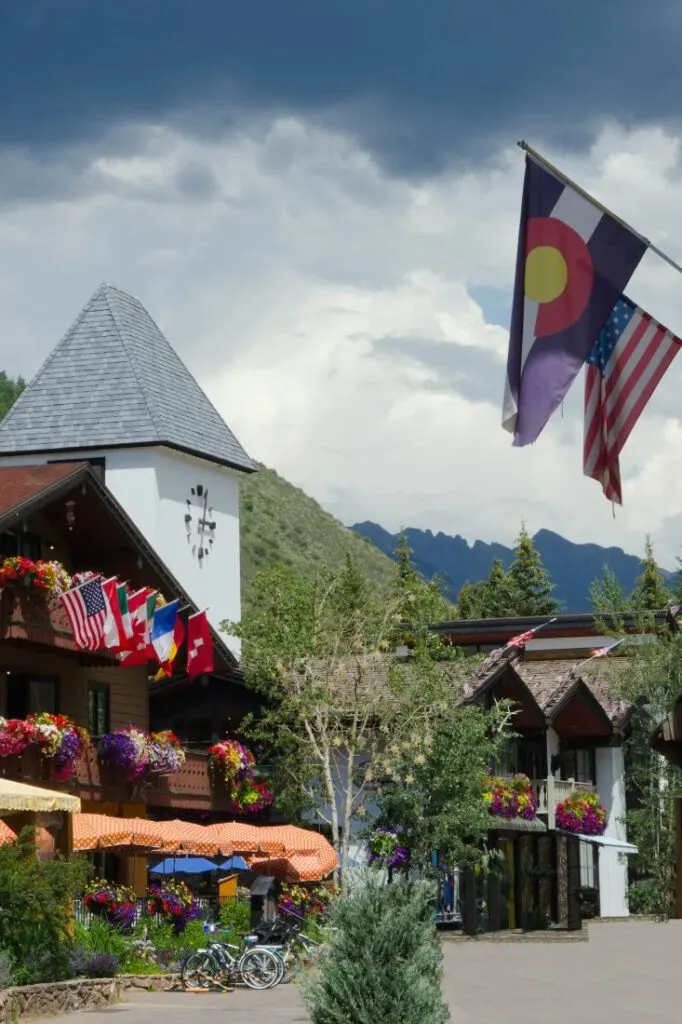 When you first arrive in Vail, make sure you dedicate some time to wandering around the village itself. Created in the style of a Bavarian alpine village, you'll be treated to a European ski-town experience. The buildings are built in the traditional ski-lodge style, complete with wooden finishes, with heated cobblestone streets winding between them.
This is the centre of action when it comes to off the the slopes activities, such as dining. The village is also well known for its high end and boutique shopping opportunities, so you can stock up on any gear you need. It's amazing how much it's styled on a Bavarian village – watch out Germany, you might have some competition!
Take a scenic gondola ride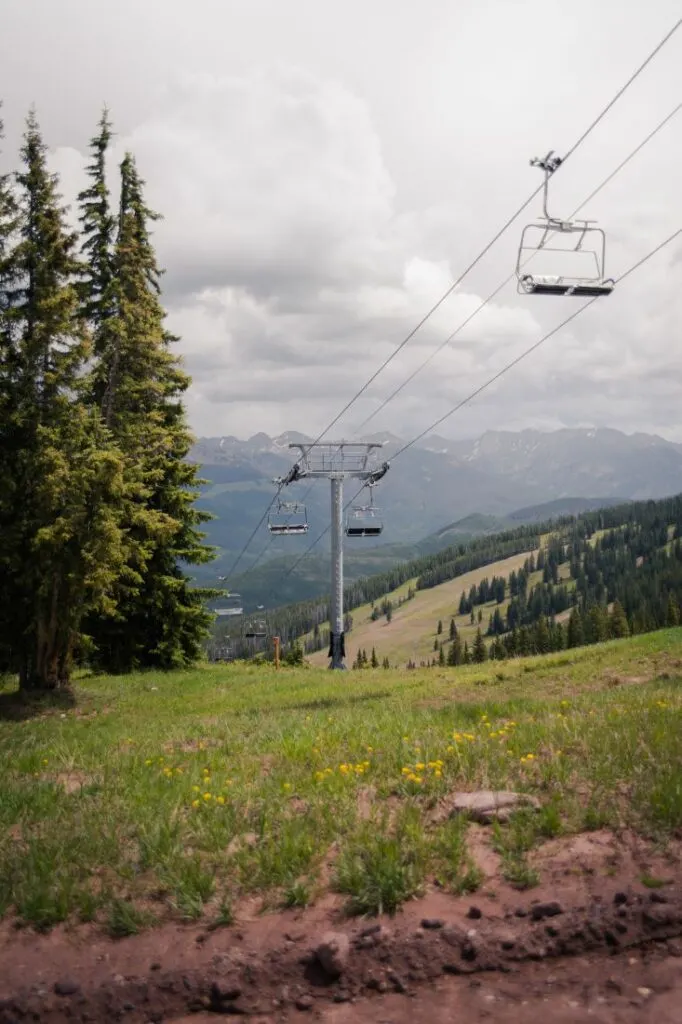 Just because the snow has melted, doesn't mean you can't enjoy a nice gondola ride through the mountains!
Over the summer both the Gondola One and Eagle Bahn Gondola lines are still in action. These lines run from Vail Village and Lionshead Village, taking visitors to over 3,000m (10,000ft) above sea level to the top of Vail Mountain.
Soar high above the ground and enjoy the gorgeous views of wildflower covered mountains. Hop off at the top for access to hiking trails, to enjoy a picnic, or simply to take in the magnificent view.
Go on a hike to Lionshead Village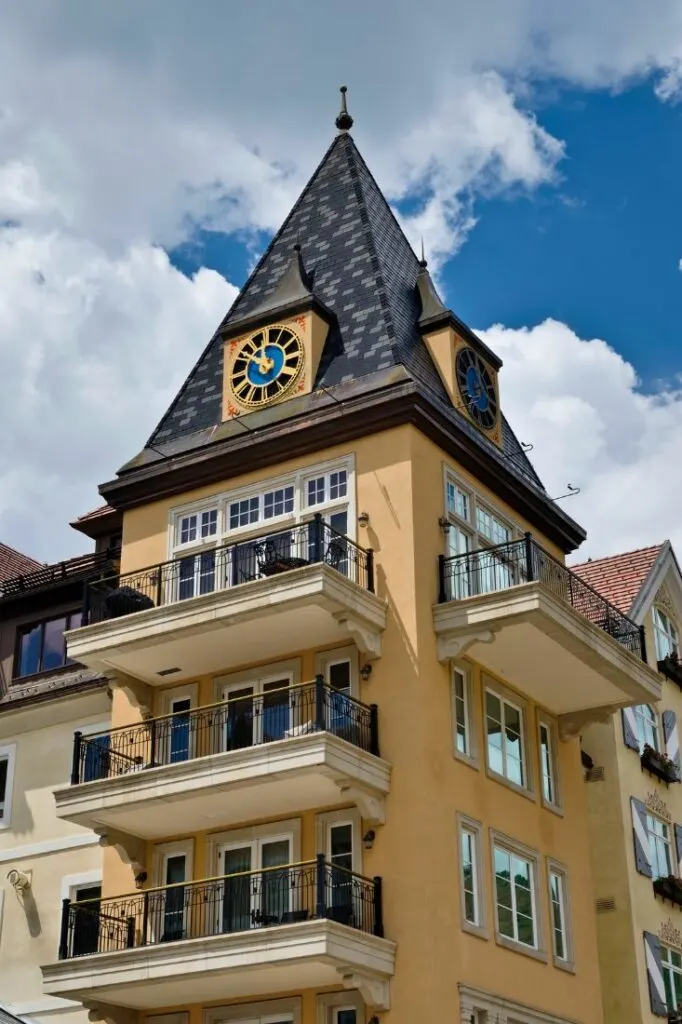 One of the best Vail summer activities is going for a hike. With steep mountains, gentle valleys, bubbling creeks and nearby villages, there are plenty of hikes to choose from. At this time of year, you'll also be treated to an abundance of wildflowers.
For a family friendly hike, take the Gore Creek Path across to Lionshead Village. Just shy of 3km one way, and completely paved, this hike is a great option for people travelling with strollers. The hike should take approximately 40 minutes and there is a bus between the villages for the return journey.
Or follow the Berrypicker Trail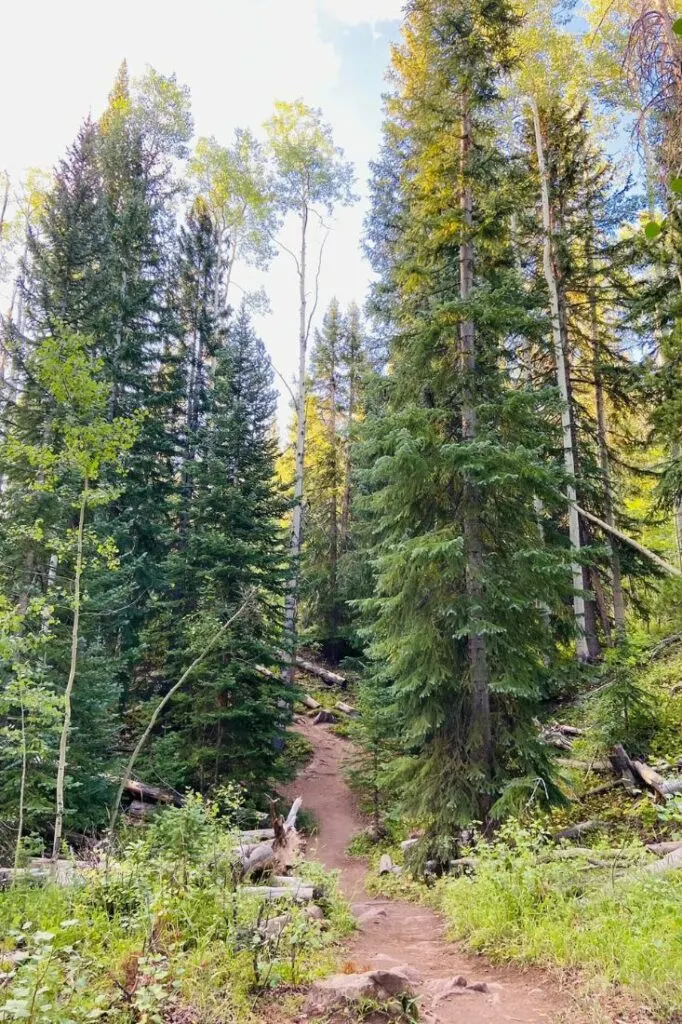 If you're after a more strenuous day hike, look no further than the Berrypicker Trail. Starting from Lionshead Village, this 10km trail takes you up the ski path of Vail Mountain to Eagle's nest.
Switching between steep and gradual inclines, you'll certainly feel rewarded once you reach the epic panoramic views at the top. You will also find boards informing you of the native flora and fauna in the area.
The trail is well signed, so you should have no issues finding your way. For a lighter option, take the gondola to the top and follow the trail back down.
Picnic with a llama!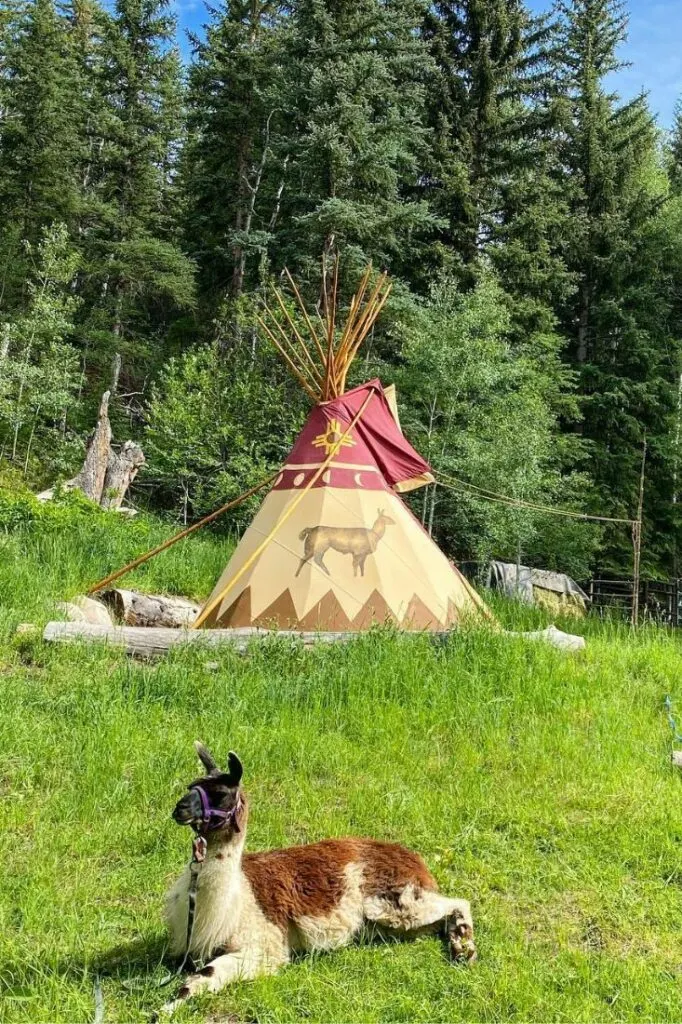 Do you have any members in your group that need a little more incentive to go on a hike? Then lure them on a summer hike with walking a llama or two along for the day!
The hikes on option range from easy to hard and are tailored to suit the needs of the group. Better still, to replenish your energy you can choose from either a picnic or wine and cheese package. Your new furry friend will even carry it for you. I've been hiking with llamas before and it's actually a really fun activity to do – the llamas love it too!
Betty Ford Alpine Gardens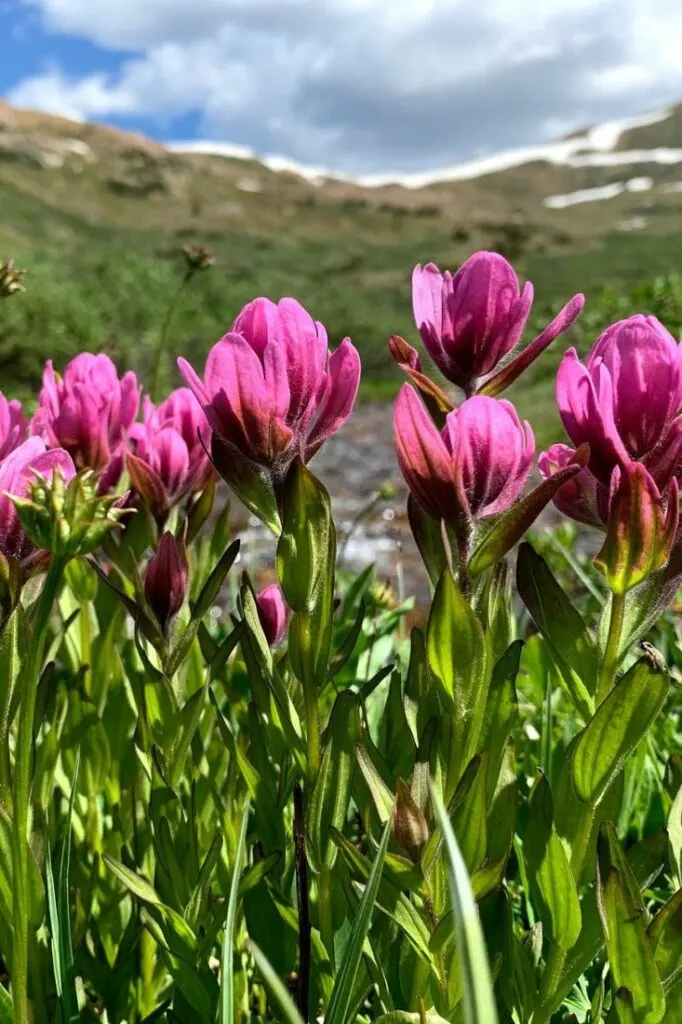 Spend a gorgeous afternoon wandering the grounds of the Betty Ford Alpine Gardens. Sitting at 2,514m (8,250 ft) above sea level, these are actually the highest botanical gardens in the United States and among the highest in the world.
The gardens are open from dawn till dusk daily. Over the summer you'll be treated to beds full of brightly coloured alpine flowers and a whole range of events and activities. There is even a scavenger hunt for kids as well as a playground, to keep everyone entertained during your visit.
Sunday farmers market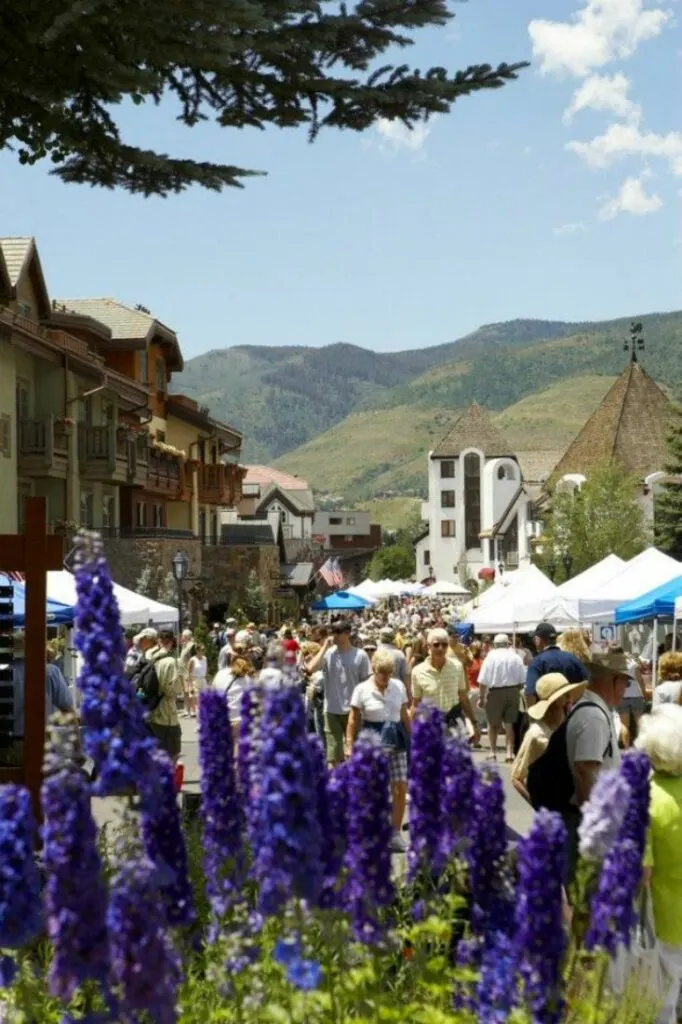 Each Sunday over the summer the streets of Vail Village are transformed into a bustling farmers market. Running from June to October, the market features the best of Vail's local summer produce, as well as crafts from local artisans. This is a great place to pick up some locally made gifts and souvenirs to take home.
There are also over 40 food vendors dishing up some seriously tasty dishes. Definitely make this your Sunday lunch destination!
Go on a food tour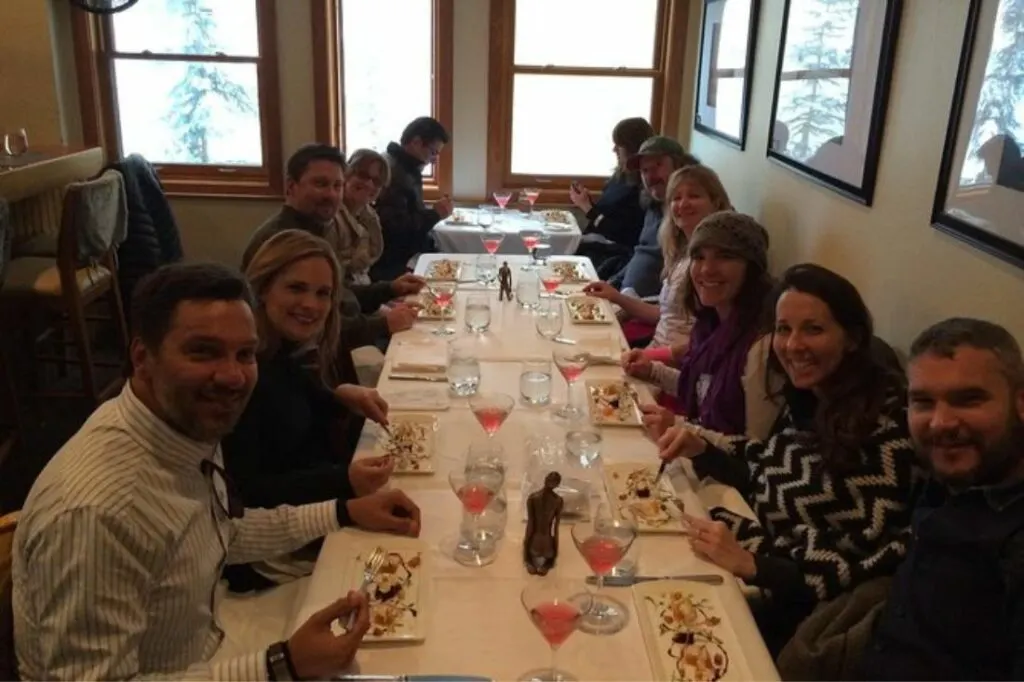 *At the moment this food tour is no longer running. I've left it in here in the hope that it opens again when summer swings around, but we'll see. Sorry for all of you who were hoping to go on a food tour!
If you, like me, really like to get to know a place through its local cuisine. I can really recommend taking the local food tour.
This interactive walking tour takes you through the village of Vail, providing you with an interesting background into the food, art and history of the area. Over the afternoon and several stops you will enjoy a whopping six course lunch. The dishes include traditional German cuisine, as well as local favourites and mouthwatering sweets.
Champagne brunch at Vintage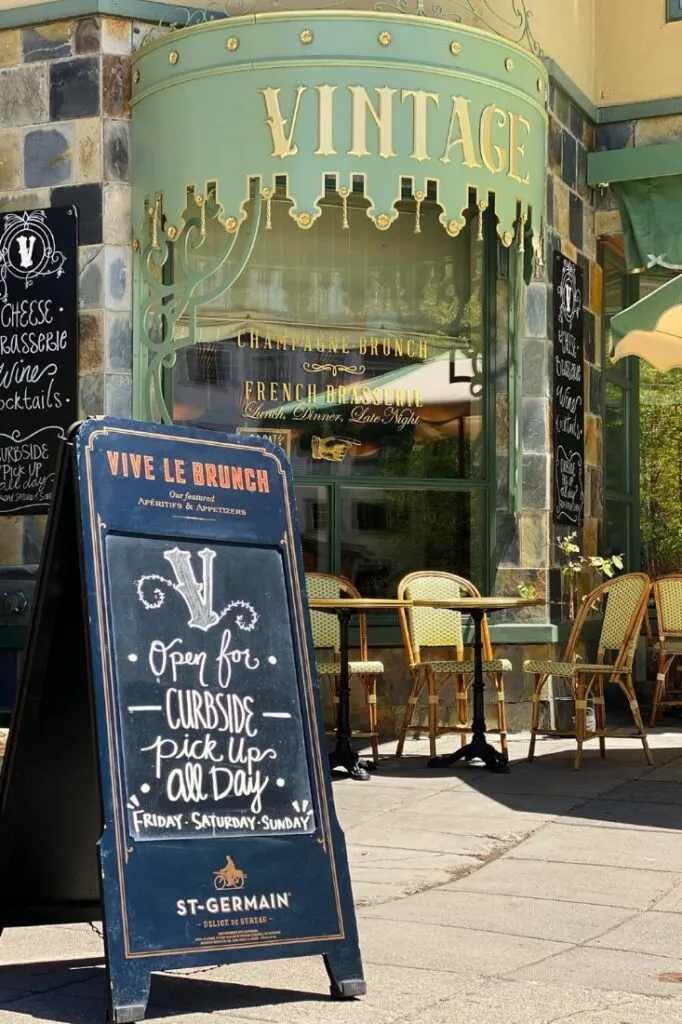 When you're ready to have a sleep in and enjoy some more decadent Vail summer activities, look no further than brunching at [Vintage]. Located in central Vail, this exquisite French style brasserie serves up a delicious Champagne brunch four days a week.
The vintage menu offers mouthwatering brunch classics including eggs Benedict, bacon French toast, and caramel Belgian waffles, as well as a variety of galettes. There are also a selection of fresh cocktails, if you're really looking to kick back.
Be warned: it can be hard to pick just one dish.
Ride the Forest Flyer Mountain Coaster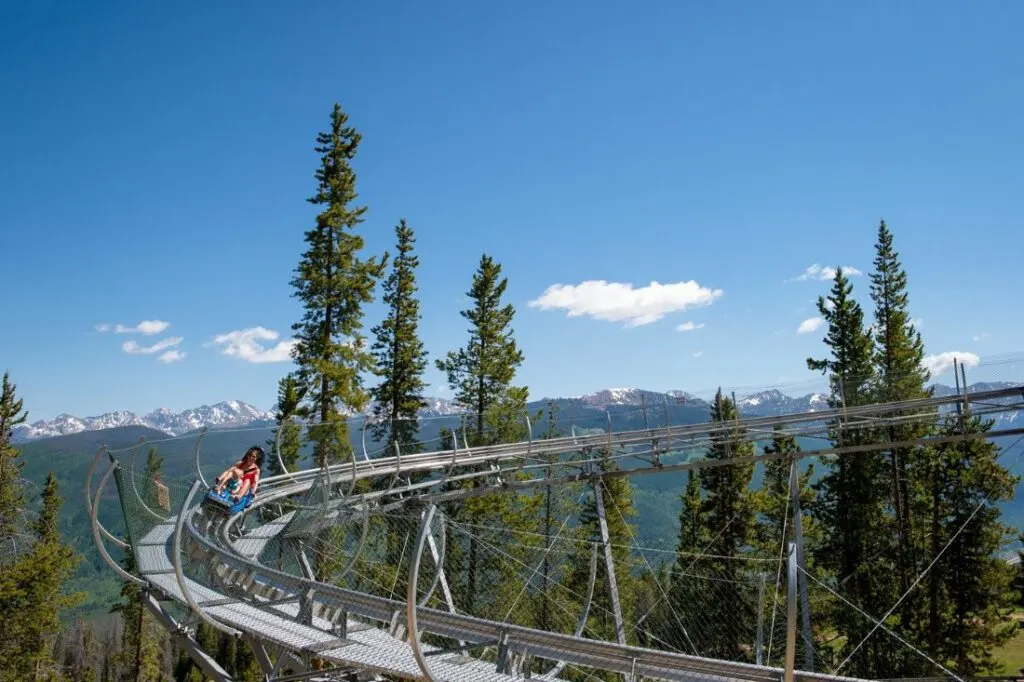 Looking to get your blood pumping while visiting Vail in summer? Take a ride on the Forest Flyer Mountain Coaster!

In self controlled carriages, thrill-seekers soar along the tracks at a speed that they enjoy. Take it slowly so you can appreciate the view, or take your hands off the breaks and zip down the mountain. Either way, you're in for a treat!
River rafting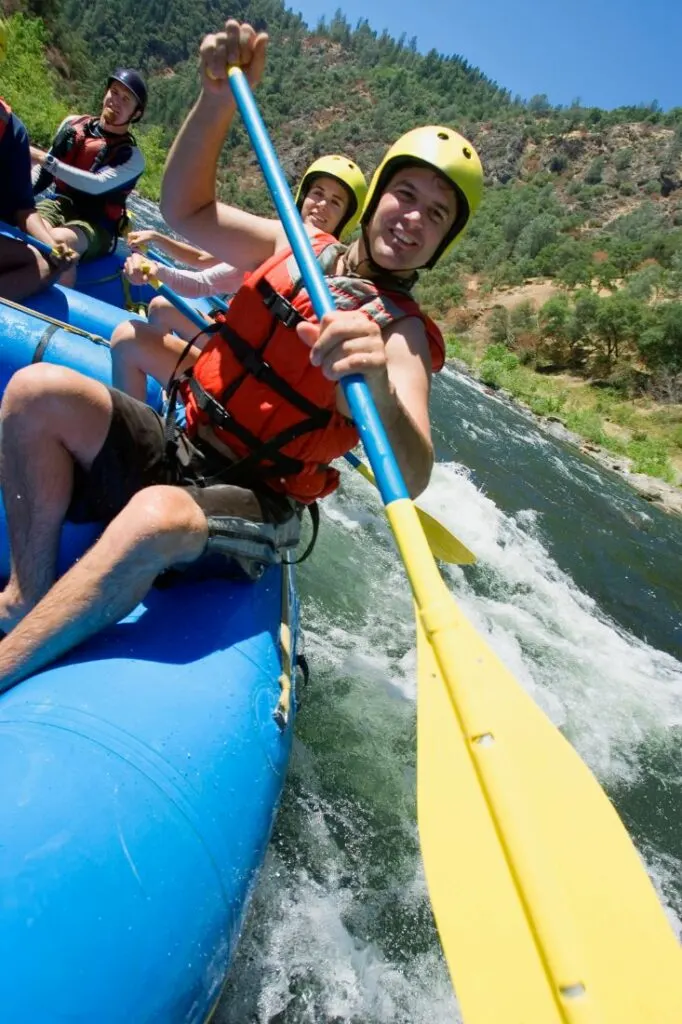 Another way to get your adrenaline pumping in Vail in summer is going white water rafting. Gorgeous scenery, pristine waters, class II-V rapids; what's not to enjoy?
There are a few rivers and routes to choose from, so you'll find something perfect for your group. From gentle adventures for families and beginners, to more extreme rapids for the experienced thrill-seekers amongst us.
This is such a fantastic way to cool off in the summer. Don't miss out!
Go on an art walk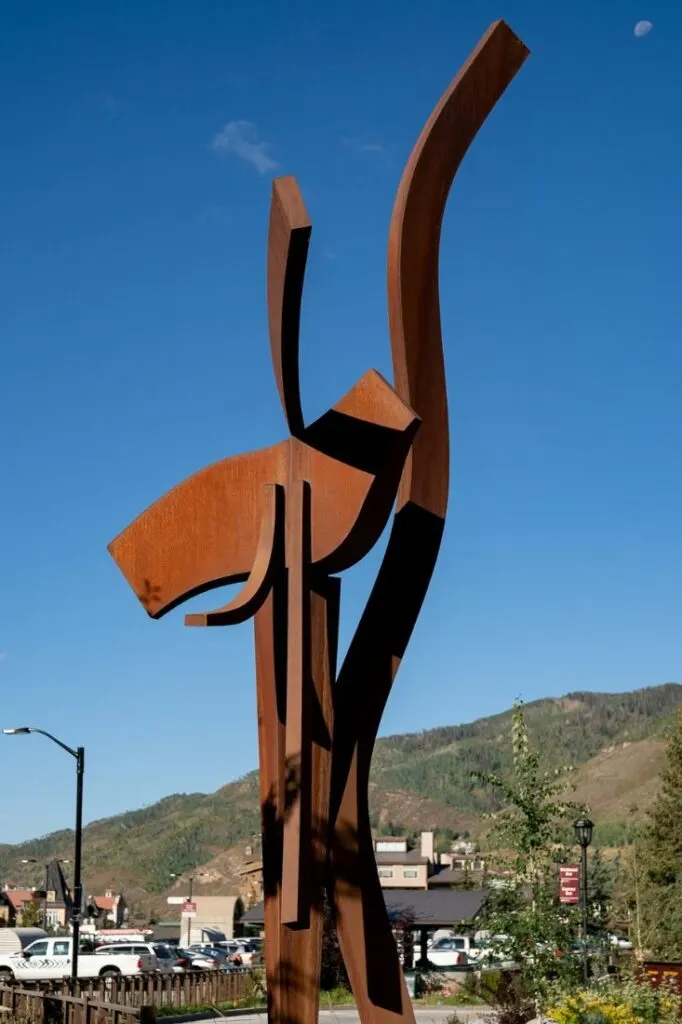 There are over 60 works of public art in Vail and the surrounding valley, ranging from paintings and murals to sculptures and artistic design. The initiative was started to develop a quality public art collection that showcases artworks and artists unique to Vail. Take a wander through the valley and see how many you can spot.
To celebrate these vibrant works, and help you locate them all, pick up a map from the village Welcome Centre. An interactive art map has also been created so you can preview them at home.
Attend a summer festival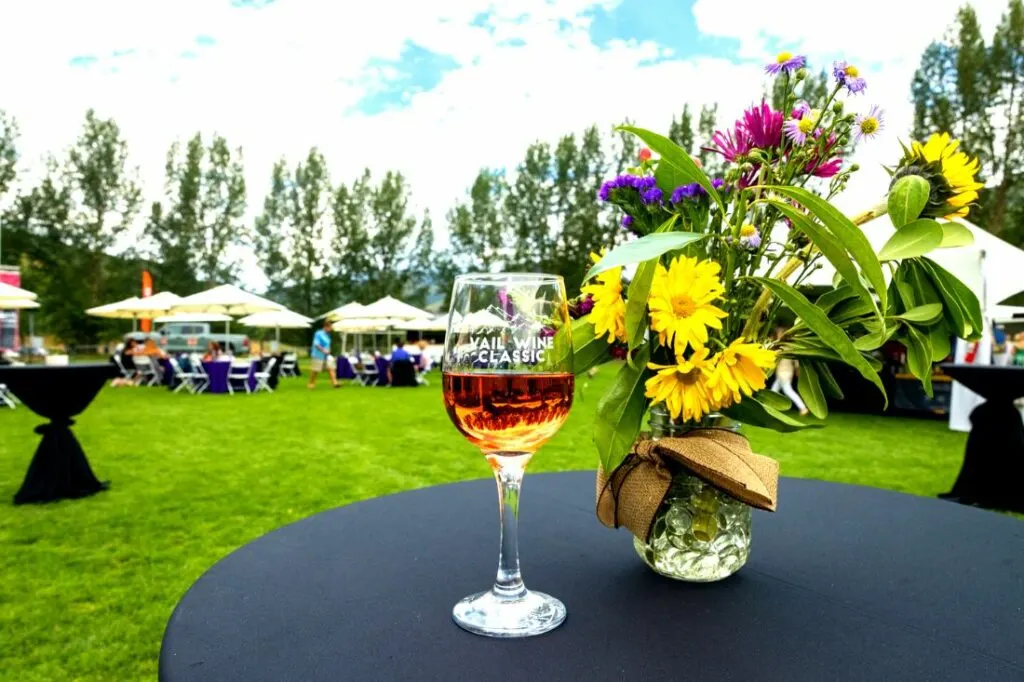 One fantastic reason to visit Vail over the summer months is to get into their incredible festival scene. There are some fantastic festivals to choose from, and best of all some of them are free to attend!
From gourmet food and wine festivals, to dance and jazz festivals, there is always something happening on the Vail summer events calendar. Time your trip to coincide with the festival of your choice, or simply rock up and see what the mountain has to offer.
Personally, my picks are the Vail Wine Classic in August, and the regular Tuesday night Hot Summer Nights music performances.
---
Where to stay in Vail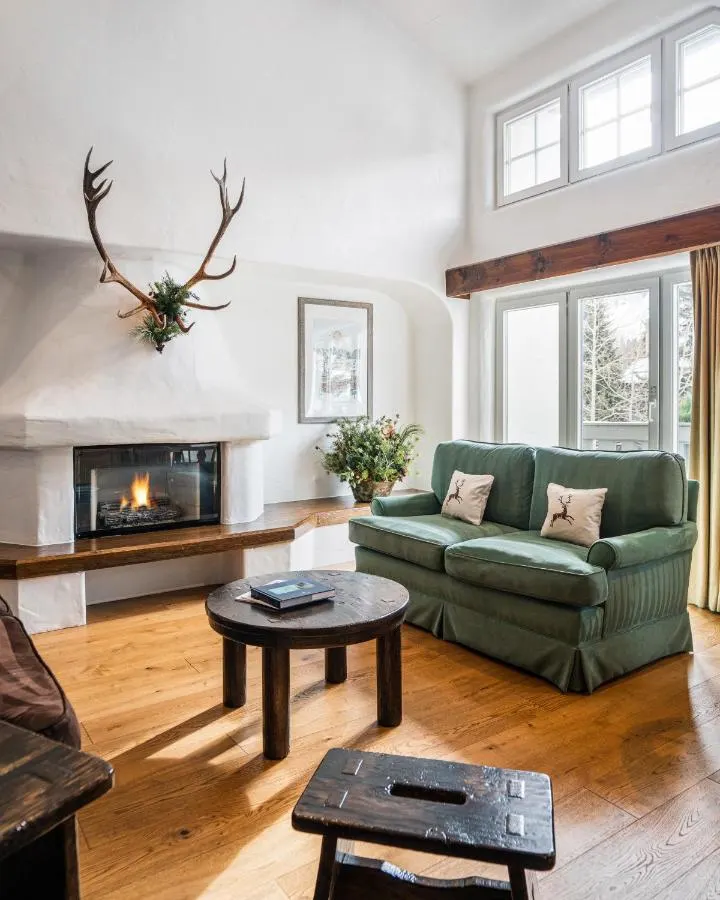 Built in the traditional Bavarian style, Sonnenalp provides a luxury alpine chalet experience in all seasons. Over the summer guests benefit from the hotel's private golf course, as well as convenient walking access to Gondola One. This gorgeous hotel also comes equipped with its own pool, gym, bar and restaurants, so everything you need it on-site.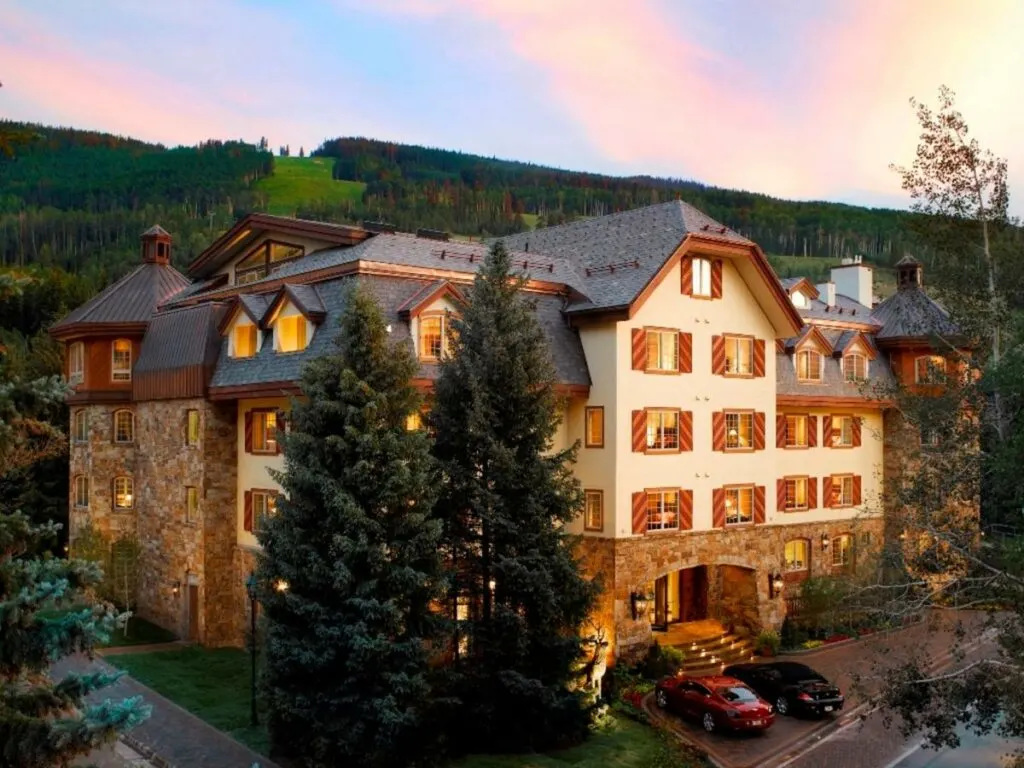 Spend your holiday in a mountain chalet at Tivoli Lodge. This large yet cosy hotel features a wonderful lounge area, complete with fireplace and leather armchairs. There is also a coffee machine in each room, to prepare you for your daily adventures, and even an outdoor pool to lounge by!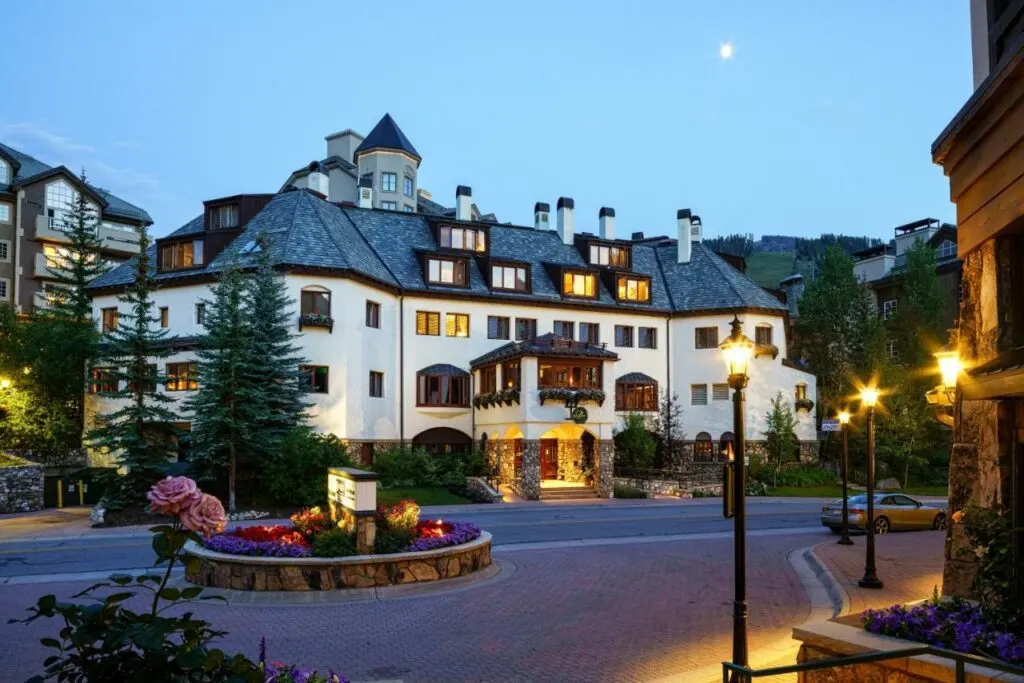 Located right in the heart of Vail Village, you're right where the action is at Poste Montane Lodge by East West. This gorgeous hotel offers large rooms, and dark wooden features in the communal areas. Guests here benefit from a fireplace, sauna, and pizza restaurant, perfect for those cool mountain evenings!
---
As you can see, my favourite summer activities in Vail involve many outdoor adventures. What are your favourites? Let me know in the comments below.
Like this blog post? Then pin it for the future!