Looking for the best things to do in Telluride in summer? From beautiful Bridal Veil Falls to visiting Alta, this is how to spend summer in Telluride!
Nestled in a box canyon in the San Juan mountains is the former mining town of Telluride, Colorado. Even though it's best known as a ski haven, I'm about to tell you why you should visit Telluride in summer.
Telluride is full of Old West charm, and in fact, it was at a bank in this town where Butch Cassidy first got his taste for major theft! With the glorious sunshine, mountainous landscapes and historical buildings, you may be forgiven for feeling like you're in a cowboy movie as you roam the streets.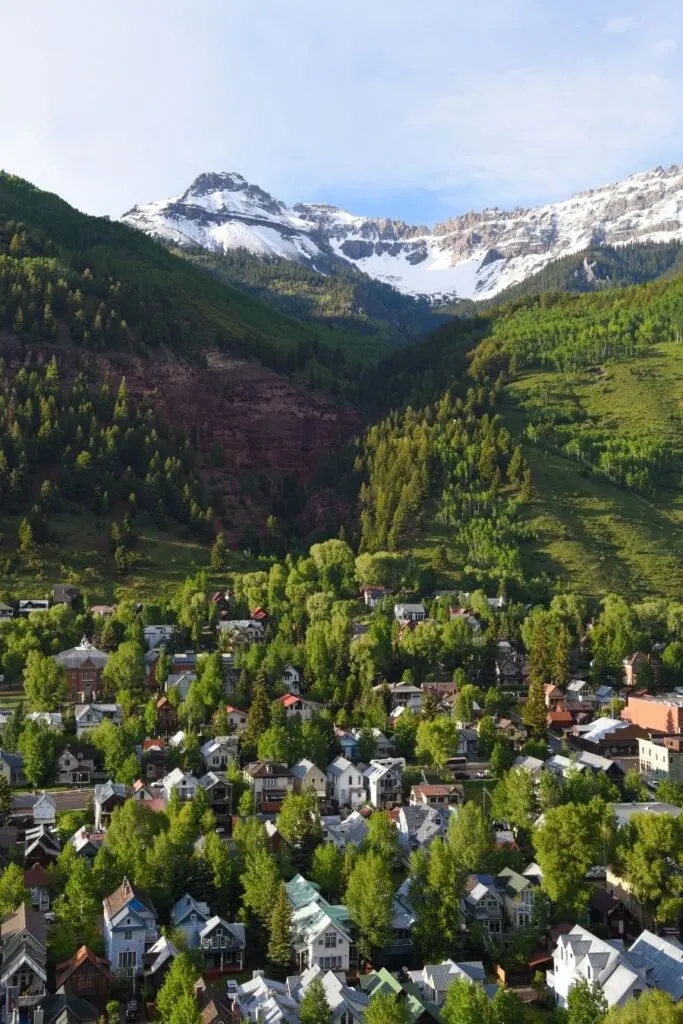 There are some incredible summer activities in Telluride. Get your adrenaline flowing going 4×4 driving up mountain passes, or get a hands on experience climbing the box canyon walls at Via Ferrata. For a slower pace, take a picnic at Bridal Veil Falls, chat with mushroom enthusiasts at the Telluride Mushroom Festival, or let your creativity shine at an art class.
Read along to find out my favourite activities in Telluride, and let Telluride's 300 sunny days a year carry you off on a summer adventure you won't forget!
If you're looking at where to stay while , then check out my guide on the best boutique hotels in Colorado. This is perfect for planning your trip here!
Also, if you're here because you're dreaming of hiking holidays, check out my post on the the Most Beautiful Hiking Hotels in the World.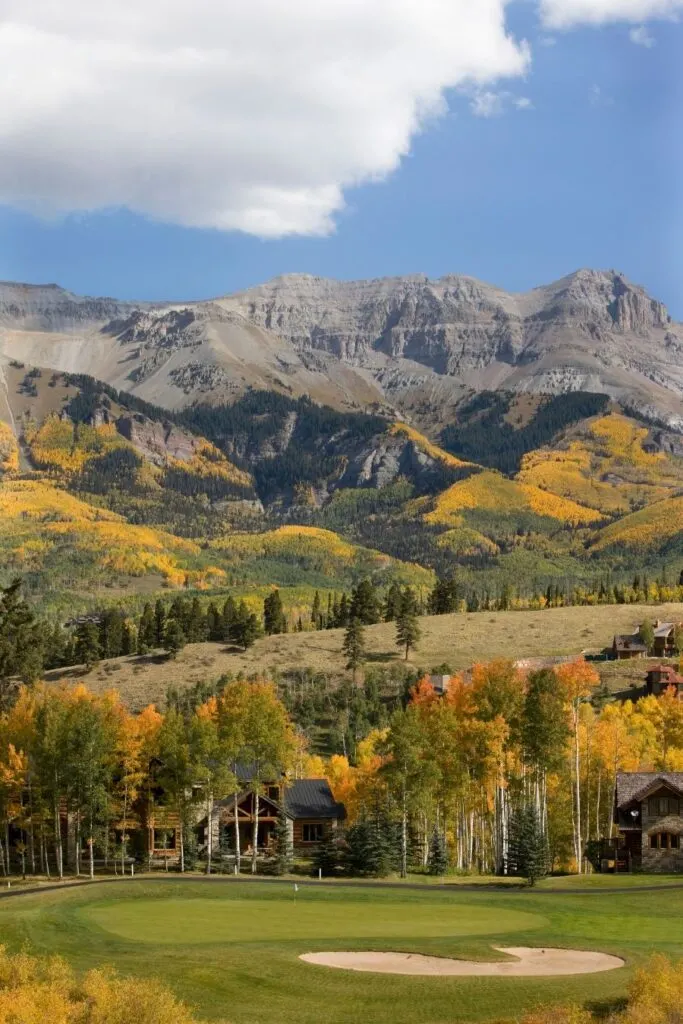 Weather in Telluride in summer:
Over the summer, Telluride has delightful average highs of around 25 degrees Celsius (77 degrees Fahrenheit), although overnight there are average lows of 6 degrees Celsius (42 degrees Fahrenheit).
Even in the summer, the weather can change several times over the day, so it is advised to wear layers, and bring a warm jacket for those chilly mountain evenings. It can get especially chilly up in the mountains, especially when the sun sets.
---
Best Things to do in Telluride in Summer
Admire the Historic District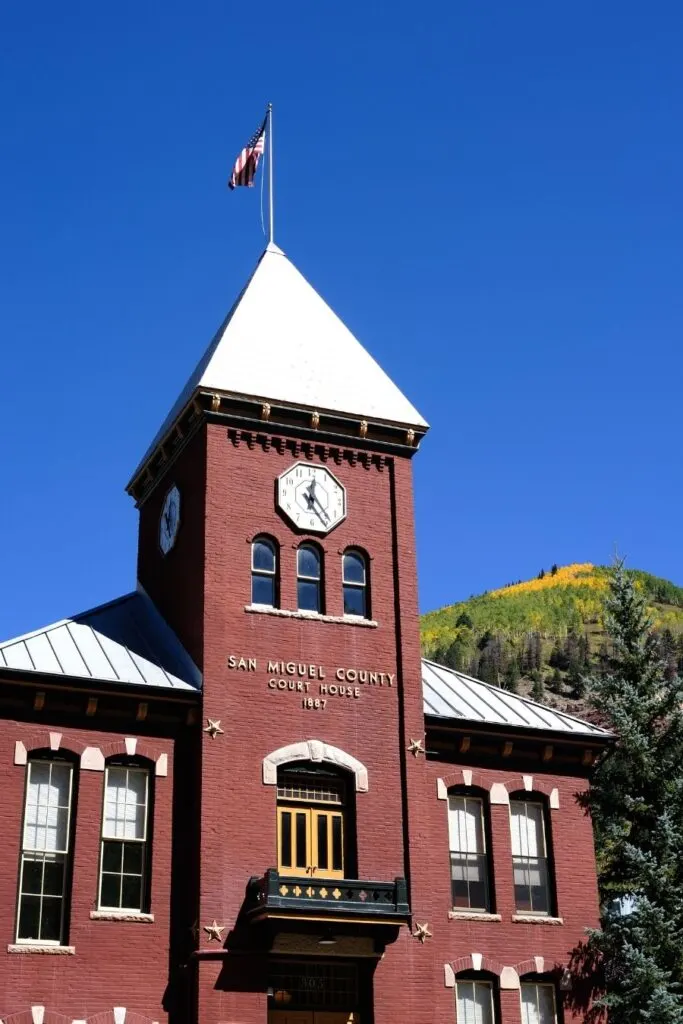 Telluride has a long history with mining, which its historic district really reflects. In fact, almost the entire town centre has been named one of Colorado's 20 National Historic Landmarks due to its well preserved mining boom era architecture.
The historic district encompasses most of the main street, Colorado Street. Start here to admire the historic courthouse, town hall and Roma Bar – once one of the most raucous bars around. Then head down Popcorn Alley, the historic red light area to see bordello cribs.
I'd really recommend taking a self-guided Historic Walking Tour to see the best buildings Telluride has on offer.
Bridal Veil Falls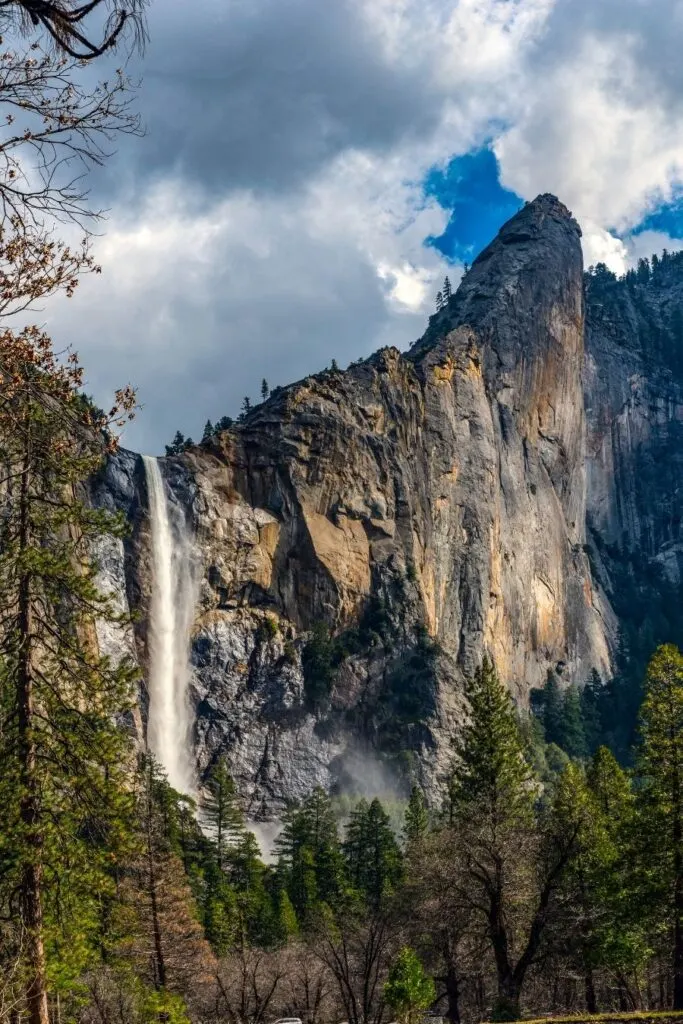 Pack a picnic and hike Bridal Veil Falls. Measuring at 111m, this is actually Colorado's highest free-falling waterfall. Situated at the top of the box canyon and topped with a hydroelectric plant, these falls are a spectacular sight to behold.
Starting from the car park at the bottom, you can take a moderate 3km hike to the top, where you are rewarded with stunning views. Or, take the shorter 2km track to enjoy a summer picnic with this incredible vista from the bottom. This really is one of the best summer activities in Colorado so enjoy it!
Explore the tiny ghost town of Alta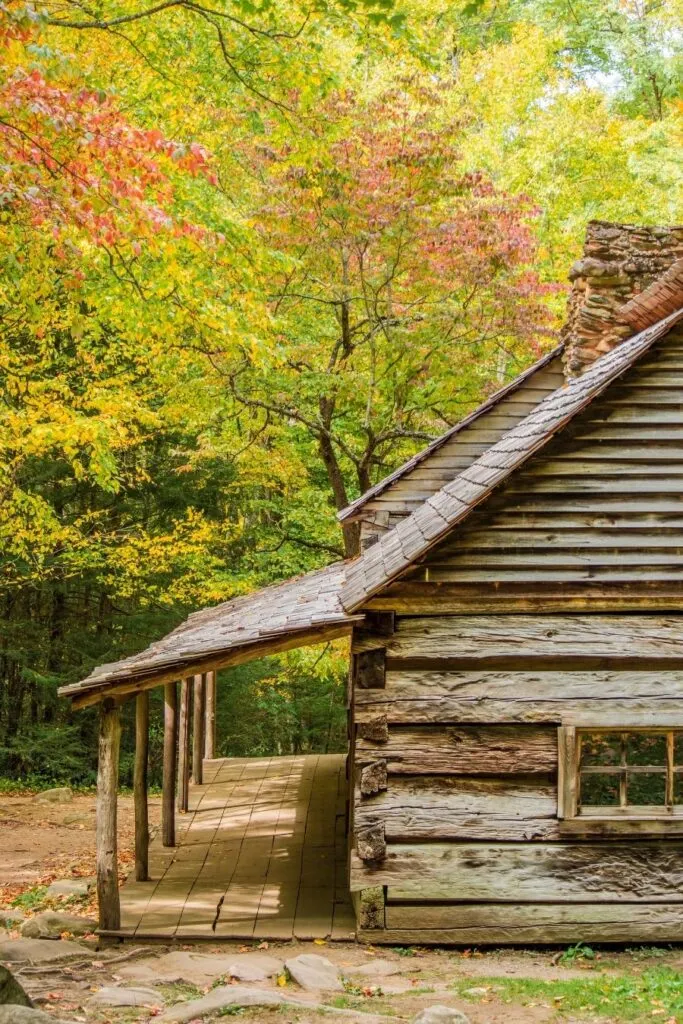 Located on the outskirts of Telluride, almost 3,600m above sea level, is the tiny ghost town of Alta. The town, which was inhabited in the late 1800s to early 1900s, was put on the map as being the first mine to adopt an AC transmission system.
Once home to a few hundred people, this deserted mining town has several structures still standing including a boarding house. The abandoned buildings looks incredible in their mountainous surroundings: make sure to pack your camera!
Go for a hike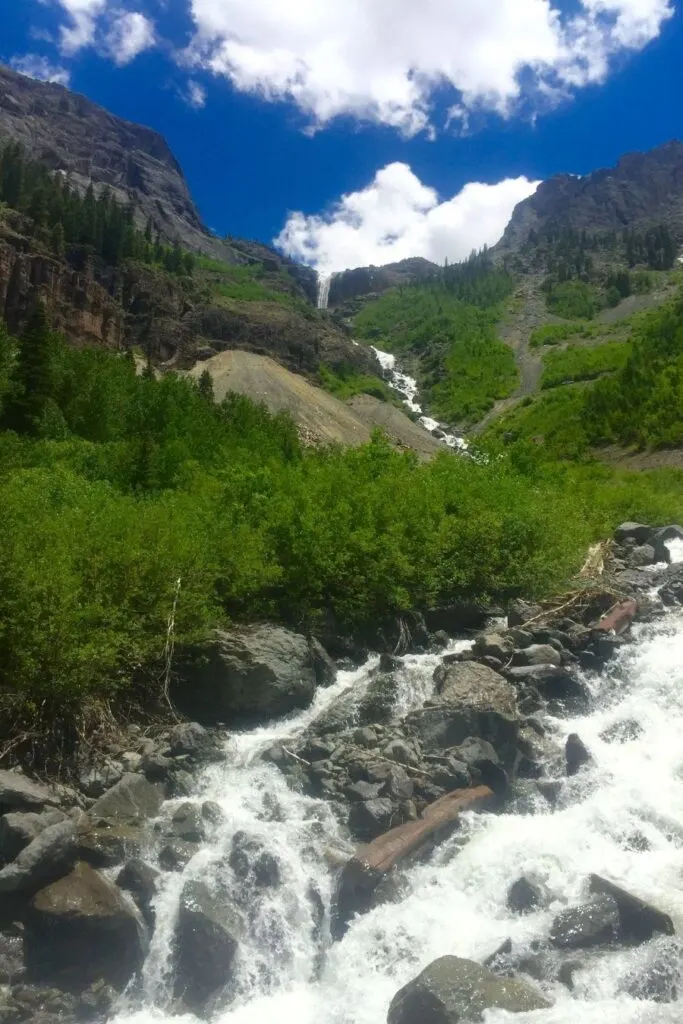 With so much natural beauty at your doorstep, one of the best summer activities in Telluride is going for a hike. There are a plethora of hikes to choose from, with some trails starting right from the main area of town. Do note, in summer it's advised to pack your sunscreen and bug spray.
Featuring colourful wildflowers and tree lined lake, the Hope Lake trail is particularly stunning. The loop, which starts from the top of Bridal Veil Falls, takes approximately 4 hours to complete.
For a family friendly hike, try out the Bear Creek Trail. This 8km walk starts from the centre of town and leads you to the gorgeous Bear Creek Falls.
Ride the gondola to Mountain Village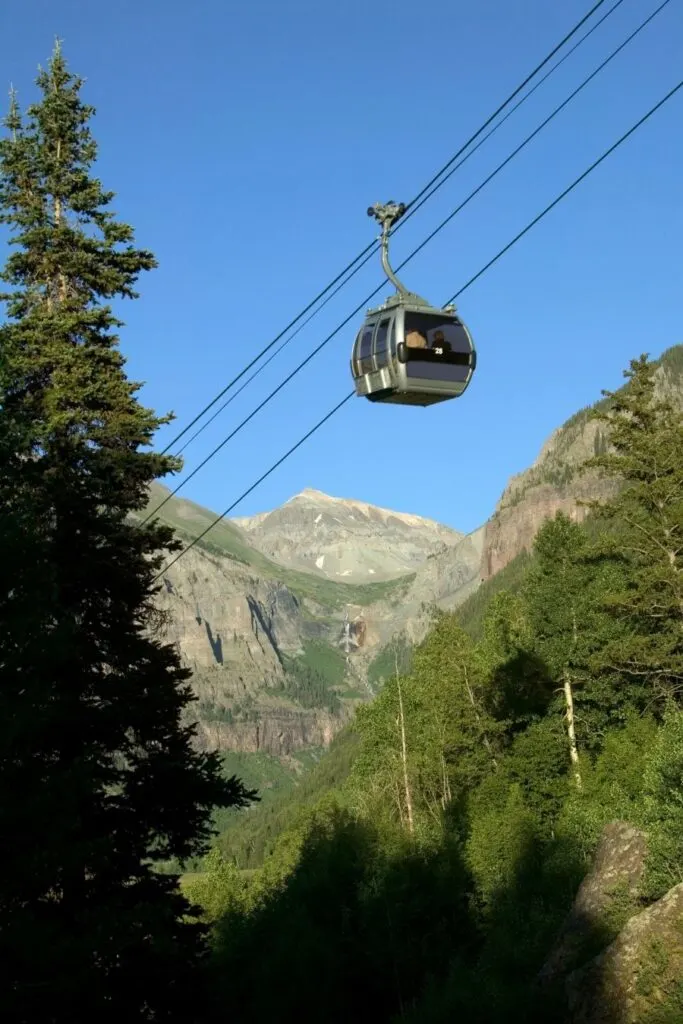 A great way to enjoy some incredible views, without having to scale a mountain on foot, is to take the gondola to Mountain Village. This free gondola ride starts from Oak Street and takes just under 15 minutes to reach the top, with a stop at St Sophia in the middle.
Hop off at the top to explore Mountain Village, or simply take a round trip to enjoy breath-taking views from almost 3,000m. Honestly, the views from up here are some of the best in Colorado.
Hang out in Mountain Village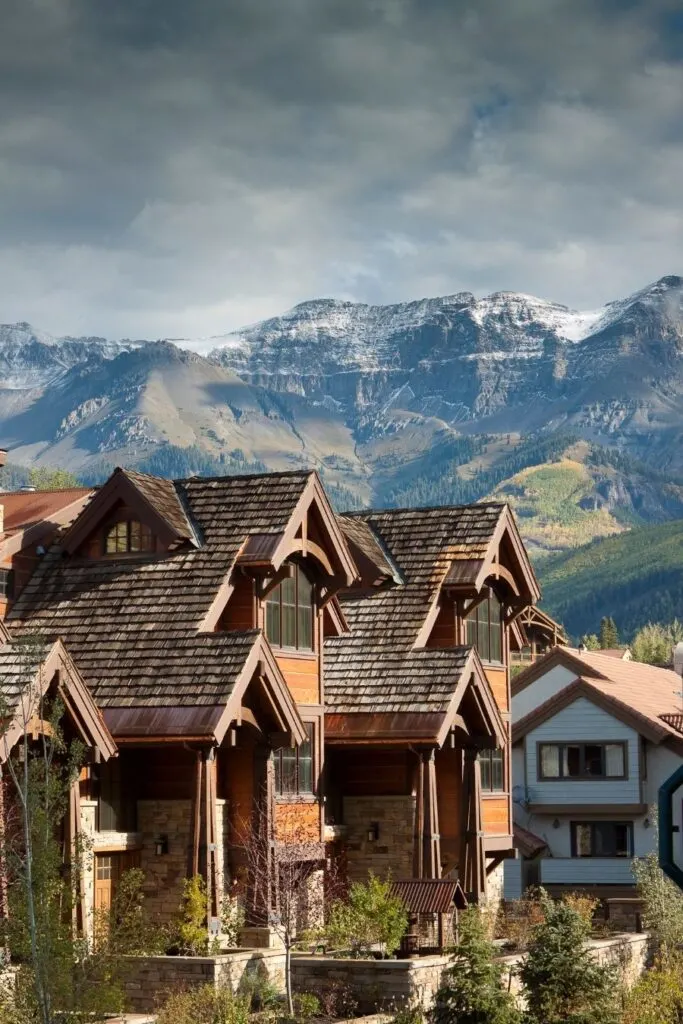 Surrounded by epic views of the San Juan mountains, Mountain Village is a popular ski resort in winter. In the summer, the high altitude town buzzes with a different sort of activity. At 2,900m, the views alone make it worth visit!

On Wednesdays the plaza is transformed into a bustling market, which specialises in locally made and grown items. You can also order food and dine in one of the gondola cabins spread across the town. When the sun is out and the weather is gorgeous, this is what summer in Telluride is all about!
Make a splash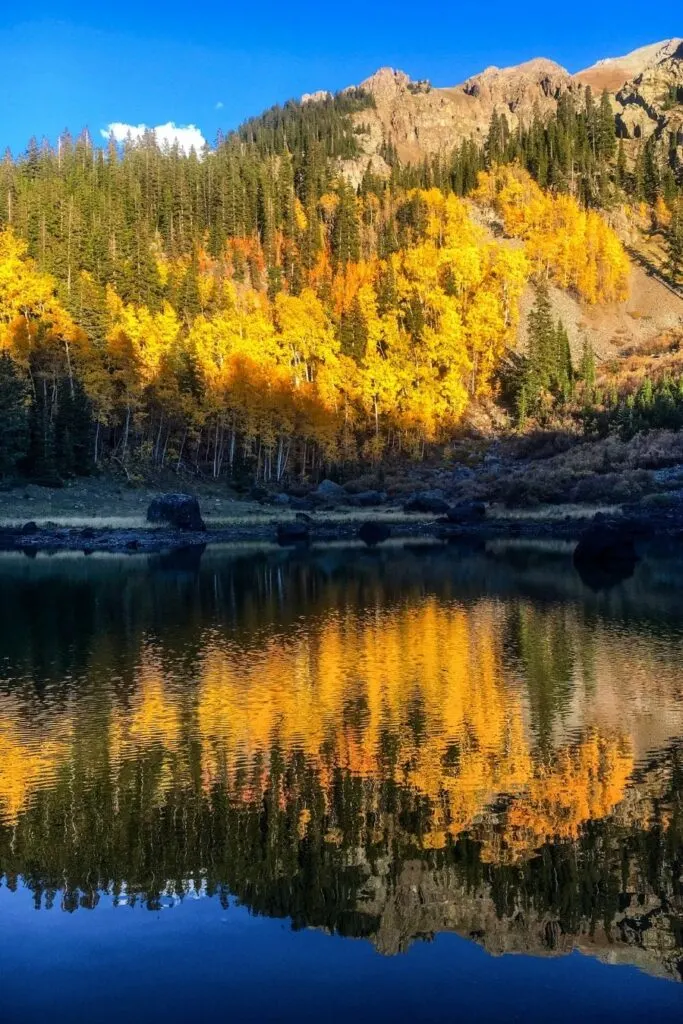 Nothing says summer activities like getting out on the water. Fortunately, Telluride has some amazing bodies of water, right in its backyard. Go white water kayaking down the San Miguel River, or enjoy some chilled out paddle-boarding on the picturesque Alta Lake. There are also some nearby hot springs for those cool summer nights.
No need to bring your own gear! On the main street of town, Colorado Ave, you'll find plenty of options to rent equipment and book tours.
Take the Iron Road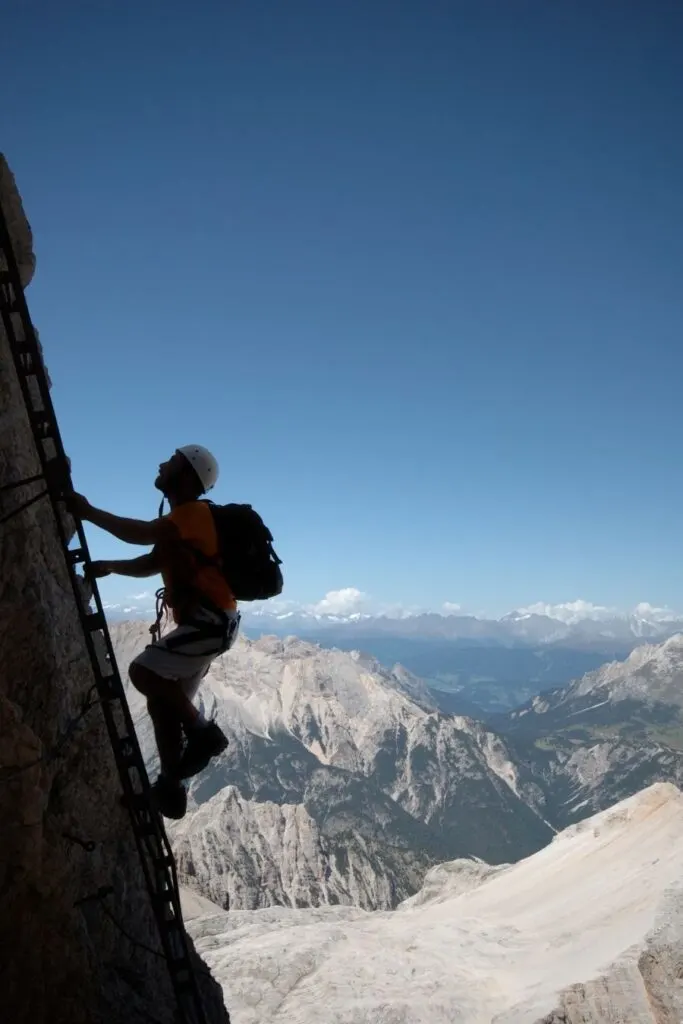 One of my favourite summer activities in Telluride is the Via Ferrata. Via Ferrata, Italian for Iron Road, is an intense and challenging outdoor mountaineering meets climbing experience. Located on the east end of the box canyon, the views of the waterfalls and canyon you're rewarded with – if you're not shaking too much to enjoy them – are absolutely stunning.
This is not for the feint of heart: with fixed cables, bridges and iron steps, you'll traverse the canyon walls, going as high as 152m off the ground! If you're not an experienced climber, I recommend you book a guide.
4X4 driving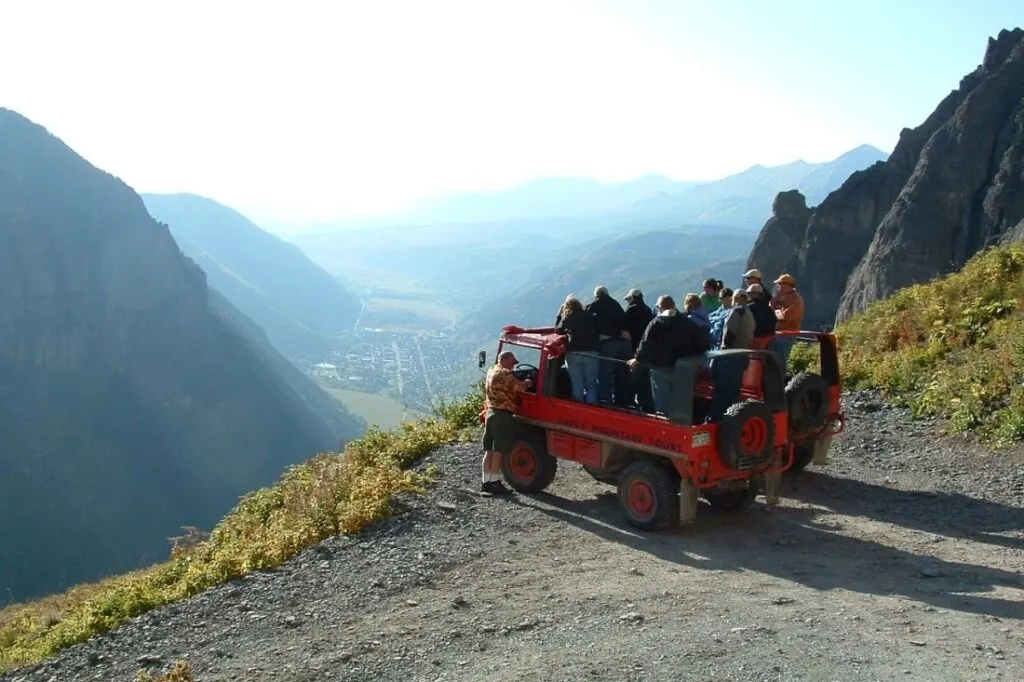 Another way to enjoy the incredible scenery that Telluride has to offer, is through taking a 4×4 adventure. Due to the area's mining history, there are many access routes across the mountains.
If you're a confident 4×4 driver, take a self guided tour to Imogene Pass. This route will take you through the ghost town of Tomboy to one of the highest passes in the area! After the pass the route then goes onto hot springs, be sure to stop by for a soak. Inexperienced at 4×4? Don't miss out, you can also book a tour or hire a driver.
Take part in the Mushroom Festival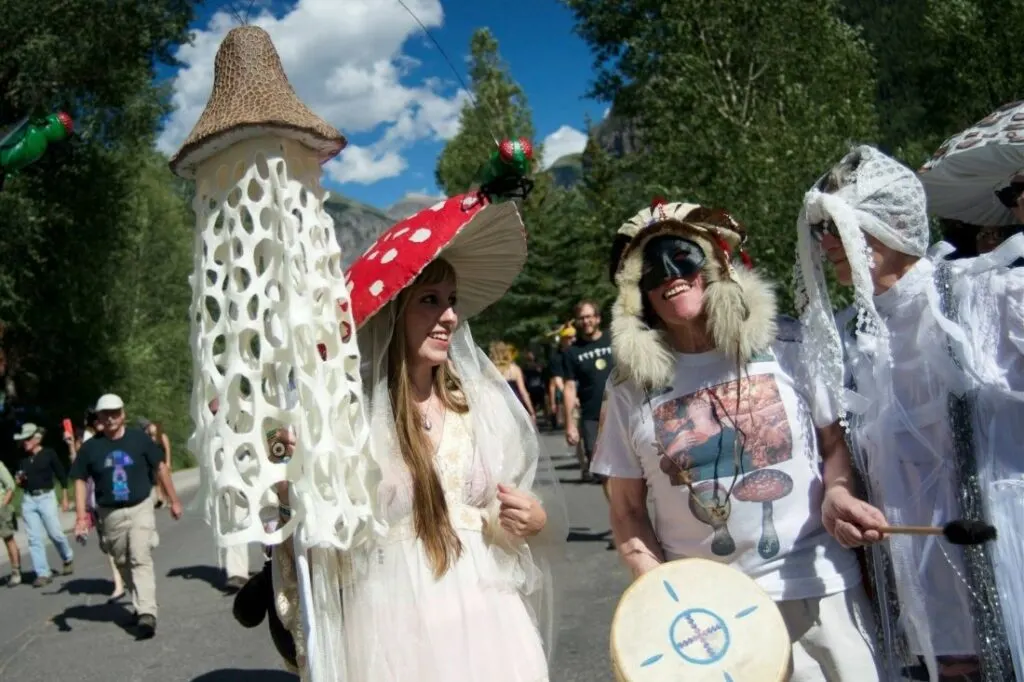 If you are visiting Telluride in summer, you might catch the festival dedicated to the humble mushroom. Each August Telluride marches to a mycological beat, with events and workshops happening all over town.
Learn about the fascinating world of mushrooms, listen to poems to the testament of toadstools, and cultivate your costume creativity at this lively event. Best of all, there are some world class cooks offering culinary mushroom delights during the Mushroom Chefs' Dinner and Wild Food Dinner experiences.
Take an art class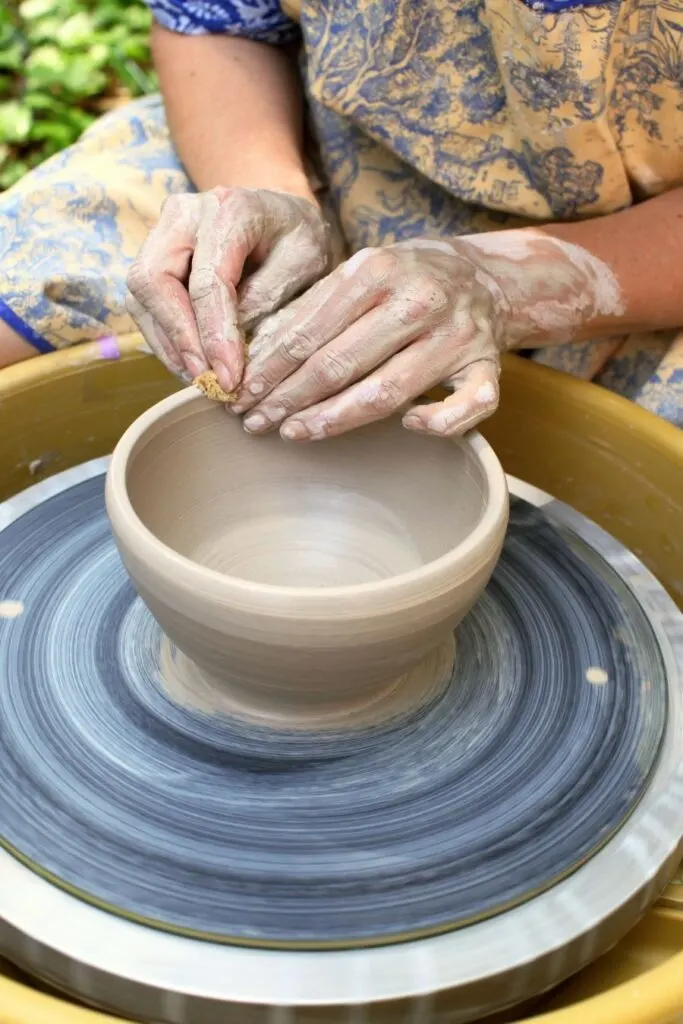 Feeling inspired by all those glorious mountains? Make a masterpiece at Ah Haa. Situated in the old train depot, Ah Haa, School for the Arts, offers a variety of art classes for young and old.
Over the summer you'll find artist retreats, kids camps, and classes to suit all levels of experience. Alongside the traditional painting and ceramics, they also offer classes in ukulele, and even baking vegan sweets.
Where to stay in Telluride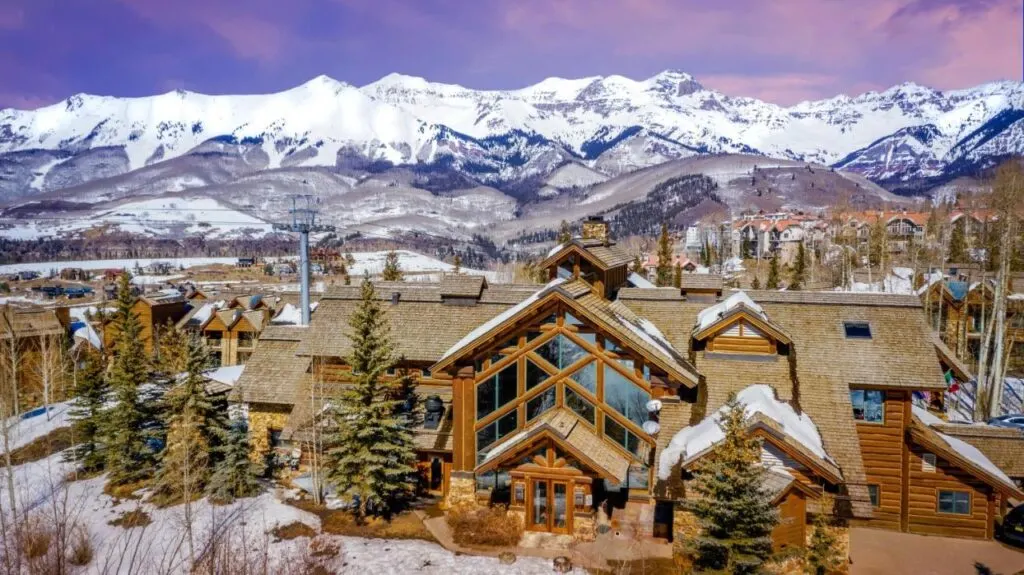 Wake up every morning to incredible mountain views at the Mountain Lodge. Located in the alpine Mountain Village and equipped with gas fireplaces, you'll be soon feeling cosy on cool summer evenings in these studios and 2 bedroom apartments. Guests also benefit from a steam room, pool, and hot tub.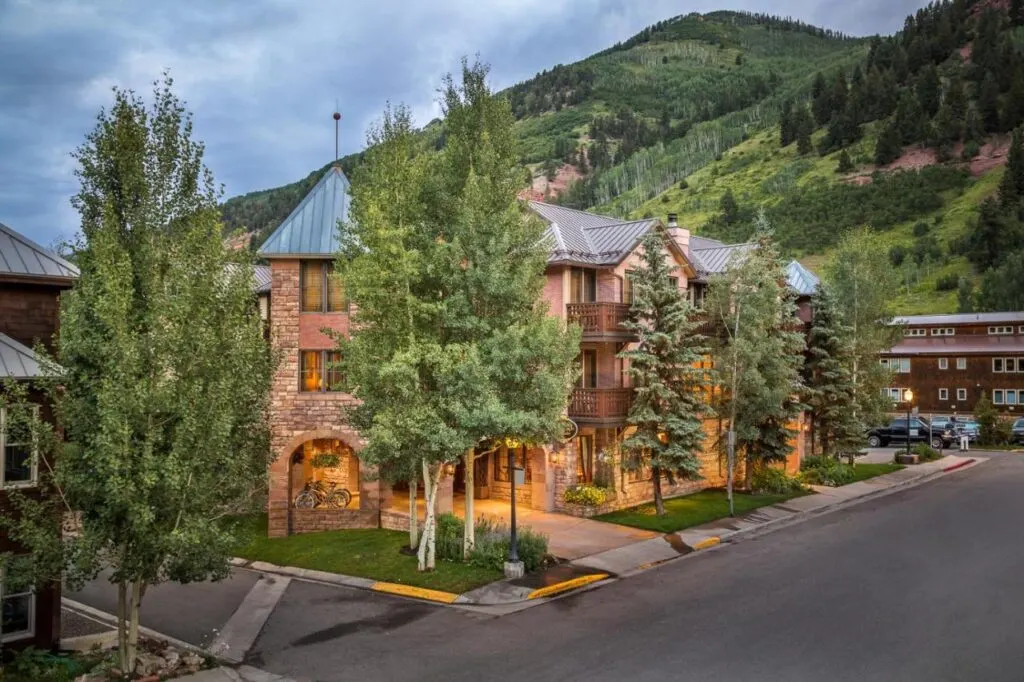 Just a 10 minute walk from the centre of town, The Hotel Telluride is a wonderful base for your summer holiday. This ski chalet style hotel has a large lounge area, complete with fireplace and deer antler chandeliers. It also has a sun terrace, and an on-site restaurant and bar, amazing after a huge day of activities.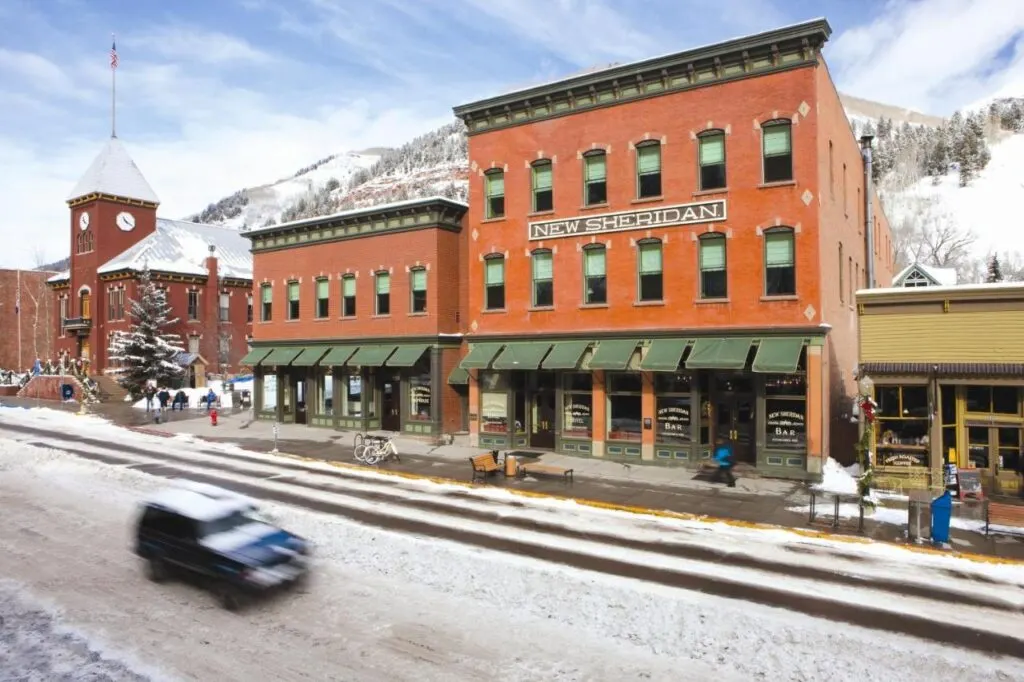 Be right in the heart of down town Telluride at the New Sheridan Hotel. Set in the historic district, this hotel has been in operation since 1845! While the original exterior stands, the interior is not short on modern comforts. Inside you'll also find Telluride's oldest bar, and a mouthwatering steak house.
---
So there you have it, my favourite summer activities in Telluride. Did I inspire you to visit Telluride this summer? Let me know in the comments below!
Like this blog post? Then Pin it for the future!