Are you looking at what to do in Guernsey? From exploring St Peter Port to visiting Cobo Bay, this is the perfect Guernsey itinerary!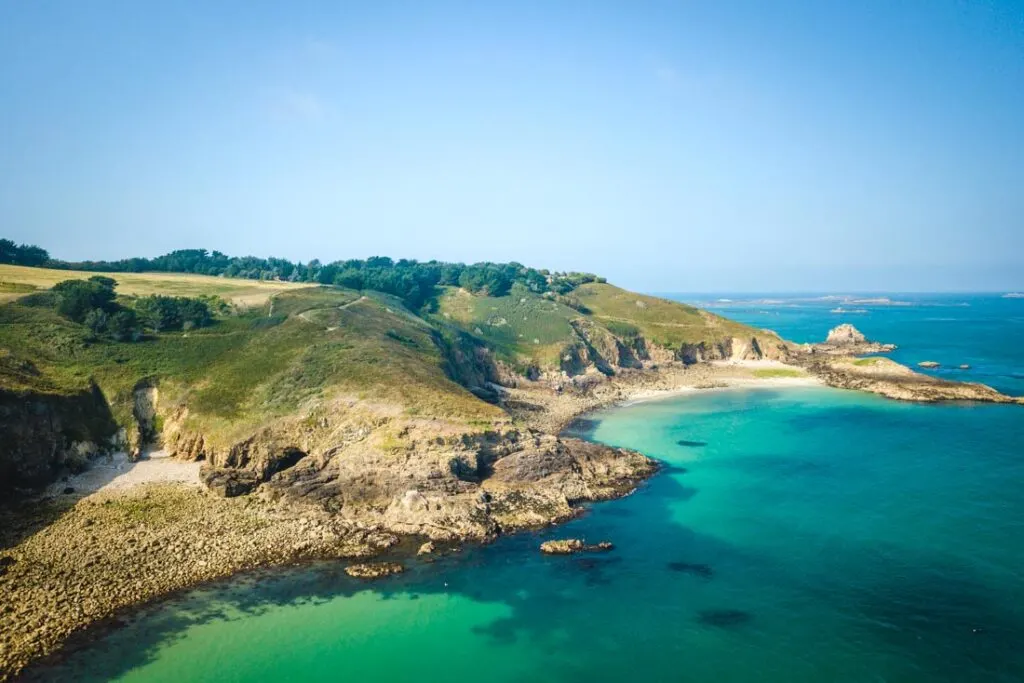 Are you planning a weekend in Guernsey? Then this is the travel guide for you!
In this blog post I'll go through what to do in Guernsey, including where to eat in Guernsey and where to stay. I'll also give you some top tips for travelling around the island too that you'll find very useful. So, if you're looking for a Guernsey itinerary packed full of all the best things to do, then this is the guide for you!
I've just got back from visiting Guernsey and I had the best time ever. I knew the Channel Islands were beautiful, but I didn't realise they were this beautiful. Hopefully my photos in my Guernsey travel blog do it justice!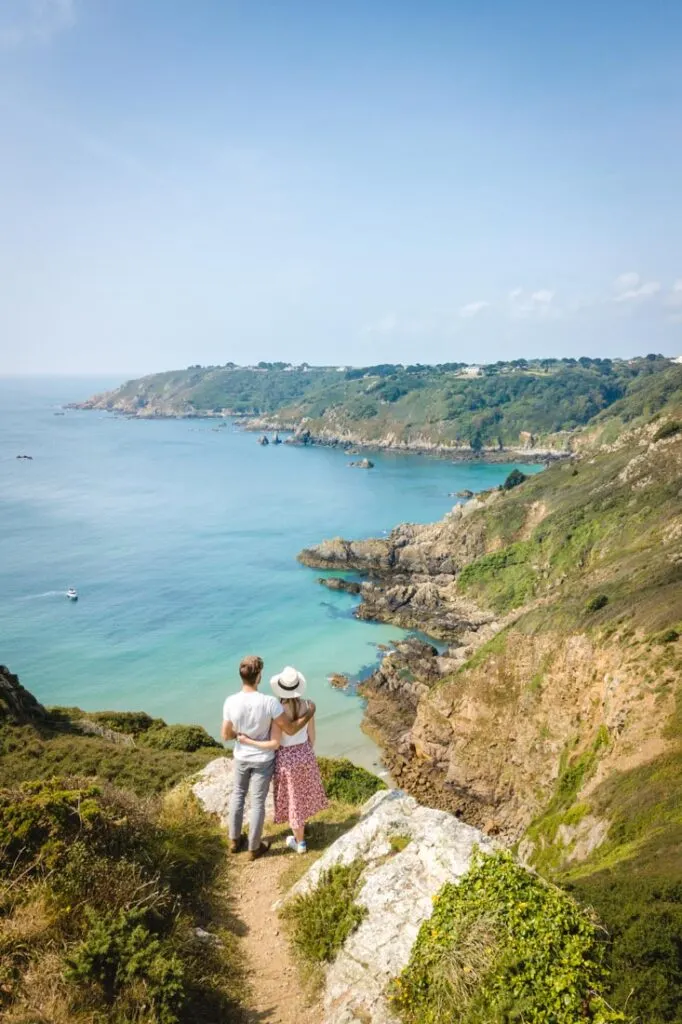 From the moment we flew over the island, I knew I was in for an amazing weekend away. It felt like we were flying over the Caribbean with sapphire blue waters below us.
As soon as we arrived, we hopped in the car, drove 10 minutes to a little walk along the coast at Petit Port, and we had the most gorgeous views all around us. It only took me 10 minutes to completely fall in love with the place – that's a record even for me!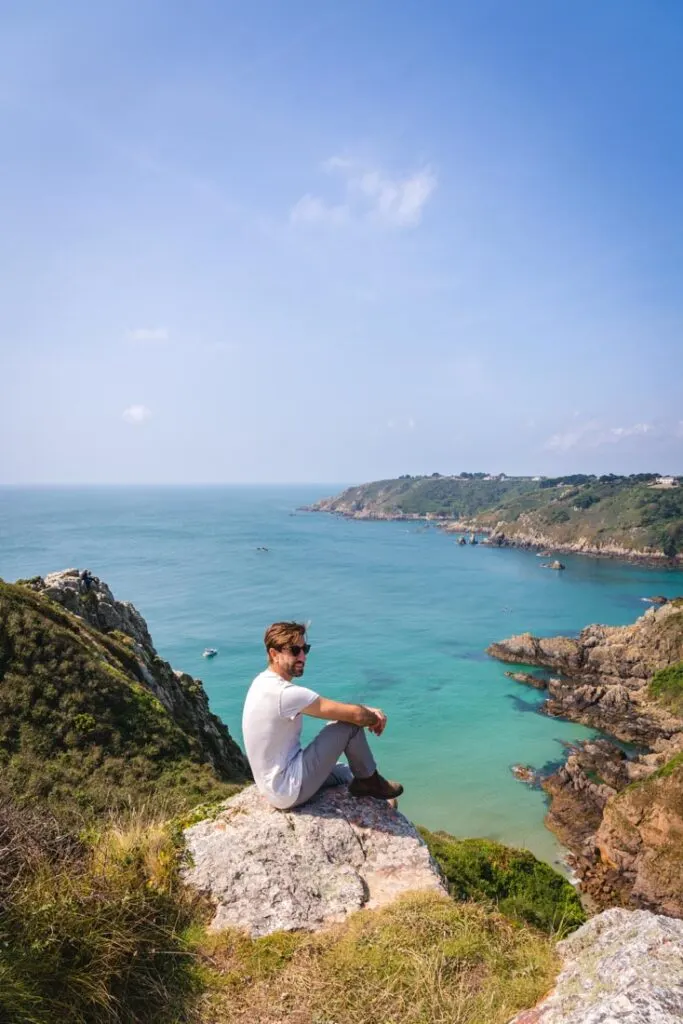 In just a few days we packed in so many activities. We went kayaking around the coast, spent the afternoon on Herm Island, explored the harbour around St. Peter Port, and of course visited some of the best beaches. And that's not including eating in some of the best restaurants in Guernsey too.
So, if you're planning a trip here, this is my guide for the ultimate weekend in Guernsey. I really hope you love the place as much as I did!
Where is Guernsey?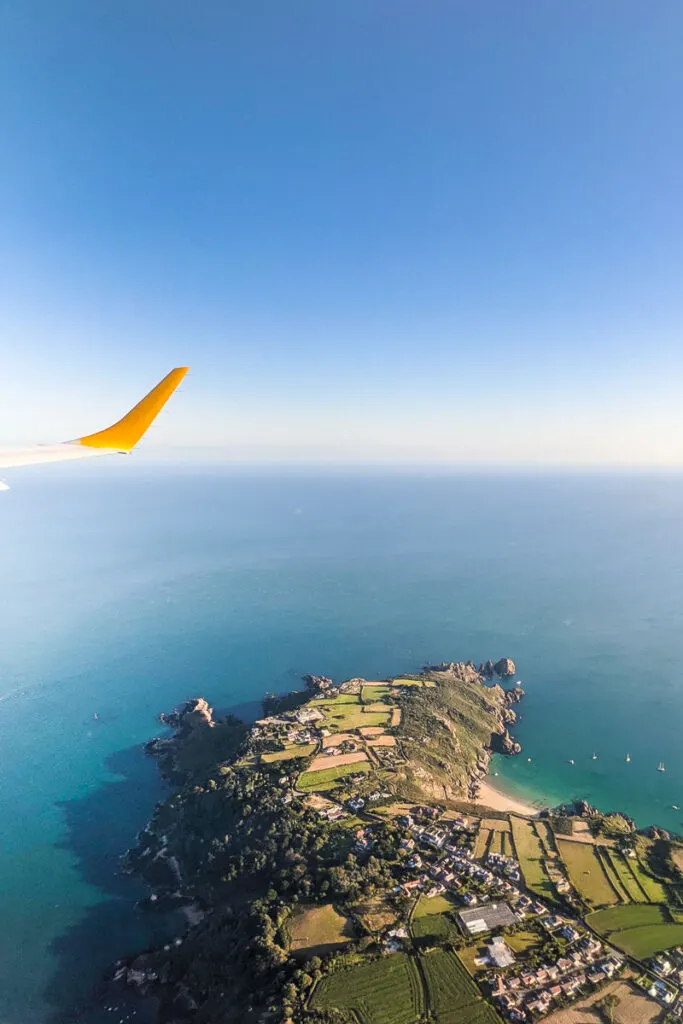 Guernsey is part of the Channel Islands. These are located in the English Channel between England and France.
The islands that make up the Channel Islands (in population and size) are:
Jersey (106,080) (118 km2)
Guernsey (63,026) (65 km2)
Alderney (2,039) (8 km2)
Sark (600) (5.45 km2)
Herm (60) (2 km2)
Jethou (3) (0.2 km2)
Brecqhou [Brechou] (0.3 km2)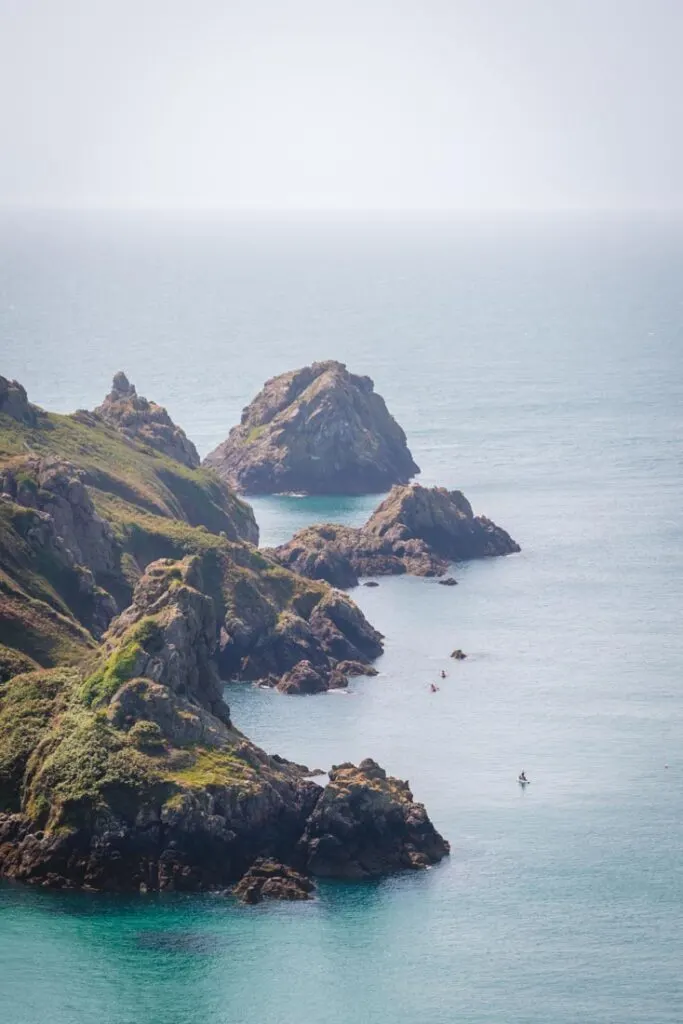 As you can see, Guernsey is the second largest (both in population and size) of the Channel Islands.
Getting to Guernsey is super easy. Flying from most places in the UK will take 30 minutes to an hour.
Guernsey Airport is tiny, so you literally get off the plane and into your hire car in about 10 minutes which is perfect for Guernsey weekend break.
For those of you who don't want to fly, there is a 3-hour ferry from Poole, and an overnight ferry too. Basically, there are plenty of options for getting here!
Is Guernsey part of the UK?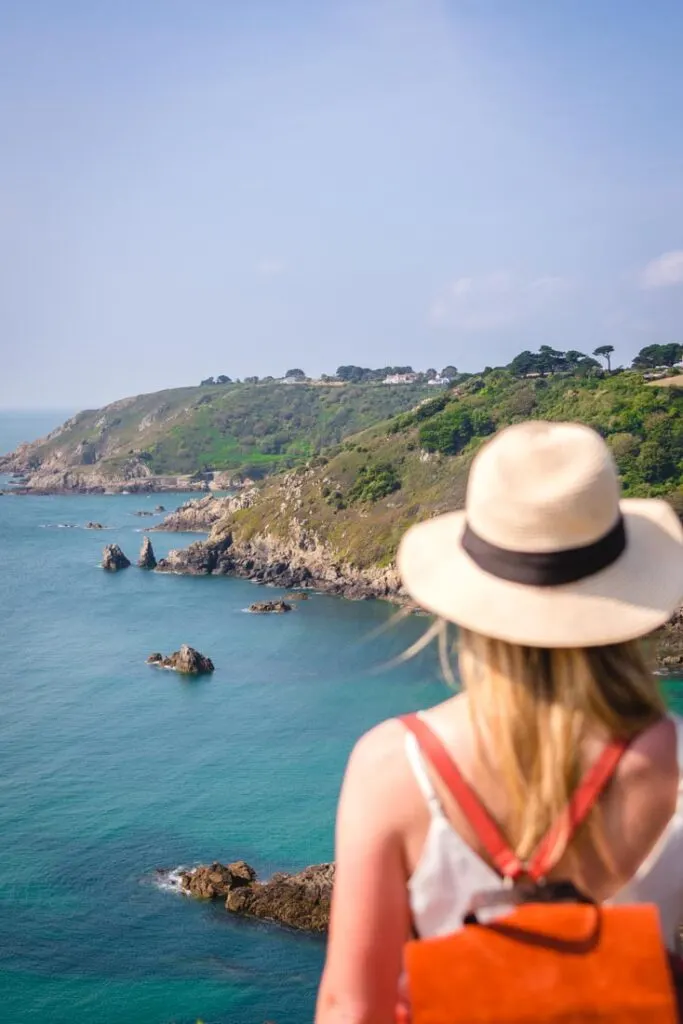 I wanted to add this question in because it can be quite confusing. Also, the locals really don't like it if you get it wrong, so I thought it was important to mention it now.
Guernsey IS NOT a part of the UK, nor is it a part of Great Britain.
However, and this is where it's a little confusing, IT IS a part of the British Isles.
This means the Channel Islands fall within the territory of Britain which includes a number of islands (like the Isle of Mann for example).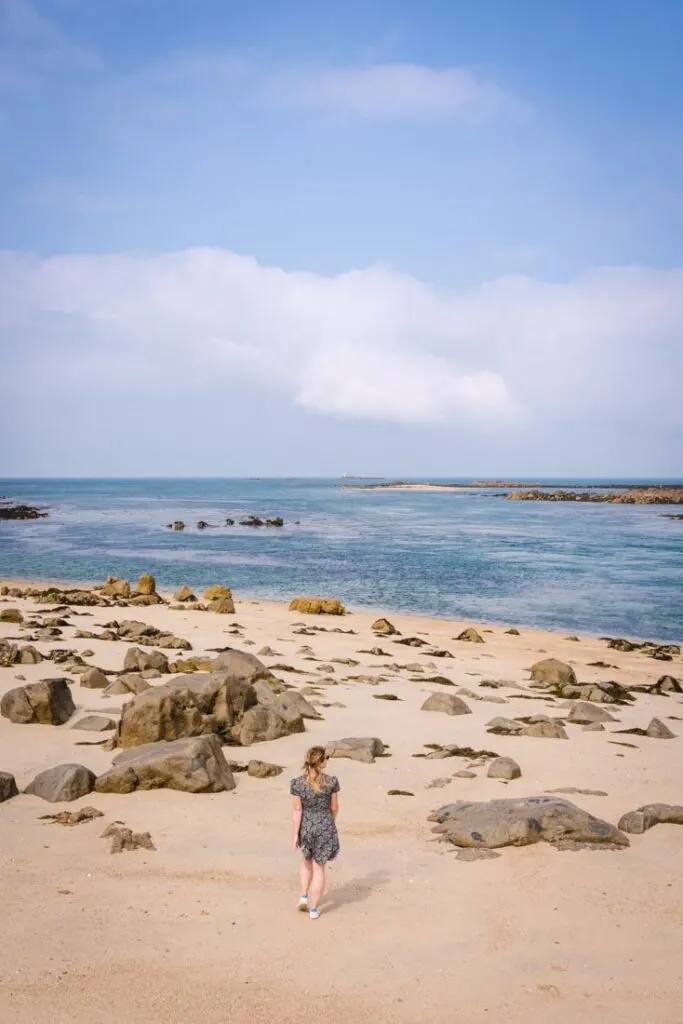 The Channel Islands have their own independent laws and elections, so they are completely separate from the government of the United Kingdom.
I'm not going to lie, I got this wrong recently on Twitter saying "I bet you didn't think there were views like this in the UK, did you!?" and I was completely shot down.
If I said "the British Isles", that would've been fine, but oh no, I just had to say the UK, didn't I? Don't make the same mistake as me, because it won't make you any friends!
What to do in Guernsey
Go for a walk at Petit Port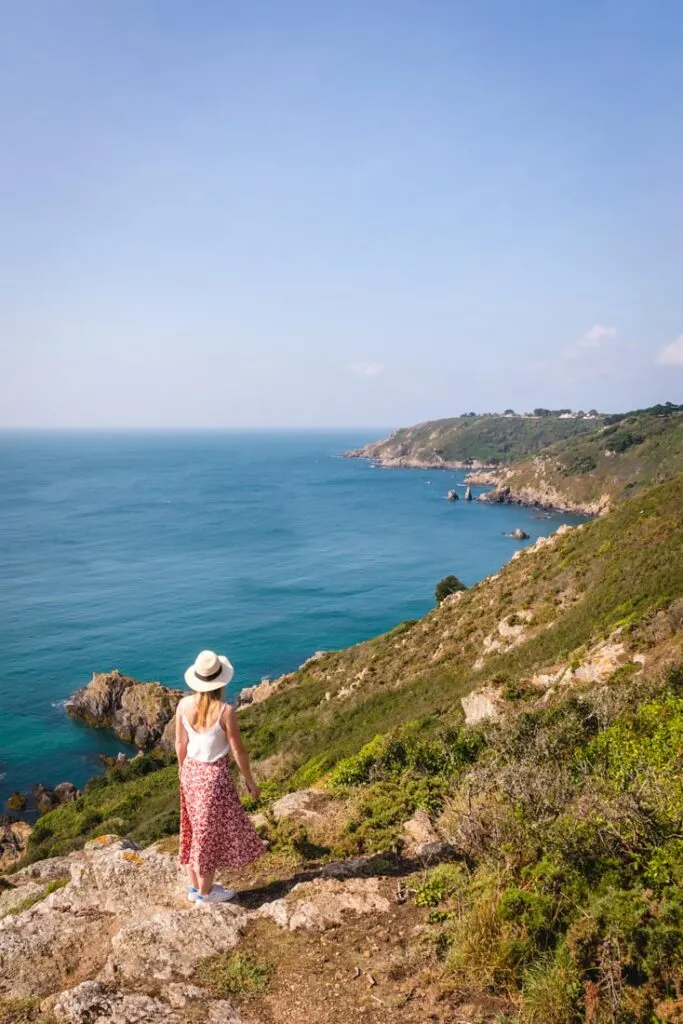 As I've already mentioned, this is the first place we visited when we arrived and hopped into our Hertz hire car.
Just a short 10-minute drive south from the airport, you'll come to a spot called Petit Port. This is one of the best viewpoints in Guernsey and highlights what the island is all about.
There is a 30-minute walk from Petit Port to Moulin Huet Bay that follows the coastal path, and the views are just astounding.
For me, it was one of those places where you walk 10 paces and take another photo.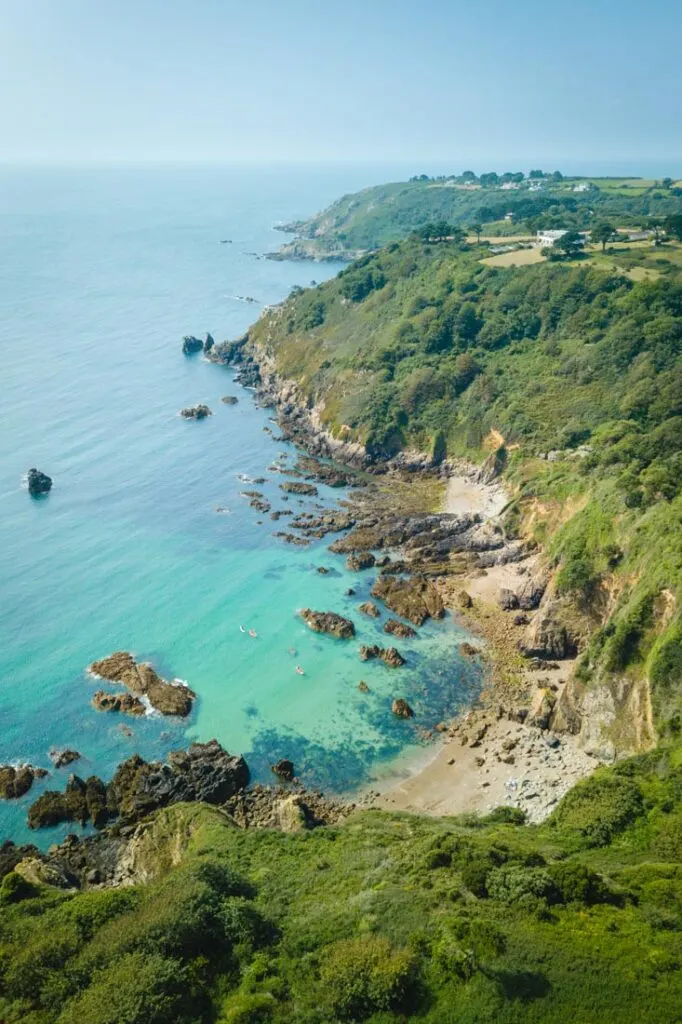 If you make it all the way round to Moulin Huet Bay, there is a tea room waiting for you. This place arguably has the best garden views on the island. Also, they serve deliciously light scones too, which is another reason to visit.
If you keep on walking down the steps, you'll make it down to the bay itself. This is one of those quiet secluded spots, and if you're lucky you'll have the beach to yourself.
I really can't recommend going for a walk at Petit Port enough, and it is a great way to start your weekend in Guernsey too.
Spend the afternoon on Herm Island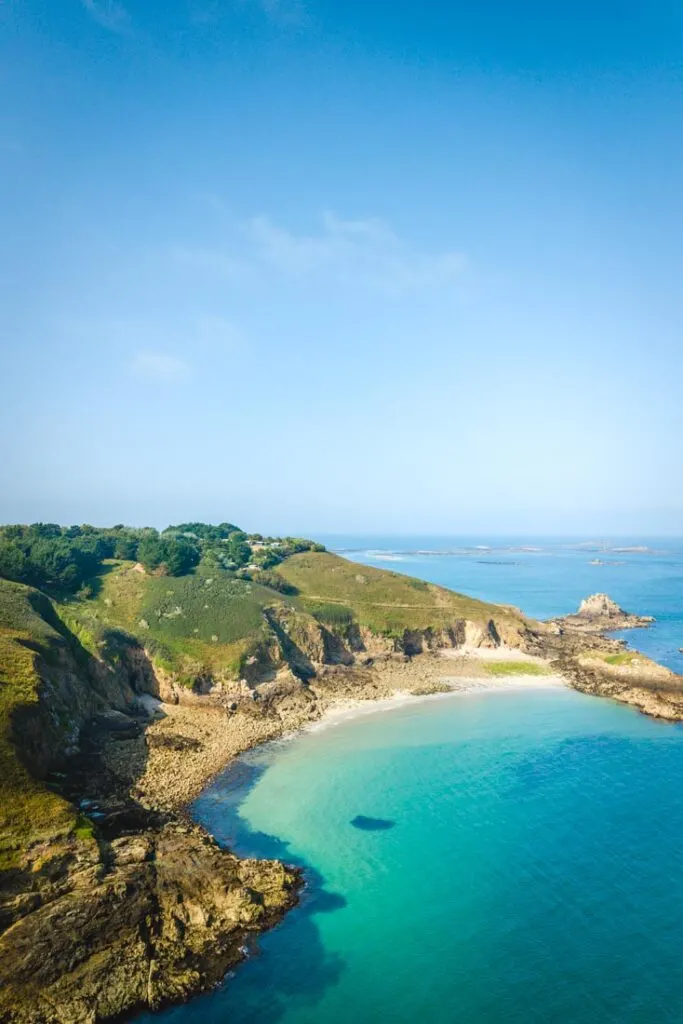 Herm's tagline is "there's no place like Herm…" and there really isn't.
Herm is arguably the most beautiful of the Channel Islands. It is a place home to pristine beaches and secluded bays. When you come here on a sunny day, the water is so bright and colourful. It really is just like being in the Caribbean.
The ferry from St Peter Port to Herm only takes 20 minutes. As soon as you step foot on Herm, you can feel all your worries float away. This is a place with no cars, no crowds and definitely no stress.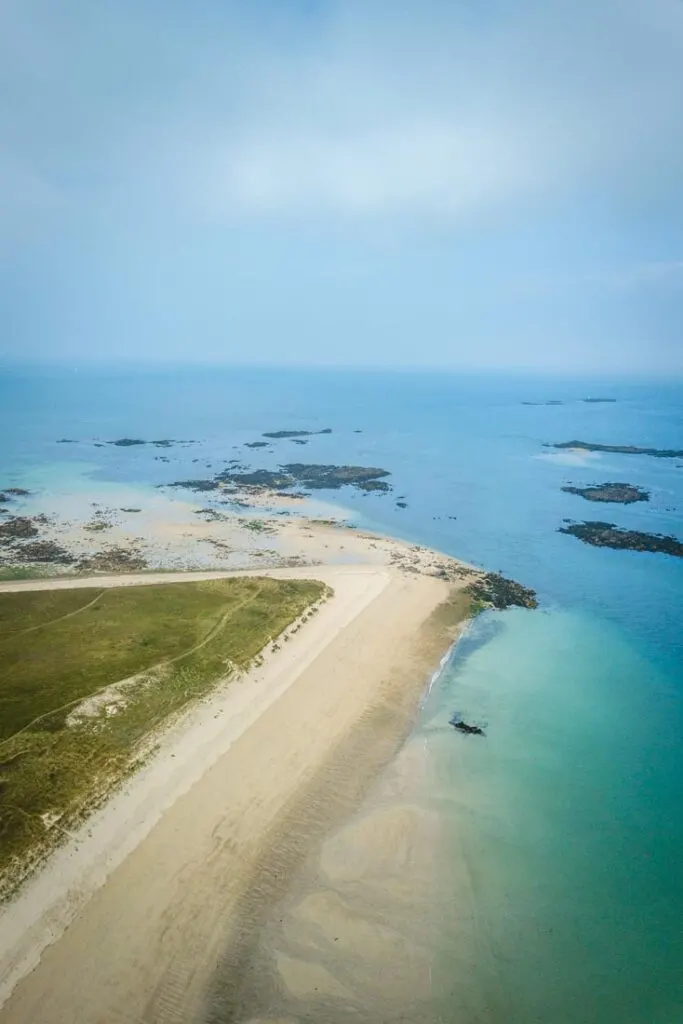 The whole island measures just 2 km2, so one of the top things to do in Herm is walking around the island. It took us around two hours to do this, and that was with stopping along the way for ice cream and to explore the beaches.
The most popular beach is Shell Beach on the north east of the island. This is by far the longest beach, and it's great for the little ones. There's also the Shell Beach Café here which serves delicious seafood platters and sandwiches.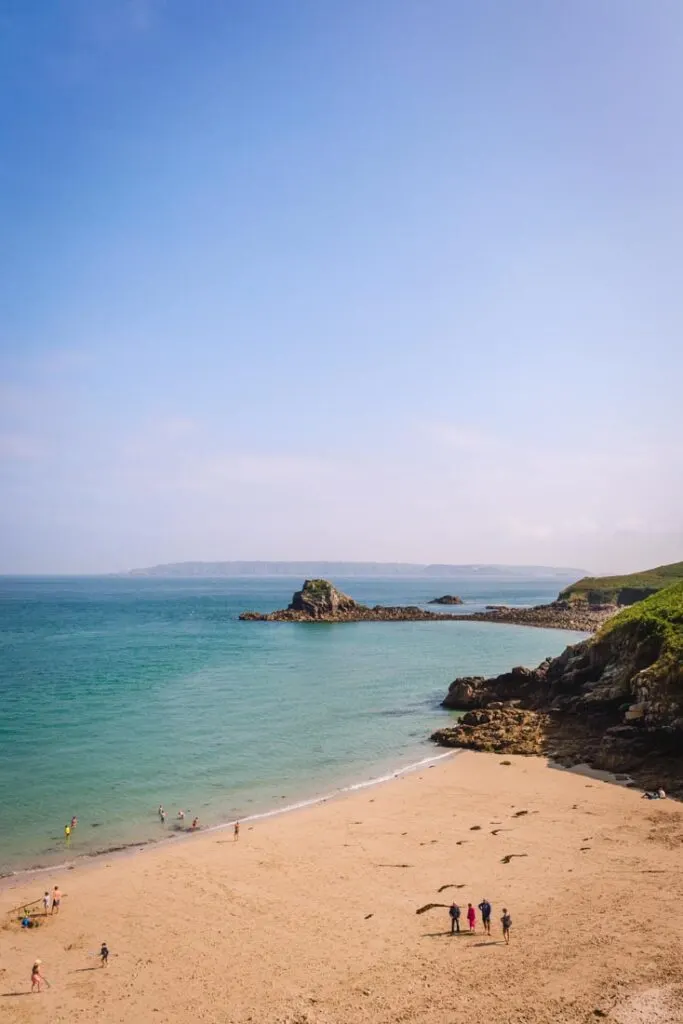 Another place I really liked was Belvoir Bay. This is a lot smaller than Shell Beach, but it felt much more secluded too.
As Herm Island is one of the top things to do in Guernsey, we've written a guide all about the island.
If you're planning on visiting here (and you really should), then check out our guide to Herm.
Visit the Little Chapel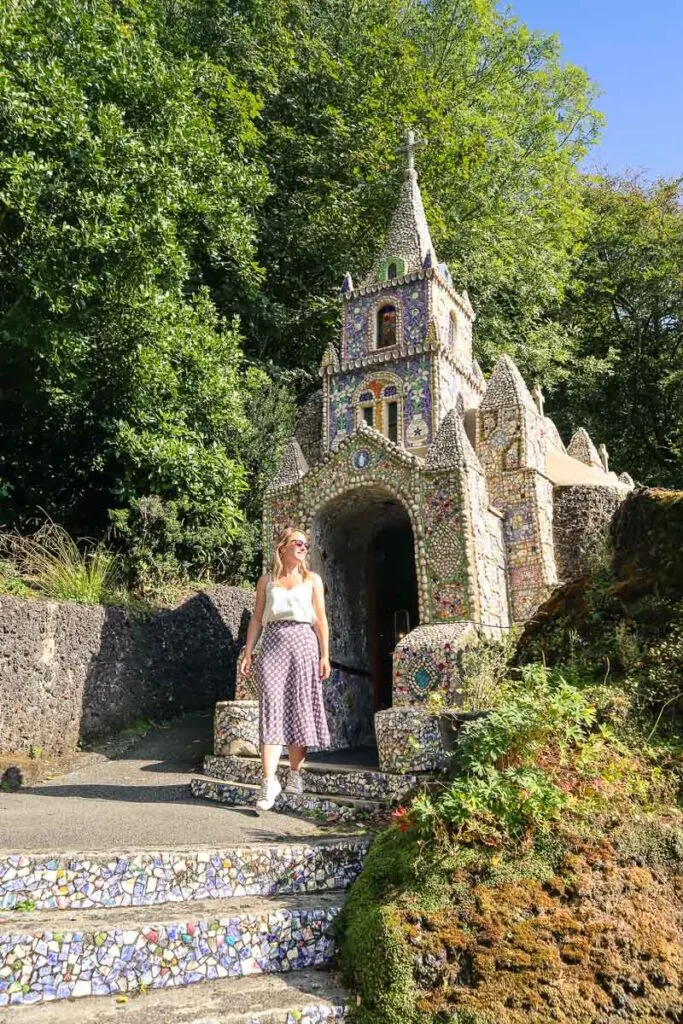 The Little Chapel is officially one of the smallest chapels in the world. It's also one of the cutest too.
Measuring just 16ft by 9ft, the chapel was loving built by Brother Déodat in March 1914. Ever since then, people have been flocking here to check it out.
What makes the chapel so unique is it's made out of shells, pebbles and broken china. All of this gives it a dolls house look and feel to the place.
Inside the Little Chapel you'll get to see all the intricate details of the building. There is a brightly coloured alter, mother of pearl shells are decorated on the wall, and there are little stained glass windows too.
There is no charge to enter the Chapel as it relies totally on public donations. Oh, and there's a little café here too for ice cream and refreshments.
The Little Chapel is a must visit during your Guernsey weekend break, and makes for a great photo opportunity.
Kayak around the coast with Outdoor Guernsey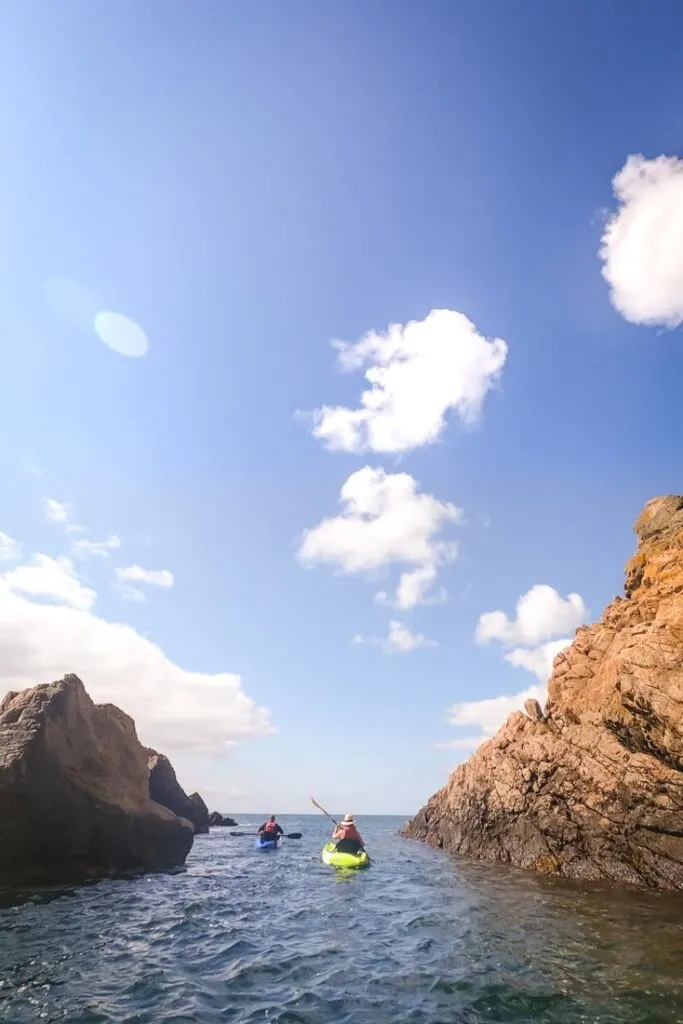 When you're looking at what to do in Guernsey, this activity is right up there with the best of them.
We met Ant and Jack from Outdoor Guernsey at Petit Bot and hopped on the water with them kayaking around the coast of Guernsey.
We spent a couple of hours kayaking and it was so much fun. Once again, the views were just incredible. It was great seeing a different perspective of the coastline from the water too.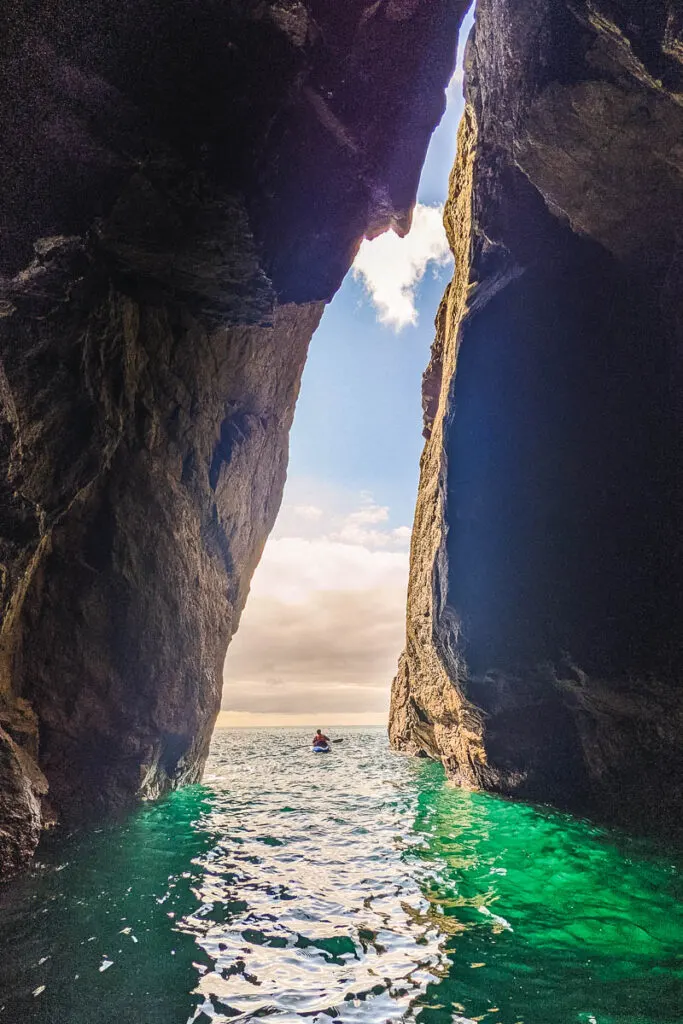 What I loved about this tour was we kayaked in and out of these massive caves along the coast. It was so cool actually being able to kayak in the cave – I felt like a proper adventurer. You also get a closer look at the rocks to see their different colours and formations.
While we were kayaking, Ant gave us a lot of history of the area. He also said the kayaking tours at low tide are completely different too as you get to visit secluded beaches that you can only get to by kayak.
Our kayak tour cost £35 per person including all equipment, which I thought was very good value for money. They also offer kayak and SUP hire, as well as loads of other tours like coasteering and climbing too.
Walk along the beach at Cobo Bay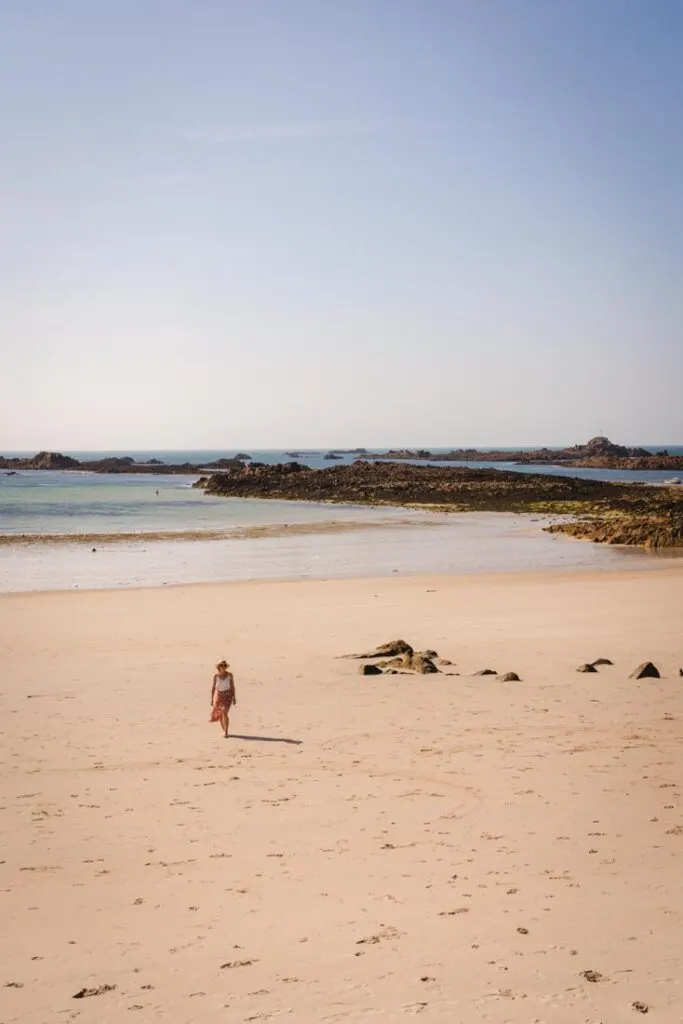 It's hard picking a favourite beach in Guernsey, but Cobo Bay on the west coast is definitely one of the most popular. That's why it features in pretty much every Guernsey beach guide ever created.
Like with most beaches on the island, Cobo Bay has white sands and crystal-clear waters. What makes this such a popular spot though it the number of amenities just across the road.
You can stay at the Cobo Bay Hotel, dine at The Rockmount or La Reunion, or have afternoon tea at the Cobo Bay Tearooms. There's also a local shop where you can pick up beach snacks, and the kiosk selling chips and ice cream (not together, though I'm not against that…)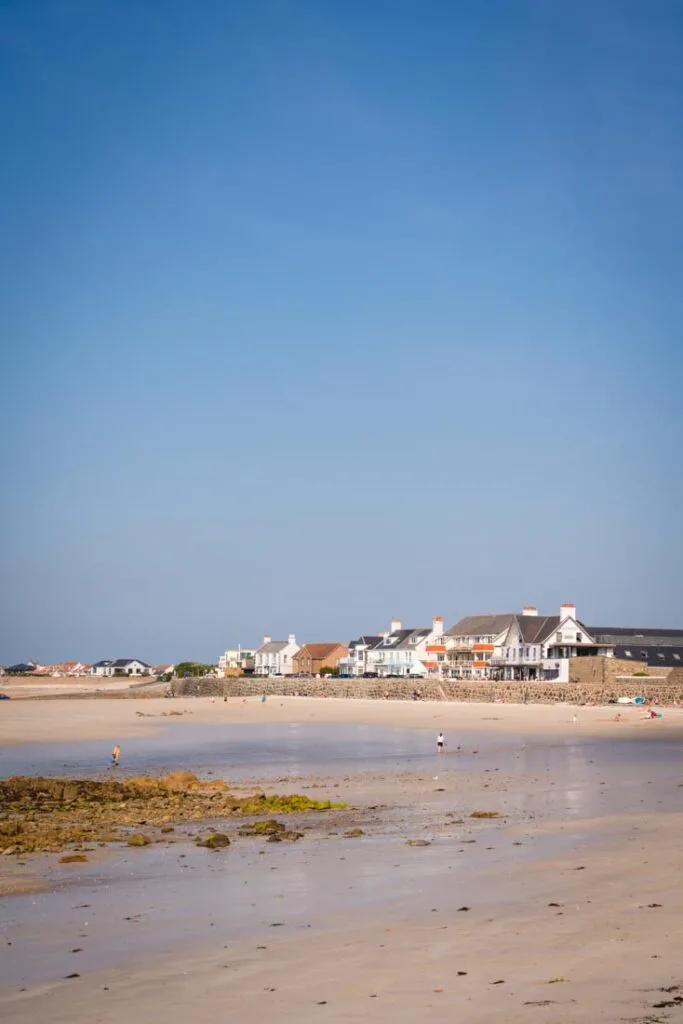 One of the best things to do in Guernsey for kids is to go rockpooling when the tide is out.
For adults, this is an incredible place to watch the sunset, so grab yourself a drink and the Rockmount and soak it in.
If you're looking for date night, you can grab fish and chips from the famous Cobo Fish Bar and eat it on the beach. Cheesy, but oh so good.
Learn all about seaweed on a seaweed tour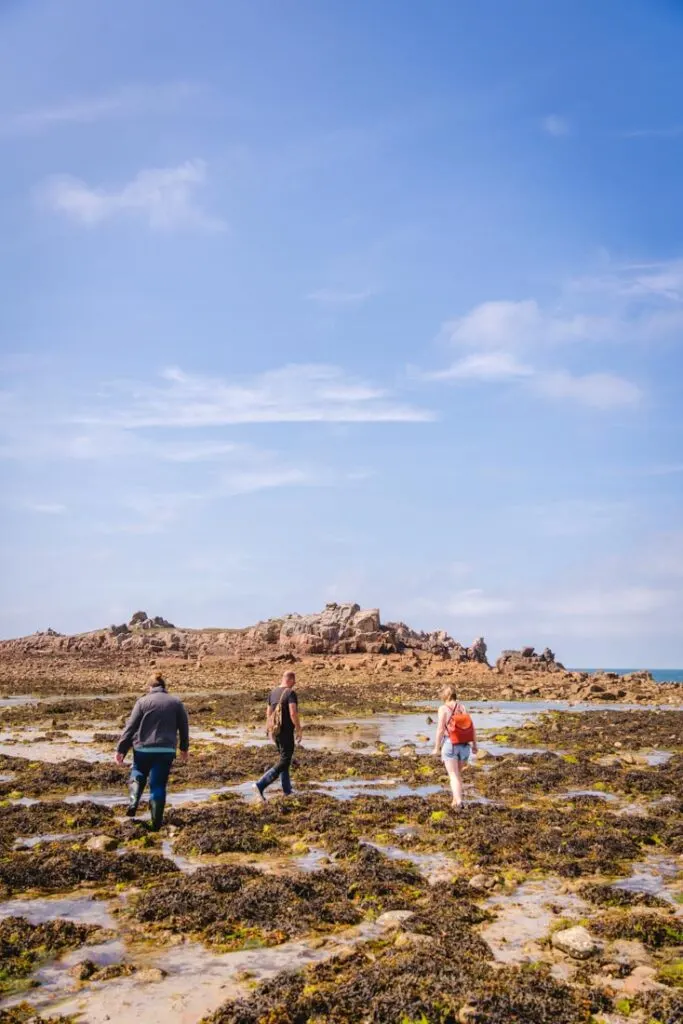 We went on a seaweed tour with Guernsey Seaweed and it was genuinely fascinating.
Did you know there are over 3,000 different seaweeds in the world? And you can find 750 of them just on the island of Guernsey!
Another fact I loved is that most of the world's oxygen, about 70%, comes from seaweeds and algae. Also, seaweed is one of the biggest carbon sequesters on the planet – this means they can play a big part in reducing CO2 from the atmosphere.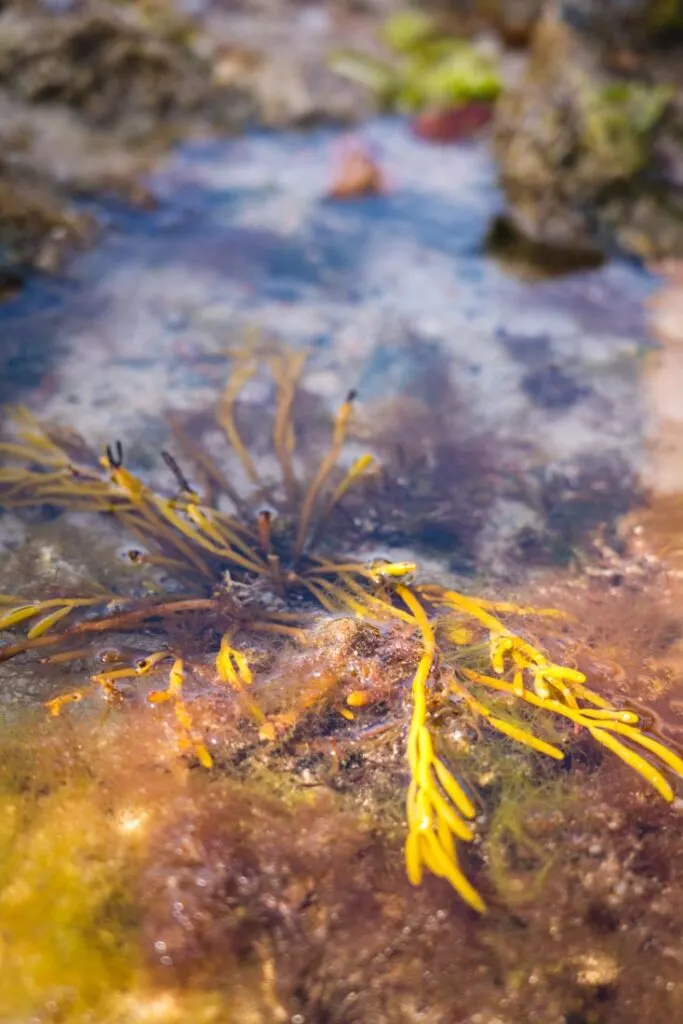 However, we weren't just learning about seaweed, we were tasting it too. Most seaweed is edible, and some of them are really tasty. Common seaweeds like kelp, kombu and nori are already used a lot in cooking, but there are loads of others too.
Our guide Ben was so knowledgeable about all the different types of edible seaweed. I can imagine it looked pretty strange four adults all wading through the shallow waters foraging for seaweed, but it was a great way of learning about something I knew nothing about.
The tour lasts 90 minutes and costs £20 per person. If you're looking for something a bit different, then add a seaweed tour to your Guernsey itinerary!
Have a sunset drink at Fermain Bay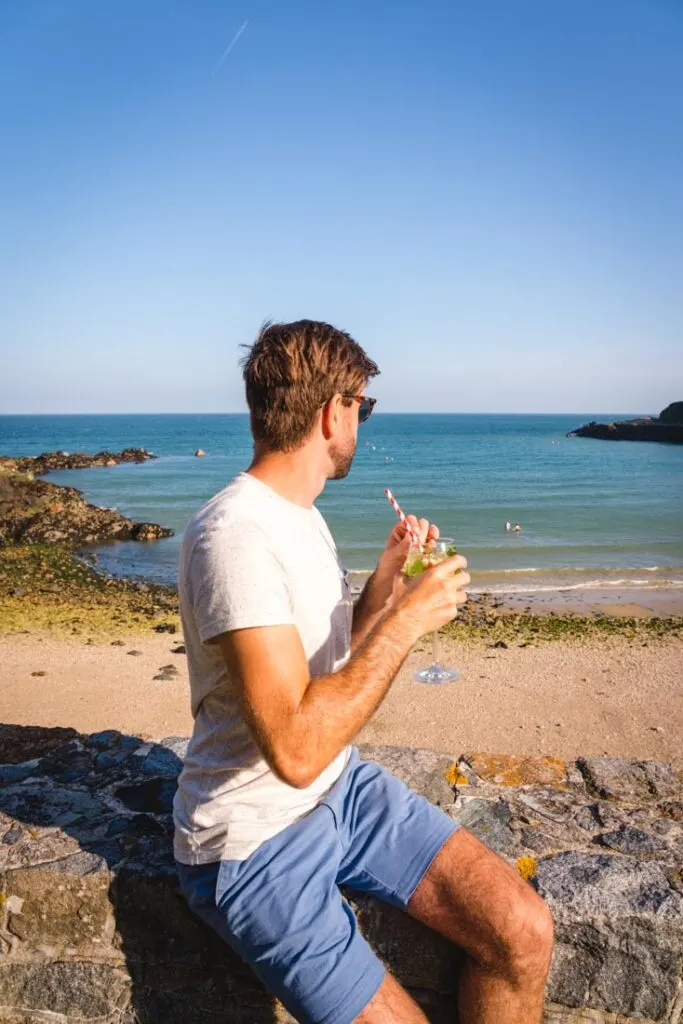 Even though watching sunset is much more popular on the west coast at Cobo Bay, that doesn't mean you should ignore the east coast.
One evening we went to Fermain Bay for a little sunset drink and we had the whole place to ourselves. That's the benefit of coming to this side of the island.
Fermain Bay holds this beautiful tucked-away beach. It is much more rugged on this side of the island, so it's a pebble beach, but it's a lovely spot for a swim.
The Fermain Beach Café is open until 6pm every evening, so we popped along here at 5:30 and picked up a couple of cocktails.
There's nothing quite like overlooking the water with a cocktail in hand. It's definitely the simple pleasures in life that make me happy!
Climb to the top of Victoria Tower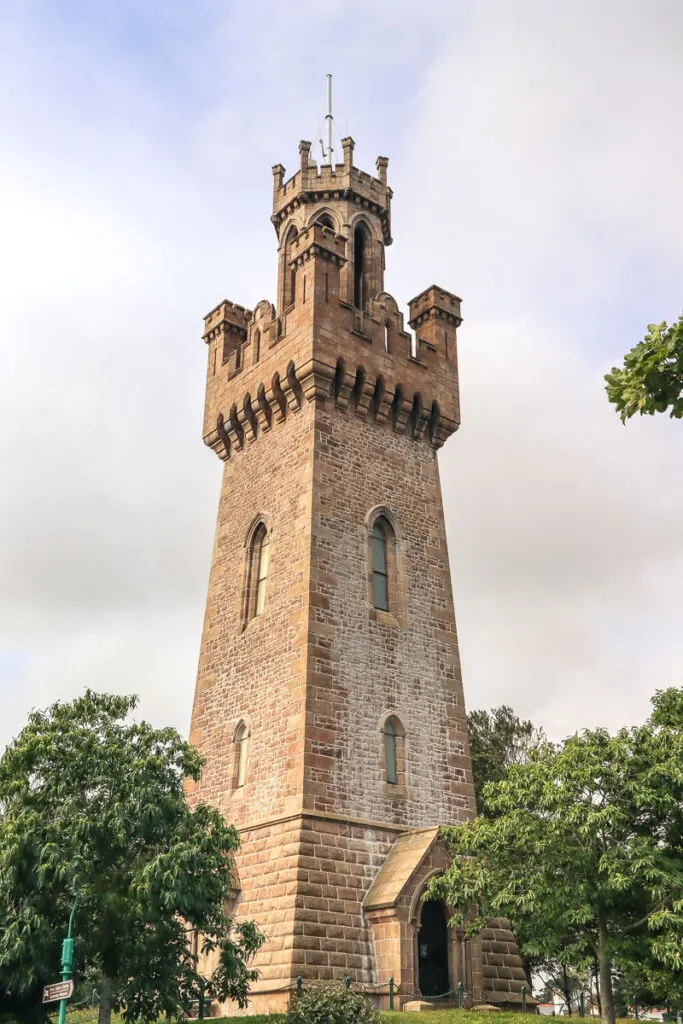 If you're looking for one of the best viewpoints in St. Peter Port, then head to the top of Victoria Tower.
Built in 1846, there are 99 steps to the top of the tower. Once you're at the top, you have this amazing view overlooking the harbour at St Peter Port. On a clear day, you can even see the island of Herm in the distance.
Offering panoramic views across the west, north and east coasts of Guernsey, this is the perfect place to capture a few holiday snaps.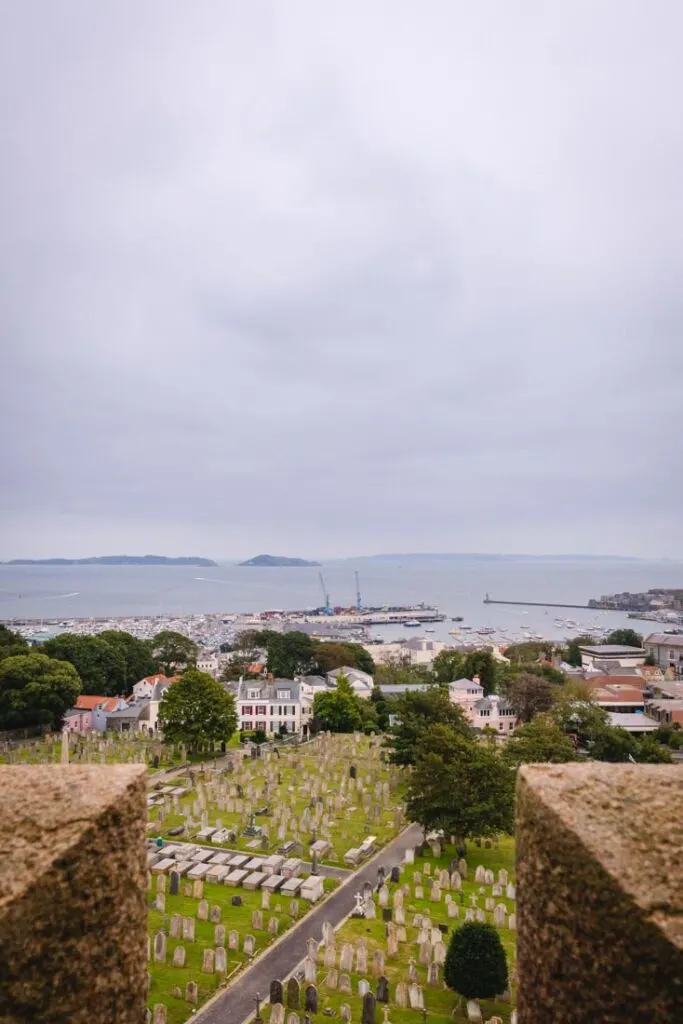 To get to the top of Victoria Tower, first you need to pick up the key from the Guernsey Museum in Candie Gardens. If you just go up to the front desk of the museum and ask for the key, they'll give it to you.
And the best thing? It's completely free climbing to the top of Victoria Tower.
Wander around the streets at St. Peter Port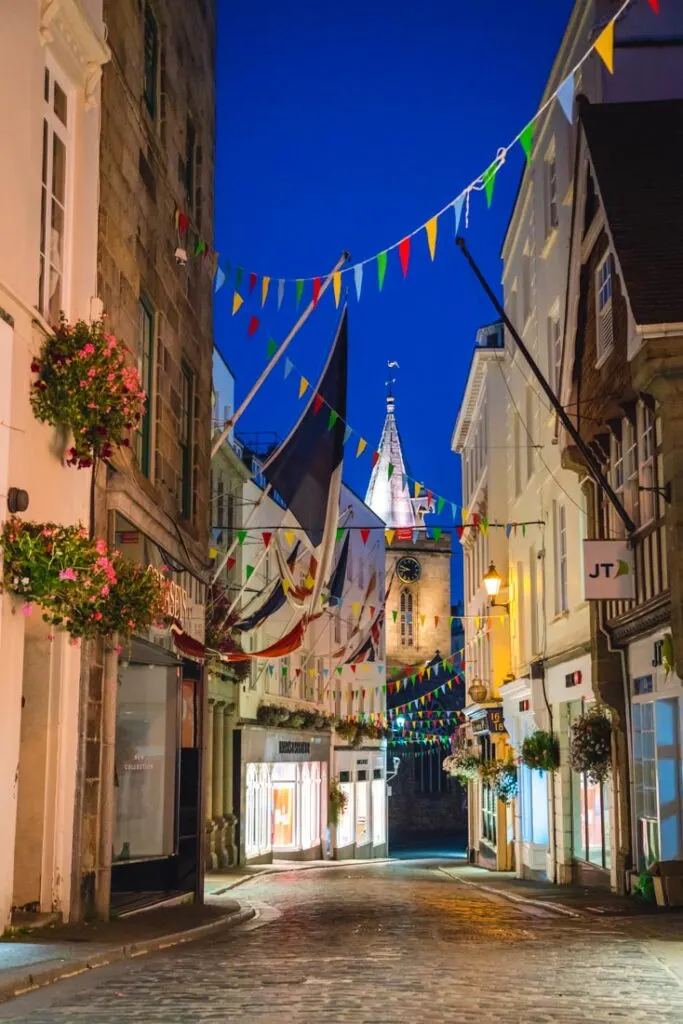 St Peter Port is such a charming part of Guernsey. Known colloquially by Islanders as 'town' and home to around 18,000, St Peter Port is a colourful display of flowers and bunting.
One of the main spots is the harbour where you'll see luxury yachts lined up. There's also the 800-year-old Castle Cornet which is a great place to visit for a few hours.
I really enjoyed walking around the cobbled streets snaking their way up the hillside.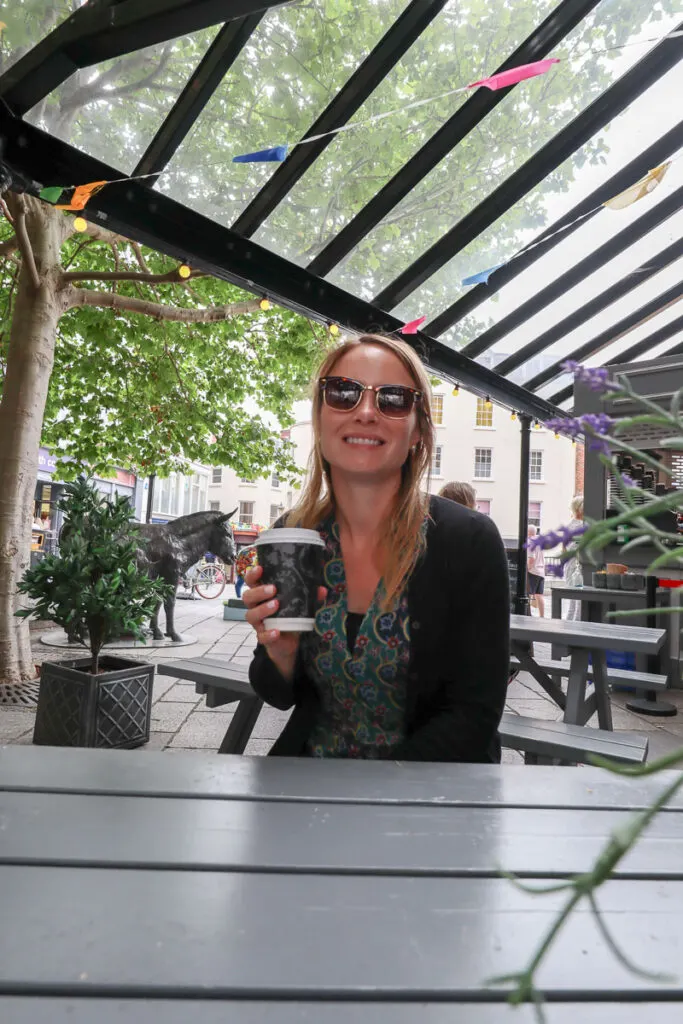 There a loads of independent shops, bars, cafes and restaurants dotted around St Peter Port. The best thing to do is wander around the streets and explore a few of these.
If you're looking for a great place for a coffee, I'd recommend the little kiosk Mylk. This is really popular with locals and it serves a cracking coffee.
Have a fancy dinner at Le Nautique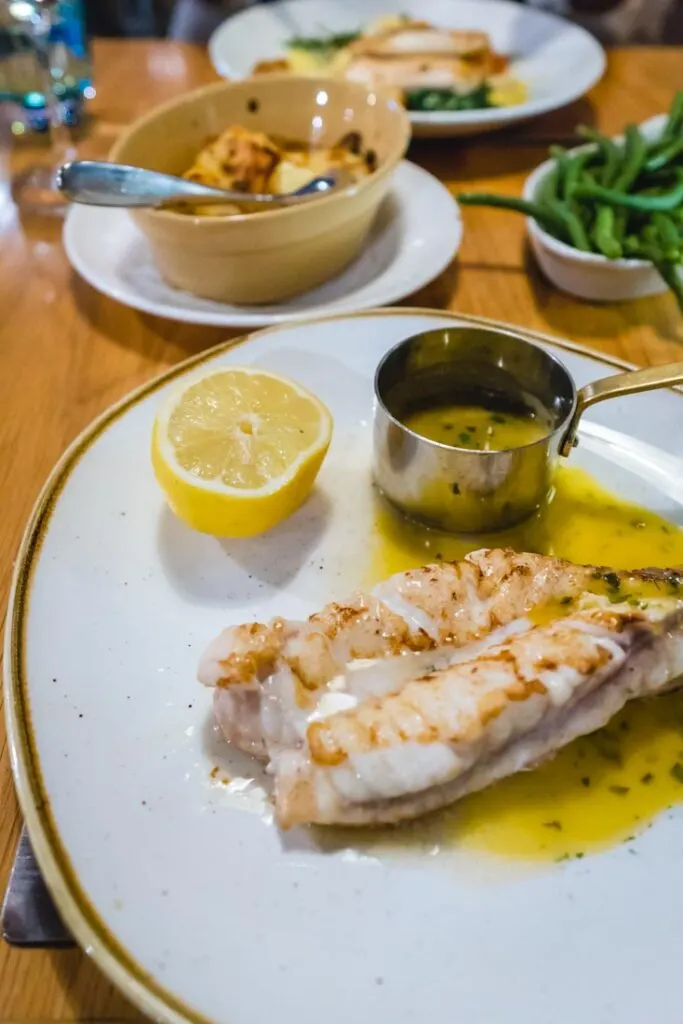 Le Nautique has become an institution in St Peter Port. Right on the waterfront, this is without a doubt one of the best restaurants in Guernsey.
Le Nautique Restaurant occupies a former shipping warehouse which used to store wines, spirits and tobacco from around the world in the late 1700s.
It is also a very old restaurant dating all the way back to the 1960s. That's a lot of covers over that time!
Le Nautique offers the finest French cooking. Think champagne sauces and everything dripping in butter.
While we ate here, I had the trio of Guernsey crab to start with (one of their best sellers), followed by the monkfish. I can honestly say the monkfish was one of the best fish dishes I've had in years. My heart felt it afterwards, but it was happy. If you can't indulge yourself while on your Guernsey holiday, when can you!?
Where to stay in Guernsey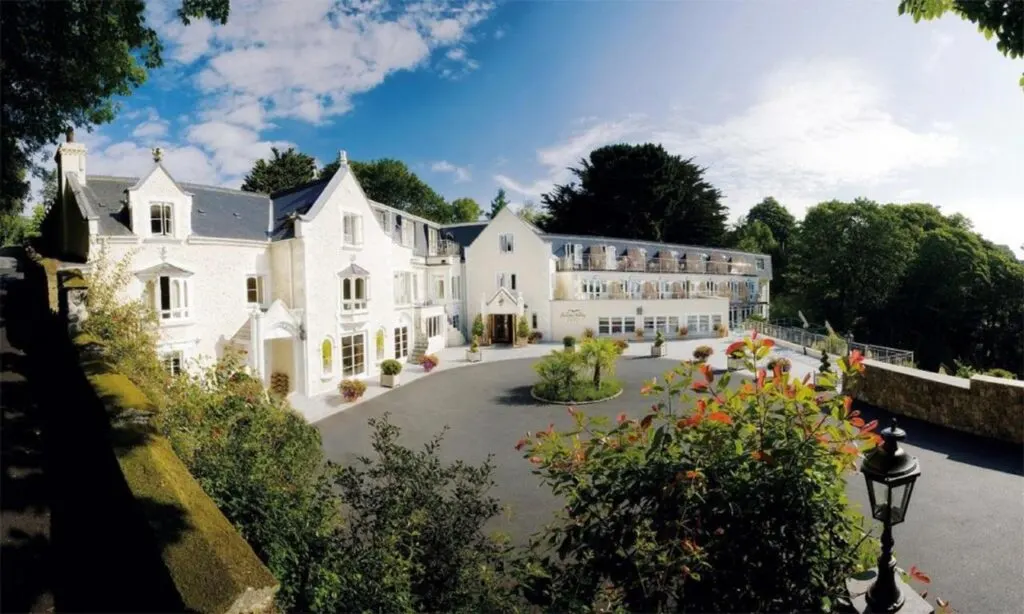 For our weekend in Guernsey, we stayed at the Fermain Valley Hotel.
The hotel is located above the unspoilt Fermain Valley with views overlooking the bay below. When you're in Guernsey, I think it's so important having a sea view. You've got to make the most of being by the seaside after all.
The hotel cascades down the hill with a number of different buildings. The newest rooms are above Buho (a Mexican restaurant), and each is very spacious with all the amenities you need.
The main building houses The Ocean Greek Eats restaurant which is rated as one of the best restaurants on the island.
The hotel is designed with comfort in mind, with additional luxuries such as award-winning gardens, a pool and sauna, and a free shuttle bus service.
As they say, the Fermain Valley Hotel is relaxed coastal living at its best.
For somewhere completely different, how about camping in Guernsey? One of the newest campsites on the island is Camp De Rêves which offers a variety of glamping options.
The latest addition are two brand new shepherd huts with these gorgeous views of the ocean.
There are also five safari tents which sleep six people, so ideal for a big family or two families travelling together. All are designed for comfort and have luxurious amenities including BBQs, a pizza oven, warm water and an indoor games room.
The ideal itinerary for a weekend in Guernsey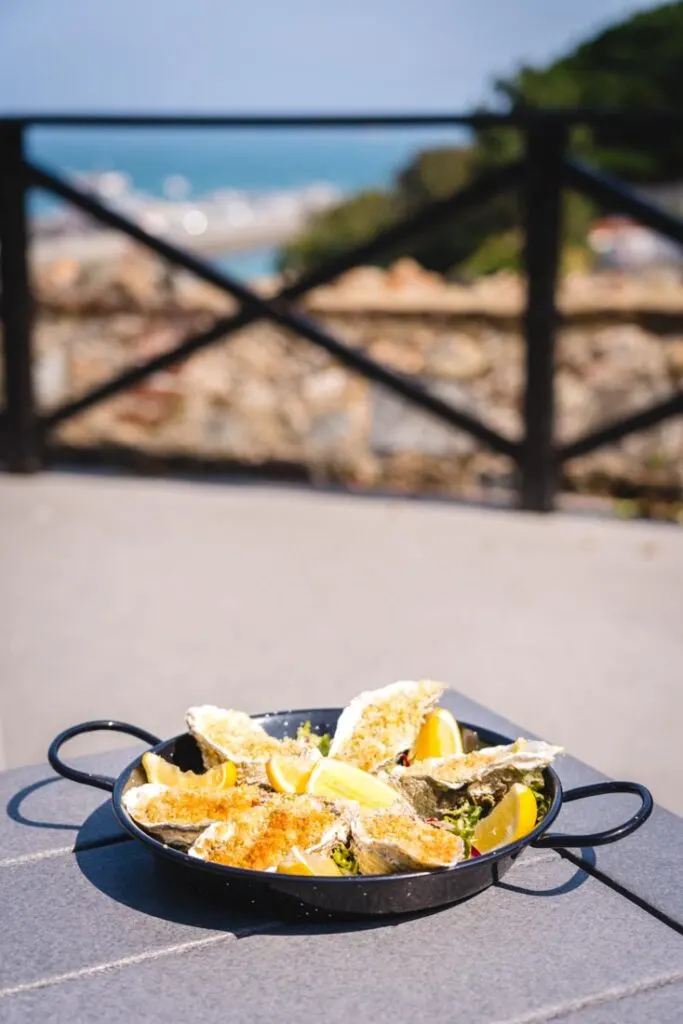 Usually when I come up with these travel guides, I do wayyyyyy more than most people would do while they're away. So, if you're looking to cherry pick a few activies, this is a good guide for 3 days in Guernsey.
Day 1:
Morning: Go for a walk at Petit Port. Have a coffee and a scone at Moulin Huet Bay Café.
Afternoon: Head over to Herm Island. Grab lunch either at The Mermaid Tavern or Shell Beach Café.
Evening: Stroll around St. Peter Port, then head for dinner at Balthazar Restaurant. Their steaks are exceptional.
Day 2:
Morning: Go kayaking or on an outdoor adventure with Outdoor Guernsey. Take in the views of the coast.
Afternoon: Head to Copenhagen Bar & Grill for lunch, then wander into town afterwards. I'd suggest visiting Castle Cornet or climbing to the top of Victoria Tower here.
Evening: Have a pre-dinner drink either at Fermain Bay, or if you want to stay in town then at the trendy new bar Red. Go to Le Nautique for an amazing dinner.
Day 3:
Morning: Learn all about seaweed on a seaweed tour. Go for a walk along the coast at Cobo Bay afterwards.
Afternoon: Have lunch at La Reunion (they have a really great set menu deal which is great value for money). After lunch, head to the Little Chapel.
Evening: Fly home after an amazing 3 days in Guernsey!
Top tips for visiting This Is Guernsey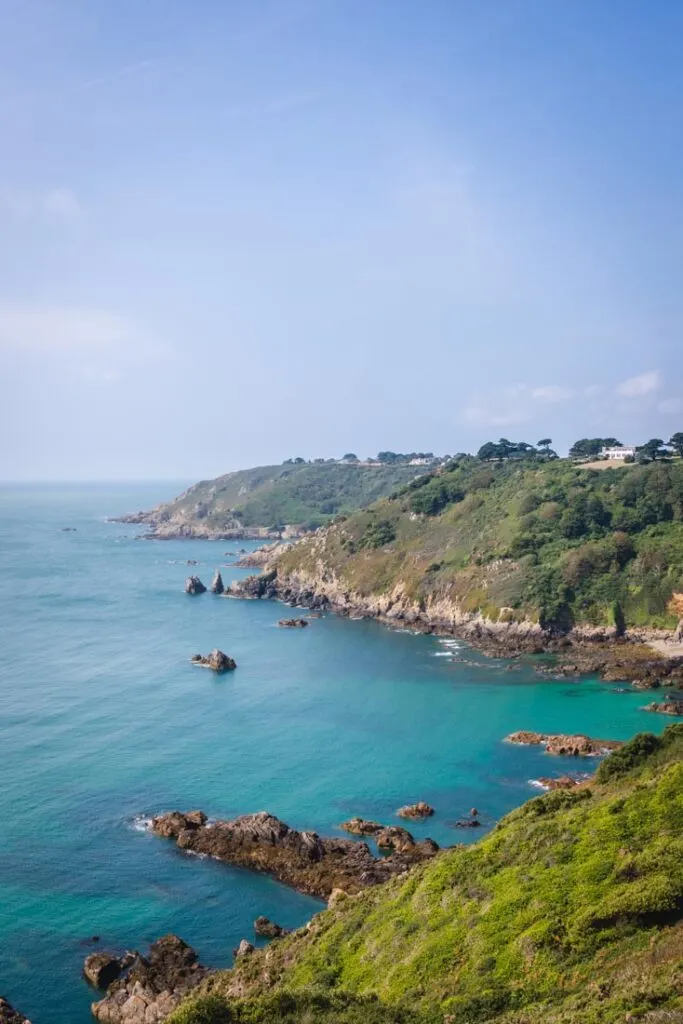 Driving – despite being such a small island, the driving in Guernsey is surprisingly difficult. This is because all the roads are so narrow. I hardly saw a car without any scratches somewhere on the sides.
To give you peace of mind, hire a very small car, ideally the smallest possible. I had a Ford Fiesta, but I would've much preferred a Smart or a Fiat500.
Also, the maximum speed limit on the island is 35mph. This is part because the roads are narrow and windy, but also because it's impossible to concentrate on the road when all the views are so stunning.
Money – you may be given an old £1 note on Guernsey. Don't worry, this is still legal tender! It's quite cool having a £1 note, but at the end of your trip it can be quite annoying as it's hard to use anywhere other than in the Channel Islands. You might want to keep one note as a little souvenir though.
Restaurants – people like eating out in Guernsey, like, a lot. To make sure you're not just eating fish & chips on the beach every night, book the places you want to eat at beforehand otherwise you could be disappointed.
Tidal range – Guernsey has one of the biggest tidal ranges in the world of 33 feet. This transforms the coastline every six hours, so it's important to keep an eye on tidal times for certain activities. High tides are perfect for swimming, and children love to explore the rock pools at low tide.
The British Isles – remember, Guernsey is part of the British Isles, not the UK, not Great Britain.
Guernsey packing list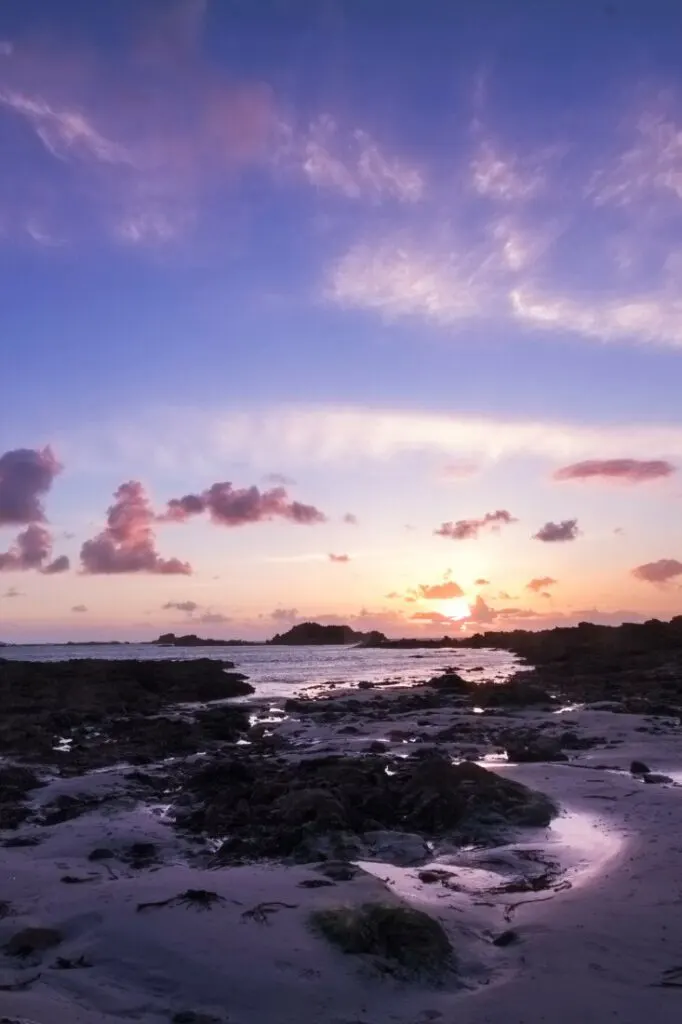 As you can imagine, I travel a lot. It comes with the territory of being a travel blogger! That being said, there are some things that I now can't travel without. If you're planning your Guernsey itinerary, I'd really recommend taking these items with you: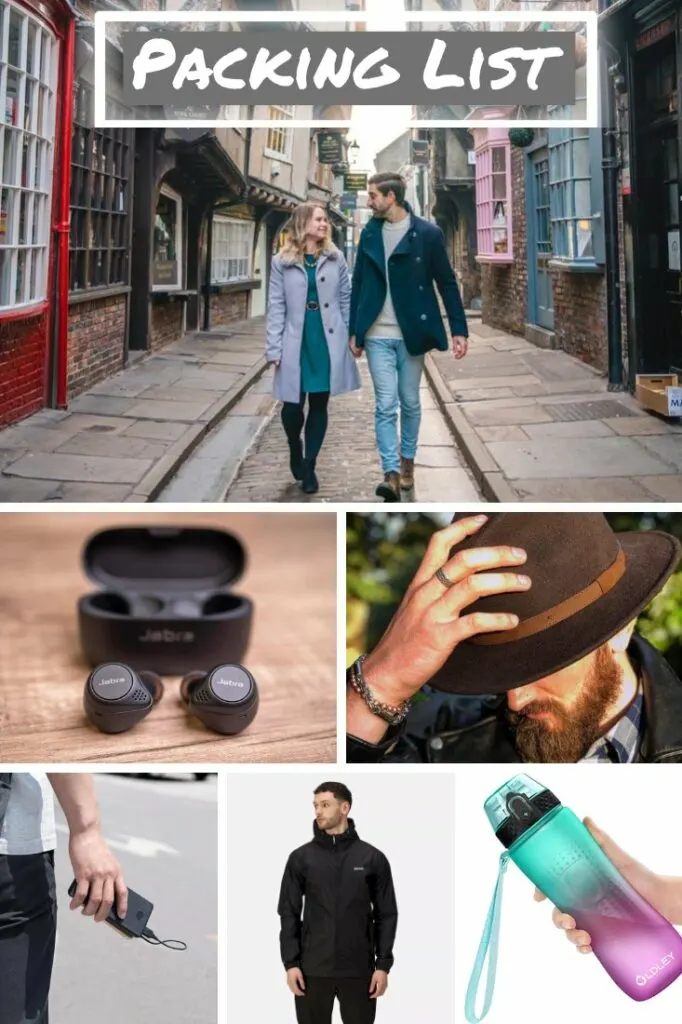 ---
This post was in association with Visit Guernsey promoting some of the best things to do in Guernsey for couples. As always, views are entirely my own and without bias.
Are you planning on visiting Guernsey? Let me know if you have any questions about what to do in Guernsey in the comments below and I'll get back to you!
Like my Guernsey travel blog? Then make sure you Pin it for the future!