Are you looking at travelling from Helsinki to Tallinn? Then this is everything you need to know about catching the Helsinki Tallinn ferry!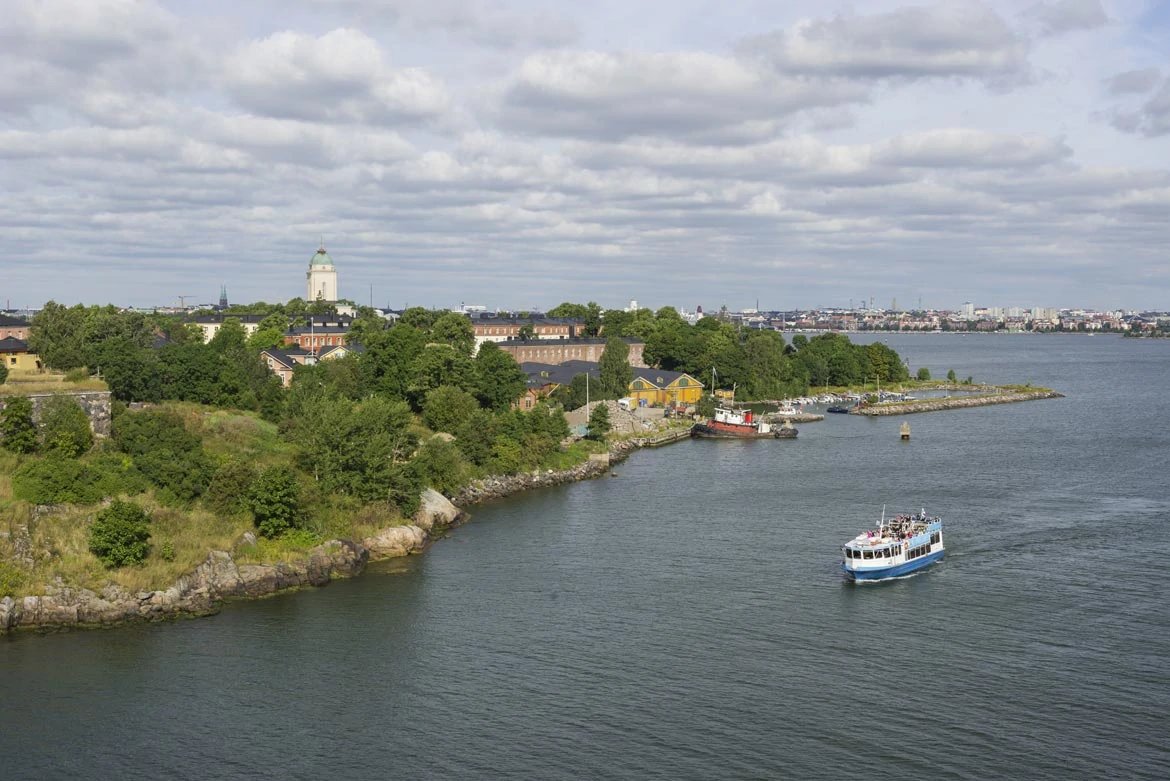 If you've got a bit of time in Helsinki then I'd really recommend a day trip to Tallinn in Estonia. Even though they're neighbouring countries, Tallinn Old Town feels a million miles away from the modern city of Helsinki.
Personally, I always feel like this route is a bit of a secret to tourists. Not everyone knows you can travel between Hesinki and Tallin so easily, but you can. Also, because Tallinn is such a compact city, it's perfect for exploring by foot.
It may look far on the map but the Helsinki Tallin ferry only takes 2.5 hours. This means if you're organised you can catch an early ferry and spend the entire day exploring the Medieval cobblestone streets of Tallinn before returning home again at night. This means you can tick off a new city and a new country all in a day – whoop whoop!
Whether you're travelling from Helsinki to Tallinn or vice versa, this is the post for you. In this little guide I cover how much the ferry costs, the ferry times, how to book a ticket and what you can do on board.
So, if you're planning a trip from Helsinki to Tallinn then read on!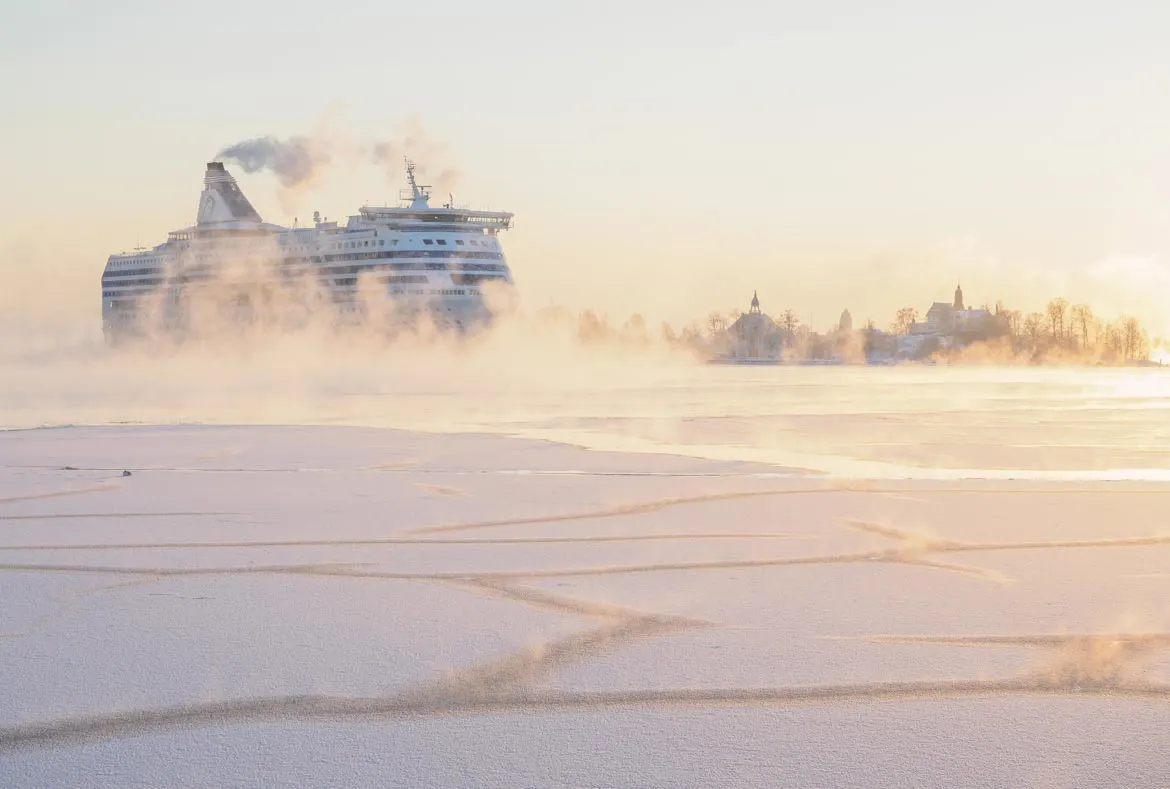 What is the best ferry from Helsinki to Tallinn?
Tallink Silja Line (you can get return tickets here)
There are several companies to choose from that make the crossing between Helsinki and Tallinn.
However, the most popular company with the most crossings per day is Tallink Silja Line. Tallink Silja Line has seven regular crossings each day plus a sleeper service too. That's why I would say this is the best ferry from Helsinki to Tallinn.
Viking Line and Eckero Line usually sail three times per day each. Eckero Line is generally the cheapest provider but the crossing times are longer, so that's something to take into consideration.
You may find older information online that refers to Linda Line Express but this company is no longer in operation.
I always recommend the Tallink Silja Line and this is the one I've caught myself.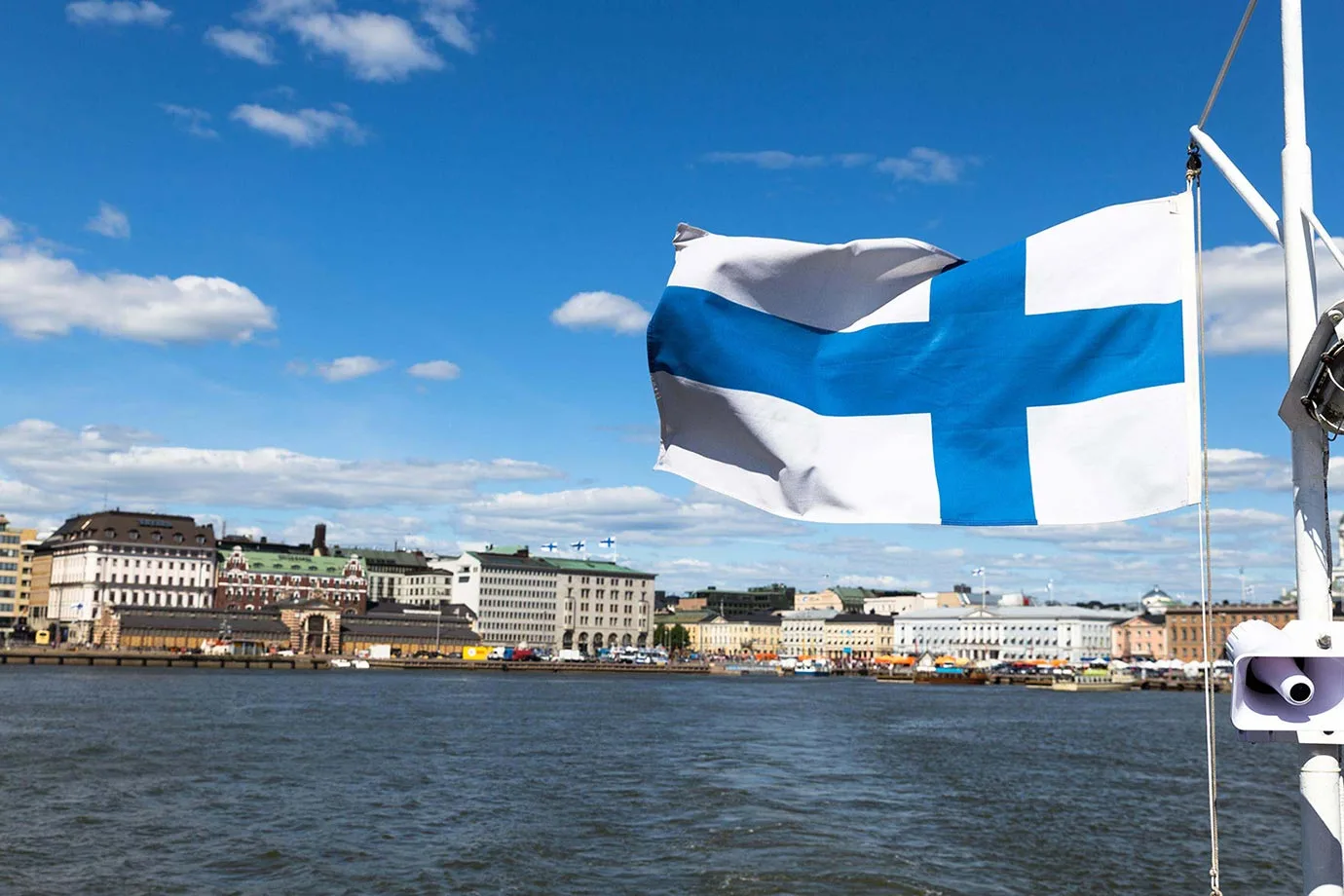 What is the Helsinki Tallinn ferry price?
The Helsinki Tallinn ferry price is probably a lot cheaper than you think which is good news.
Each operator offers various ticket types to suit different types of traveller. Ticket prices may vary depending on what time crossing you choose. Prices also depend on whether you're travelling with a vehicle or as a foot passenger.
The cost of a return regular foot passenger ticket for most weekly Tallink Silja Line services is typically €30-35. As I said, for me this is the best ferry from Helsinki to Tallin and the one I'd recommend.
Prices may increase at the weekends, at peak times, and summer sailing are usually more expensive than weekend crossings.
I think €30-35 is a bargain though for visiting a new city and a new country. That's for a return ticket too!
For further information, you can book tickets for the ferry here.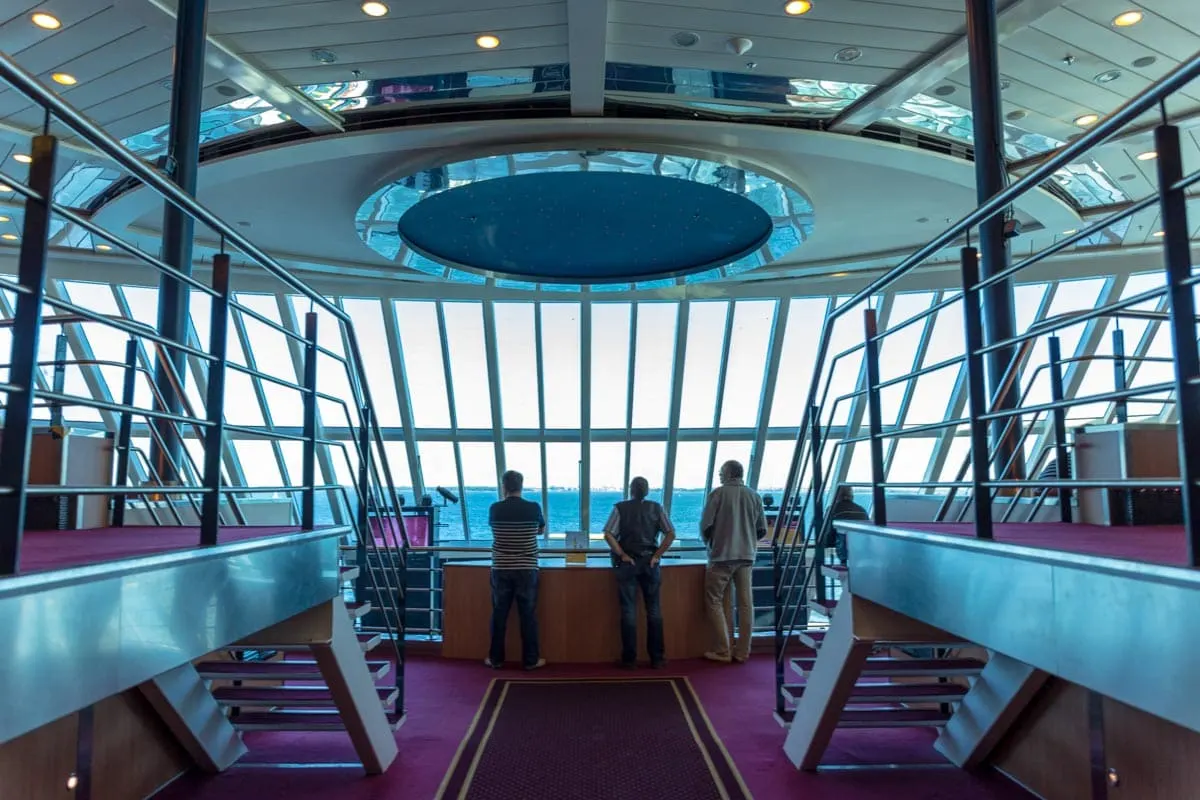 What are the different types of tickets?
Travelling with a vehicle onboard Tallink Silja Line costs an extra €21 and upwards, depending on the type and size of the vehicle. Access to the Comfort Lounge is an additional €20. Enjoying the Business Lounge will cost an extra €65, and upgrading to an A or B Class Cabin will cost €35 and €30 respectively per cabin. I go more into what these tickets give you further down this post.
With Viking Line, morning sailings typically cost between €34 and €39 depending on the day of the week, and the evening crossing are usually between €21 and €32. You can expect to pay around 68-81 for a night time sleeper service. Various cabin upgrades are available for between €24 and €100.
The Tallinn Helsinki ferry price with Eckero Line starts from as little as €10 for a basic one-way foot passenger ticket. Additional prices for vehicles start from €17, and cabins start from €25 for inside cabins and €35 for outside cabins. Lounge access is an additional €20.
You can also go on a private tour to Tallinn – this tour has some great reviews so find out more here.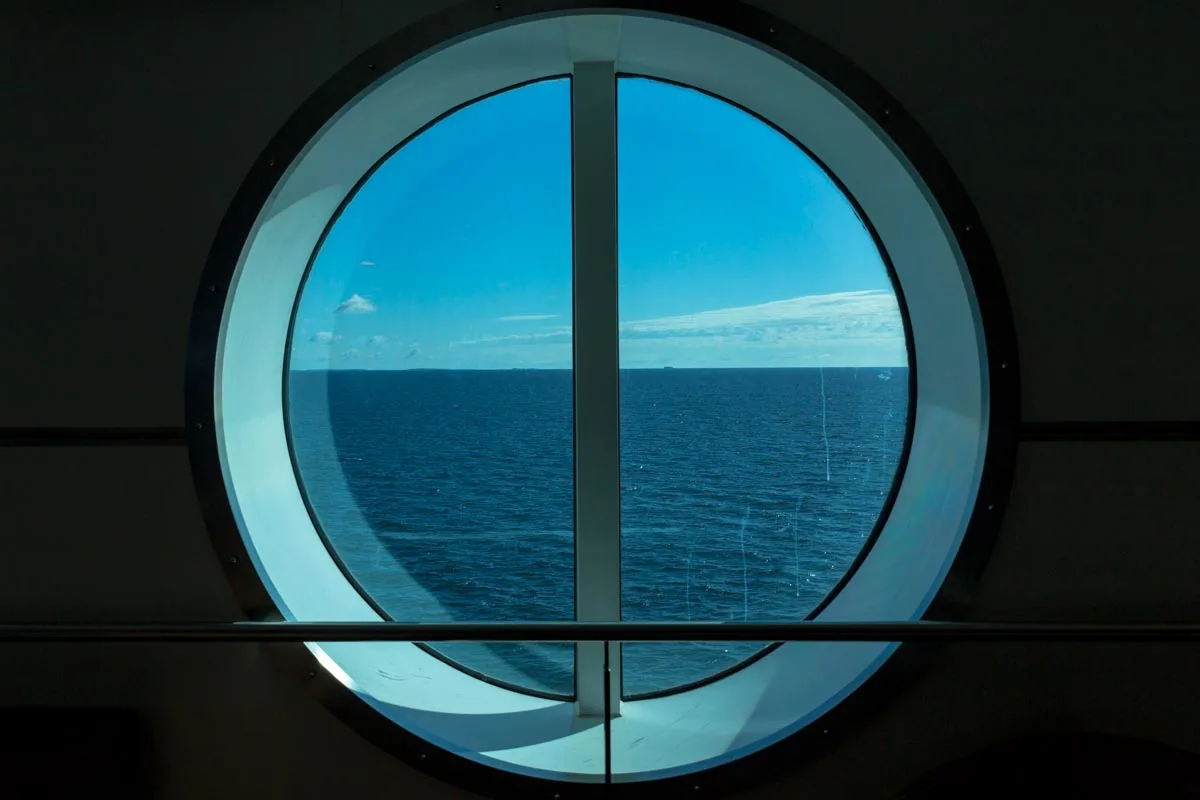 How long is the Helsinki Tallinn ferry?
The fastest ferry crossing time between Helsinki and Tallinn is 2 hours.
The quickest services are offered by Tallink Silja Line. Tallink Silja Line also has a 3.5-hour crossing and sleeper services that take around 13.5 hours – that's definitely plenty of time to catch up on your beauty sleep! This is a really good option for those looking to save money on accommodation for the night.
Sailing with Eckero Line will take two hours and 15 minutes. If you're in no rush, Viking Line's morning and evening crossings take two and a half hours, while the sleeper service takes around nine and a half hours.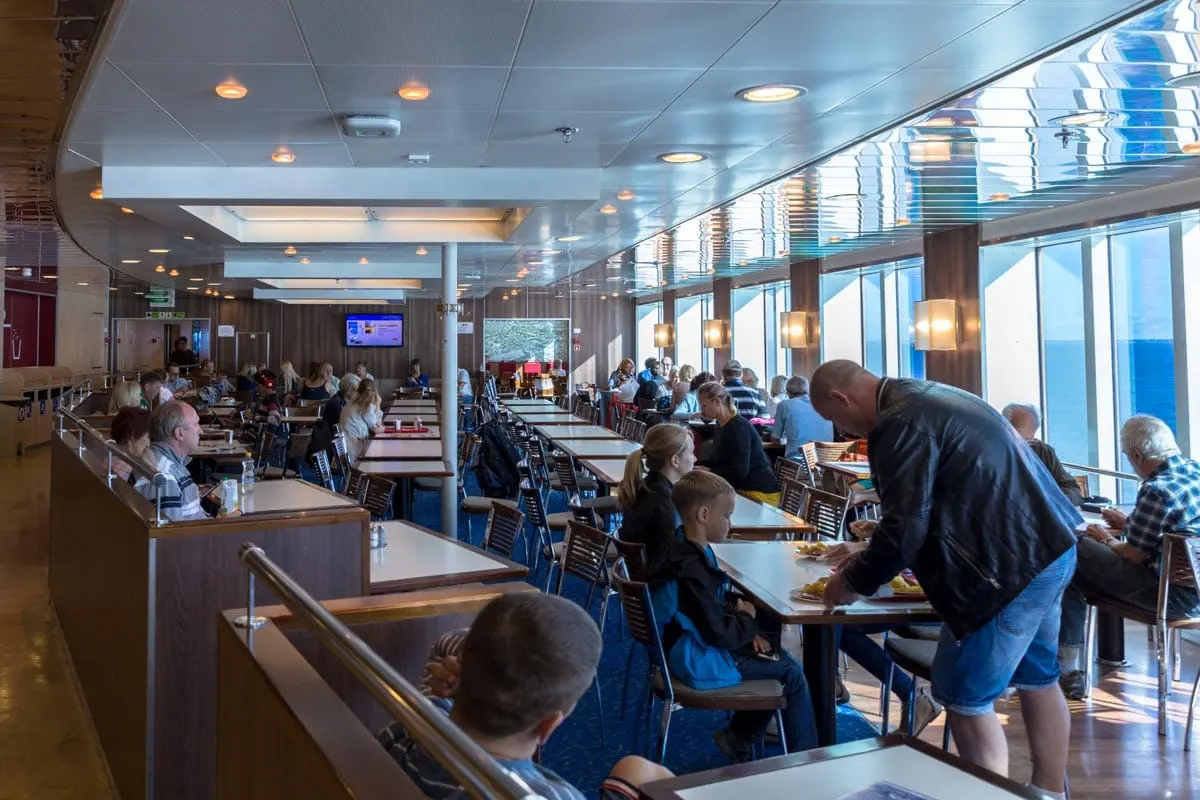 What is the Helsinki to Tallinn ferry timetable?
There are very frequent services in both directions, seven days of the week. Whether you want to wake up early and arrive first thing in the morning, or whether you prefer to arrive at night, there's a sailing time to suit you.
Great for early birds, Tallink Silja Line has the earliest Helsinki ferry departing at 7.30am. This is perfect if you're taking a Helsinki to Tallinn day trip. Services run at regular intervals throughout the day until the last departure at 11.30pm.
Eckero Line has the earliest departure from Tallinn with the first ferry leaving at 6.00am. This is especially ideal if you're planning a day trip to Helsinki as you'll arrive in the Finnish capital by 8.00am.
Here's the Helsinki to Tallinn ferry timetable, plus times for sailing the opposite way from Tallinn to Helsinki to help you plan your trip.
Helsinki to Tallinn ferry time:
| | | | | | |
| --- | --- | --- | --- | --- | --- |
| Operator | Day of the Week | Depart Helsinki | Arrive Tallinn | Depart Tallinn | Arrive Helsinki |
| Tallink Silja Line | Mon-Sun | 07.30 | 09.30 | 07.30 | 09.30 |
| | | 10.30 | 12.30 | 10.30 | 12.30 |
| | | 13.30 | 15.30 | 12.30 | 16.00 |
| | | 16.30 | 18.30 | 13.30 | 15.30 |
| | | 18.30 | 22.00 | 16.30 | 18.30 |
| | | 18.30 | 08.00 | 19.30 | 21.30 |
| | | 19.30 | 21.30 | 23.30 | 01.30 |
| | | 23.30 | 01.30 | 23.30 | 06.00 |
| | | | | | |
| Viking Line | Mon-Sun | 10.30 | 13.00 | 07.00 | 09.30 |
| | | 20.30 | 23.00 | 17.00 | 19.30 |
| | | 20.30 | 06.00 | | |
| | | | | | |
| Eckero Line | Mon-Sat | | | 06.00 | 08.15 |
| | Mon-Sun | 09.00 | 11.15 | 12.00 | 14.15 |
| | Mon-Sun | 15.15 | 17.30 | 18.30 | 21.00 |
| | Sun-Fri | 21.40 | 23.50 | | |
Do note that services may be cancelled or delayed in bad weather. This is more common in the winter time than in the warmer summer months.
Personally, I'd really recommend catching one of the first ferries out of Helsinki West Harbour. Then you'll be able to maximise your time in Tallinn and pack in a whole day.
Where is the Helsinki Ferry terminal?

You find the main terminal to Tallinn at the Helsinki West Harbour Terminal 1. If you click on the map than you should be able to add it to your own Google map.
There is also a regular passenger ship link to St. Petersburg in Russia from this terminal.
Facilities on board the Tallink boat
In my opinion, this is why the Helsinki to Tallinn day trip is so much fun – there's just so much to do on board the ferry!
Each ferry has a good range of onboard facilities and services to help you pass the time as you sail across the Gulf of Finland.
Tallink Silja Line has especially great facilities on its ships. The company has three vessels that carry passengers between Tallinn and Helsinki: Star, Megastar, and Silja Europa. Silja Europe is a well-equipped and beautiful cruise ship. She's the largest cruise ship on the Baltic and you can book fabulous overnight cruises if you fancy more time at sea.
Star and Megastar run daily crossings. Each Tallink ferry is comfortable with plenty of ways to enjoy your time onboard. There are no seat numbers in the regular seating areas of each craft; you can choose where you seat and wander around the boat enjoying various features and maybe take a stroll out on deck for some fresh air and awesome views.
On Star you'll find the Comfort Lounge and Business Lounge. (Additional fees apply for entry to each – more on that later.) There are also a range of cabins, ideal for people on overnight trips travelling with small children, or as a safe space to contain lots of luggage while you take a nap.
There are places to eat, drink, and shop onboard, and you'll also find a luggage storage room and an information desk.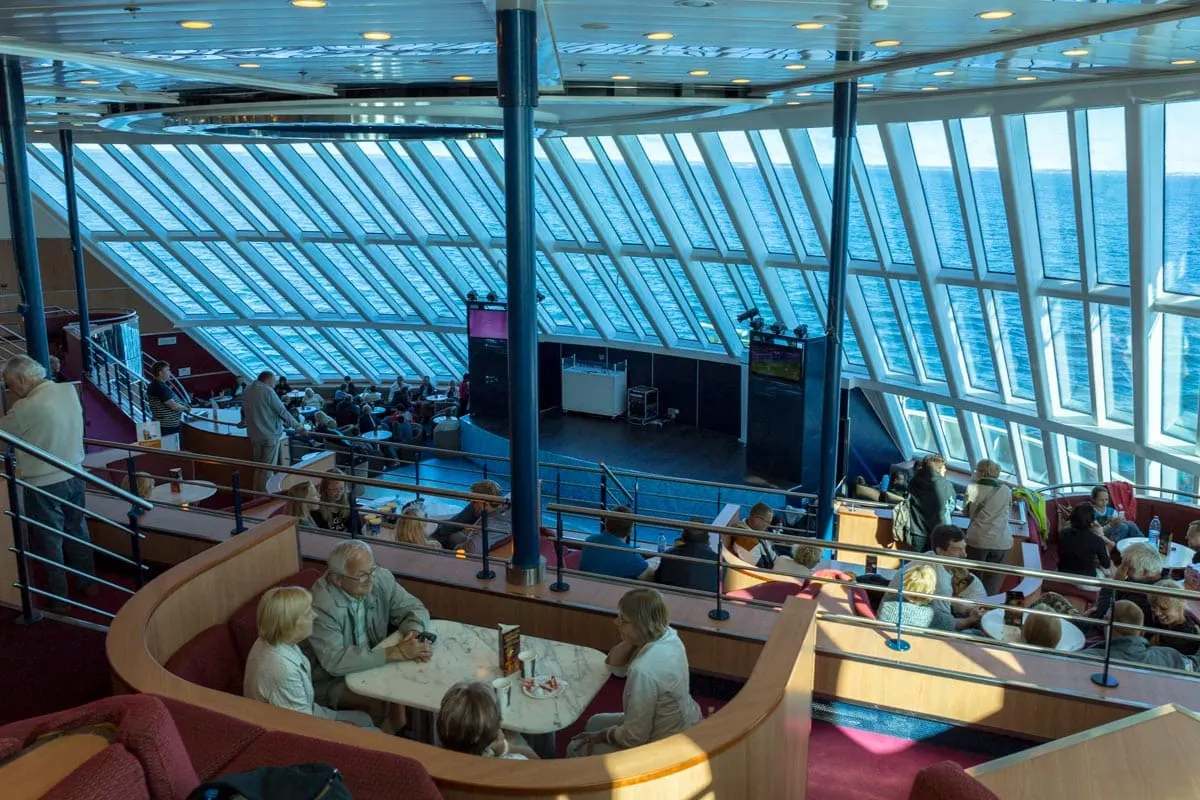 Other activities on board the Helsinki ferry
Megastar has four lounges: the Comfort Lounge and Business Lounge, the Drivers Lounge, which was designed especially for cargo drivers, and the peaceful Sitting Lounge which looks very similar to the cabin on an aeroplane! There's a choice of shops, restaurants, fast-food joints, and bars, and, if you want to catch forty winks, there are several private cabins.
Megastar is a great choice for families travelling with children as it has a colourful playroom for little ones and a PlayStation for older kids.
Business and corporate travellers needn't waste a second of precious time aboard the Helsinki Tallinn ferry thanks to the well-equipped meeting room and conference room. This mean you can continue to do your business on the go.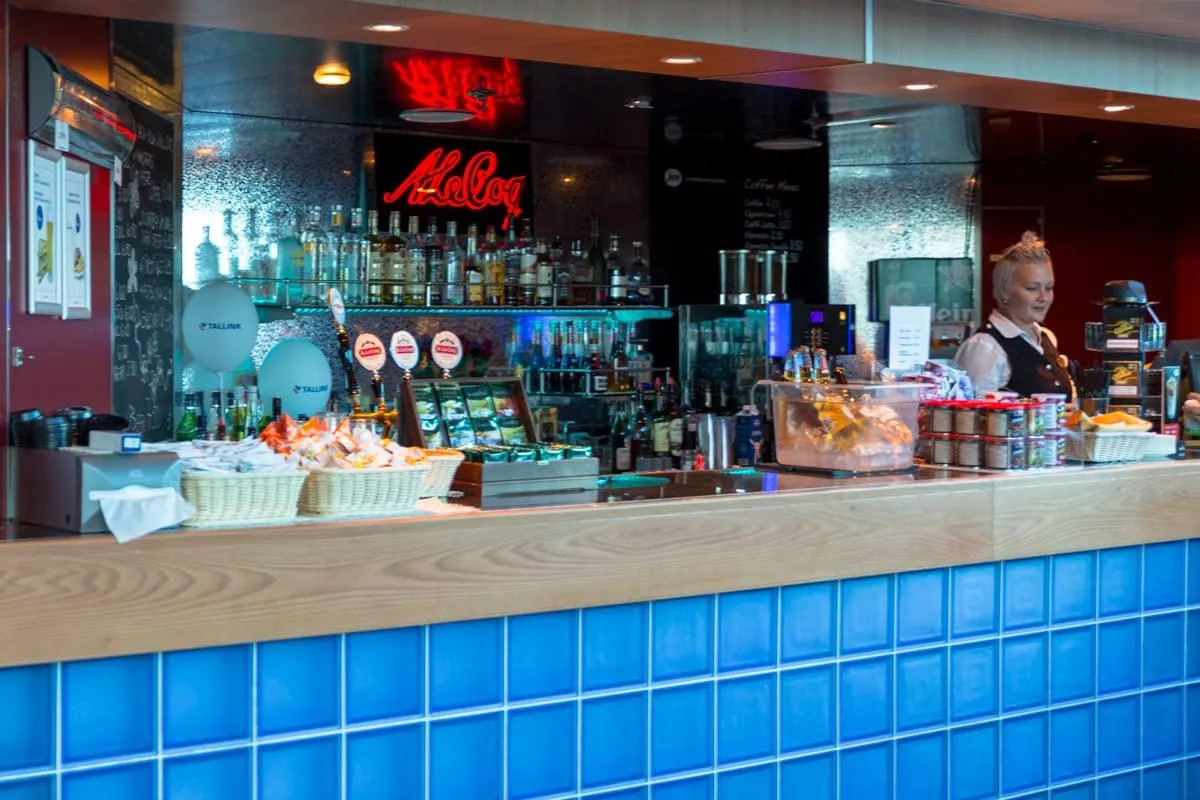 Shops and restaurants
If you're feeling peckish as you cross the Baltic Sea you'll find plenty of delicious cuisines to satisfy your appetite.
Star has the 450-seat Delight Buffet, the A La Carte restaurant, which provides amazing views, a Starbucks cafe, Cafe Snack Time, and Burger King. Alternatively, relax and take it easy in the welcoming Pub Seaport.
Dining options in Megastar include Delight Buffet, the a la carte Chef's Kitchen, the quick and easy Fast Lane, and Burger King. Coffee & Co. serves Starbucks coffee or, if you want something stronger, there are two cosy pubs to entice you – Victory Bar and Sea Pub.
When it comes to retail therapy, Star has a well-stocked supermarket, perfumerie, and fashion store. Megastar boasts a large superstore with a huge selection of goods, a souvenir shop, a perfume and cosmetics store, a delicatessen and confectionery outlet, and the convenient Lobby Shop, which sells snacks, newspapers, electronic accessories, and gifts.
Personally, I'd recommend the main buffet. There is so much choice on offer and it's all pretty delicious.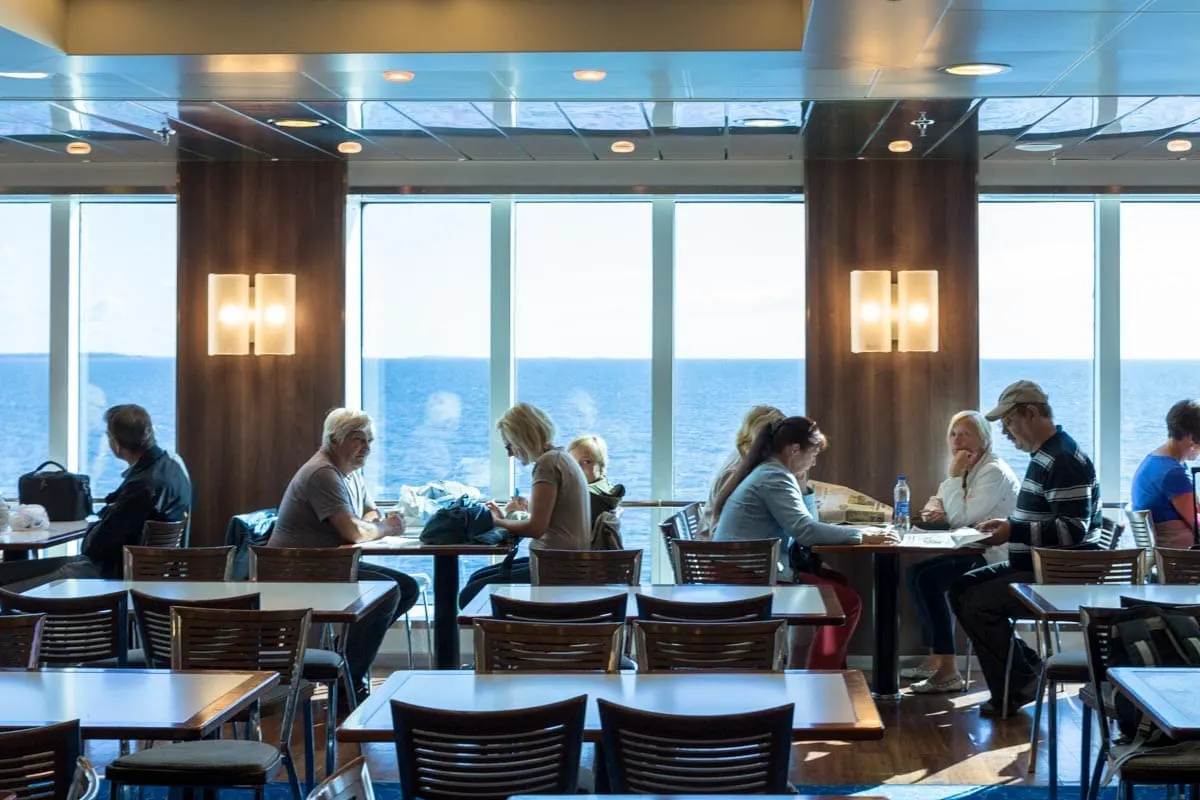 Tallink Business Lounge
Both Star and Megastar have a Business Lounge that you can pay to use. Each is sleek and stylish and offers high standards of comfort. Lounge access costs a €65 surcharge and children under the age of five are free.
Relax in a calm and peaceful atmosphere and treat yourself to a range of inclusive drinks and meals. Catch up with all the latest news and make use of the free premium Wi-Fi. The best part of using the Business Lounge is, however, usually the peace and quiet that you can enjoy as you complete any last-minute work, network with colleagues, reply to emails, or simply gaze out the windows at the unfolding views.
This is the Tallink is the best ferry from Helsinki to Tallinn in my opinion.
Overview of Helsinki
Built by Russian imperialists to resemble a mini St-Petersburg, Helsinki has been the capital city of Finland since the early 1800s.
The architecture in Helsinki is a blend of chic modernity, dazzling neo-Renaissance, striking National Romanticism and charming Byzantine-Russian. All these different styles create such a stunning city to explore and I absolutely adore wandering around here.
Helsinki is also known for its explosive design scene, with numerous galleries, stores, and workshops brimming with cutting-edge examples of contemporary creativeness. Dining and drinking is typically a stylish affair, though there are plenty of quirky establishments to pique your curiosity too.
Nature is on your doorstep too from all around the city, and Helsinki is wonderfully interlaced with the bays and islands of the Baltic.
If that's tickled your fancy, check out my post on some of the best things you can do in Helsinki!
Overview of Tallinn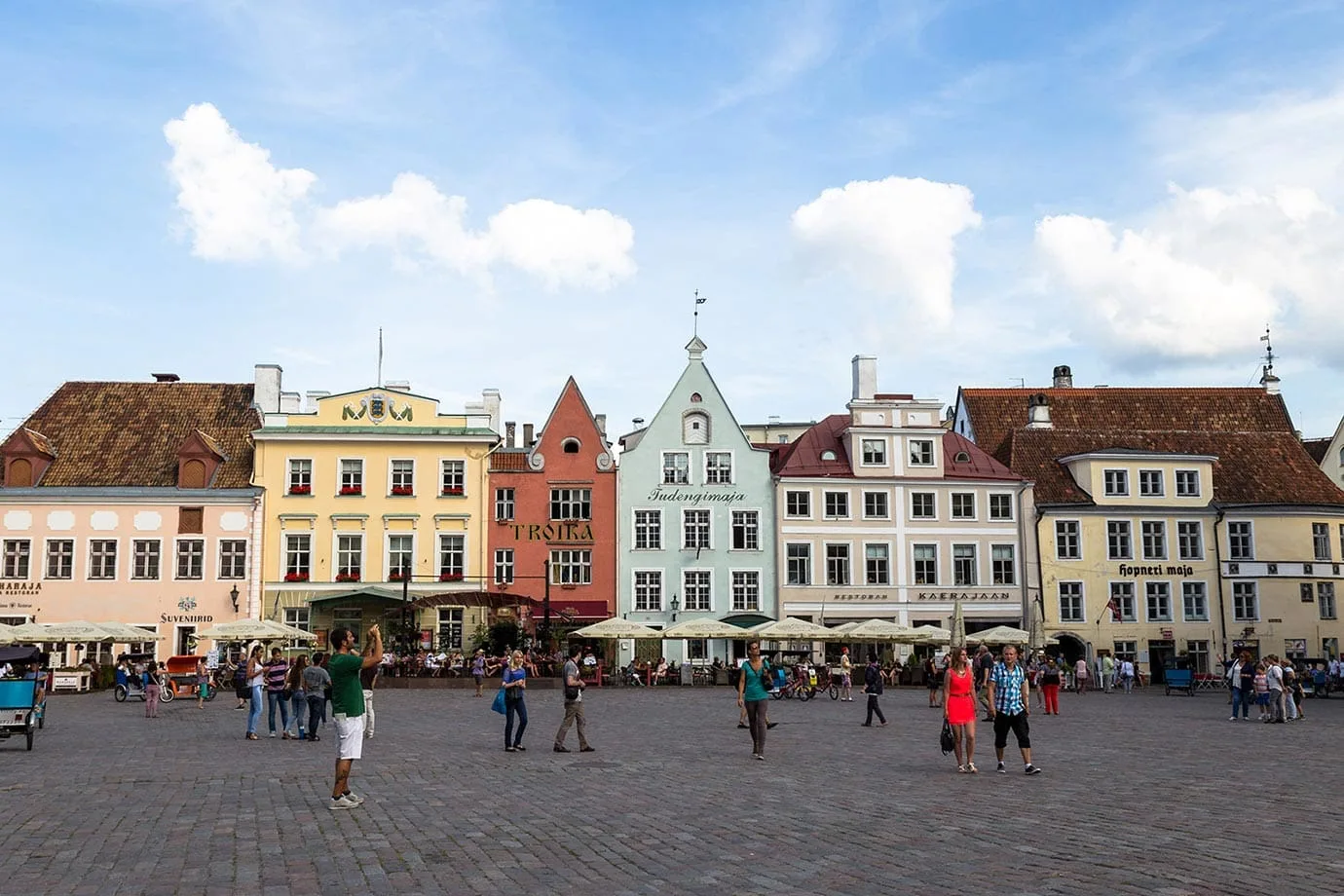 The UNESCO-listed medieval city of Tallinn has a long and interesting history. The Estonian capital since 1991, it has been through periods of Soviet, Swedish, and German rule in times gone by.
Boasting some of the most complete city walls of any European city, Tallinn is filled with attractive architecture that brings the past to life. Think ancient churches, cobblestone streets, former grand homes of wealthy merchants, charming squares, and opulent palaces.
The historic heart contrasts with the newer Soviet-built areas and gleaming modern structures from more recent times. Despite the city's growth, however, it still retains a magical fairytale-like feel to the place.
You'll also find top-class restaurants, a wealth of cultural attractions, sleek bars, and sophisticated shopping in Tallinn.
If you're in Tallinn for a little longer than a day, then check out some of the best day trips from Tallinn for something to do!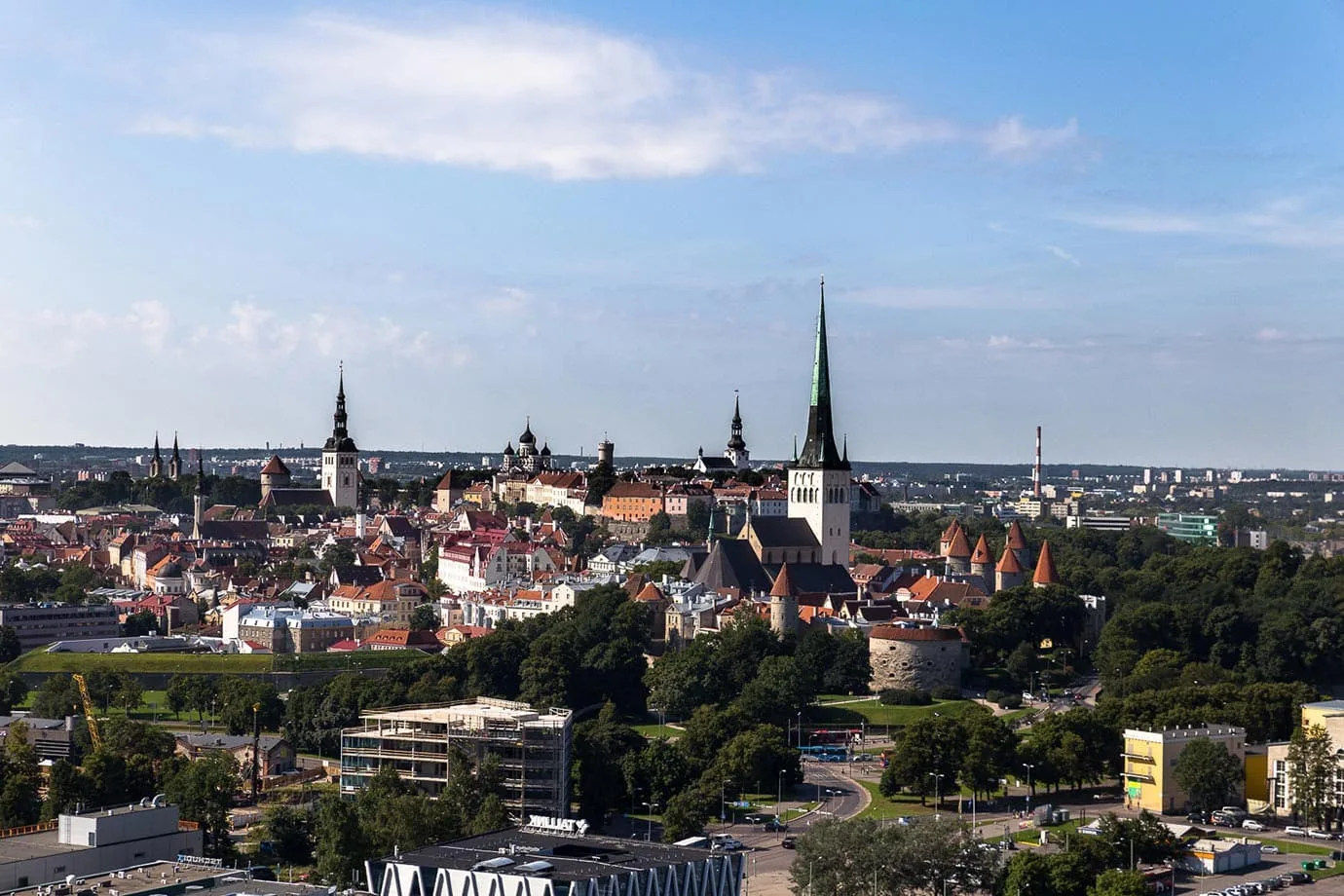 While you could fly between these two European capitals, where would be the fun in that? Catching the ferry from Helsinki to Tallinn is not only cost effective and relatively quick and easy, but it's also a lot of fun!
You'll sail through Helsinki's small rocky islets and islands before hitting the open waters of the Baltic Sea. As you approach Tallinn, the sight of medieval spires rising in the distance is really quite magical. The ferry crossing provides fantastic views that you won't have anywhere else.
This really was one of my favourite things that I did while I was in Helsinki!
---
Are you thinking of catching the ferry from Helsinki to Tallinn? What will you do once you get to Tallinn? Let me know in the comments below!
Like this blog post? Then make sure you Pin it!