From saunas in the cold to exploring the Old Town Square to seeing the Christmas markets, these are the best things to do in Tallinn in winter!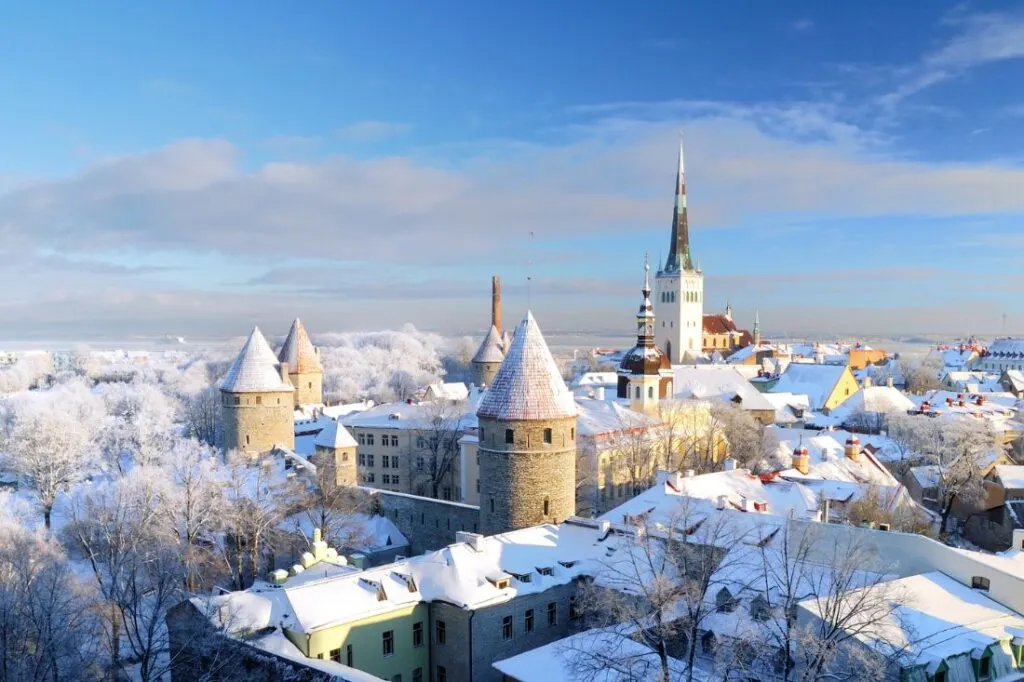 I've said it before and I'll say it again – I love Tallinn. It is one of my favourite cities in Europe, and every time I go it really surprises me. It's youthful, vibrant, but it has still retained a lot of its old charm too. Just walk around the Old Town Square and you'll see what I mean.
The wonderful combination of the city walls, ancient buildings, red tiled roofs, and cobblestone streets will conjure images of folk-tales in your imagination.
I've been to Tallinn both in summer and winter, and I have to admit I think I prefer it in winter without all the crowds. There's this magical atmosphere when everything is covered in snow.
There are also so many activities to enjoy in Tallinn in winter. You can spend an evening exploring handicrafts at the traditional Christmas market, then warming your fingers around a mug of warm mead at a traditional restaurant.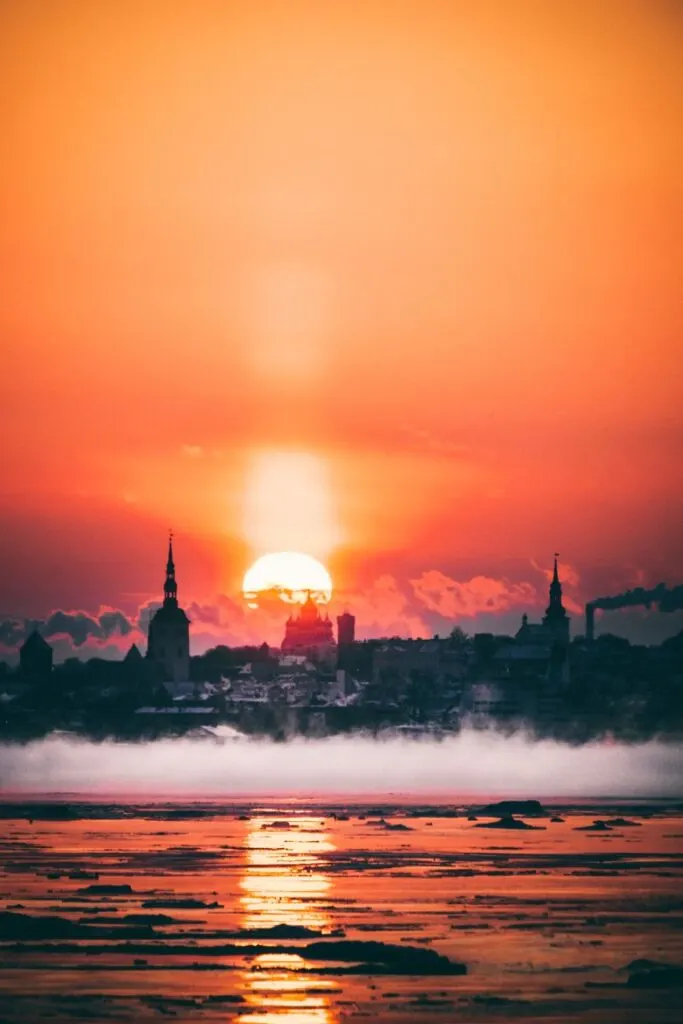 Take a spin on the seasonal outdoor ice-rink surrounded by incredible buildings, then spend a day experiencing the wonder of a combined brewery and spa!
Read on to discover my favourite Tallinn winter activities, as well as some tips on where to stay in Tallinn. This blog post is perfect for you guys looking to plan a winter trip here, so I really hope you find it useful!
Spending more time in Tallinn? Check out my recommendations and tips on day trips further afield, including checking out the fantastic Finish capital, Helsinki.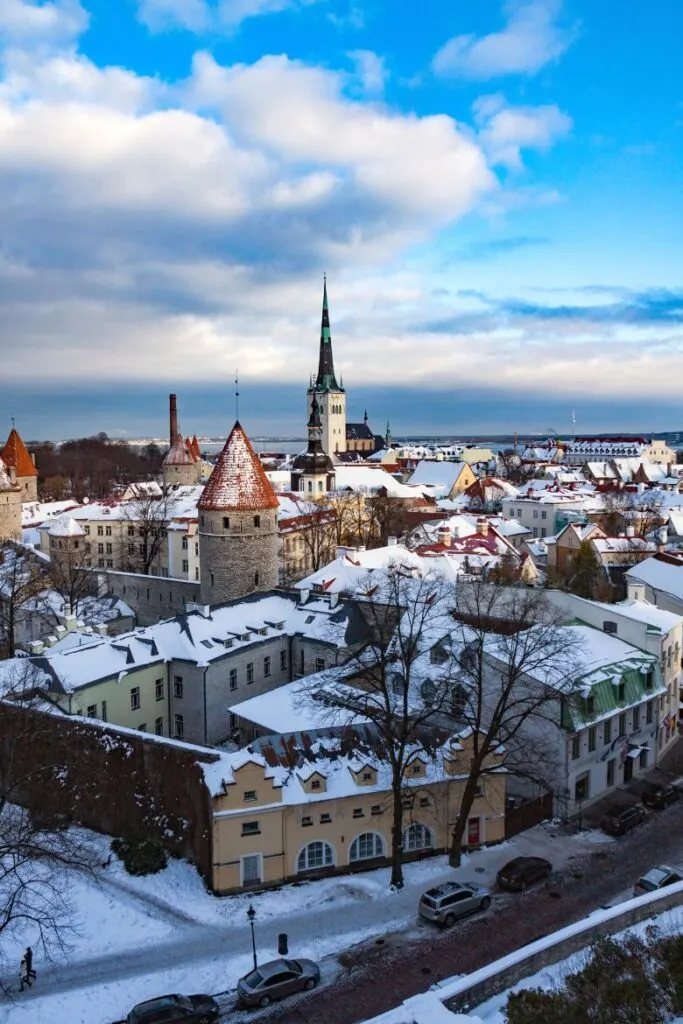 Tallinn winter weather
As you might imagine, winters in Estonia can get quite chilly, with January and February being the coldest months.
In winter you can expect average highs of -1 to 1°C (30-34°F), and average lows of -3 to -7°C (20-22°F), though the temperature has been known to drop much lower over night.
When holidaying in Tallinn in winter, you need to come prepared for cold and snowy weather. Bring a thick, warm jacket, sensible shoes that can withstand snow and lots of warm layers. I would also say a hat and gloves are a must – it's really important to wrap up warm!
---
Things to do in Tallinn in winter
Explore Venalinn – Tallinn's Old Town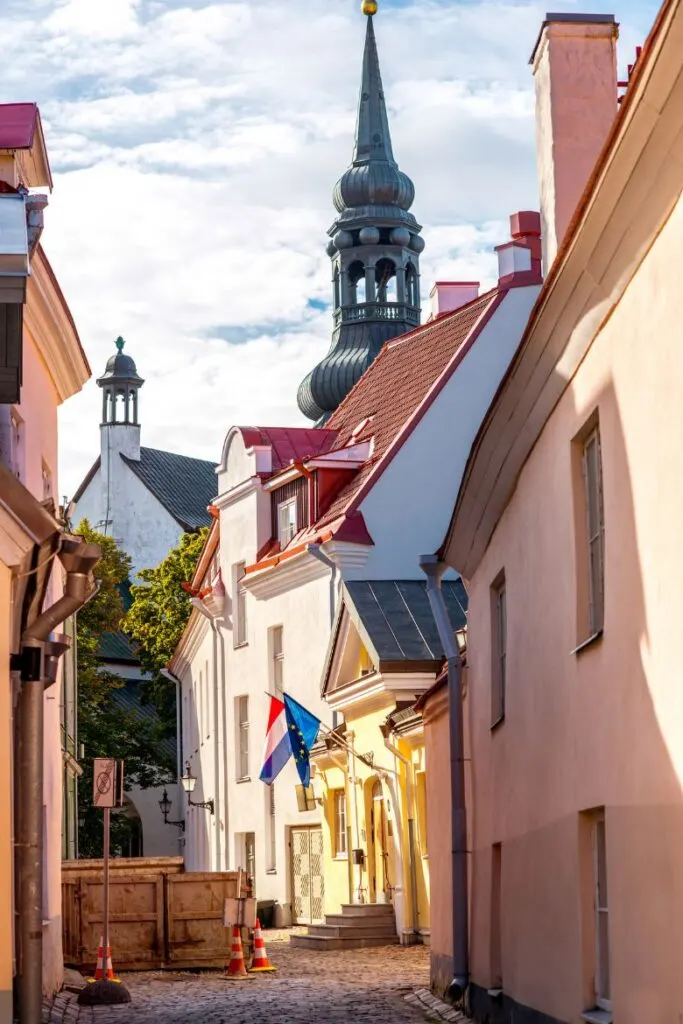 The first thing to do when you arrive in Tallinn is to get your bearings exploring the medieval Old Town area. Known as Vanalinn, the Old Town is a UNESCO World Heritage site as it is one of Europe's best preserved medieval cities.
Wander the cobblestone streets and take in the incredible display of medieval buildings covered in snow. To make sure you see all the best sights and hear about the city's fascinating history, take the free walking tour.
Visit the Tallinn Christmas Market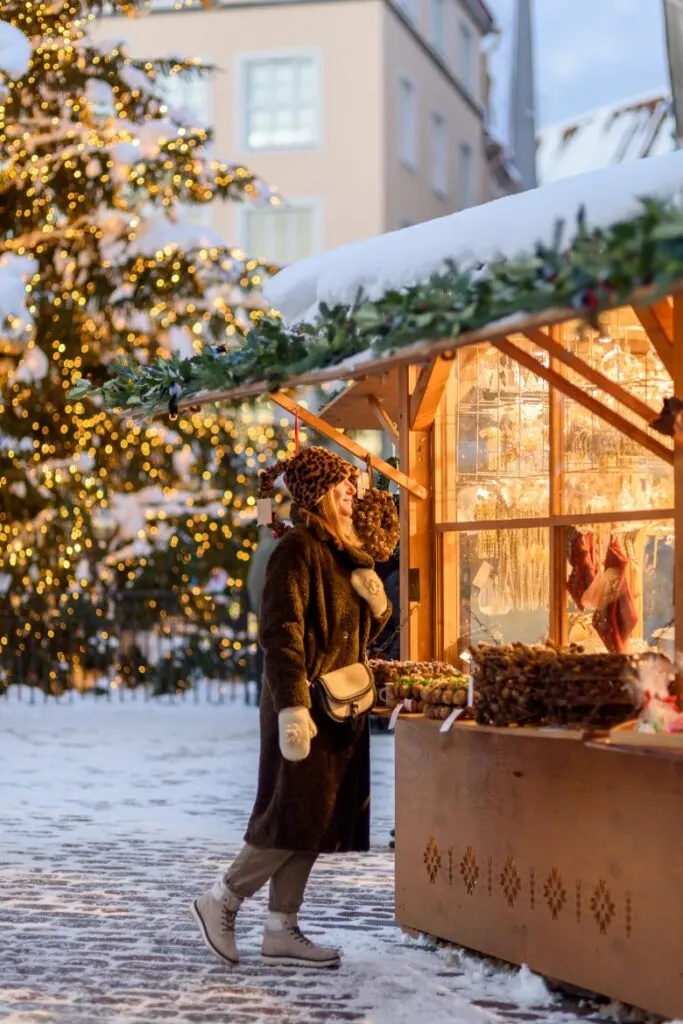 Wooden hut stalls selling traditional handicrafts, delicious chutneys and jams, and other delights are set up under thousands of sparkling lights. Visiting the gorgeous, traditional Christmas market is one of the best Tallinn winter activities.
The centrepiece of it all is a large decorated Christmas tree. A Christmas tree has been been put up in this square every year since 1441, and this market is said to be the origin of the Christmas tree tradition!
Located in the Old Town, this market runs from late November to early January each year. Keep an eye out for the reindeer while you warm up with some mulled wine.
Dig into Estonian Christmas food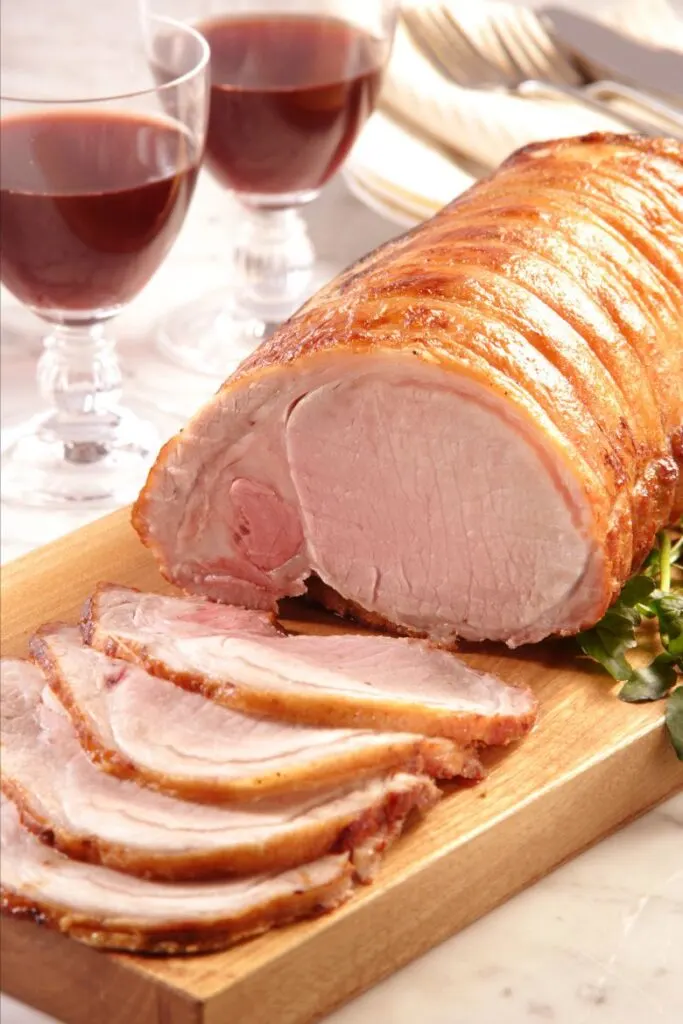 If you're in Tallinn over the winter months, it is the perfect time to be digging into some warm and hearty meals: Estonian Christmas foods are just that! For Christmas it is tradition to serve a 7+ course meal including roast pork, blood sausage (verivorst), jellied head cheese (sült), Christmas bread and much much more.
While Estonian families would generally sit down to this meal on either Christmas Eve or Christmas Day, you can find variations of it in restaurants throughout the winter season. If you do find yourself eating Christmas dinner in Estonia, don't peak under the table, this is where the spirits are said to live.
Go ice skating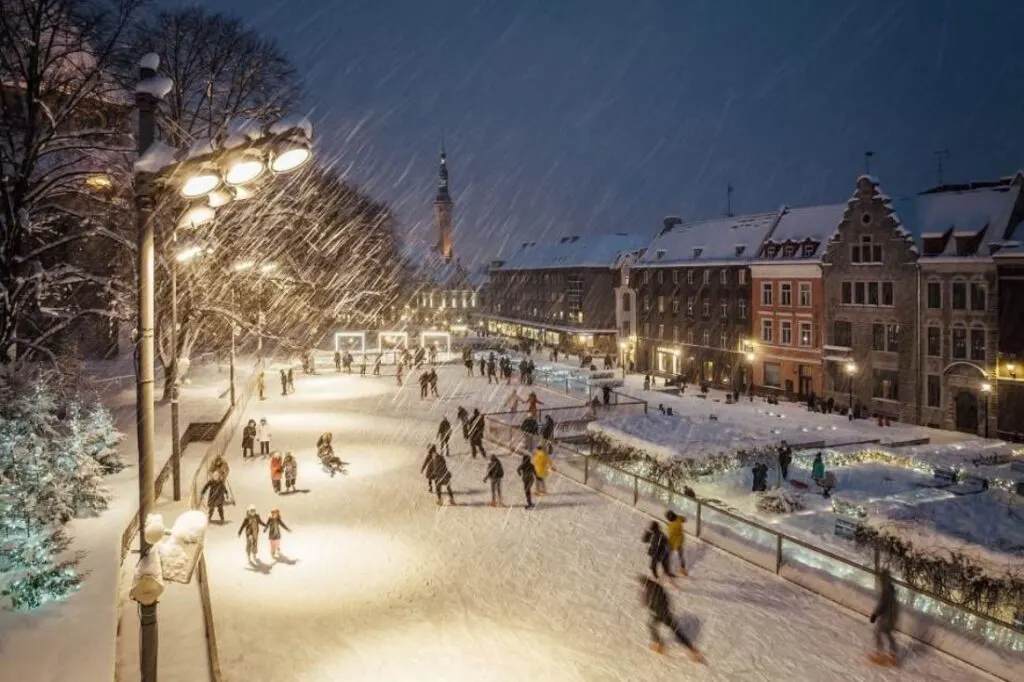 One of the quintessential Tallinn winter activities for locals and tourists alike is taking a turn on the outdoor ice rink. Located on Harju street in the Old Town, this outdoor rink is surrounded by gorgeous terraced houses and is next to St Nicholas' Church.
The rink is open from December to March each year and offers equipment rental on site. Open well into the evening, it is wonderful to come here at night when the rink is lit up with cosy lighting. There is also a cafe on site, so you can grab a hot drink to warm up afterwards.
Walk the city walls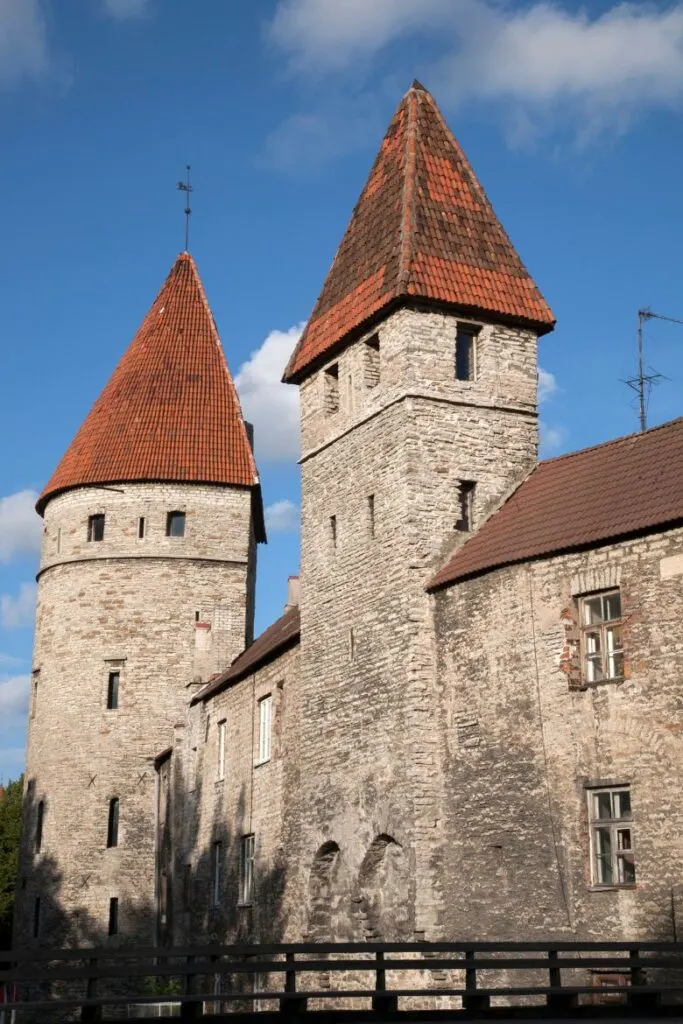 Once the Old Town area was encircled with a stone wall which was used as a defence measure. Today, over half of it is still standing, complete with 20 towers and 2 gates. With the oldest parts built in the 13th century, this wall really adds to the enchantment of the city.
It is actually possible to climb some towers and walk part of the wall, allowing you a close look at its structure and get unique views of the snow covered red roofs of the Old Town area. To walk the wall head to the Nunna tower on the northwest corner of Old Town, a small entry fee is charged.
Relax in a sauna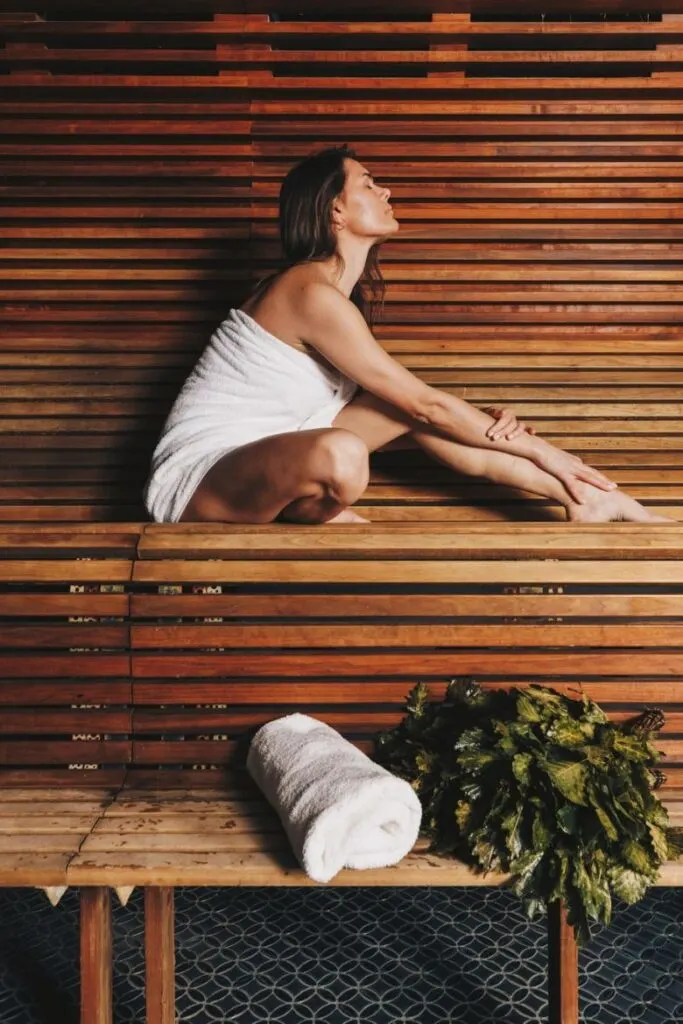 Spend a decadent afternoon relaxing at the Tallinn Viimsi Spa. This is one of the best Tallinn winter activities when you're looking for respite from the cold.
Featuring family friendly and adults only areas, as well as private saunas, this spa can cater to all parties. Both public areas contain a variety of saunas and spas, so you can choose your own adventure during your visit. There are also bars and cafes within the bathing area.
For the brave and curious, time your visit to align with one of the traditional ceremonies. Choose from the relaxing aroma and salt rituals, or try the invigorating whisking ritual. I've visited a couple of saunas/spas while I've been in Tallinn and they are such a good way of spending a couple of hours.
Eat, drink and be merry at Olde Hansa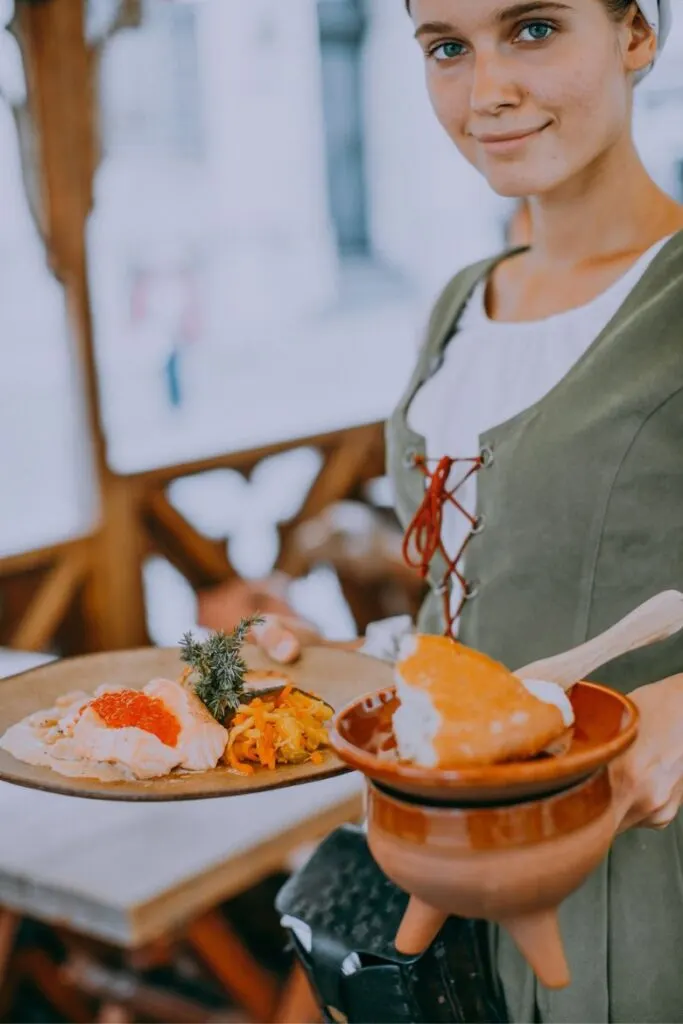 Spend an evening dining on traditional medieval style food at Olde Hansa. Based in the Old Town area, visiting this restaurant will leave you with a warm glow from the hearty food and cheerful atmosphere.
Choose from the menu of delicious dishes which includes fire-cooked bear, oxen sirloin, and wild boar plates. Most nights you can also catch the in-house band, who play 15th century music on traditional style instruments. While you're here, try the traditional Meade – great for warming you up on a cold winters day!
Põhjala Brewery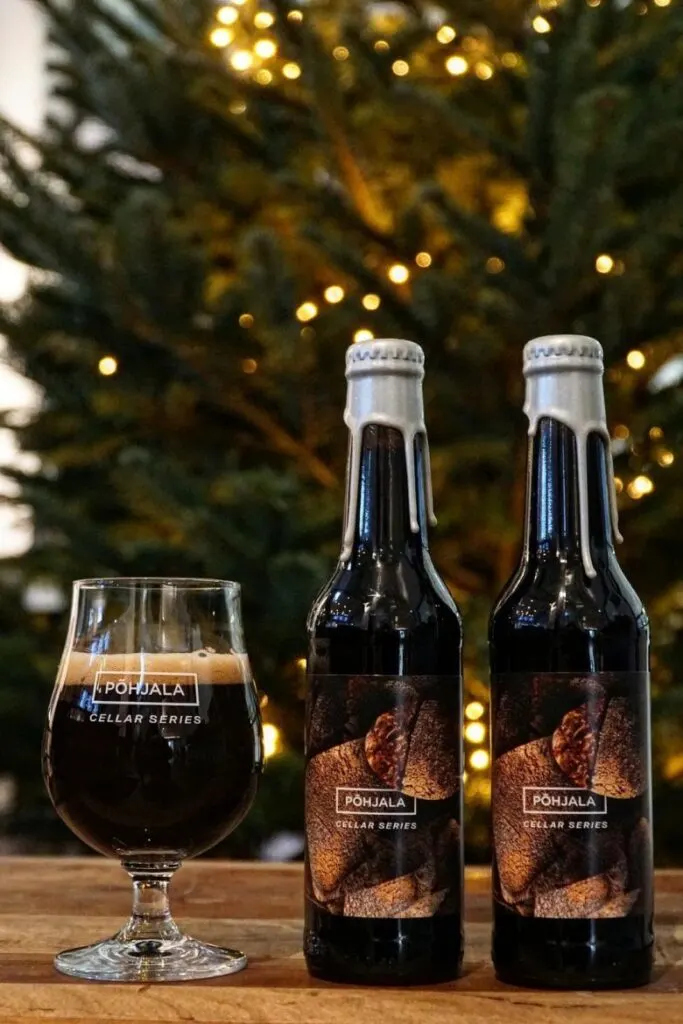 Põhjala Brewery is located conveniently in the Kalamaja district. Set in an old submarine shipyard and complete with private sauna, this brewery makes for an incredible winter afternoon activity if you're travelling with mates.
Start your visit by taking a tour around the brewery, which includes a beer tasting. Next up, purchase a few bottles of your favourite brew and head over to the private sauna area. Here, you can sweat it out with your mates while downing a couple of cold ones. Finally, head to the restaurant and dig into a Texan style BBQ feast. Make sure you pre-book these activities as it can get quite busy over the weekend.
Visit the Tallinn Tower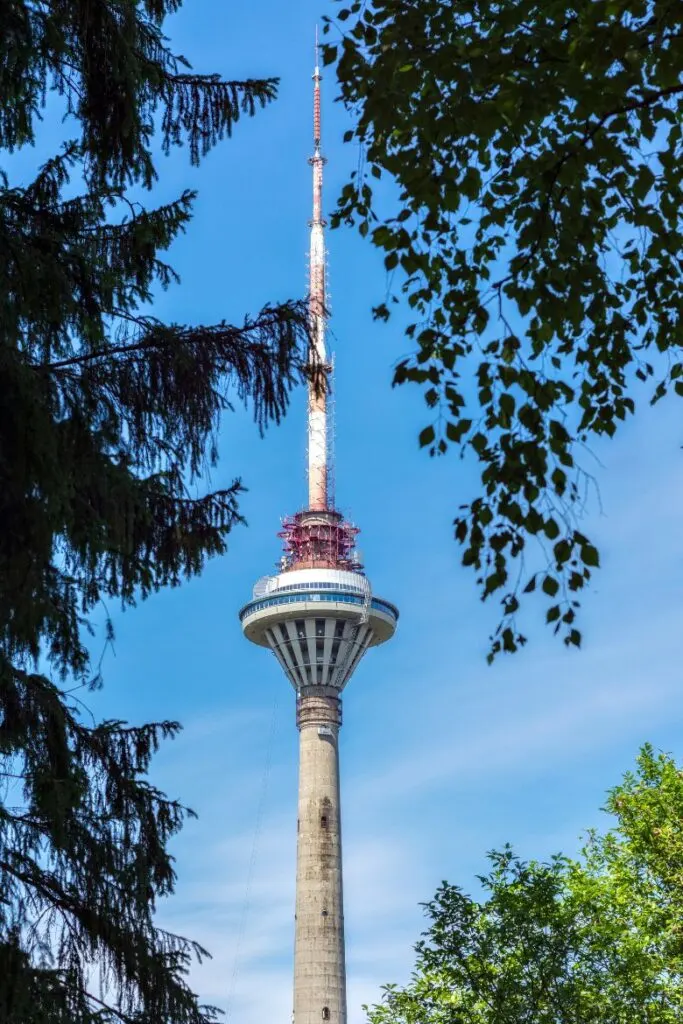 No matter which season you're in Estonia, visiting the Tallinn Tower is a must. This building is not only the tallest building in Estonia, it also has a fascinating history.
Take the lift up 170m and look out the windows over the snowy streets of Tallinn. It's such a magical sight! Honestly, the views from up here over the Estonia countryside are just stunning.
Then visit the building's museum, which displays soviet television equipment and pays tribute to Estonian innovations. Finish off your visit by grabbing yourself a pick me up at the 22nd floor cafe.
Patkuli viewing platform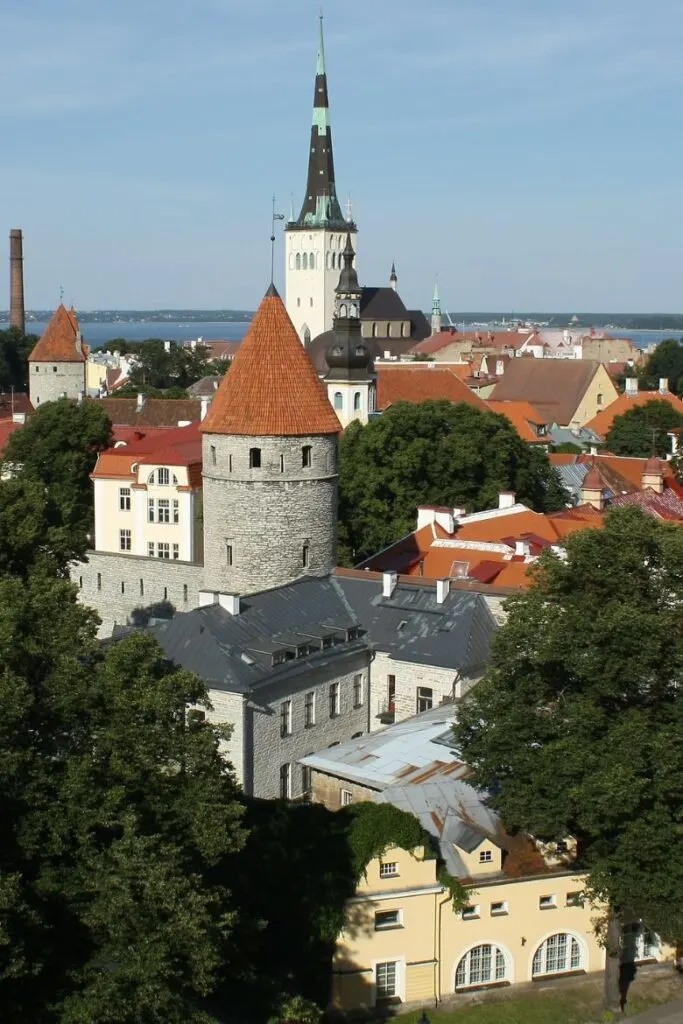 Another place to catch a picturesque views of the rooftops of Tallinn covered in snow is from the Patkuli viewing platform. Sitting on Toompea hill, the platform is accessible via a set of 157 steps that start from Šnelli park. Entrance is free and the platform is always open.
The stairs may feel like a lot in cool weather, however, once you reach the platform, you'll be treated to unmatched views of the Old Town area of Tallinn. The structures you can see includes the city walls, St Olaf's Church and the harbour.
Take a dog sled tour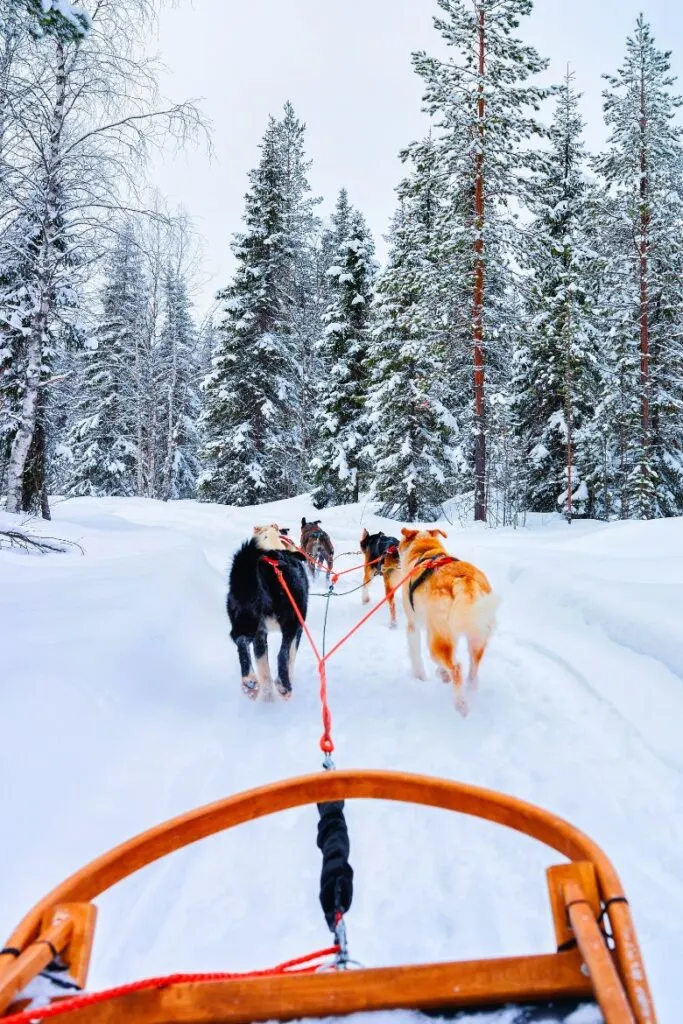 One of the most incredible experiences you can have while exploring this winter wonderland is to take a husky dog sled tour. Starting from Tallinn, the guides will transport you to a snow covered park around 1 hour's drive away.
There, you'll get to meet (and cuddle) some gorgeous and happy huskies, before being whisked through the snow on a sled. Words cannot describe the rush you will get doing this. Be sure to wrap up warm!
Visit the museums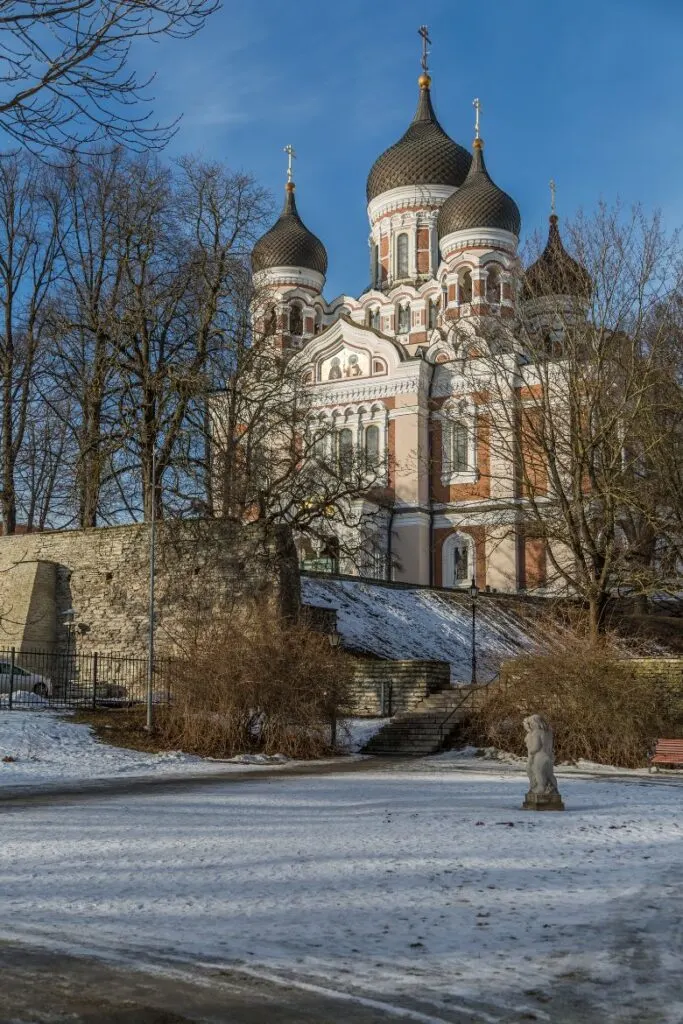 When the weather turns for the worst, and you're seeking indoor activities, be sure to stop by some of Tallinn's excellent museums. There are plenty to choose from including the new and old Maritime Museums. The latter has been running since 1935 and is located in the Fat Margaret Tower, whereas the former features a submarine for you to explore.
If you're planning to visit a few museums, get yourself a Tallinn Card. This card provides you with free access to over 40 attractions and you get free use of public transport!
---
Where to stay in Tallinn in winter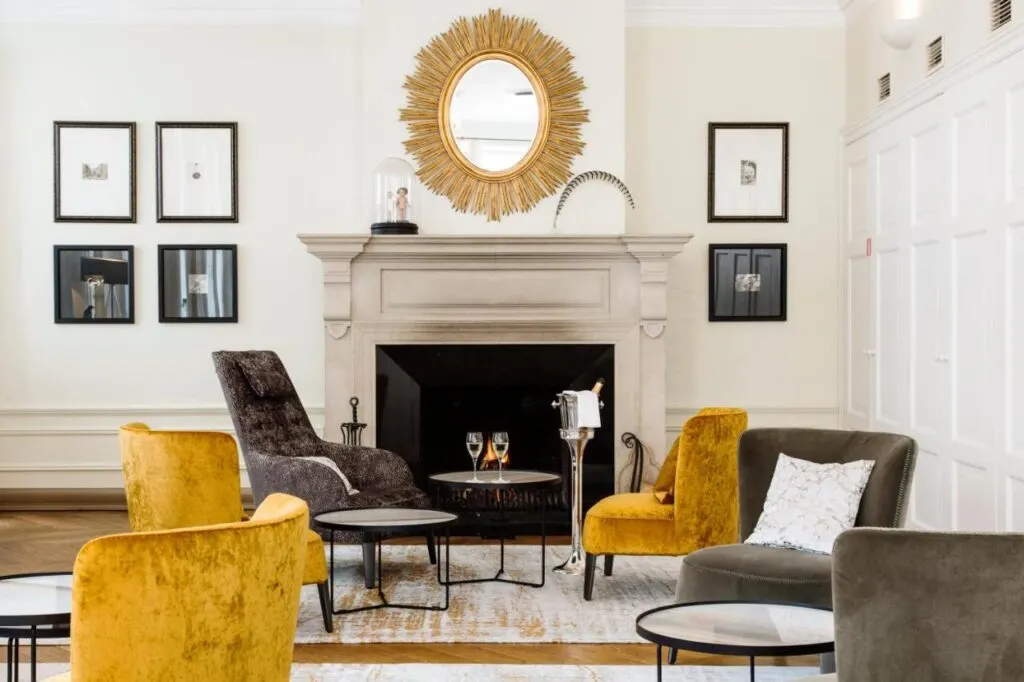 Enjoy classic elegance, with modern fittings, in historical surroundings at Hotel Telegraaf, Autograph Collection. Located in Tallinn city centre, this building was constructed in 1878.
Alongside their 5 star service, guests here benefit from a heated indoor pool, steam bath and hot tub. There is also an onsite restaurant serving a delicious blend of French and Russian dishes.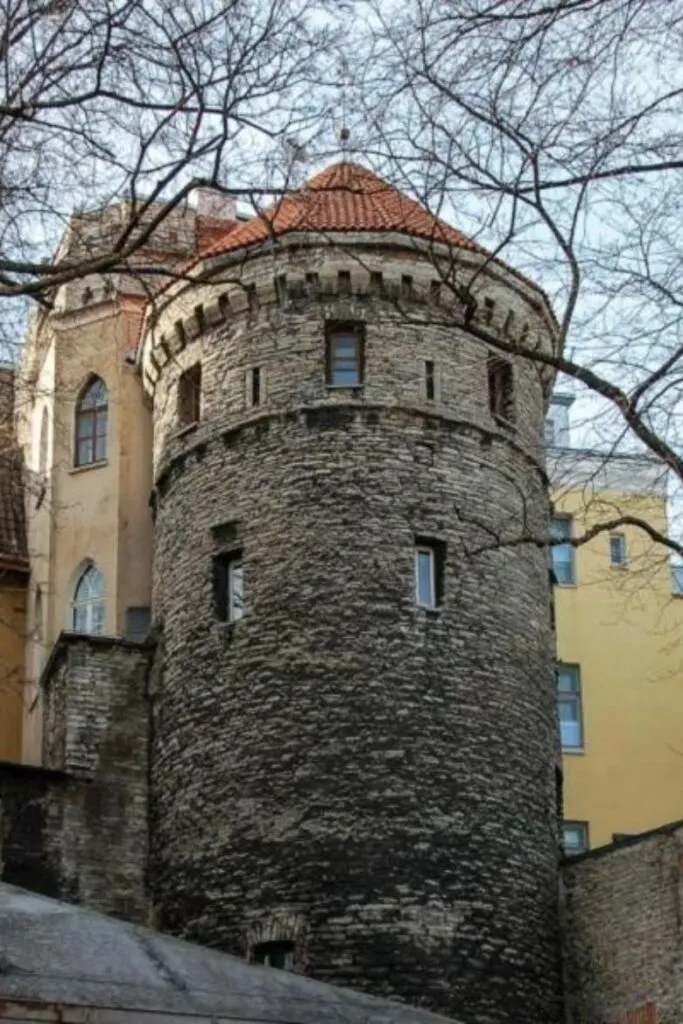 Live out your fairy tales staying in the Rapunzel Tower Apartment. Here you literally stay in one of the Old Town wall towers! Not only will you be staying in the coolest accommodation in Tallinn, you'll also be treated to amazing views of the city lit up at night.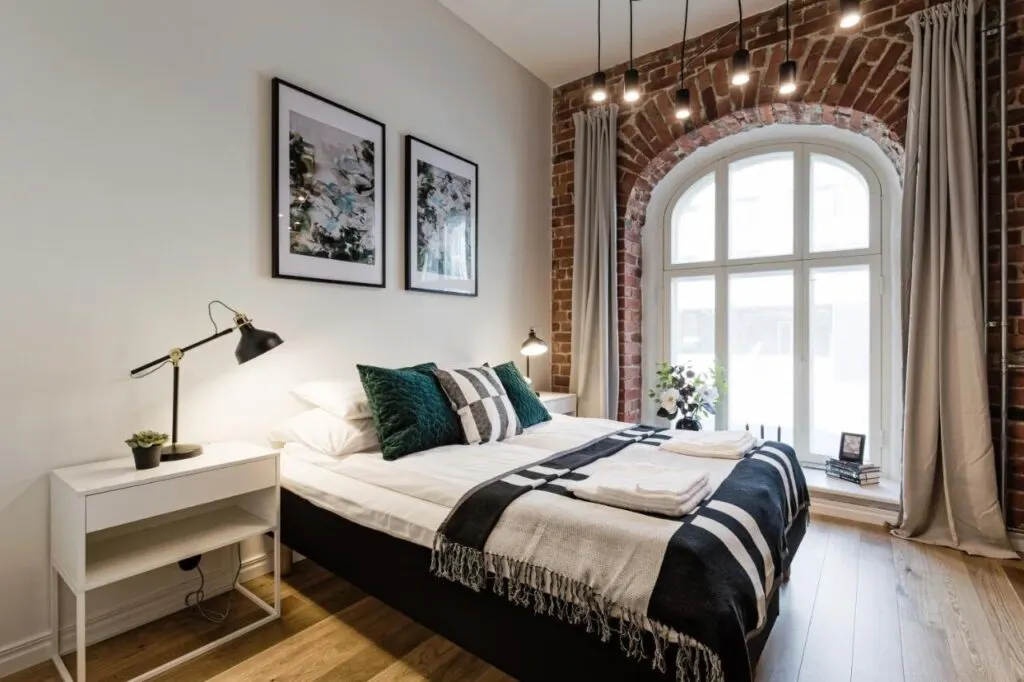 Travelling on a budget does not mean missing out on comfort in these stylish luxury apartments. The apartments feature large windows, parquet flooring, as well as a fully equipped kitchen giving everything you need for a self-catered stay. Conveniently located in the city centre, you'll be feeling at home in no time.
---
So that's my list of the best winter activities in Tallinn. Before you start packing your beanie and gloves for a cheeky winter visit, let me know your favourite activities in the comments below.
Like this blog post? Then Pin it for the future!