Doing the South West Coastal 300? Then this is my detailed itinerary with all the best things to do in South West Scotland for an amazing road trip!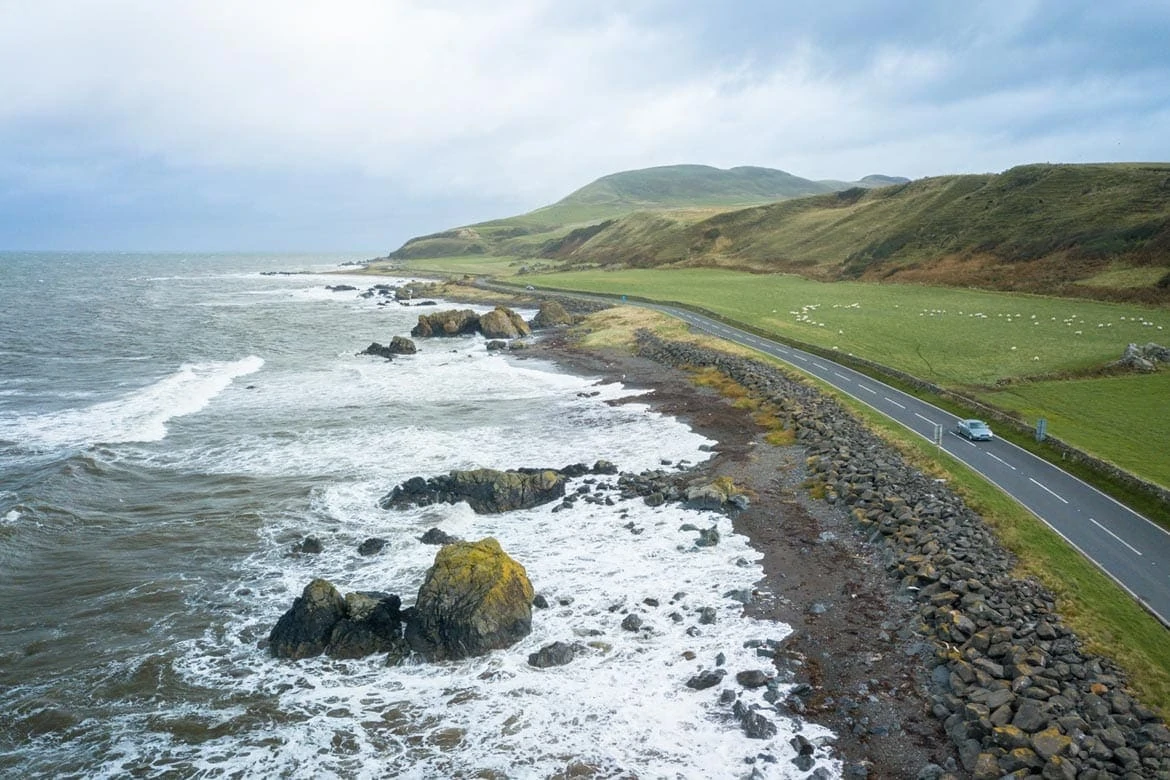 When people travel to Scotland, the first places on the list are usually Edinburgh, Glasgow or the Highlands. Not many people think of Ayr, Dumfries or the Mull of Galloway in South West Scotland, yet these places have all of that Scottish beauty and charm just with a fraction of the tourists.
When I travel, I love visiting places not everyone considers. I just love that feeling of being somewhere new and unusual. Typically that's to places like Greenland or somewhere like Khao Sok National Park in Thailand. But you don't have to go all the way around the world to discover somewhere unique that not everyone travels to.
*Enter the room; South West Scotland.*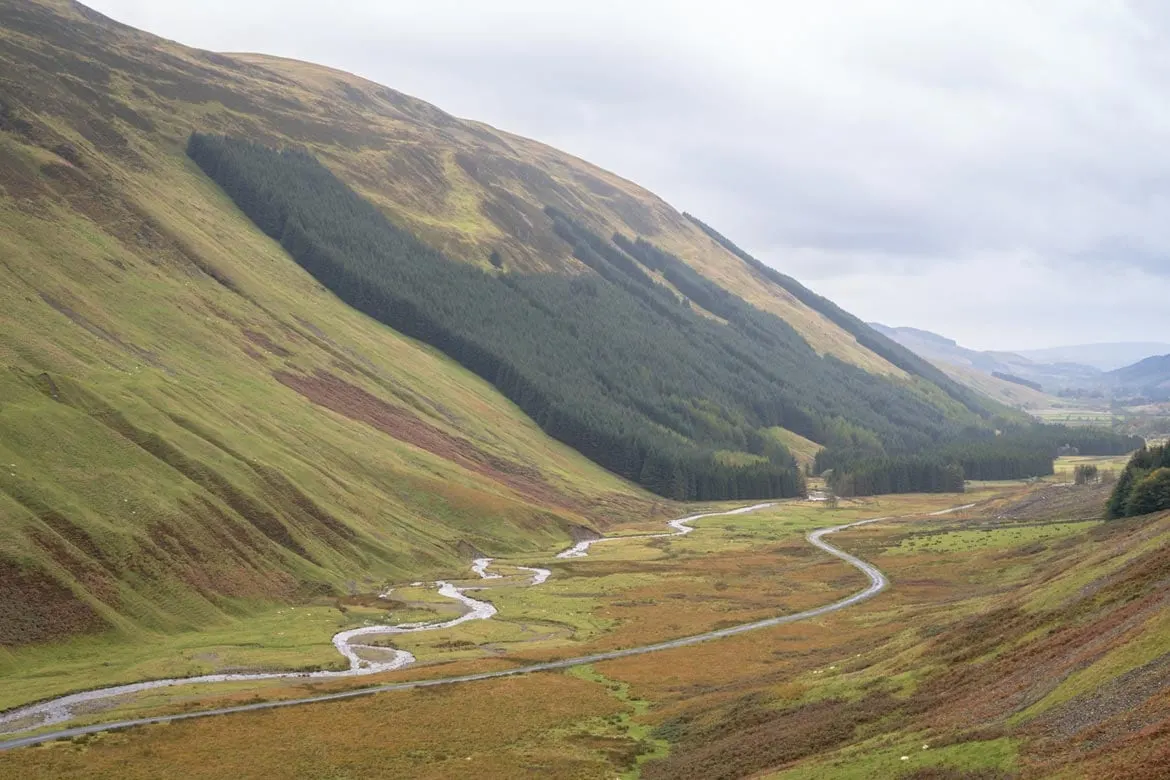 When looking at a map of Scotland, my eyes always automatically roam north to places like Inverness or the Isle of Skye. I guess I'm drawn to the mountains and those epic landscapes.
But when Visit South West Scotland asked me if I'd like to explore this part of Scotland I jumped at the chance, partly because I knew nothing about it.
Driving through places like the Mennock Pass and around the Mull of Galloway on the South West Coastal 300, I can honestly say this is such a beautiful part of the world. The thing is there are hardly any people here. At times it felt like I had the place to myself and I loved that feeling.
While driving here I stopped off at some of the most beautiful places along the way and I squeezed in a fair few adventure activities too. I really do think this is one of the best road trips in the UK!
So, if you're thinking of visiting South West Scotland then this is the post for you. From where you should stay to which activities you should do, I cover it all and more below so keep on reading!
But first, as a little taster, here's what I got up to on my South West Scotland road trip. Hopefully this will inspire you to follow in my footsteps and visit the area.
What is the South West Coastal 300?
I was in Scotland to take on the South West Coastal 300. This is a relatively new road trip route that goes 300 miles around the south west of Scotland. You can check out a map of it here.
The route takes you from Dumfries along the Solway Coast to the Mull of Galloway, along the A77 up to Ayrshire which was such a beautiful stretch of road, then looping back down through the Mennock Pass to Moffat and back to Dumfries.
The tagline for this route is "the road trip for lovers of Scotland" and that's exactly what it is. Similar to the North Coast 500, this is perfect for those of you who love stunning scenery with a healthy dose of castles along the way too.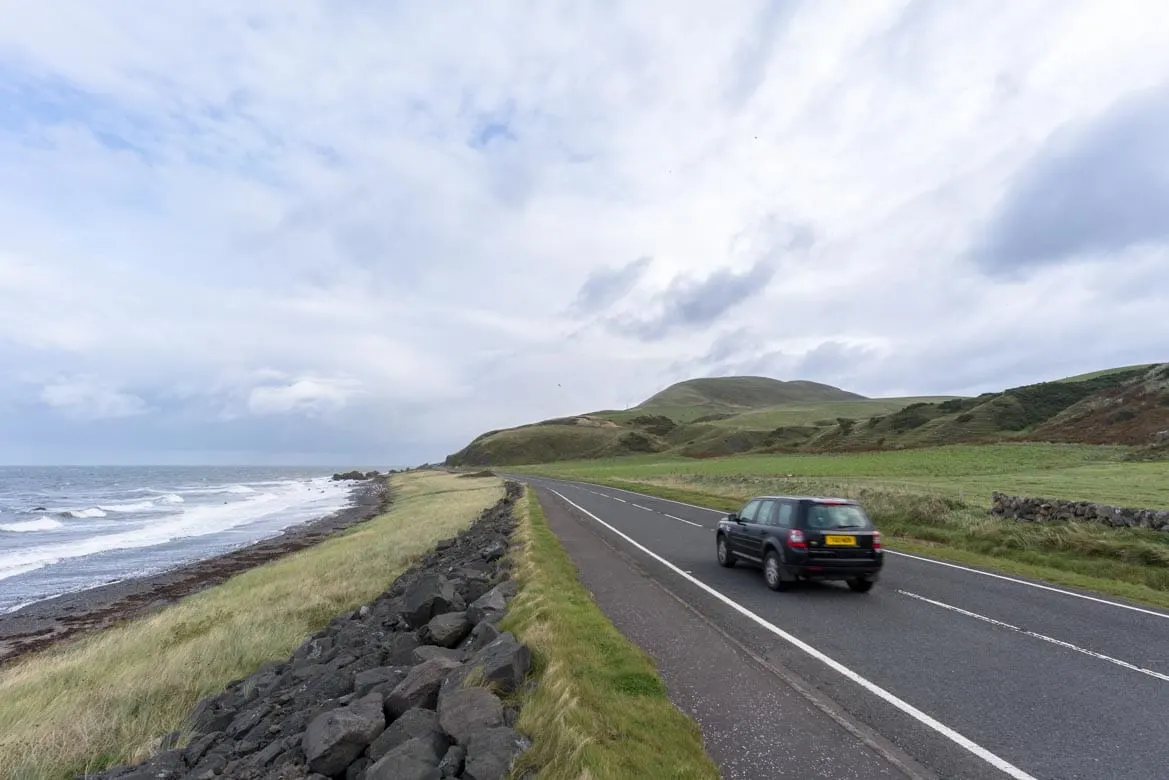 The South West Coastal 300 follows the coastline for mile after mile but there's plenty of opportunity to marvel at green hills, lush forests or gorgeous lakes.
One of the things I loved about driving along the South West 300 was it was so quiet! There were hardly any other cars on the roads, especially on a lot of the back roads, so it meant I could really take my time and enjoy the surroundings a lot more.
As the SWC300 is roughly circular, it doesn't really matter where you start or which direction you drive in as you'll loop all the way around, but I'll tell you all about the route which I took. Just get ready for a proper Scottish road trip.
Getting to South West Scotland
I was quite surprised at how easy it was getting to South West Scotland.
I live in London so I hopped on the train from Euston all the way up to Carlisle which took 3 and a half hours. You can book it here.
Once I was in Carlisle, I picked up a hire car from Avis which was only a 10-minute walk from the station. Avis are pretty much the only hire car company with an office directly in town so it meant I didn't have to take a taxi anywhere.
Then it was a short 50-minute drive to South West Scotland and my first stop Caerlaverock Castle!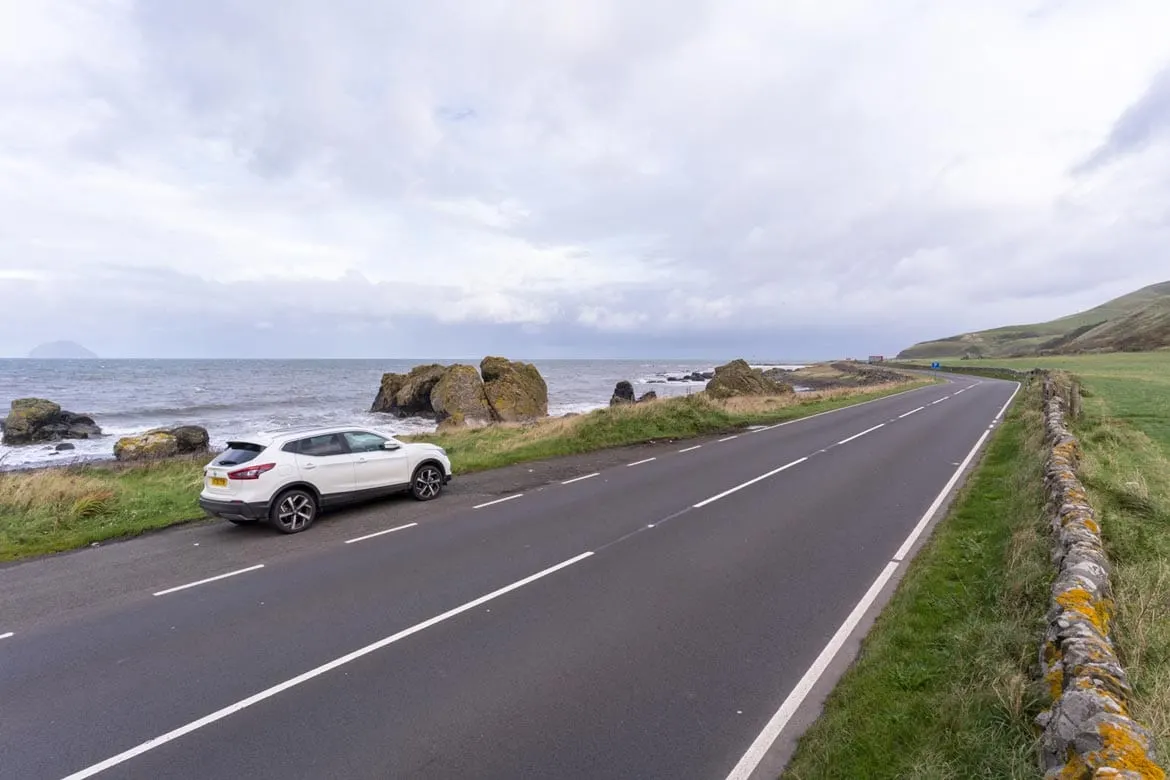 All in all it took me around 5 hours to get from London to this region of Scotland. That includes picking up a car along the way too. I don't think that's too bad at all!
Once I was in Scotland, I went south west along the Solway Coast and down to Portpatrick and the Mull of Galloway, then north to Stranraer, Girvan and Maybole then I looped back down from Ayrshire to Moffat and Dumfries.
In total, I spent 4 days driving along the South West Coastal 300 and that includes packing in so many adventure activities along the way too. It's not like I spent hour after hour in the car so this is a fantastic route for a long weekend or a short holiday.
Anyway, this itinerary is packed full of some of the best things to do in South West Scotland and I really hope it inspires you to visit this part of the world!
Things to do in South West Scotland: Day 1
Marvel at Caerlaverock Castle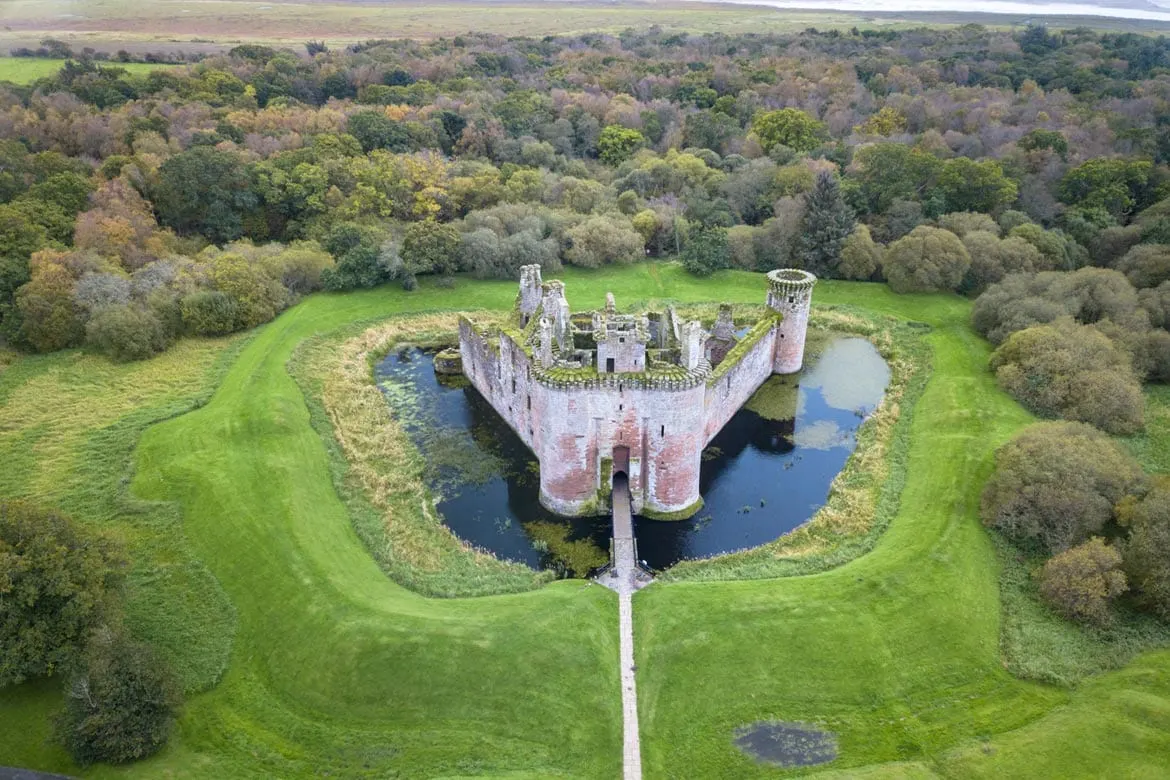 I think Caerlaverock Castle might just be the cutest castle in the UK. I feel like it's straight out of a fairytale because it's so small and unusual.
Caerlaverock Castle takes the award as being the UK's only triangular castle. Yep, this place only has 3 sides which is why it's so different. There's even a small moat running around the castle to complete the picture.
Tickets for the castle cost £6 for adults (£3.60 for children) and I'd recommend about an hour to walk around the grounds and explore the castle itself.
There's also a fun Castle Quest app which you can download. This is an interactive way of learning all about the architecture and history of the castle. It's supposed to be for kids but I think adults will love it even more!
Go sailing at Galloway Activity Centre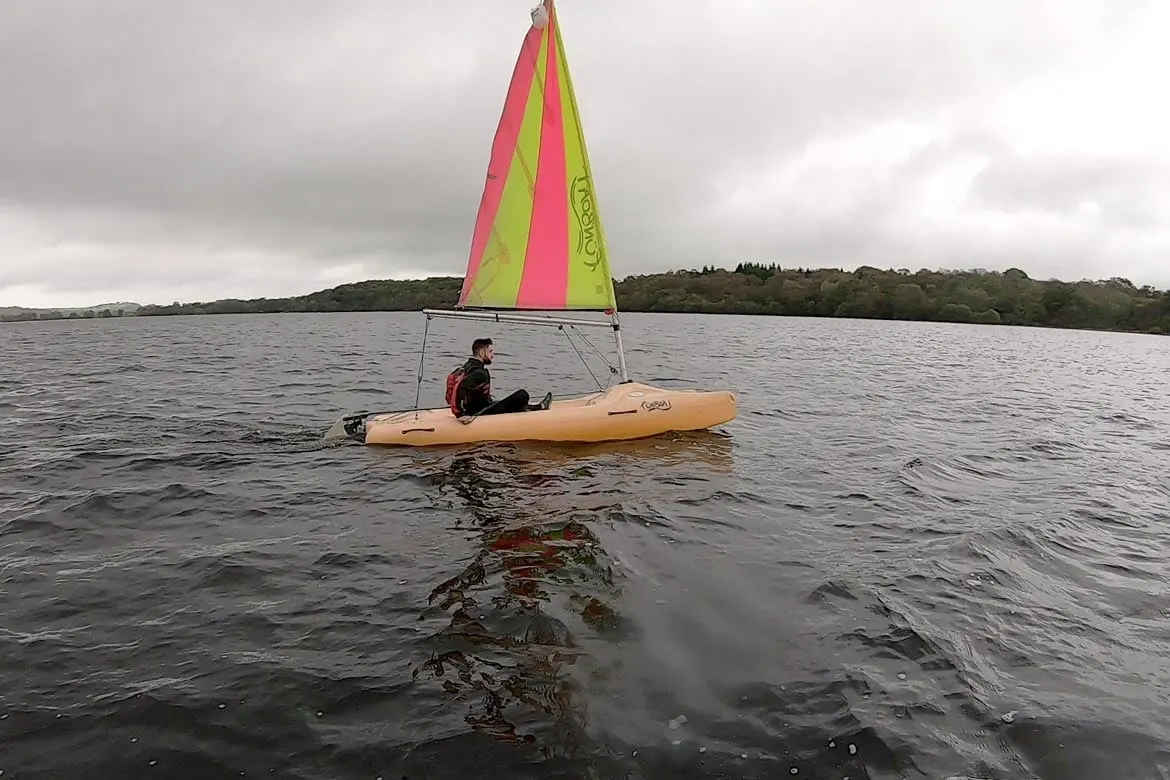 Galloway Activity Centre is one of the best places in South West Scotland if you love outdoor adventures. Here they do everything from standup paddleboarding to lazer tag to kayaking. However, I was here to go sailing on the stunning Loch Ken.
Now I haven't been sailing on my own for about 20 years, so under the watchful eye of my instructor Sean I was shown the ropes again. Sean was really patient with me and went through all the basics again.
After about 10 minutes with Sean, he unleashed me on the water all on my own and it was so much fun! I immediately felt 12-years-old again as I sailed across the lake. I was surprised how quickly I picked it up and it felt like such a rush, even for an old hat like me.
For a session with an instructor, prices start at £28, but the more people you get together the cheaper it is. Also, I think this is the perfect Scottish adventure activity for those with a family.
Take on Scotland's longest zipline at Laggan Outdoors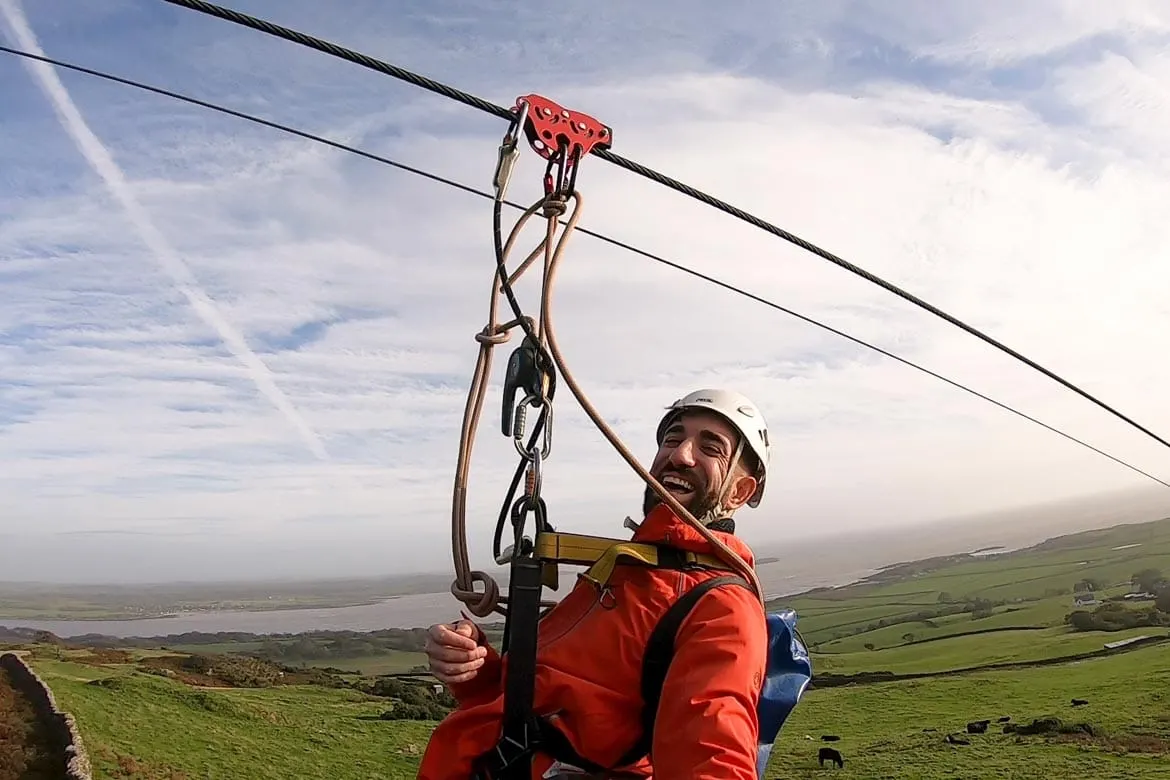 Another place that is packed full with activities is Laggan Outdoors. Here you can do activities like archery, clay pigeon shooting, off-road segwaying (which looked so much fun), but I was here for something else.
Laggan Outdoors is home to the longest zipline in Scotland. This is 820m of fast-paced, adrenaline-fueled fun. There's nothing quite like throwing yourself off the top of a hill to get the blood pumping that's for sure!
Apparently, you hit speeds of 45mph but it feels so much quicker than that. And you do it all with the most gorgeous views all around you.
The guys at Laggan are great fun and really friendly, so if you've never been ziplining before they'll take good care of you. For me, this is one of the best things to do in South West Scotland.
If you're travelling on your own, it costs £40 to do one run of the zipline, but this price drops to £20 per person if there are 2 or more.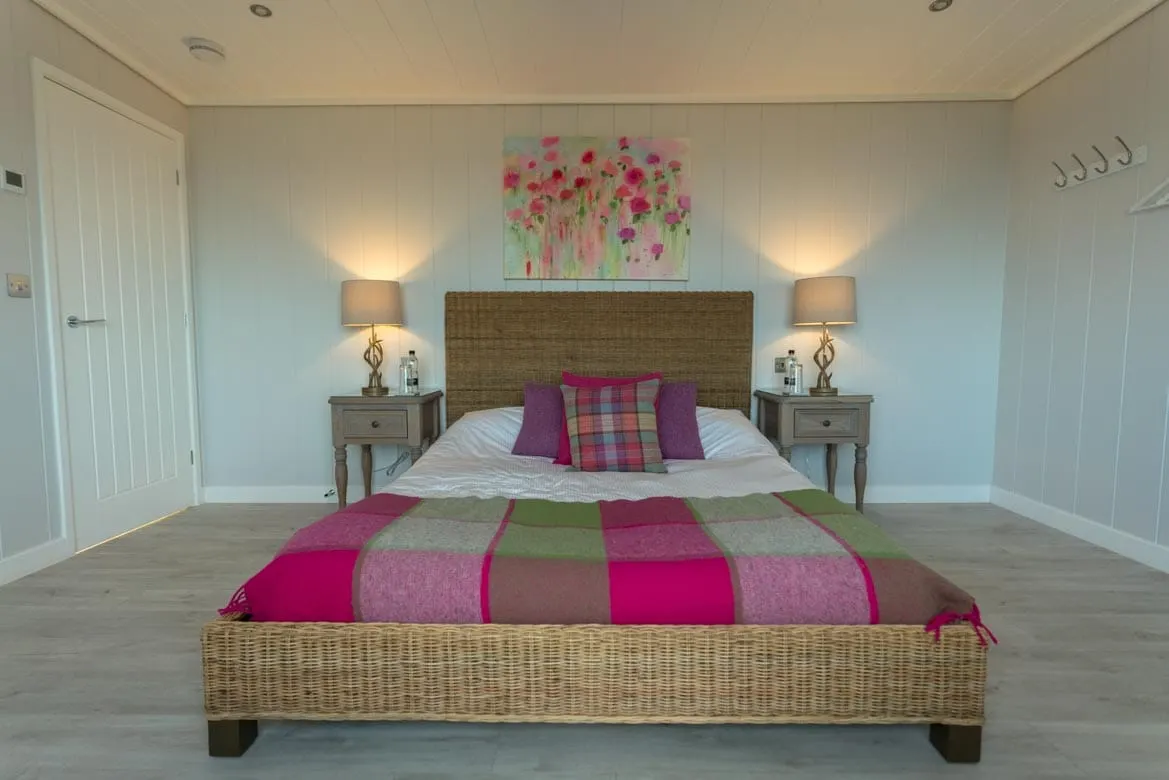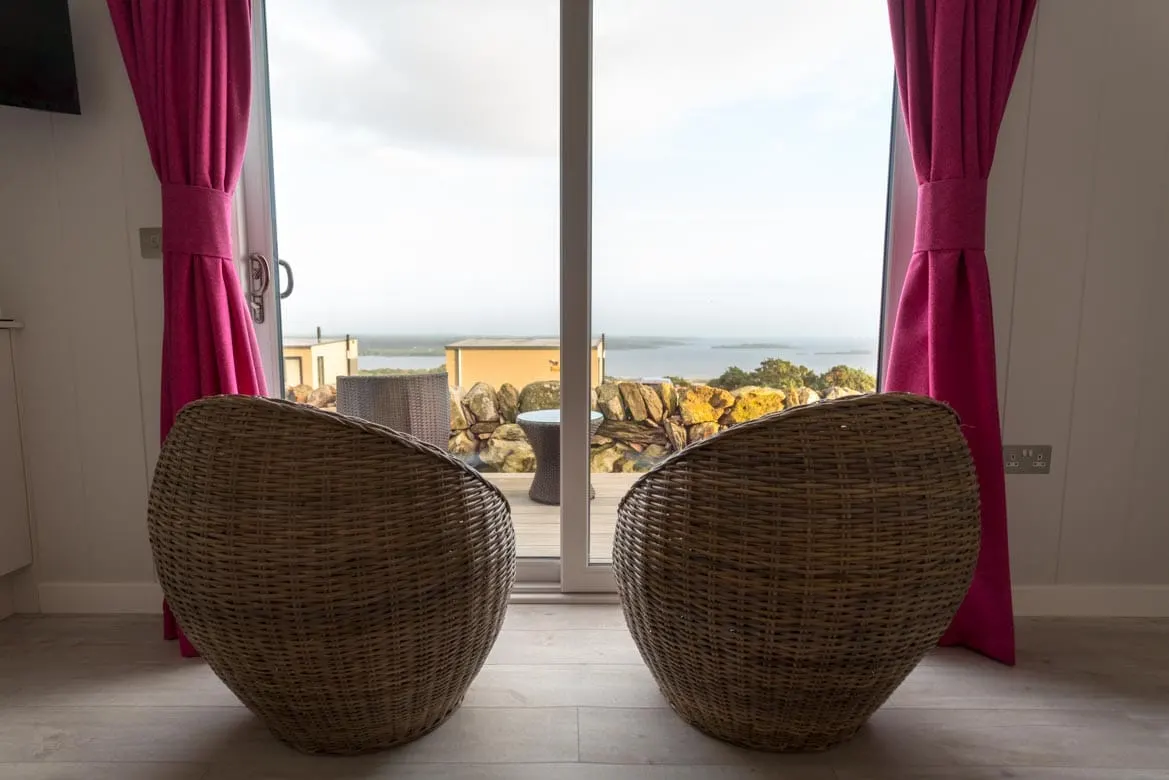 At Laggan Outdoors they also have their own Laggan Outdoor Snugs. There are 16 different cabins all overlooking the Irish Sea.
I stayed in the Heather Hut which was a really cute cabin perfect for solo travellers or couples. However, if you fancy a bit of luxury a couple of the snugs come with their own hot tubs. Add in a bottle of wine, with that view, and you've got yourself the making of the perfect night in.
I also loved how little light pollution there was here. I could've watched the stars all night long (the perils of travelling alone right there!)
All the cabins are decorated differently and come with amenities like towels, toiletries and tea & coffee making facilities. I really felt like this place could feature on a list for unique accommodation in Scotland. In fact, I might write that one myself…
Have dinner at The Selkirk Arms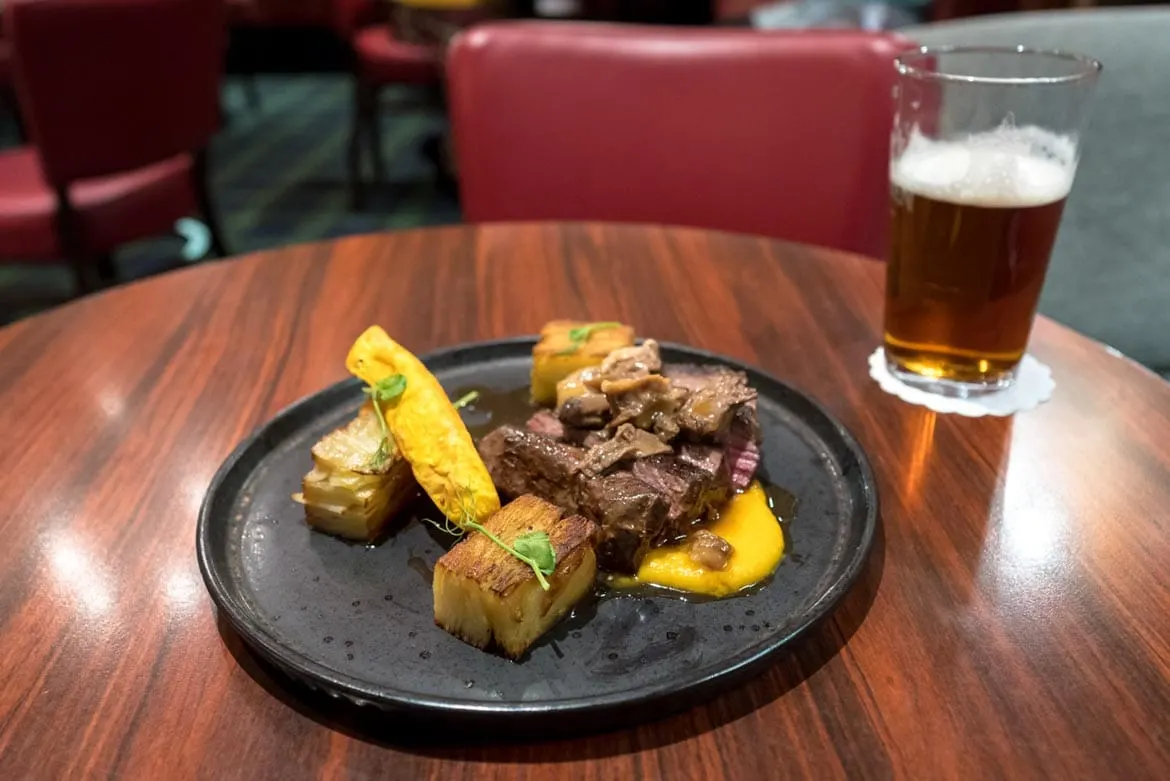 If you're following the South West Coastal 300 and you're looking for somewhere to eat then I'd really recommend The Selkirk Arms. This is a really nice hotel & restaurant in Kirkcudbright, about 15 minutes from Laggan Outdoors.
At the Selkirk Arms they'll celebrate traditional Scottish cuisine, so expect things like haggis and game on the menu.
The waitress told me their scallops are some of the freshest around so that's a good choice for a starter.
For main, I went for the rump of beef that came with a pumpkin puree and a velvety rich red wine jus. Just perfect for me after an action-packed day of adventures in Scotland!
Scotland Itinerary: Day 2
Go on a gin tasting tour at Crafty Distillery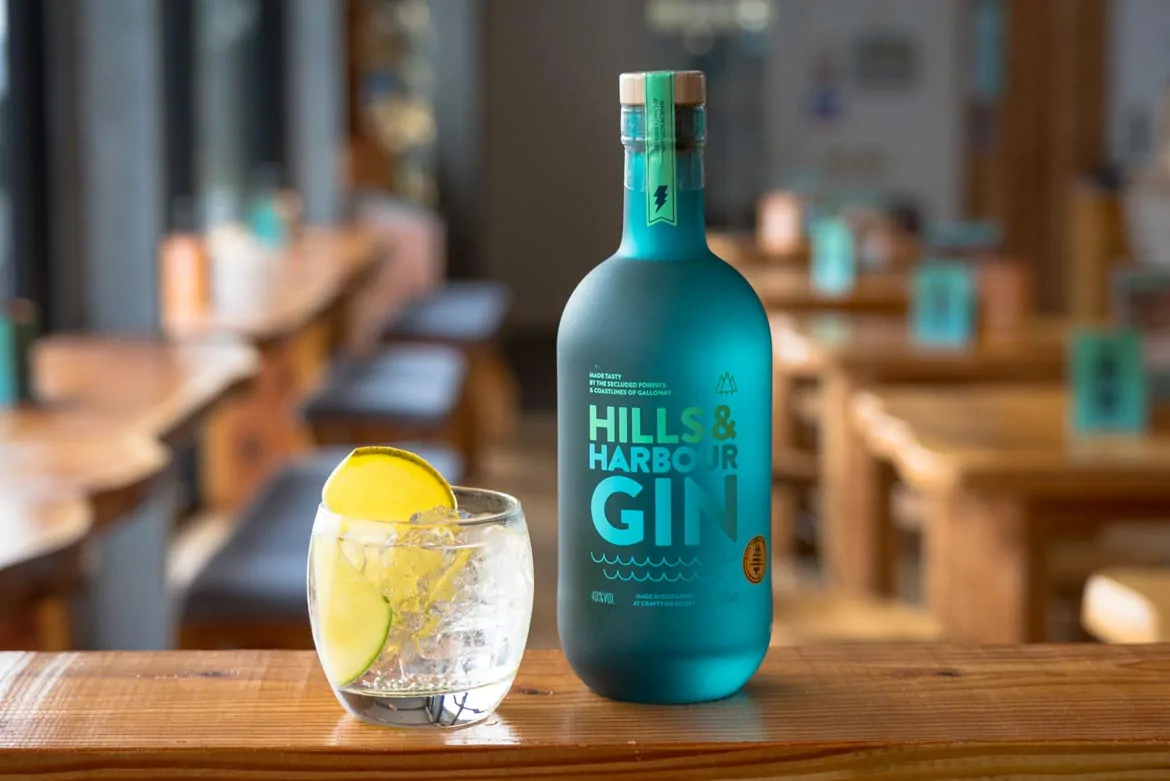 After staying at the Sea View Snugs at Laggan Outdoors, the next morning I drove 20 minutes to Crafty Distillery. Now I know Scotland is famous for whisky but I am going to tell you all about the gin that they produce here.
Their Hills & Harbour gin has been voted as one the best gin's in the world. Not only that, but Crafty Distillery (where they make it) was voted Scottish gin destination of the year. When you're up against gins like Hendricks and Tanqueray, that's damn impressive.
While I was at Crafty Distillery I went on a hour-long tour learning all about what makes this gin so unique. The name Hills & Harbour comes from using noble fir from the surrounding hills and seaweed from the nearby harbour as the main tasting notes creating a distinctly Scottish gin.
After learning all about the process of how they make gin here, no tour would be complete without tasting it for yourself.
I could wax lyrical about how amazing this gin is but instead I'll say come here and taste it for yourself. Then you'll understand what I'm going on about.
A tour of Craft Distillery costs £12.50 per person and it comes with a healthy tasting at the end of it too.
If you're looking for some of the best gin distilleries in Scotland then check out this post (just click on the link).
Take in the beautiful views at the Mull of Galloway Lighthouse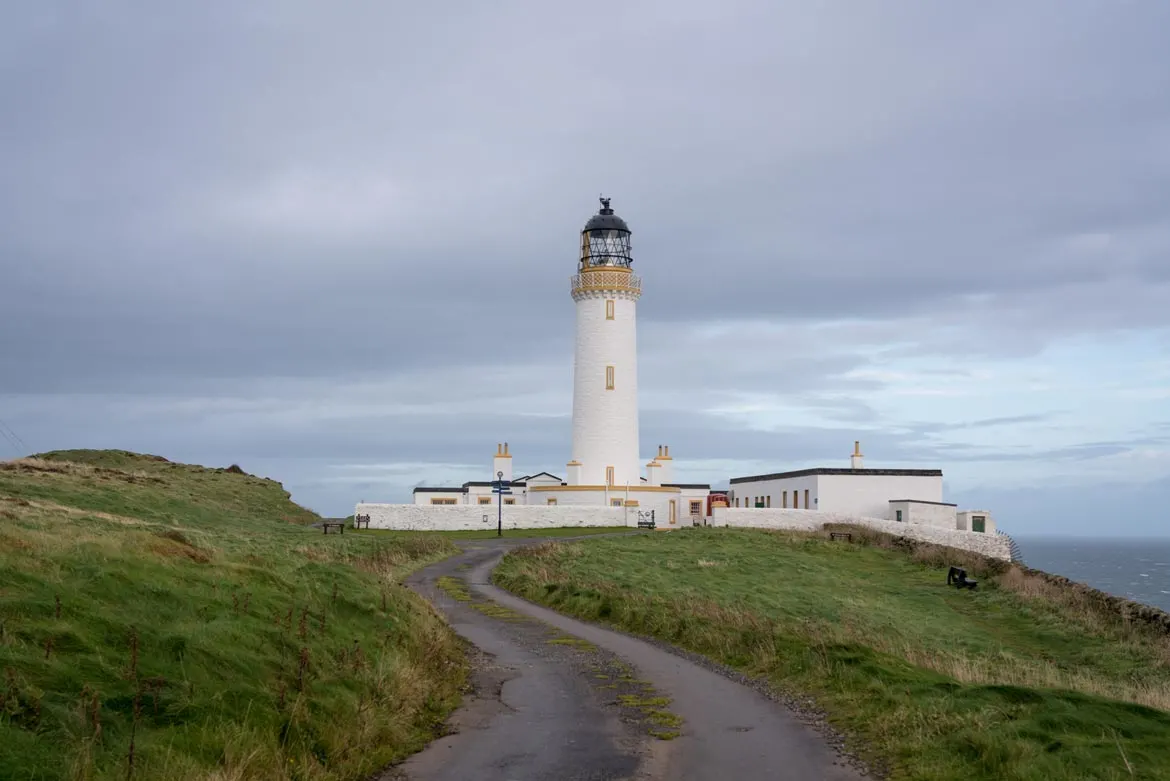 One of the most popular places to visit in South West Scotland is the Mull of Galloway Lighthouse. This is the most southerly point in Scotland and it's really worth visiting on the South West Coastal 300.
For me, the Mull of Galloway was one of the most beautiful places I visited on my road trip. The views of the coastline are something else and are what makes this region in Scotland so special.
I'd really recommend buying a ticket for £3 and heading to the top of the lighthouse. From this vantage point, on a good clear day, you can see England, Ireland and the Isle of Man all from one spot. If you're lucky you'll also see porpoises and dolphins too so keep your eyes peeled.
The Mull of Galloway Lighthouse also has the only working foghorn on mainland Scotland. The lighthouse keeper George even gave it a quick blast for me and I can honestly say I don't think I've ever heard a foghorn before. Obviously, it's quite rare to have a working foghorn so it's just another reason to visit this place.
There's also a really nice café on the cliffs by the lighthouse so this is a good spot to stop for lunch too. I feel like the Mull of Galloway Lighthouse has a bit of everything. For me, this is what the south west coast of Scotland is all about.
Wander around Logan Botanical Gardens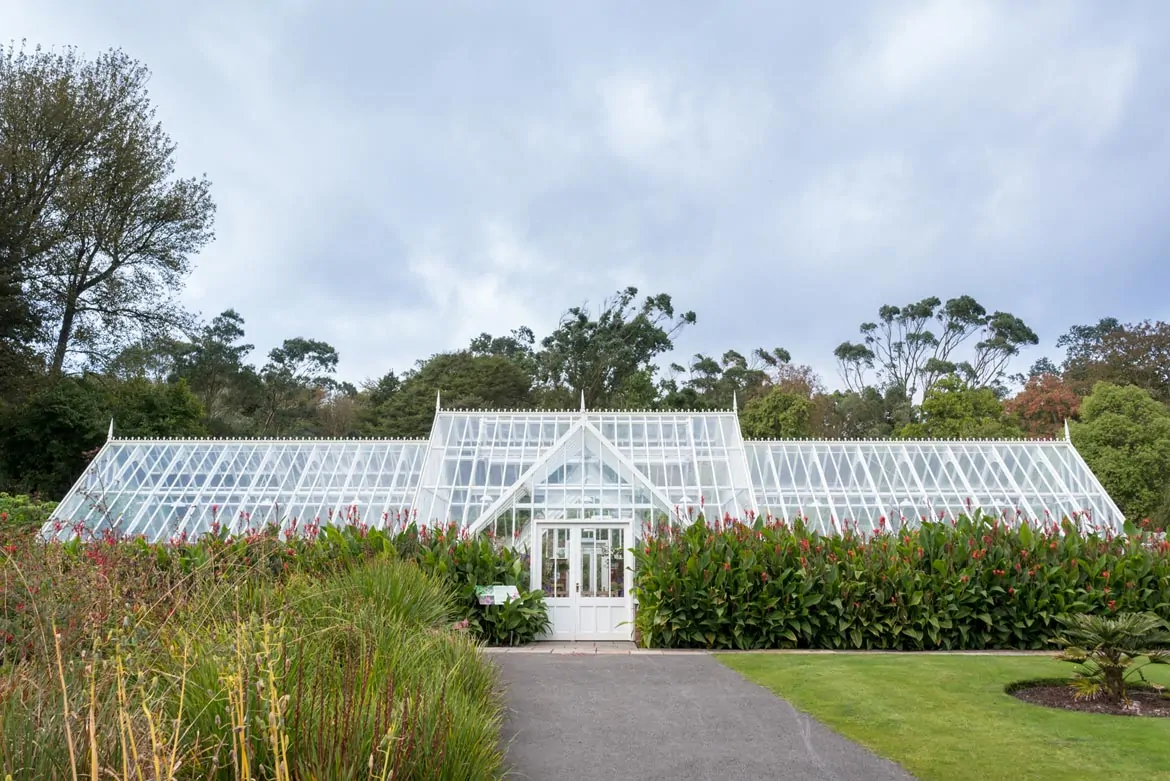 If you're looking at what to do in South West Scotland then check out this place. Another really nice place to wander around for a couple of hours is Logan Botanic Gardens. This is about 30 minutes from the Mull of Galloway. There's a really nice café here where they do fresh salads and quiches every day.
It's also worthwhile popping into the Botanic Gardens and walking around the grounds. I always find botanical gardens so relaxing and I really enjoyed my time here.
Just another spot to visit on your trip around South West Scotland.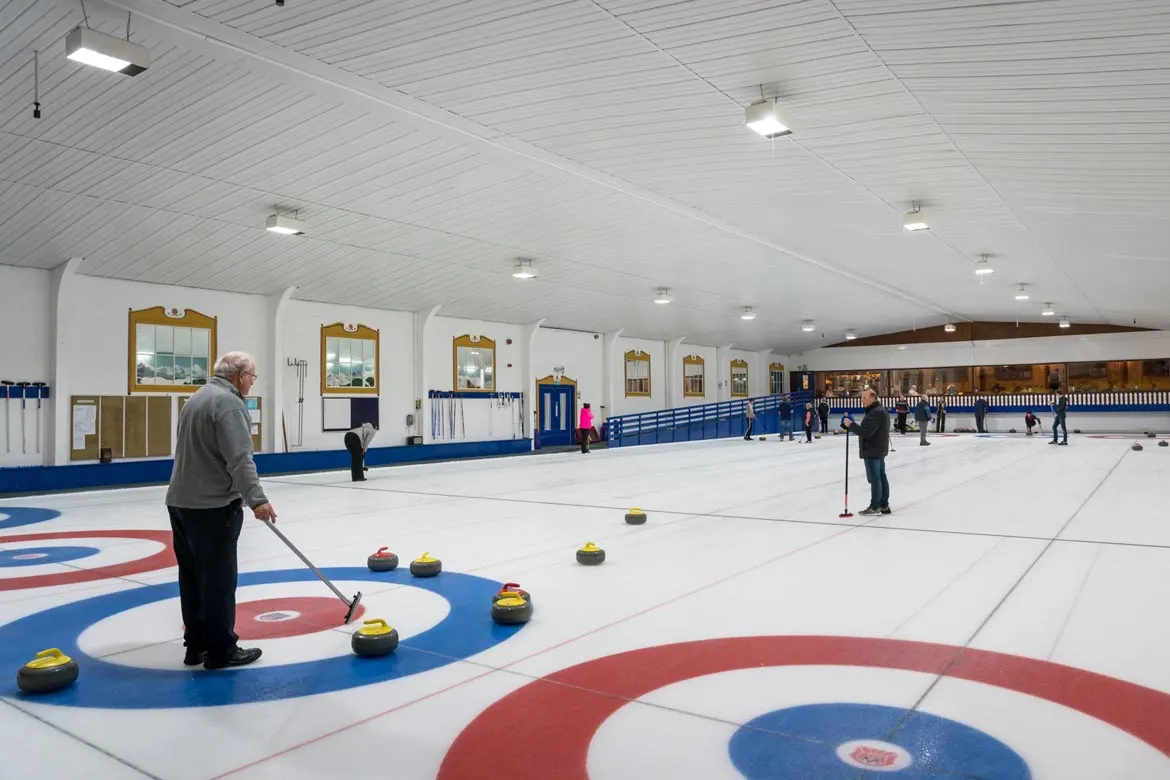 The North West Castle Hotel in Stranraer is quickly becoming my favourite hotel in the world for a very unusual reason – curling.
Yes, at the North West Castle Hotel you can play curling in their own indoor curling rink. In fact, this is the first hotel in the world to have its own indoor curling rink. How cool is that!?
I couldn't resist giving curling a go while I was staying here and I absolutely loved every second of it. The fundamentals of the game are quite easy to pick up, but it's hard to master (which I would say after only one game!)
The aim of the game is to get nearest to the 'house', the central red circle. Or, if you're like me, you'd be happy getting anywhere near it. It's kinda like bowls on ice (if that makes sense). Watch my video and it'll give you more of an idea of what curling is all about.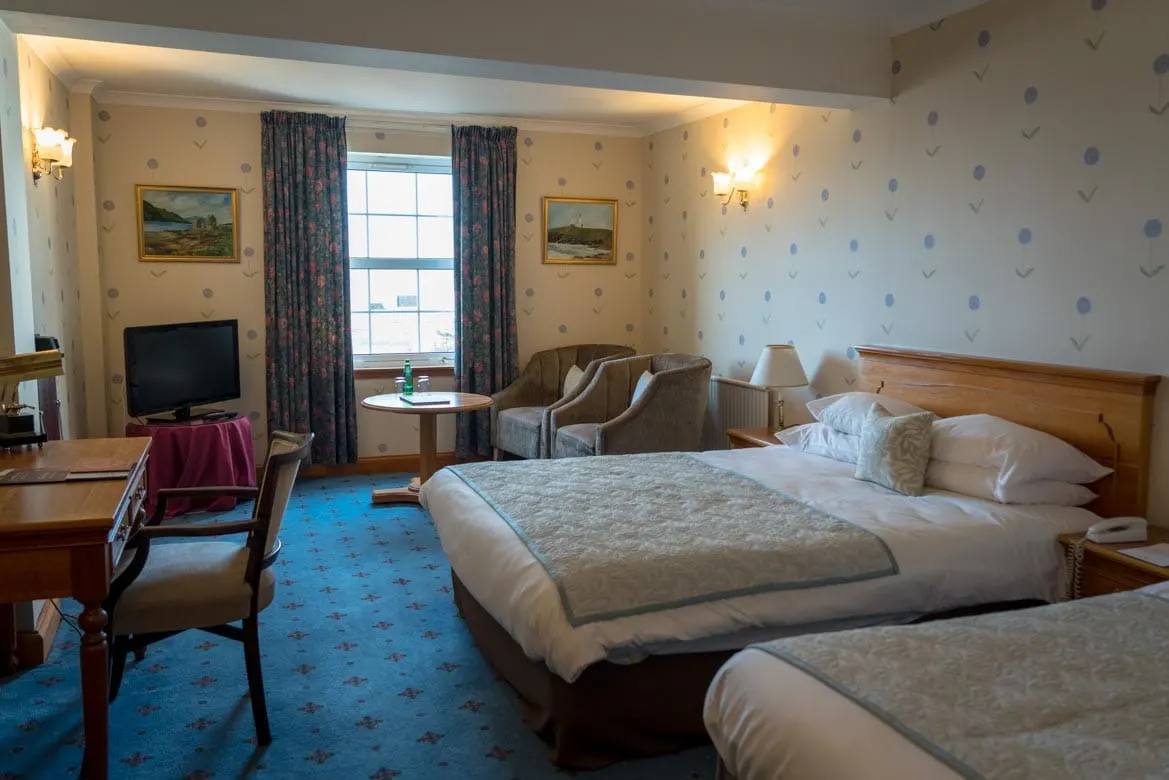 The North West Castle Hotel was also a really relaxing place to stay with its own sauna/steam room. Also, there's a really good restaurant on site so I'd recommend eating here too.
This is the perfect place to stop for the night on the South West Coastal 300. Get ready for day 3 because you're heading to the most beautiful stretch of road on the whole trip.
Scotland itinerary: Day 3
Visit Culzean Castle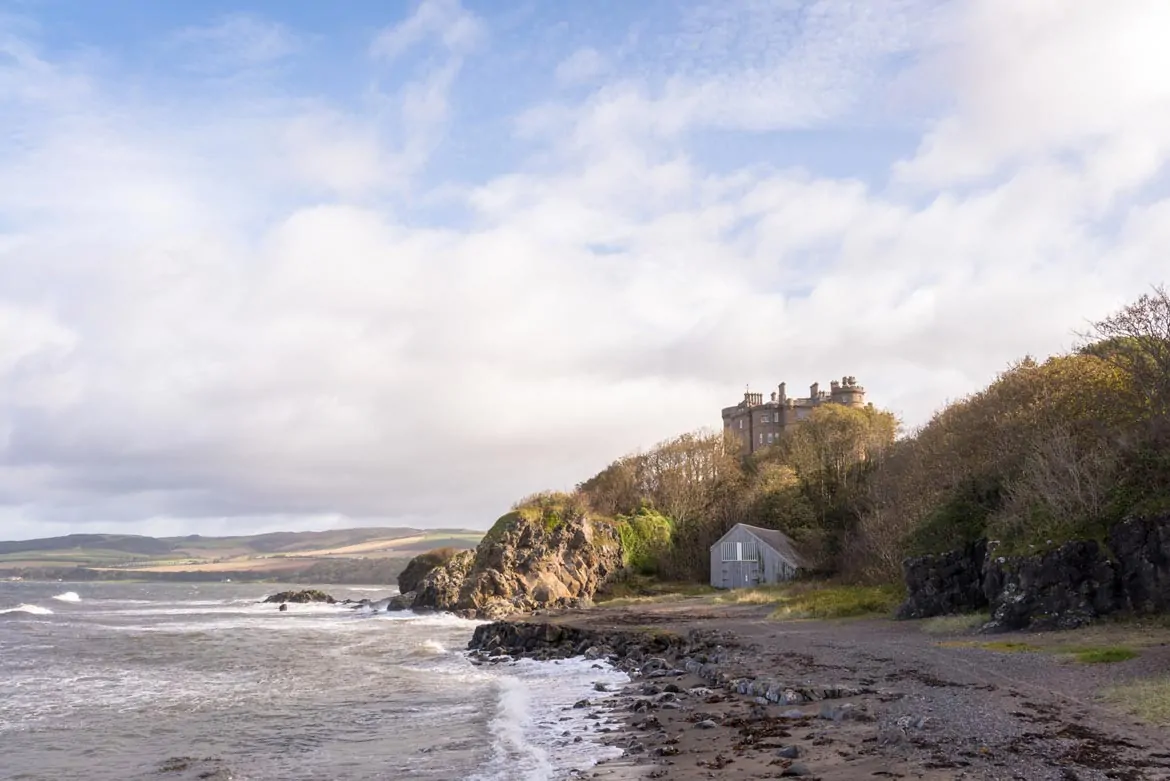 The drive from Stranraer along the A77 to Culzean Castle is amazing. You follow the coast for mile after mile with the sea just next to you.
Once you get to Culzean this is another incredibly opulent castle in Scotland. Perched on the cliffs of Ayrshire overlooking the sea, Culzean Castle is a fantastic place to visit on any trip to this region.
Now owned by the National Trust for Scotland, Culzean Castle has some of the most beautiful grounds I've ever seen. In total there are 40 buildings and secret follies in this country park and it even has its own private beach too.
I spent a good couple of hours walking around here and the dolphin trail took me around the whole grounds. Obviously you've got to pop into the main house and look at the exhibition there too.
For the kids there's the Adventure Cove and Wild Woodland play areas where you can do a number of outdoor activities.
Tickets for Culzean Castle cost £17 per person or it's free if you're a member of the National Trust for Scotland. Again, this is one of the top places to visit in South Western Scotland.
Go on an adventure with Rik from Rik's Bike Shed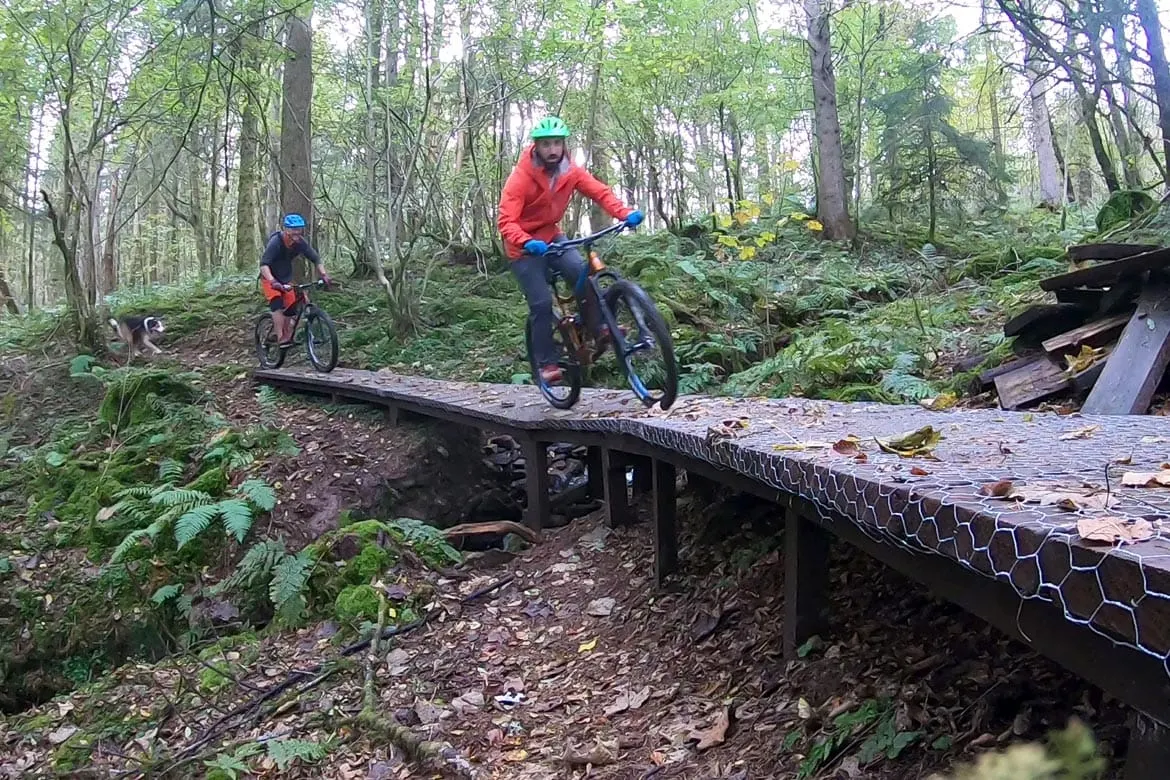 Rik has to be one of the happiest and friendliest people I've ever met. He's one of those people who would bend over backwards just to help you out.
On the grounds of Drumlanrig Castle you'll find Rik's Bike Shed. This is a bike shop where you can hire a mountain bike and take to the surrounding hills and forests.
I went out with Rik himself and he took me on some of the trails there. Now I've never done cross-country biking before but it's such an amazing way exploring the grounds of Drumlanrig Castle. I actually found the biking quite hard – I didn't realise how much of a full-body workout it'd be – but when you get to a tricky downhill section with lots of bumps it's such a rush.
Every Saturday Rik also runs his own workshops where anyone can come along and try riding. This is really popular for families who are looking at getting in riding a bit more.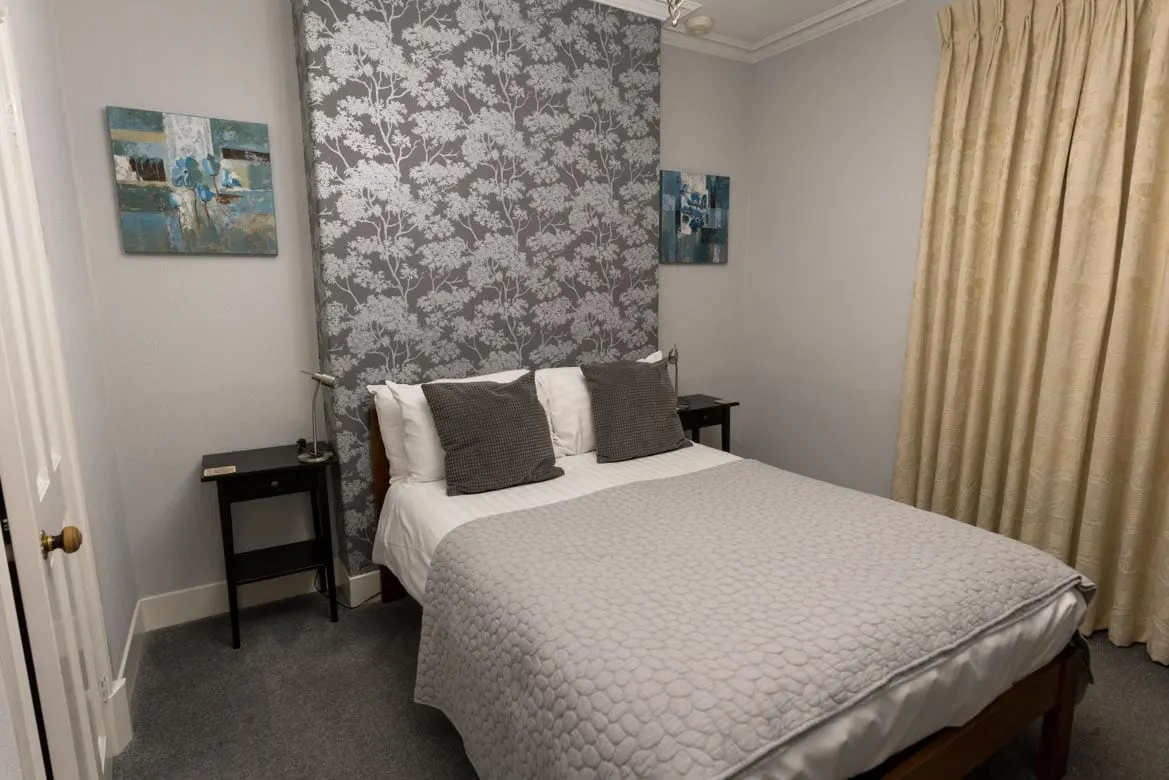 From Drumlanrig Castle I drove to Moffat, a lovely little town in South West Scotland only 40 minutes from the English border.
To be honest with you, Moffat was one of those places I would've happily spent a few days exploring the town and the surrounding area. This is the gateway to some of the best hiking in South West Scotland which was why I was here.
While I was in Moffat I stayed at Queensberry House, an award-winning 4* B&B. Both Caroline & Miles were amazing hosts telling me all about the area and they gave me loads of suggestions of where to go in town.
Also, the breakfast in the morning was to die for. It was a proper hearty feed which was perfect for the big day of hiking I had ahead of me.
Double rooms can be as cheap as £70 per night so it's a fantastic option while staying in Moffat.
Scotland itinerary: Day 4
Hike the Grey Mare's Tail for some epic landscapes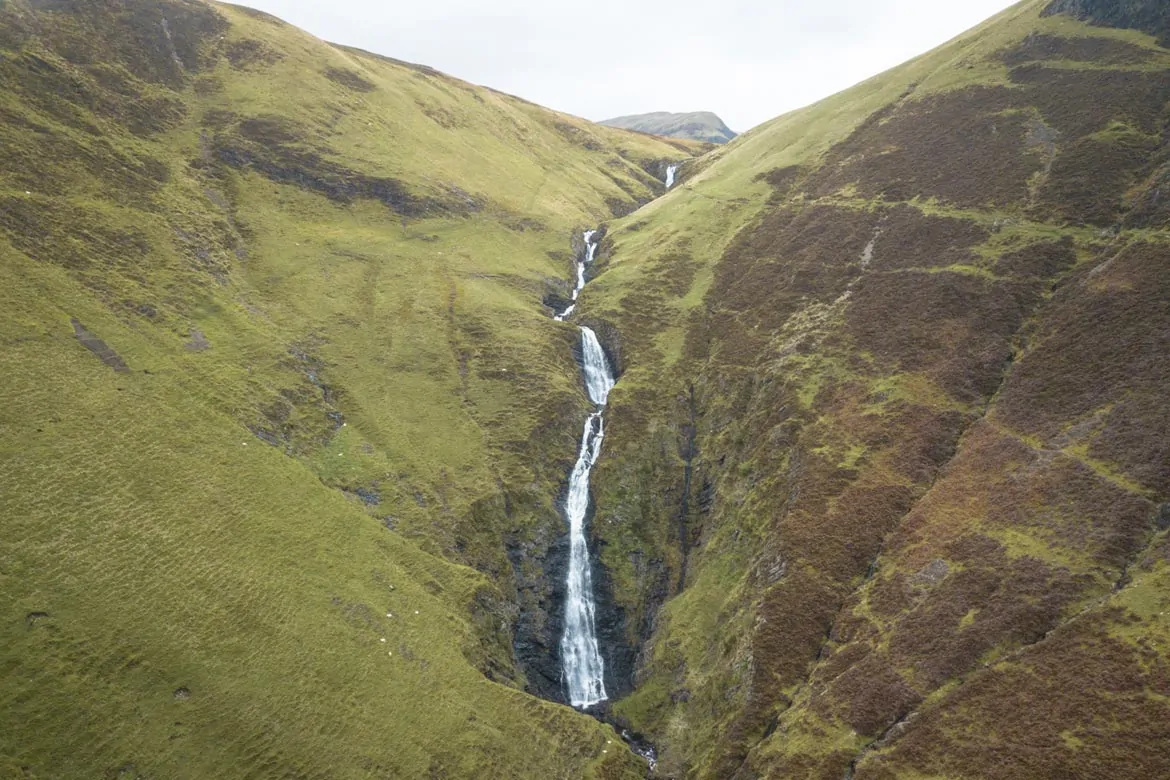 The Grey Mare's Tail is one of the best hikes in all of Scotland. The name comes from the waterfall which is the 5th highest in the UK.
There's a very well-marked trail which takes you up to the waterfall, but if you keep on going then things get even better.
Up in the mountains is Loch Skeen, a really beautiful lake that feeds the waterfall. On the way up here you'll find lots of other little waterfalls and rivers too.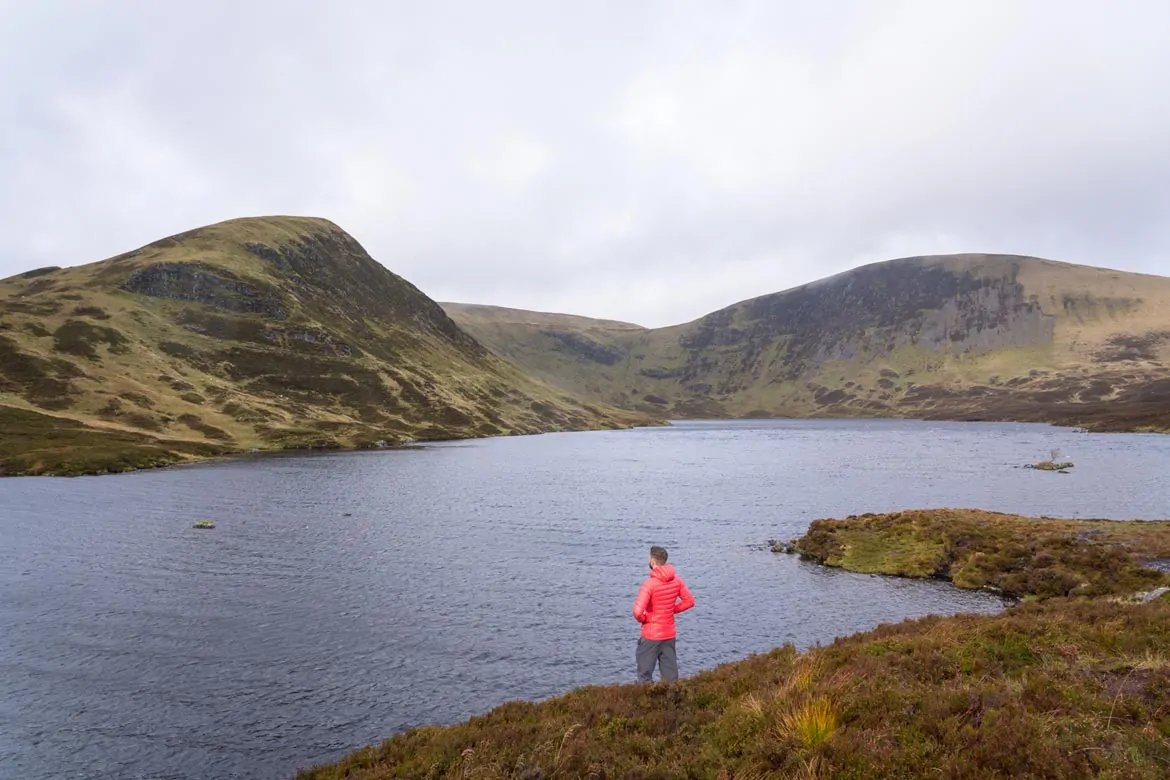 When I was hiking here it was your typical Scottish day. Quite bleak, very cloudy, but all the more peaceful because of it. I hardly came across any other hikers and at times felt like I had the trail all to myself.
All in all, the hike takes a good 2 to 3 hours depending on how many stops for photos you have.
Also, make sure you have £4 for the car park as they don't accept cards!
---
My trip to Scotland was in association with Visit South West Scotland and Visit Scotland promoting the South West Coastal 300. As always, all view and opinions are my own.
Are you thinking of doing the South West Scotland road trip? Where are you most excited at visiting along the way? Let me know in the comments below.
Like this blog post? Then make sure you Pin it for the future!