Looking for the best things to do in Ribble Valley? From hiking Pendle Hill to visiting Clitheroe Castle, this is my Ribble Valley itinerary!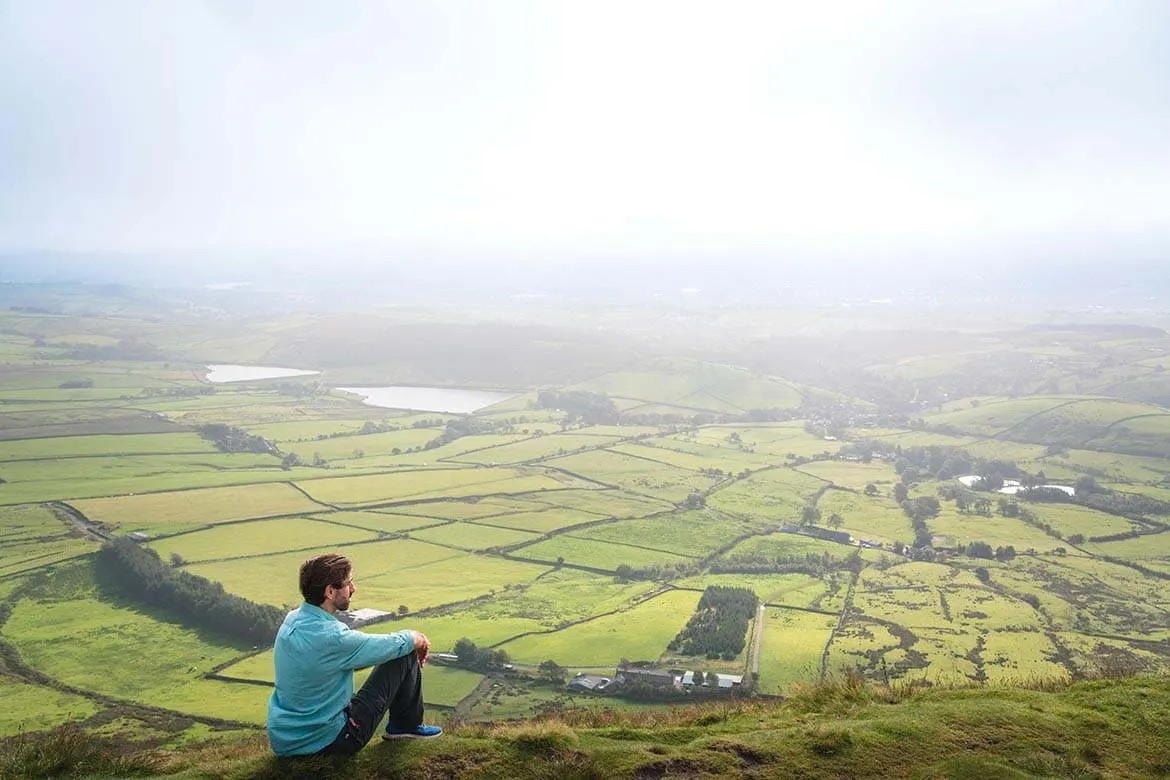 Put your hands up if you've heard of Ribble Valley before!?
Don't worry if you haven't, I know you're not the only one. If you've never heard of the Ribble Valley, I'm about to tell you why this is one of the best hidden gems in England. I've got you interested, haven't I?
When people want gorgeous green rolling hills and glistening lakes, they immediately head to the Lake District or the Yorkshire Dales. It's cool, I get it, both places are absolutely amazing to visit.
Yet located between these two is somewhere just as beautiful without any of the crowds. And when it comes to incredible things to do in the Ribble Valley, you certainly won't be disappointed.
You can see what I got up to in the Ribble Valley here. And don't forget to subscribe for more videos like this one!
If you love adventure as much as I do, then there are some amazing activities for you to do here. You can take on Pendle Hill, hit some of the mountain biking trails through Gisburn Forest, or try trial biking for the first time ever (just wait until you see what trial biking is all about).
And if you're a foodie then you will absolutely love it in the Ribble Valley too. From AA-Rosette pubs to Michelin-starred hotels, the Ribble Valley is a serious destination for foodies. For me, all the top-notch food was the biggest surprise about my trip.
So, if you're looking for the best things to do in the Ribble Valley then this is the post for you. Hopefully this will help you plan your trip here!
Where is the Ribble Valley?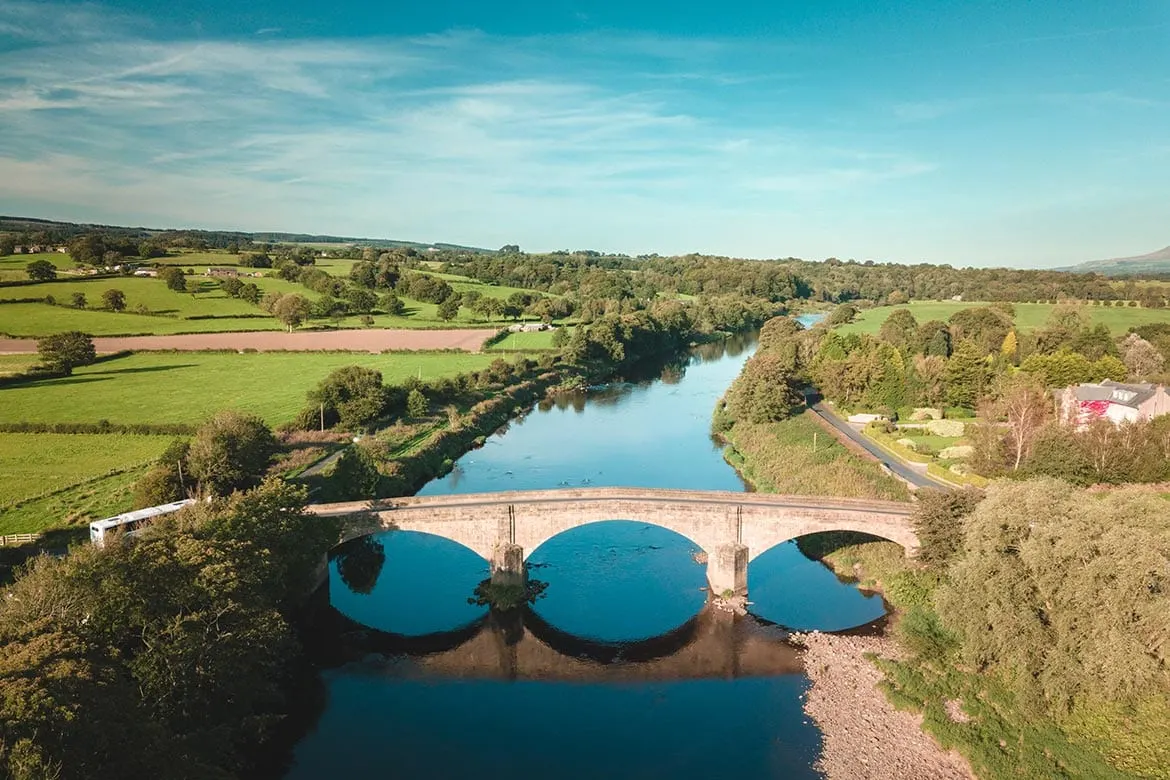 The Ribble Valley is located within the heart of Lancashire. When you're looking at the map, it's just to the right of Blackpool, above Blackburn and Preston, and to the left of Leeds.
The main town is Clitheroe with its cute castle overlooking the landscape. A few other memorable Ribble Valley destinations are Whalley, Ribchester and Longridge. These are all some of the best places to visit in the Ribble Valley, so I'll be talking about them in this blog post.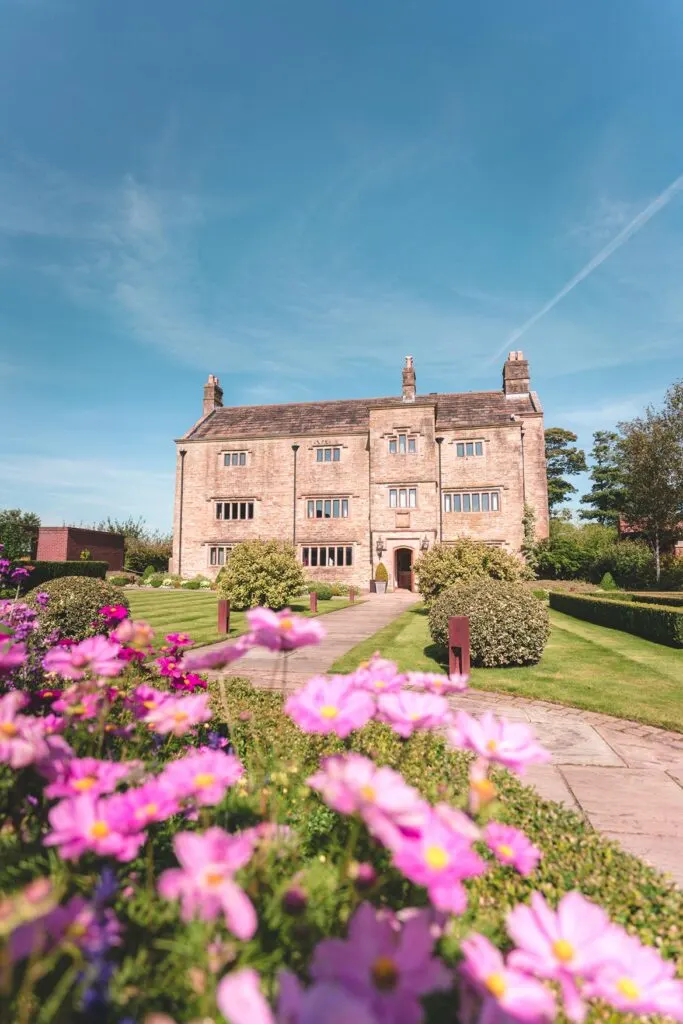 The whole of the Ribble Valley is 583.3 km², yet it only has a population of 60,000 people. That means if you're looking for wide open spaces of the English countryside, you'll find it here.
As I said, a lot of people head straight up to the Lake District or across to the Yorkshire Dales in the United Kingdom, but this is such an amazing spot to visit. Now that I've been myself I'm firmly flying the flag for the Ribble Valley.
Getting to the Ribble Valley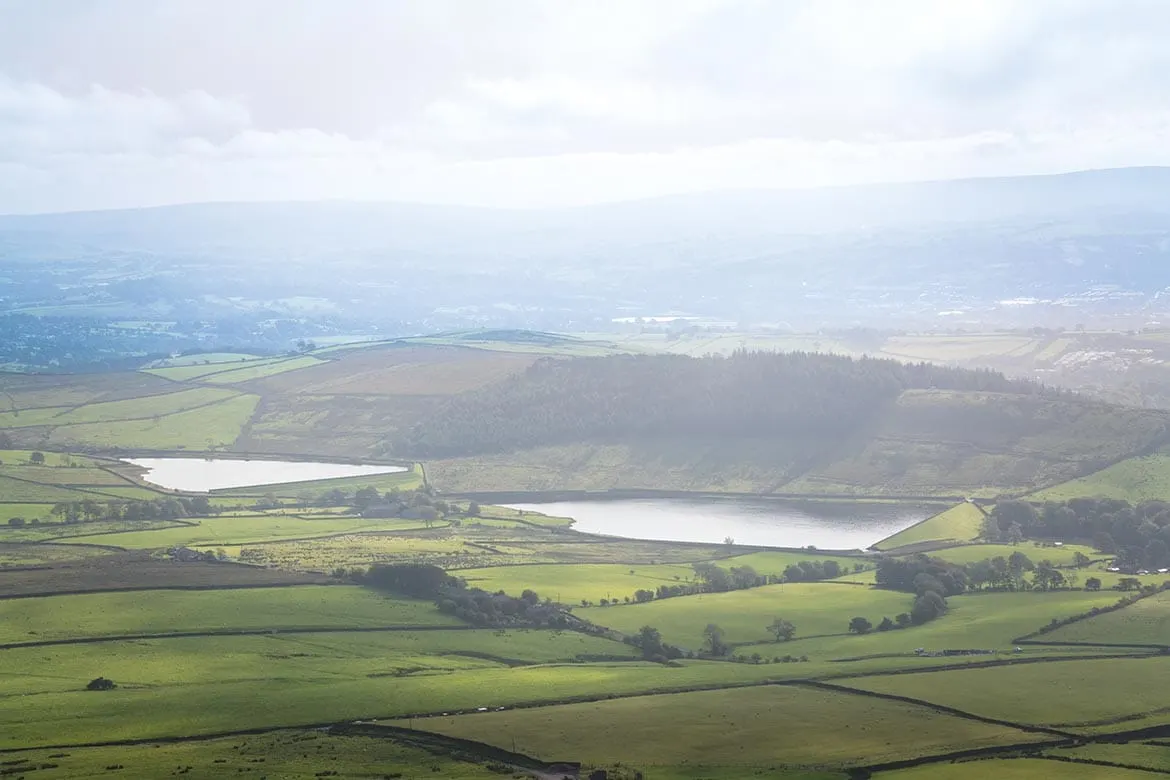 Obviously getting to the Ribble Valley depends on where you're coming from. As it's located in the North West England, it's surprisingly close to a number of cities. Driving, it's 1h:15m from Manchester, 1h:30 from Liverpool. 1h:35m from Leeds, and only 50 minutes from Lancaster.
It's also surprisingly quick from London if you catch the train. I jumped on the Avanti West Coast train from London Euston to Preston and it only took 2h:25m. I thought that was really quick!
From Preston, we picked up a hire car and then drove the 30 minutes into the Ribble Valley. That meant, door to door, it only took 3 hours from London which is good going for a UK staycation.
You can book your train tickets here:
---
Fun Things to do in the Ribble Valley, England
Pendle Hill walk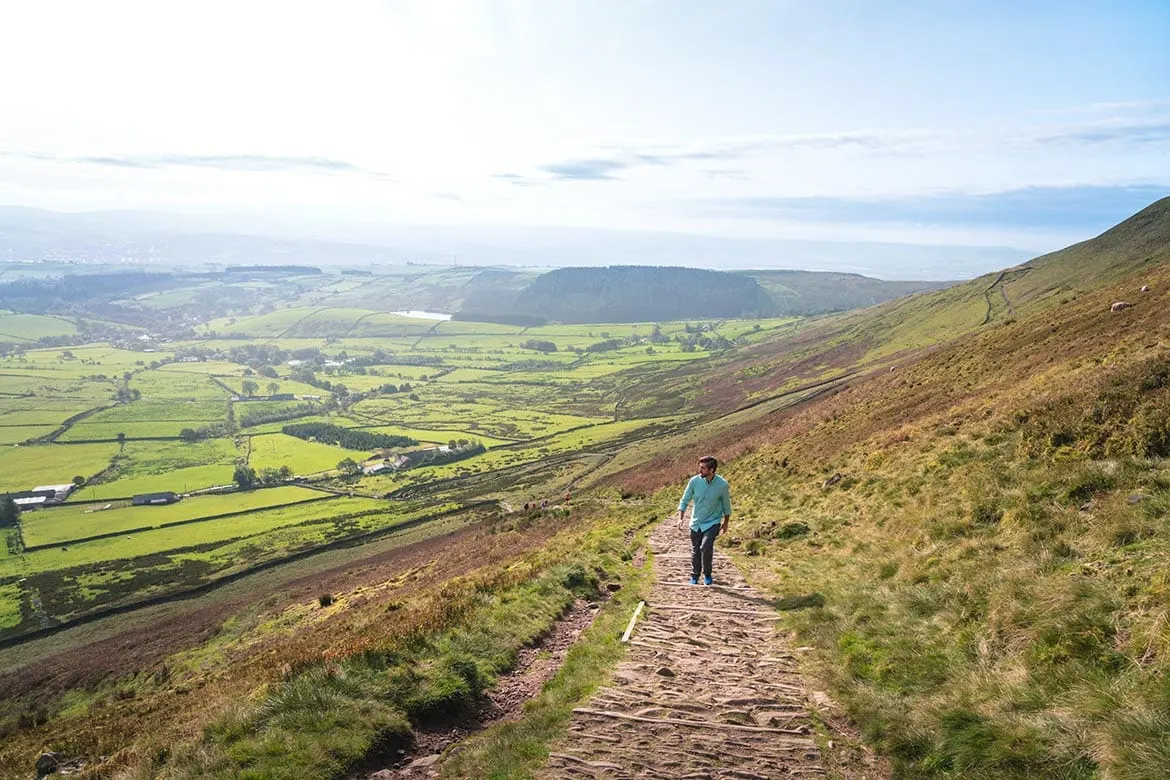 If you're looking for some of the best views of the Ribble Valley, then head straight to the top of Pendle Hill.
This hill (at 557m it falls only 63m short of being a mountain) can be seen from all over the valley. It's only once you're standing on the steps leading to the top that you realise how big it is.
Don't worry though, even though this is a very steep climb to the top of Pendle Hill, it isn't a long climb. It only took me around 45 minutes from the bottom to the top, and that's with heavy camera equipment too.
There are actually two paths here. The one on the right is more direct but harder, whereas the one of the left is a lot longer and a lot easier. Depending on which one you take, you should factor in about 1h:30m getting to the top.
Once you're at the top of Pendle Hill you have the most gorgeous views of the countryside. Hopefully my photos do it justice, but nothing compares seeing it for yourself.
For me, this is definitely one of the best hikes in the Ribble Valley. You can find a detailed guide to the Pendle Hill walk here.
Mountain biking in Gisburn Forest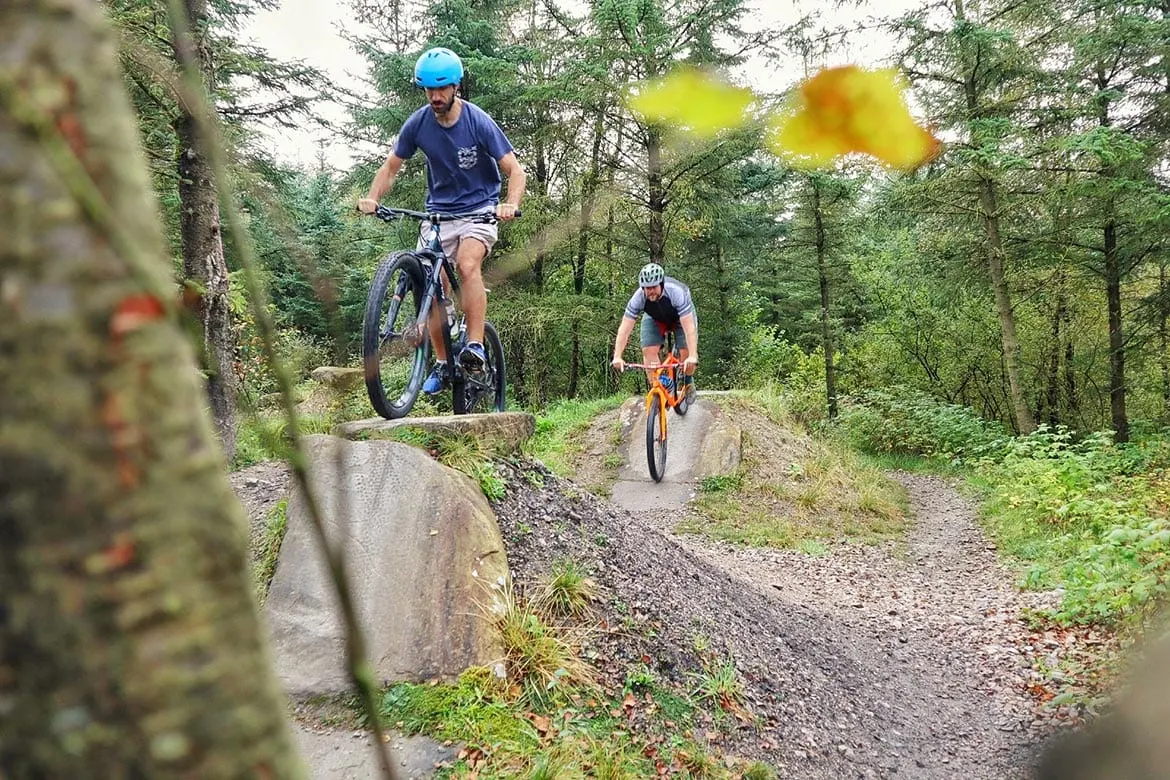 Gisburn Forest is one of those places that offers something for everyone. There are some lovely walks through the forest, you can go horse riding, or if you fancy an adventure then it's fantastic for mountain biking.
The largest forest in Lancashire, Gisburn Forest has a cycle network of over 18kms. There are some green and blue runs for those of you looking to explore the forest, and some tricky red and black runs if you'd like to push yourself.
I hired a bike from Gisburn Bike Trails and went off with Phil as my guide for the morning. A lot of the red runs included challenging climbs, tricky descents and technical features such as drop-offs and large rocks which I absolutely loved.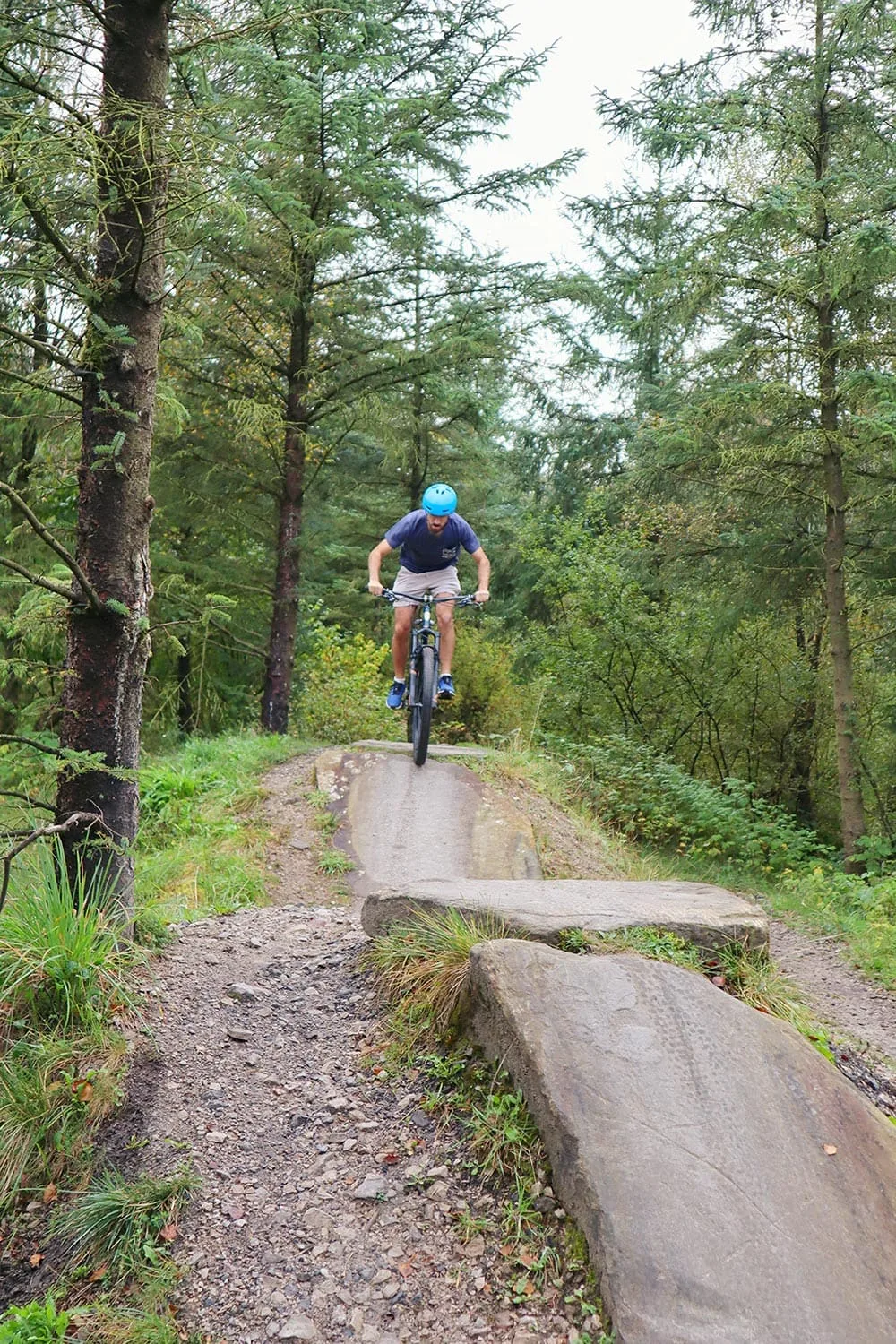 Some of the downhill sections were such a rush. My favourite run was called the Hope Line. This was a really twisty trail with its fair share of jumps, drop-offs and berms.
All of the trails are maintained by cycling enthusiast and volunteers, so all the runs are made for cyclists by cyclists. It's very easy to see why everyone talks about Gisburn Forest being one of the best places to mountain bike in Lancashire.
Visiting Gisburn Forest is definitely one of the top things to do in the Ribble Valley though, so make sure this one is on your list. I'd really recommend spending the day with Phil too if you're looking for a local mountain biking expert.
Trial biking at Inch Perfect Trials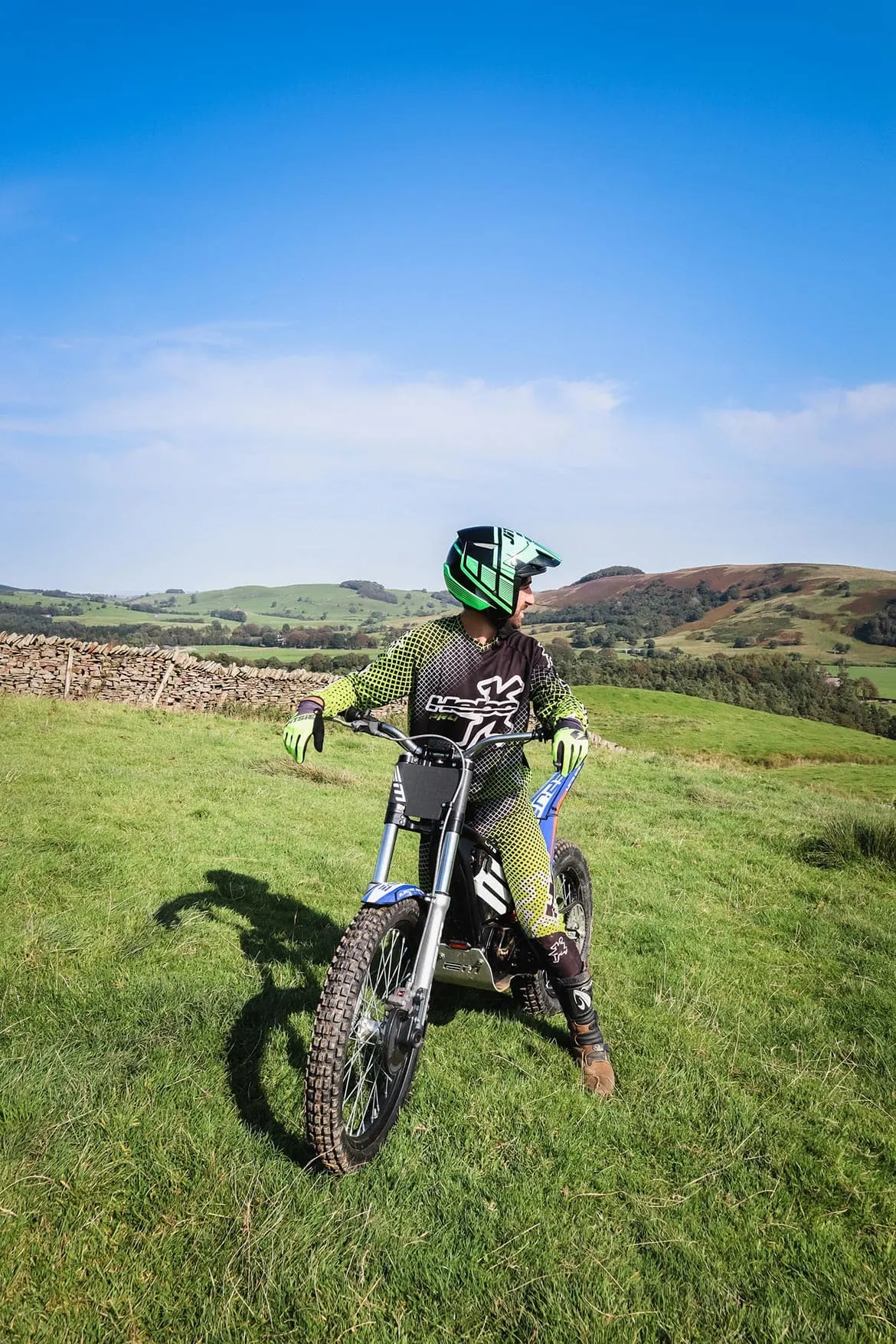 I'm going to say this now, I am a huge trial biking convert. I had never come across trial biking before until I spent a session with Inch Perfect Trials, but it was one of the best adventures I've done in a very long time. Honestly, this is an adrenaline rush like no other.
Trial biking is a bit like motorcross, but instead of racing around a track, you go cross-country. Proper trial biking is all about balance and machine control, and it's a lot harder than it looks.
Firstly, the bikes don't have seats. Instead, you stand up at all times to give you more control of the bike. This feels really weird at first, but I soon got the hang of it.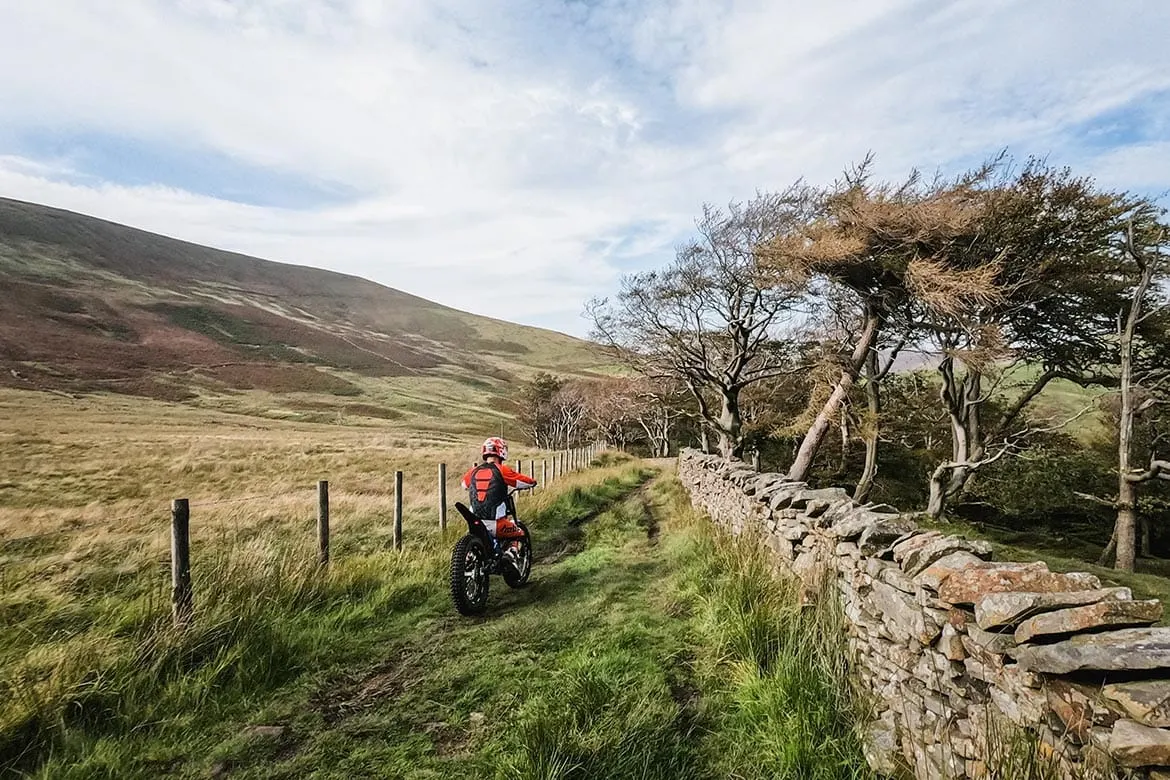 Thankfully I was with Aaron from Inch Perfect Trials who taught me everything I needed to know.
The first half of my session with Inch Perfect was all about learning what the bike can do. These things are so sensitive and fast – one slip of a finger can see you all of a sudden accelerating towards a ditch. That's why I had to master simple skills like doing a figure of 8 at low speed.
Once I managed to do that, it was onto the next skill – going up and down a very steep hill. I promise you it was a lot steeper than it looks in the video.
It took me a good three or four tries before I finally had to confidence to go down the hill and then hit full throttle to go back up the hill again. That feeling of elation though when I'd finally done it was incredible. I know it doesn't look like much, but it's always so rewarding trying something new like this for the first time.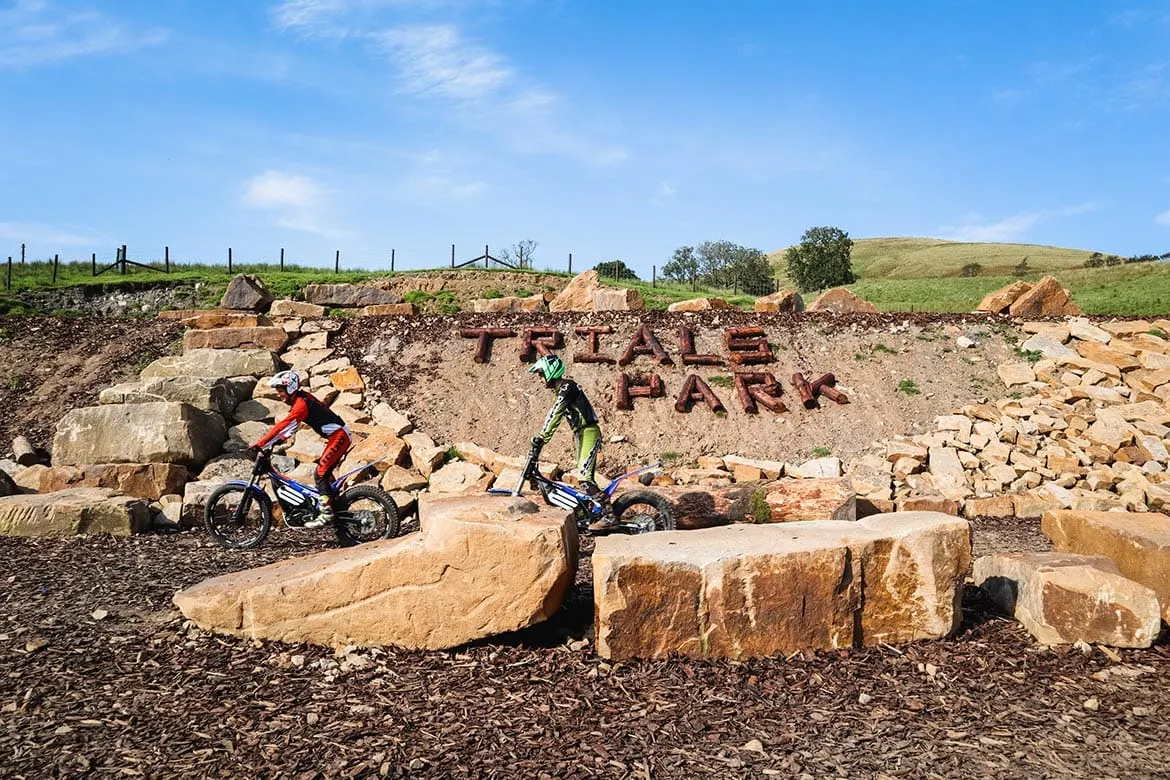 After our skills session, Aaron and I zoomed around the countryside a bit. Inch Perfect are in one of the most beautiful locations in the Ribble Valley. Even though I was really concentrating on being in control of the bike, I still couldn't believe how beautiful the views were.
Oh, and the best bit was the bikes were completely electric, so 100% environmentally friendly too. They weren't loud, they didn't spurt out any pollution – just good clean fun.
I know this is something very different, and that's the point. If you're looking at getting out of your comfort zone and trying a new sport, I can't recommend this activity enough.
Eat at Northcote Hotel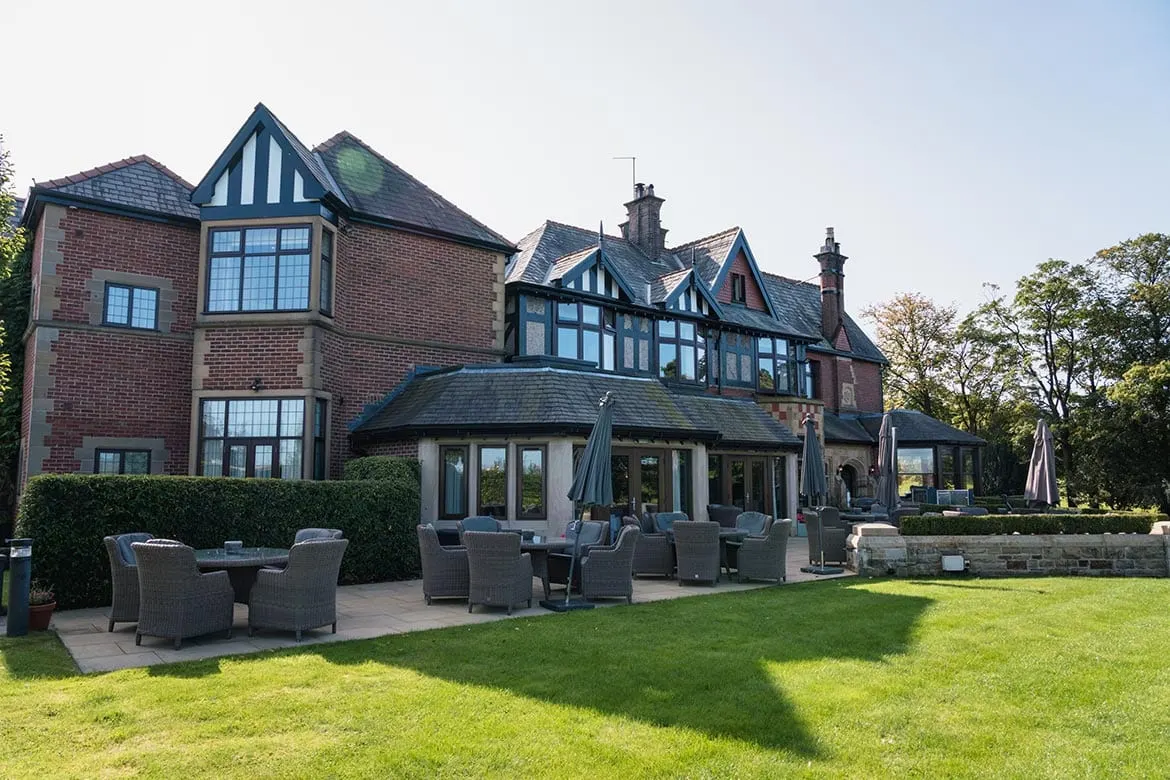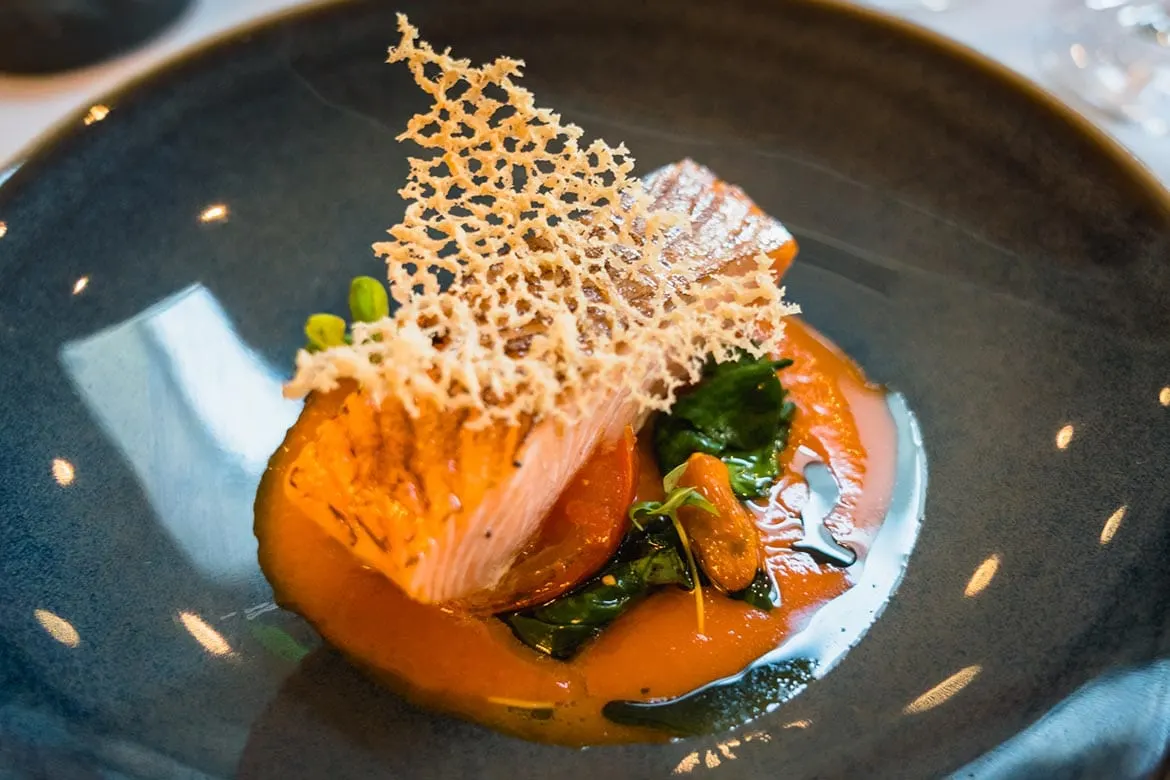 If you're looking for the best things to do in the Ribble Valley then make sure you eat at Northcote.
Northcote is a luxury hotel that celebrates everything great about Lancashire. It's also home to one of the best restaurants in the Ribble Valley which has been awarded a Michelin star.
With Lisa Goodwin Allen as Executive Chef (you'll recognise her from countless cooking programs on TV like the Great British Menu), the food here is divine. It won't be long before Lisa gets her second Michelin star.
Lisa uses all locally sourced ingredients and local suppliers in a very classic menu. We came here for lunch and it completely lived up to its reputation.
My main course of salmon with Isle of White heritage tomatoes and a sweet bouillabaisse was one of the best things I've eaten in such a long time. It really was the perfect dish for me.
Also, for lunch, starters were around £8 and mains around £18, so it's excellent value for money, especially considering it's a Michelin-starred restaurant.
Visit Clitheroe Castle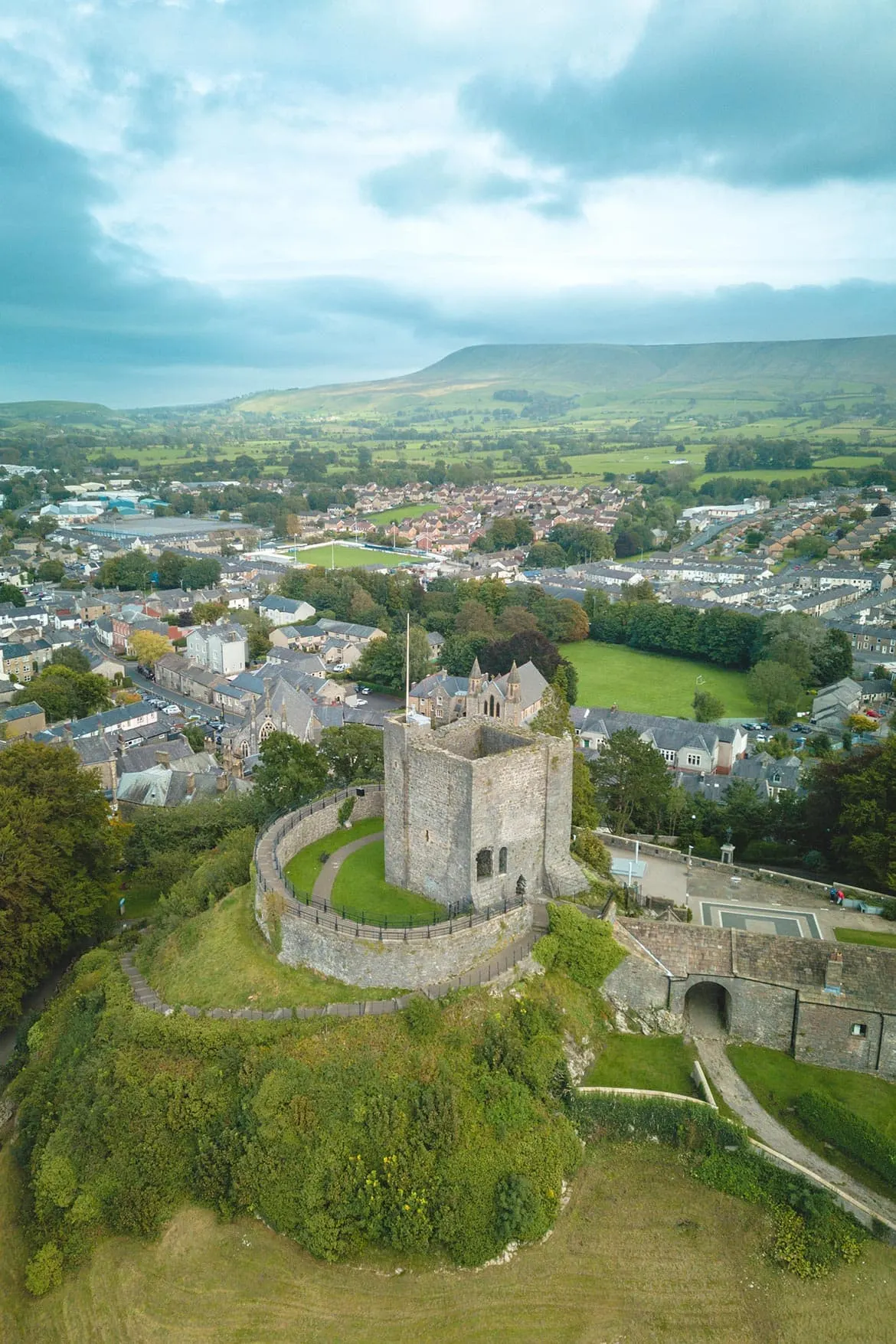 One of my favourite beauty spots in the whole Ribble Valley was at Clitheroe Castle.
Perched high on Castle Hill and overlooking the town, Clitheroe Castle has been standing here for over 800 years. The castle tells the story of Clitheroe – its surrounding area and the people living in it.
The castle's most prominent feature is the hole in its side which was made in 1649 as was ordered by the government. It was to be put in "such condition that in might neither be a charge to the Commonwealth to keep it, nor a danger to have it kept against them".
The views from the top of the castle are stunning though. You can even see Pendle Hill in the area too. If you're looking at what to do in the Ribble Valley then make sure this is on the list.
Sink a few beers at Bowland Brewery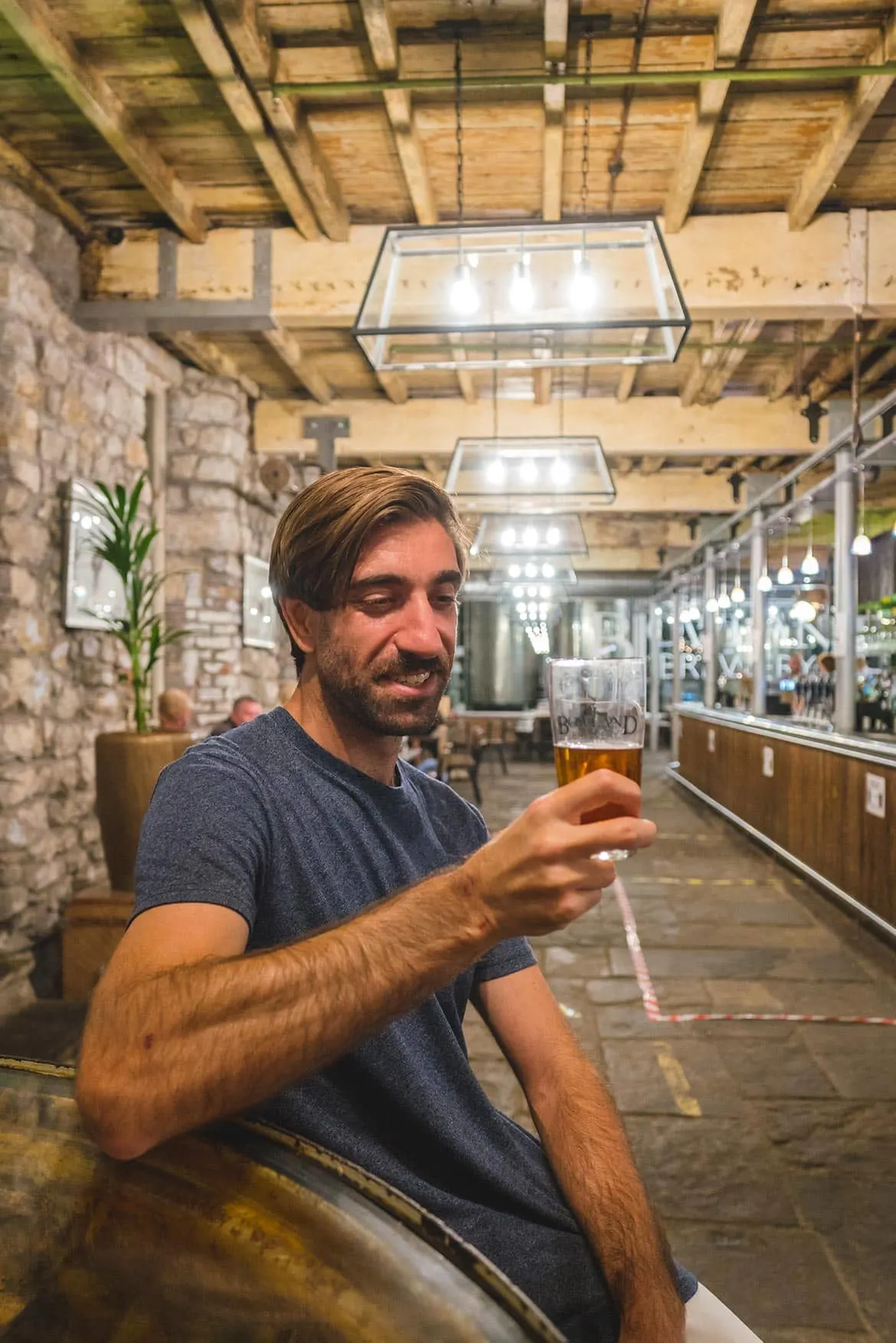 Whether you're staying in Clitheroe or passing through, I'd really recommending spending an evening at Holmes Mill.
This is a derelict industrial mill that's been converted into a good old-fashioned beer hall. It's also home to Bowland Brewery, an award-winning brewery that's located at the back of the beer hall.
Bowland Brewery started life as a microbrewery on the edge of the Forest of Bowland Area of Outstanding Natural Beauty, making a selection of beers named after the scenery and wildlife of this picturesque corner of Lancashire.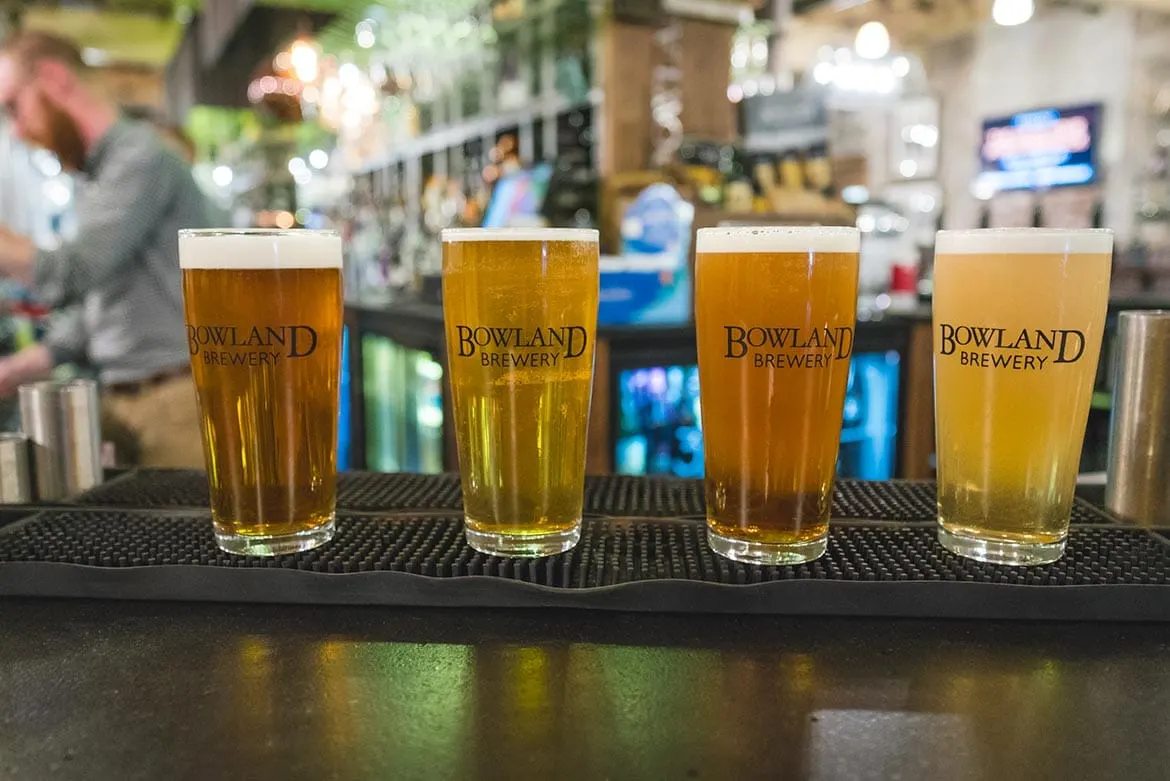 Beers like Hen Harrier, Boxer Blonde and Pheasant Plucker have quickly established themselves among local ale aficionados – earning the brewery a string of awards along the way too.
The best way of learning all about the beers here is going on a tour of the brewery. Alternatively, you can make your way through all the beers they have on tap. They usually have 42 different cask ales on tap, so you might be in for a long night.
If you're struggling to choose one, I'd recommend the Deer Stalker. This is a dark, rich stout full of dark fruit flavours and balanced with a chocolatey malty finish. Absolutely delicious.
Walk around Whitewell and dine at the Inn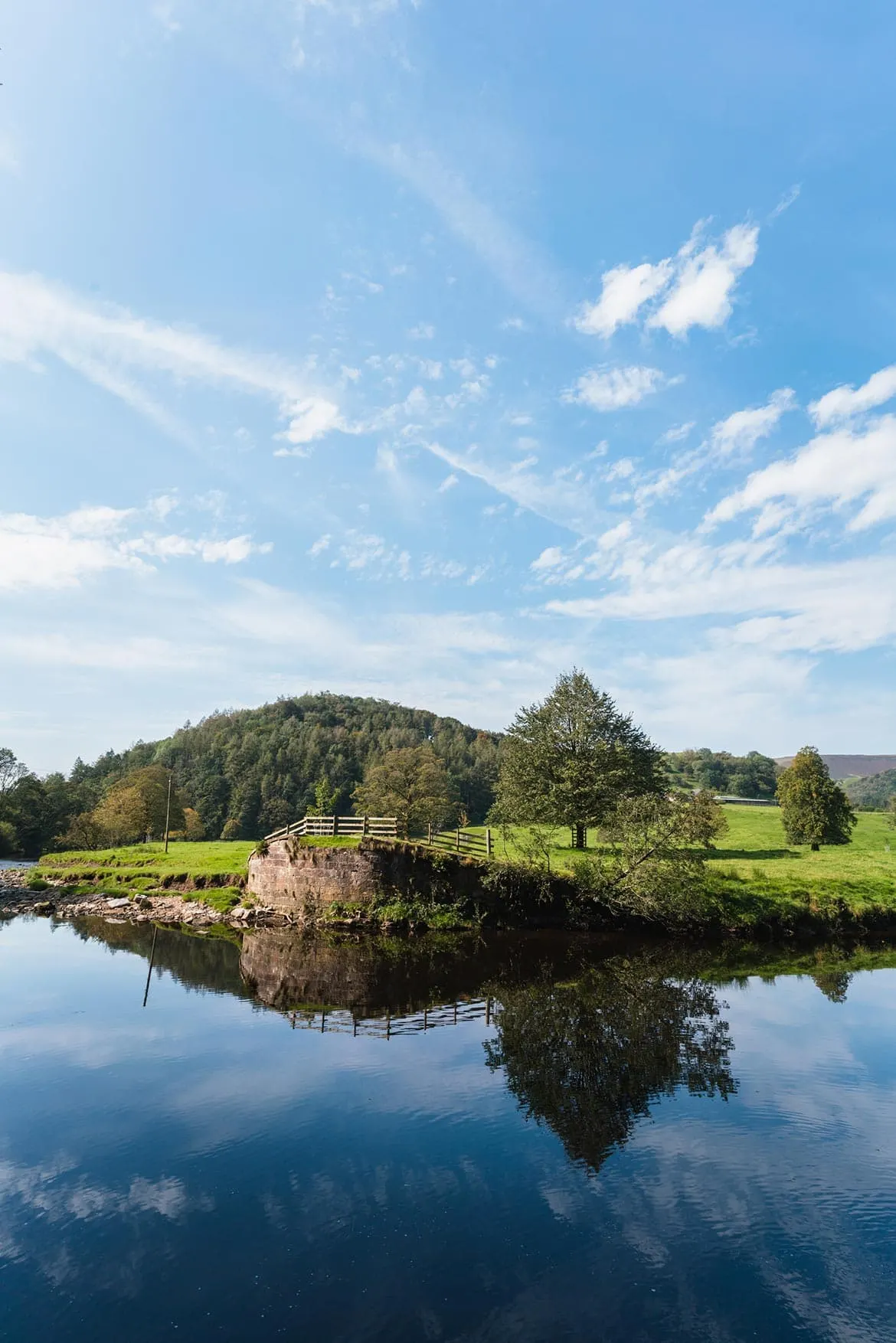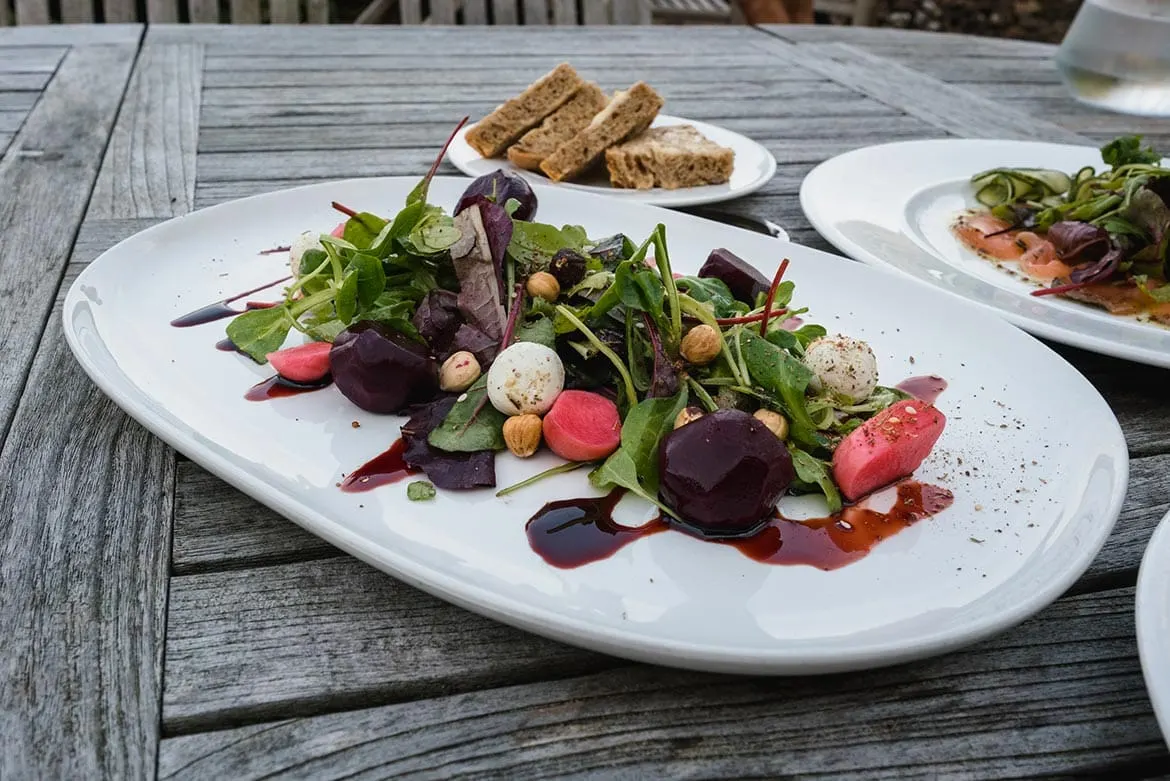 One of the most famous Ribble Valley walks is in Whitewell. This is a 3-mile circular walk that ends up in an amazing pub with the most beautiful views overlooking the countryside.
Starting at The Inn at Whitewell, this walk takes you over some stepping stones across the river, through the fields and up to the road before looping back again. It's a really easy and sedate walk that'll take you about an hour. It's also the perfect way of building up an appetite at the pub too.
Once you get back to The Inn, try and get a table outside on the terrace. The views from here are stunning, perfectly matching the delicious food.
The Inn at Whitewell is one of the best pubs in the Ribble Valley. They've even scooped up the award for 'Best Pub of the Year 2020' by the Good Pub Guide. It really is this good!
Stand on Dunsop Bridge, the middle of Great Britain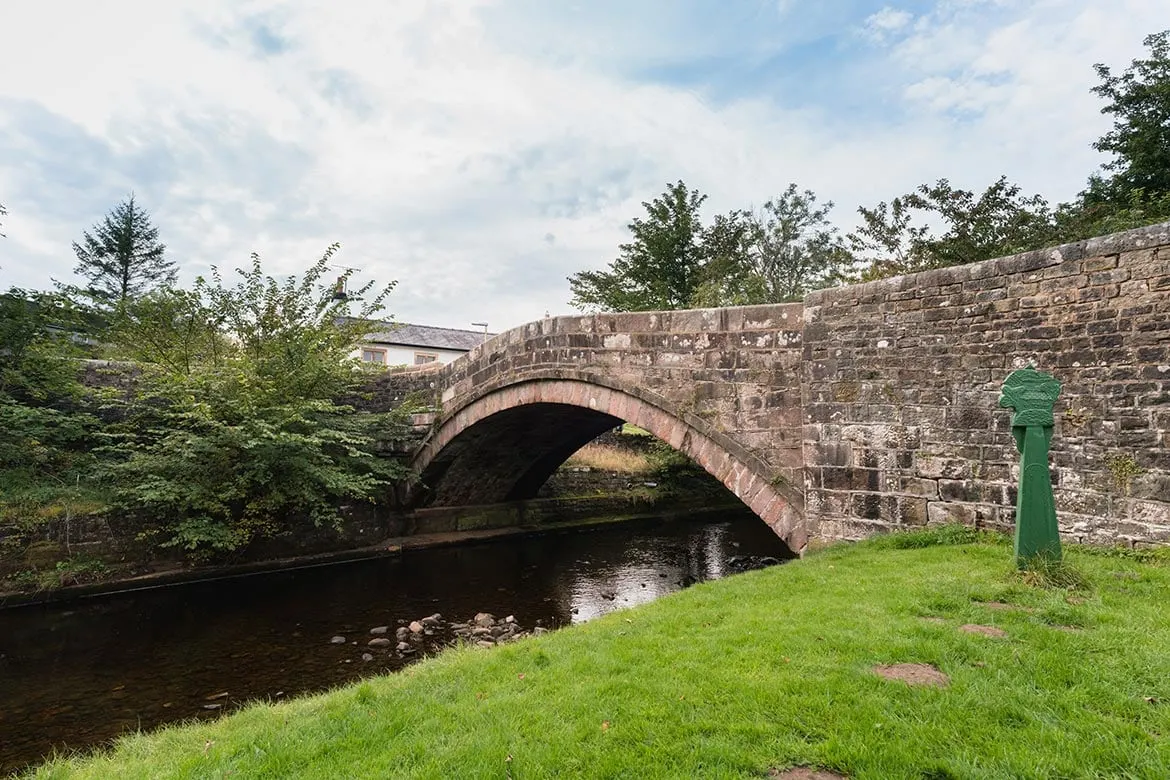 You know about Lands' End and John o' Groats, right? They're the two places furthest south and furthest north in the UK. What about Dunsop Bridge? No, never heard of that one?
Well, Dunsop Bridge has the honour of being the exact geographical centre of Great Britain. Yes yes yes, you can even visit the middle of Great Britain on your trip to the Ribble Valley.
When you look at Dunsop Bridge on Google Maps, it just says 'Great Britain'. It really confused me at first until I found out why! It's quite a cool accolade to have.
Another cool fact about Dunsop Bridge is that the Queen owns the village (as Duchy of Lancaster) and has visited many times. In her official autobiography, the Queen has even expressed her wish to retire to this area of England.
While you're in Dunsop Bridge, make sure you visit Puddleducks by the Post Office. This is a great place to stop off for a coffee and a slice of cake. You can also buy duck food from here and feed the ducks too – something for the little ones to do.
Go hiking at Bowland Knotts in the Ribble Valley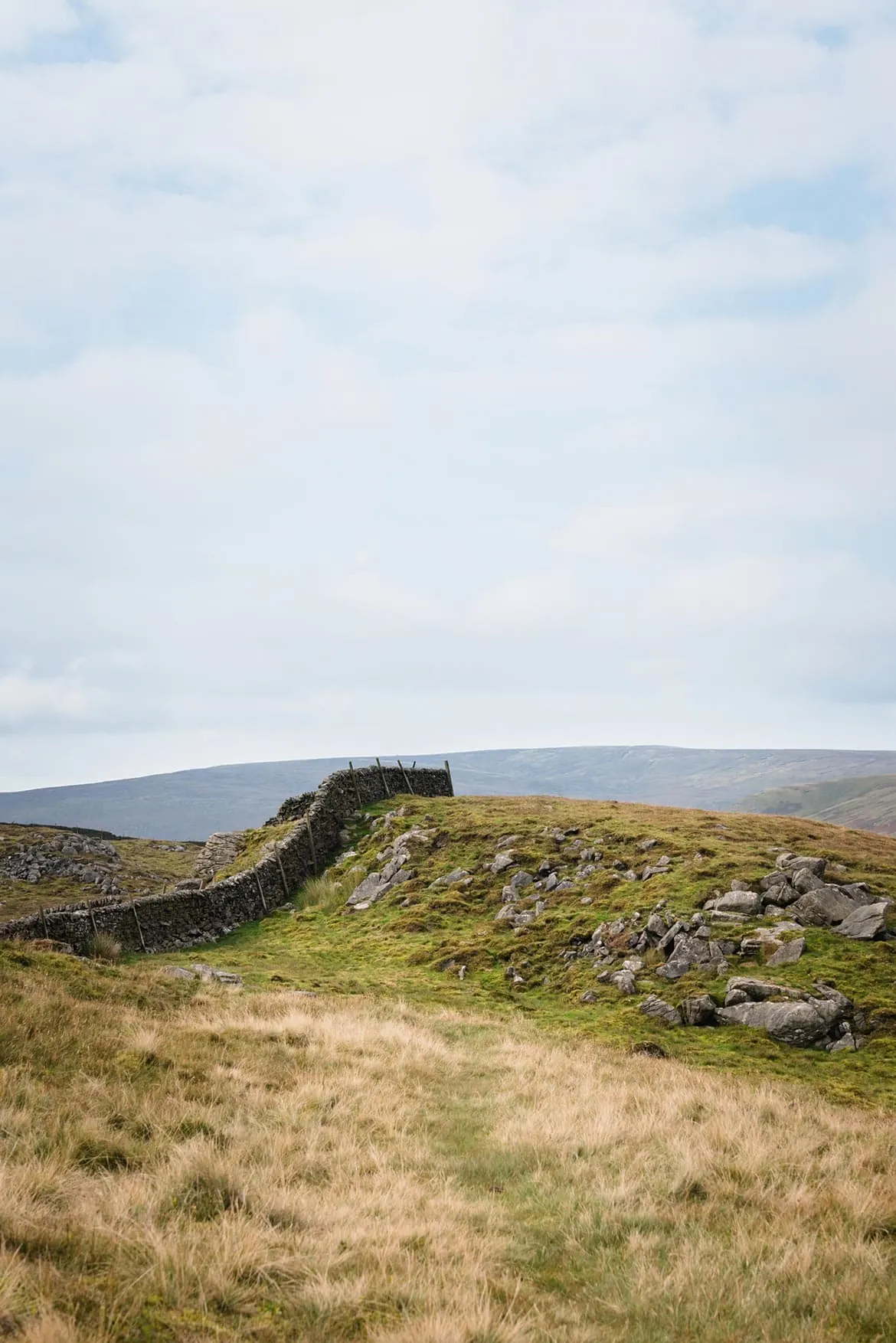 Another amazing place to go hiking in the Ribble Valley is Bowland Knotts. If you're looking for those classic moorland views, you'll find them here.
Bowland Knotts is a rocky outcrop next to Keasden Road at the north-east of the Forest of Bowland. One of the best walks here is park at the Cross of Greek bridge. You can park your car here and walk all the way up to the trig point. This will take you a good couple of hours.
Alternatively, you can drive the road all the way to the top of Bowland Knotts and choose a few paths at the top. There's a cattlegrid at the top and you can park to the side. There's a path that takes you to the trig point and keeps following the old stone walls. Just keep walking and take in the spectacular views across Lancashire.
Walk across Cromwell Bridge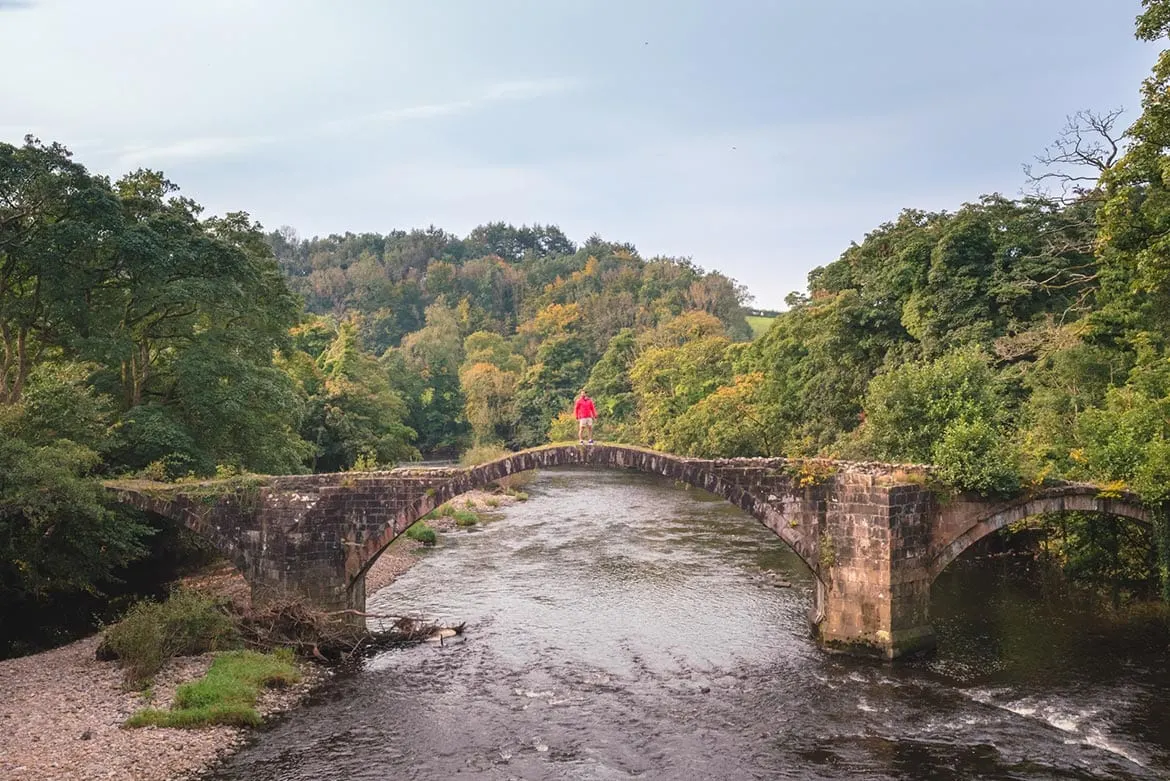 Located near Stonyhurst and Mitton Green, you'll find Cromwell's Bridge. This is a really cute spot well worth stopping off at while driving around the Ribble Valley.
The Forest of Bowland is an 'Area of Outstanding Natural Beauty', and this spot really highlights that once again. The old bridge straddles the River Hodder and you can't help but wonder how it's still standing.
The bridge was named after Oliver Cromwell (obviously). He marched his army of 8,000-strong over the bridge on the way to Walton-le-Dale to fight in the Battle of Preston in 1648.
In a letter to the Speaker of the House of Commons, Cromwell states that they held a council of war at the bridge. This is living history right here! Or an amazing photo spot…
Visit Mrs Dowsons Farm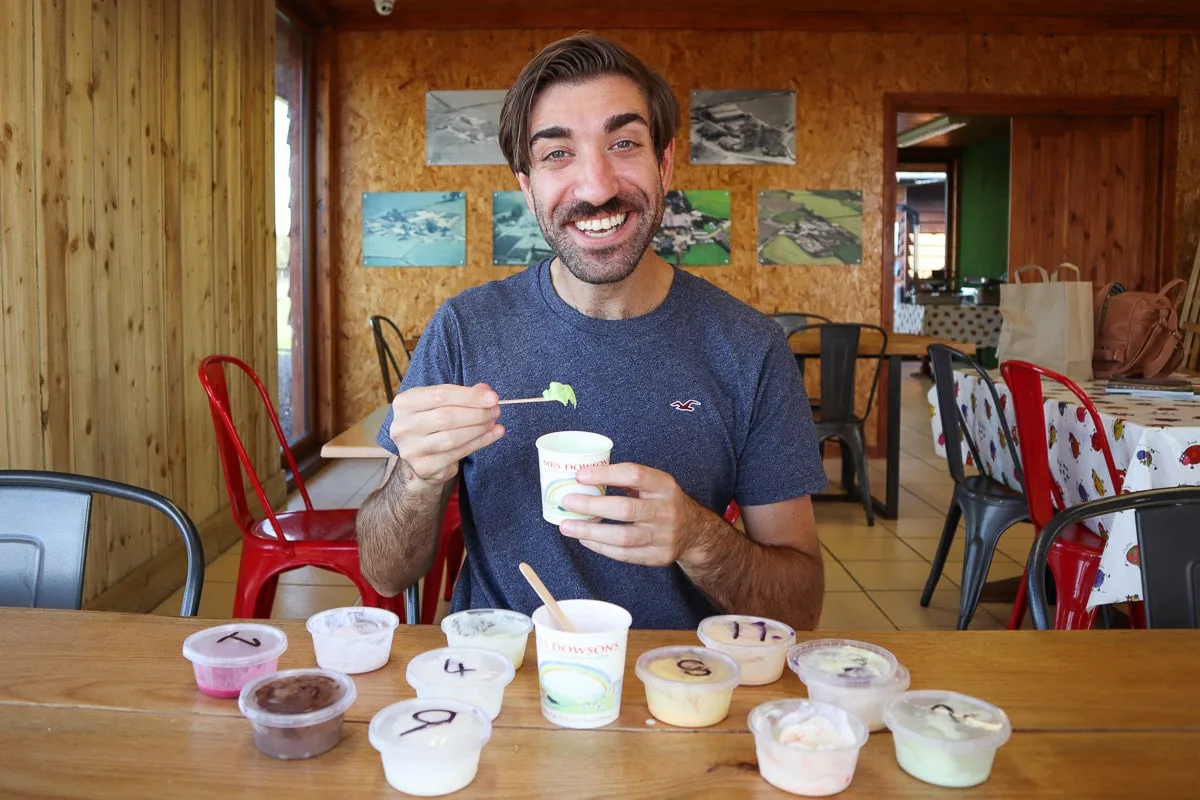 Mrs Dowsons Farm is a Dr Jekyll and Mr Hyde type of place. Throughout most of the year it's a really lovely family farm perfect for the kids. It's one of those places where you can get up close and personal to all the animals with feeding the horses and playing around with the goats. They even have a few exotic animals like emus that the kids won't have seen before.
Mrs Dowsons also makes some of the best ice cream around. Using milk from the cows, everything is 100% natural and organic. I worked my way through a fair few ice creams here and they are absolutely delicious. There are some really fun flavours like mince pie and pear drops.
Now, this is the Dr Jekyll bit. Mrs Dowsons Farm is also home to Scare Kingdom Scream Park. Weirdly enough, during Halloween season, this is one of the top fright-nights in the UK. And we're not talking about something you'd find at Margate Pier, but a full-on production with over 50 actors. Apparently it's an absolutely terrifying experience.
I went for the ice cream, but either way Mrs Dowsons is one of the best places to visit in the Ribble Valley.
Try the tasting menu at Freemasons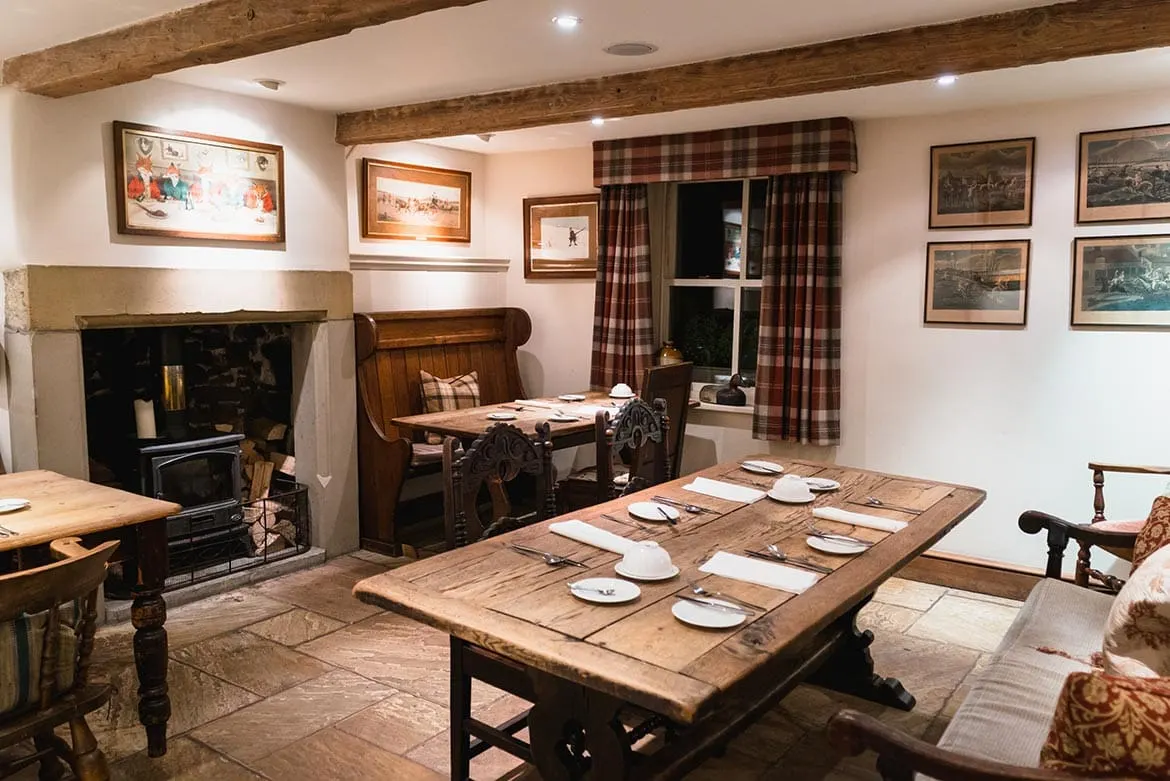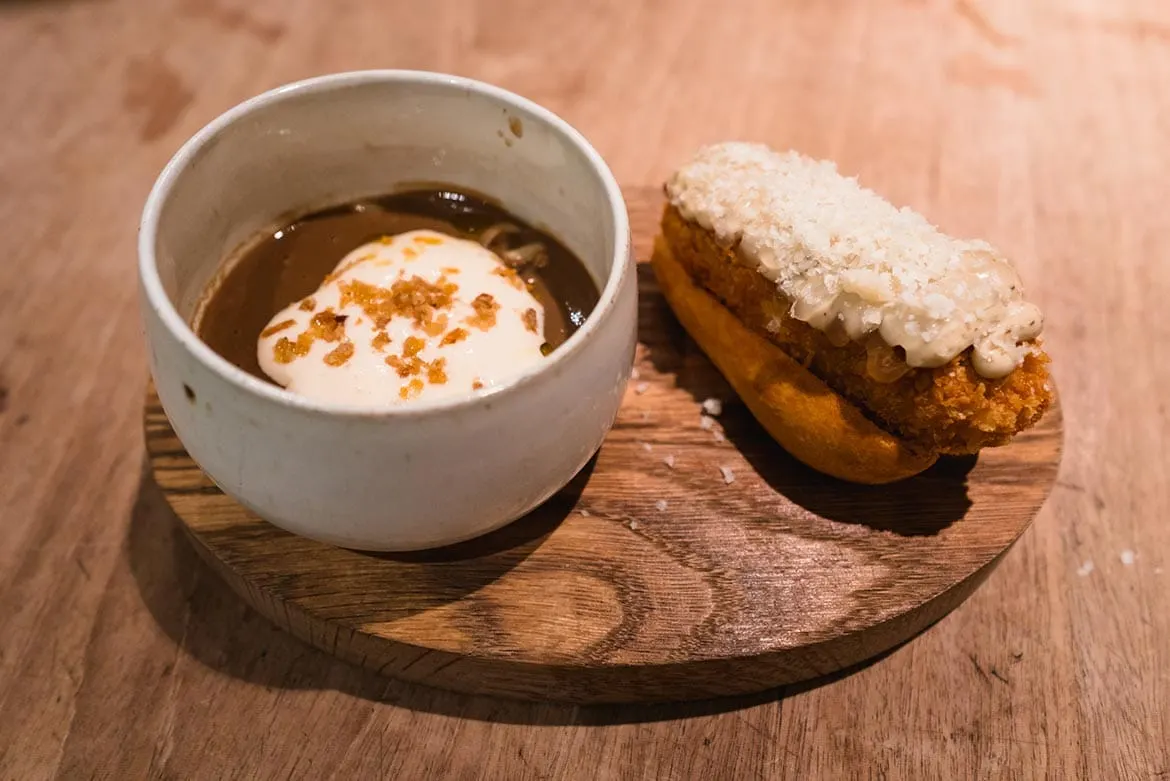 Another restaurant I have to mention is the Freemasons at Wiswell. This looks like an inauspicious country pub in the sleepy village of Wiswell, but it's home to one of the best restaurants in the area.
It's an amazing gastronomic experience in a place that feels like you're lazing beside the fire at home. The Freemasons has also picked up a fair few awards too. It's a 3 AA rosette restaurant and it's been featured in the top 100 restaurants in the UK too. Basically, the food is bloody good here.
We had the 5-course tasting menu which was delightful. The first course was a rich velvety woodland mushroom soup. Alongside this was a truffled cheese hot dog that was delectable, delicious and definitely naughty. I was in heaven from that point onwards.
The tasting menu is £60 per person but they have an a la carte menu too. Either way, I'd really recommend dining here.
Stay in a yurt at The Red Pump Inn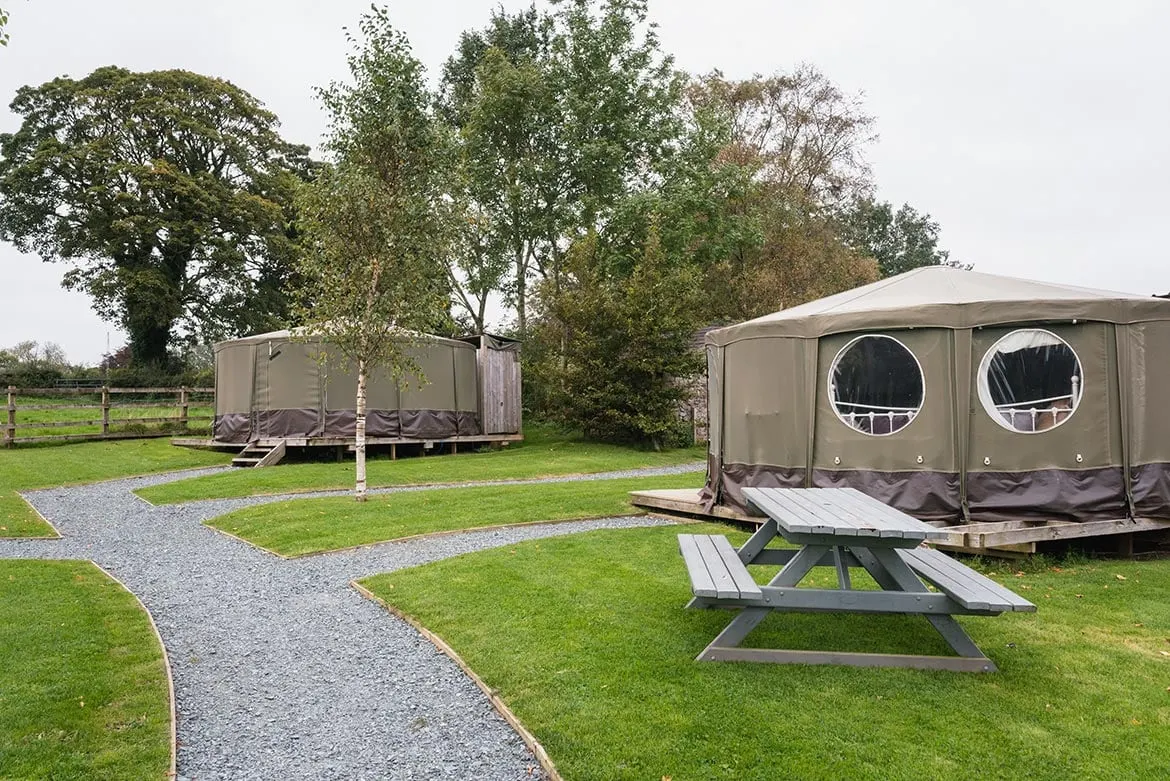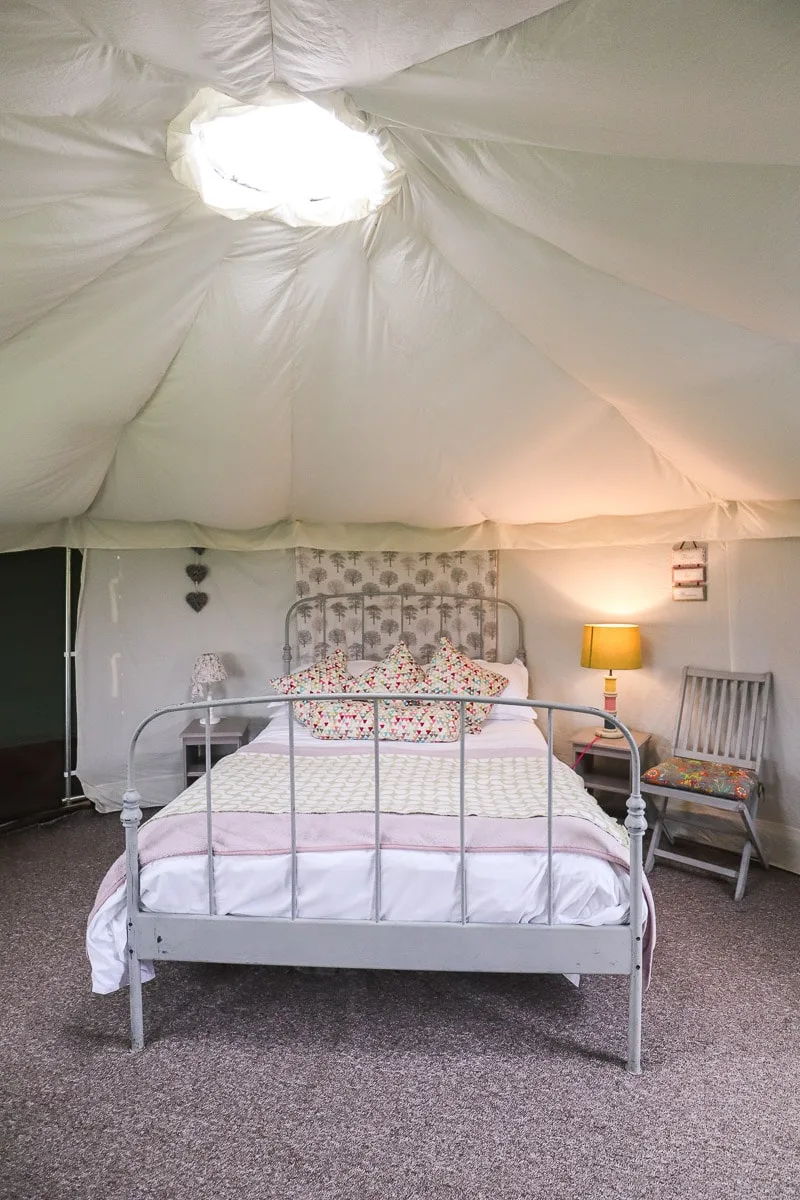 Who likes quirky places to stay in the UK? Then you'll love The Red Pump Inn! This is a traditional pub but the secret lies out in the back garden where they've got 4 beautiful yurts to sleep in.
Each yurt is equipped with its own en-suite bathroom and hot shower. I'm not going to lie, I was quite surprised there was a hot shower because often there isn't in yurts, so this was a lovely wake up call in the morning.
The yurts are really warm and cosy inside. They also feel very private too which is a plus.
Also, The Red Pump Inn is one of the best steakhouses in the Ribble Valley. The steaks here are incredible, each one cooked perfectly to order.
After Chloe and I had dinner, we worked our way through some of the guest ales before walking 20 metres back to our yurt. Such an amazing pub experience!
Ribble Valley Hotels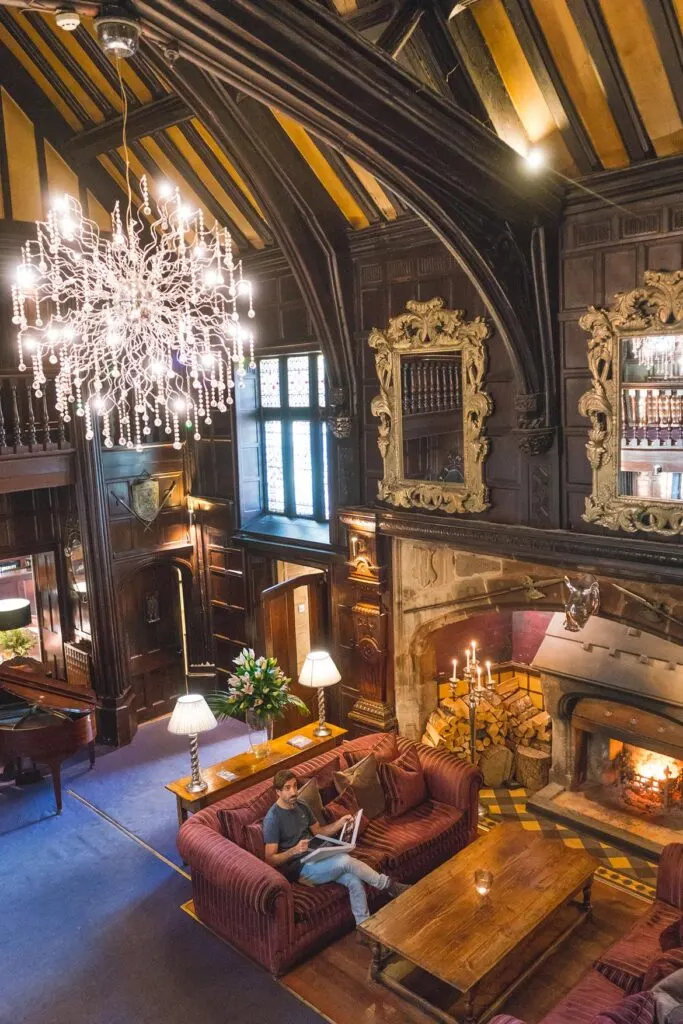 Mitton Hall Hotel – We stayed for one night at Mitton Hall Hotel while we were in Lancashire and it is absolutely gorgeous. Located just on the outskirts of Clitheroe, this place is set in a 15th century manor house. I loved the roaring open fire, and there's a lovely terrace out the back for drinks and dinner.
Each stunning room at Mitton Hall Hotel features a flat-screen TV, a spacious en-suite bathroom with a bath and a shower, and tea/coffee making facilities.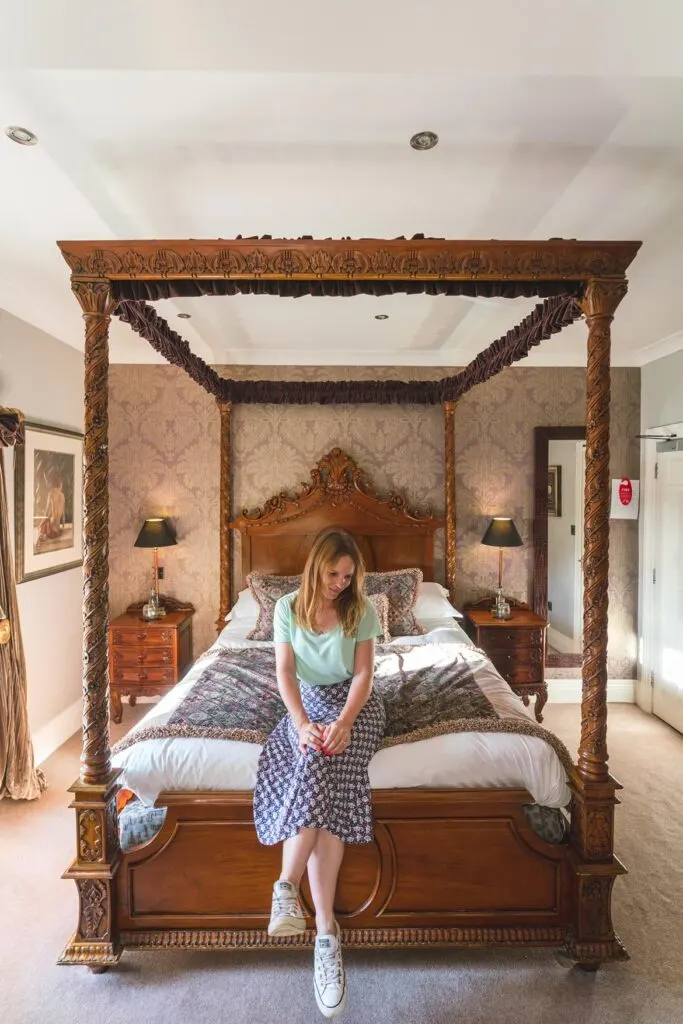 Calf's Head Hotel – If you're looking for a place to stay in Clitheroe, then the Calf's Head Hotel is a great option. The building is traditional stone and there's a lovely view of Pendle Hill from the garden in the back. I'd say this is one of the best places to base yourself while doing the top things to do near Clitheroe.
Mercure Blackburn Dunkenhalgh Hotel & Spa – This is actually one of the largest hotels in Lancashire. Set in 17 acres of land, this is a 700-year-old country manor just on the outskirts of Blackburn. The Spa Naturel & Leisure centre offers a heated swimming pool. There is also a fully equipped gymnasium, beauty and massage treatments.
---
This post was in association with Visit Ribble Valley promoting all the best things to do there. As always, views are entirely my own and without bias.
Are you planning a trip to the Ribble Valley? Let me know if you have any questions in the comments below and I'll get back to you!
Like this post? Then make sure you Pin it for the future!