Do you only have one day in Brussels? From seeing the Manneken Pis to visiting the Grand Place, these are the best things to do in Brussels in a day!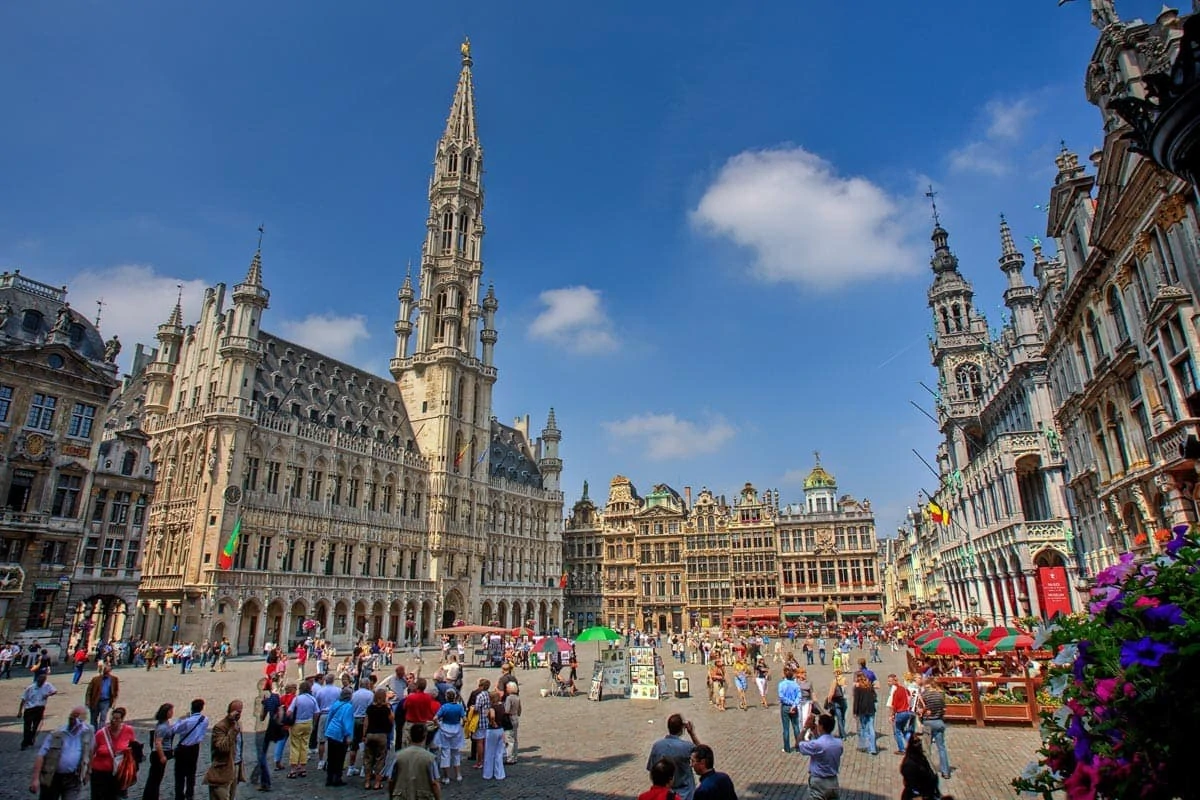 When I told people I was visiting Brussels, everyone said the same thing to me: "Oh, I've been to Brussels! It's really surprising how much you can see and do there in such a short space of time!"
What I love about Brussels is its size. Even though it's the capital of Belgium, it's really small and easy to get around. That means you can cover so much of the city with just one day in Brussels. Honestly, I did all of the below in just 24 hours!
Don't believe me? Then check out the best things to do in Brussels in a day. And yes, this really was all in a day!
Love your food? Well Brussels has chocolates, chips, mussels and waffles, all washed down with some world-class beers. You can discover what to eat in Brussels in this blog post, but the food is surprisingly delicious.
How about museums? Well there's the fine art museum, the modern art museum, the natural history, museum or one of my favourites, the Belgian comic strip museum. These are all well worth visiting.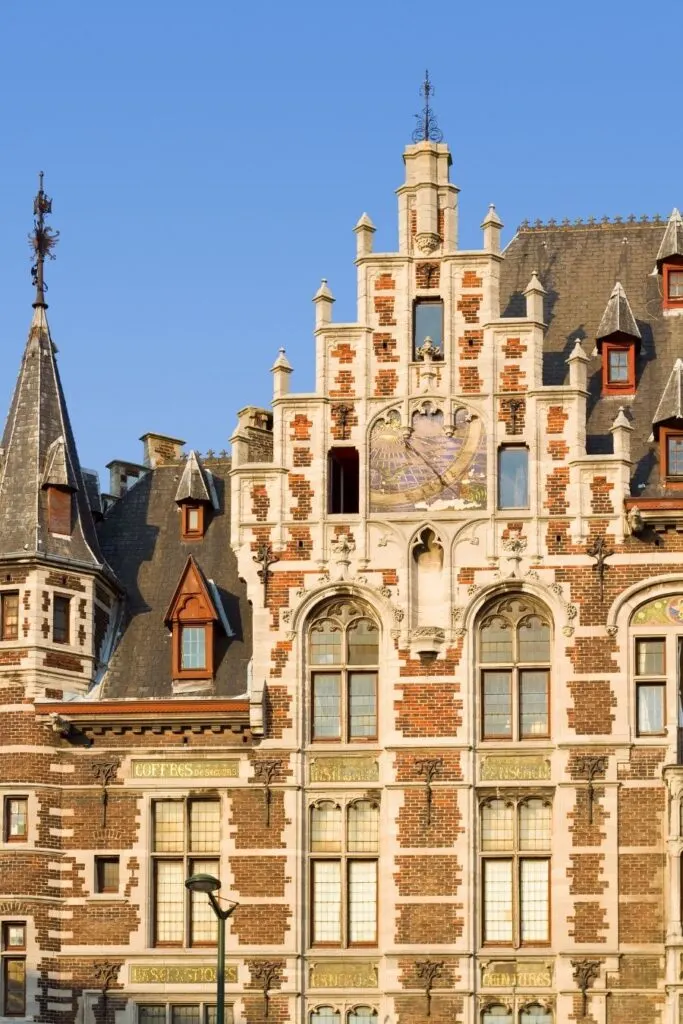 And what about the architecture? Brussels has that covered too with the Basilica of the Sacred Heart, the Grand Place, and of course Atomium, the futuristic structure built in the shape of an atom.
So, whether you're in Brussels for just 24 hours or a little bit longer, here are some of my favourite things to do in the city. It's amazing what you can see and do with just 1 day in Brussels!
---
Things to do in Brussels in a Day
Take in the views from Mont des Arts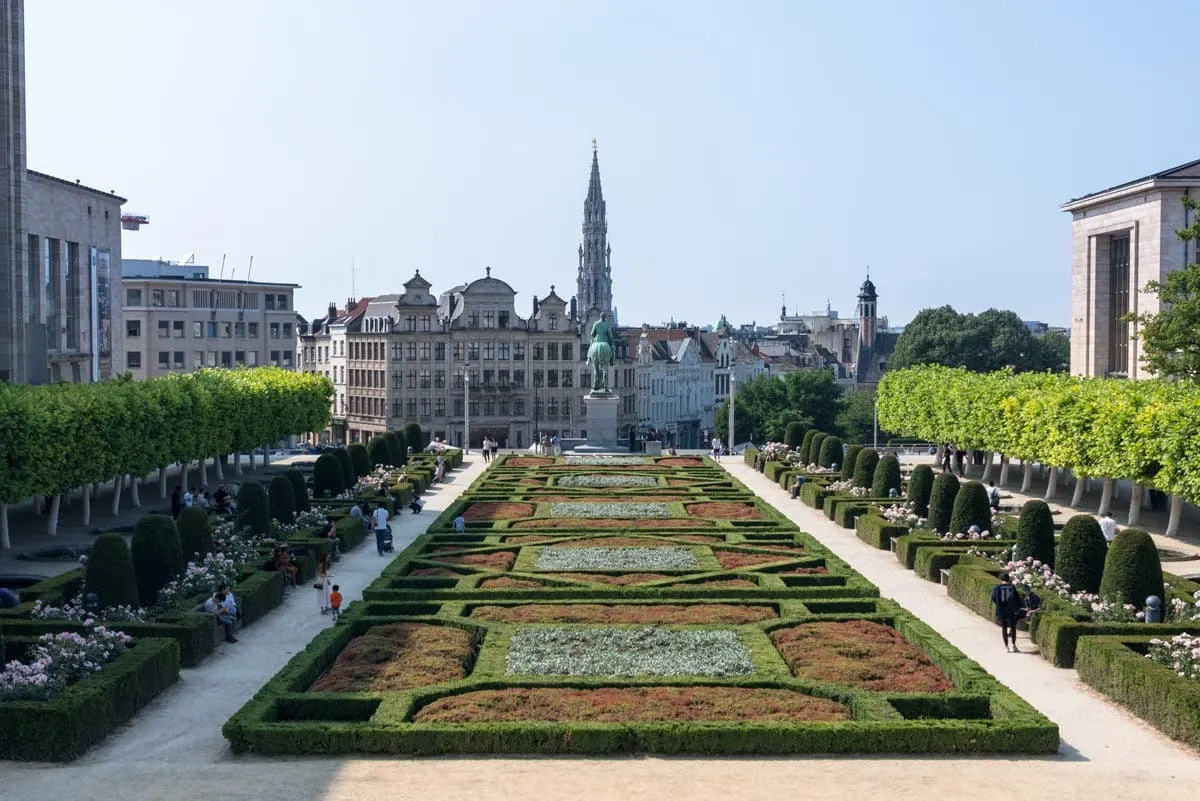 If you're looking for one of the best viewpoints in Brussels then head straight for Mont des Arts.
A two-minute walk from the central station, Mont des Arts is a park with some beautifully kept gardens and fountains on the lower levels.
If you climb to the top though, you'll get an incredible view of both the gardens and the city below. For me, this really is one of my favourite photo spots and I kept on coming back here.
Also, just on the edges of the gardens are some benches. This is a great spot for lunch if you don't fancy eating in a restaurant. Just pick up a sandwich from a nearby cafe and watch the world pass you by.
Stand in the shadows of the Grand Place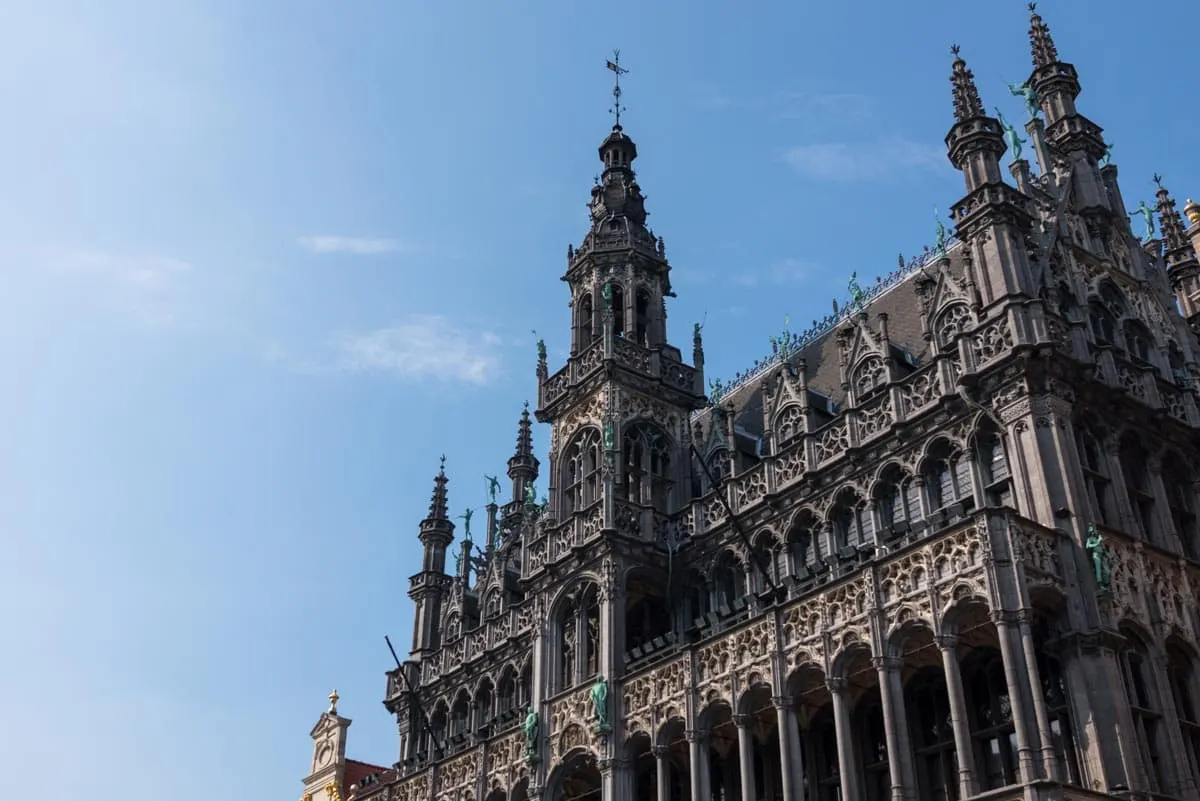 If you've only got a day in Brussels, chances are you'll walk past the Grand Place a number of times.
The Grand Place is the central square in Brussels and it is always packed with tourists. If you're meeting someone, it's usually here.
In terms of ornate architecture, it doesn't get much better than this. The details on the City Hall are so intricate, and the brightly coloured guilded houses show off the aesthetic wealth too.
The Grand Place was originally built in the 14th century as a sign of the city's growing importance in Europe. Also, handy fact, but the Grand Place became a UNESCO World Heritage Site in 1998 – just another reason to go there.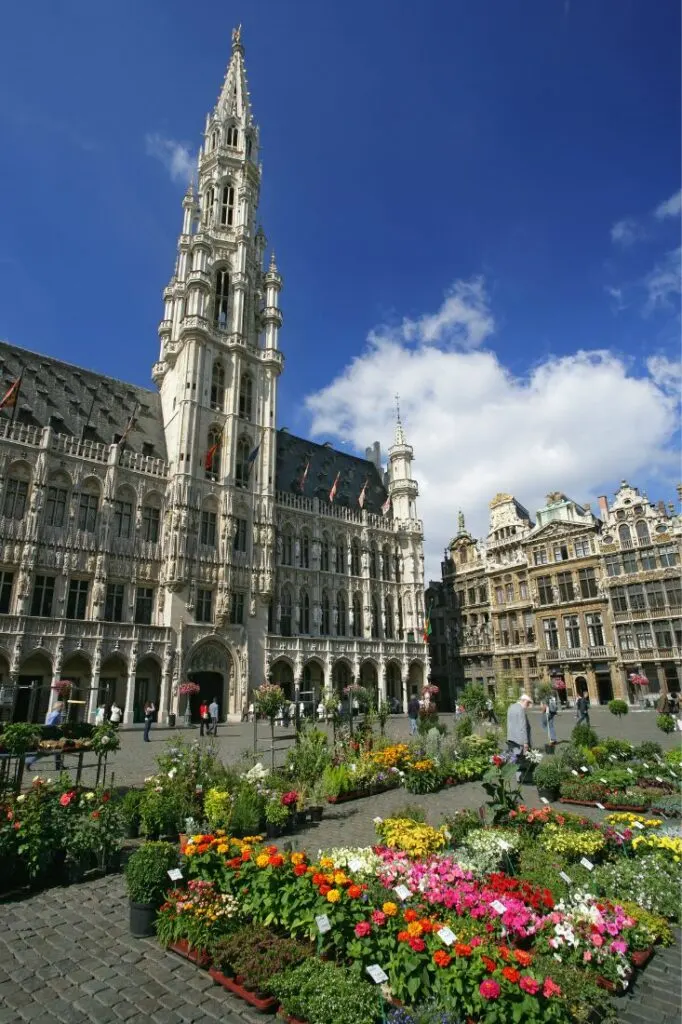 Wandering around taking in the beauty of the Grand Place really is one of the best things to do in Brussels. It's pretty much guaranteed you'll walk through here a number of times but don't forget to stop and really take it in!
If you're short of time, one of the best ways of seeing the city is on a quick guided tour of Brussels. These usually last up to 3 hours and take you to all the top sites in the city. Also, some of them include lunch too, so it's a great way of exploring all Brussels has to offer.
See whether the Manneken Pis is wearing any clothes or not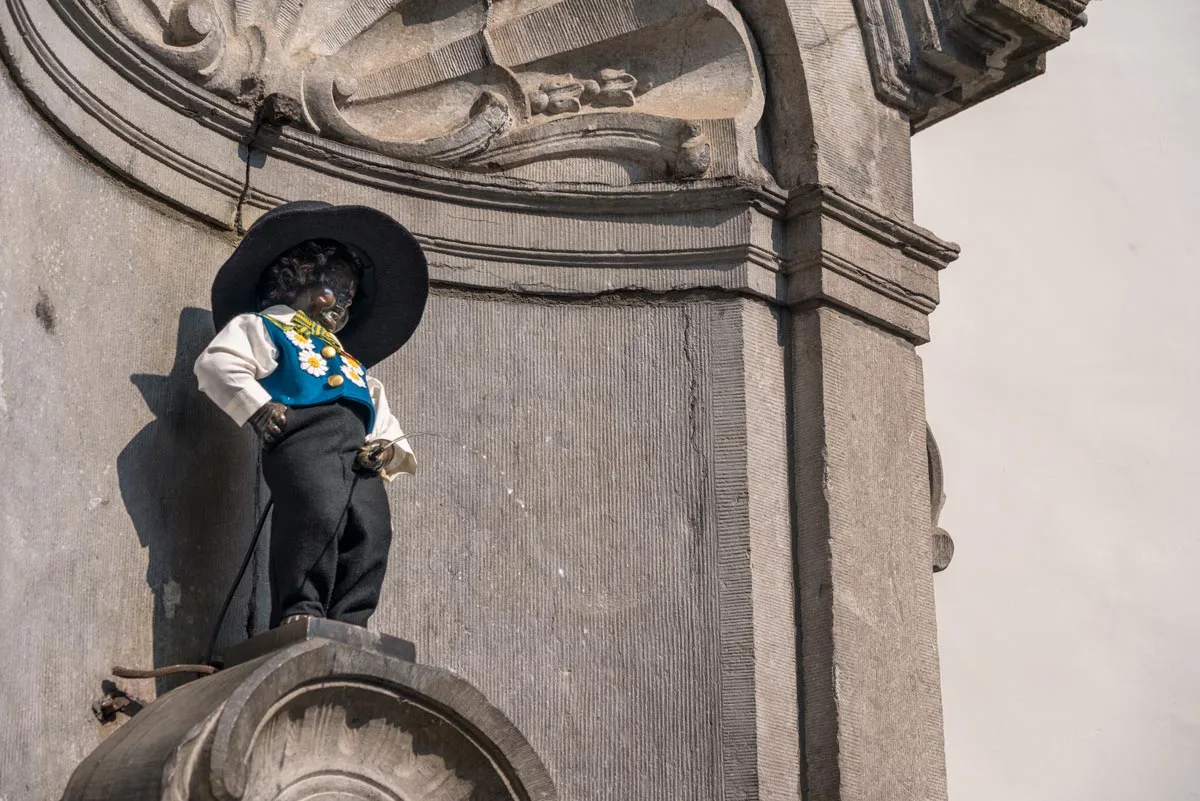 Just around the corner from the Grand Placeis the famous statue of le Manneken Pis (an easy translation that).
This was erected in 1618 and has since been an emblem of the rebellious spirit of the city.
The best thing about the Manneken Pis is his little costumes. This guy has a wardrobe of over 900 suits and often he'll wear a different outfit to suit the occasion. Come back each day and see what suit he's wearing.
Apparently at Christmas they dress him up in a Santa outfit which is pretty damn cute. But be warned, this is such a popular spot in the city so expect a lot of crowds. I always recommend going early or late in the day to have the Manneken Pis to yourself.
If you've only got 1 day in Brussels, then make sure this little guy is towards the top of your places to visit.
Grab a cone of chips or a delicious waffle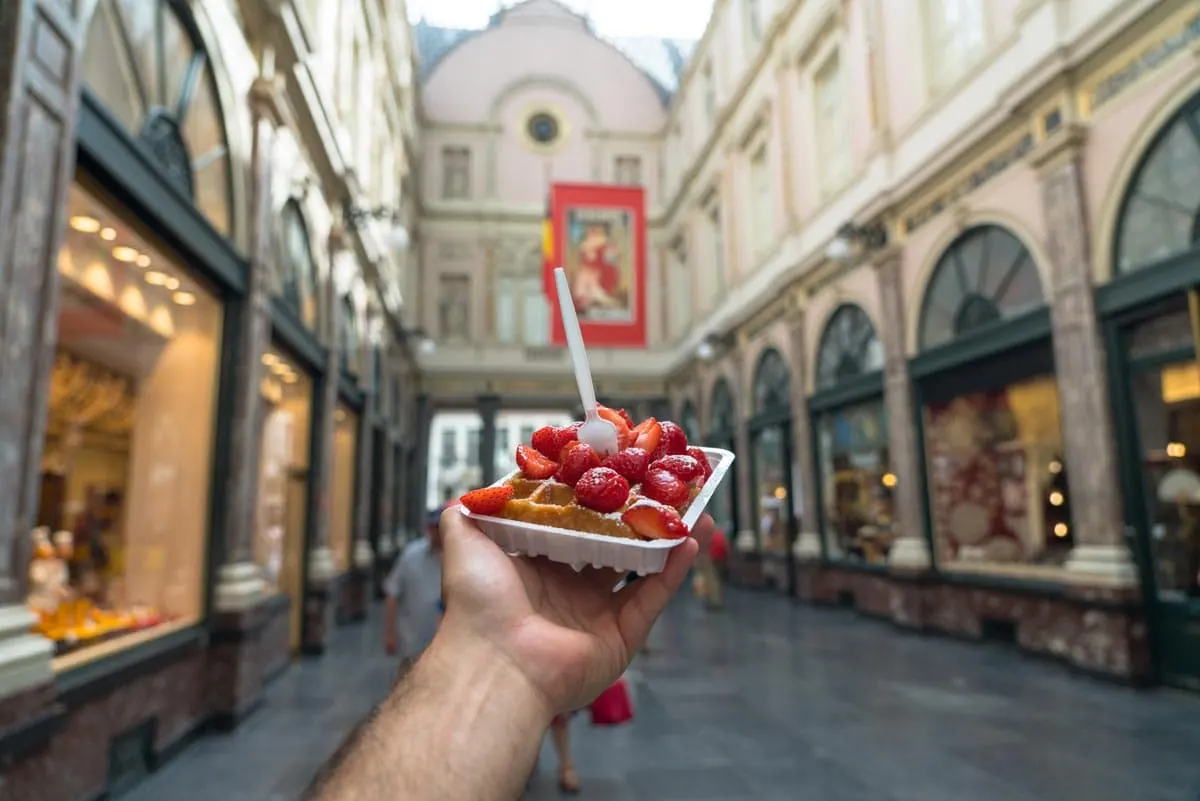 If you're looking for a street snack to keep you going then grab a cone of chips or a waffle.
Both are absolutely everywhere in shops and vans selling them all over the city. Needless to say but both are absolutely delicious.
Whenever I'm in Brussels I always go out of my way to pick up a waffle with strawberries and powdered sugar – no one does them better.
Usually it costs around €3 for a cone of chips. Things like cheese and other toppings are extra. A waffle will set you back €4, but it's usually around €5 for chocolate and strawberries.
Alternatively, you can go on a chocolate workshop in Brussels learning all about how chocolate is made and why the Belgians are so damn good at it.
Stare and wonder at the Atomium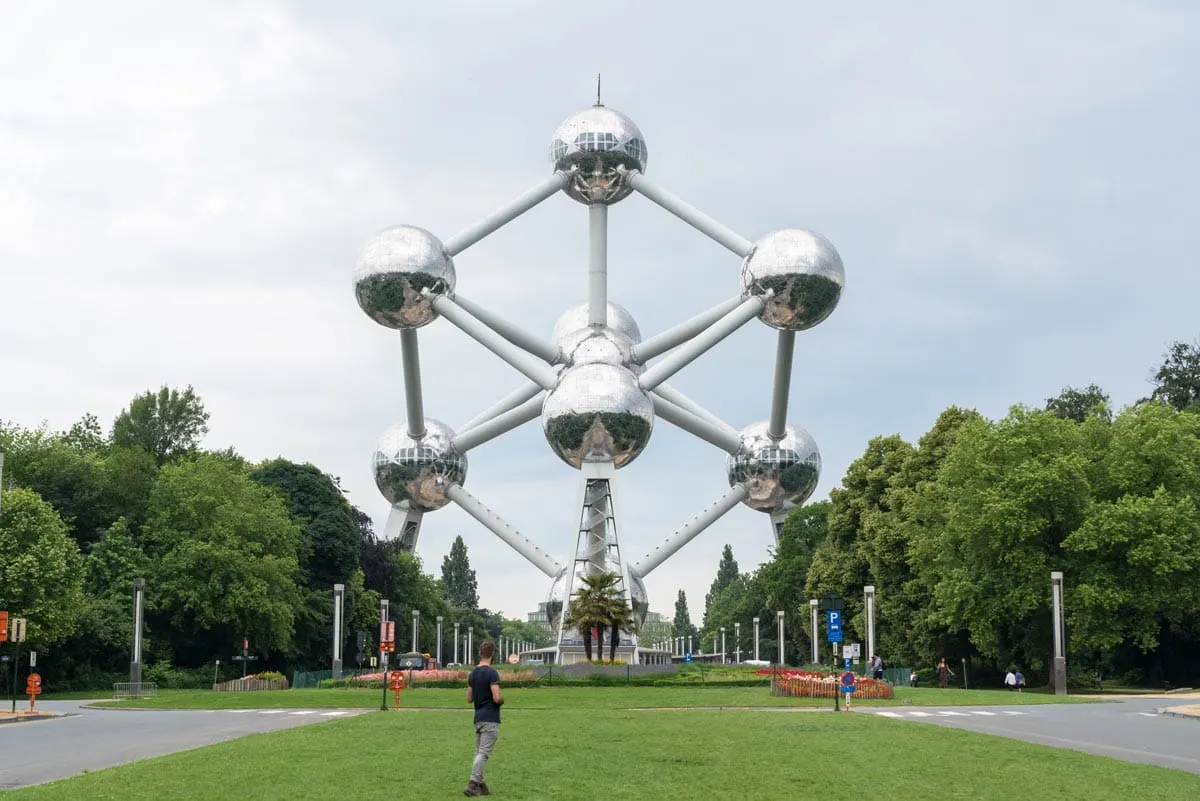 This is hands down my favourite place in Brussels.
It's hard to believe looking at it, but this futuristic building was built in 1958 for the Brussels World Fair. The architect must've had one crazy mind.
Today, the Atomium is a museum to the World Fair but at the very top is a viewing deck where you can get some 360 views. Again, this is one of the best views in the city.
If you're wondering what the shape is about, the nine spheres represent an iron crystal magnified 165 billion times. As I said, crazy. There's also a restaurant at the very top if you like lunch with a view! If you've only got one day in Brussels then definitely add this to your list.
Tickets to Atomium cost £14 (US$18) and includes skipping the queue which is a massive benefit on busy weekends. It also includes admission to the temporary and permanent exhibitions.
If you can, make sure this is near the top of your places to visit in Brussels in one day.
Journey across all of Europe at Mini-Europe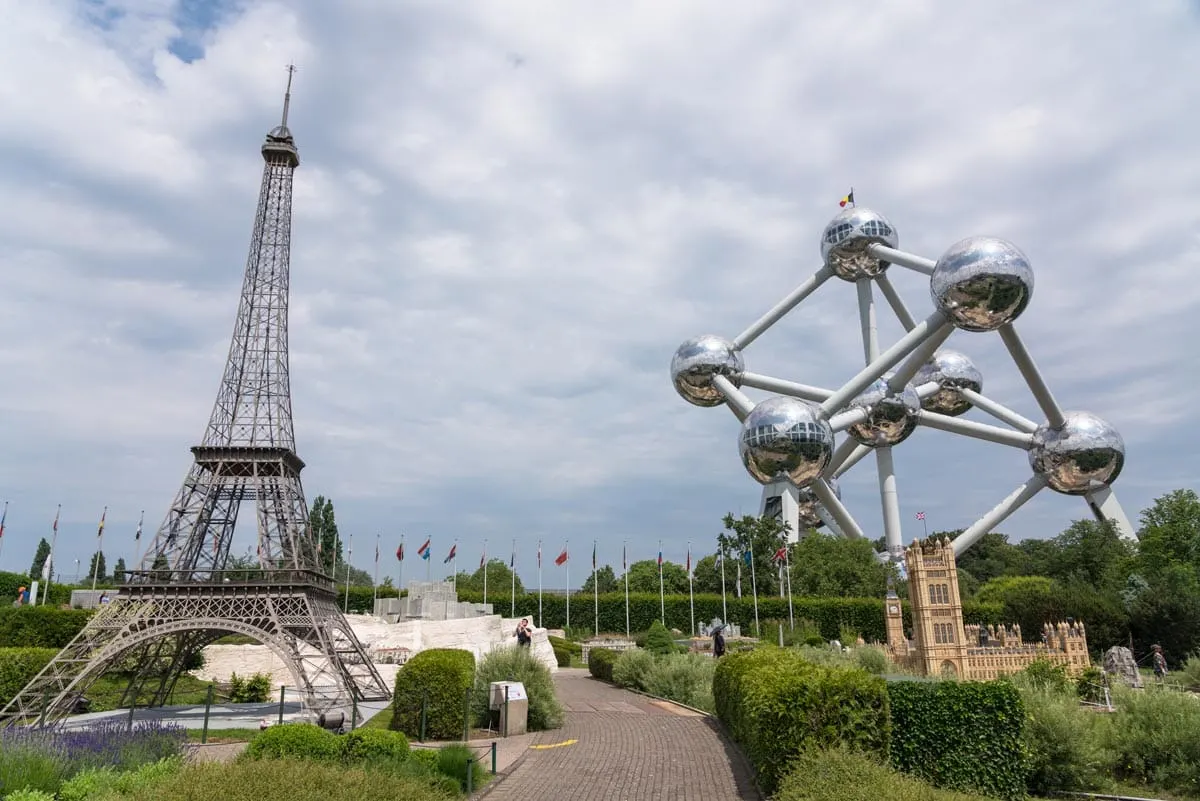 Brussels being home to the European Parliament, it seems fitting that they have a tourist attraction dedicated to Europe.
Mini-Europe is a model village with showing off some of the world's best buildings like the Colosseum in Rome and the Eiffel Tower in Paris, just all miniature.
80 cities and 350 buildings are represented here so you really can journey all across Europe in just a couple of hours. I spent about an hour walking around here and there's a cafe too if you want to put your feet up. I'd say this is a fantastic activity for those of you with kids!
Tickets to Mini-Europe cost £15 (US$20) and include skipping the queue. Perfect for those of you with large families or impatient children!
Tuck into some famous moules-frites
Another thing that Brussels is famous for is moules-frites (mussels and chips to you and me).
Apparently this dish goes back to the late 18th century in Brussels so it's something they've really had time to perfect.
There are a load of different varieties of moules-frites but I like to stick with tradition and go for a creamy white wine sauce with shallots and parsley. Yum!
When it comes to what to do in Brussels in a day, I'd really recommend this for your lunch or dinner. It really is the taste of Brussels.
Climb to the top of the Basilica of the Scared Heart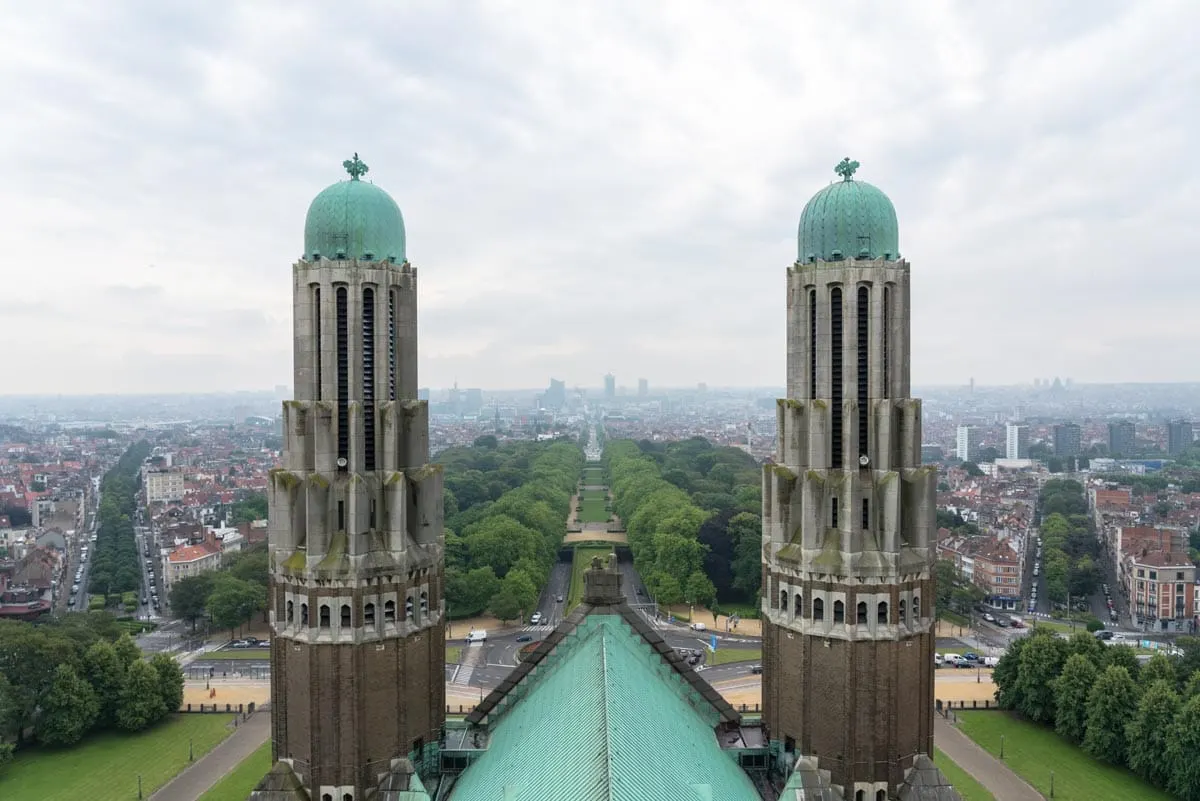 This is what seeing Brussels in a day is all about – visiting places not everyone else goes to.
Usually I won't recommend visiting a church on a weekend away, but it just so happens the Basilica of the Scared Heart has one of the best viewpoints in Brussels.
Tickets to the viewing platform at the top costs €5. One of the things I really enjoyed about this place is because it's a bit obscure, I had the viewing platform completely to myself for 30 minutes. There aren't many places around the city you'll get these views without the crowds.
Go for a stroll through Parc de Cinquantenaire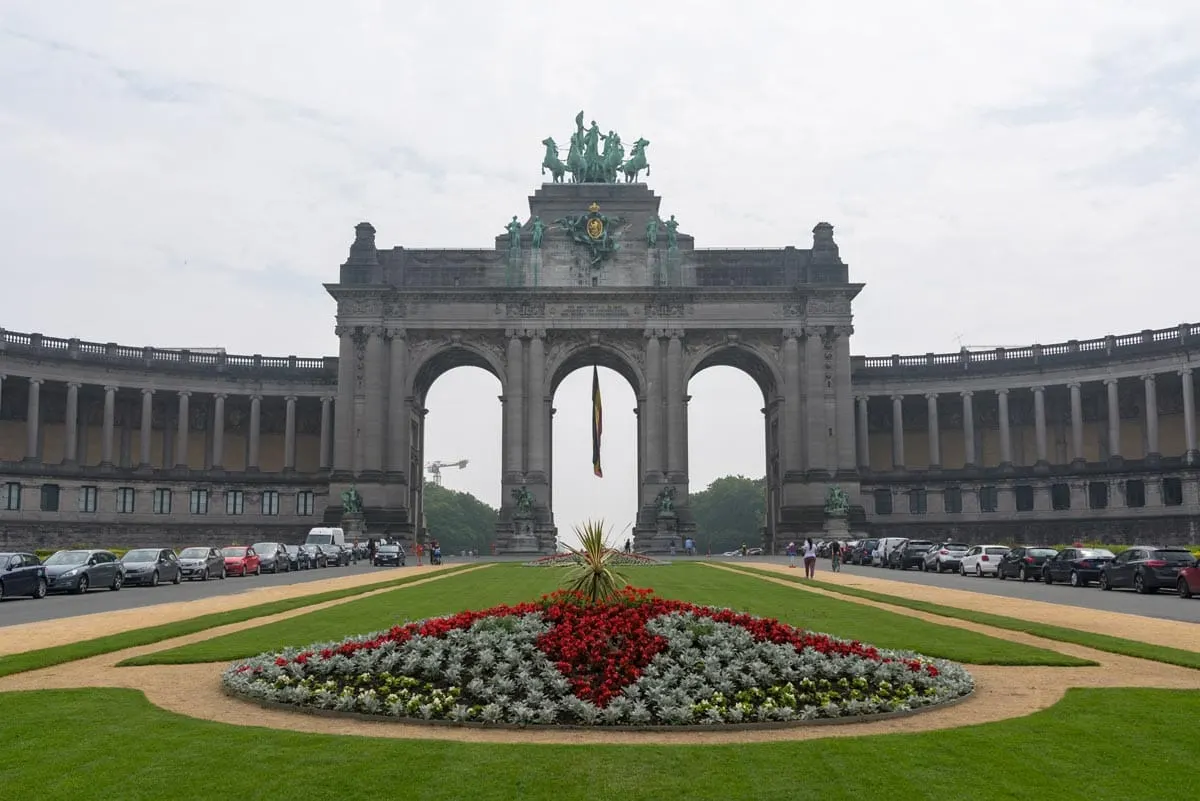 If you're looking for a beautiful park for a stroll then look no further than Parc de Cinquantenaire.
It is so peaceful and relaxing walking around the grounds here, but no matter where you walk here you'll be drawn to the Triumphal Arch in the middle. As you can see, the gardens are beautifully made up and there's a giant Belgique flag in the middle arch.
This is one of the most visited Brussels tourist attractions and it is easy to see why. I'd also recommend walking around the surrounding parks if you want to escape the city vibes for a bit.
Sink a few beers at the Delirium Café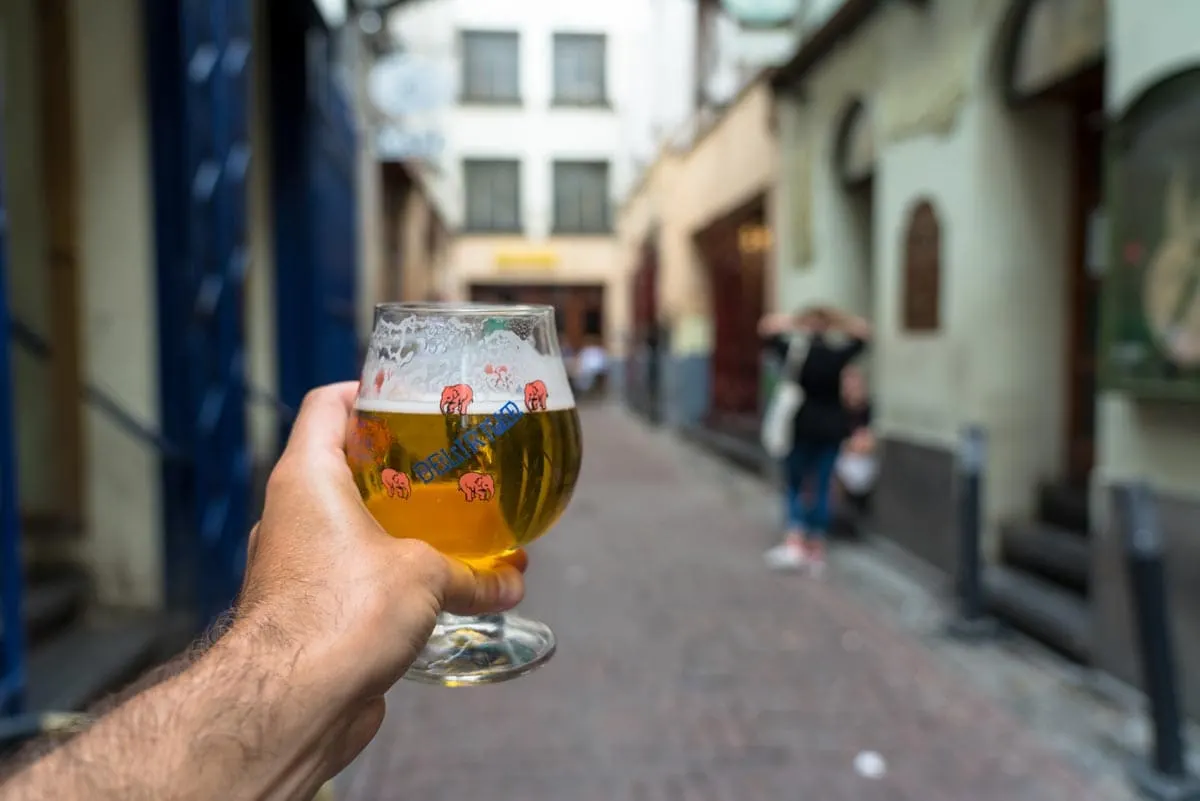 The Delirium Café has become something of an institution in Brussels.
I first came here in 2007 and had one of the strongest beers of my life at 13%, so obviously I had to come back again on this trip.
The Delirium Café right in the city centre is a bar that serves over 2,000 different beers. Yes, you read that right. 2,000.
They have the biggest book you'll ever see and sifting through it can take hours but that's part of the enjoyment though.
If you're looking for my recommendation though, leave the 13% beer alone and go for their award-winning Delirium Trumens beer. What I would give for one of them now!
If you really want to experience a load of different beers then I'd really recommend a Brussels beer tour – always very boozy but a great way of learning all about the beers in Belgium.
Marvel at the beauty of Galeries Royales Saint-Hubert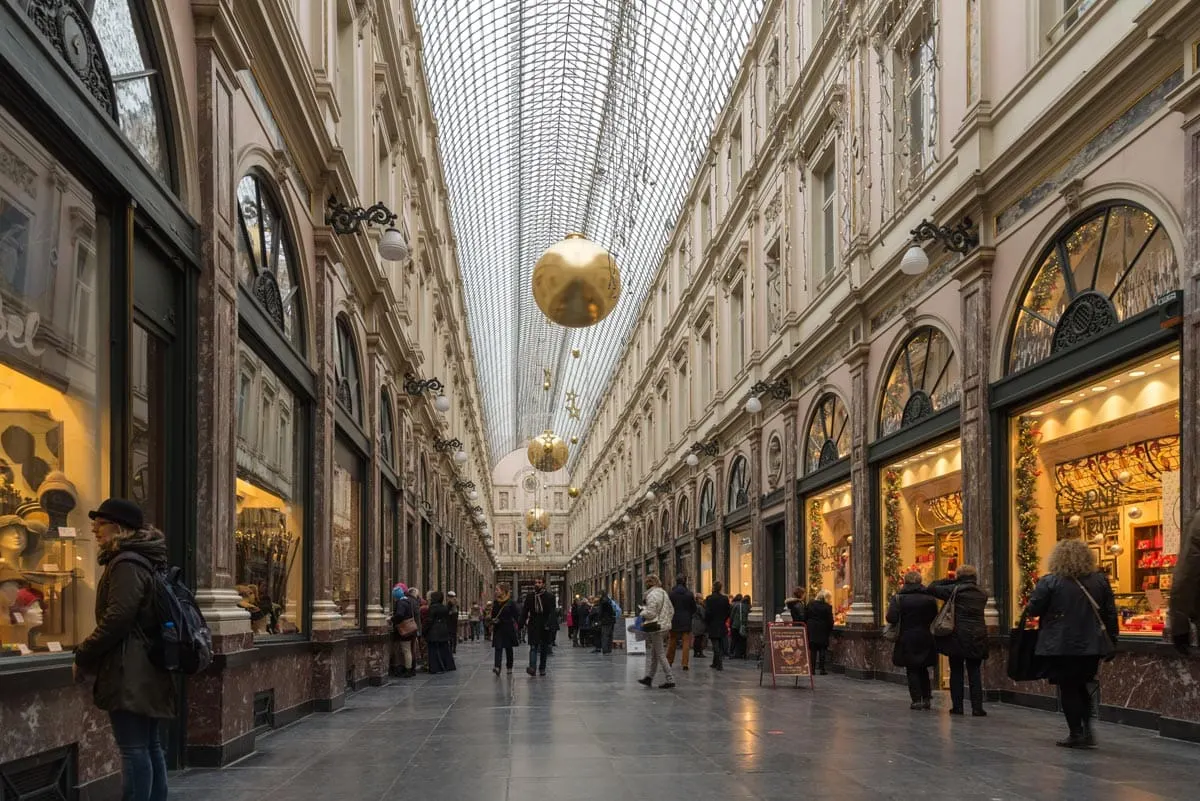 This has to be one of the most beautiful arcades I've ever come across.
From cute cafes to chocolatiers to high-end fashion shops, there is something for everyone at Galeries Royales Saint-Hubert. And even if you're not buying anything, it's still lovely walking through the arcade.
The Galeries Royales Saint-Hubert is an absolute must on any trip to Brussels and once again highlights how beautiful the architecture is here!
If you're looking for good quality chocolate shops in Brussels, this is the place to come. When it comes to what to do in Brussels for a day, it's like you'll pass through Galeries Royales Saint-Hubert while walking about the city. Just make sure you appreciate where you are.
Take in the incredible street art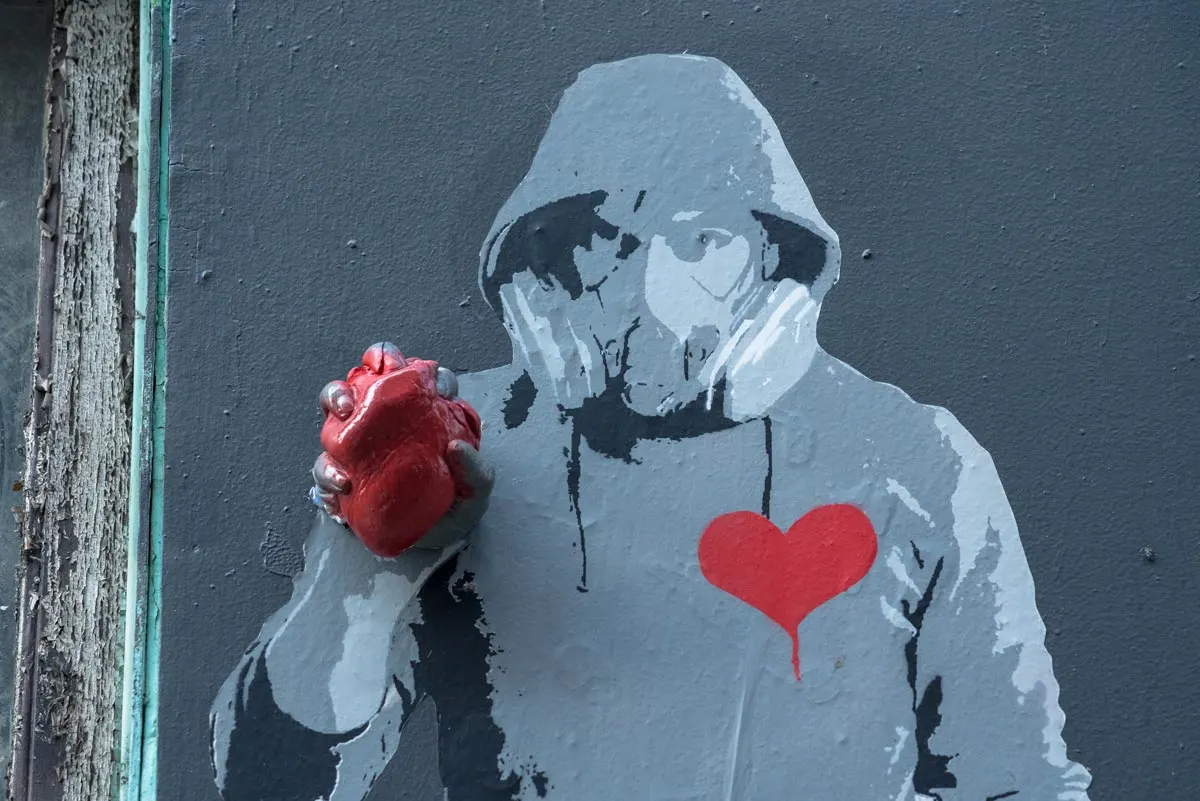 Finally for your Brussels 1 day itinerary, get ready for some interesting and very thought-provoking street art.
While walking around Brussels, I came across some incredible street art. It's funny, everyone thinks that the city centre is stuffed full of old buildings. However, as soon as you wander down some side streets you'll start noticing some great street art.
I will admit this piece is pretty gruesome (it's very near le Manneken Pis), but I loved the 3D effect. I think it's so cool and I haven't really seen that in other cities before. If you know who the artist is let me know as I want to see some of his/her other stuff!
Because Brussels is a very political city, you get a lot of thought-provoking political street art which always challenges people and their perceptions. I like that.
---
What are your favourite things to do in Brussels in a day? Let them know in the comments below!
Like this blog post? Then make sure you Pin it!