Are you looking for the best things to do in Marche, Italy? From exploring Gradara to visiting Torre di Palme, this is what to do in Marche!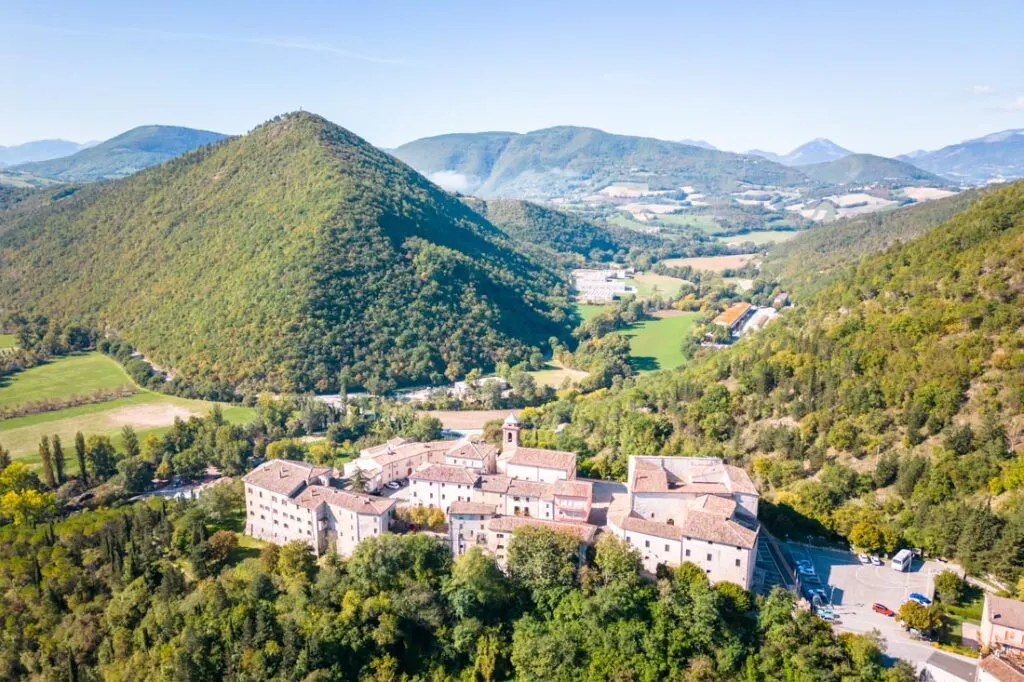 If you're planning a trip to Marche and you're wondering whether this is the right region for you, then you've come to the right place.
I'm about to tell you all about the best things to do in Marche and why this is my new favourite province in Italy. Honestly, this place is such an undiscovered gem I almost don't want to tell you about it! Don't worry, I will though, so keep on reading!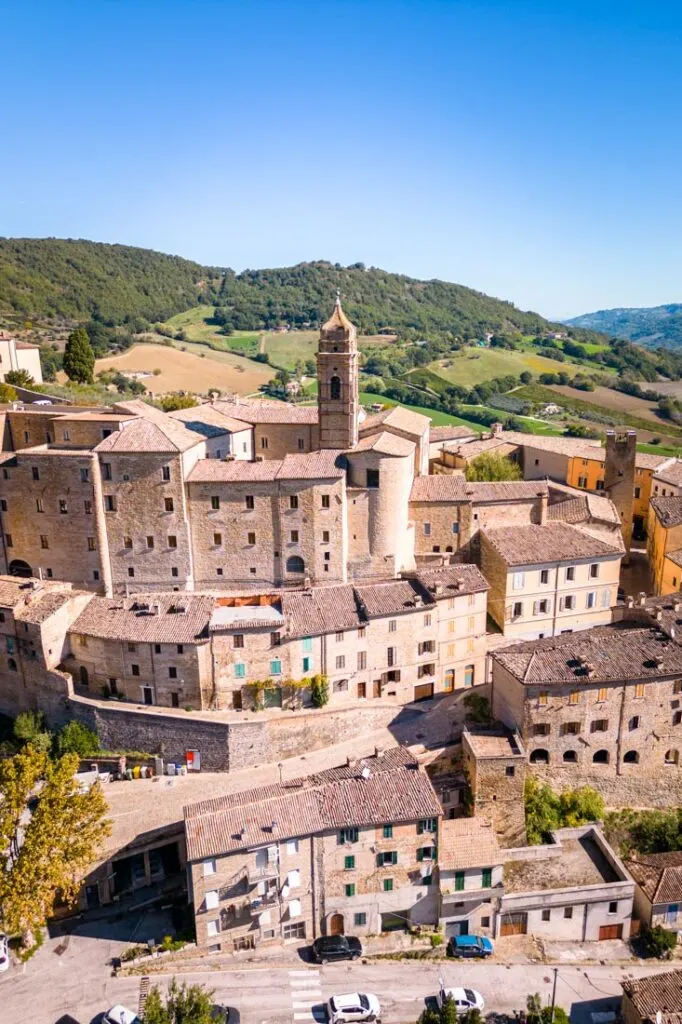 I worked out that I've been to Italy 10 times on my travels over the years. I've been skiing up in the mountains of Trentino, I've been island hopping around Sicily, and I've visited so many places other places dotted around the country too. I wouldn't say I'm an Italy expert, but it is one of my favourite countries in the world and a place I absolutely adore.
That's why as soon as I made it to Marche, I knew this was a special place. Each little borghi (village) I visited was so picturesque and charming with these gorgeous views overlooking the rolling green hills. Hopefully my photos will give you a good idea of what it's like here.
From wandering around the old medieval streets of Gradara to exploring the gigantic Frasassi Caves, this blog post is all about the top things to do in Marche.
I have no doubt you're going to love this stunning region in Italy, and hopefully this article will help plan your trip here.
Where is Marche, Italy?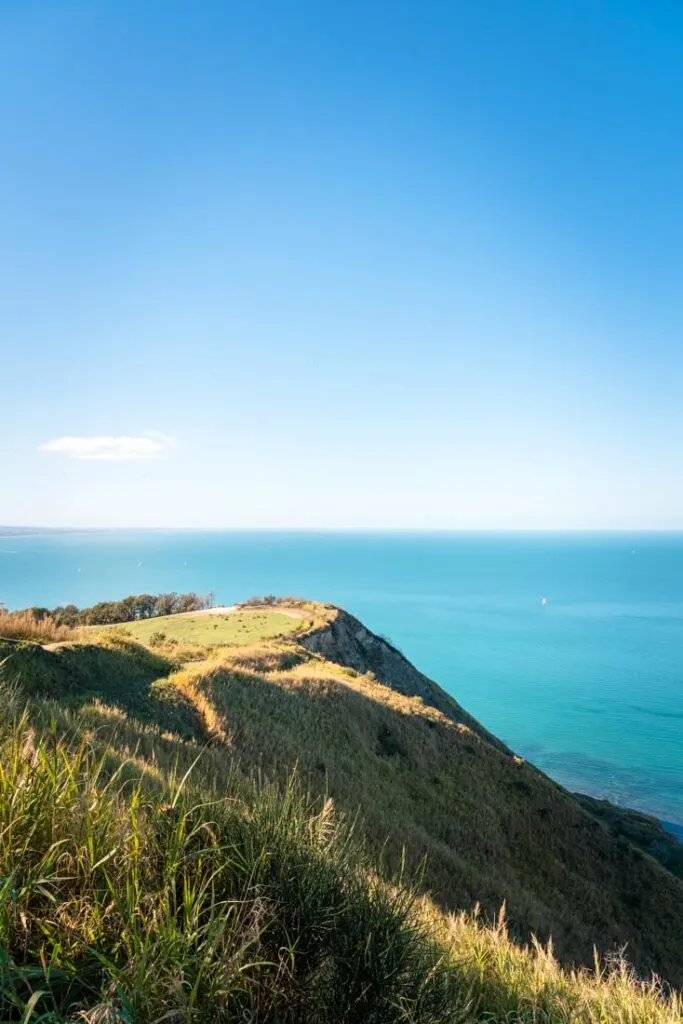 Marche (pronounced "mar-keh") is one of 20 regions in Italy. It is located in the central area of the country on the east coast.
It is bordered by Emilia-Romagna and the republic of San Marino to the north, Tuscany to the west, Umbria to the southwest, and Abruzzo and Lazio to the south of it.
The capital of Marche is Ancona – this is the biggest city and where most people fly into (more on that in a bit).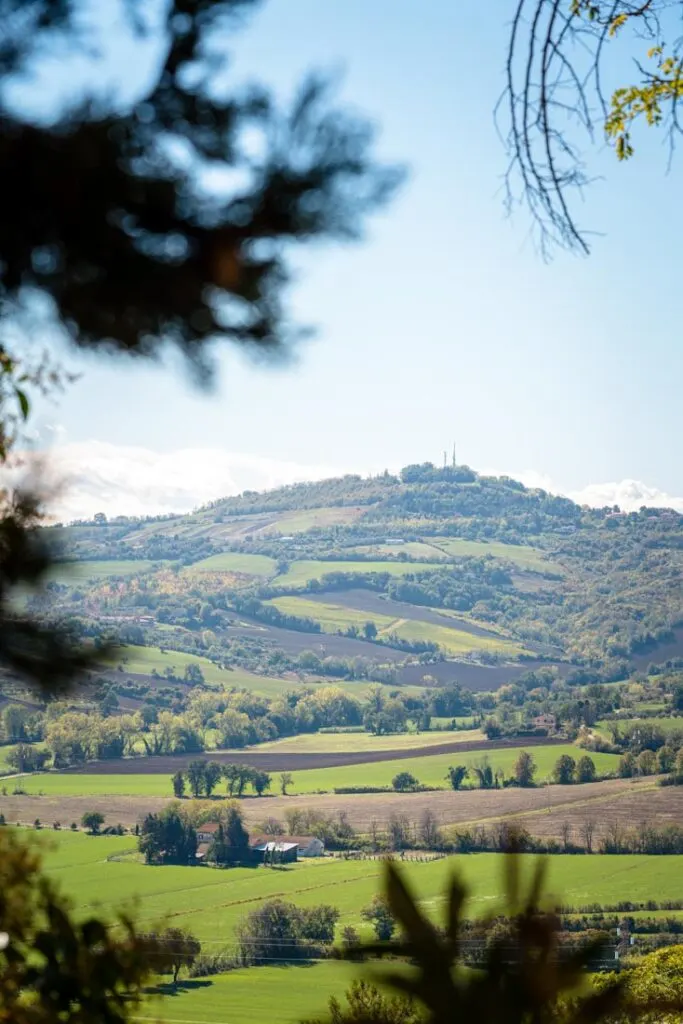 Extending for around 10,000 kilometres along the Adriatic coast, this region is particularly hilly – that's why there are so many medieval villages perched high on hilltops.
Also, Marche was voted in Lonely Planet's 'Best in Travel' as one of the top places to travel to in 2020. Thankfully not much has changed since then!
Getting to le Marche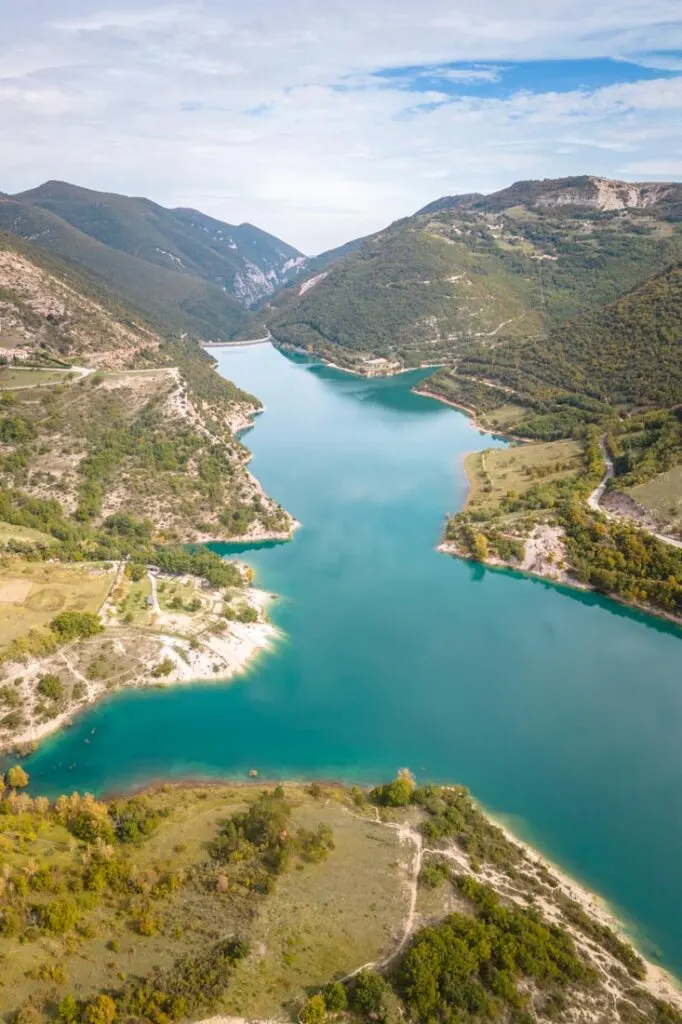 If you're like me and flying from the UK, then there is a direct flight from London Stansted to Ancona. This is by far the quickest and cheapest way of getting to Ancona (even with the very early flight!)
Ancona is a fairly small airport, but it is served by lots of Ryanair flights from all over Europe, so if you're flying from France, Germany or Spain, then there should be plenty of options for you too.
The next best option is flying into Bologna. This is about an hour's drive from northern Marche, so it is very accessible if you hire a car.
If not, there is a 2-hour train from Bologna to Ancona, but I'll say this now – this is a region where you definitely need a car. The internal infrastructure of public transport isn't great, so getting around without a car as a tourist would be neigh on impossible.
The other option is driving 4 hours from Rome. It has been done, so I thought I'd add it in!
Flight widget?
---
Things to do in Marche, Italy
For my Marche itinerary, I travelled from the north to the south, so that's how listed them here. If you're looking at what to do in Marche or a rough route to follow, then these start in the north and follow south. Feel free to mark these places on your map.
I've also broken it up into areas so you can see clearly where things are in the region.
Things to do in north Marche
I based myself in Gradara while exploring northern Marche. From here, I explored Pesaro, drove along the coast to Gabicce Monte, and headed inland to Tavullia. All of these places are quite close together and a 30 minute drive from Gradara.
Walk around the old medieval walls of Gradara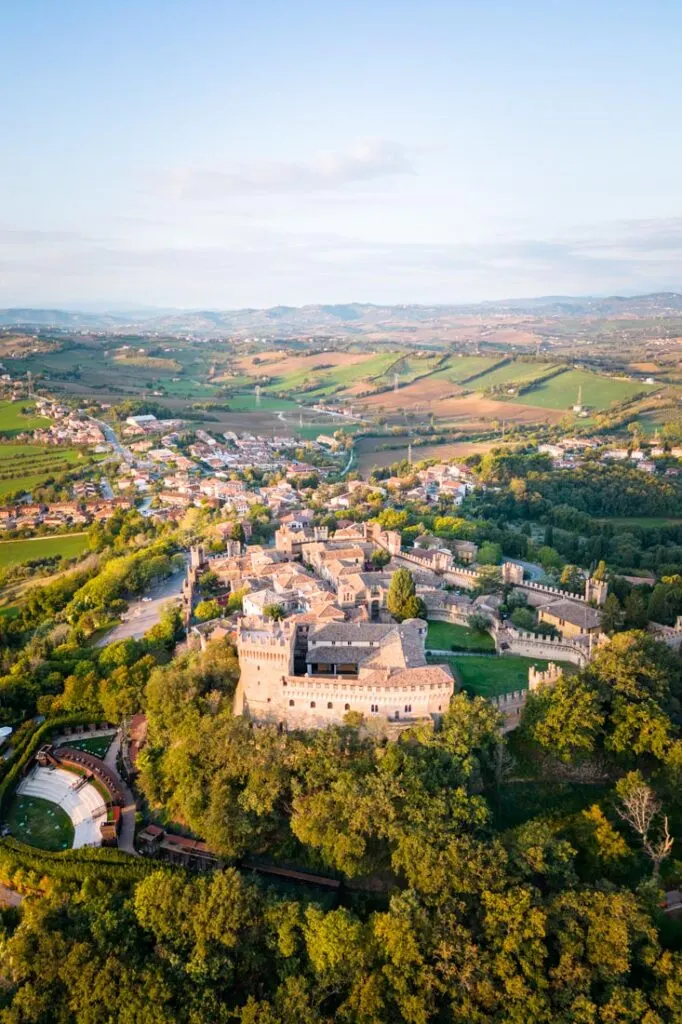 To kick things off, I am going to start with one of the most beautiful places to visit in Marche – Gradara.
Gradara has been voted as one of the prettiest villages in Italy, and it is also referred to as the medieval capital of Europe. Basically, this place is as beautiful as they come.
The main draw to Gradara is the ancient medieval castle perched high on the hill. The castle dates back to the 11th century, and it boasts an impressive history.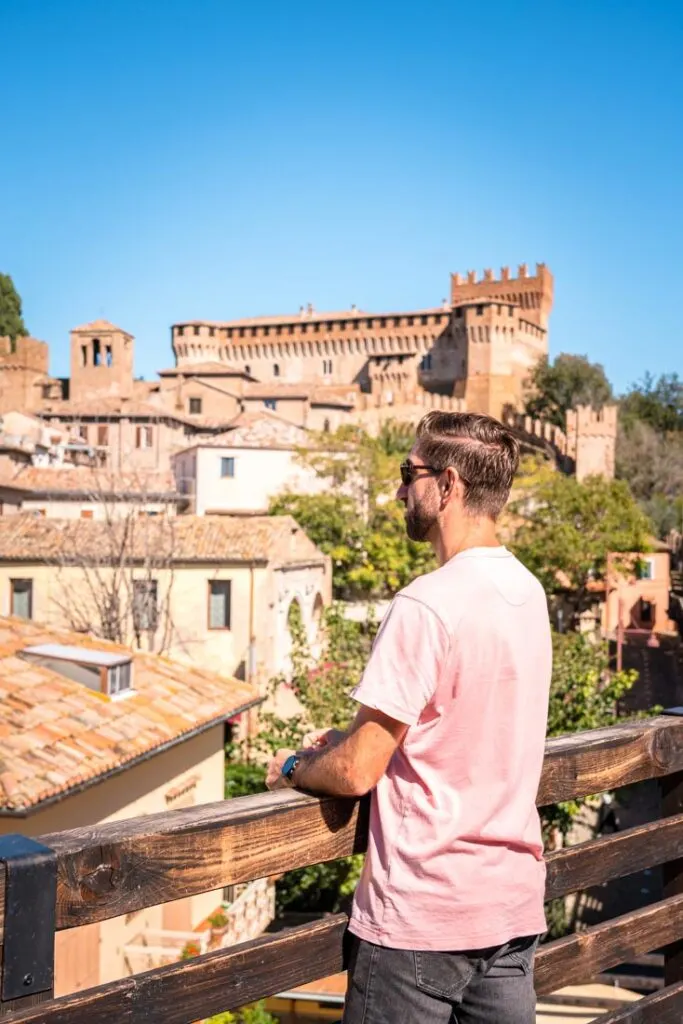 Legend has it that the castle was the scene of the famous and tragic love story of Paolo and Francesca, caught in each other's arms and killed by Gianciotto, Francesca's husband. This love story was immortalized by Dante in his Divine Comedy, one of the most famous works in Italy.
One of the best things to do in Gradara is to visit the castle then walk around the castle walls. You really get a sense of the size of the village from the walls, and the views are sublime.
Go hiking along the stunning Strada Panoramica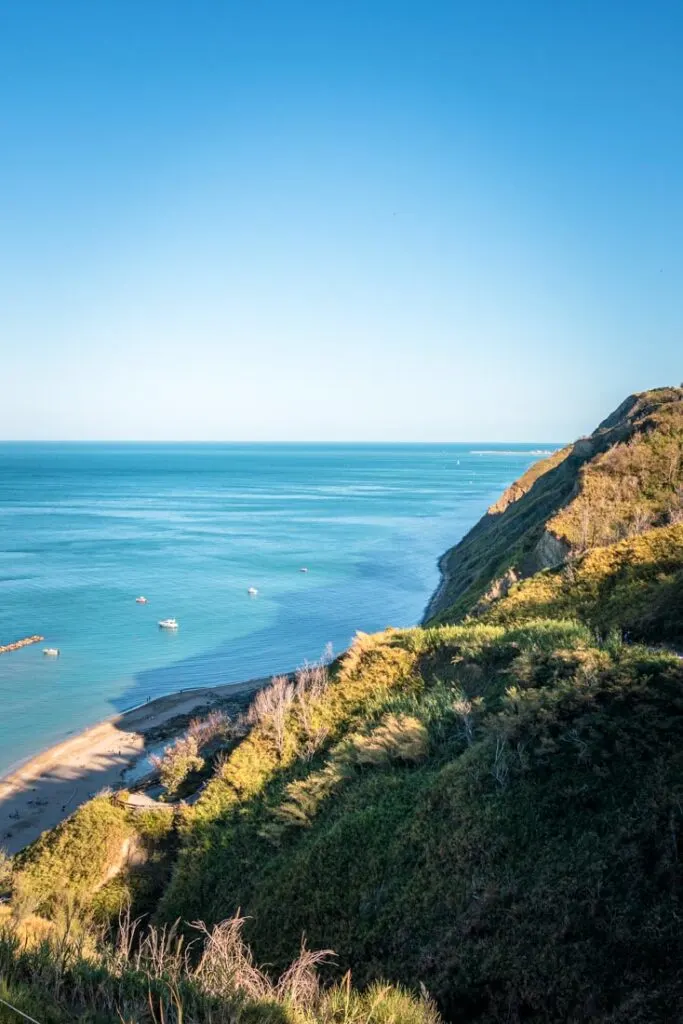 The Gabicce Monte Panoramic Road is a 22km stretch of road that passes through the Monte San Bartolo Regional Natural Park.
This is a stunning stretch of road from Gabicce Monte in the north to Pesaro in the south. The main highlights are the views of the glistening Adriatic Sea as you drive and the tiny villages you pass along the way.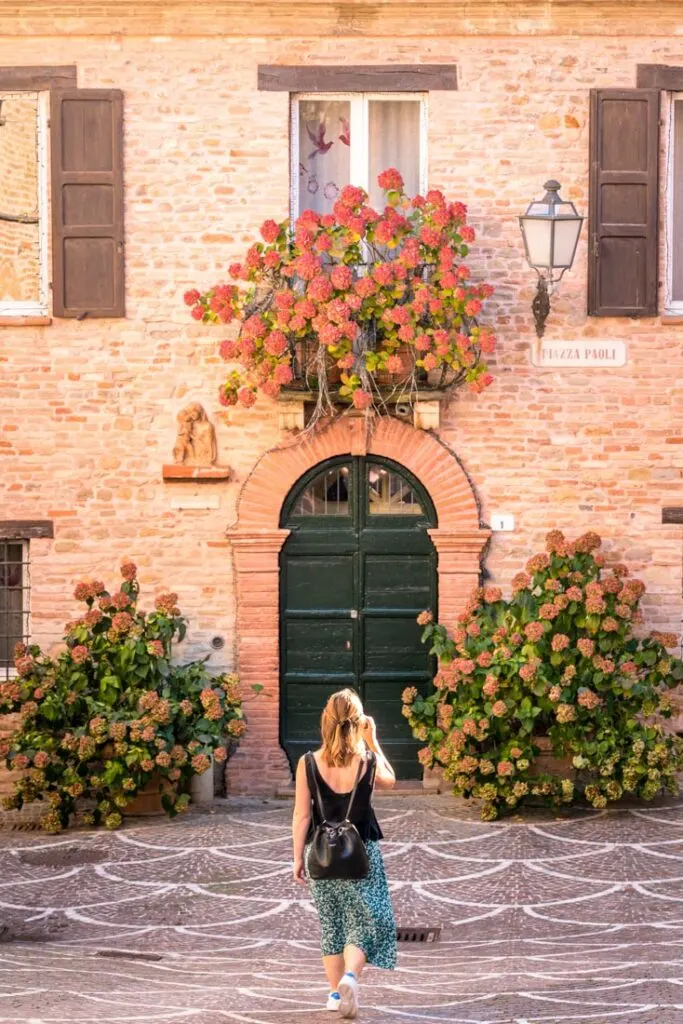 We drove a section of the road to Casteldimezzo, and then walked the 2km to Fiorenzuola di Focara, then back again. It was such a peaceful walk, and I loved being by the blue sparkling water. For me, this is one of the top walks in Marche.
This is also a really popular mountain biking route too, so expect to see lots of cyclists on the road.
Visit Valentino Rossi's fan club/restaurant at Tavullia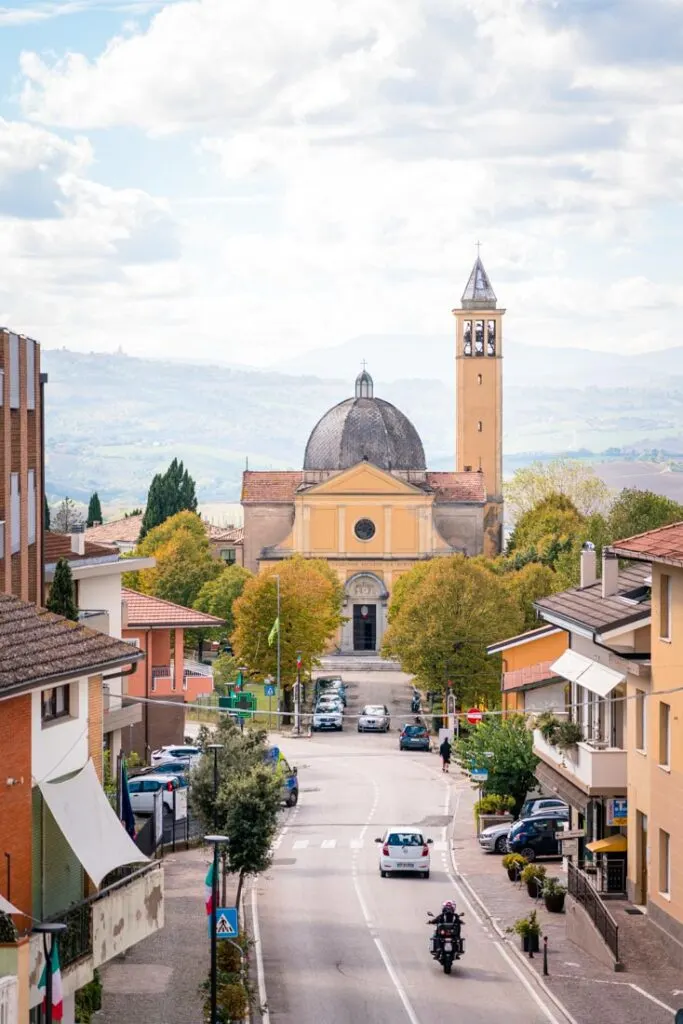 I'll forgive you if you don't know who Valentino Rossi is – he's not exactly a household name (unless you come from the Marche region).
However, Valentino Rossi is one of the greatest, if not the greatest MotoGP racer of all time. He has 7 world championships, 89 wins and 199 podiums to his name, and he is an absolute legend.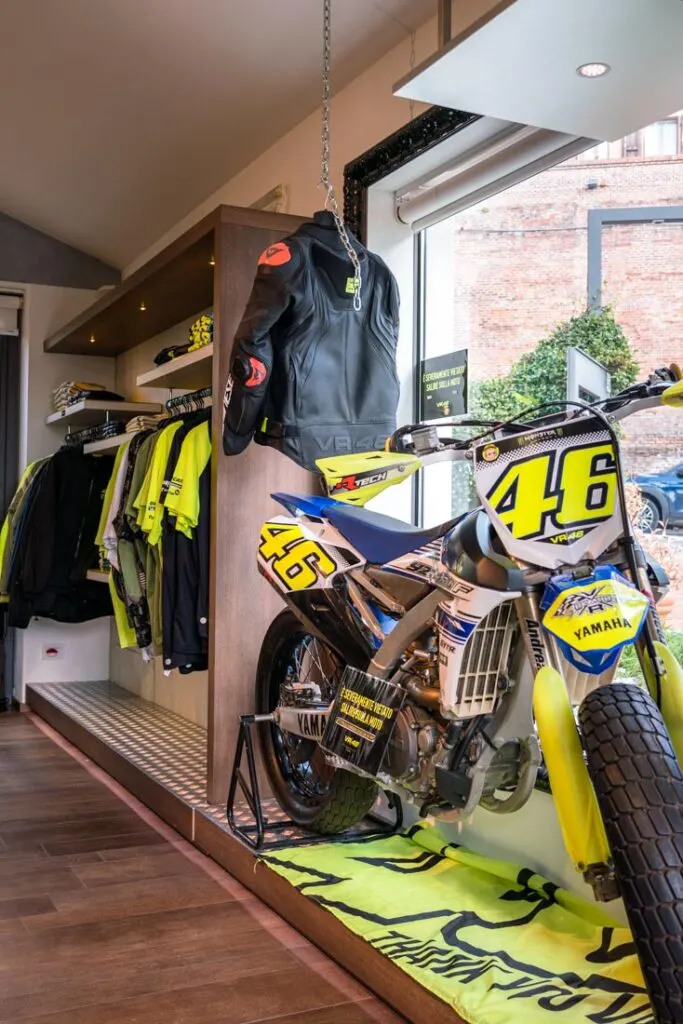 He essentially changed the face of the sport in the noughties through his ability and force of personality. If you've ever watched any of his interviews, you'll see what I mean. Let's just say he's a cheeky chappy.
Anyway, he was born in Marche and he loves this region in Italy, so much so you can find his fan club and restaurant at Tavullia. We ate at his restaurant and they were probably the best pizzas we had in Marche, so it's genuinely a very good restaurant.
If you are a fan of MotoGP, then this is like a pilgrimage for you.
Things to do in central Marche
From Gradara, we drove 1h:30m south to stay in the region of Genga. We based ourselves at Hotel le Grotte, a nice 4* hotel very close to the Frasassi Caves.
From here, we were able to explore the central Marche region. On this leg of our road trip we drove through the Furlo Pass, went truffle hunting with a local, explored the Frasassi Caves, and visited a few more of the villages in the area.
Drive through the Furlo Pass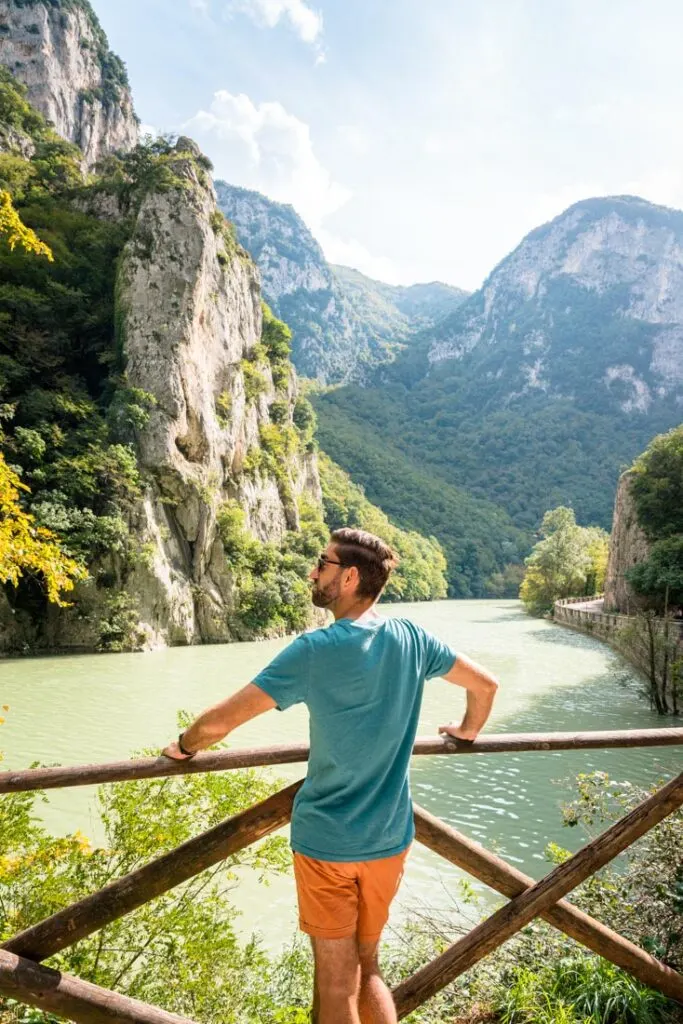 Welcome, to Jurassic Park! It felt like we stepped back in time by a few hundred million years when we visited this spot at Furlo Pass. I really did not expect Italy to look anything like this.
The Furlo Pass (Gola del Furlo in Italian) is a stunning gorge that slices through the surrounding mountains with the emerald Candigliano river running along the bottom. And yes, it really is as beautiful as this.
The drive along via Sant'Anna del Furlo with the mountains either side of you is amazing. I found it very difficult paying attention to the road, so be careful!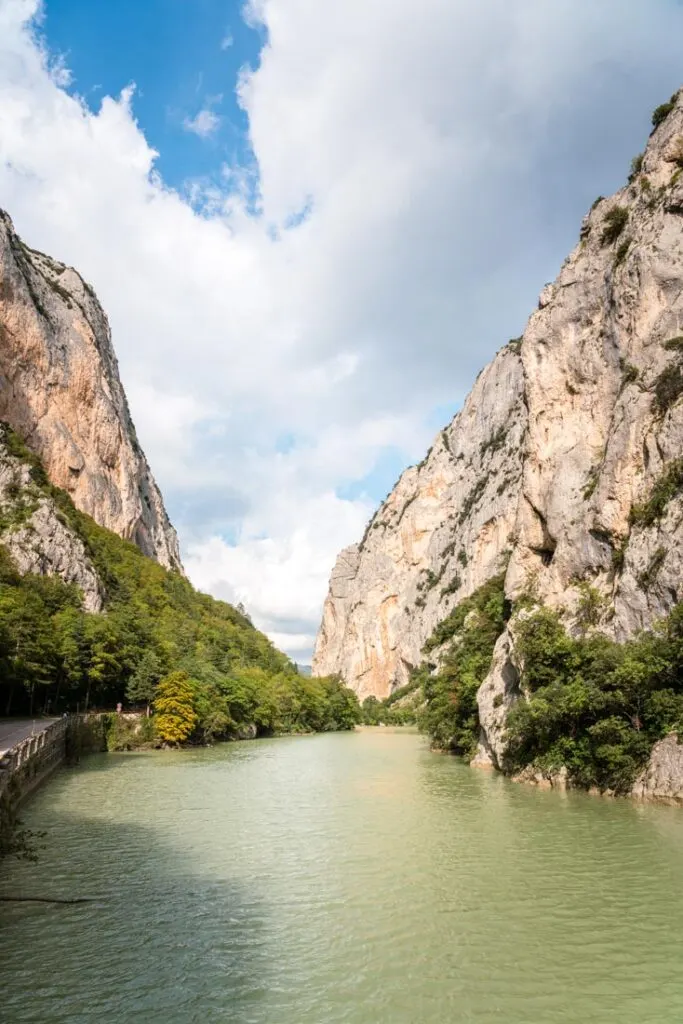 If you've got time, I'd really recommend going for a walk here. We parked up at car park in Furlo, the spent an hour walking along the river to the viewpoint. We came on a week day and had the place to ourselves, there was hardly anyone else around.
The Furlo Pass really showcases why I love the region of Marche so much – all the landscapes are so varied and different. For me, this is definitely one of the top things to do in Marche.
Go truffle hunting in Acqualagna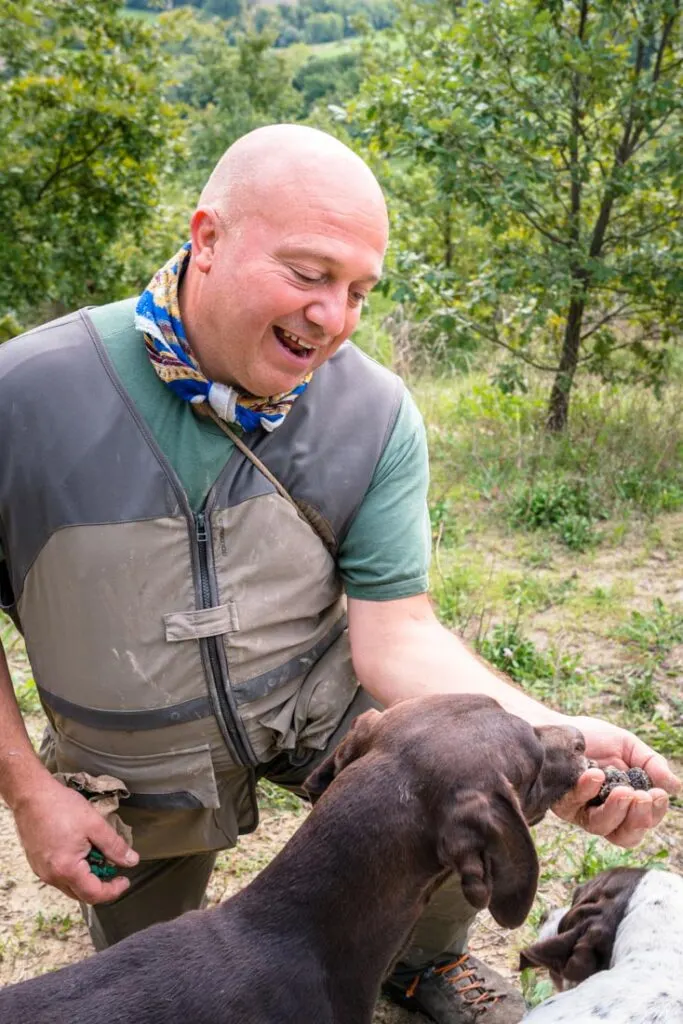 Ahhh truffles. I'm not going to lie, one of the reasons I was most excited about visiting Marche was to eat all the truffles!
Acqualagna is known as the 'truffle capital of Italy', so naturally this is one of the best places to discover truffles for yourself.
In Acqualagna there is a truffle museum and a very plush truffle shop, but we went the next level up – we went on a truffle hunting experience.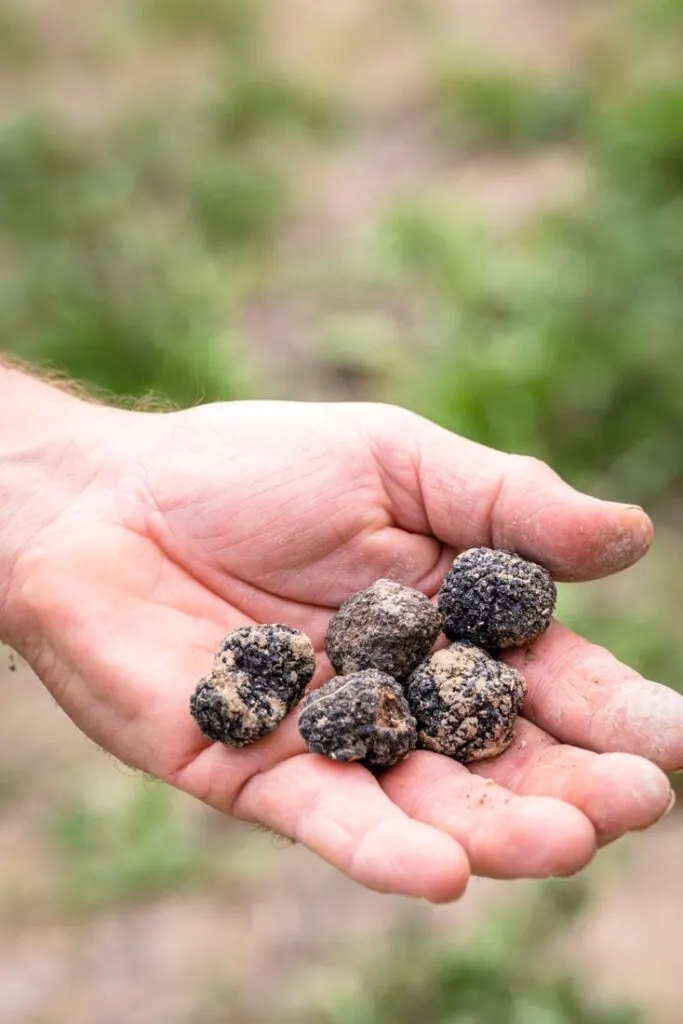 This meant meeting Paulo, a truffle farmer, and going hunting with his dogs. These dogs are trained over years to sniff out truffles growing underground, and they really know how to find them!
In our hour truffle hunting we found 9 black truffles. We also learned all about how truffles grow, when to go hunting for them and what makes them so special.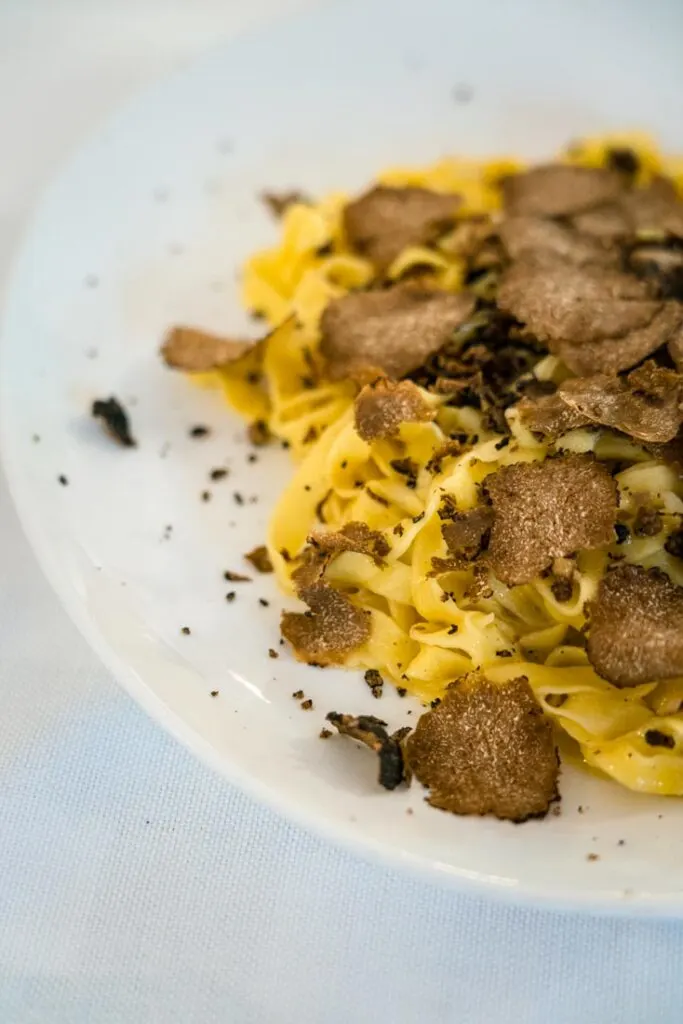 Obviously no truffle experience would be complete without trying truffle for yourself, so after our tour we headed to Paulo's wife's restaurant – Lampino.
Here they have a whole truffle menu. And spoiler alert – it's utterly delicious.
You can learn more about our truffle experience here.
Explore the Frasassi Caves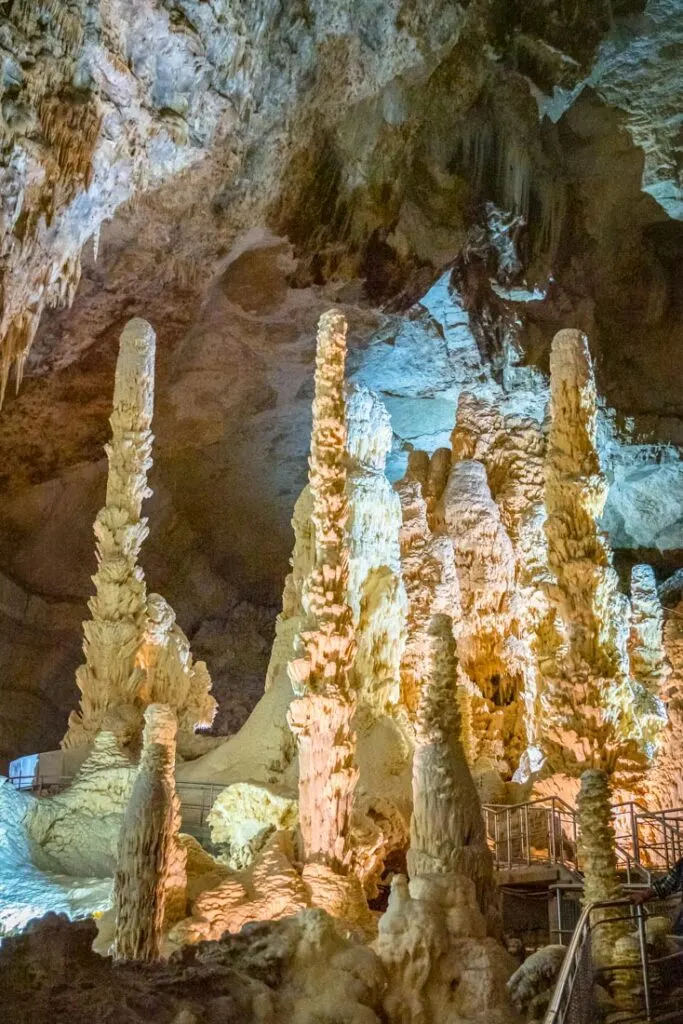 The Frasassi Caves are genuinely the best caves I've ever visited. That's not hyperbole, they really are one of the top attractions in Italy.
The caves were only discovered in 1971 by a group of young cavers. The oldest in the group was 21, and the youngest was just 15!
Anyway, they randomly discovered this cave not knowing how big it was. It was only when they came back to survey the cave that they discovered its size.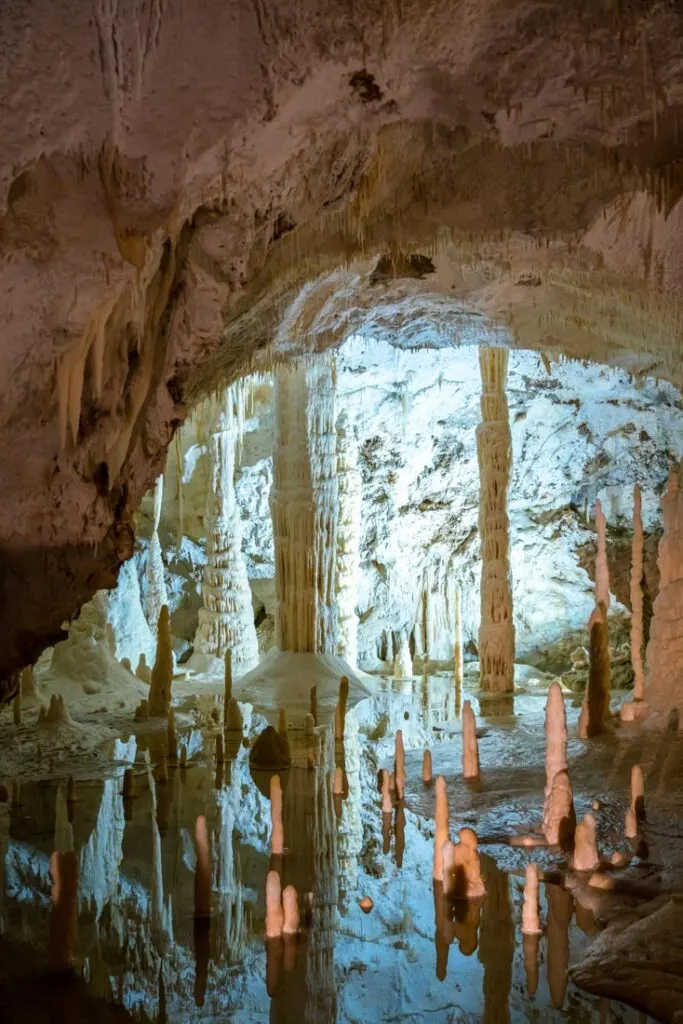 The main room is so large it can fit the entire Milan cathedral inside with a lot of room to spare. Also, the highest stalagmites are 20 metres tall. I know it's hard getting your head around, but standing in the centre of the cave makes you feel very very small.
The only way you can experience the caves is by going on a guided tour which takes about an 1h:20m. Our English-speaking tour guide was brilliant, and she went into the history and geology of the cave.
I know it sounds strange, but I found the caves so beautiful and peaceful. It's just the fact that these caves have been formed millions of years ago and have grown since then. It really puts you in your place, you know?
The temperatures in the caves are a constant 14 degrees all year round, so make sure you wear trousers and pack another layer. It can get quite chilly right at the deepest point on the caves!
Visit the hillside village of Serra San Quirico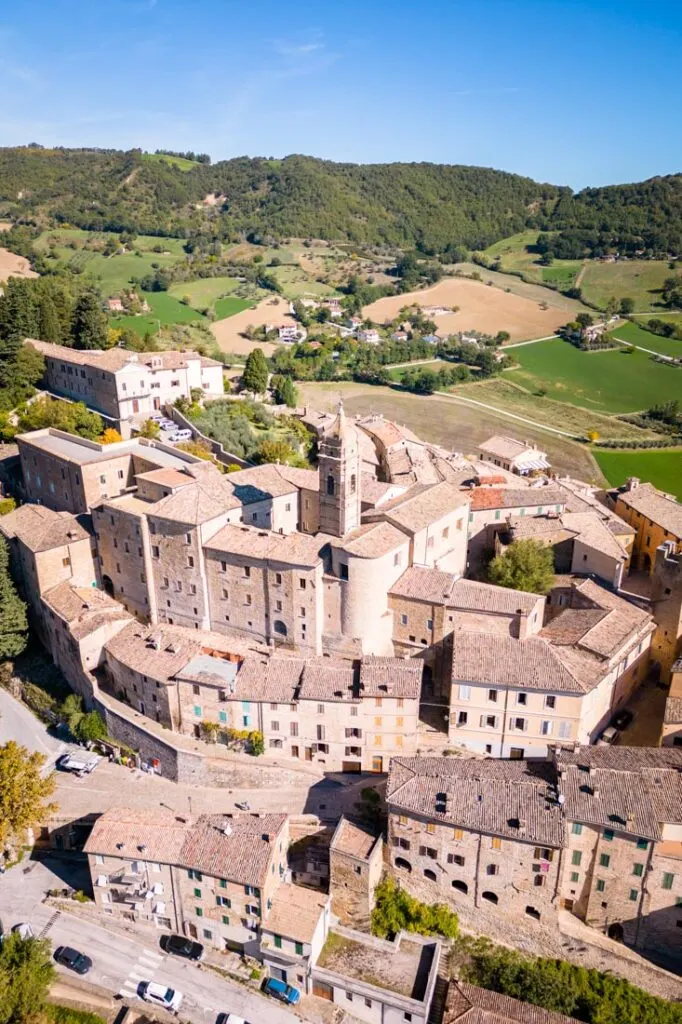 When travelling around the region of le Marche, you'll quickly realise that every village you visit gets more and more beautiful. Serra San Quirico is no different.
Just a short drive from the Farasassi caves, Serra San Quirico is an ancient village perched high on a hillside. And when I say ancient, I really mean it. The earliest settlements date all the way back to 600BC.
The walls surrounding the village are a little newer though – they only date back to the 12th century. The church of Santa Lucia is one of the prettiest in the region, so make sure you visit that while you're here.
For me though, Serra San Quirico was one of those places where you just get lost wandering the tiny alleyways. Oh, also, see if you can find a 'calcione' pastry. This is a sweet cake made from sour cheese and lemon filling – it's surprisingly tasty!
Take in the sounds of Genga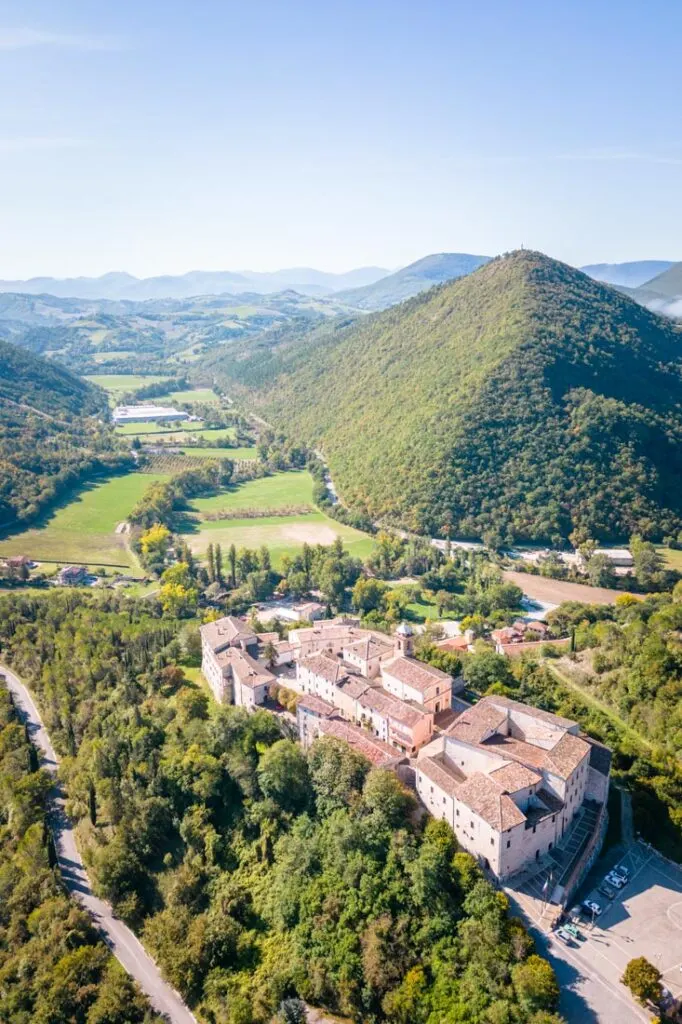 I can't believe I am going to put a definitive to this one – but I thought Genga was the most beautiful village we visited while in Marche. Yes, I really said that.
Genga is like a living museum. It is tiny, just a few cluster of streets to the main medieval village.
In the castle of Genga it is well worth visiting the museum which gives you more history on the area. There are also a few free museums/galleries as you walk around. The one I found most fascinating was a room packed full of old black & white photos of what Genga was like 60 years ago.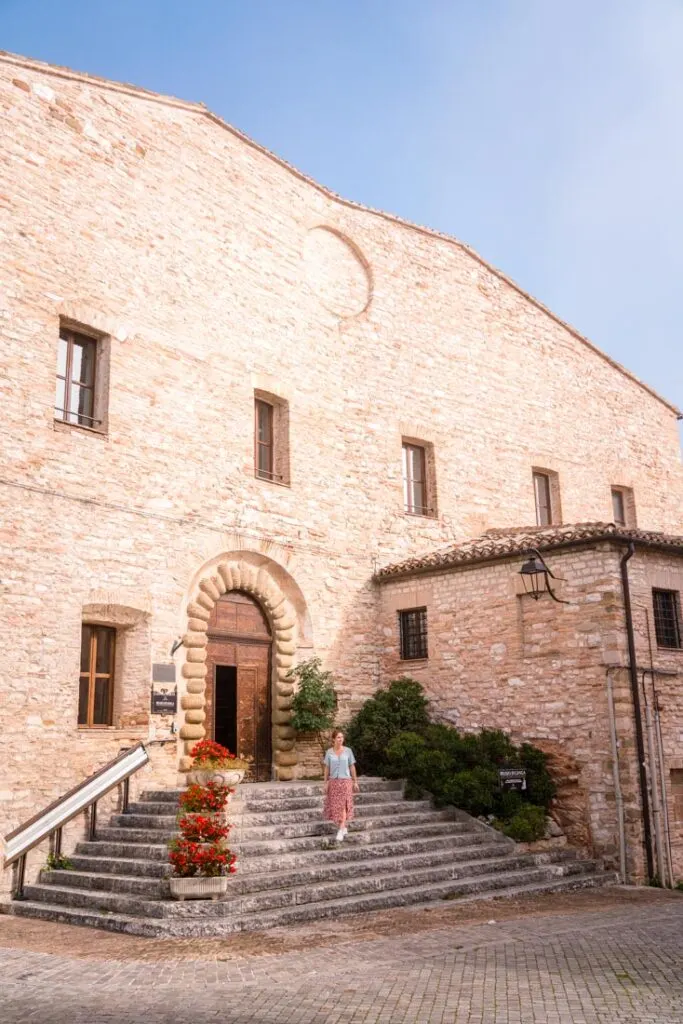 Genga is also famous for the largest living nativity in the world by extension, covering an area of about 30,000 square meters inside the Frasassi Gorge.
We visited Genga in the morning just as the place was waking up. Because it's up in the mountains, there were these low hanging clouds that clung to the mountains, slowly being burned off as the sun made its ascent. All you could hear were the birds chirping as the day was starting – it really was such a peaceful setting.
Things to do in south Marche
From Genga, we drove 1h:30m south to Moresco where we stayed in a cute apartment for a few days.
This is where we based ourselves while we explored Campofilone, wandered the streets of Torre di Palme, hit the beach before heading further south to Lake Fiastra.
Climb up to the ancient castle at Campofilone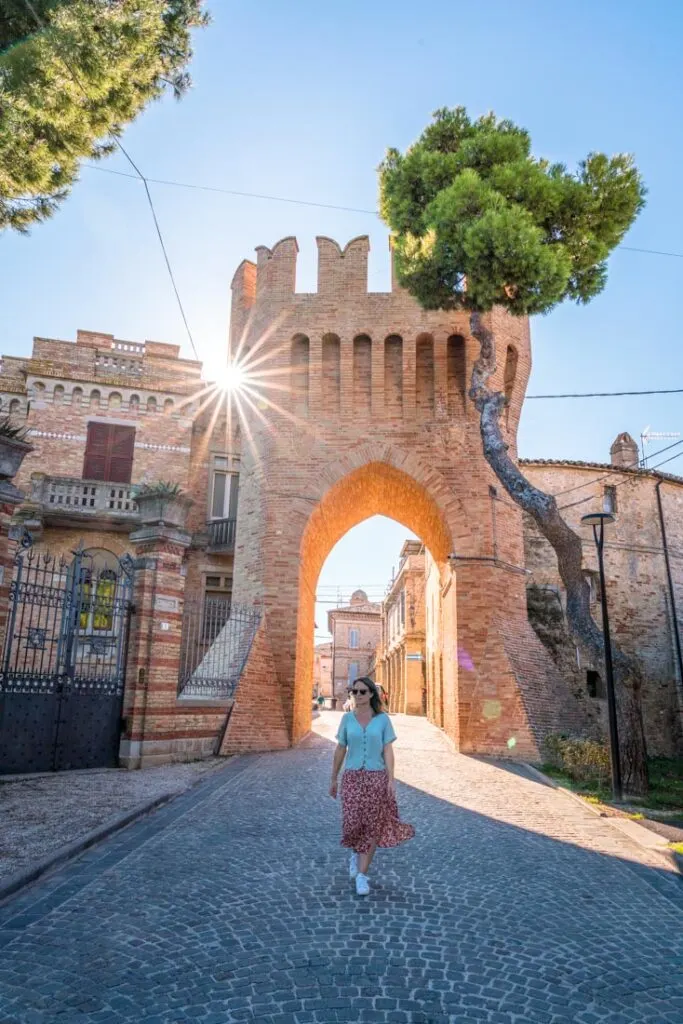 Campofilone is a very picturesque place where you walk through a magnificent 14th century stone arch gate to enter the village. It all feels very grand and opulent as you walk in.
If you keep on walking up the hill and past the church, it takes you to the old ruins of a castle. I just loved the view of the Italian countryside from up here. This part of Marche is famous for its wine, so you get to see all the vines growing all around you.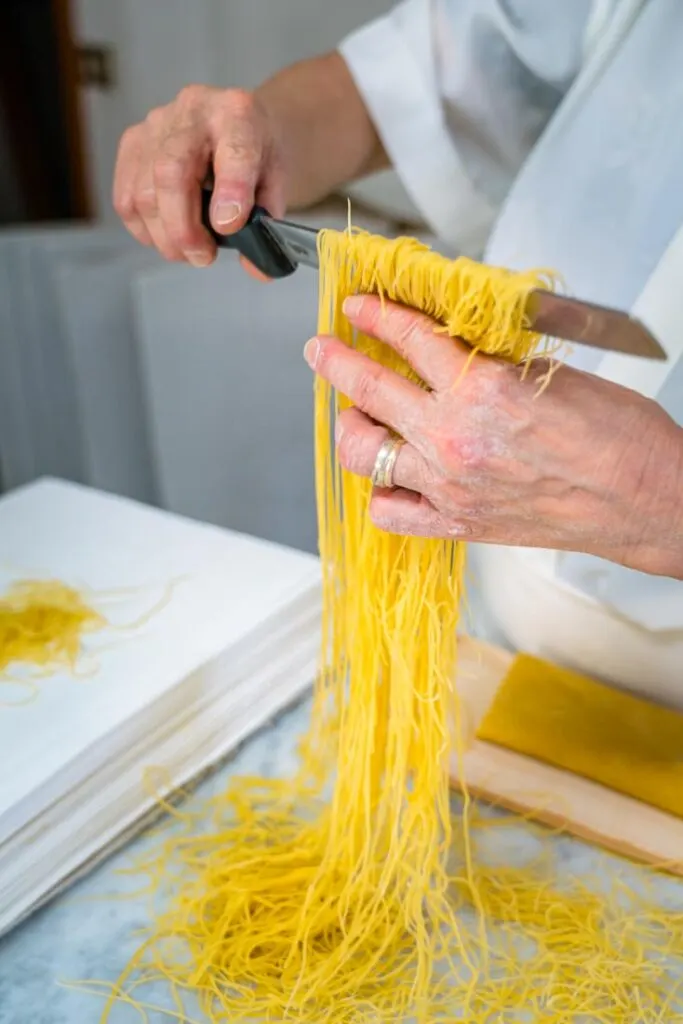 One thing you'll discover while travelling around the Marche region is it's famous for maccheroncini. This is a type of pasta that's rolled out very thinly, then sliced into long strands thinner that spaghetti. Because the pasta is so finely sliced, it just melts in the mouth when cooked and it is utterly delicious with ragu.
Well, the best place to buy this pasta is where they make it in Campofilone, so I recommend picking up a few packets to take home with you. I managed to squeeze 3 bags of pasta into my suitcase to give me a taste of the Marche region at home.
Go wine tasting at Cantina di Ruscio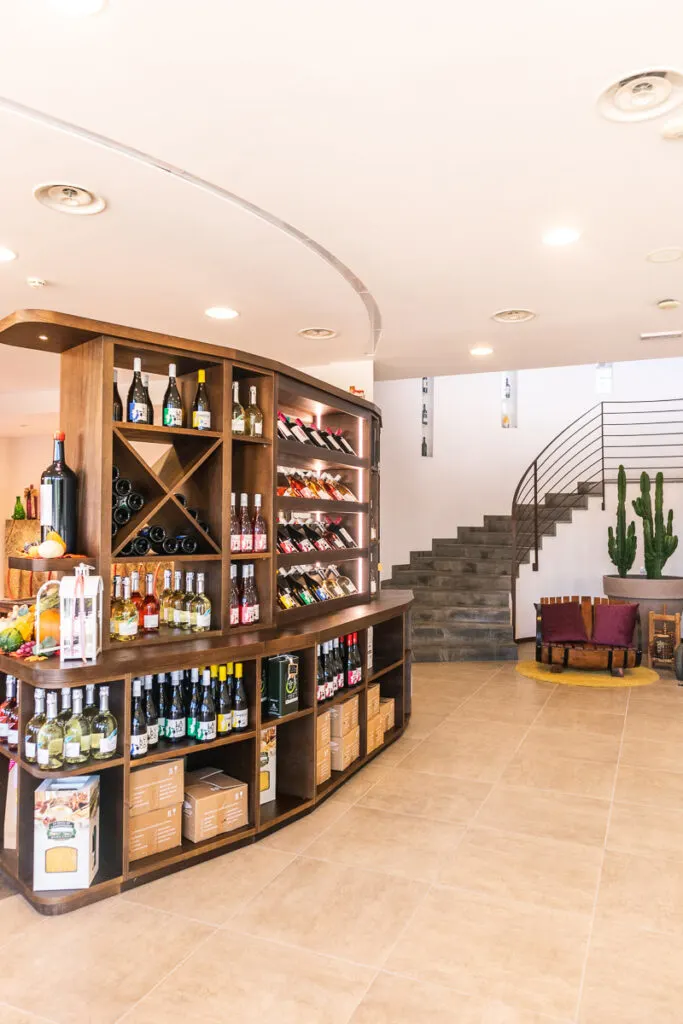 If you're in Campofilone, then I would really recommend visiting Cantina di Ruscio and going on a wine tour there. This is one of the bigger wineries in Marche and they produce some delicious wines.
For €20 per person, you can go on a tour of the vineyard and learn all about how they produce wine here. This tour includes 3 glasses of wine and a plentiful antipasti platter full of meat and cheese.
I mean, you can't come to Italy and not go on a wine tour, can you!? For me, this is one of the best things to do in Marche, so I'd definitely recommend adding this to your itinerary.
Stay in the quiet village of Moresco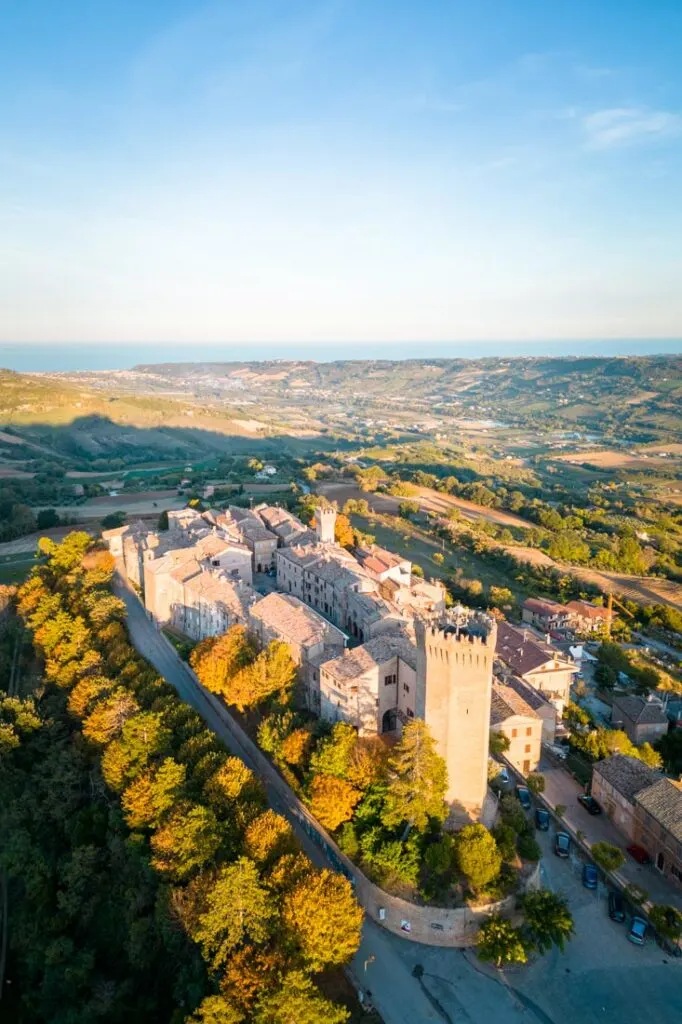 Moresco has been voted as one of the most beautiful villages in Italy and it's easy to see why. Perched high on a hill, this old medieval village is surrounded by walls that date back to the 11th century and it has gorgeous views of the countryside too.
When I first arrived to Moresco I couldn't believe how small it was. 550 call this place home, but just 100 people live in the old walls of the village itself. It really is tiny!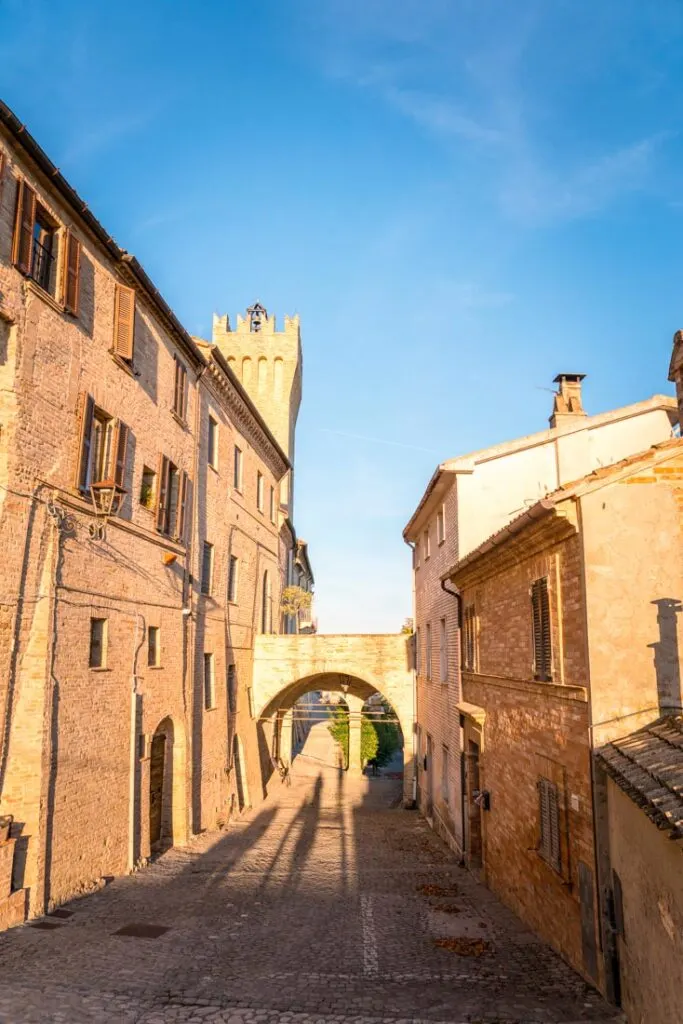 Because Moresco is so small, there is only one restaurant – 10_83 Moresco. Thankfully, this was one of the best restaurants I visited in Marche, so you're in very good hands here.
The restaurant opens at 8pm, so I had a drink outside in the courtyard listening to the bells chiming and the sounds of Moresco before heading down into the underground vaults where the restaurant is. Honestly, I can't tell you how good the food is here. The carbonara was one of the best things I've eaten in a long time.
Wander around the beautiful streets of Torre di Palme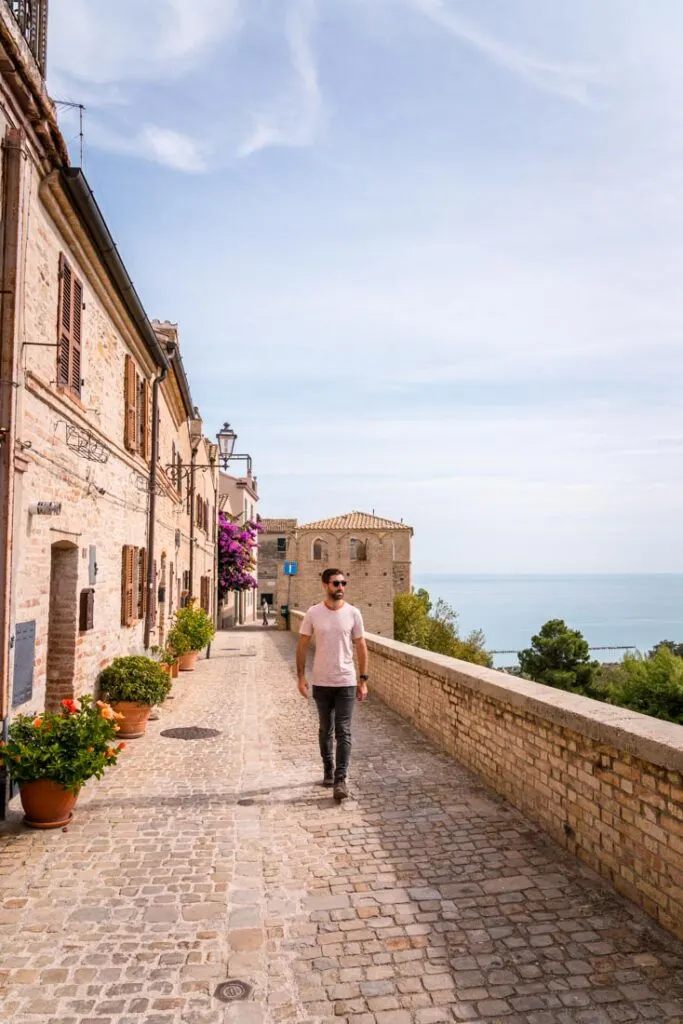 Torre di Palme is another of 'the most beautiful villages in Italy', and it's a fascinating place to visit.
Overlooking the enchanting coastline of Marche and the Adriatic Sea, Torre di Palme is another example that good things come in small packages.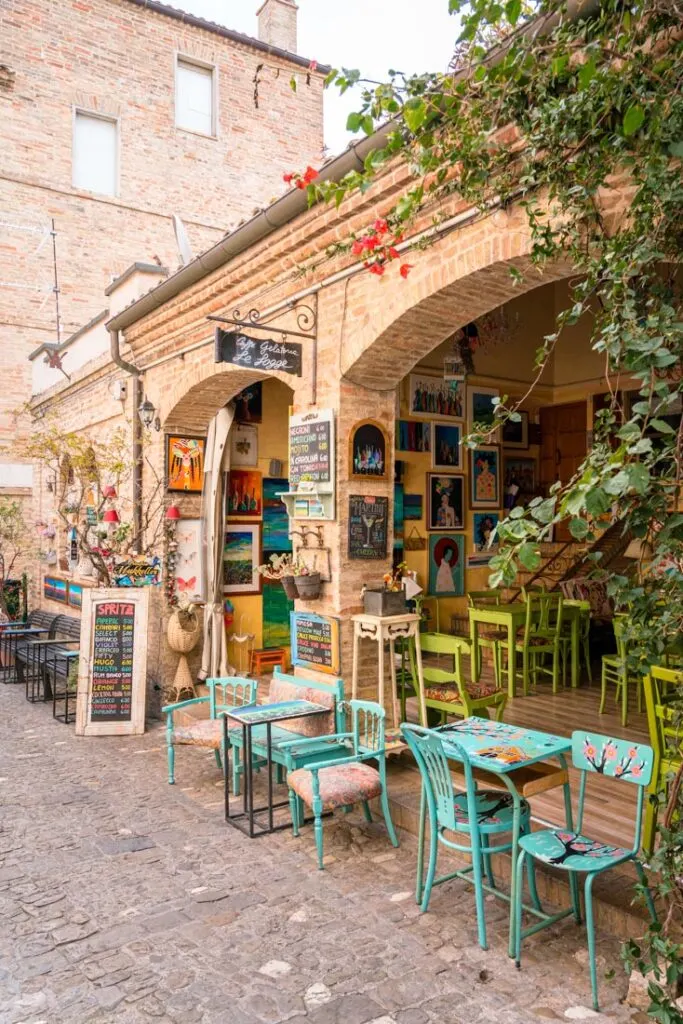 One of the places you have to visit in Torre di Palme is Caffe gelateria Le Logge. This bar is brightly coloured in greens and blues, and there's a hotch-potch of tables and chairs strewn all over the place. As the name says, you can come here for a coffee or a gelato, but it was the apertivios that caught my eye. It really is such a cute spot for a bar.
Torre di Palme is such an amazing place to visit, and I would definitely say this place needs to be on your Marche itinerary. After all, being voted as one of the prettiest villages in Italy says it all!
Have the best gelato in Marche from La Cremeria in Porto San Giorgio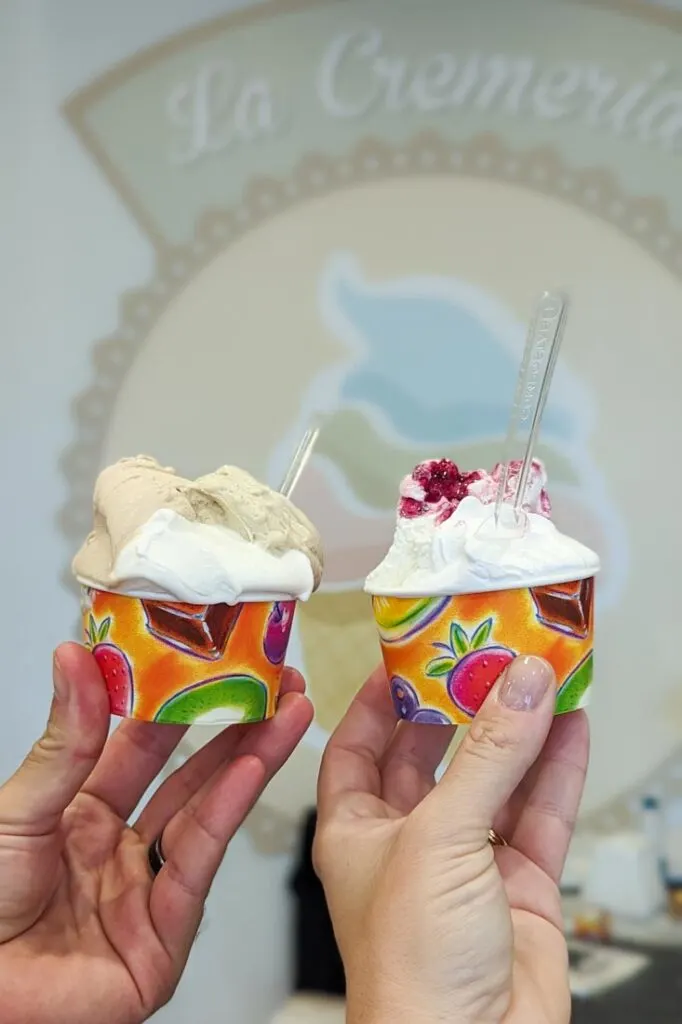 A big shout out goes to the gelato shop La Cremeria.
I basically had daily gelato while travelling around Marche trying to find the best spot, and in my opinion it's this one.
As the names suggests, the gelato is so creamy – it's really worth visiting Porto San Giorgio just for the gelato!
Walk around the glistening Lake Fiastra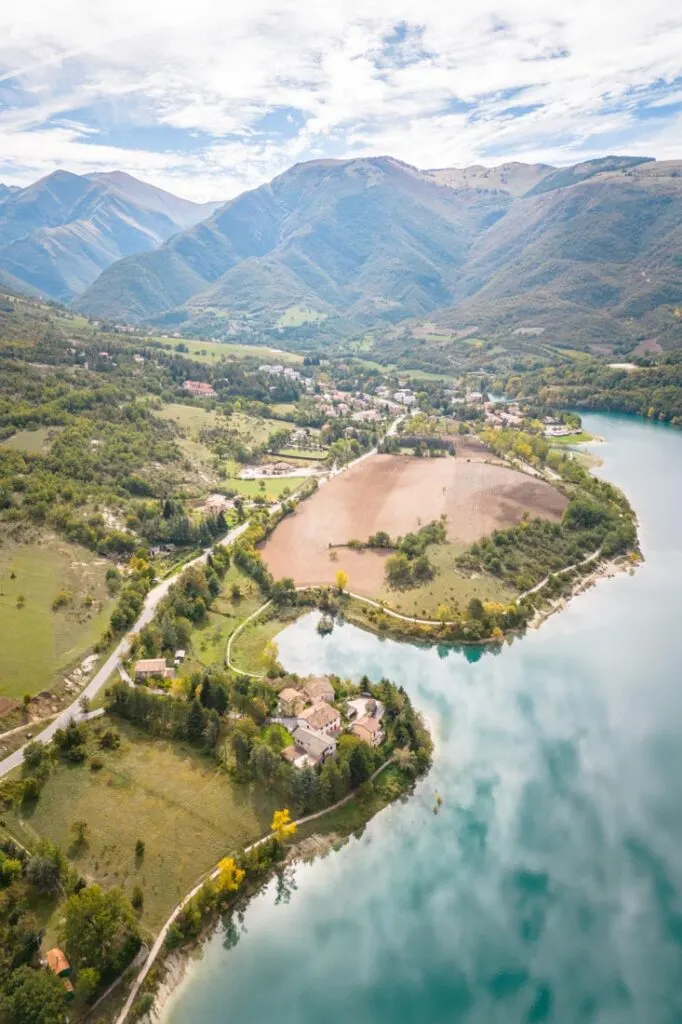 If you're looking for one of the best things to do in Marche, then make sure you add Lake Fiastra to the list.
Lake Fiastra is a manmade reservoir that was created in the mid-1950s to generate electric power to the area.
What it also created was a place for locals and tourists to enjoy, especially during the summer with all the different watersports on offer.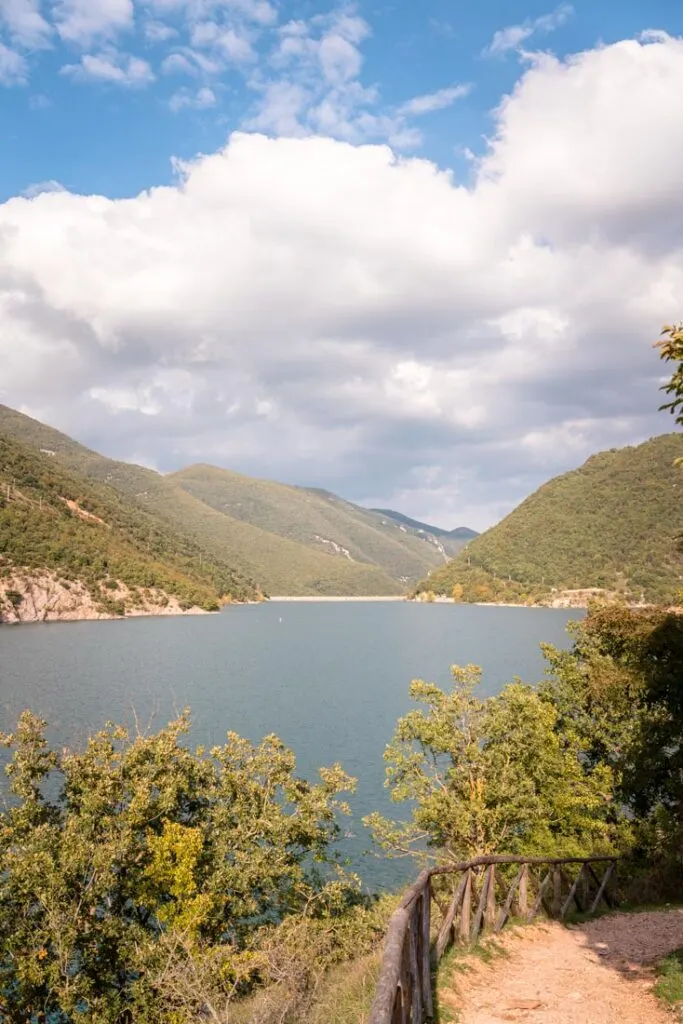 In summer you can go swimming, hire a kayak and explore the different bays, and it's a great spot for paddleboarding too.
There's also a lovely 3km nature trail on the eastern shore that follows the lake. Chloe & I spent a lazy afternoon meandering along this trail, and it was so quiet and peaceful.
Hike to the crazy rock formations at Lame Rosse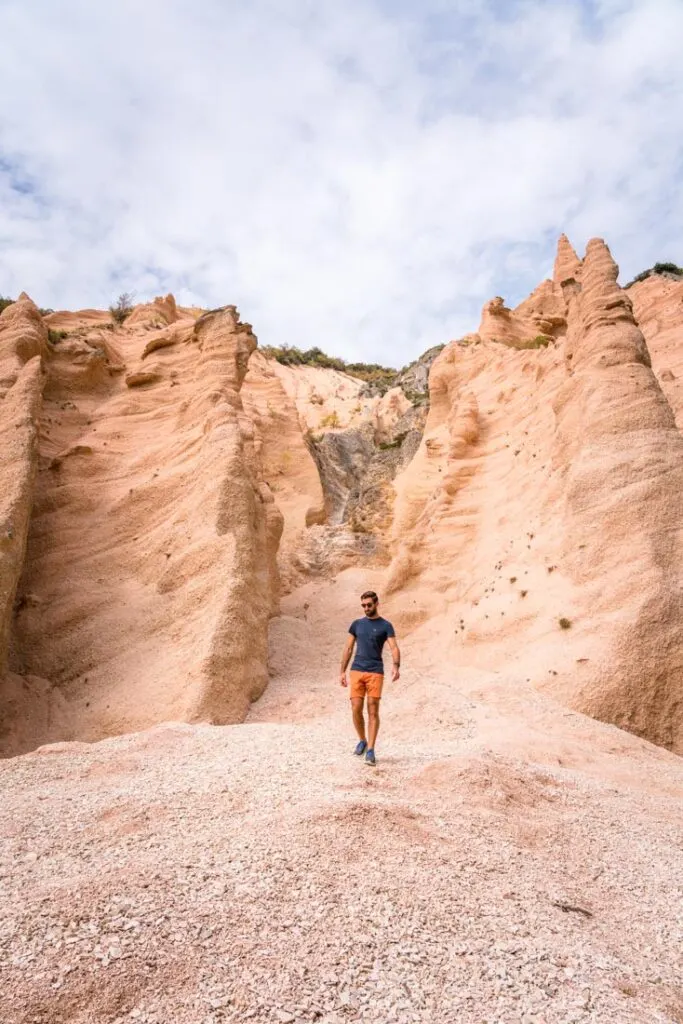 In the very south of Marche, next to the border with Umbria, you'll find Fiastra. This town is located in the Monti Sibillibi National Park, and it is another gorgeous spot in Italy (there really is a theme running here, isn't there?)
The main spot is Lago Fiastra, the shining lake with the mountains all around it. Well, close to the lake is an amazing hike to Lame Rosse, another unique geological formation to the area. When I first saw the photos of Lame Rosse I thought it was Utah or Arizona, not Italy!
These odd rock formations were formed millions of years ago due to erosion in the area. The name Lame Rosse literally means "red blades" in Italian, and they look like these red fingers rising out of the earth.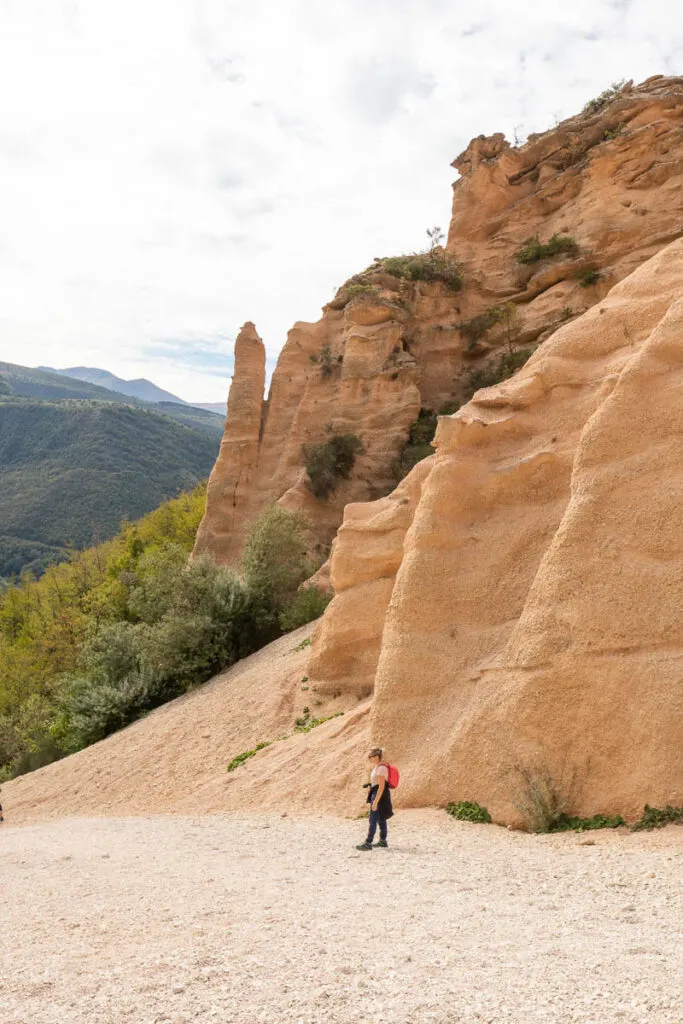 For those of you looking at visiting these rocks, there is a really lovely hike to them.
The Lame Rosse trail is about 3.5km and begins at the Lake Fiastra dam. There is a car park close to this spot where you start from.
In total, the hike takes around 2h:30m. Just as a word of warning tough – the hike is mega steep right at the very end. By this point you have to scramble up loose shale and stone, so make sure you have trainers or hiking boots on. And take your time!
I really enjoyed this hike though. Once again, it just goes to show how varied the region on Marche is!
---
This post was in association with Viaggio Italiano and Marche Tourism promoting some of the best things to do in Marche. As always, views are entirely my own and without bias.
Are you planning a trip to Marche? If you have any questions about it all, you can let me know in the comments below!
Like this blog post? Then Pin it for the future!