From walking around the Imperial Castle to making infamous Nuremberg gingerbread, here's what to do in Nuremberg for an amazing weekend away!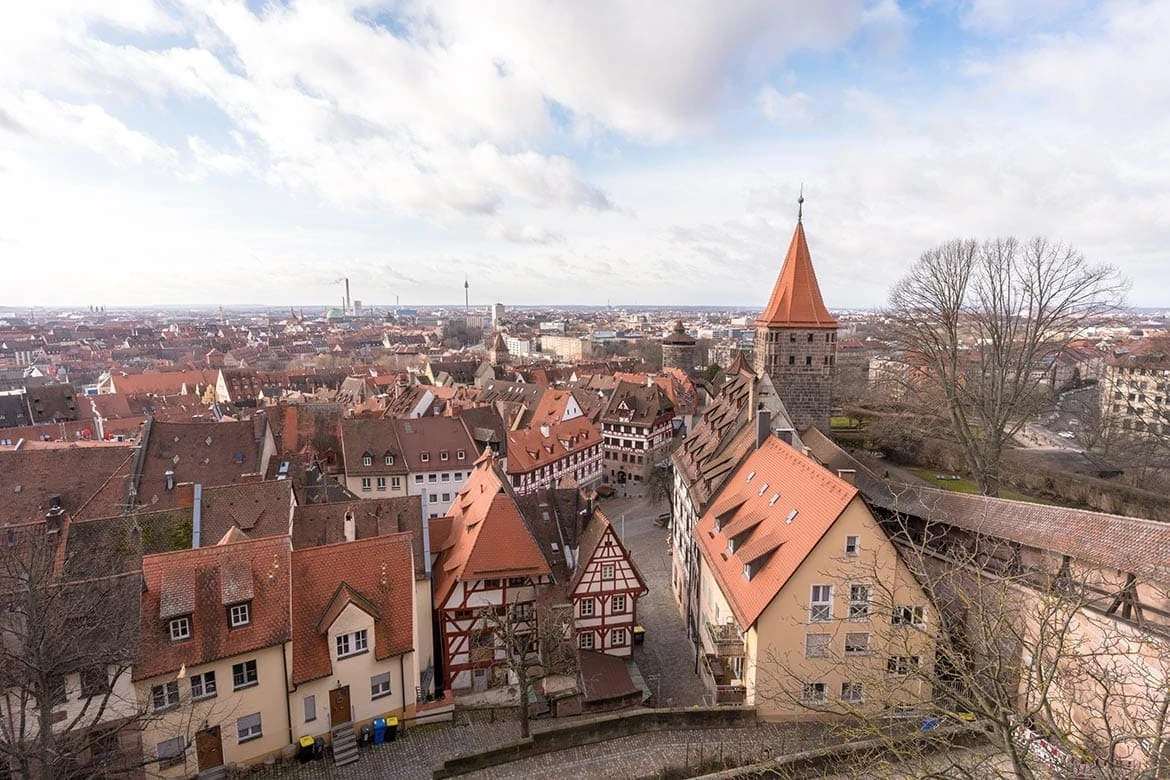 I have got a bit of a soft spot for cute medieval towns and cities around the world. Well, they don't come much cuter than Nuremberg.
I recently visited the city for a romantic weekend away with Chloe and I loved it there. Now I know what you're thinking. German cities don't immediately spring to mind for a romantic city break, but Nuremberg is different.
When it comes to what to do in Nuremberg, there are so many tourist attractions and activities to choose from. The place is packed full of cool cafes and trendy bars to spend a few hours. There's also a healthy dose of quality restaurants too. But for me, just walking around the cobble-streets and losing yourself among the beautiful buildings is enough.
Also, even though the city is famous for the Nuremberg Christmas markets, it's well worth visiting just after Christmas too. Then you get lots of the city all to yourself!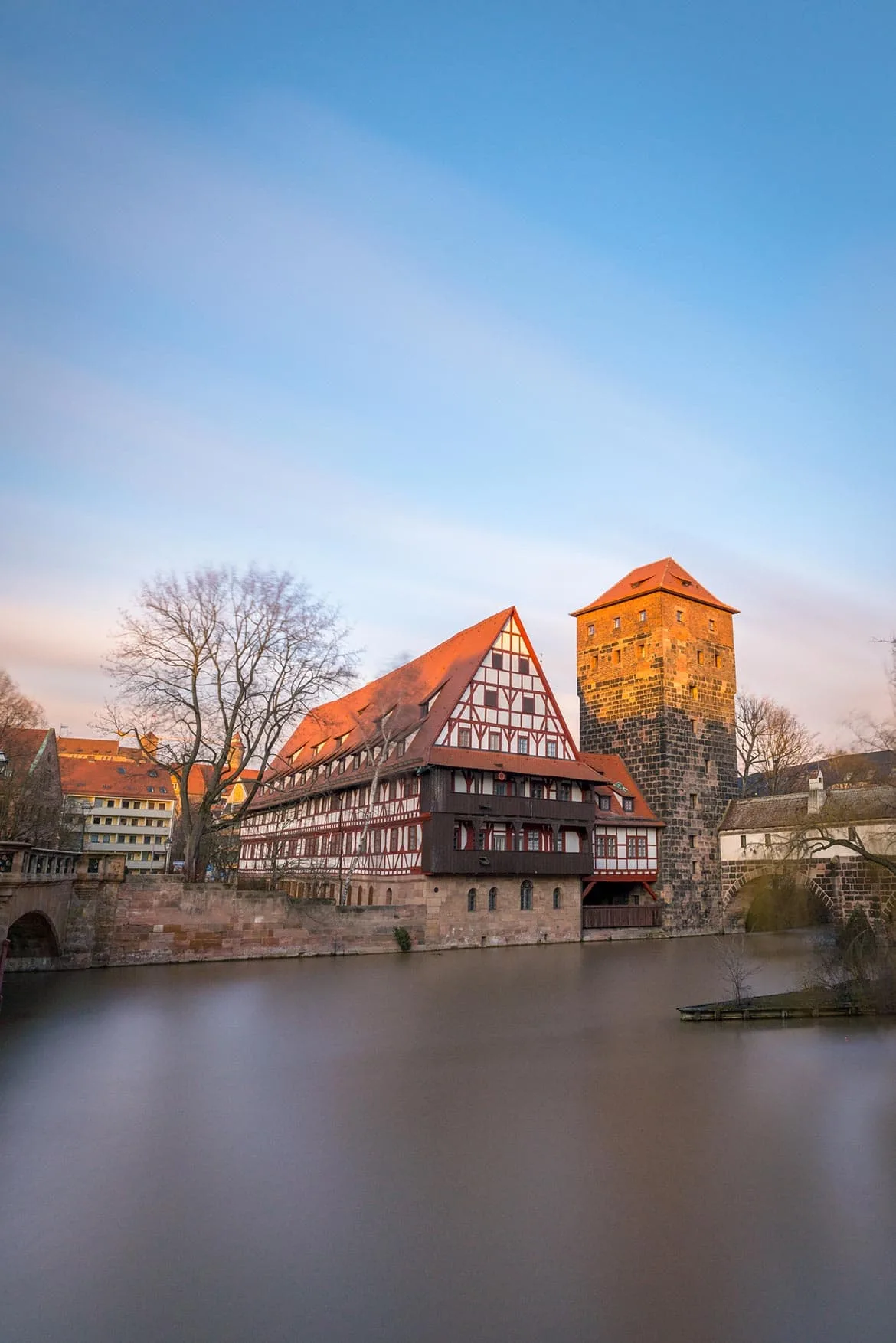 As for romantic things to do in Nuremberg, we spent one afternoon making Nuremberg Lebkuchen, the famous gingerbread found here. Another highlight was going on a horse & carriage ride around the city – that was the perfect way of spending Valentine's Day! I really enjoyed exploring all this city had to offer though.
So, if you're looking at what to do in Nuremberg then this is the blog post for you. In it you'll find some of the best bars and restaurants, where to stay and what to do. Basically, I want you to have the best weekend in Nuremberg – do a few things on this itinerary and you'll love it.
---
What to do in Nuremberg: day 1
Go for a romantic horse & carriage ride around the city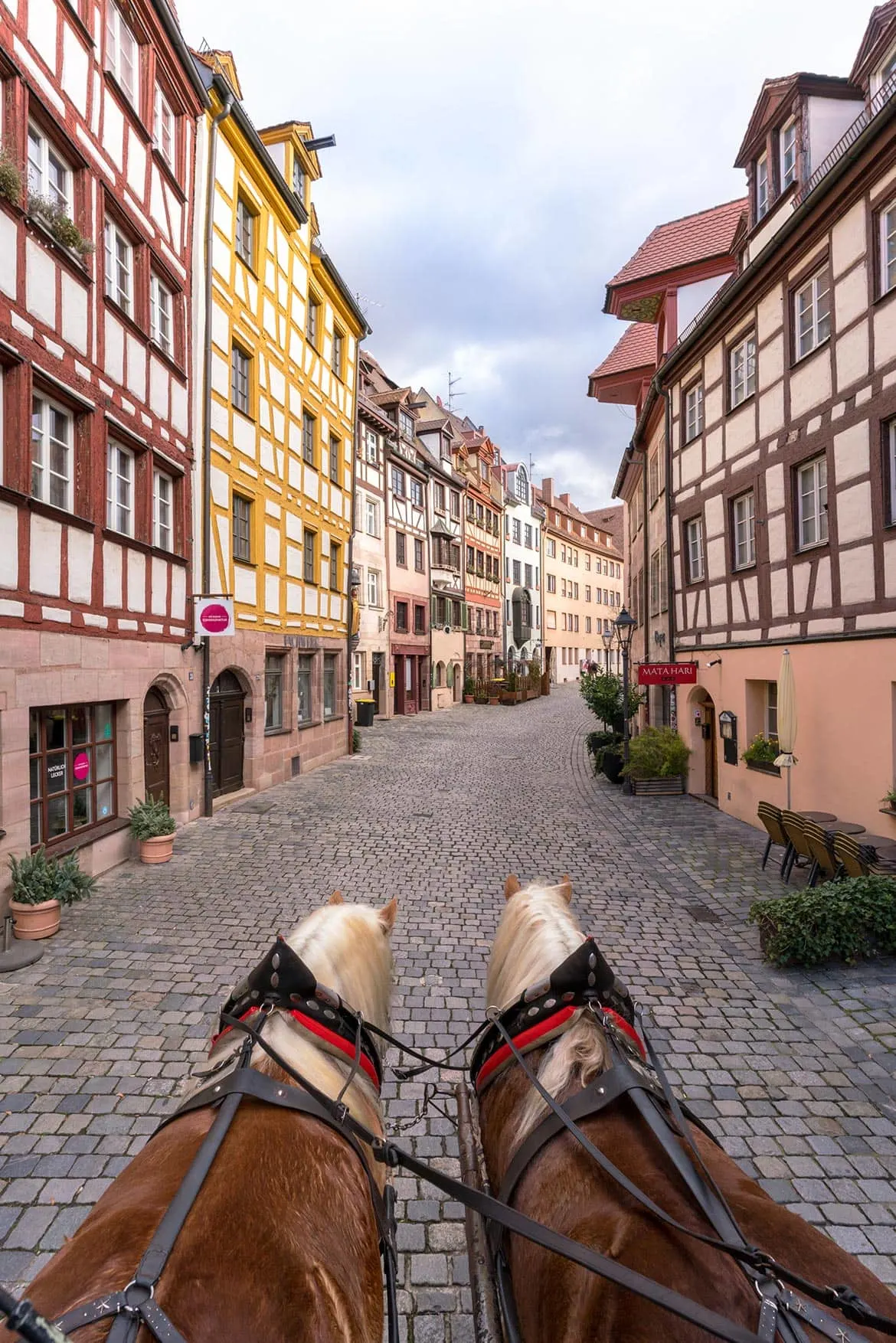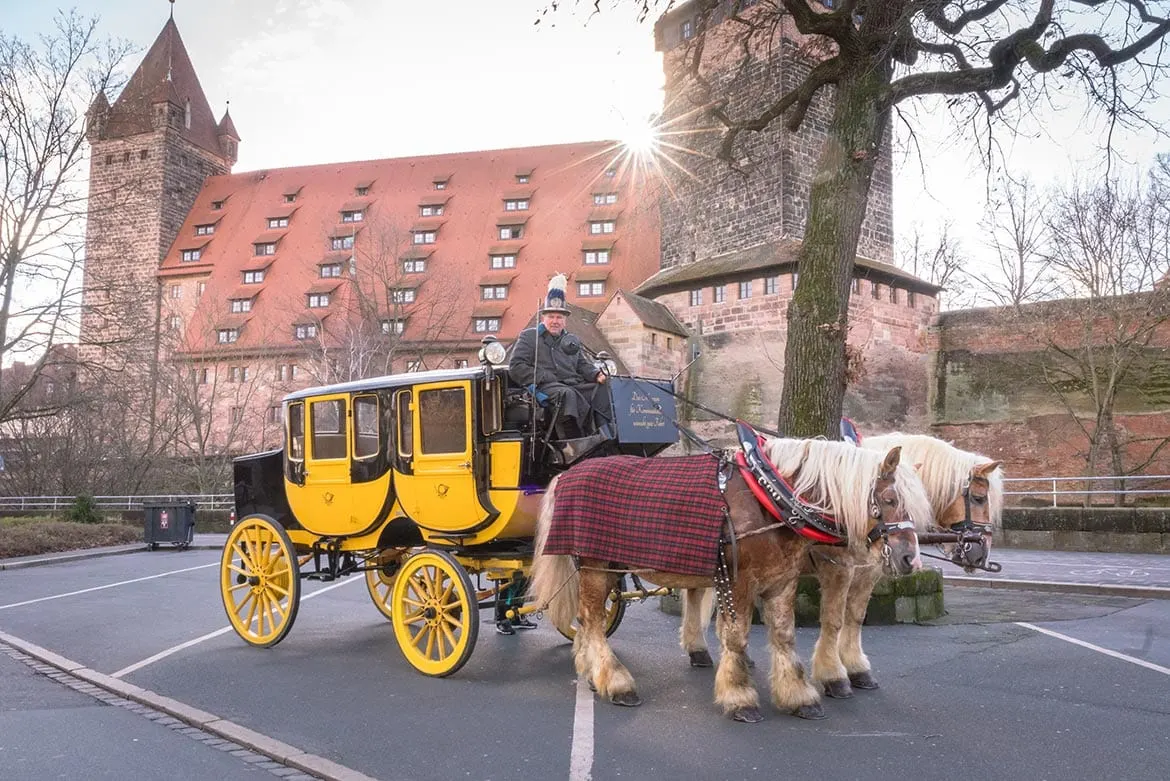 As I mentioned, a horse & carriage ride is one of the most romantic things to do in Nuremberg. Wet met our driver from the Museum for Communication Nürnberg in the main market square, and as we walked across the square there was this ornate yellow carriage with a couple of gorgeous plough horses at the front.
From there we went on a 90-minute tour around the old city walls of Nuremberg. Along the way we stopped off at a couple of the most picturesque places to take photos. To be honest with you though I was more interested in taking photos of the horses – they looked so proud and regal trotting around the city.
It's quite funny being in the back of the carriage. You really do feel a bit like royalty travelling around, especially as everyone stops and takes photos of the carriage.
I really enjoyed this activity though and it was a great start to our 3 days in Nuremberg.
Find some of the best views of the city at the Imperial Castle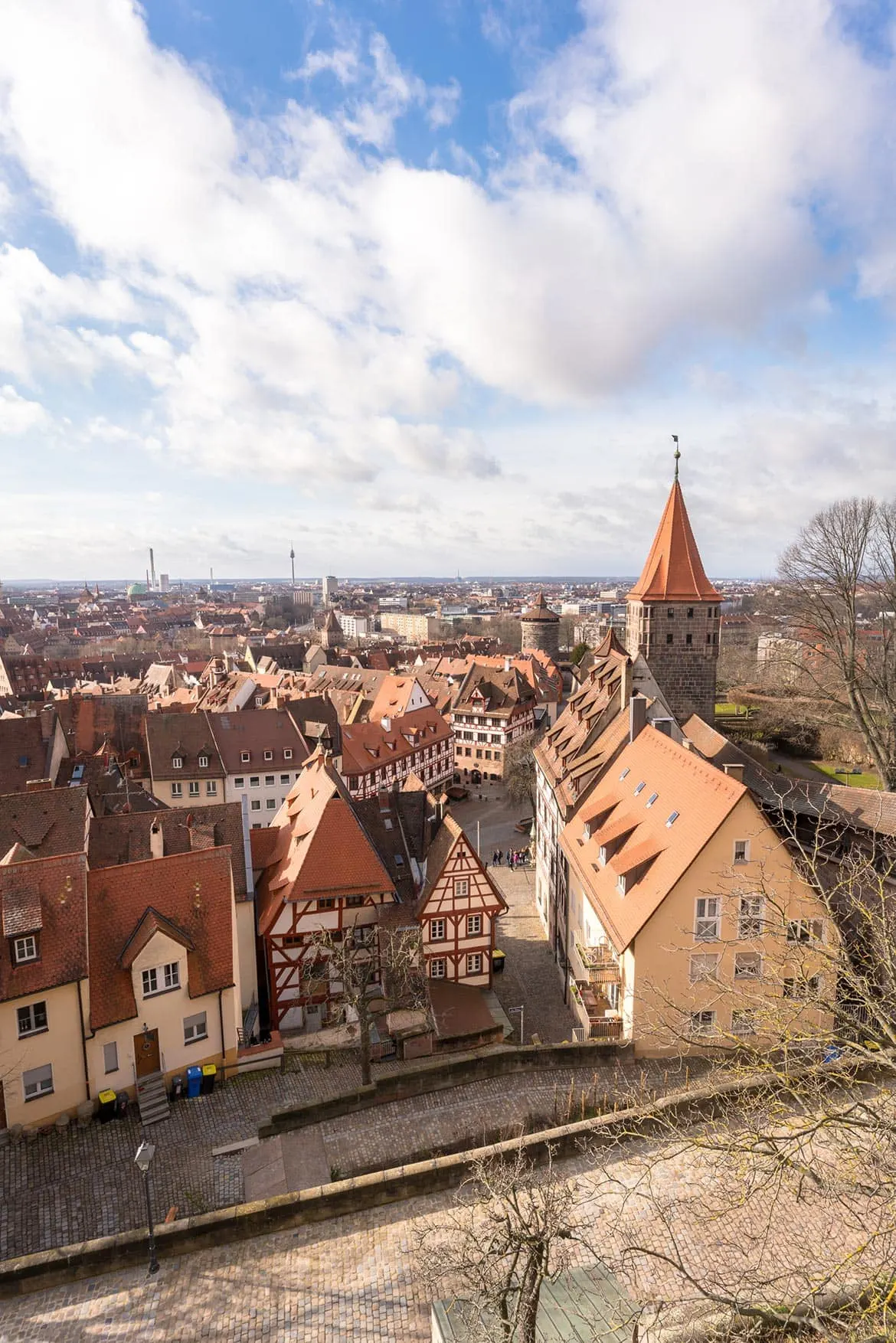 Whenever I get to a new city, I am always on the lookout for some of the best viewpoints. Well, in Nuremberg, that was at the Imperial Castle.
The Imperial Castle of Nuremberg is hard to miss. Built on top of a hill for the best vantage point of the surrounding countryside, the castle looms over the city. This place dates back 1,000 years ago so there's some serious history here.
Tickets inside the castle cost €7 and inside there are number of exhibitions going into the history of the area. You can also see some of the medieval crown jewels which are incredibly blinging. These are dripping in gold.
My favourite viewpoint was from the windows of the banquet hall, so definitely check out this spot. That's where I took the above photo.
Eat in an infamous Nuremberg bratwurst house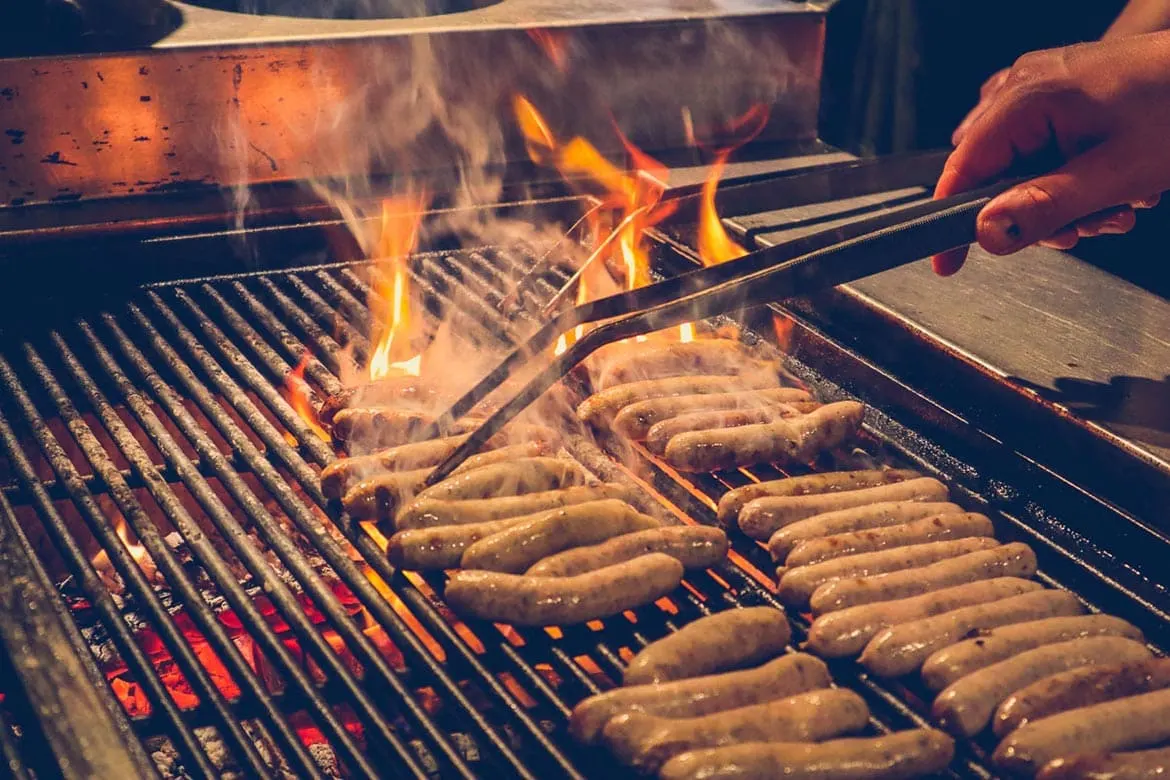 Germany is a country that loves a sausage. Well, that's on the next level in Nuremberg. People travel from all over the country just to taste the infamous Nuremberg bratwurst.
More than 3 million of the small sausages are produced every single day which is just astounding. As you can tell, these little fellas are damn popular.
The Nuremberg bratwurst are packed full of spices and are so delicious. Usually they come either with sauerkraut or potato salad. Or, if you want to eat them in the traditional way, you have 3 stuffed inside a small bread roll with mustard. Very simple but packed full of flavour.
Dotted all around Nuremberg are bratwurst houses where you can pop in for lunch or dinner. You can order 6, 8, 10 or 12 at a time and they come with bread/pretzels on the side too. They're cheap too with a plate of six costing around €8.
Oh, and make sure you order a beer to wash it all down!
Go for a wander along Weissgerbergasse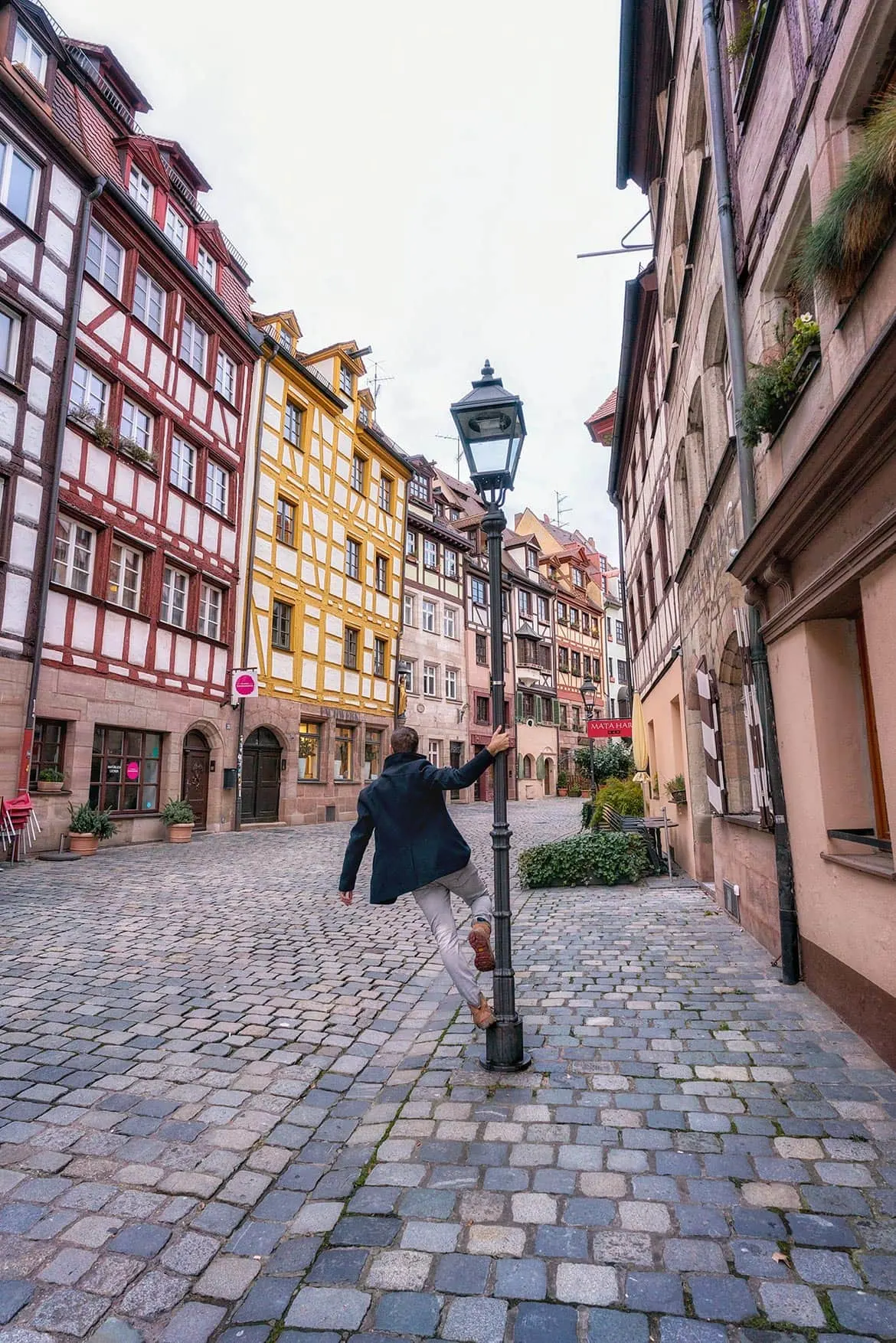 If you're looking at what to do in Nuremberg then I'd really recommend visiting Weissgerbergasse. This is the most picturesque street in the city with old timber houses on either side.
Historically, this used to be where the leathermaking trade was in the city. Each house often came with the own well and garden to highlight the affluence of the area.
Instead of the busy tanners in the Middle Ages, the Weißgerbergasse today is populated with cafés, bars, small boutiques and handicraft workshops. It's also just an incredibly beautiful street to walk along, especially at night.
A fantastic way of seeing this area is on a Nuremberg city tour. Then you get to see all the best places around the city!
Travel around the world at Globo Restaurant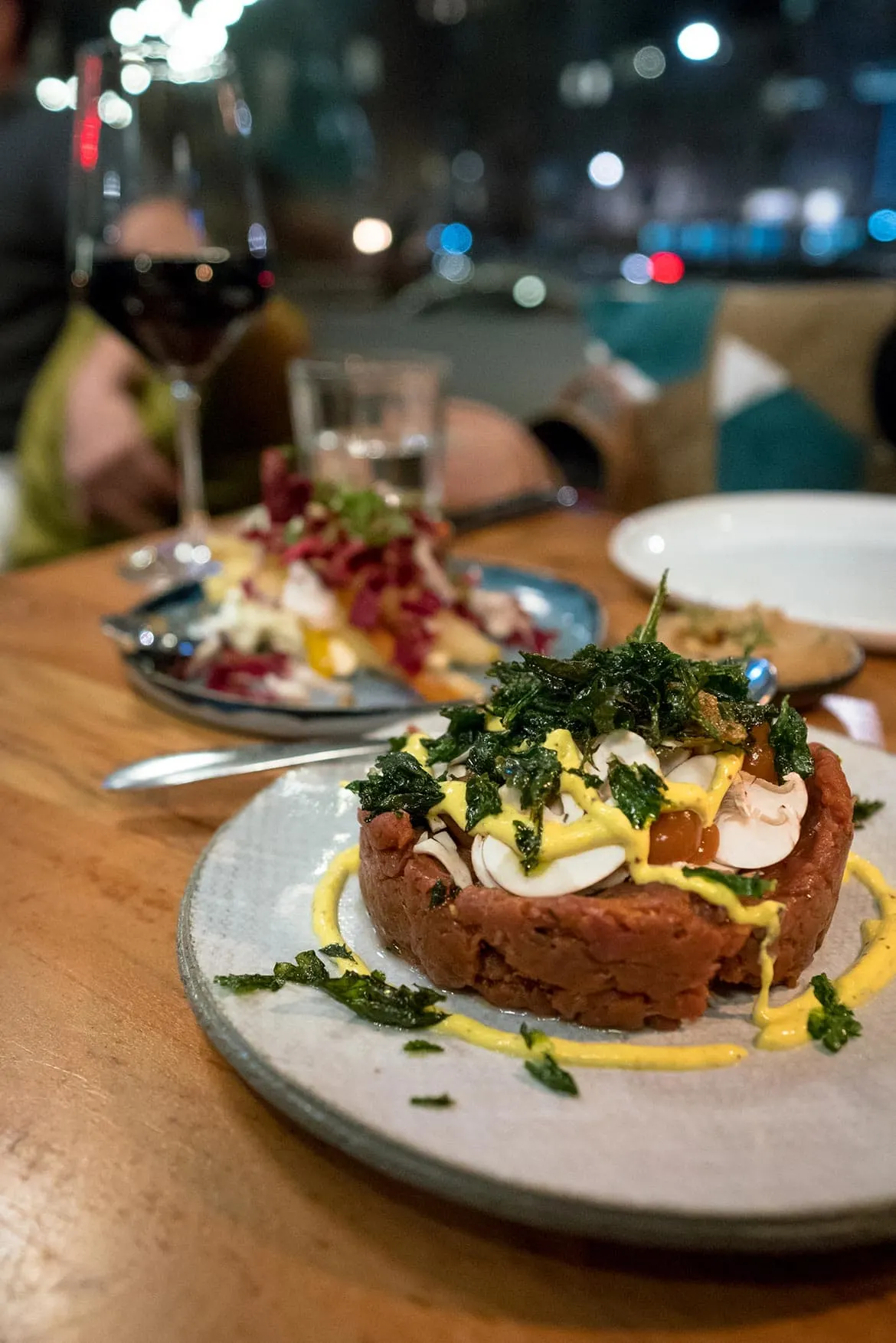 Globo was one of my favourite restaurants in Nuremberg. As the name suggests, the décor and menu take inspiration from around the world. Just perfect for a traveller like me!
There's not a huge amount of choice on the menu but each dish is really intricate and well put together. For example, for starters we shared steak tartar which was really well balanced. We also had this fascinating pickled vegetables dish with cream cheese which was SO GOOD! I can't recommend ordering that one enough.
Like a lot of German food, the mains were big and hearty too, packed full of flavour. There's a reason why this is one of the best restaurants in Nuremberg.
Nuremberg itinerary: day 2
Climb to the top of St Sebald Church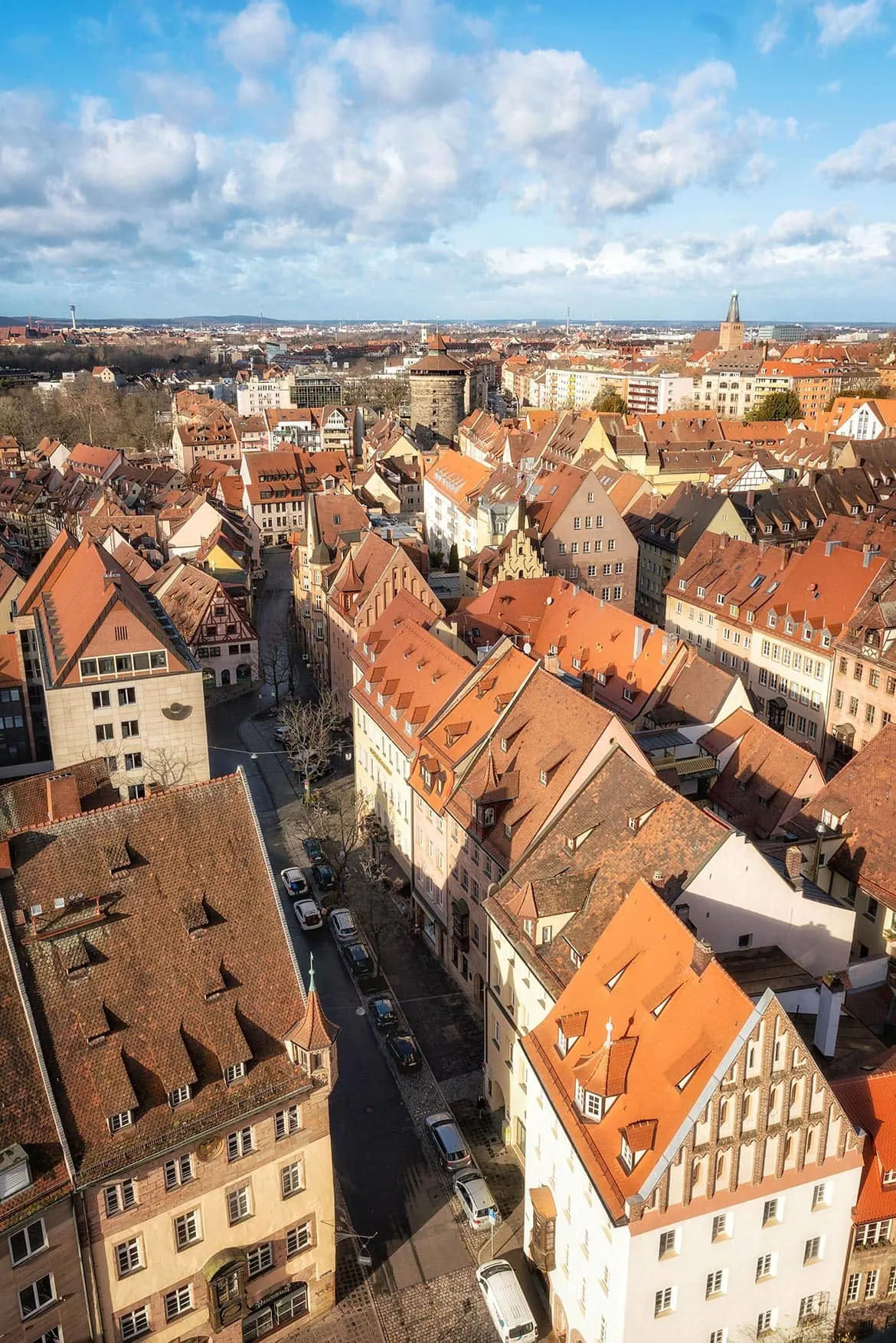 St Sebald Church is one of a few churches in Nuremberg but it is considered to be the oldest.
The inside of the church is incredibly beautiful with high-vaulted arches and ancient artefacts dotted all around the place.
We took a tour while we were at St Sebald church. Not only did we learn all about the history of the place and how they rebuilt this church more than a couple of times (most recently because of World War 2), but we also climbed up the church towers.
Once you climb all the way up, the views from the top are just incredible. From here you can enjoy amazing views over the city and the Main Market Square, where the Christkindlesmarkt is held in December. You can also see a couple of other churches dotted on the horizon too.
Make Nuremberg Lebkuchen, delicious gingerbread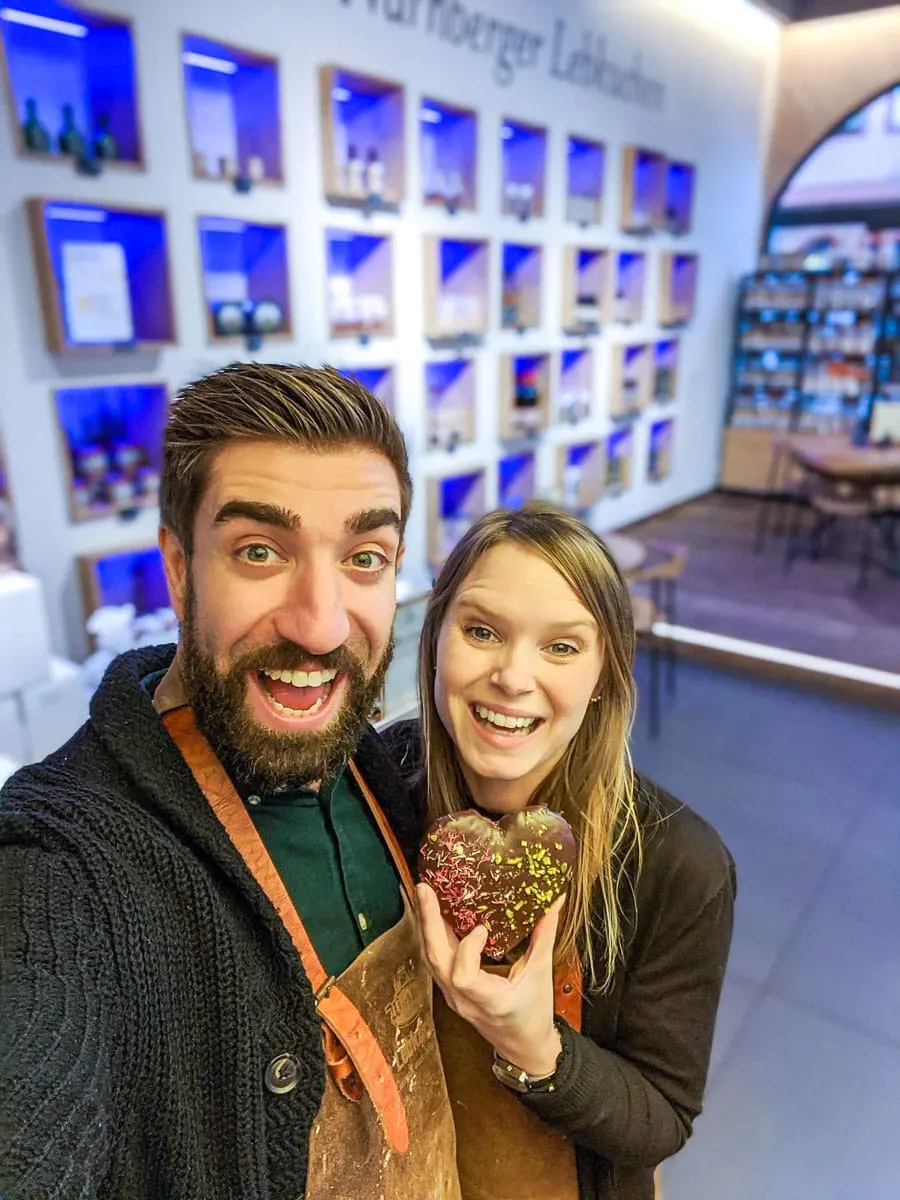 Making delicious gingerbread was high up on my list of what to do in Nuremberg. After all, this is one of the things the city is most famous for so I had to give it a go myself.
Nuremberg Lebkuchen were first baked by Frankonian monks way back in the 14th century. Because the city was one of the most important trading centres in Europe, exotic spices like cinnamon, cloves, cardamom, nutmeg and foreign almonds were easily available.
This isn't like any gingerbread I've tasted before though. The dough is really soft like cookie dough, and it's packed full of flavour from the spices. Also, it's really really nutty. If you don't like nuts or are allergic then do not eat these. Officially there has to be at least 25% nuts in the dough to be classified Nuremberg Lebkuchen.
One afternoon we headed to Wicklein to learn how to make this gingerbread. It was a really interactive class where we learned all about the history of Nuremberg Lebkuchen before creating a few ones to take home with us. The best bit is they had a chocolate pump so you can cover the gingerbread in chocolate. Naughty but oh so yummy.
Go for lunch at dasPaul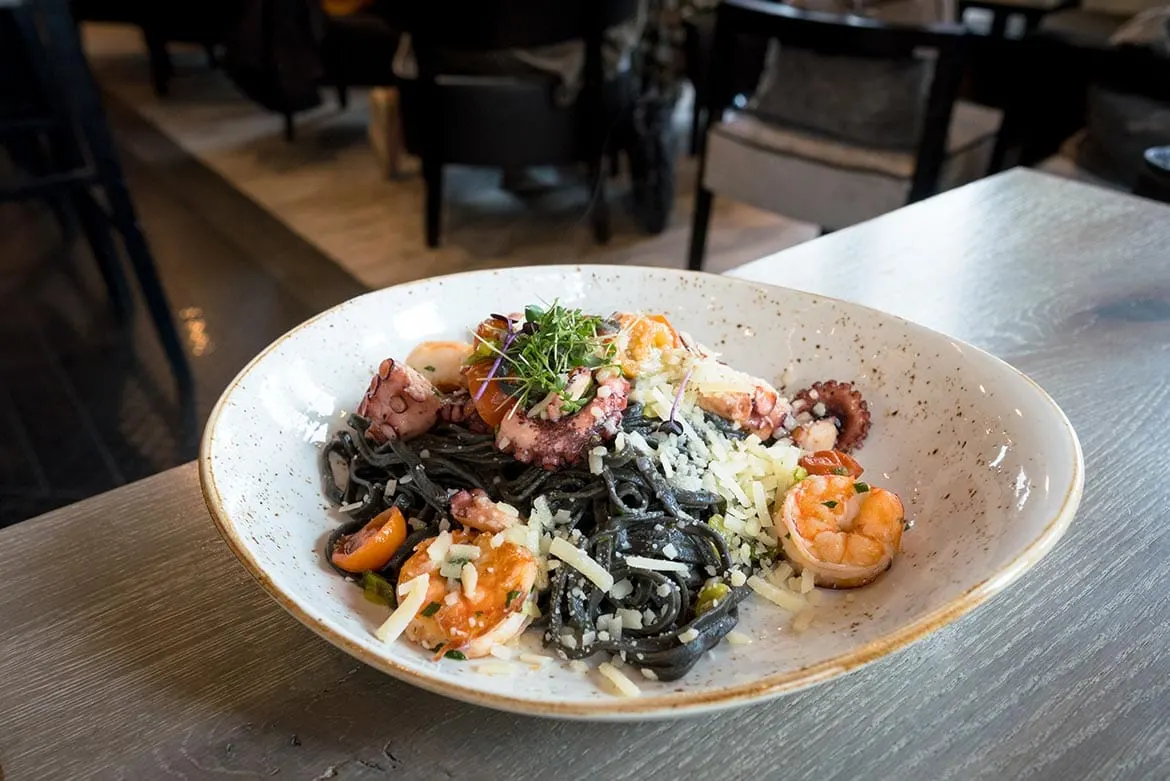 dasPaul is a restaurant right in the centre of Nuremberg. Located by the side of the river, it's an excellent spot for lunch when exploring the city.
dasPaul is famous for its burgers and hearty salads, but I could resist the pasta. The had a black squid ink pasta stuffed full with seafood and it was lovely. Surprisingly light and packed full of flavour.
dasPaul is also a hotel too, so if you're looking for a convenient hotel in the centre of the city then this is a good option. Like a lot of restaurants in Germany, dasPaul is very modern and trendy.
Walk over Henkersteg, the famous wooden bridge
One of my favourite things to do in Nuremberg is just wandering around the city. I found Nuremberg surprisingly small and therefore really easy to get around. From where I was staying, pretty much anywhere was a 15-minute walk away.
One spot that I thought was fascinating was Henkersteg. This place has got a bit of a gruesome past. It was over this wooden bridge that the "Henker" – the Executioner – would walk from his isolated house on the island into the city. In the Middle Ages, the executioner was not allowed to have contact with honourable citizens. That's why today the bridge is known as the Executioner's Bridge.
Some of the buildings around this part of town were my favourite too. It really is a great photo spot in Nuremberg.
Tuck into a delicious steak at
Dürrer

Hase Steakhouse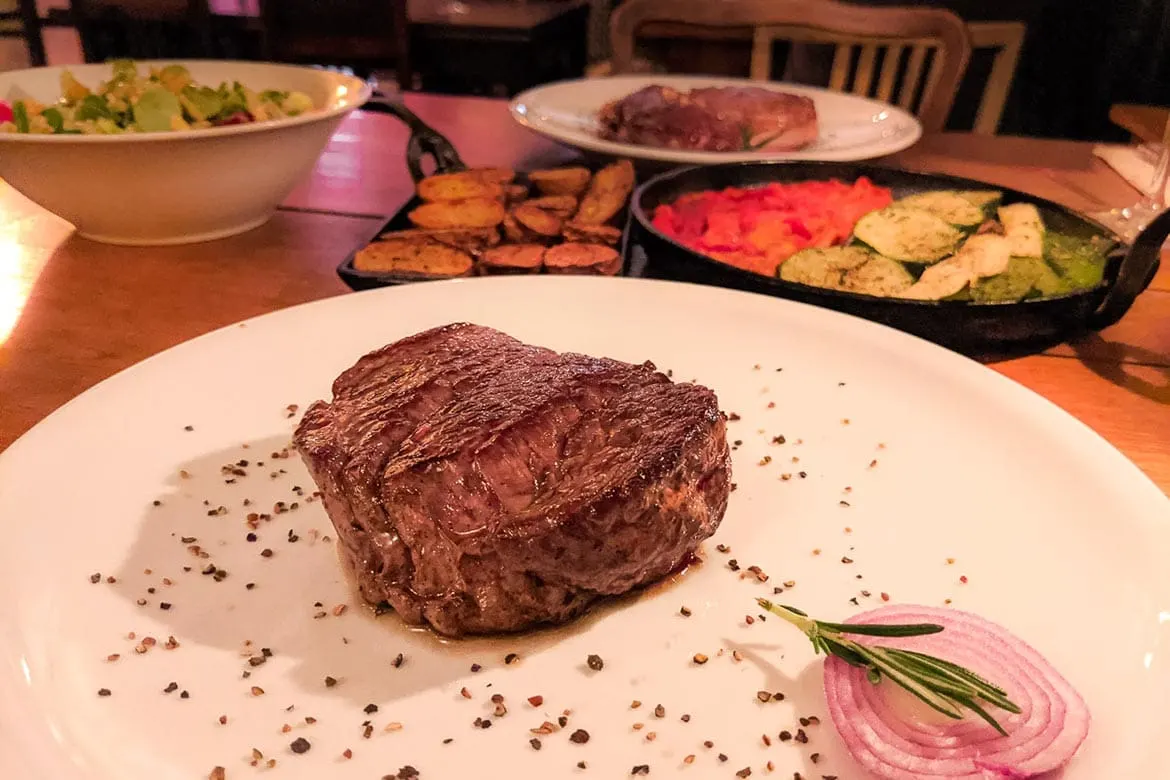 As Chloe & I were on a romantic trip to the city, we thought we'd treat ourselves to a delicious steak dinner.
We were told that the Dürrer Hase Steakhouse had some of the best steaks in town, so on our second night in Nuremberg we headed there for dinner.
With a tiny menu and only 3 different steaks to choose from, Dürrer Hase concentrates on quantity over quality. Each steak is cooked to absolute perfection – it was so juicy and tender.
We also ordered a really nice side of grilled vegetables which accompanied the meat well. And we couldn't resist a couple of glasses of red too!
For me, this was such a good place to eat in Nuremberg. Again, I can't recommend this place enough.
Have late night drinks at Vintage Bar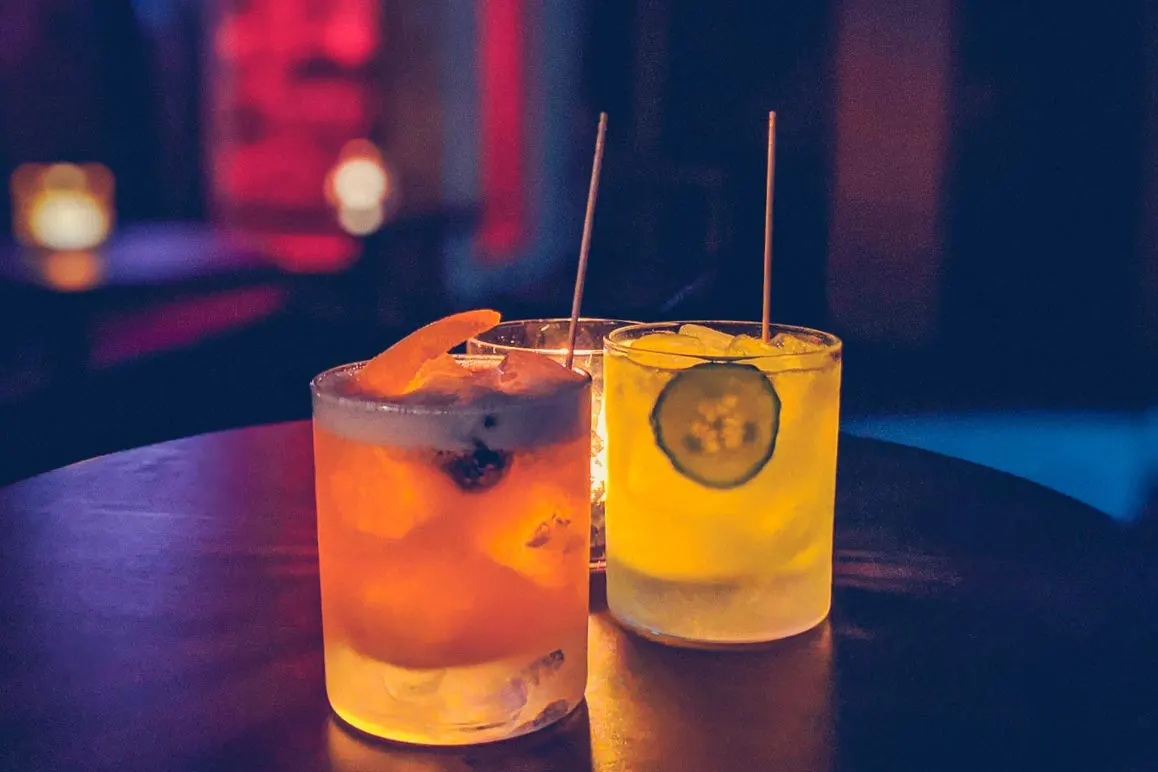 Just around the corner from the Imperial Castle and Weissgerbergasse is Vintage Bar. This is a cosy speak-easy bar where you've got to ring the front doorbell to be let in.
Once inside, it feels like you're having drinks in a friend's living room. I asked the barman to make me up a really zingy gin cocktail and it was lovely. There's an extensive menu with their signature cocktails too if you're looking for something a little bit different.
This is a really romantic spot for your weekend in Germany. Find a corner seat, get a couple of cocktails and cuddle up!
Nuremberg itinerary: day 3
Take in the incredible architecture at the Neues Museum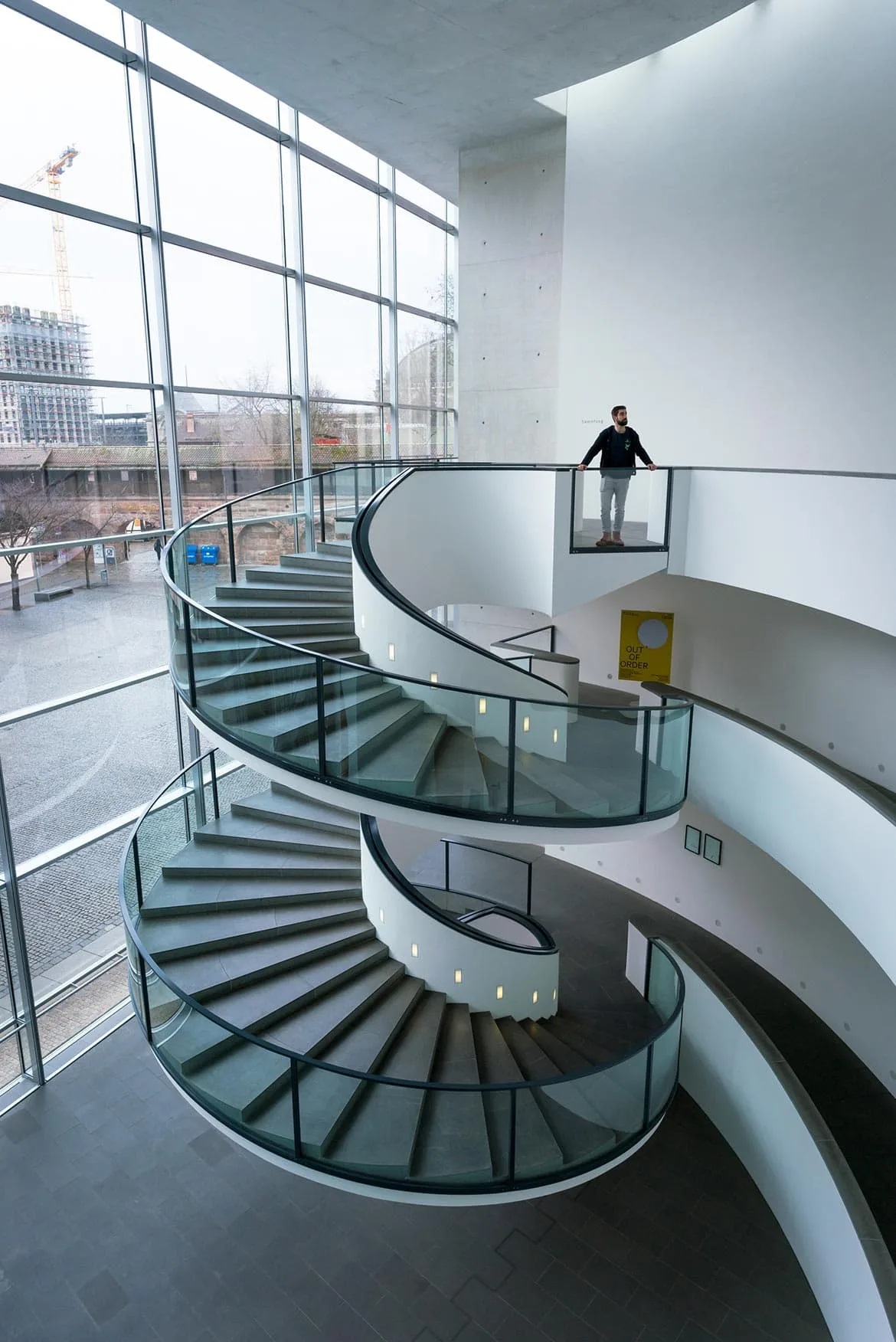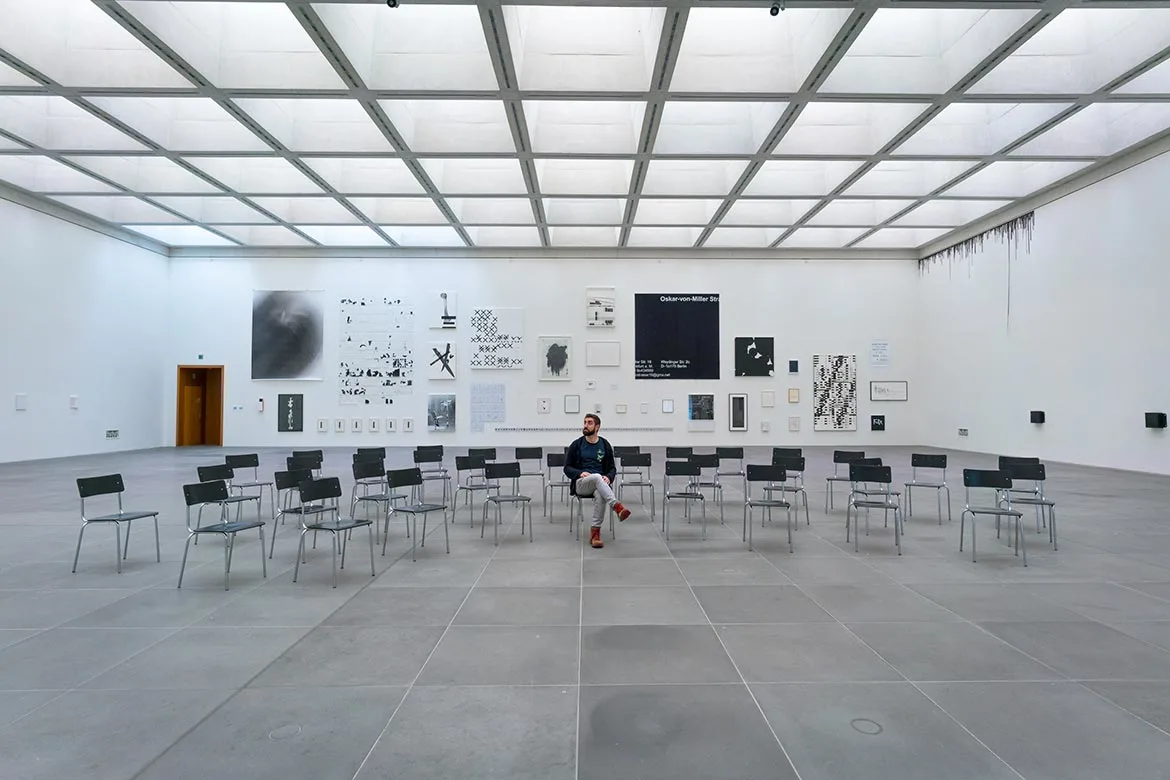 Even if you're not a fan of modern art, I'd still really recommend visiting the Neues Museum. Not only is this home to some stunning and thought-provoking artworks, but it is also home to one of the most beautiful staircases I've ever seen.
From the moment you walk into this museum, your eyes are immediately drawn to the giant spiral staircase in this austere hall. It's a piece of artwork in itself.
The Neues Museum Nürnberg was first opened to the public in 2000, but it feels a lot newer than that. It's minimalist and modern which I just love.
Tickets to the exhibitions cost €5 which are well worth seeing too.
Explore the hipster neighbourhood GoHo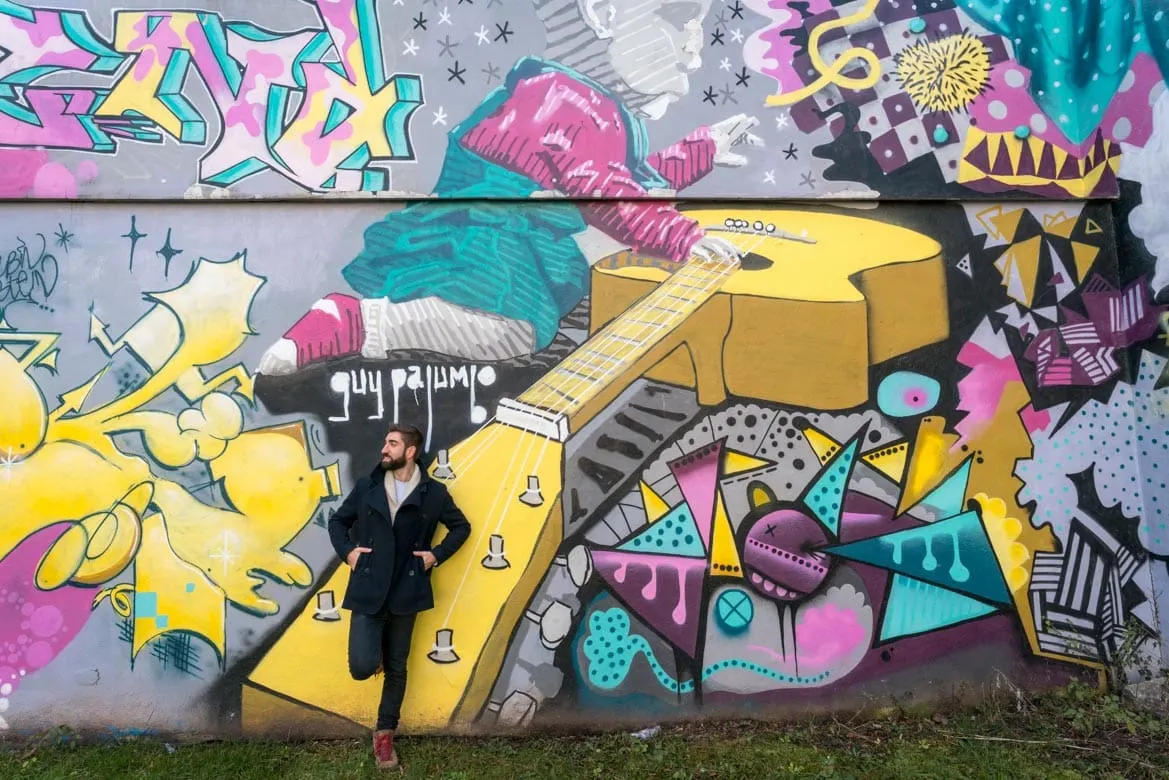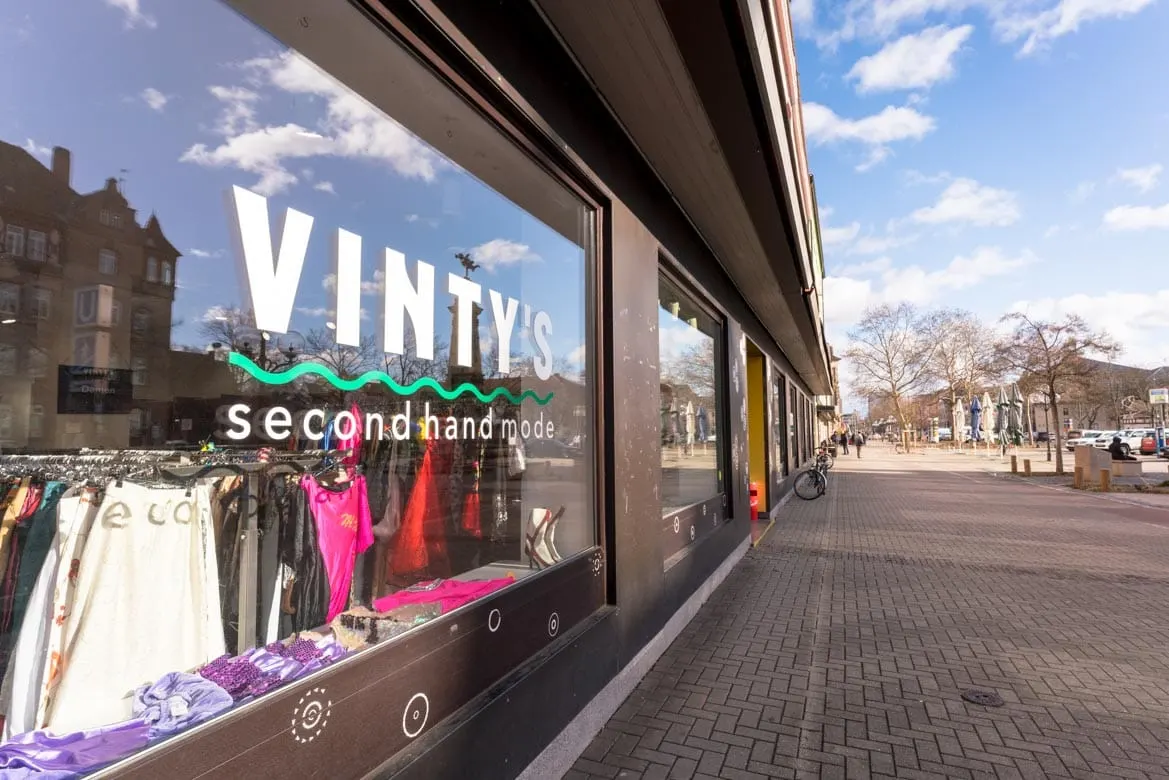 Gostenhof, or GoHo as it's fondly known, is the hipster neighbourhood in Nuremberg. Unlike cities like Berlin and Munich where things are really spread out, GoHo is only a short 10-minute journey from the city centre.
You'll immediately know you've arrived in GoHo by the amount of street art you'll see everywhere. There are loads of cool boutique shops and cafes sprinkled around GoHo.
A couple of places I really liked were Vinty's, a second-hand clothes shop with some real treasures inside. I also fell in love with Fachmarie, a kitsch shop with some really cute knick-knacks for the house.
If you're into your shopping then you'll love GoHo.
Go for lunch at Zeit & Raum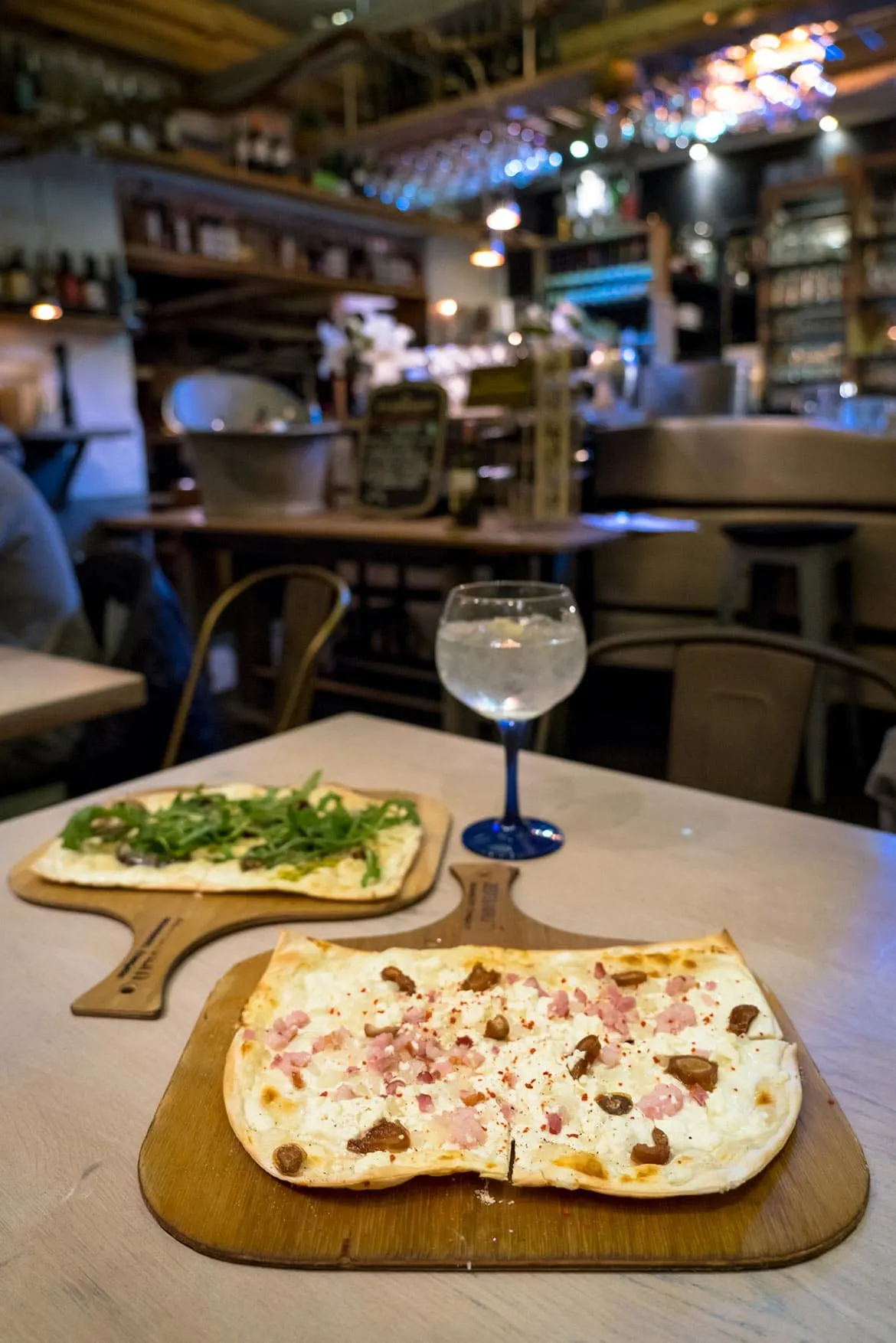 If you're looking for something a little different then you should check out Zeit & Raum. This place is famous for their flammkuchen, their German pizzas.
Instead of a traditional pizza base, they use a very thin tortilla base which is nice and crispy. A very traditional flammkuchen is covered with crème fraîche, thin-sliced onions and lardons. Obviously I had that one and it was mega yummy. And unlike a normal pizza, these flammkuchen were much lighter so a great option for lunch.
Where to stay in Nuremberg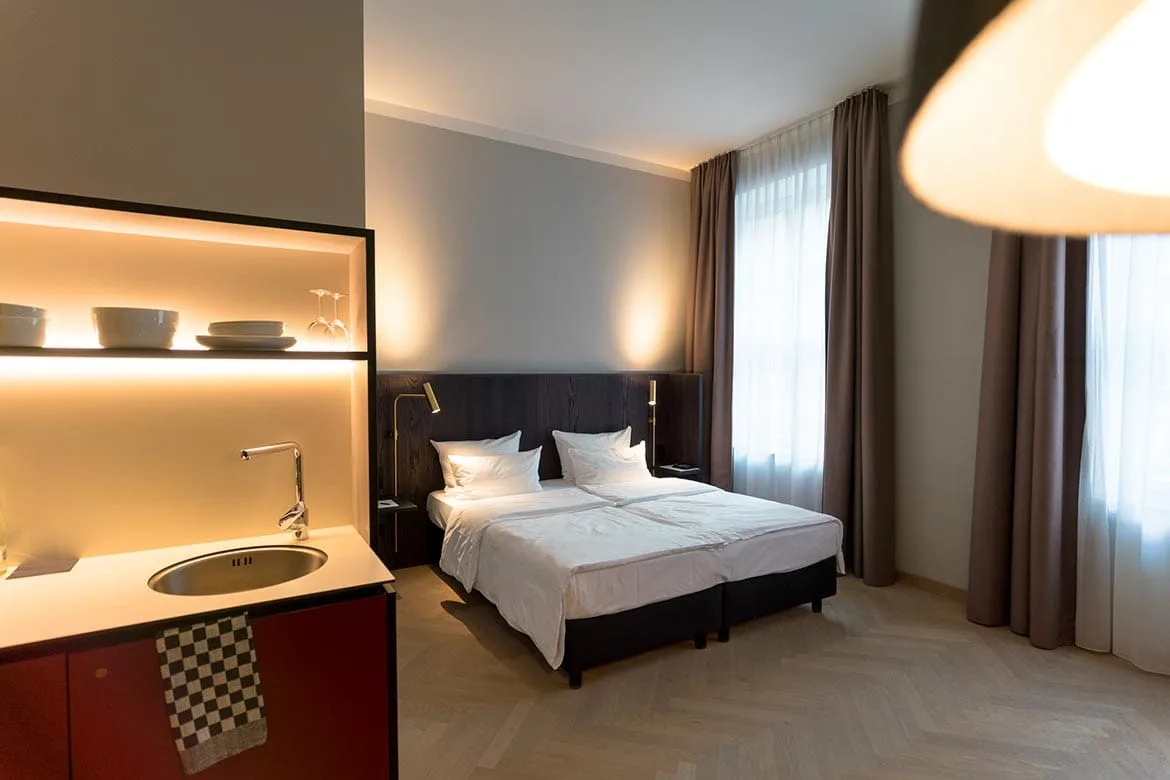 While we were in Nuremberg we stayed at Melter Hotel & Apartments right in the heart of the city.
This was a new aparthotel – a cross between apartment and hotel. This means you get a lot more space than a traditional hotel room. As they say, it's stylish living with all the amenities of a hotel.
One of the best thing's about staying here was the location. We were moments from the metro station and St Lorenz Church. The main train station was only a 10-minute walk away too.
Melter felt like a little home away from home though with loads of space. The breakest buffet at the coffee shop next door was top notch too.
Getting to Nuremberg
Getting to Nuremberg is fairly simple, but it does take longer than most Germany cities as there are no direct flights from the UK. Saying that, it does mean you're more likely to have the city to yourself without a gazillion tourists, especially if you travel in winter.
I flew from London Heathrow to Munich. Munich is one of the most popular airports in Germany so there are frequent flights there throughout the day.
From Munich airport I caught the train into Munich city centre station which took 45 minutes. And then I quickly hopped onto another train to Nuremberg which took an hour.
In total, the journey time takes 4 to 5 hours getting to Nuremberg, but I promise you it's worth it!
Also, Ryanair used to fly from London to Nuremberg, so there did used to be a direct flight. Fingers crossed they open up a new route again soon as it would be amazing flying directly into Nuremberg.
Nuremberg packing list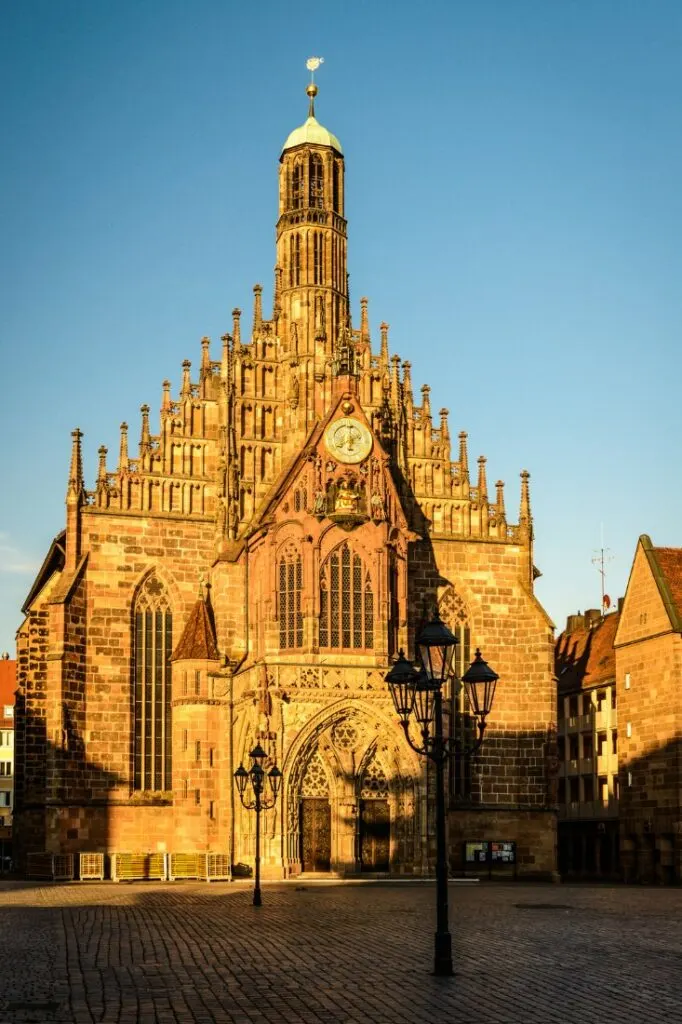 As you can imagine, I travel a lot. It comes with the territory of being a travel blogger! That being said, there are some things that I now can't travel without. If you're planning your Nuremberg 3 day itinerary, I'd really recommend taking these items with you: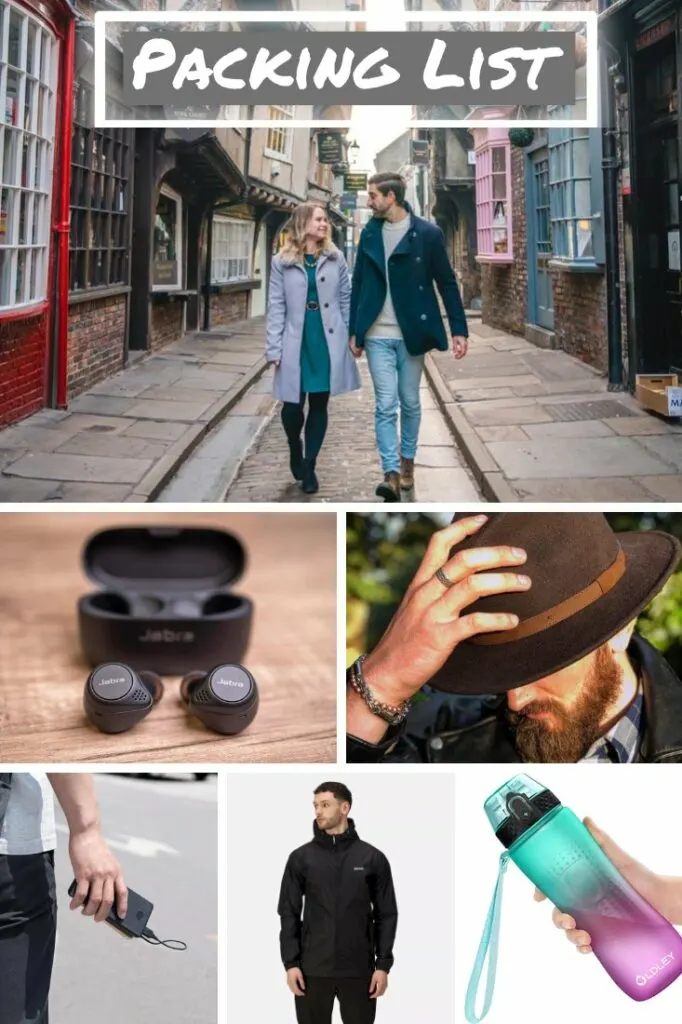 ---
A lot of people ask me "is Nuremberg worth visiting?" and I would say 100% yes. It's an amazing medieval town with loads of things to do there, especially for couples. Hopefully this blog post inspires you to visit here!
This post was in association with Visit Germany and Tourism Nuremberg showcasing some of the most romantic things to do in Nuremberg. As always, all views are entirely my own and without bias.
Are you planning a trip to Nuremberg? What are you most looking forward to doing? Let me know in the comments below!
Like this post? Then make sure you Pin it for the future!