From Jamon Iberico to seafood paella, the Barcelona food scene is just unbelievable. With so many delicious dishes, this is what to eat in Barcelona!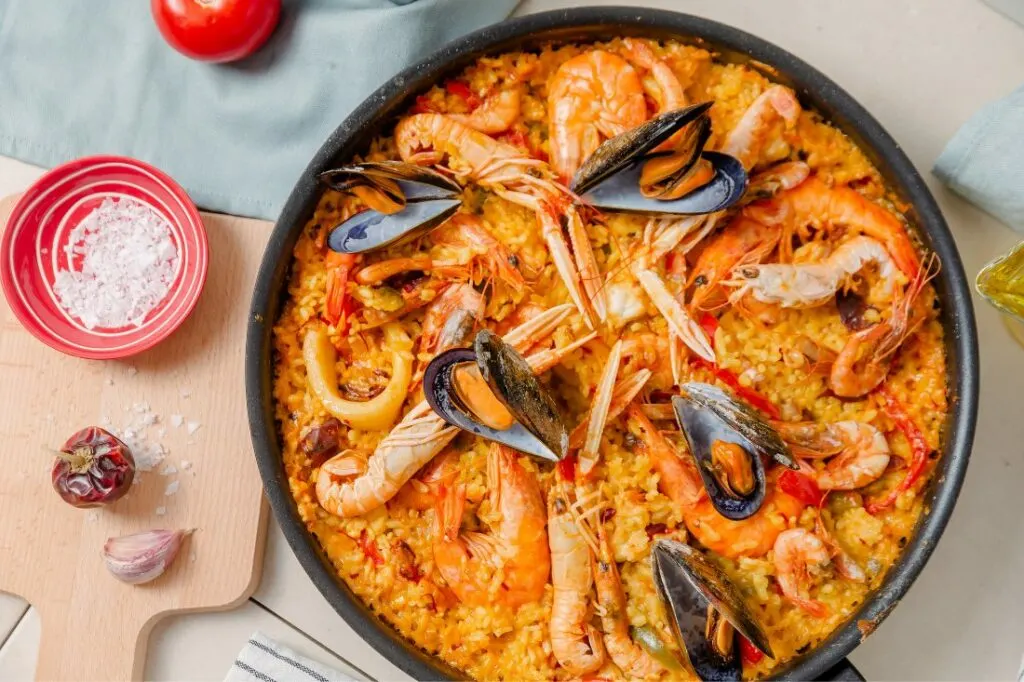 With iconic sights like the Sagrada Familia, Park Guell, and an amazing tapas bar on every corner, it's easy to see why Barcelona is one of the most popular cities in the world.
If you're a foodie, this amazing Spanish city really needs to be on your bucket list. There Barcelona food scene is very different from a lot of other Spanish cuisines because of the Catalan influence.
Personally, I love visiting Barcelona, and the sheer amount of walking I do definitely justifies the huge amount of Catalan dishes I'll eat along the way. It's all about balance, right?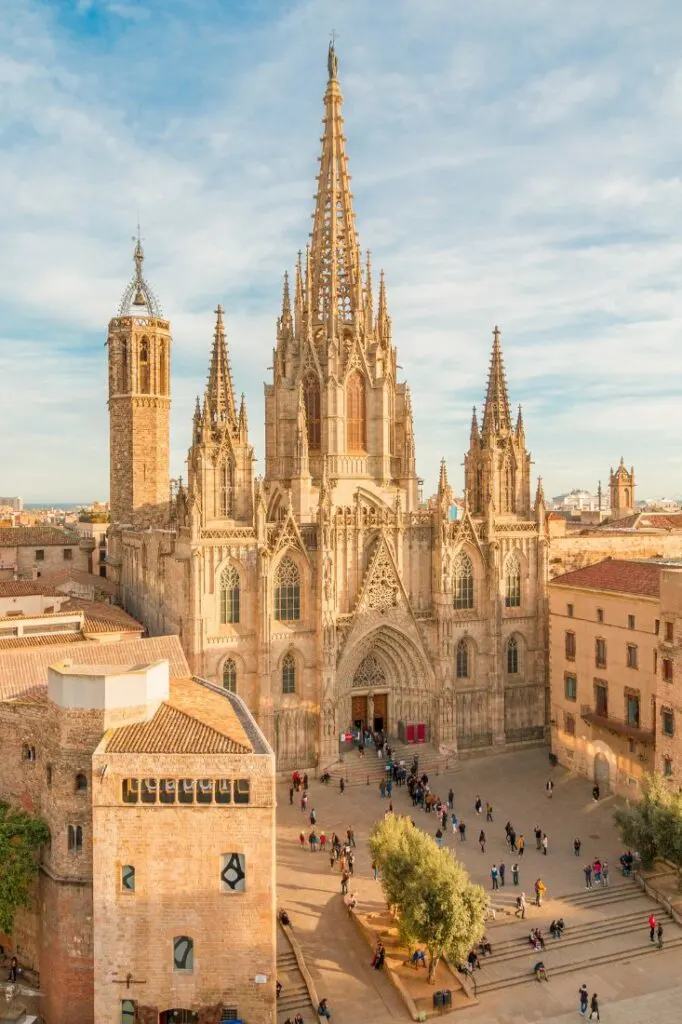 The trouble when there's so much great food all around you is trying to figure out what to eat in Barcelona. Don't worry, I've definitely got you covered in that department – I've tried it all, so I have plenty of recommendations!
Given that Barcelona is a bustling and often sunny city, the food culture definitely reflects that. Think lighter meals or quick, small bites that keep you going and keep you drinking local beers and wine!
So, whether you love delicious local meat, tasty Spanish wines, smooth and nutty cheeses, or everything being fried and covered in a rich tomato sauce, food in Barcelona is some of the best in the world. Let's dive in and find out more!
If you're planning a trip to Barcelona, don't forget to check out my 3 days in Barcelona itinerary packed full of all the best things to do in the city!
---
Barcelona food: What to eat in Barcelona
Jamon Iberico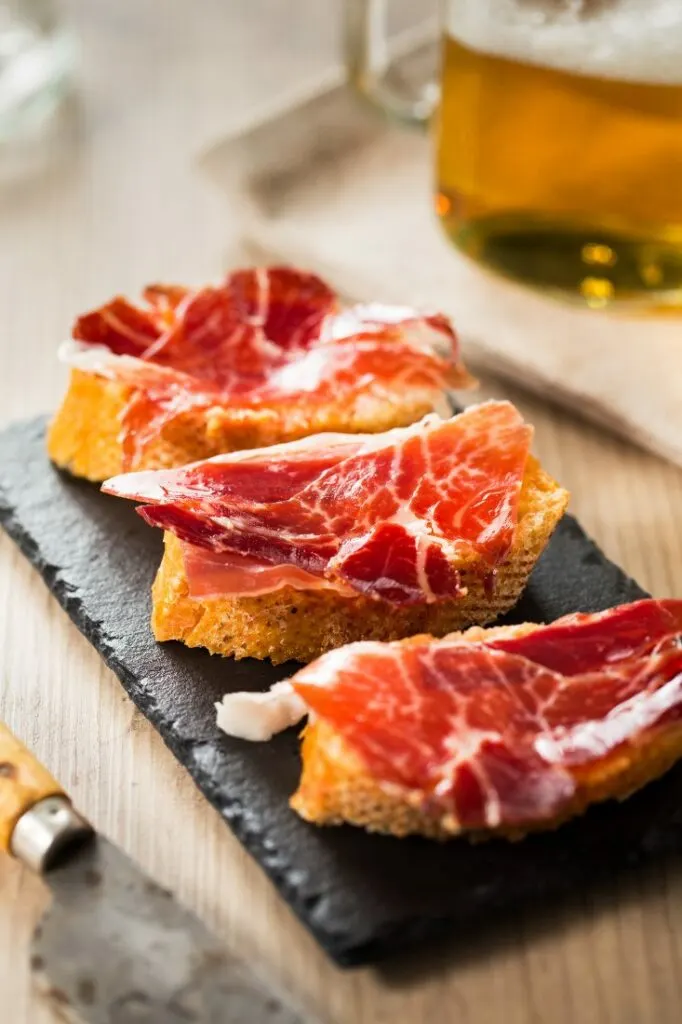 So, let's kick things off with a classic. Jamon Iberico is a Catalan cuisine favourite for a reason. This salty cured ham is served at pretty much every tapas bar in the city.
It's commonly one of the most ordered things in Barcelona and is something that a lot of tourists bring back as a souvenir. It's just that good!
One of the best ways to try Jamon Iberica is with cheese on a traditional sandwich at la Boqueria (the massive indoor market in Barcelona). I could easily just live in these awesome little sandwich joints and the ingredient quality is just so high for the relatively low price.
Pà amb tomàquet (Catalonian style bread with tomato)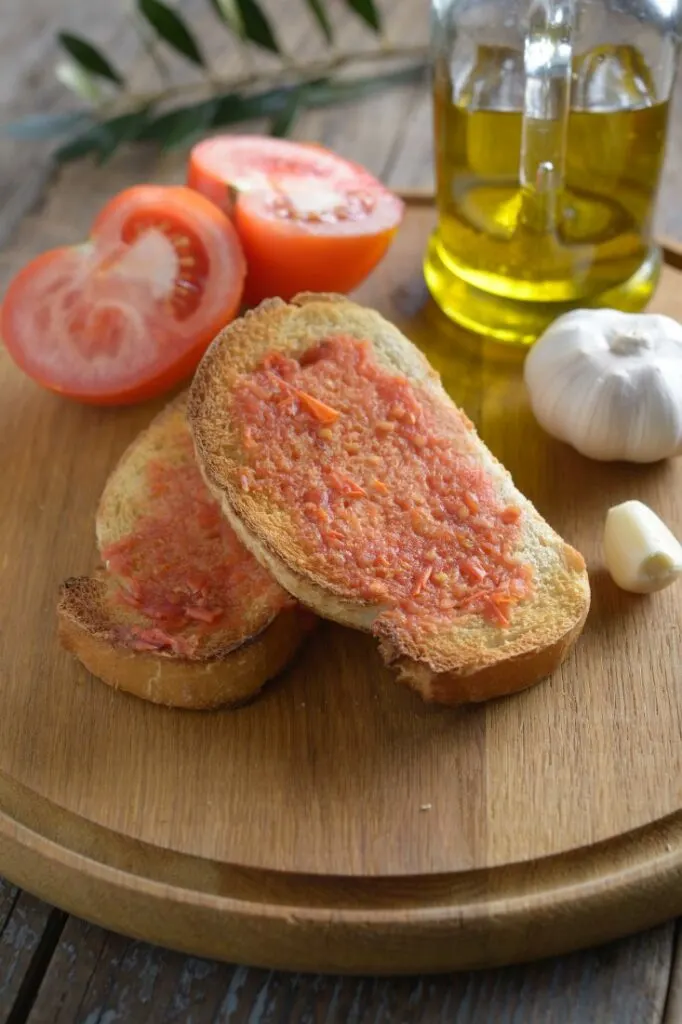 One of the best things about Catalan cuisine is the way that it takes humble and easily accessible local ingredients and transforms them into something amazing.
Pà amb tomàquet takes stale bread, adds local tomatoes, garlic, and high-quality Spanish olive oil, and turns it into a delicious starter or bar snack. Think like a Spanish version of a bruschetta but with more of a crouton texture to the bread.
You can find this simple and delicious dish in pretty much every restaurant and tapas bar so you definitely need to give it a try. You can thank me later!
Seafood paella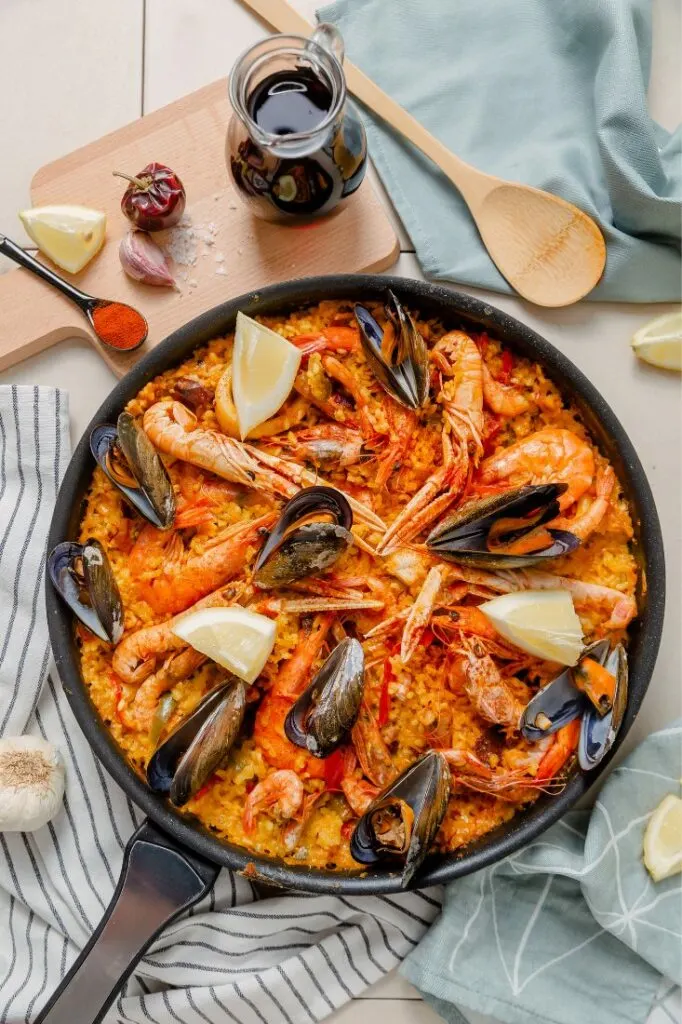 With Barcelona being right on the coast, I ate some of the freshest seafood in Europe during my last trip there. The best way to eat it is undoubtedly in a seafood paella.
While you can get amazing seafood paella throughout the city, one of the best places to eat it is at Elche near the coast. It's one of the highest-rated places in Barcelona, especially for seafood
Alternatively, you can join a cooking class and really get in touch with the local love of food and culture! You can find a lot of classes all across the city, ranging from an hour or so classes to full-day excursions combined with wine tastings.
Croquetas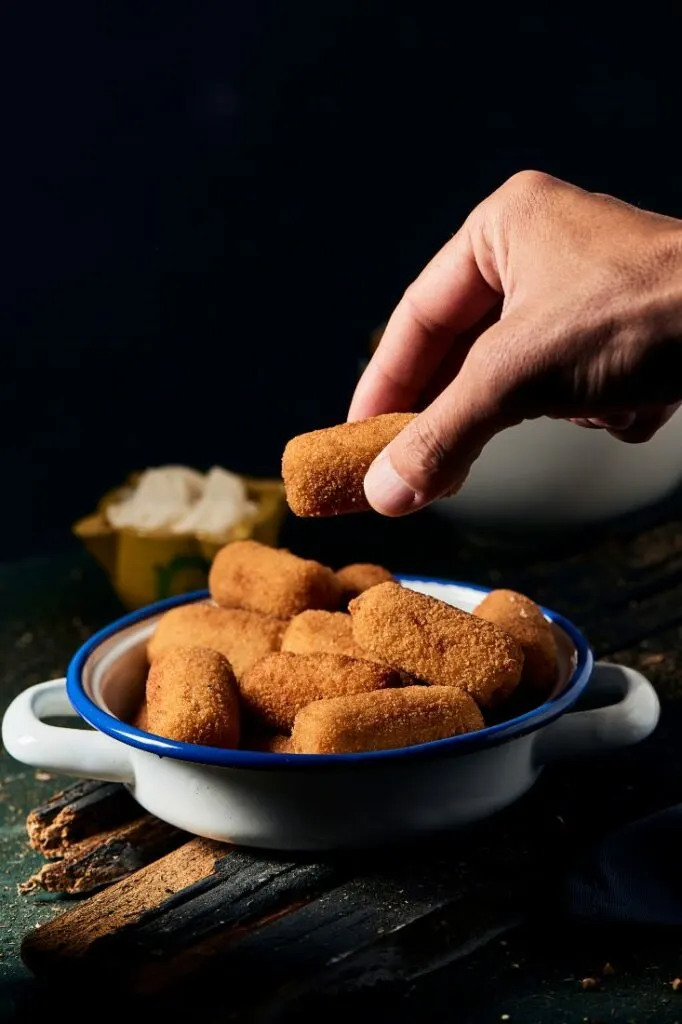 Who doesn't love deep-fried, breadcrumbed potatoes, filled with cheese and jamon? I mean, I'm only human after all! Crunchy, salty, and unbelievably moreish, you're going to return from Barcelona with a whole new favourite snack.
Croquetas are a delicious bite that you can get as part of a tapas-style menu, as a bar snack, or just as an on-the-go lunch. It's part of the fabric of the Barcelona food scene and it can be filled with all kinds of tasty flavours.
Most of the croquetas are meat filled, but it's definitely possible to get veggie versions throughout the city.
Escalivada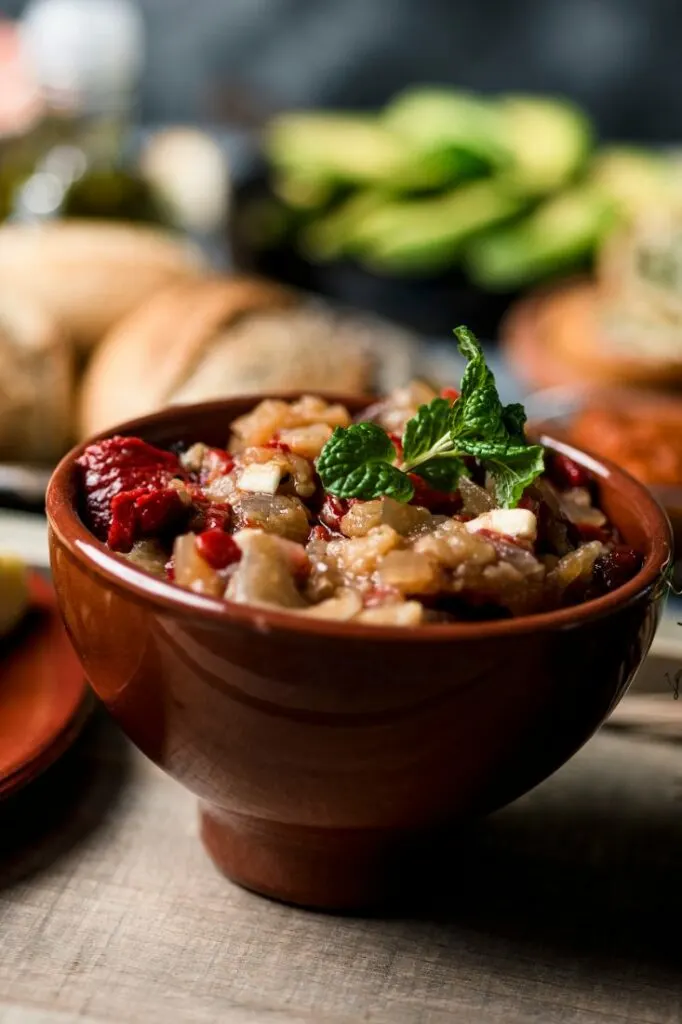 I'm not going to lie, Barcelona can sometimes be tricky for vegetarians, but the traditional Catalan dish of Escalivada is something that every veggie has to try in the city.
A tasty combination of aubergine, roasted red peppers, and onions, swimming in smokey olive oil, it's a popular tapas choice among tourists and locals alike. Dunk some fresh bread and soak up all that flavour!
A lot of great Catalan tapas dishes come with olive oil and bread so that you can make the most of any leftover sauce. No wasting amazing food here!
Bombas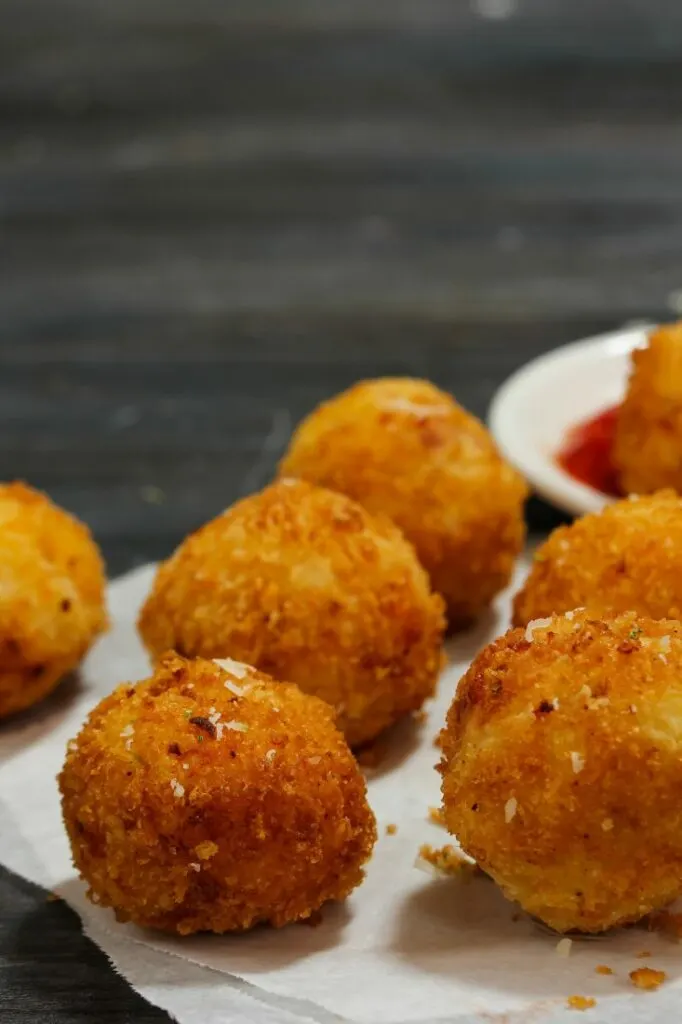 Another amazing deep-fried, breadcrumbed potato favourite, bombas are rumoured to be created in Barcelona, going back centuries. Unlike a lot of the potato favourites in the city, bombas are actually a pretty tricky dish to make.
Take mashed potato with flavours like mince or octopus, breadcrumb them, and fry them. Think arancini with potato instead of rice. It's amazing. You're not going to find them at every bar or restaurant, but it's well worth hunting them down!
Again, like with croquetas, bombas are predominately meat-based, but it's increasingly possible to find vegetarian options if you need to. Also, if you're by the coast, definitely opt for a seafood version!
Crema Catalana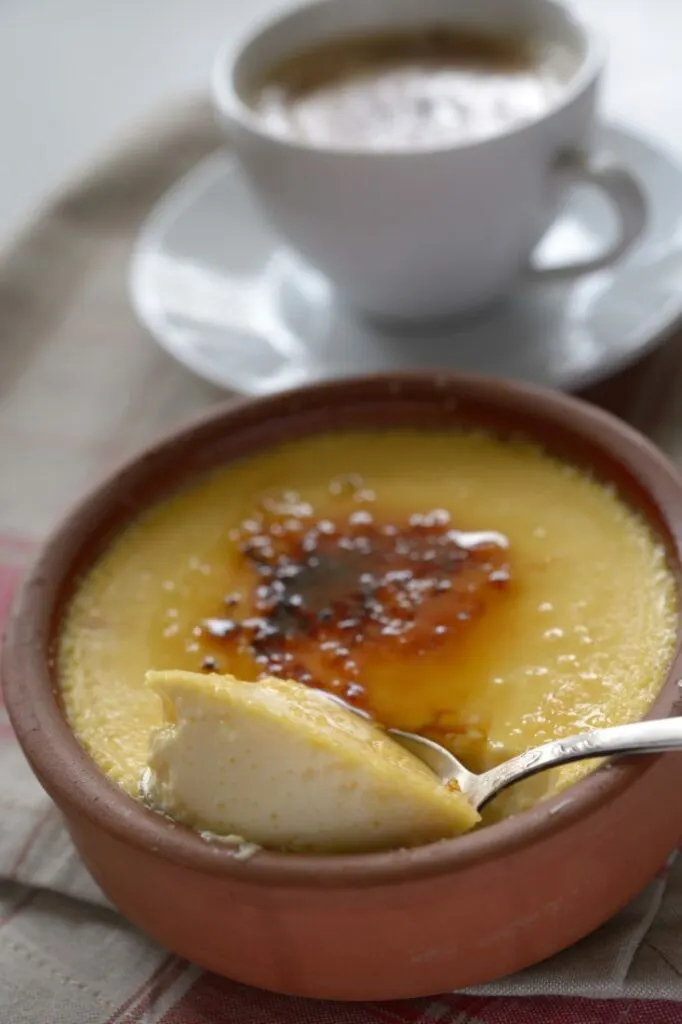 There are a lot of salty, savoury dishes in Catalan cuisine, but if you have a sweet tooth, I can definitely recommend the Crema Catalana. It's on so many dessert menus across the city, so you'll get plenty of opportunities to try it.
It's a baked custard dessert with torched sugar on top, a lot like a creme brulee. The difference is that you'll often find lemon and cinnamon flavours in a Crema Catalana that makes it a lot lighter.
Gazpacho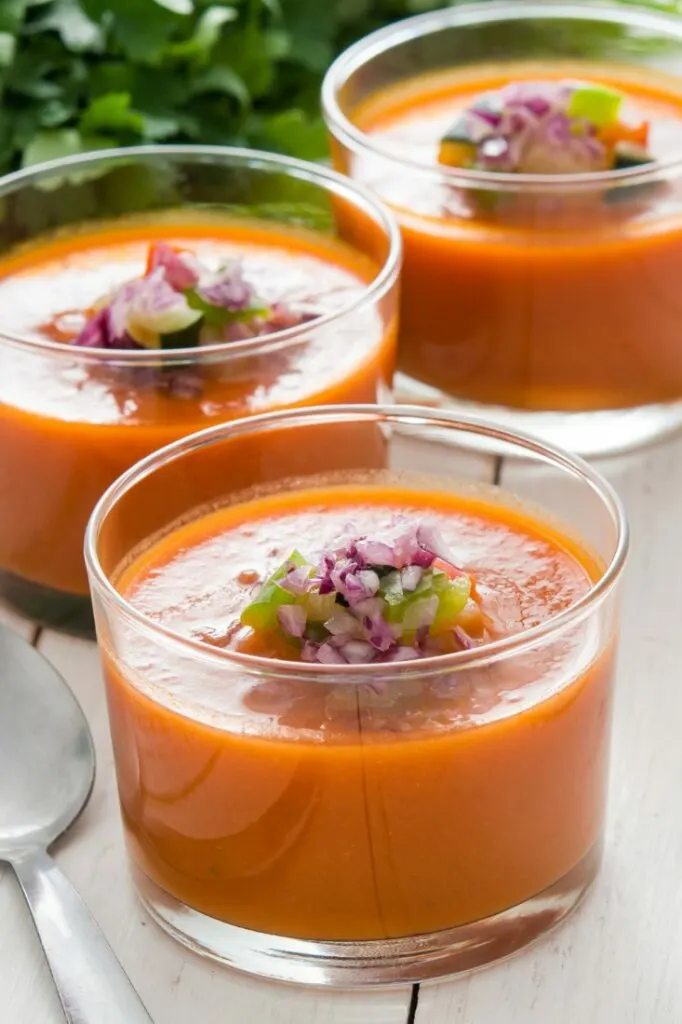 Okay, so stick with me on this one. When I say ice-cold soup to some people I get a weird look, but gazpacho is a whole other ballgame. Trust me, it is so delicious.
This tangy and refreshing tomato soup is a favourite all over Spain, but especially as a light starter in Barcelona. The heat in the city makes it a great option if you want to get something healthy that isn't too heavy.
Chipirones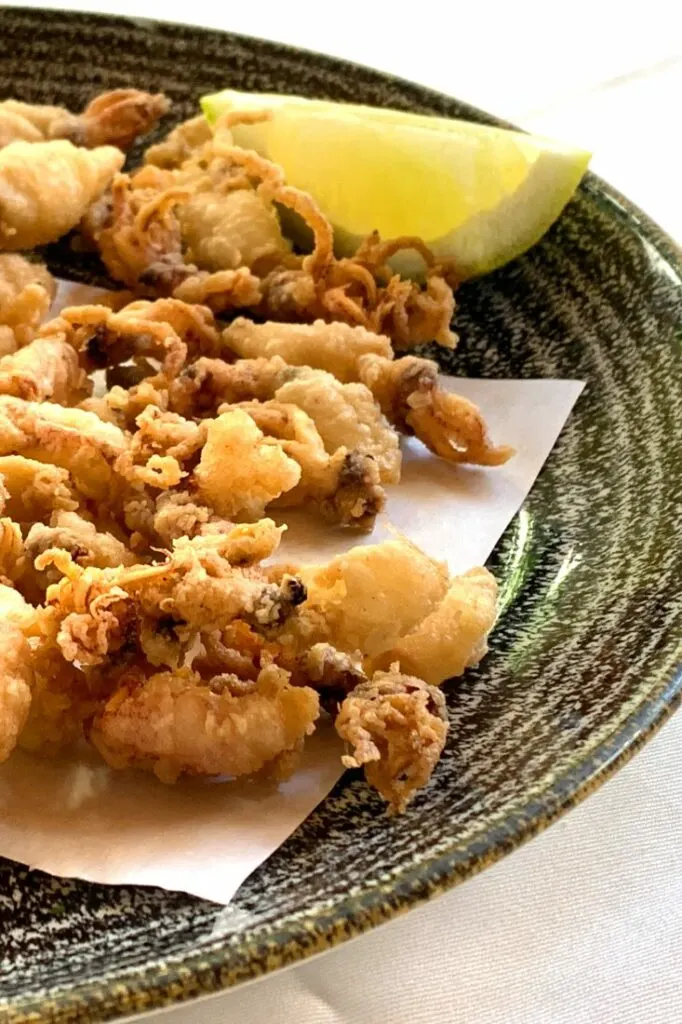 If you love calamari, Barcelona has a delicious variation that you can snack away on for hours. Chipirones or small squid and basically the popcorn version of calamari.
Available pretty much all along the coastline from tapas bars, to cocktail joints, and seaside shacks, it's a popular favourite for locals and tourists. It's one of the many different variations of calamari in Barcelona, so you can try them all during your stay.
Cava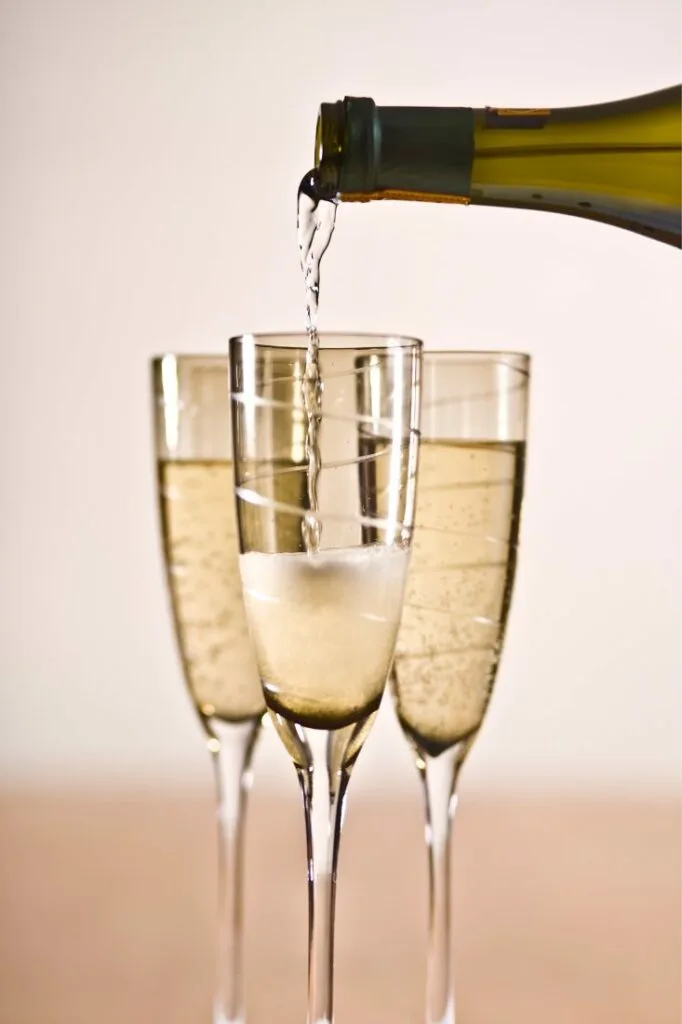 So, I've spoken a lot about different tapas dishes and foods, but if you're having tapas then chances are that you're in a bar. Barcelona has an amazing nightlife scene and the local drinks have a lot to do with that.
Cava is a kind of sparkling wine that's similar to prosecco or champagne but is grown and bottled locally in Barcelona. It's a bit drier than prosecco which makes it great with seafood and sunshine.
If you want to check out some of the best cava in Barcelona, head to Can Paixano on the beachfront. They've been going since the 1960s and have one of the biggest collections of cava in the city.
Padrón peppers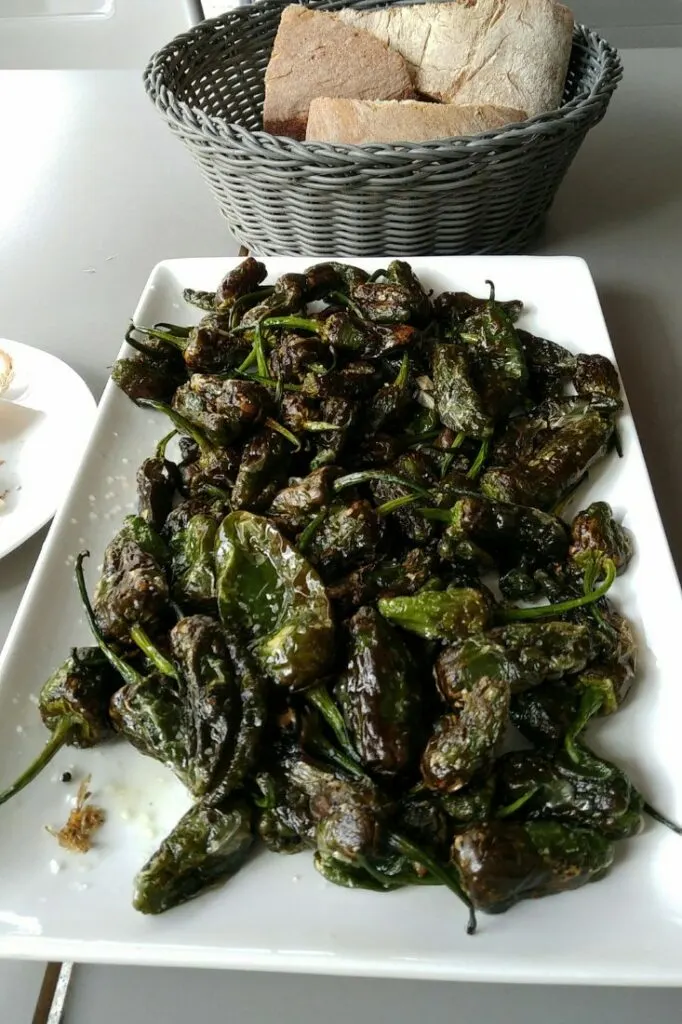 So, you've probably had these delicious, bite-sized peppers on a starter menu or in a tapas restaurant before, but when you have them in Barcelona, they hit a little differently.
Served with a tasty handful of sea salt and a generous splash of olive oil, it's a gorgeous little bite that you'll soon become addicted to. If you're not into spice, don't worry. The Spanish peppers are a lot more mellow than a lot of other pepper varieties.
Esqueixada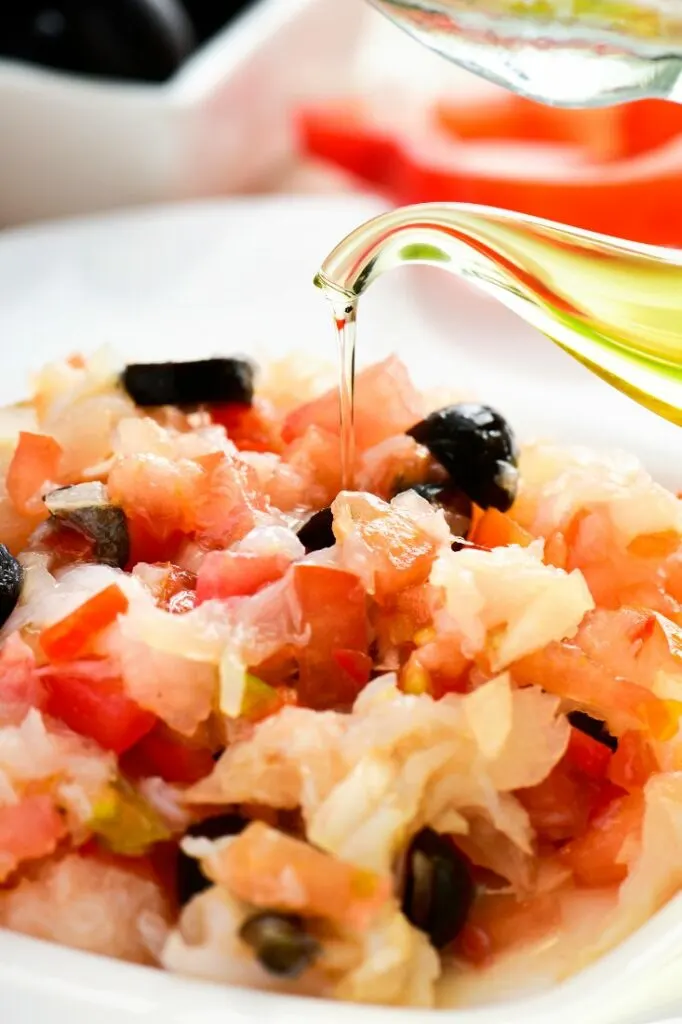 When you're enjoying days on end in the Spanish sunshine, you're probably going to be looking for something lighter to eat. Enter Esqueixada, a desalinated salt cod salad, filled with fresh veggies like peppers and tomatoes.
This amazing, vibrant salad encapsulates everything that's great about Catalan cuisine in a lighter way. You can almost just imagine yourself sitting on Las Ramblas eating Esqueixada like a local.
Patatas bravas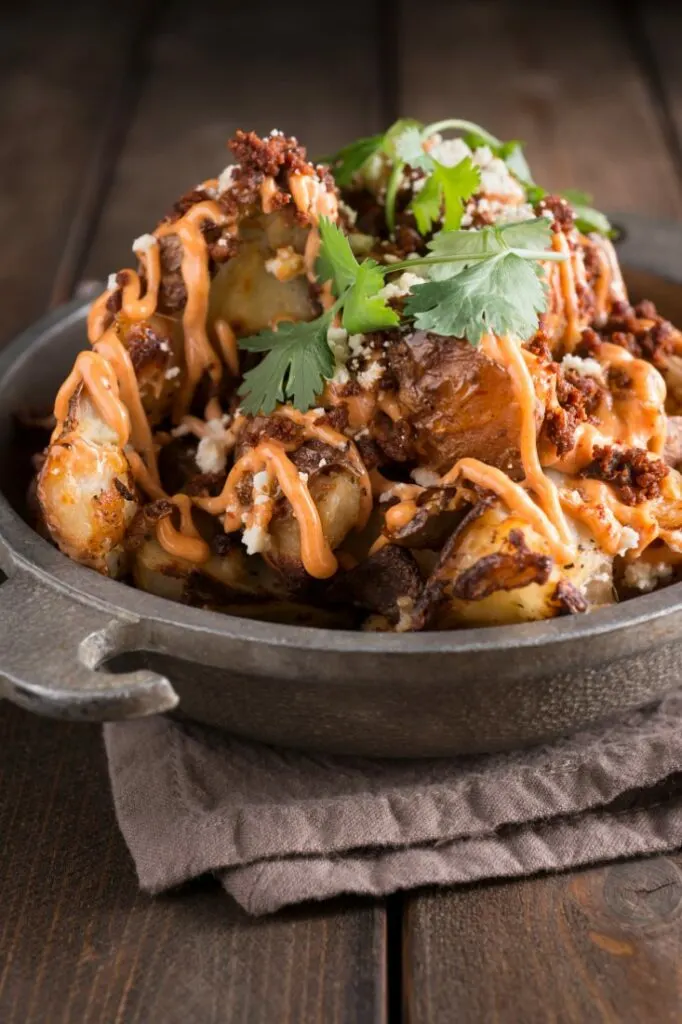 Okay, let's end on a high with a Catalan potato dish that's a smash hit all over the world. Take delicious cubes of fried, crispy potatoes and cover them in spicy tomato sauce. If you're looking for variety, you can also have a tangy mayo on top as well.
This amazing staple of the Barcelona food scene is on pretty much every single bar and restaurant menu in the city. Enjoy it with a big glass of Rioja or a pint of ice-cold local Spanish beer.
---
So, there you have it. Barcelona food is vibrant, delicious, and pretty affordable considering it's a major city.
What are your favourite dishes on this list? Are there any Barcelona classics that I've missed that you love? Let me know in the comments below!
Like this blog post? Then Pin it for the future!