Fjords. Valleys. Mountains. Glacier Lakes. Waterfalls. Snow ball fights over looking massive cliffs falling off into the ocean. All in one day
Am I missing anything? Possibly, because the trek we did with Touring Greenland was one of the most diverse, gorgeous and utterly satisfying to all parts of the body, mind and stomach.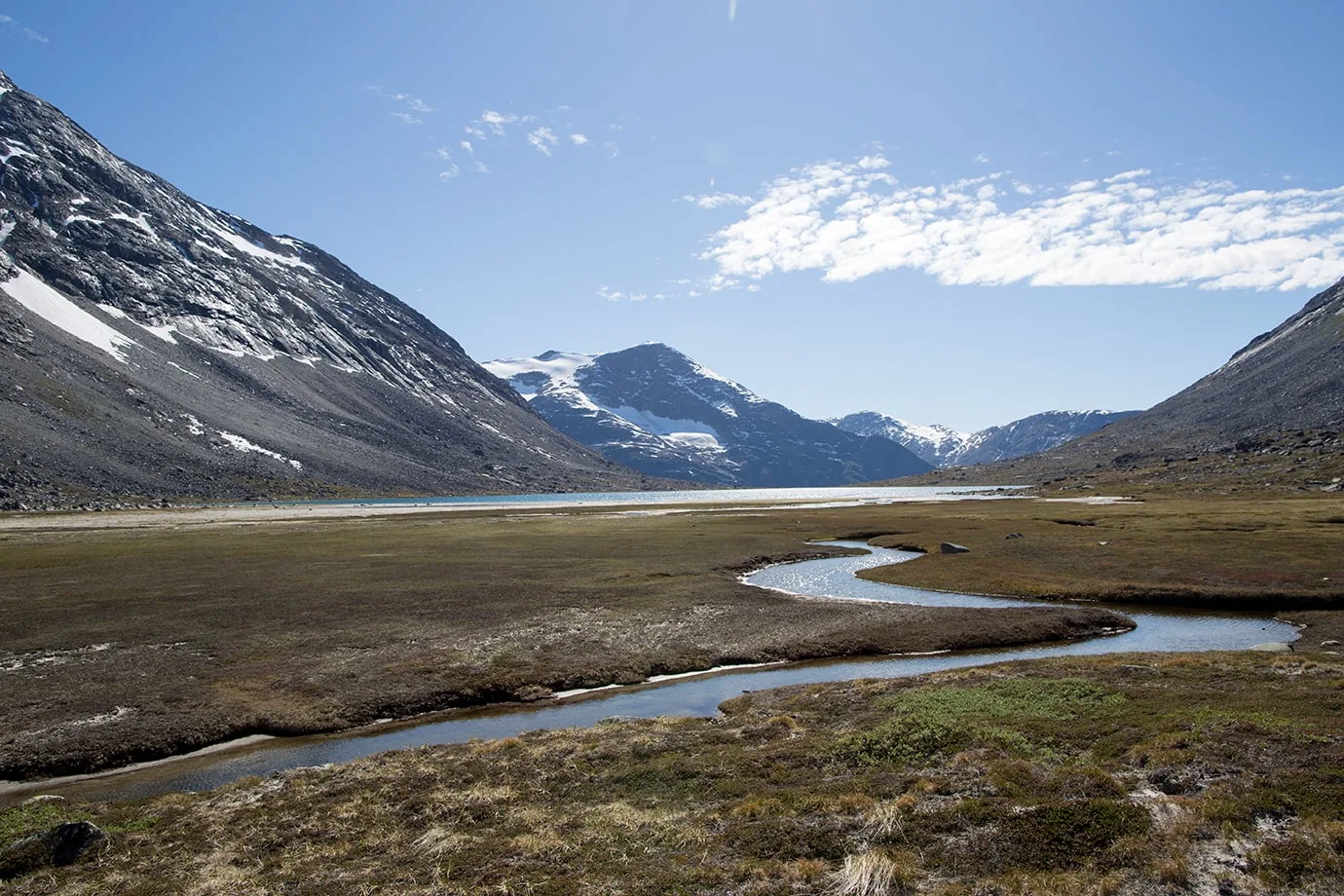 By the sounds of it, the Hike and Dine tour (a 10 hour day complete with hiking, fishing and eating the fruits of your labour) was an absolute must when we visited Nuuk in Greenland. Not only do you get out on the water and explore the most scenic land possible, you also get to end the day with a meal in a remote restaurant, with your catch of the day being prepared for you by an incredible chef.
You can imagine my dismay, then, when I woke up the morning of the hike, to see grey skies and fog hovering just above the water. Not a peep of blue sky. I had been looking forward to this day and then suddenly the idea of being swept across the water, arctic air piercing my face didn't seem so ideal.
>However, I got ready and set out for the harbour where we were met with Jon (pronounced Yon), the owner of Touring Greenland and our guide for the day. Right away, he was cracking jokes, making us feel right at home and as we suited up in our insulated gear, I knew I was in for a good day, weather permitting or not.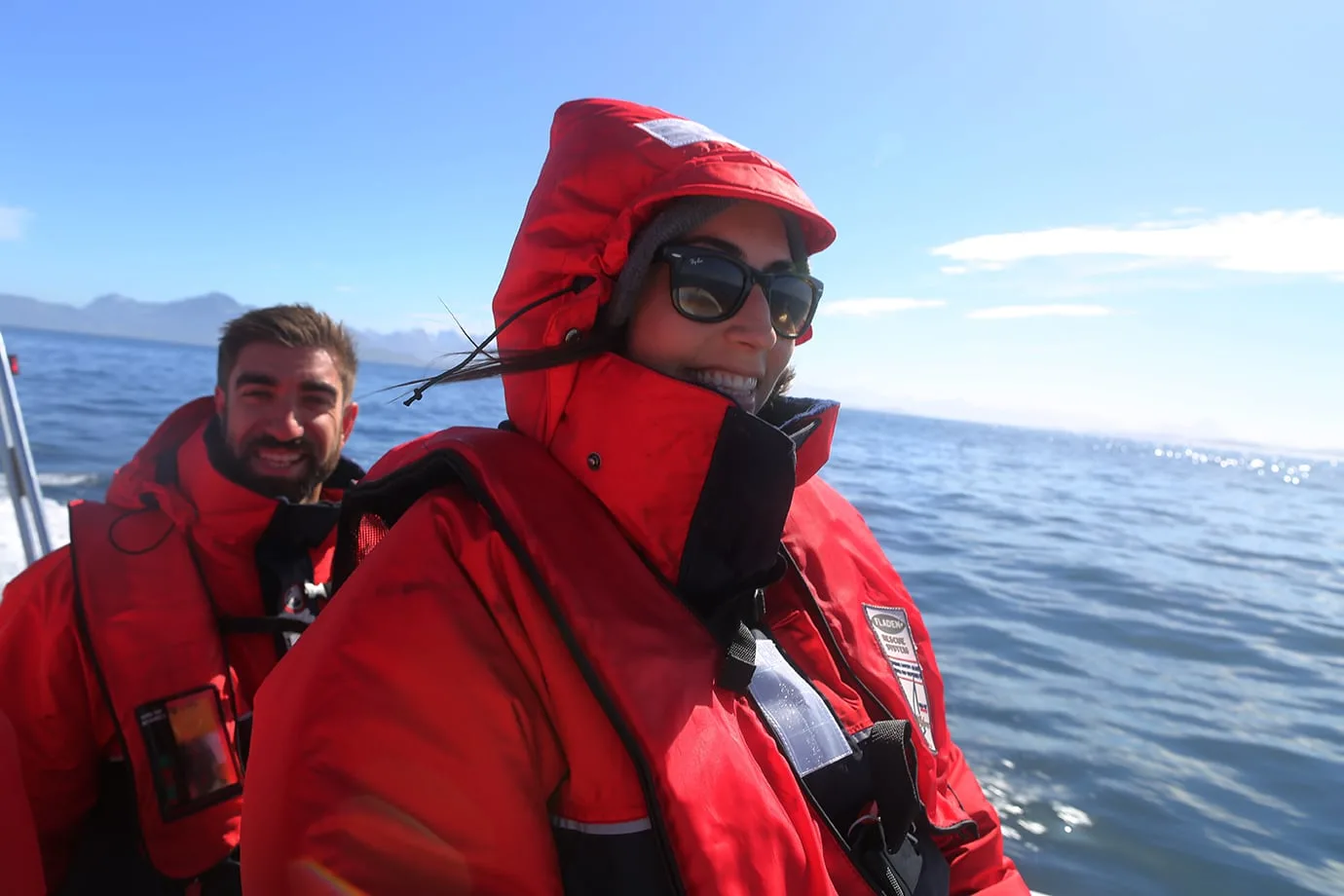 We took an easy boat ride across the water, about half an hour, and to my delight, I began to see just the hint of blue sky behind the mask of grey. As we approached one rocky beach, Jon explained we could take a nice easy hike here (about an hour and a half) but our group "seemed agile" and he suggested a longer hike just a few minutes boat away.
We, of course, agreed and set off on the water again. Reaching our docking spot, to be honest, I was already blown away. My face was beaming with joy and awe as we got out of the boat and de-suited; mountains and cliffs surrounding us, and now, just a small puff of fog hanging like a picture frame.
We took an easy walk through low birch plants, navigating over little pools of water and eventually, began the straight incline, which was only a short distance. After about and hour and a half, we stopped for lunch and coffee, Jon using his nifty kettle and building a wee fire.
As we ate cured reindeer on rye bread and sipped our instant coffee, Jon was prompted to tell the story of how he met his wife. We sat there, fully engaged, as he told the tale of love and fate which all lead back to him being meant to live in Greenland.
Stomachs full and hearts warmed, he then lead us on over a ridge, revealing a valley complete with a large, glassy lake at the bottom. With the mountains still behind, it was another spectacle that blew me away. I swear, I had to keep pinching myself to make sure this was all real.
After stopping to dip our tired toes in the glacier stream (and drink from it, but appropriately logistical) we came over ridge to reveal the ocean in front of use which seemed to go on forever. It also revealed some patches of snow, so naturally, Macca and I had to ball it up and throw it at each other until we were sufficiently spent.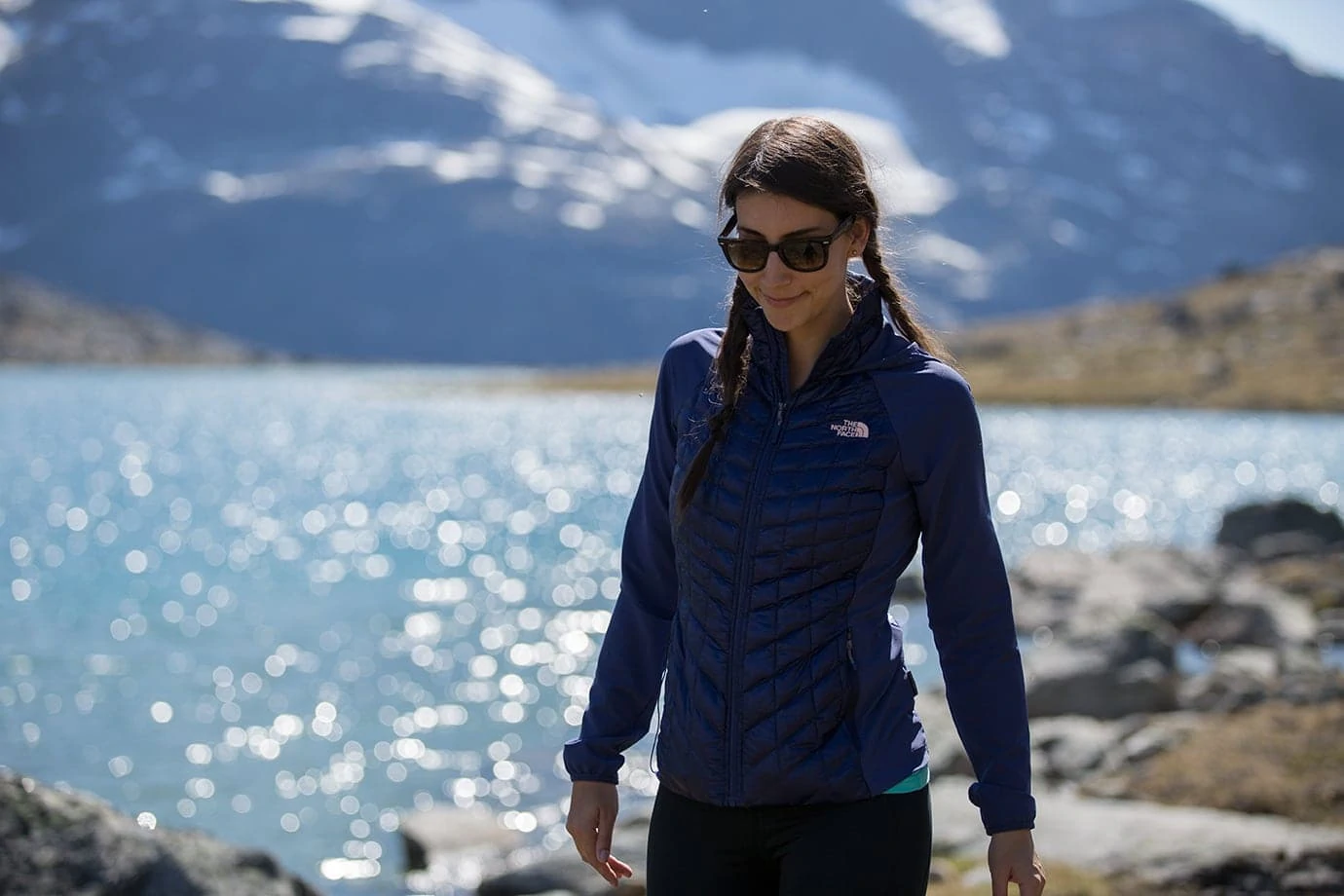 Our boat was waiting for us at the bottom of a steep rock climb down, so we carefully navigated the terrain until we reached the water. High fives all around, we climbed back in the boat ready for part 2 of our day.
By this time, it was about 5pm, and although the hike wasn't difficult, it was still a day outside, working hard and we were all getting a bit peckish again.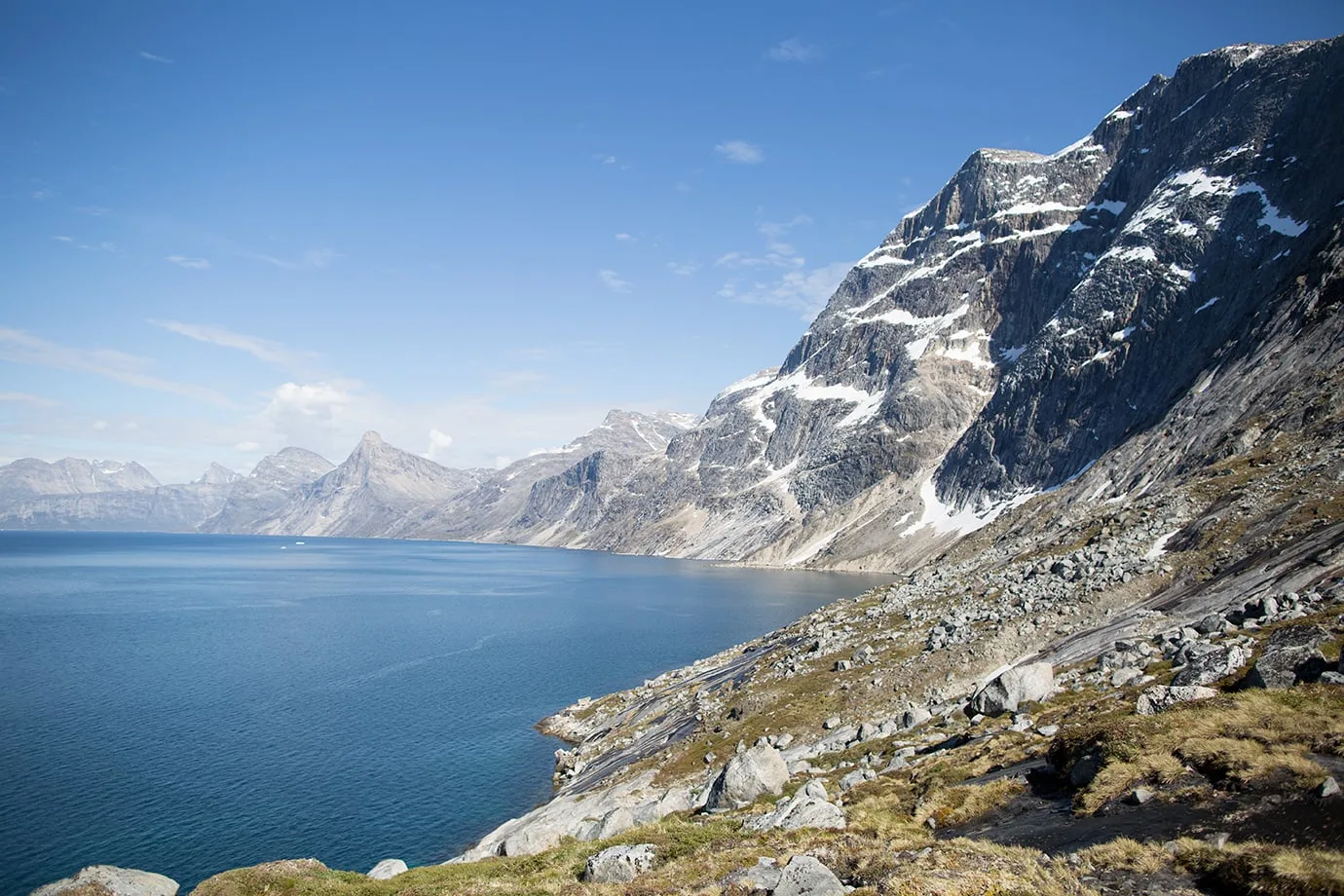 Part of this tour, however, means that you are responsible for catching your own dinner so the stakes were high as we pulled up near a cascading water fall and Jon pulled out the fishing line.
Fishing is quite foreign to me but everyone we met said that all you have to do in Greenland to catch a fish is drop a line, so I was feeling quite hopeful. Lowering the line, I waited for a little bit but to no avail and eventually, Jon decided we should try a different spot.
So I began pulling my long line in and after about a minute, I wondered how long this line was! It seemed to never end. My hands were getting tired and all of a sudden, it became a lot more difficult to pull up.
"I think I might have something!" I said, somewhat jokingly, but as I pulled more and more, realized there really was something on the other end.
Now, I was really putting some effort into pulling up the line, my excitement growing.
"It's probably just a boot," I joked again and just then, saw a glimpse of something light in the water below.
"Three! You've got three!" said Jon's trainee and he was right.
Three cod (my catch) and a red fish (caught by Macca, with Jon's help) later, we were on our way again to restaurant Qooqqut Nuan, where they would prepare our fish for us.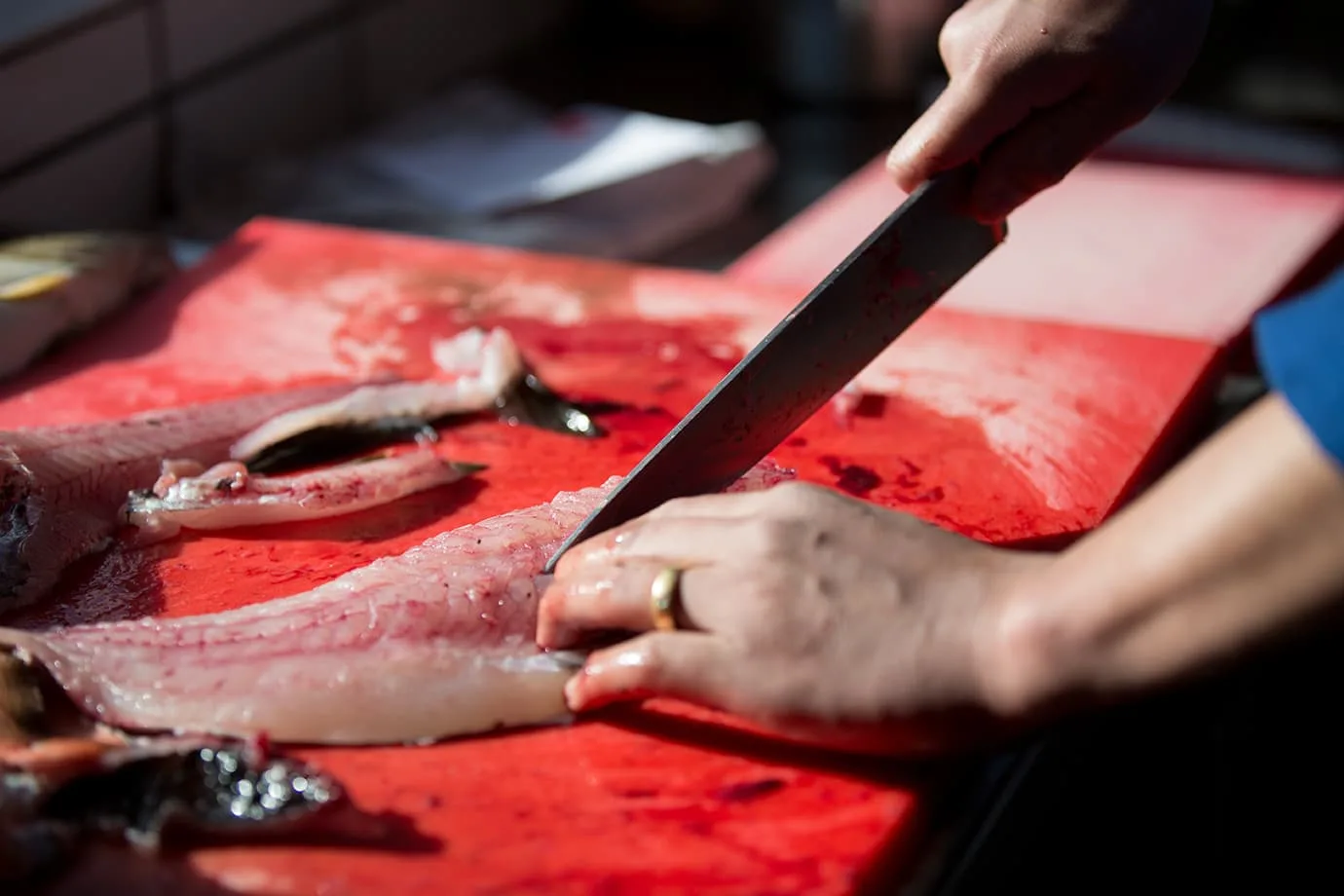 And that they did. Not only did they cook the fish to perfection, they also served us lamb chops with steamed vegetables, salad, potatoes, rices and a musk ox red curry – a complete surprise, as the owner is Thai! It was some of the tastiest food I've ever eaten, looking over one of the most gorgeous views in Greenland and I have to say; there is something special about catching your own dinner.
We took a boat ride home, bouncing over waves, giggling with pure joy and we continued to exclaim to each other how this had been one of the best days we've ever had travelling, period.
Jon dropped us off again, inviting us back for one of the camps he's creating for the upcoming season, complete with kayaking and staying in traditional tents. We were sold, easy.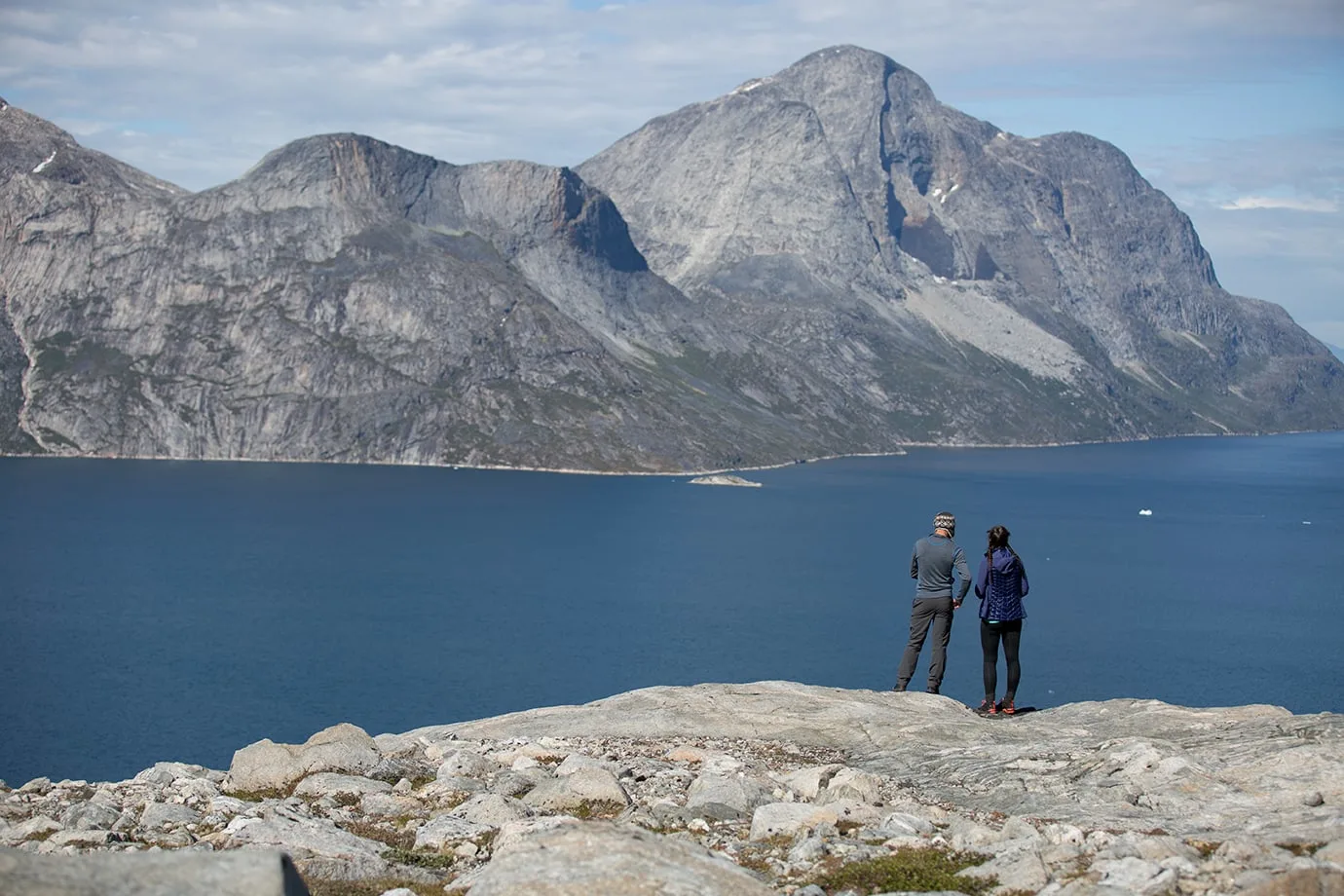 It's true that Nuuk and the surrounding area is one of the most beautiful places on earth, and it's astounding to me that there is still such beauty in the world that seems so untouched. Jon mentioned that every hike differs slightly and he hadn't been on this particular one in over seven years! His expertise of the area, along with his evident passion for what he does and his lighthearted personality made it a trip worth thousands.
There is no hesitation when I say if visiting Nuuk, you've got to drop Jon a line. And make sure to ask him his love story – it's one worth the trip.
The full day with Touring Greenland can be booked through their website during the summer season (May 1st to October 15th) and includes all transport costs and coffee and lunch.
To get a more immersive taste of this amazing hike, check out our video in Nuuk here.