Seeing Narsaq through the eyes of the Broad
Arriving in Narsaq in Southern Greenland we were dropped off at one of the several docks along the coastline of the town.
The driver knew we were staying at Hotel Narsaq (the only hotel in town) and when I asked where to go once we were on shore, he pointed haphazardly up the hill and I gathered we were looking for the yellow building, but I couldn't be sure.
Luckily, it was a short walk to the hotel and it was, in fact, a unassuming yellow building on, what looked like, a main corner.
It was here that we met Kattie, the owner of the hotel, and she drove us up to our cozy suites that overlooked the whole town.
This is what Narsaq is really like:
Where to stay in Narsaq?
With a population of about 1,500 people, it's the perfect size to feel tight knit, but also have things going on, like the presence of Nanook in town (more on that through Macca's eyes below).
Kattie and her husband Fridrik were wonderful hosts while we stayed in Narsaq and we could just tell how much they love living there. The couple, along with their three children, lived in Iceland (Fridrik's home country) for many years before moving back to the town of Narsaq, where Kattie is originally from.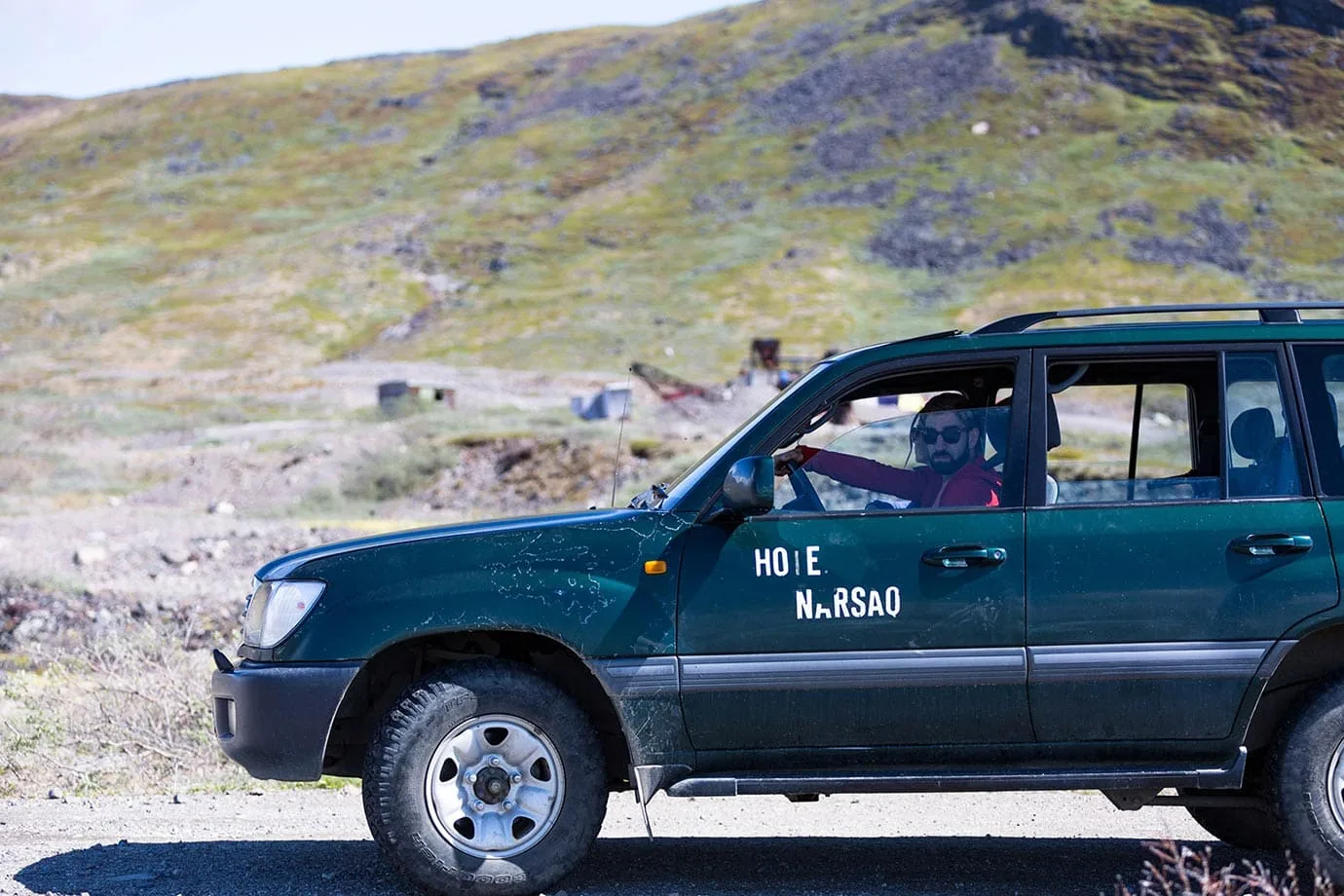 They lent the Hotel Narsaq SUV to us so we could explore one morning, and you better believe we hopped at the chance to roam as far as we could. In this case, it was only a couple of kilometers before we had to turn around, but not before finding one of the more remarkable and gorgeous beaches I've ever seen.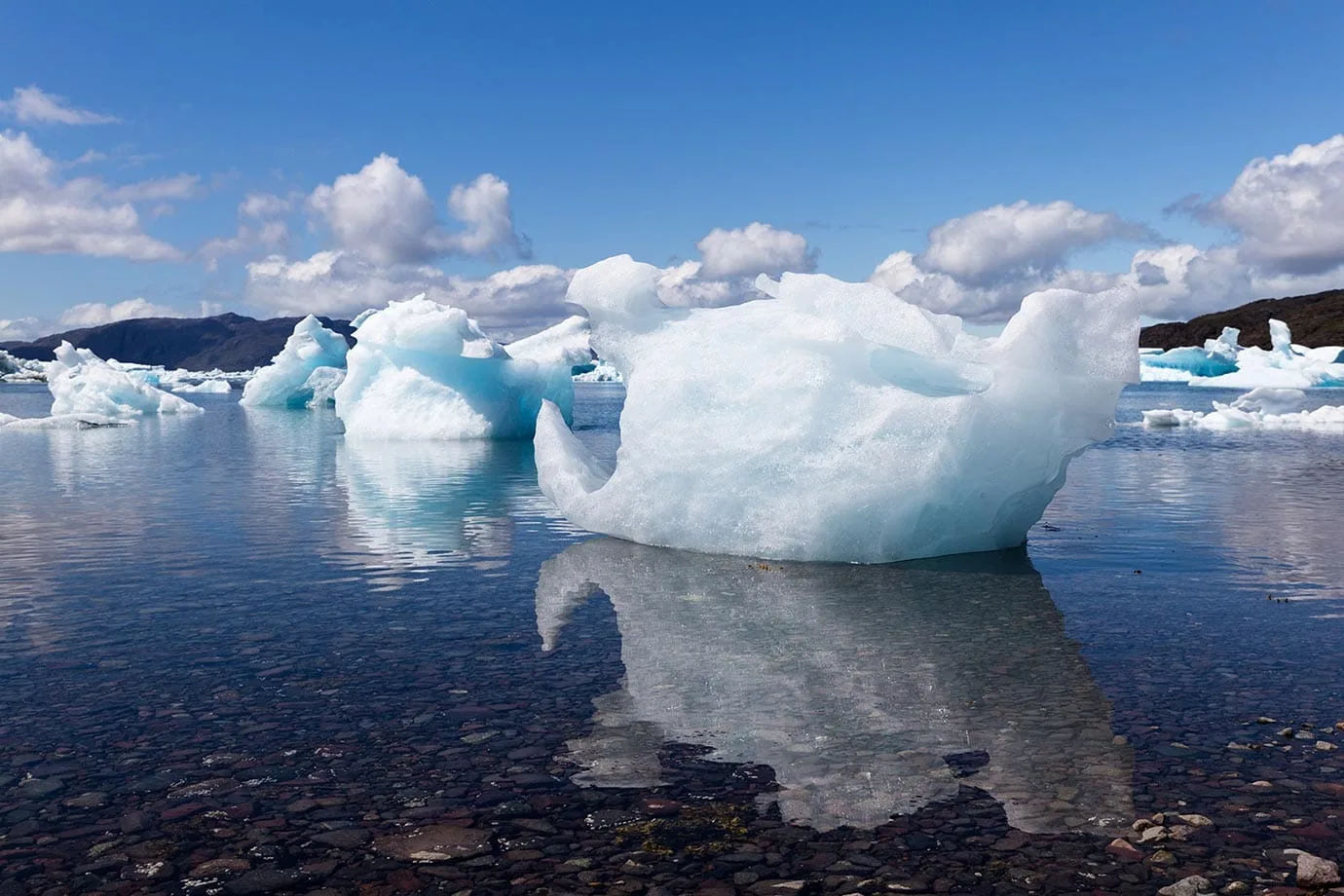 Visiting Narsarsuaq Glacier
This place was really only a two minute drive away from the local grocery store in town, but we had it completely to ourselves. In the hour or so that we were there, we only saw one car drive by on the dirt road.
Once we returned the vehicle to Kattie, she suggested we go on a boat trip to Narsarsuaq and we, of course, accepted.
With the whole family in tow, we set off to explore.
It's this "roll with the punches" attitude found everywhere in Greenland that can produce some of the most unexpected and essential days – and this was certainly one of them.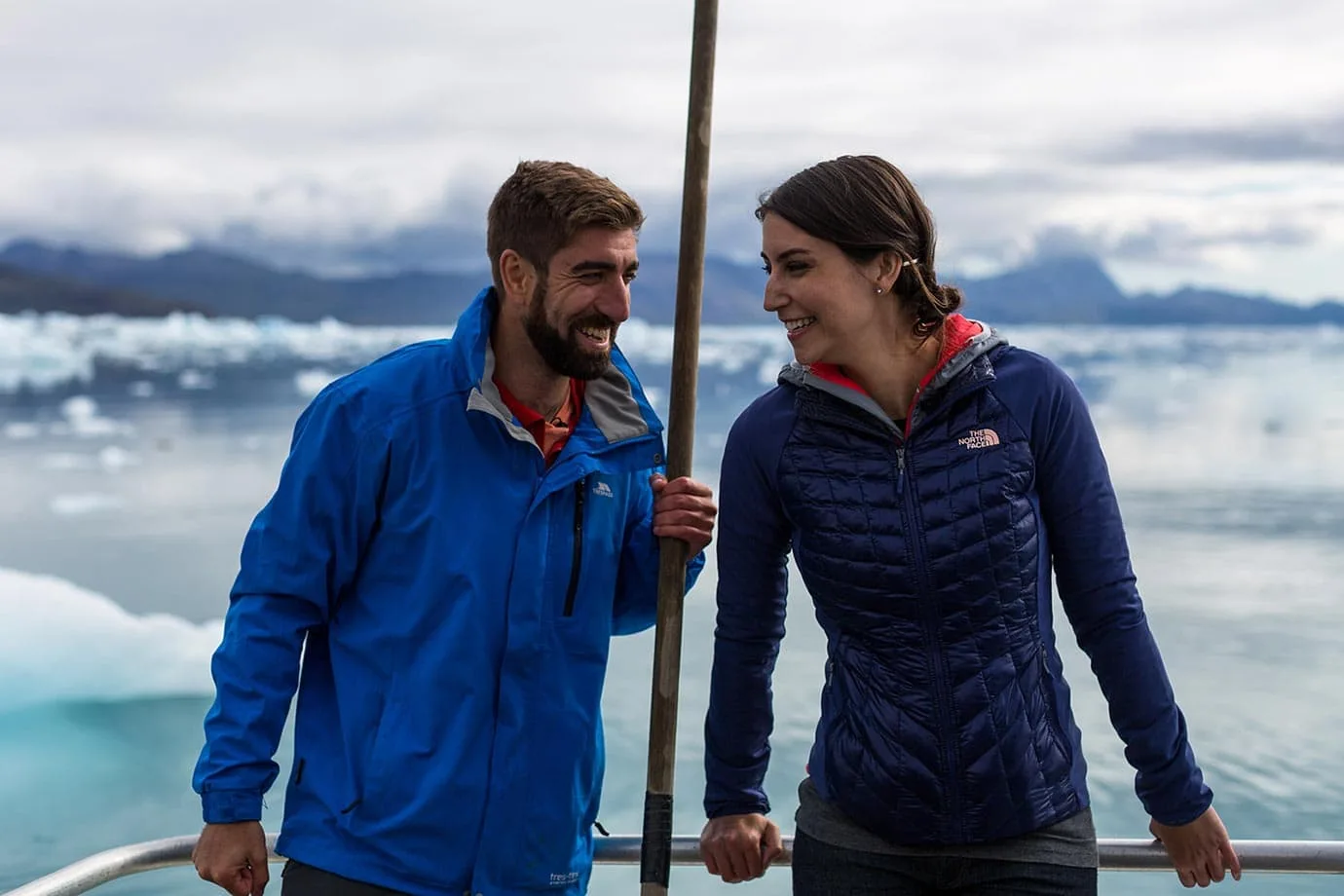 Ice harvesting at Narsarsuaq Glacier
We ended up cruising through ice fields looking for the perfect ice to make beer with (Fridrik runs Qajaq Beer that uses glacier water!) and Macca even caught a few fish while we were docked in Narsarsuaq. We sent them home with the family as a thank you gesture that would serve as their dinner that night.
Kattie and Fridrik are set to open up a newly renovated pub space at the hotel where they will be serving the delicious Qajaq Beer and local foods (like the tasty musk-ox burger) and I would love to come back and visit. It's moves like this that are opening up the community to visitors and making them feel at home.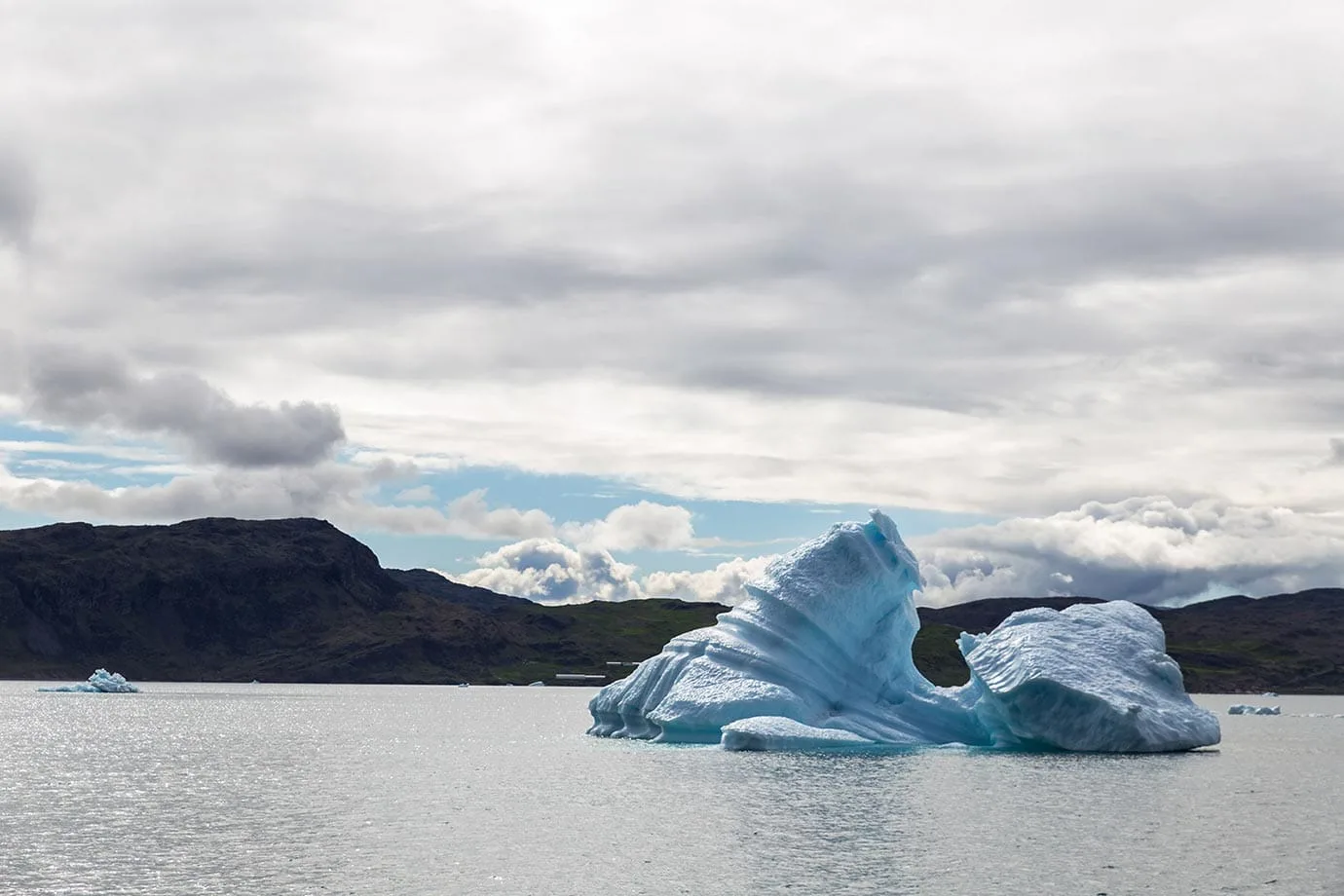 We were just there for a few days, but I instantly felt welcomed into this warm community and it's my guess that this inclusiveness is par for the course in Narsaq.
Only an hour boat ride from Narsarsuaq, which is where the international airport lies, Narsaq is an easy destination to get to and once you're there, you're family.
---
Seeing Narsaq through the eyes of the Brit
As I pulled back the curtains I could see the valley floor of Narsaq before me, cute colourful houses randomly placed almost as if they were pieces on a board game.
In the distance I could see hundreds of icebergs dotted along the horizon framed by jagged mountains, snow already on their peaks.
As I stepped out the door the early morning cold air tore through me, chilling any part still exposed to the elements, but it didn't matter. Without any sounds and the sun already high in the sky I felt at peace. Narsaq has that effect of people.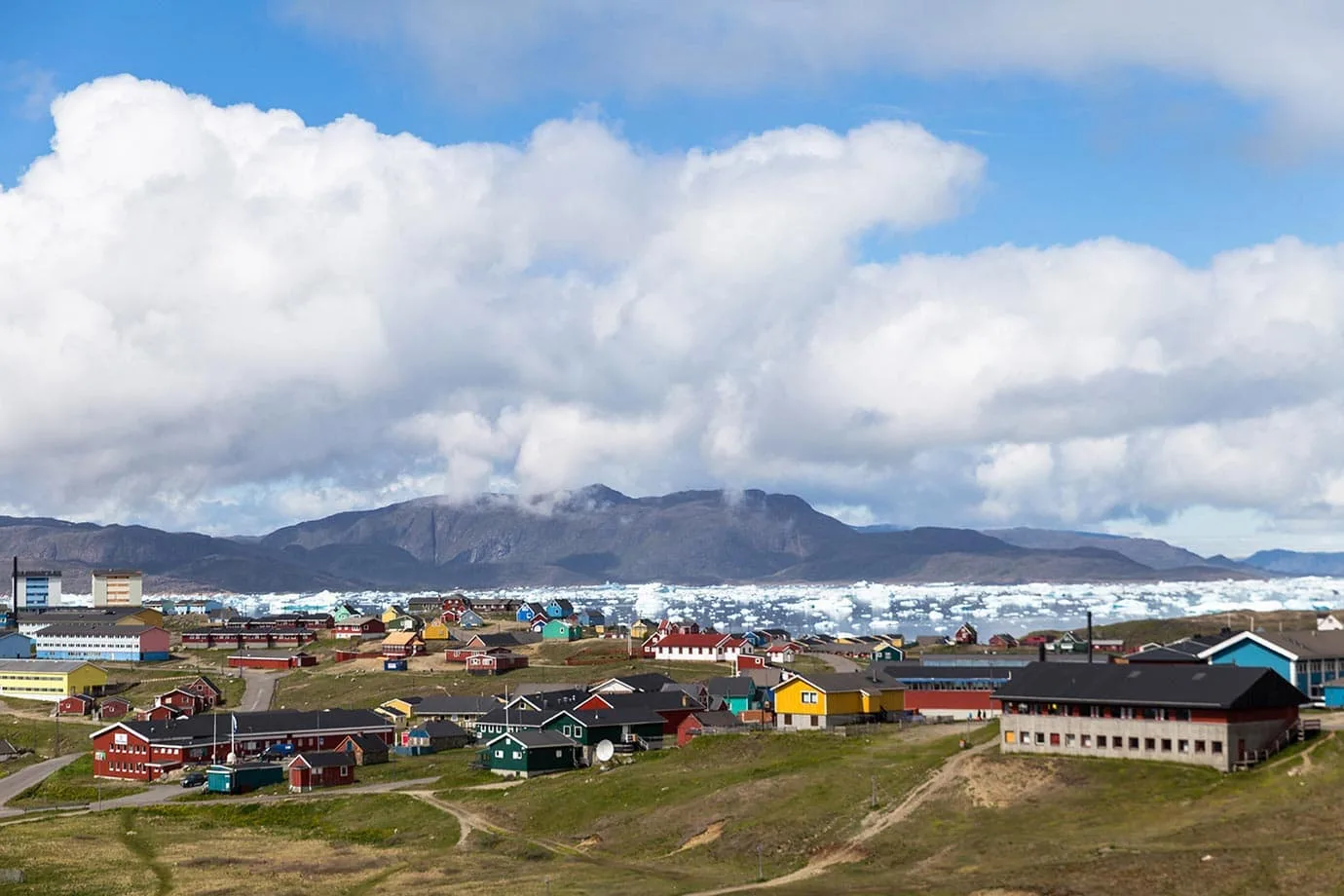 An evening with Nanook
While we were in Narsaq another small town in southern Greenland, we stayed with Kattie and Fridrik at Hotel Narsaq. In was there that we learned about Nanook, Greenland's hottest band.
They just so happened to be also staying at Hotel Narsaq, and they just so happened to be performing the one night we were there too. In Greenland it doesn't get much bigger than this!
Before the gig we decided to have a couple of beers at the hotel which is when we bumped into Christian and Frederik, the two brothers and frontmen of Nanook.
As they had a few drinks on the table and guitars on the floor it wasn't exactly hard to place them. However, I think we were all surprised when they turned around and said "you must be the bloggers in town!" Not as famous as Nanook but I'll take that!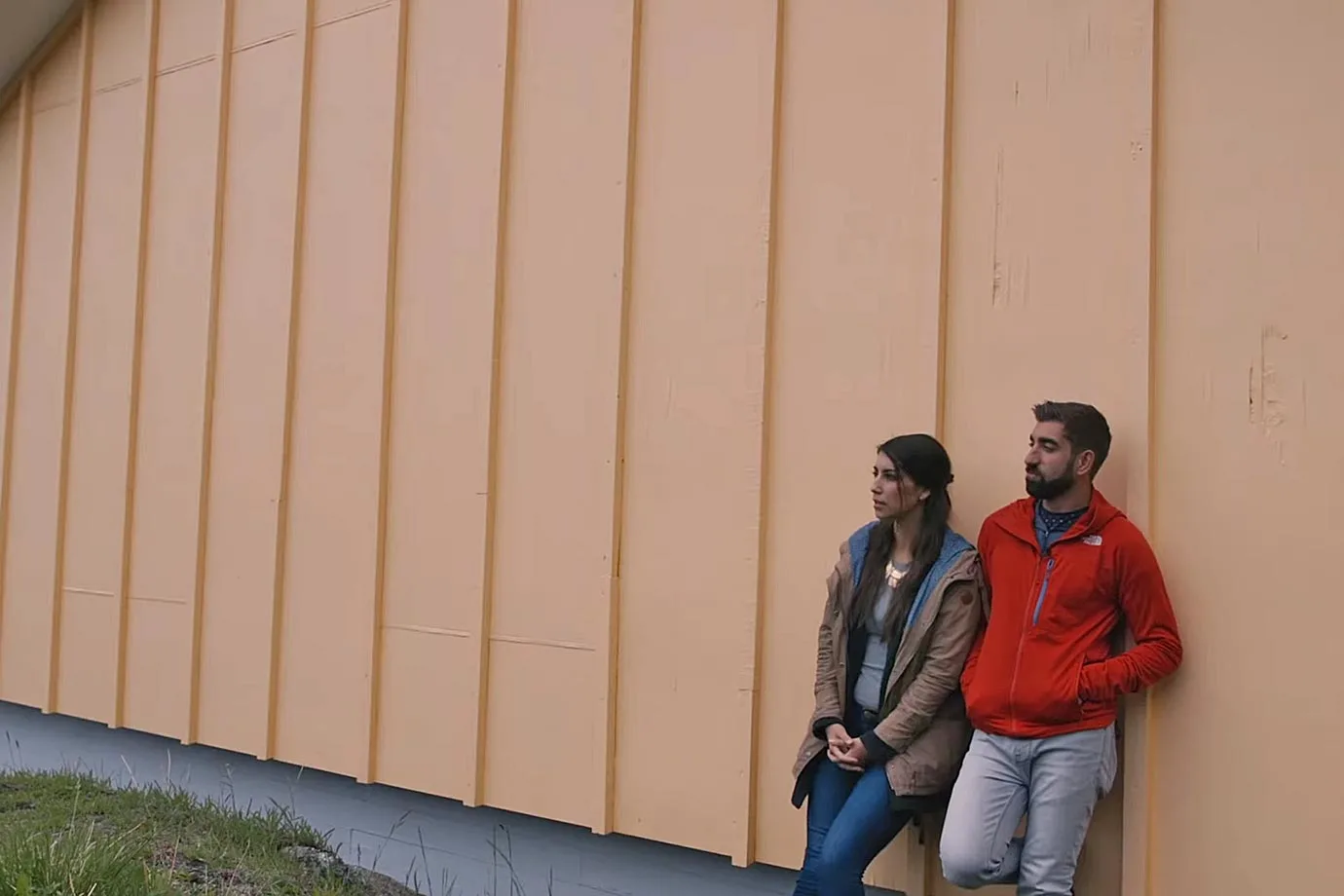 After finishing off a couple of beers we went down to the village hall where Nanook were playing and already the half the town had turned out for it. That's one of the things I love about Greenland – that huge sense of community wherever you go.
Anyway, almost needless to say but Nanook nailed it, they were amazing (even if we didn't understand half the songs!), and it was great seeing so many people out enjoying themselves. It took me back to when I was 16-years-old at my first gig again!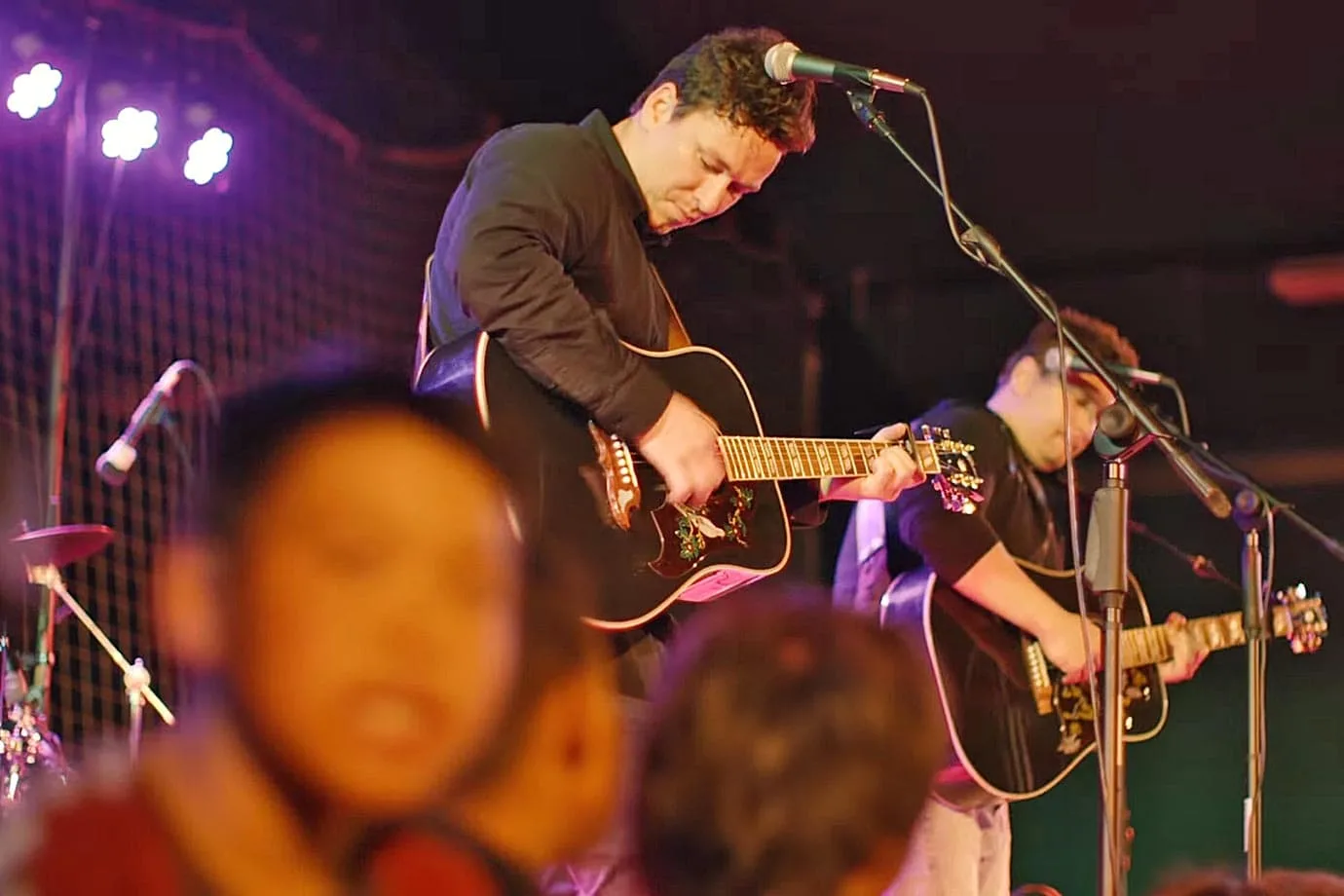 Things to do in Narsaq
As well as running the hotel, Kattie and Fridrik also run a brewery called Qajaq (which translates to kayak), so one afternoon we went out ice harvesting.
One of the beers Fridrik brews at Qajaq is with iceberg water (how many other breweries can say the same!?), so it was our job to go out and find some crystal clear ice to be used to make the beer. From there, we had one of the most unbelievable afternoons I've ever had travelling.
It would take far too long to describe everything that happened, but we went from iceberg harvesting to standing on an iceberg to shooting a .22 rifle at an iceberg to sailing to the mouth of Narsarsuaq Glacier to watching an iceberg completely break apart in front of our eyes.
Oh, and we even caught a few fish along the way before heading out to dinner! As I said, it'd take far too long to describe this one so you're just going to have to watch it in our episode on Narsaq!
Narsaq, was, in my mind, the most beautiful place we'd come across yet while travelling in Greenland. I really don't know what it was but I just found the place so tranquil, so laid back, and I couldn't help walking around with a smile permanently plastered to my face.
It had that rare beauty of being stunning without even trying. It was as if a permanent peace had settled on the place.
Save