Are you planning a trip to Greenland? Then make sure you read all my Greenland travel advice before you go – this post is packed full of useful tips & info!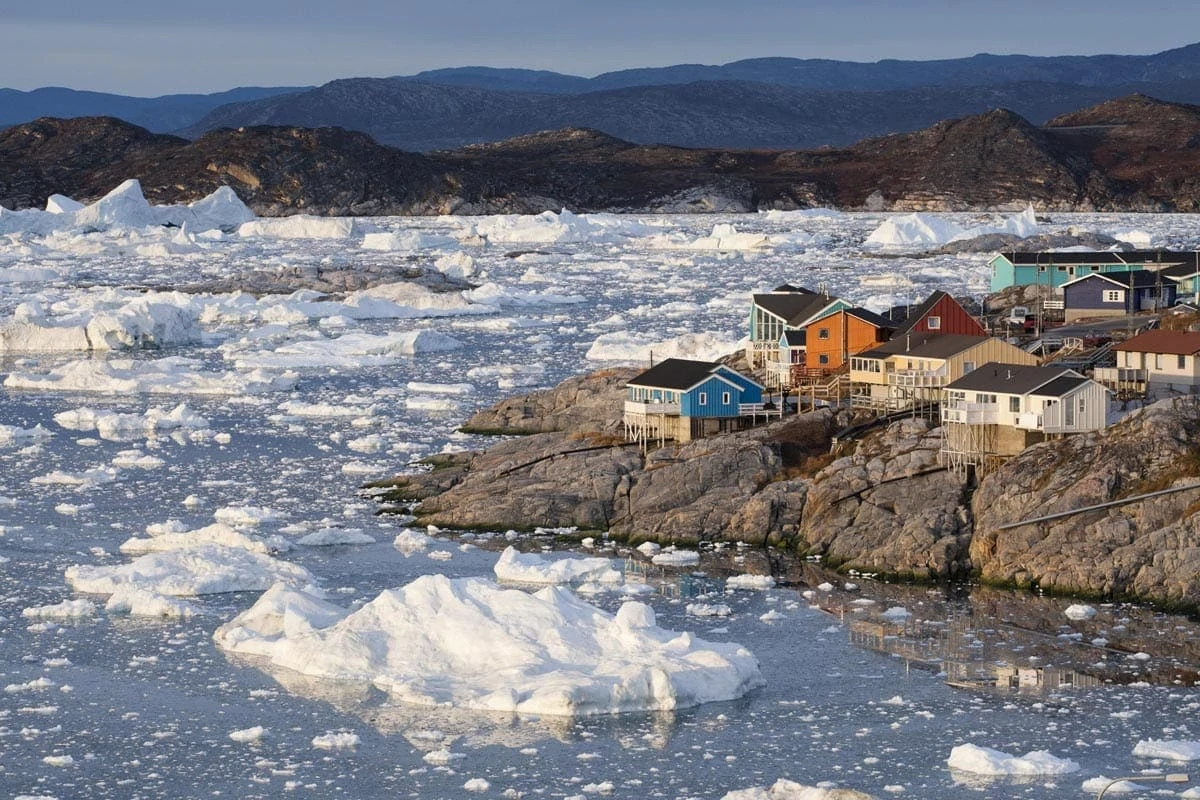 Let me say this now, planning a trip to Greenland can be difficult. Obviously not many people travel there, getting around is hard and it can be very expensive. However, it's a real once-in-a-lifetime type of place to visit. Hopefully once you've read all my Greenland travel advice you'll be better prepared planning your trip!
The thing is all the planning and effort is 100% worth it. Greenland really is one of the most magical places I've ever been, so much so it's now my favourite country in the world. Honestly, I can't tell you enough how amazing Greenland is. If you're sitting on the fence about going or not, go – I promise you won't regret it.
I was full-on planning my trip to Greenland for at least a year before I finally visited. In a country that only gets around 75,000 tourists a year (most of those cruiseship passengers), there's not a huge amount of Greenland travel advice online. Even though I read loads of blogs on Greenland, I still wasn't prepared.
After travelling around Greenland for a couple of weeks and really immersing myself in the country, there are a few things I learned about the country that I wish I knew before I visited. Also, you'll find loads of other information on things to do in my Greenland travel blogs – there are loads of them.
So, if you're planning a trip to Greenland, these are all of my travel tips to help you on your way. Hopefully these will help you fall in love with the country as much as I did!
Why is Greenland so expensive?
One of the questions I get asked all the time is "why is Greenland so expensive" or "is Greenland worth it?" Yes it is expensive and yes it is worth it!
When I say Greenland is expensive, I really mean it. Expect Scandinavian prices and then some. The reason why is because Greenland is a desolate place – it is so barren trees can't even grow there – that means they have to import virtually everything to the island which is why it's so expensive. Make sure you research how much things cost beforehand and come up with a daily budget.
For me, I set myself a budget of about £100 (US$120) per day. I know that sounds like a lot but even having a simple sandwich at lunchtime will set you back £10. Add on transport, tours, accommodation and dinner and it can quickly wrack up. To save some money, I resorted to buying and making my own packed-lunches so I didn't have to eat out every day.
What to wear in Greenland?
If you're travelling to Greenland during the summer then make sure you pack lots of layers. When the sun is out, it can actually get quite hot in Greenland. Think t-shirt weather. However, as soon as that sun dips behind a cloud it can get pretty cold again. Bring layers so you can easily put on and take off clothes. When it gets to the evenings, that's when things can get very cold. I was often wearing 2 pairs of trousers, even in summer. As I said, make sure you pack lots of clothes and options.
If you're planning a trip to Greenland during the winter, bring even more layers. It can get as cold as -40 during the winter so it's important you have the appropriate clothes. Thermals are a must, as are waterproofs. My advice here is if there's skin, cover it.
Make sure you have warm clothes for the evenings
When I was in Greenland it went through a heatwave with a record high of 26 degrees. However, that didn't mean it was warm in the evenings too. At one point it was so cold I had to wear two pairs of trousers, so make sure you bring thermals so can wrap up warm at night. I found long-Johns invaluable in the evening.
In winter, never get out of your thermals! Some solid Greenland travel advice for you right there.
Also, make sure you bring sunglasses
Another good travel tip for Greenland is make sure you bring sunglasses. It doesn't matter if you're travelling to Greenland during summer or winter, make sure you've got a pair. The sun can be fiercely bright off the snow and cause snow blindness, a condition that can actually lead to blindness. Polarising ski-goggles are great during the winter and UV sunglasses are great during the summer. I always made sure I had my sunnies on me and they barely left my eyes when I was outside.
Mosquitoes in Greenland – bring insect repellent
This isn't a lie, but I have never seen so many mosquitos as in Greenland. During the winter all the mosquito eggs are frozen, but once it warms up and the ground thaws they come out in style. Bring the strongest insect repellent you can (I always use this insect repellent with 50% deet) and if you're doing lots of hiking I would suggest bringing a mosquito facenet too.
Don't drink alcohol in the streets
Surprisingly, alcoholism is a serious problem in Greenland. As such, alcoholic drinks can only be sold in shops from noon to 6pm during weekdays and from 11am to 1pm on Saturday. If you want to buy drinks then these are the times you can do it – just don't drink on the streets as it might be seen as encouraging to the locals.
Because there's such a high level of alcoholism in Greenland, the suicide rate is ridiculously high too. Please bear this in mind when talking to the locals and don't make any stupid comments. It's always important to follow the local customs wherever you can.
Getting around Greenland – take water taxis everywhere
Greenland only has 80kms of paved roads which makes getting around the country interesting. If you're short on time then there are a number of internal flights in Greenland and helicopters are a common mode of transport too. However, during summer most people get around by boat.
If you're heading south from Nuuk you can catch the Arctic Umiaq Line to Qqartoq, and once you're south it's a lot easier getting water taxis from place to place. During winter, every gets around by dog sledding and skidoos.
Speak to the local people
One of the things I loved about Greenland was speaking to the locals and hearing their stories. Greenlandics are exceedingly proud people and have strong cultural values, so it's really important to talk to them about these. Also, I think it's fascinating hearing all about what it's like living in one of the toughest climates in the world.
If you're lucky, you might be invited along to kaffemik. This is an open house celebration where every shares stories and has a bit of a party. I went along to a kaffemik in Nuuk and I was so surprised at how quickly I was accepted there – it was just like a celebration with old friends!
Make sure you leave your cultural misconceptions at home
In Greenland everyone eats musk ox, seal and whale. Is it shocking that they eat these animals? Not at all, because if they didn't they wouldn't survive. A lot of travellers find it quite difficult when they find that out, but this is the way Greenlandics have lived their whole life. Don't force your cultural misconceptions onto other people. If you're vegetarian or vegan, respect that hunting is a huge part of culture and life here. You can learn more about the food in Greenland here.
How to travel to Greenland?
Are you wondering how to get to Greenland? It's a good question! Despite the fact Greenland is closer to Canada than anywhere else in the world, as it stands you can only fly from Copenhagen in Denmark and Rekjavik in Iceland. That means if you're flying from north America it is most likely you'll fly over Greenland only to double back on yourself. Flights to Greenland are fairly infrequent so make sure you check all times beforehand to find dates that work for you.
As I said, this is what it is like at the moment. That's not to say new flight paths won't open up in the future (there did use to be a flight from Eastern Canada). Fingers crossed they open that one up again soon.
Always try and bag the window seat
My advice for Greenland – always try and sit by the window when flying here!
When it comes to flying, usually I like sitting by the isle (I explain why here!). However, one of the best flights of my life was flying to Greenland. I managed to score a window seat and it was by far one of the most beautiful flights I've ever been on. If you want these views, make sure you bag the window seat even if you have to pay for it! Within the country, Air Greenland are the main flight operator.
What is the religion in Greenland?
If you were wondering, the main religion in Greenland is Christianity. Church services are very common on a Sunday around the country. If you're religious, these are a great way of getting to know the community and seeing how important religion is to Greenlandic culture!
Where is Greenland?
If you're look at a map, Greenland is almost as north as you can get. Most of the country is within the Arctic Circle which is why it's such an inhospitable place to live.
However, being that far north means you're almost guaranteed to see the Northern Lights (aurora borealis) if you're travelling to Greenland during the winter. I've heard this is one of the best places around the world to watch the Northern Lights so bear than in mind when planing your trip here!
What is the population of Greenland?
The population of Greenland is small. Very very small. The last census put the population of Greenland at 56,000 people, a level that hasn't changed since 1997. So yeah, considering the size, the population is tiny. In fact, Greenland is the least densely populated country in the world – another fact for the bucket list!
---
Are you planning a trip to Greenland? If so, what did you make of my little Greenland travel guide? Make sure you let me know in the comments below!
Like this blog post? Then make sure you Pin it!